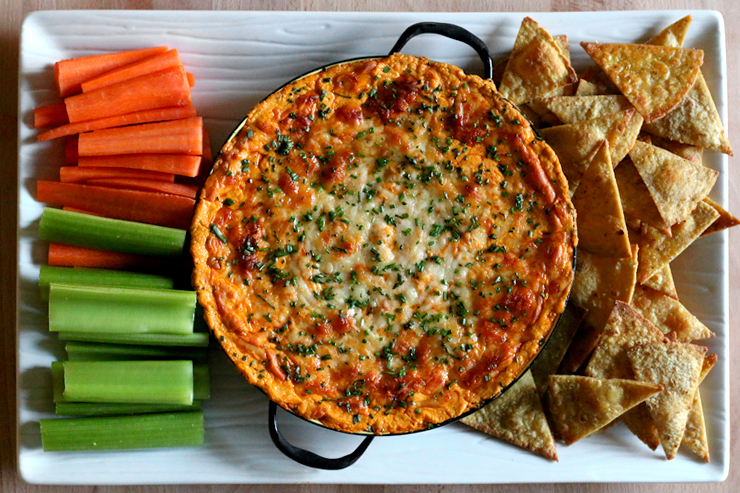 I am crazy for a spicy wing sauce. The wings? Not so much. Meat on the bone is a struggle for me. With the impending Super Bowl XLV-whatever, football food is a must. While the superfeast is mostly about the meat, it's also about the messy indulgences, right? Instead of wings, I wanted something to satisfy that need for heat without the meat. Then it hit me. Dip baby, dip.
I baked up a Vegetarian White Bean Spicy Buffalo Dip recipe with baked lime tortilla chips. Even though no meat is involved, this spicy buffalo dip is still just as much a guilty pleasure as its winged counterpart.
The tangy, spicy flavor of the hot sauce is intercepted by the creamy bean and cheese base and is serious tastebud touchdown. When paired with lime-spritzed, baked tortilla chips and veggie sticks it will give you enough yardage to keep you satisfied through halftime. So, go ahead and drop down, double-up on those dips. It is the laziest day of the year, after all.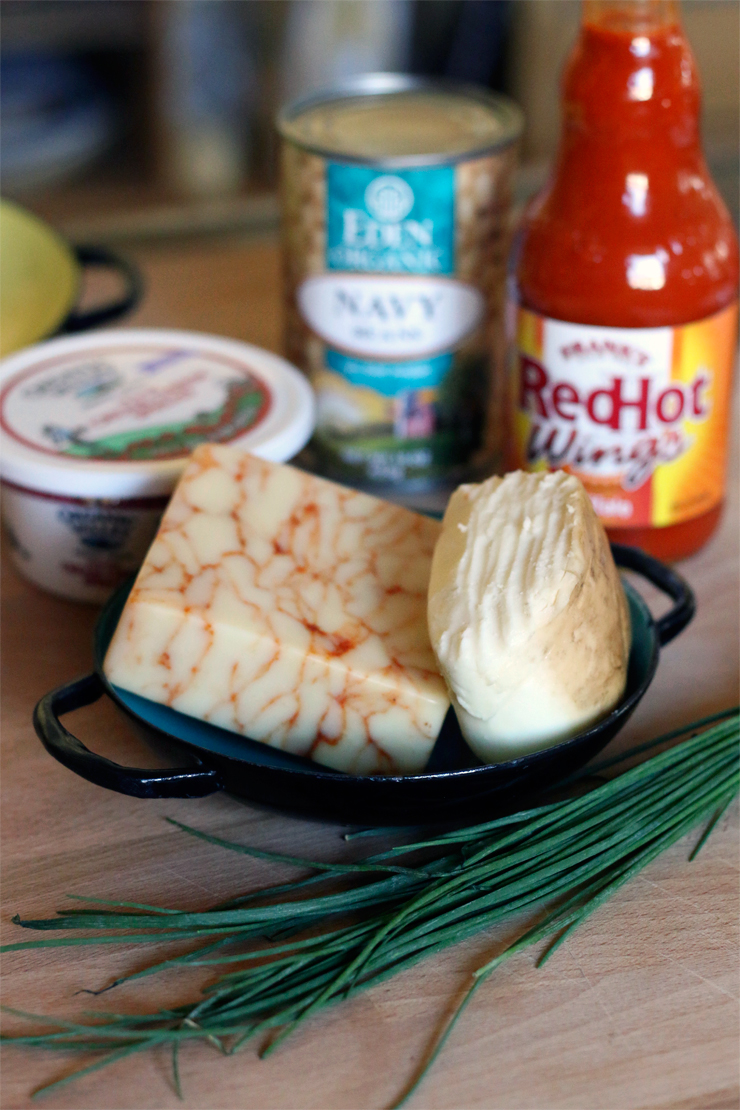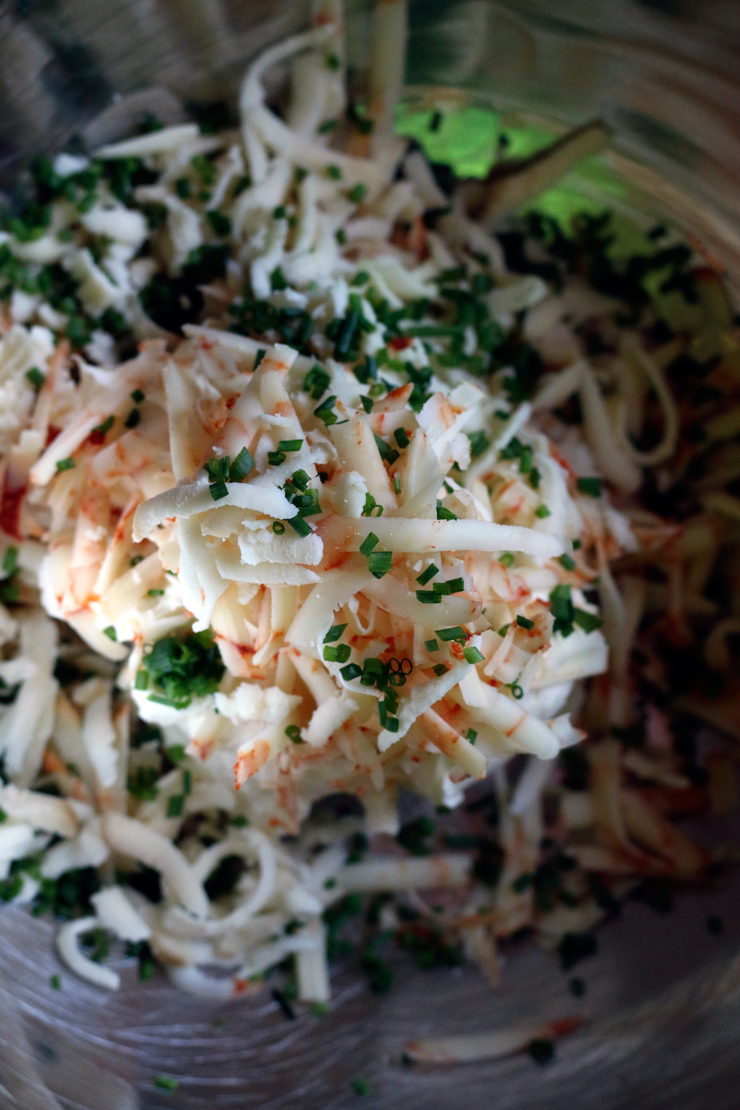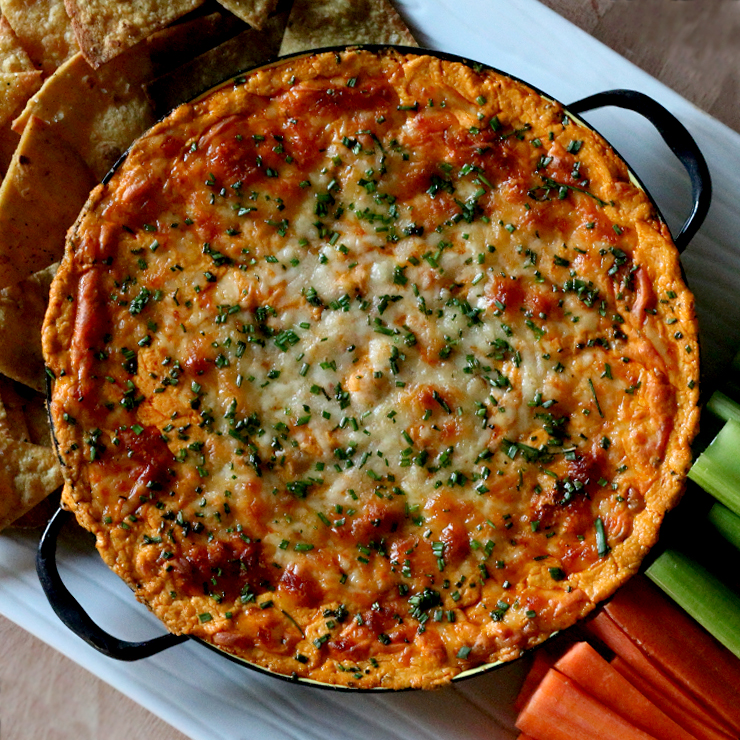 Print
📖 Recipe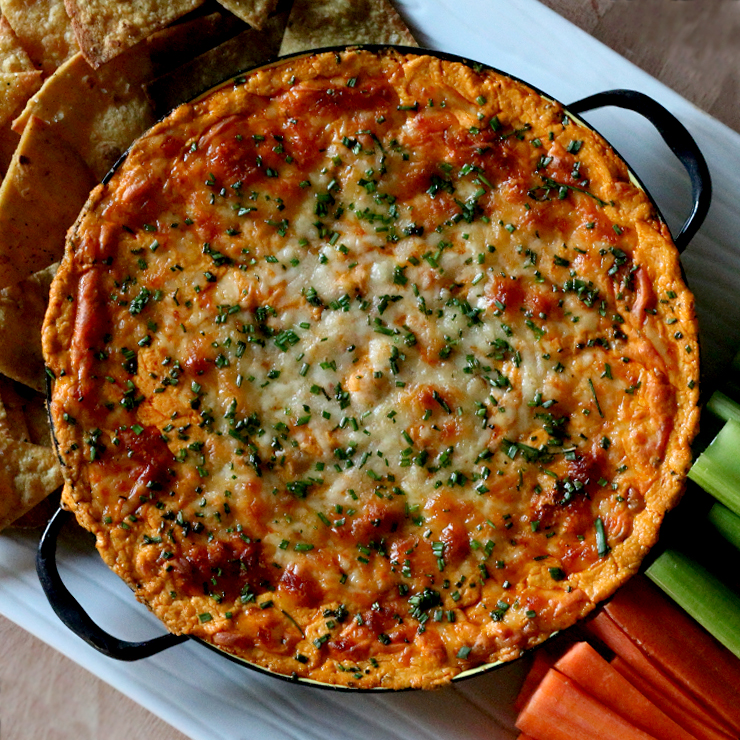 Vegetarian White Bean Spicy Buffalo Dip Recipe
---
Description
This Vegetarian Spicy White Bean Buffalo Dip Recipe is a tastebud touchdown made with spicy hot sauce and creamy bean and cheese base.
---
Spicy White Bean Buffalo Dip
white navy beans (drained and rinsed - 1 can (15 ounces))
cream cheese - softened -

8

ounces

shredded smoked mozzarella -

½

cup

shredded chipotle cheddar (or plain cheddar - 1 cup)
FRANK'S® REDHOT® Original Cayenne Pepper Sauce or FRANK'S® REDHOT® Buffalo Wings Sauce -

½

cup

extra hot (hot sauce (if you need a kick) - whatever gets you there)
fresh chives - finely chopped - 2 tablespoons
Baked Lime Tortilla Chips
corn tortillas - 6
olive oil - 2 tablespoons
coarse salt - 1-2 teaspoons
fresh ground pepper - ¾ teaspoon lime - 1
---
Instructions
Vegetarian White Bean Spicy Buffalo Dip
Preheat oven to 350°.
Begin by blending together the cream cheese, ¼ cup of the smoked mozzarella and ¾ cup of the chipotle cheddar in a mixing bowl. Add 1 ½ tablespoons of the finely chopped chives and mix.
Pour the hot sauce over the cheese mix. Use a spatula to fully incorporate the hot sauce into the cheese mixture.
Stir in the beans and blend them in with the cheese mixture. Once fully blended transfer the mixture into a ovenproof dish and spread evenly.
Sprinkle the top with remaining cheeses.
Bake for 25-30 minutes until it starts to bubble and turn golden brown.
Remove from oven and sprinkle with remaining fresh chives.
Baked Lime Tortilla Chips
While the spicy white bean buffalo dip is baking, prepare your tortilla chips.
Start by stacking the tortillas and cutting into wedges, I got 8 wedges from each tortilla. (So a total of 48 thick cut tortilla chips)
Transfer the tortilla chips to a baking sheet, drizzle with olive oil and toss the tortilla wedges around to fully coat each one in oil.
Spread the tortilla wedges evenly over the baking sheet and sprinkle liberally with salt and pepper.
Add the chips to the oven, with the dip during the last 8-12 minutes (baking time will depend on the thickness of tortillas). They should bake up and finish right around the same time as the dip. Watch them to be sure they don't burn, you may want to turn them over once during baking.
If you want extra crispy chips (I like mine a little chewy) crank the oven up to broil, once the dip has finished, and broil for 1-3 minutes, watching to be sure they don't burn.
Once the chips are baked to your liking, remove from the oven and spritz them with fresh lime juice. Now you're set, chip and dip!
Prep Time:

15 minutes

Cook Time:

30 minutes