When you think of summertime, what comes to mind? For me, it's sunny long days, flowy dresses, peak season produce and all things summer pie. This Blueberry Peach Galette is a snapshot of the season that captures the finest fruit, in its best and brightest light.
To celebrate summer, I'm partnering up with my favorite local grocery chain, New Seasons Market. We'll be making the most of their summertime selection of high-quality, locally sourced, peak of the season produce. The friendly folks at New Seasons find the freshest, most flavorful fruit and veggies by teaming up with local farmers to bring hand-picked produce straight to the stores. It's like having a farmers market at your fingertips, 7 days a week!
A shout out to Jeff, New Seasons Produce Director extraordinaire, who taught me more about the regional produce industry in 40 minutes than I've learned in 40 years. Jeff is a wealth of produce knowledge who brings his brilliance and strong, relationship-based connections with local farmers directly to the produce bins of New Seasons. We, the customers, truly reap the rewards of Jeff and his team's high values, deep connections and commitment to sourcing the highest quality local produce.
Fresh fruit baked into a buttery pie crust is a summer essential, and that bounty of freshness deserves to shine.
Starting now and for the rest of the summer, we'll be baking those bursting berries, poppin' peaches and superb stone fruits into all of the PIES! Join New Seasons Market and I as we celebrate with a virtual #SummerPieParty over on Instagram and Facebook. We'll be sharing galette, hand pie and pie recipes featuring the PNWs most treasured fruit. Plus plenty of tips, tricks, techniques and tools to help you bake stunning summer pies. We'll start here with the simplest recipe of the pie family, the galette.
Galettes are one of the easiest ways to bake up the delicious summer fruit that is flourishing right now. This Blueberry Peach Galette features the fresh-picked flavor of two of the area's finest farms, conveniently available at my local New Seasons Market. This simple recipe brings them together into one beautiful bake.
What exactly are galettes?
Galettes are like a simplified version of a pie. Think of them as rustic, open faced, sunny-side-up versions of a classic pie without the need for a pie plate or the hassle of weaving and crimping the crust. You just roll the dough, pile the filling in the middle and fold the sides up, then bake. They come together quick & easy and display that summer produce perfectly.
This summery Blueberry Peach Galette features locally sourced, PNW blueberries and peaches.
Springbank Farm is family-run, 12 acre organic blueberry farm nestled on a scenic triangle of ground between the Santiam River and Hamilton Creek, just outside of Lebanon, OR. These bountiful blueberries are picked to order and delivered straight to the New Seasons stores for the freshest flavor. The farmland is rich and diverse, infusing the blueberries with true blue Oregon flavor.
The Maryhill Peaches come from Gunkel Orchards, a fourth generation family farm located in Goldendale, WA near the Columbia Gorge. The unique micro-climate of the area provides exceptional growing conditions for the orchard. Here, the focus is on sustainably harvesting and packing hand picked, tree-ripened fruit at peak freshness.
Since New Seasons sources the tastiest, freshest fruit around, I try not to manipulate it much in my pie recipes. When produce is that perfect, you don't mess with it. I only add a few basic ingredients for dimension and stability.
Sugar Baby - While summer fruits are already sweet, they can still use a little push for pie filling. I don't add much, just enough sugar to coax out the natural sweetness and help break down the fruit a bit, so the juices start to release before the filling goes into the pie shell.
A Squeeze of Citrus - A little splash of citrus brightens fruit fillings right up. It's less about the actual citrus flavor and more like adding an additional ray of sunshine to your pie filling. Citrus zest amps up the brightness without changing the overall flavor.
Thick as Thieves - Fresh fruit is juicy and that's kind of one of the reasons we love it so much! But nobody wants a soupy pie. So, we add thickening agents like cornstarch, tapioca starch or flour to the filling to encourage the fruit juices to thicken as they warm up in the oven. I prefer tapioca starch as it has a naturally sweet and much less chalky taste than cornstarch.
Butter Makes it Better - Yes, the flaky pie crust is already loaded with butter, but a few knobs of butter melting into your pie fillings will add richness to the already flavorful fruit. I add a bit of butter to the filling to balance the sweetness, giving it a more luscious finish.
Glitz & Gleam - A brush of egg wash, made of 1 egg lightly beaten with a bit of water, gives your pie crusts a fanciful, semi-glossy finish. I like to add a sprinkle of turbinado or sparkling sugar for a glitzy crunch, too.
My tried & true Basic All Butter Pie Dough recipe will serve as a base throughout the #SummerPieParty series. This recipe is easy to mix up by hand and the texture is fantastically flaky. Apple cider vinegar tenderizes the dough, while European style butter brings superior flavor and croissant-like flakiness to the crust. I use it here in my Blueberry Peach Galette and I'll come back to it for hand pies and a full, double crusted, pie recipe later this summer.
This Blueberry Peach Galette is a quintessential summer bake and a smart place to start when you're ready to dip into the pie baking pool. The buttery, flaky and tender crust hugs tight around a bounty of stunning seasonal blueberries and peaches. Using fresh, peak-season fruit is key to capturing the sweetness of summer. You can't go wrong with this easy rolling recipe, especially when you reach for fruit that's as spectacular as these bloobs and peaches from New Seasons Market.
This post was made in partnership with New Seasons Market. Follow New Seasons on Instagram and Facebook or check out newseasonsmarket.com to learn more about their commitment to locally sourced, fresh, sensationally seasonal produce.
Thank you for supporting me and the brands that I love! ?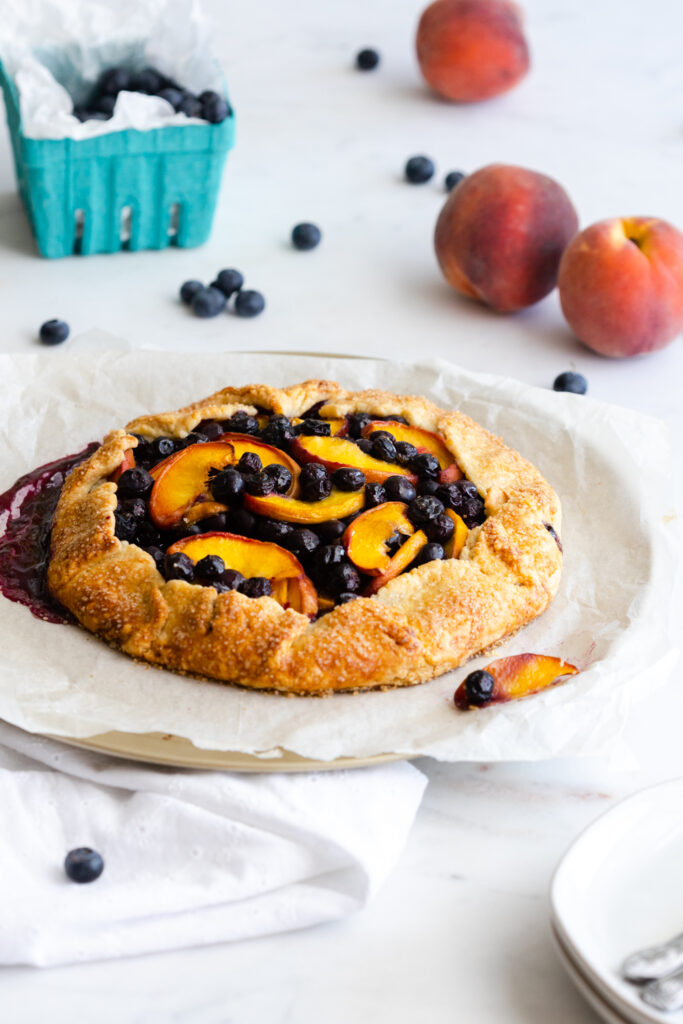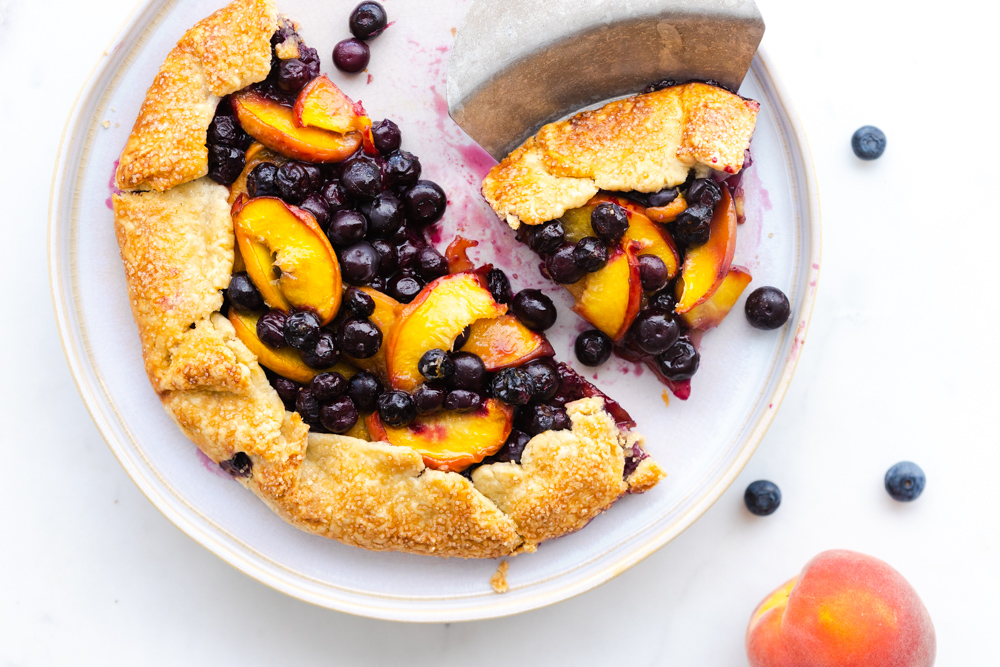 Print
📖 Recipe
Blueberry Peach Galette
---
Description
Peak season blueberries and peaches bake together in a casual, summery galette that's as easy as to make as it is beautiful. Bursting blueberries and poppin' peaches nestle together in an undeniably tender and flaky all butter crust.
---
1

disk Basic All Butter Pie Dough - recipe linked in notes below (- (the recipe makes

2

disks, you only need

1

for this galette))

2

cups

blueberries

2

large peaches (- thinly sliced (about

1 ½ cups

))

⅓

cup

granulated sugar

1 tablespoon

lemon zest

1 tablespoon

tapioca flour or cornstarch

1 tablespoon

unsalted butter (- cold and cut into small cubes)

1

egg (- lightly beaten with 1 teaspoon of water)

1

-

2

tablespoons turbinado or sparkling sugar
---
Instructions
Remove Basic All Butter Pie Dough disk from refrigerator and set on the counter at room temperature to soften while you prepare the filling.
Rinse and drain blueberries and peaches. Place rinsed blueberries and thinly sliced peaches in a large bowl.
Preheat oven to 375°F.
Top the blueberries and peaches with sugar and lemon zest. Gently stir together to combine. Allow to sit for 15 minutes so the juices begin to release from the fruit.
Add the tapioca flour and gently mix until fully absorbed into the juices.
Once the dough has softened just enough to leave a thumbprint indention in the top, it's ready to roll. Lay out a sheet of parchment paper or a silicone baking mat and dust lightly with flour. Use a rolling pin to roll out the dough disk into a 12"-13", ⅛" - ¼" thick, round directly onto the prepared parchment paper or mat.
Brush the surface of the dough rolled round lightly with the beaten egg wash. Use a slotted spoon to scoop the blueberries and peaches out of the bowl, allowing most of the juices to drip off before transferring the fruit to the prepared dough. Discard any liquid remaining in the bowl. Arrange fruit on top, leaving a 1 ½"-2" border. Carefully lift and fold the edge up and over the filling, allowing the dough to naturally pleat at 2" intervals as you fold. It should pleat about 12 times as you work your way around.
With the galette on the parchment paper, lift and slide the parchment sheet onto a rimmed baking sheet. If you really want to ensure your galette holds its shape, especially on hot summer days, place the galette (while on the baking sheet) in your freezer for at least 15-20 minutes until it firms up. Then bake directly from the freezer. *You can also freeze the dough at the stage to bake at a later date. Just keep in mind it may take a few additional minutes to bake through.
Lightly brush the egg wash mixture over the exposed dough edge and sprinkle liberally with turbinado or sparkling sugar. Dot the filling with small, cold cubes of butter.
Bake for 40-50 minutes, rotating the pan halfway through. The crust should be a warm golden brown and the fruit should be soft and jammy.
Allow to cool, then slice into wedges to serve. Tastes great with fresh whipped cream or à la mode.
Notes
Use this Basic All Butter Pie Dough recipe for the base - https://bakingthegoods.com/2021/07/18/basic-all-butter-pie-dough/

This dough is very versatile, it can be used for traditional single or double crust pies, hand pies or galettes.

You can store this dough in the freezer for up to 3 months if tightly wrapped with plastic wrap or stored in a reusable baggie. Before using, defrost the frozen dough overnight in the refrigerator before using or on the counter 1½ - 2 hours before using.

Fresh fruit is juicy, there is no denying it. Using tapioca starch or cornstarch as a thickener will help the juices thicken and turn jammy while the galette bakes.
Galettes can be assembled and frozen whole. Once assembled, chill the galette on a lined baking sheet for at least 15-20 minutes. When the galette is firm, carefully wrap it tightly with a few layers of plastic wrap, then a layer of foil. It should last, tightly wrapped, in the freezer for up to 3 months. Then bake directly from frozen, just remember it may take a few additional minutes to bake all the way through when frozen.
Prep Time:

20 minutes

Cook Time:

45 minutes

Category:

Dessert

Cuisine:

Galette
Keywords: blueberry galette, Blueberry Peach Galette, galette, peach galette