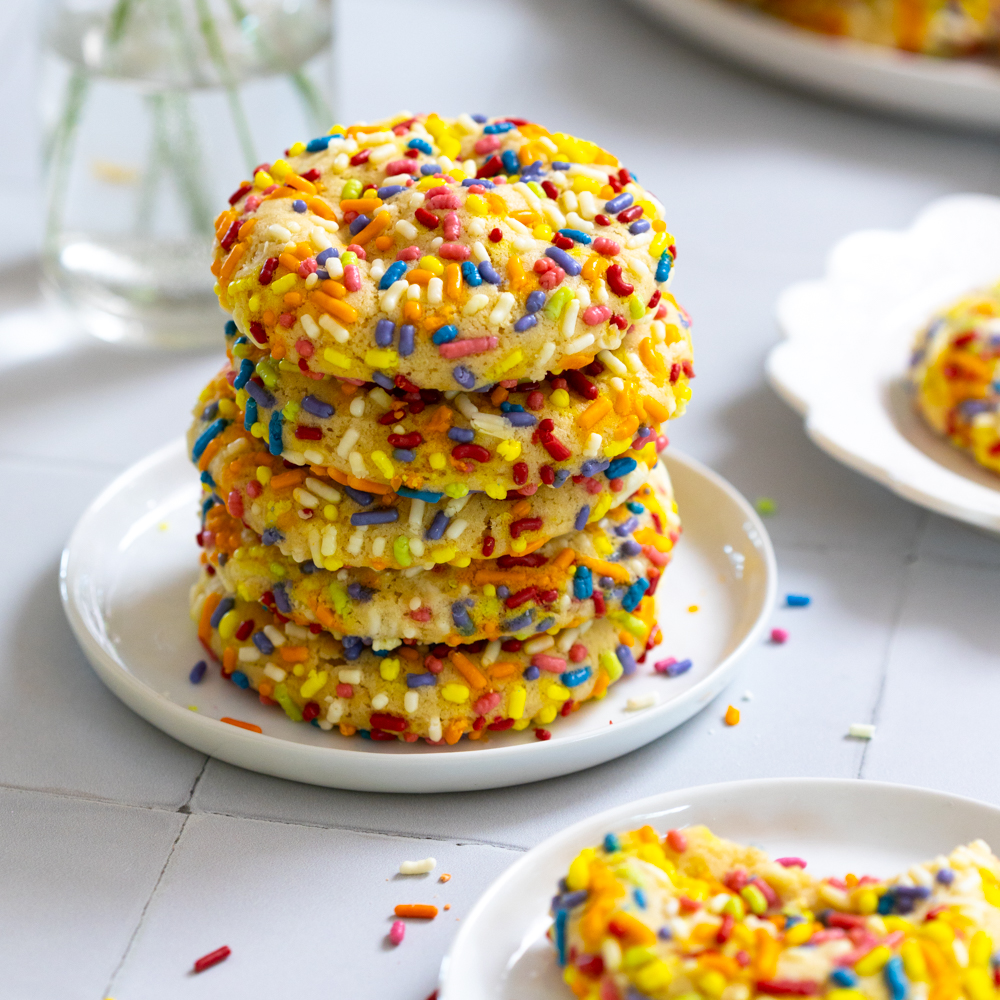 This recipe for sunny Lemon Rainbow Sprinkle Cookies was made from a deep place of love and a sprinkle of heart-aching sadness. But mostly happy, sweet, everlasting love.
Last month we had to say goodbye to our sweet little Pixel. Our number one companion, sidekick and my bestest bud since we picked her up as a puppy 16.5 years ago. Pixel was a unique dog with more personality than any person I've met. To know her was to tolerate and eventually love her. That little pup packed more entertainment into our lives than any movie, vacation, or adventure ever could. Pixel made me belly laugh, out loud, every single day. And she continues to bring me tears of joy daily.
I've always said that dogs are the best people, and Pixel was the best person I've known. Dogs might ruin your favorite shoes, pee on your bed, and Houdini their way out of every enclosure imaginable. They may drag a chair down the hall to get a better view through the front door window then chew up the entire chair out of frustration when they realize they still can't see out. They might eat a batch of cookies the moment you turn your back. Or, they can poop in your lap while riding in the car and you love them in spite of it all.
Puppy snuggles and soft chewy sugar cookies are at the top of the life love list.
Dogs are a bundle of sunshine and rainbows with an occasional storm rolled in. These Lemon Rainbow Sprinkle Cookies encapsulate the joy Pixel brought to my life. And hopefully, by baking a batch, she'll radiate those prismatic Pixel rays on your life too.
Jump to:
This recipe for Lemon Rainbow Sprinkle Cookies starts with a simple sugar cookie base. Big, soft, squishy sugar cookies that feel just like a warm puppy snuggle. The cookies get a ray of sunny brightness from the addition of lemon, and they elevate from an everyday cookie to a celebratory snack thanks to the colorful rainbow sprinkles!
It only takes 9 simple ingredients to make these cookies!
All Purpose Flour - Nothing fancy here, just 3 cups of simple APF.
Baking Soda - The leavening agent in these Lemon Rainbow Sprinkle Cookies. The baking soda will react with the lemon juice creating loft in the cookies.
Fine Sea Salt - Salt balances out the sweet and tart flavors. I like to push the salt content a bit further in this recipe to layer in more dimension.
Unsalted Butter - Since this recipe uses minimal ingredients, a high-quality butter with a higher fat content such as a European style butter is preferred. The rich, buttery flavor shines through in these cookies.
Granulated Sugar - Sweetens the whole deal and helps give these cookies their chewy texture.
Eggs - Specifically, 1 whole egg and 1 egg yolk. The whole egg makes the cookies fluffy, while the egg yolk provides richness and chewiness.
Lemon - Lemon zest and lemon juice are featured in these Lemon Rainbow Sprinkle Cookies. The lemon adds sunniness with a subtle but bright lemon flavor.
Vanilla Extract - These cookies are simple. So, a quality pure vanilla extract is ideal in this cookie recipe.
Sprinkles - These are the crown jewel of these Lemon Rainbow Sprinkle Cookies. Use whatever sprinkles make you smile, but I love Rainbow Softies Sprinkles from Supernatural. They pack all of the fun of traditional rainbow sprinkles but don't contain any weird dyes. The vibrant colors are all natural and made from plants and spices.
Just a handful of easy ingredients combine to create these happy-go-lucky Lemon Rainbow Sprinkle Cookies. The ingredients come together to form soft and chewy cookies reminiscent of birthday cake without being too cakey. They are just sweet enough with a hint of lemon to brighten up these simple sugar cookies.
A few tips for baking these cookies. Really, cookies in general.
These cookies are right in the sweet spot of soft and chewy.
The edges bake up to be just shy of crust, while the rainbow sprinkles add a slightly snappy crunch. Biting into one of these Sunny Rainbow Cookies takes you on a dreamy textural journey from the slight crusty crumble to a melt-in-your-mouth, airy, soft and chewy interior.
Adapt these easy cookies to fit your personality.
Use whatever sprinkles you like or have on hand. I baked an adorable batch with Eastery pastel sprinkles, but I bet they'd be cute with any color or shape sprinkle. Hello, Unicorn sprinkles!
You could also swap out the lemon for orange or lime. They'll bring the sunshine no matter what citrus you prefer.
Almond extract changes the profile of this cookie recipe in a lovely way. Dial it back a bit and just use about 1 teaspoon of vanilla extract instead. Or mix it up with a blend of the two!
Change up the sizes and make mini Lemon Rainbow Sprinkle Cookies. Or go XL. Just be sure you adjust the baking time accordingly. A couple of minutes less for small cookies, and a couple minutes more for larger cookies.
A sunny disposition and a colorful character will brighten your life.
Pixel had both. She was always down to soak up that sunshine and her character was as colorful as they come! Like Pixel, these Lemon Rainbow Sprinkle Cookies are an undeniable party that brings a great big smile to your face. I think she would have loved these cookies, but her all-time favorite were Gingerbread Cookies. Spicy little bubs.
When Pixel crossed over that rainbow bridge, she brought a cookie-sized bite of my heart with her. She may not be here slowly sauntering through my photoshoots, tapping her nails on the hardwood floors and jingling her collar in the background of my videos anymore, but her vibrant spirit shines on in these Lemon Rainbow Sprinkle Cookies. I miss you, sweet girl.
Shape, sprinkle & roll!
Before & After
Print
📖 Recipe
Lemon Rainbow Sprinkle Cookies
---
Author:

beckysue

Total Time:

45 minutes

Yield:

16 large cookies
Description
These soft & chewy Lemon Rainbow Sprinkle Cookies bring the party and radiate with sunny citrus & vibrant sweetness.
---
3 cups all purpose flour
1 teaspoon baking soda
½ teaspoon fine sea salt
1-2 medium lemons - zested & juiced
1 cup unsalted butter - at room temperature
1 cup granulated sugar
1 large egg + 1 egg yolk - at room temperature
2 teaspoons vanilla extract
1 cup rainbow sprinkles
---
Instructions
Whisk together the flour, baking soda, salt, and 1 tablespoon of lemon zest in a medium bowl. Set aside.

In the bowl of a stand mixer fitted with the paddle attachment, cream the butter and sugar together on high speed for about 4-5 minutes, stopping the mixer occasionally to scrape down the sides of the bowl. The mixture should be light and fluffy and the sugar should be fully incorporated into the butter.

Crack a whole egg plus another egg yolk and vanilla into a liquid measuring cup. With the mixer on low, slowly add to the sugar and butter mixture, one egg at a time. Allow each egg yolk to blend in completely before adding the next. Mix until smooth. Stir in 2 tablespoons of lemon juice.

Slowly add the dry ingredients and mix until a smooth consistency is achieved.

Scoop large cookies with a 3 TB sized cookie scoop, then roll the scoop in your hands to form round cookie dough balls. Fill a small bowl with rainbow sprinkles and roll each cookie dough ball in the sprinkles with gentle pressure to ensure the sprinkles stick all over the exterior of each cookie. Gently, press the cookie dough balls down slightly to form chubby disks.

Place the cookies on a lined baking sheet and chill them in the refrigerator or freezer for at least 15-20 minutes while the oven preheats. 

Preheat oven to 350° F. Evenly place chilled cookies on parchment-lined baking sheets, about 6 per sheet.

Bake for 12-14 minutes, until the cookies have domed and a slight outer crust has formed. These cookies are best slightly under-baked, so they have a soft and chewy texture. Yum! Allow to cool and enjoy in the warmth of the sun.
Notes
These cookies can be frozen and saved for later. Once you've shaped the cookie dough disks and chilled them in the refrigerator until they are firm, transfer to an airtight container or baggie and freeze up to 3 months. Bake directly from frozen on a lined baking sheet. They may take a few additional minutes to fully bake when baking from frozen.
Prep Time:

15

Chill Time:

15

Cook Time:

15

Category:

Dessert

Cuisine:

Cookies
Keywords: Cookies, Lemon Rainbow Sprinkle Cookies, Lemon Cookies, Sprinkle Cookies, Rainbow Cookies, Sugar Cookies