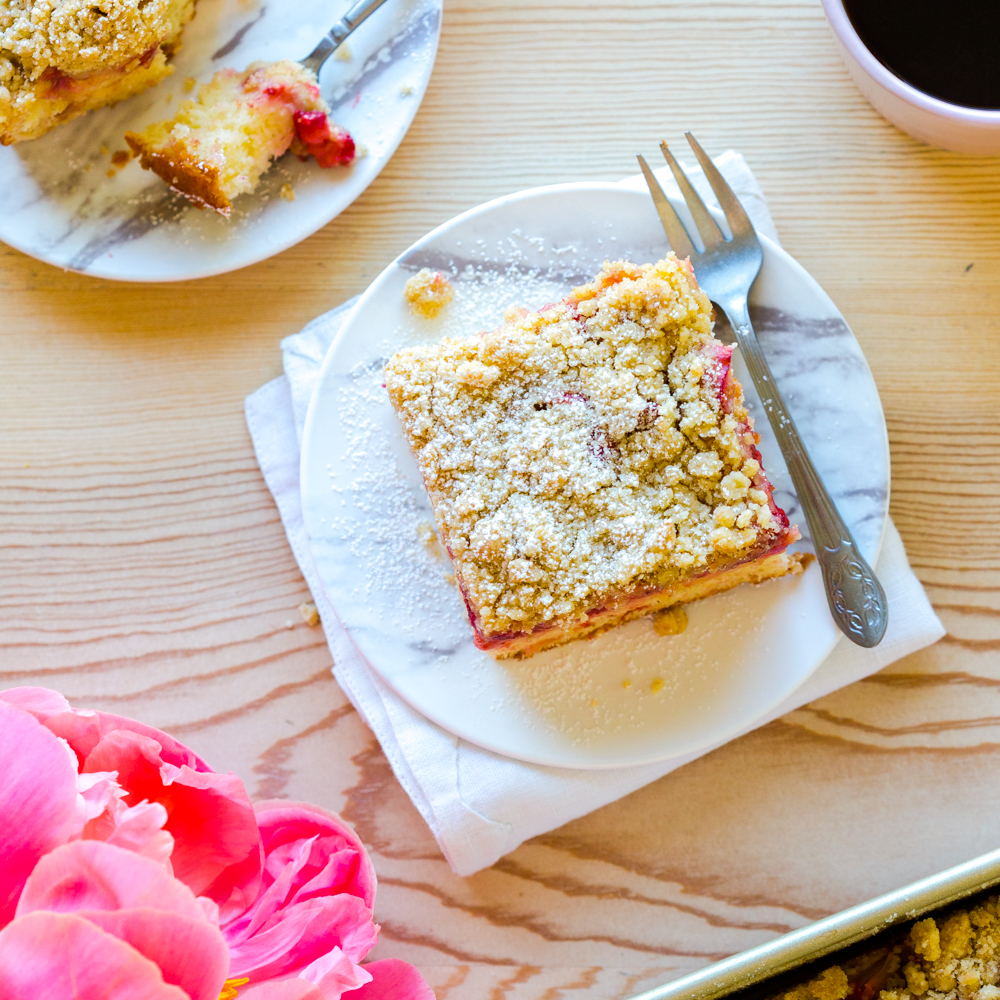 Coffee cake is one of those evergreen baked goods that's always a good idea. Think about it. When have you ever turned down a slice of soft and crumbly coffee cake? Likely never. This Strawberry Rhubarb Coffee Cake is no exception. It's always in style and pairs well with any occasion – any time of day.
Much like this Strawberry Rhubarb Coffee Cake, some things never go out of style.
Take the sturdy and sculptural design of the Wishbone Chair, designed by Hans Wegner in 1949. If that segue from food to design seems strange, I'll let you in on a little known fact. I have a degree in Interior Design and worked in the industry early in my career. It was one of my first real passions and continues to be a source of inspiration in my life. Maybe it's no surprise, then, that I apply design principles to my food styling and photography. Design knows no borders.
I took a furniture design course 18 years ago and fell hard and fast for early 20th century Modernism and Mid-Century Modern furniture. I can name pretty much any 20th century piece, tell you when it was designed, and by whom. My interest in interior design may border on obsession, and I'm ok with that.
When the opportunity to work with Eternity Modern came up late last year, I was thrilled! I started designing our new space around two classic pieces over which I've swooned for nearly 2 decades: the Wishbone Chair with its supportive stature and elegant lines and the Womb Chair with its inviting curves and comforting shape.
Incorporating these chairs into our home has cemented the style of our living space. These pieces have become a respite from the chaotic business of daily life. Finding a peaceful moment snuggled up in my customized Womb Chair with a slice Strawberry Rhubarb Coffee Cake has been like a small vacation during this time of lockdown.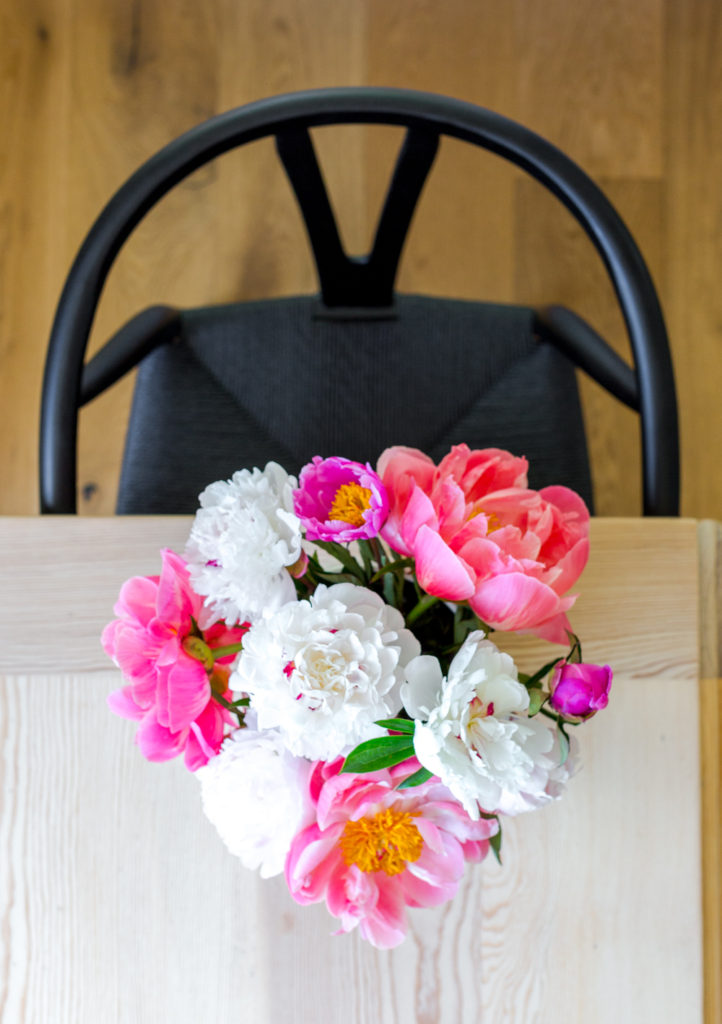 Every morning, I pull up a Wishbone Chair and sit with my cup of coffee at a farm table from my Great Grandmother's home. It lived in her farmhouse for 50+ years. My sweet husband lovingly refinished this family heirloom to fit with the aesthetic of our new home. Our 4 Eternity Modern Wishbone Dining Chairs, in the black satin finish, seem destined to be paired together with Grammy's farm table.
Whether it's furniture or baked goods, modern classics have my heart. For me, they evoke a feeling of comfort while simultaneously feeling like a fresh idea. To bring it full circle, my Strawberry Rhubarb Coffee Cake is a fresh, modern take on a comfy, classic coffee cake. It incorporates fresh strawberries and rhubarb into a traditional coffee cake recipe.
Coffee cake is an easy baker that doesn't require much more than a cake pan, a couple of bowls and a spatula.
This soft and tender coffee cake is topped with a bright and zesty mix of roughly chopped strawberries and rhubarb. Then, it's all blanketed in a cozy streusel topping. It bakes up in less than an hour and comes out of the oven with a triple threat of layered loveliness.
The Strawberry Rhubarb Coffee Cake is tender with a slight tanginess thanks to the Greek yogurt.
The strawberry rhubarb layer melts together in a jammy stripe of concentrated fruit flavor. Then, the streusel topping sinks into the fruit layer and adds a textural crumble with warm hints of ginger. The 3 layers work together by design, and they compliment each other beautifully.
Pairing this new Strawberry Rhubarb Coffee Cake recipe with my new furniture in our new home fulfills the nostalgia and comfort for which I've always aspired. You really can't beat a classic.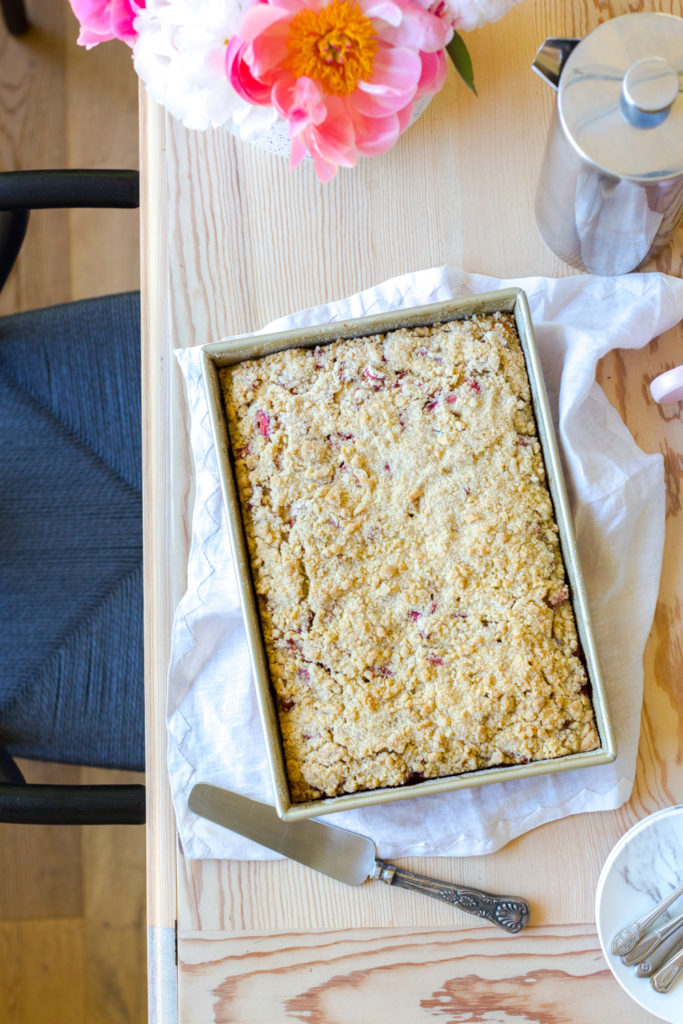 This post was made is in partnership with Eternity Modern. Follow Eternity Modern on Instagram and Facebook or check out eternitymodern.com to shop their impressive lineup of affordable timelessly modern furniture.
Thank you for supporting me and the brands that I love! <3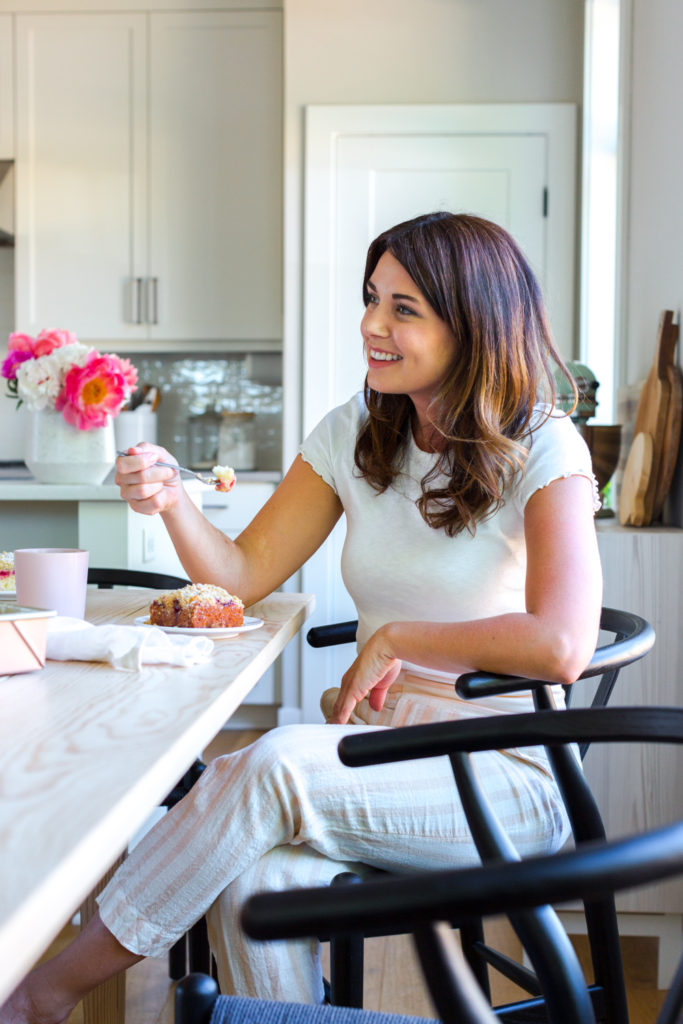 Print
📖 Recipe
Strawberry Rhubarb Coffee Cake
---
Description
This Strawberry Rhubarb Coffee Cake is a light and tender cake topped with jammy, sweet strawberries & tart rhubarb with a crumbly, ginger streusel topping.
---
STREUSEL TOPPING
½

cup

unsalted butter (cold & cut into ¼" cubes)

1 ¼

cups

all purpose flour

½

cup

granulated sugar

¼

cup

brown sugar

1 teaspoon

ground ginger

½ teaspoon

fine sea salt
COFFEE CAKE
2

cups

rhubarb (chopped into ½" - 1" chunks)

2

cups

chopped strawberries (chopped into ½" - 1" chunks)

1

medium lemon (zested and juiced)

3

cups

all purpose flour

¾

cups

granulated sugar

1 tablespoon

baking powder

1 teaspoon

fine sea salt

4

large eggs

¾

cup

unsalted butter (1 ½ sticks) (melted and cooled at room temperature)

2 teaspoons

pure vanilla extract

1 ½

cups

Greek yogurt or sour cream (at room temperature)
---
Instructions
PRE-PREP
Preheat oven to 350°F. Lightly grease and flour or sugar a 9" x 13" baking pan. I like using granulated sugar in place of flour. It works like a charm and gives a teeny touch of extra sweetness to the bottom and sides of the cake.
Combine the roughly chopped strawberries and rhubarb in a mixing bowl, add the zest of one lemon and 2 tablespoons of lemon juice. Toss to combine. Set aside.
STREUSEL TOPPING
Whisk the flour, granulated sugar, brown sugar, ginger and salt together in a mixing bowl. Add the cold, cubed butter and use a pastry blender or squish between your fingers to combine the ingredients until crumbly. Place in the fridge or freezer to chill while you prepare the cake.
STRAWBERRY RHUBARB COFFEE CAKE
Melt butter in a pot on the stove over medium-low heat or in a microwave. Place in the fridge or set aside to cool.
In a large mixing bowl, sift the flour, sugar, baking powder and salt together. Make a well in the center.
In another mixing bowl, whisk the melted and cooled butter together with the eggs and vanilla.
Pour the wet mixture into the well of the dry ingredients bowl. Then spoon the Greek yogurt onto the edges of the dry ingredients around the bowl. Use a spatula to gently fold the dry ingredients in with the wet ingredients and gently pull the yogurt into the mix. Be sure to scrape around the bottom and sides of the bowl as you fold the ingredients together but be careful not to over-mix. It's fine if there are still some floury patches.
Pour the batter evenly into the prepared pan. Then add the strawberries and rhubarb in an even layer. Sprinkle the streusel topping evenly over the fruit.
Bake for 45-ish minutes, rotating the pan halfway through the bake time. The streusel should be a warm, golden brown and a skewer inserted into the center should come out clean.
Allow to cool 15-20 minutes before slicing. Cut into 12 large pieces or 16 smaller pieces. And serve it warm with hot coffee, obviously.
Prep Time:

20 minutes

Cook Time:

45 minutes