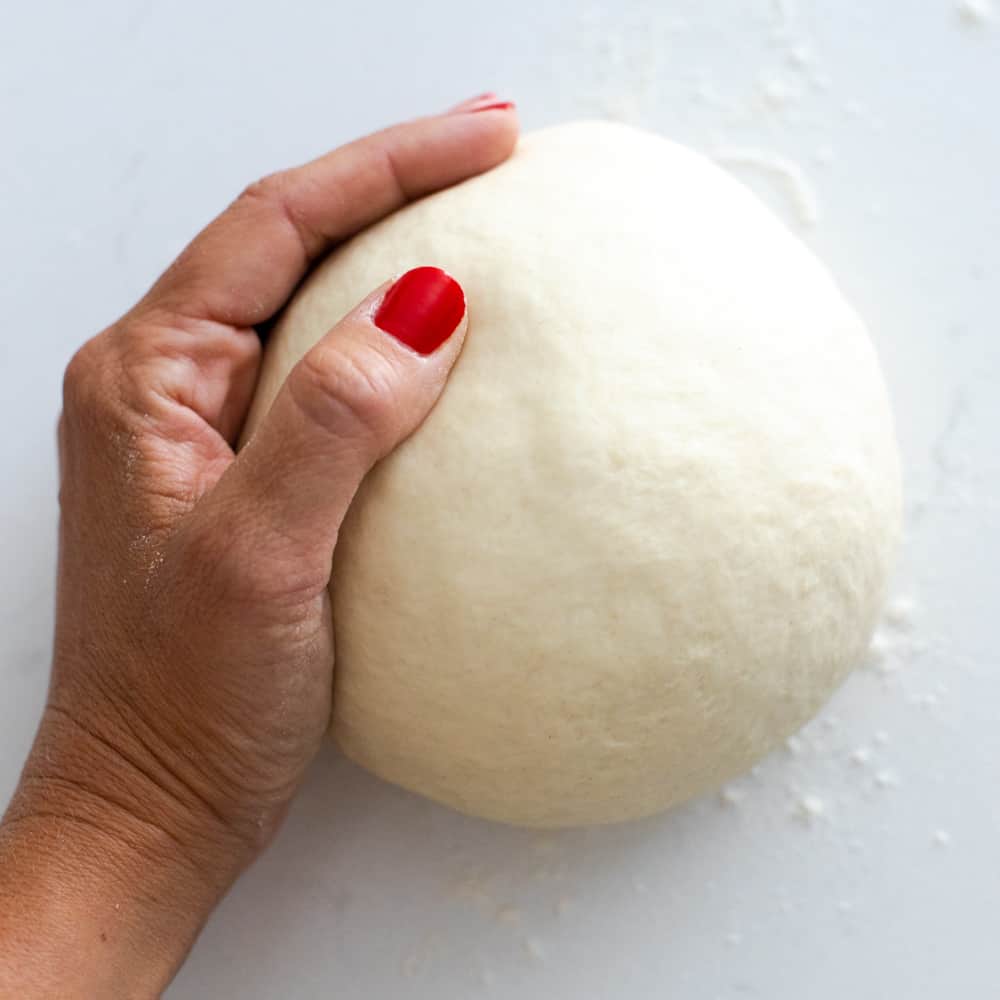 Sure, aged sourdough pizza crust is the ultimate in chewy, flavorful pizza crust satisfaction. But we don't always have time for all of that rigmarole. Be it thin and artisan or deep dish focaccia-esque, there is a time for all types of pizza dough. However, one thing we all need is a Quick and Easy Pizza Dough recipe that gets us to a homemade place of pizza as soon as possible!
I have been using this 72 Hour Pizza Dough recipe for years. It's got loads of character and charm. It takes planning, something I don't always have the luxury for. Enter my Quick and Easy Pizza Dough. A reliable kitchen hero that will get you right where you need to be, quickly.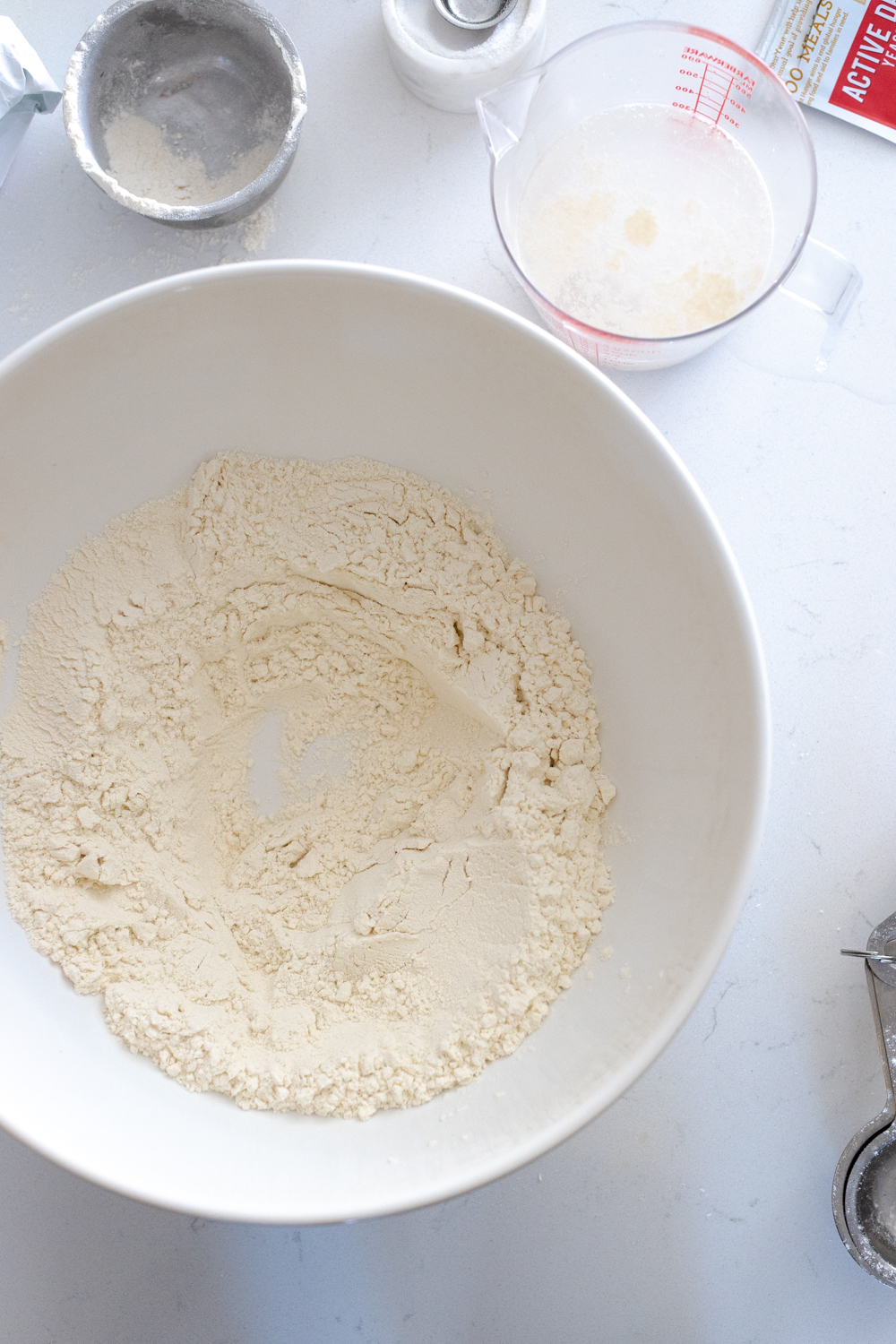 This Quick and Easy Pizza Dough has minimal yet active ingredients
Flour - when it comes to pizza dough flour, you've got options. Just about anything works here. From all purpose flour to bread flour or wheat flour but especially 00 flour.
Olive Oil - adding a bit of olive oil enriches the dough with a touch of tenderness from the fats in the OO.
Active Dry Yeast - bless the souls who created Active Dry Yeast and brought it to our busy lives. I like using Active Dry Yeast and kick starting it with a pinch of sugar and warm water. This allows you to see it begin to bloom up and activate. That bloom is like an insurance policy so that you know your yeast is indeed active.
Sugar - just a pinch feeds the yeast and helps to get things going!
Water - the water should be lukewarm, somewhere between 105° - 110°F. The warmth of the water also feeds the yeast. If it's too hot it could kill the yeast and leave you with a dough that doesn't rise.
Salt - this Quick and Easy Pizza Dough gets a good amount of salt, adding flavor depth and character to the quick acting dough.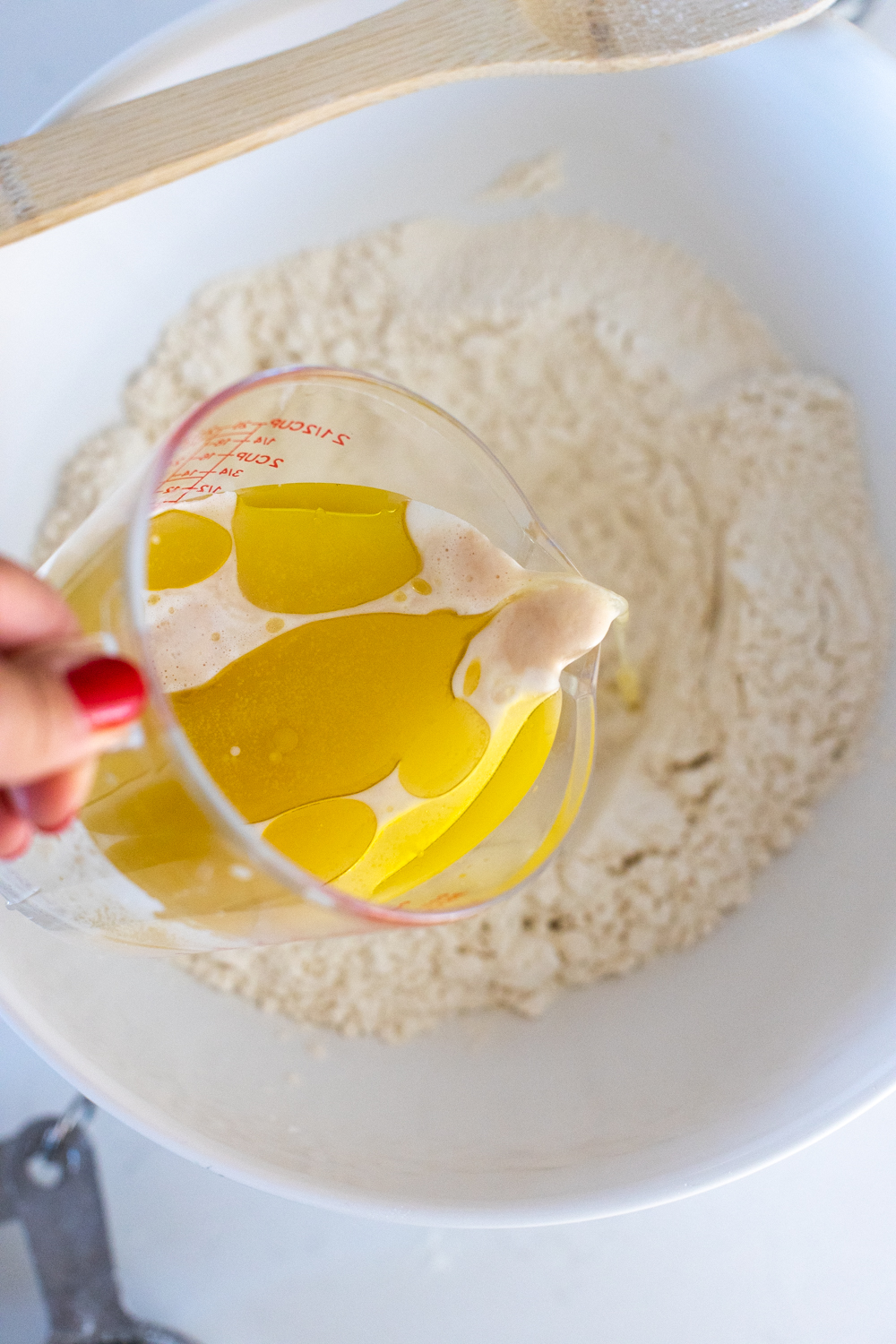 What type of flour should I use for pizza dough?
The good news is, you can use all kinds of flour for pizza dough; all Purpose flour, bread flour or wheat flour. But your best bet is 00 flour. Think of 00 Flour as the 007 of pizza dough flours, a handsome secret agent who fights for perfect pizzas. It is the ideal flour for this Quick and Easy Pizza Dough.
00 flour can be hard to come by. It may be a little more expensive. But, speaking from experience here, 00 flour truly is superior in the pizza dough department. If you plan on making pizza at home a few times, it is well worth the investment. It adds serious character in both texture and flavor. And, it kneads up like a dream with bouncy elasticity and puff, making it easier to handle - yay! 00 flour bakes into a beautiful crust with just the right amount of chew to bready fluff ratio.
What makes 00 Flour the best choice for Quick and Easy Pizza Dough?
When making doughs for breads and pizzas, we generally look for something that will give it a good chewy texture. This is achieved by using flour that has higher gluten content, like bread flour. More gluten = more chew! 00 flour has a finer grind, almost similar to pastry flour. But, it still has a good amount of gluten going on. The fine grind of the flour slows the absorption of water, making a slightly more hydrated pizza dough. This all adds up to a pizza dough that's airy yet chewy instead of dense. AKA the perfect texture and everything you want in a Quick and Easy Pizza Dough.
You can have the best toppings in the world but pizza needs a solid, ace of a base. This Quick and Easy Pizza Dough is a versatile workhorse that can chameleon itself from a classic Margherita Pizza, can curl up as a comforting calzone or roll up into a tight Pepperoni and Black Olive Stromboli. Or serve alongside my Cheesy Garlic Bread Pizza and thank me later for most craveable pizza of your life. Seriously.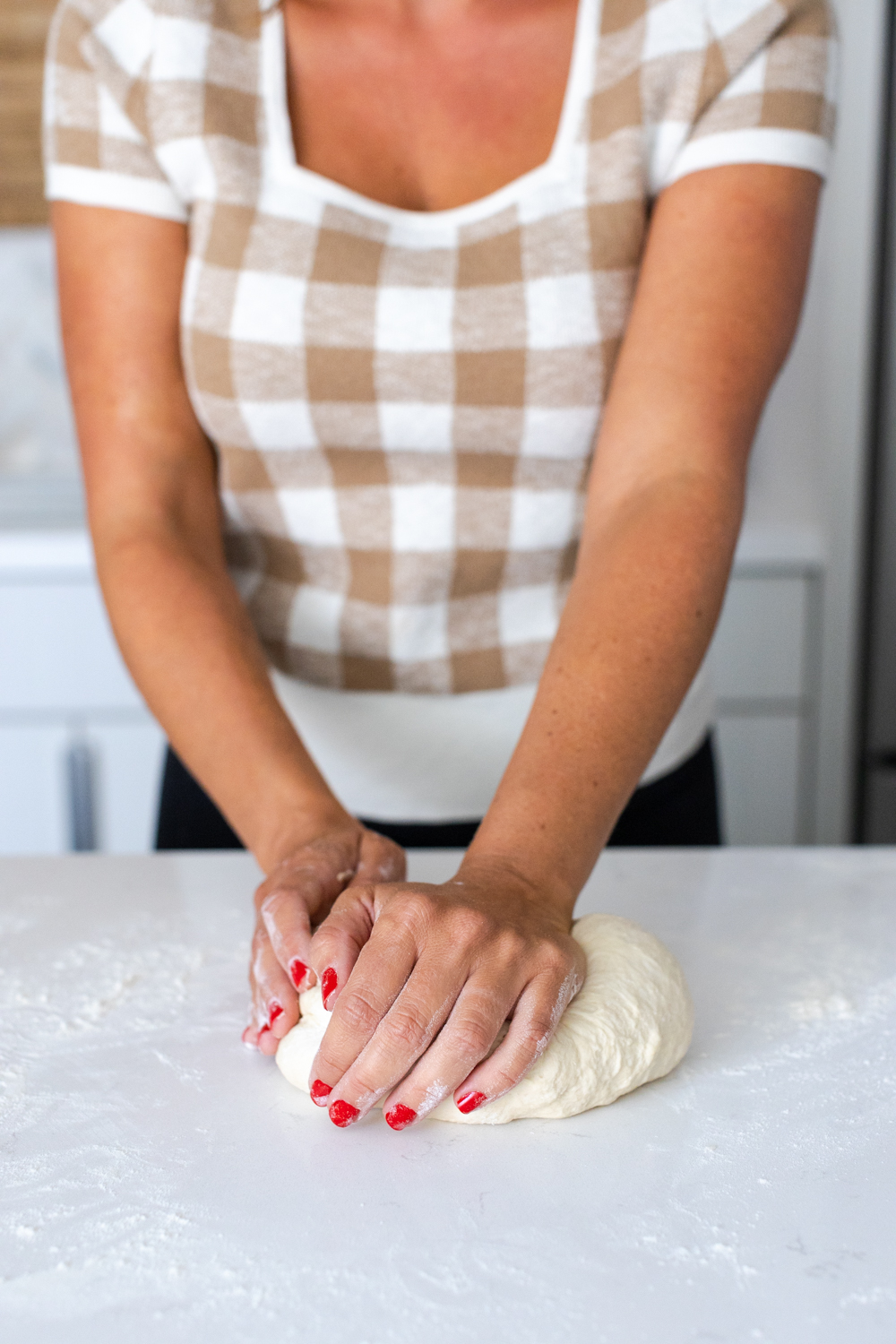 Mixes up by hand in mere minutes
It only takes a few minutes to mix and knead this Quick and Easy Pizza Dough. And there is no need for specialty equipment. Just a nice big bowl, a wooden spoon and a little of that old fashioned elbow grease gets this dough going.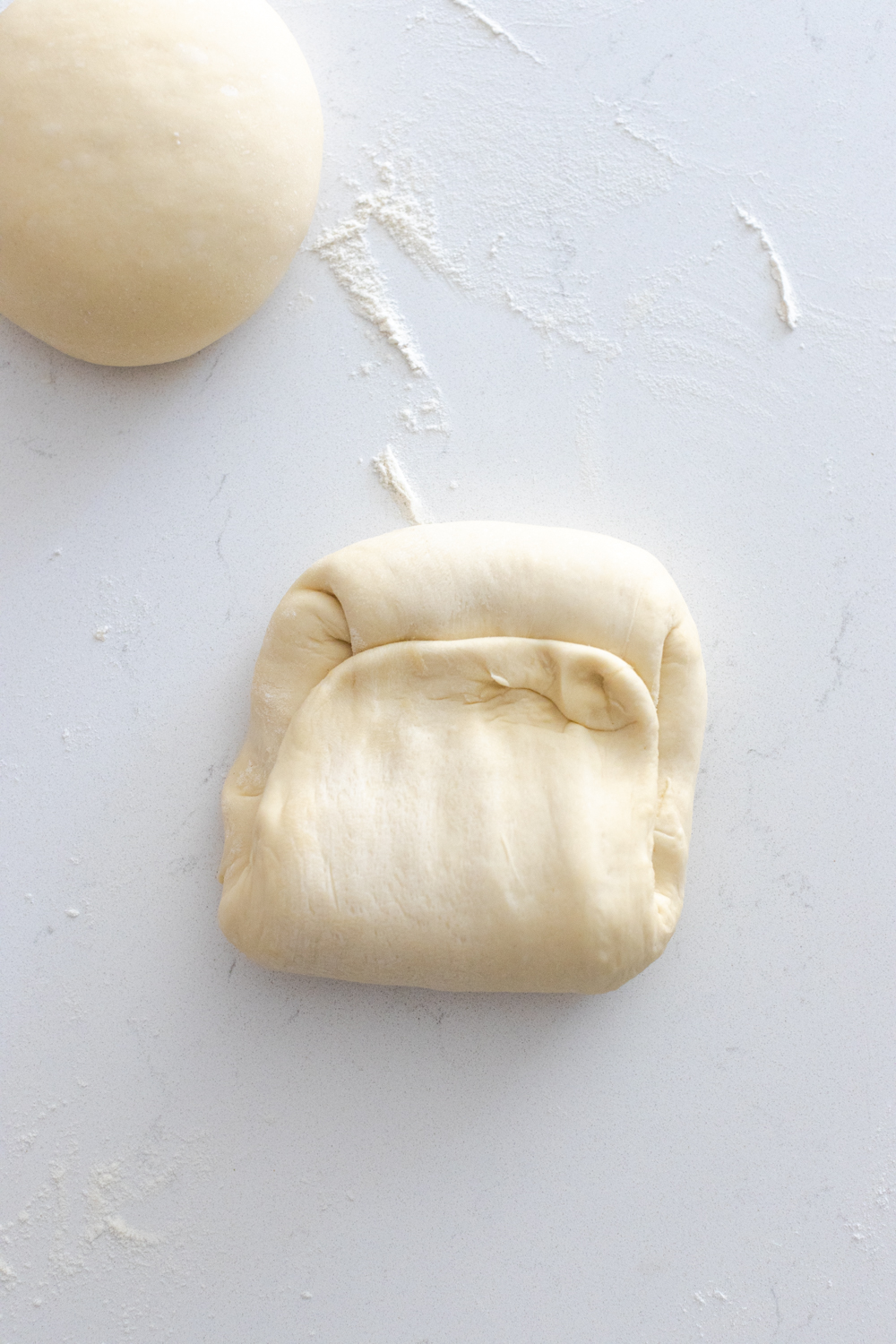 Rise to ready in under 2 hours
This Quick and Easy Pizza Dough goes from mixing to kneading to rise and ready to roll in under 2 hours. The effort is minimal and the bulk of the time it takes is passively rising in a draft free kitchen corner. This simple pizza dough quietly rises until it's doubled in size, then it's go time.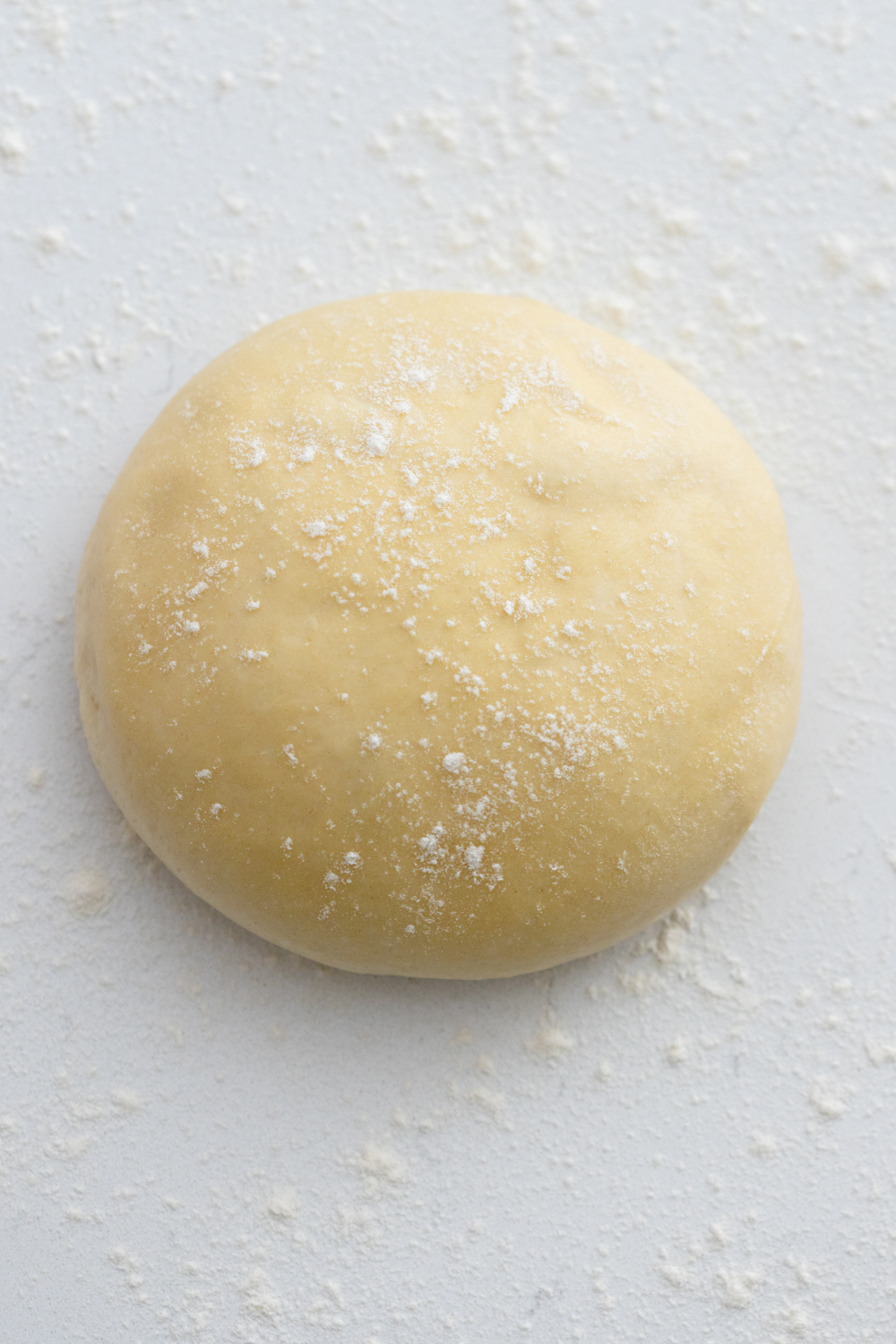 This dough has got great gluten strength and stretches out with the best of 'em. It bakes up with just enough oven puff and a chewy texture to each bite. When you need a reliable pizza dough that bakes into a satisfying crust yet comes together quick, consider this Quick and Easy Pizza Dough your best pal in pizza! But, don't forget the sauce, my Simple Pizza Sauce pals up perfectly with this recipe.
If you're throwing a pizza party but need to accommodate your GF friends, my pal Meg of This Mess is Ours has a undeniably delicious Gluten Free Pizza Dough option for ya. Because everyone deserves a pizza party! 🍕🎉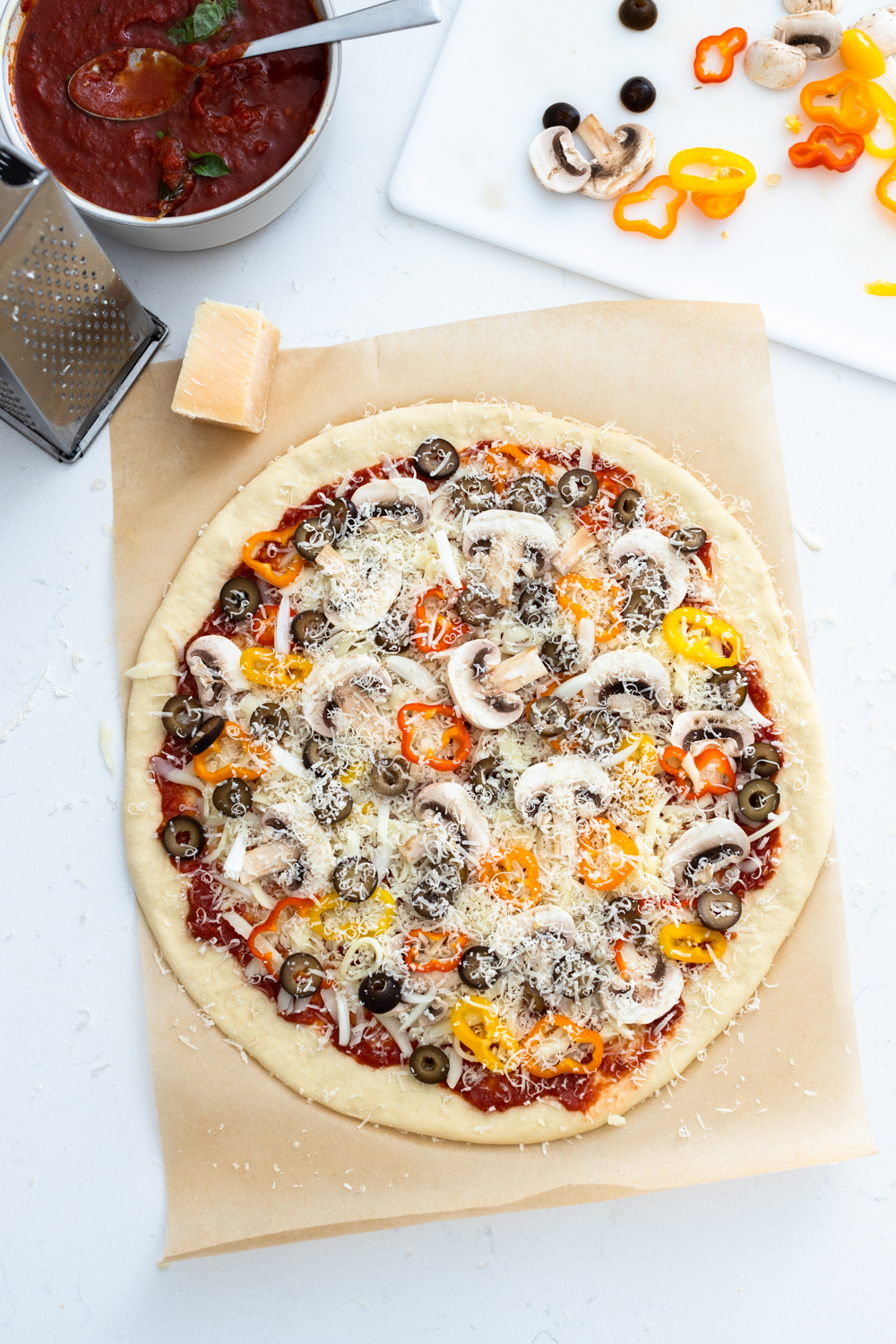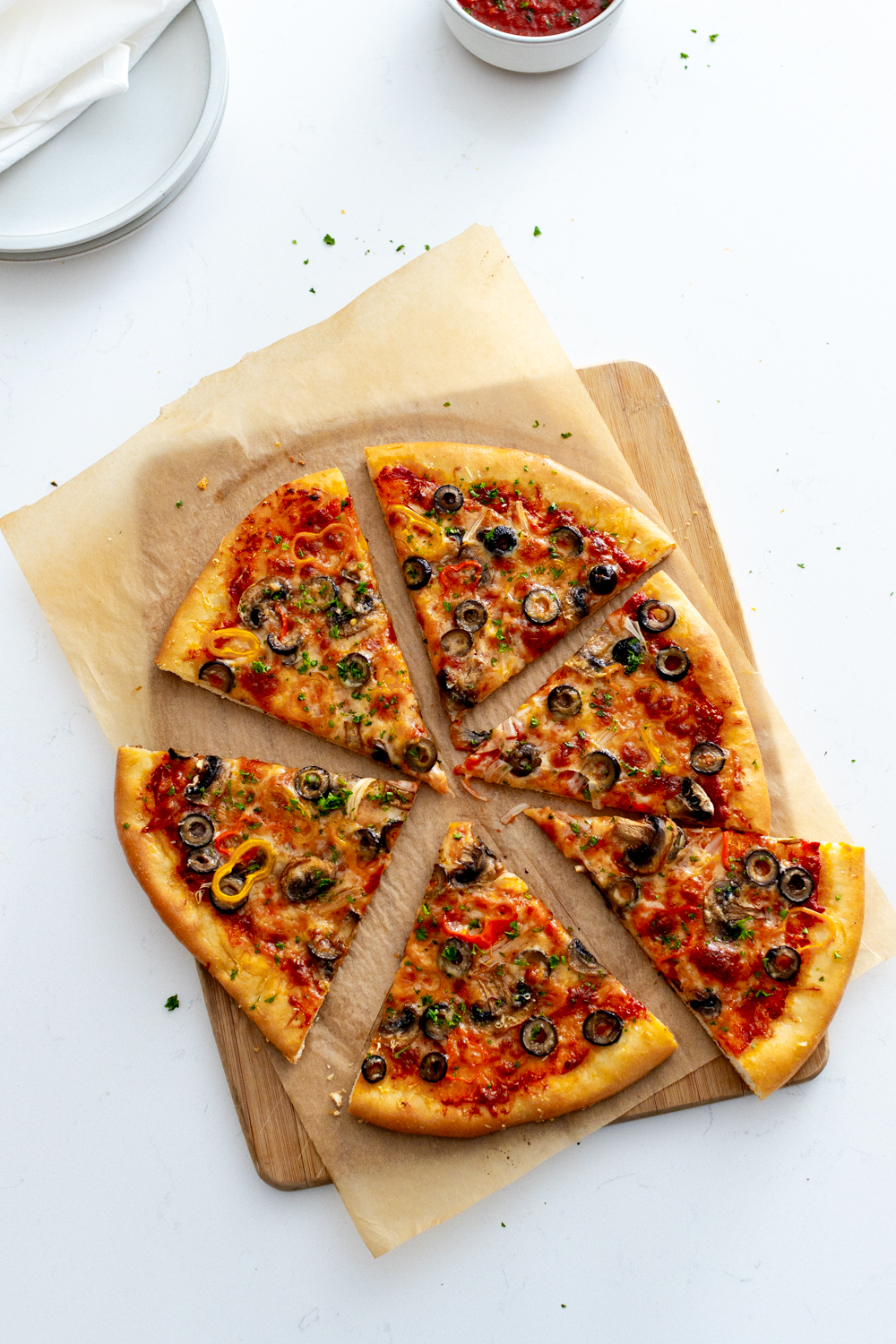 I am a lover of all pizzas and really do think there is room for every kind. From one pizza lover to another, I can't recommend Baking Steel enough. If you have the means to pick one up, it will change your homemade pizza game entirely. Giving you wood fired pizza character straight out of your home oven! Also, I don't have an Ooni pizza oven but I have used them and they are glorious.
Print
📖 Recipe
Quick and Easy Pizza Dough
---
Description
A quick and easy pizza dough that mixes together by hand in minutes, proofs up in less than 2 hours and stretches out like a dream. 00 Flour gives the dough dimension and bakes up with an airy yet chewy texture. This pizza dough serves as the perfect base for your favorite pizza toppings, Stromboli stuffings or calzone fillings.
---
3 ½

cups

bread flour (+ more if needed)

2 ¼ teaspoons

active dry yeast (

1

package)

2 teaspoons

fine sea salt

1 ¼

cups

water, lukewarm at 105° F-110°F

2 tablespoons

olive oil
a pinch sugar
---
Instructions
Combine lukewarm water at 105° F-110°F and sugar in a small bowl, stir together. Sprinkle with yeast and allow to stand until foamy, about 10 minutes. Stir in olive oil.
In a large mixing bowl, whisk together flour and salt. Make a well in the center. Gradually pour in the yeast mixture and stir with a wooden spoon to make a rough dough.
Turn the dough out onto a lightly floured work surface. Knead for at least 6-8 minutes, until the dough becomes smooth and elastic, dusting with more flour if necessary.
Divide the dough into 2, 3 or 4 equal portions for large, medium or small pizzas.
Place one portion on a clean surface, lift and fold two sides into center like an envelope. Gently pressing with your fingers to seal the dough. Rotate 90° and fold 2 sides into center again, continue this process until a rough ball is formed. Place the smooth side into your palm and tightly pinch dough to seal with a seam. Place seam side down on the counter and gently roll between your hands slightly presssing into the surface to build tension and form a tight boule. Repeat with remaining dough(s).
Brush 2, 3 or 4 medium or large bowls with olive oil, add a dough boule to each and turn to lightly coat with the oil. Cover loosely with plastic wrap or a damp, clean kitchen towel. Set aside at room temperature until doubled in size, about 90 minutes up to 2 hours. To slow the rise dough, place in the refigerator once the dough is shaped and allow it to chill up to overnight. Then remove from the fridge to finish the rise at room temperature before shaping. It should take about 90 minutes to 2 hours to rise.
Now you are ready to rock and shape that pizza dough into a canvas for any pizza, calzone or Stromboli creations!