I've been baking pies longer than I've been baking anything else. It all started with my classic Apple Cheddar Pie that was inspired by a cookbook my great-grandmother gave me as a high school graduation gift in the late 1990s. Yes, I'm that old. Since then, I've been working and reworking that recipe, including many iterations of pie dough.
Jump to:
This recipe for my Basic All Butter Pie Dough is the core recipe I've been using for years. It's ultra-tender texture and flaky finish comes from a super secret ingredient, used for generations in my family. Enough suspense, I'll just tell you. 
Apple cider vinegar is the secret sauce
The vinegar gives this pie dough its desirable, signature crust.
Acid hit. The acid in the apple cider vinegar tenderizes the dough by slowing the gluten production in the dough. This prevents it from getting tough and elastic like bread dough.
Love me tender. If you've ever bitten into a slice of pie with a tough crust, you know the value in a tender, flaky pie crust. This one has it thanks to that splash of vinegar and some simple techniques.
Evaporation situation. Because apple cider vinegar evaporates faster than water, it works quicker at puffing up your pie crust in the hot oven. It puffs up right away, creating little air pockets in the dough. That translates to flakiness in a finished pie crust. This is a very good thing. FYI, ice-cold vodka can be subbed in for the vinegar.
Disappearing act. If you're thinking, will my pie taste like salad dressing? Have no fear!. The vinegar all but vanishes into thin air when baking and if you notice anything at all, it would be the slightest of slight tanginess in the crust. Which is actually a welcome flavor next to sweet fruit fillings.
Use this dough for all things pie
This Basic All Butter Pie Dough recipe is a workhorse that performs like a champ in everything from pies to galettes and hand pies! It's got all the right moves. It tastes amazing. It's easy to mix up by hand, and the texture is fantastically flaky. With this basic recipe, you'll never use store-bought pie dough again.
Butter is where the flavor is at
You may find pie dough recipes that use shortening or a blend of shortening and butter. Shortening can make the dough easier to work with. But let's face it, butter just tastes better than shortening.
Flavor first
If you are going to the trouble of baking a pie from scratch, it should be as tasty as possible. For me, it's flavor over aesthetic, always. I'll take an imperfect-looking butter-crusted pie over a perfectly laced pie with a meh crust every single time. And I will say, if you use good butter, this Basic All Butter Pie Dough recipe rolls out and shapes up beautifully.
Tips, tricks & techniques for making perfect pie dough
It's all good. If you aren't using good, quality ingredients, it will undoubtedly come through in your pie crust. Butter is the most important factor here. You want to use a high quality butter with a high fat content, like a European style butter. This translates to superior taste, workable & pliable dough, plus extra stability when baking.
Remain chill. The flaky crust comes from the cold ingredients. Make sure your butter, apple cider vinegar, and water are nice and cold when you mix.
Come together. Always let that pie dough rest in the refrigerator for at least 1-2 hours before rolling it out. The ingredients need time to come together and rest before showtime. This will help the dough relax and be more pliable when it's time to roll.
Don't overwork it – it's not worth it. If you over-mix the dough you'll wind up with a dense, tough pie crust. Less work means more texture!
Forgive and forget. Pie dough is supposed to be rustic. If your dough tears while rolling it out, patch it up. It's forgiving. Now forget the idea of perfection and keep rolling!
Plans make themselves. They really do if you have a frozen pie dough disk stashed in your freezer! I always suggest making a double batch whenever you bake a pie, hand pies or a galette. Then you can freeze the extra dough disks and have them on hand for the next time you find yourself with a basket of berries you don't know what to do with. The dough will keep in the freezer when wrapped tightly in plastic wrap for up to 3 months!
The few ingredients & tools you'll need for pie dough
Here's another reason to love this Basic All Butter Pie Dough recipe: it doesn't take much in the ingredients or equipment departments.
Key ingredients. Just quality butter, all-purpose flour, sugar, salt, apple cider vinegar & water! Simple as can be.
May I cut in. To cut the butter into the dry ingredients, a pastry blender is my go-to tool. But if you don't have one, you can use two butter knives and kinda criss cross them through the butter to break it up. Or, just use your hands to squish that butter into the dry ingredients. If you run hot, run those mitts under some cold water for a moment first!
Ride the bench. A bench knife is my best friend in the kitchen. It cuts, it cleans and it scoops like none other. I use this tool all of the time when making pie dough and it's paid for itself 1000 times over.
Roll with it. You will need a rolling pin to roll out your pie dough evenly. Although, I've been known to successfully use a wine bottle to roll dough in a pinch.
I hope this Basic All Butter Pie Dough recipe convinces you to try your hand at handmade pie dough. The buttery flavor and flaky crust are everything you want in a dream pie. And I promise it's not as scary to make homemade pie dough as you might have been led to believe. Give it a go, you'll never go back to store bought again, I guarantee it!
If vodka speaks to you more than apple cider vinegar, check out my All Butter Vodka Pie Dough that I use interchangeably with this Basic All Butter Pie Dough recipe. They act in the same way in the dough and yield the same results. It's nice to have options.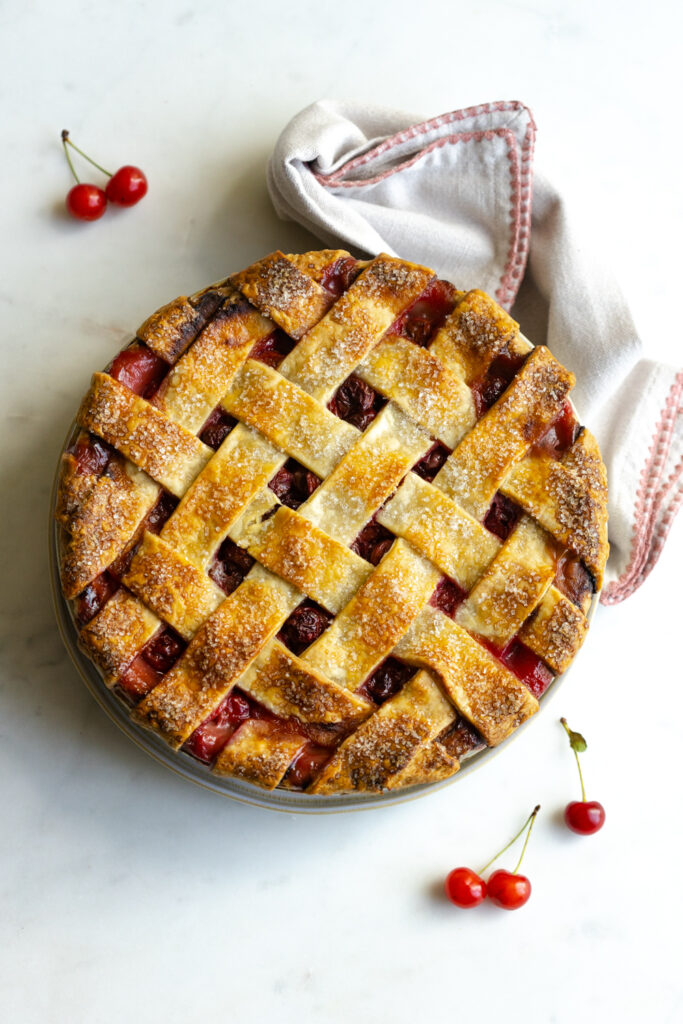 Print
📖 Recipe
Basic All Butter Pie Dough
---
Description
Apple cider vinegar tenderizes the dough while European style butter brings superior flavor and a fantastically flaky texture to this Basic All Butter Pie Dough.
---
2 ½

cups

all purpose flour

2 tablespoons

granulated sugar

2 teaspoons

fine sea salt

1

cup

unsalted butter (- cold and cut into ¼" - ½" cubes)

2 tablespoons

apple cider vinegar (- cold)

2

-

4

tablespoons ice cold water
---
Instructions
Place the flour, sugar and salt in a large mixing bowl with high sides and whisk together.
Cut in the butter by blending the flour mixture with either a pastry blender or by squishing the butter and dry ingredients between your fingers, (just be careful that the butter doesn't start to melt) until crumbly with pea sized granules.
Drizzle in the apple cider vinegar while mixing with a fork and mix until evenly distributed. Check the hydration level of the dough by gathering a small fistful; if it holds together, it's ready. If it is dry or crumbly, slowly drizzle in the ice cold water, 1 tablespoon at a time, using the fork to mix. Test the dough by pinching it occasionally. It should hold together but not be sticky. *Be careful to add only as much water as it takes to hold together. The dough will come together without much effort or deliberate packing.
Combine the dough into a large disk, gently gathering and patting it together. No need to knead, just gather and pat to ensure a flaky crust. Use a knife or bench knife to divide the dough directly in half. Then form the dough into two smaller disks. Wrap the disks in plastic or place in reusable plastic bags to chill.
Chill the dough in the refigerator for at least 1-2 hours before rolling and forming. If you don't plan on using the dough the day you prepare it, store in the freezer. Defrost the frozen dough overnight in the refrigerator before using or on the counter 1½ - 2 hours before using. This dough will last at least a couple of months if wrapped up tightly in the freezer.
Use as directed in your favorite, pie, hand pie or galette recipes!
Notes
This recipe makes 2 dough disks, enough for 1 double crusted pie, 2 single crust pies, 2 large galettes or up to 12-18 hand pies, depending on size.
This dough is very versatile, it can be used for traditional single or double crust pies, hand pies or galettes.
You can store this dough in the freezer up to 3 months if tightly wrapped with plastic wrap or stored in a reusable baggie. Before using, defrost the frozen dough overnight in the refrigerator or on the counter for 1½ - 2 hours.
Prep Time:

10 minutes

Category:

Dessert
Keywords: all butter pie dough, apple cider vinegar pie dough, Basic All Butter Pie Dough, Butter Pie Dough, cream cheese hand pie dough, hand pie dough, pie crust
Reader Interactions