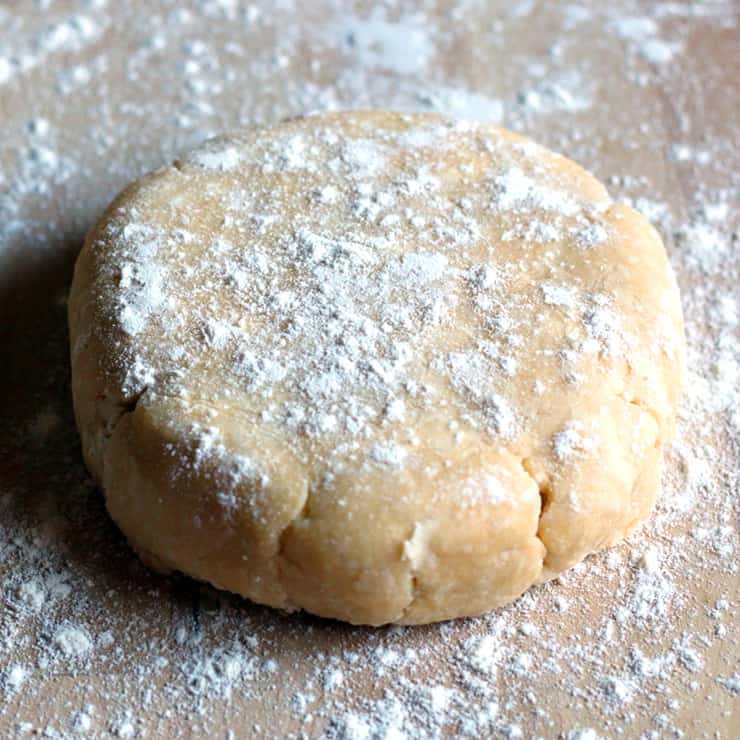 I know guys, pie crust can be tricky. If you add too much moisture you've got a sticky mess on your hands, literally. If you overwork the dough, you have a thick and chewy homogenized crust with blah flavor and none of that flaky textured crust. It's a delicate process that takes some getting used to. After spending 3 very long days in a commercial kitchen during a pie baking frenzy last year, I feel like I know at least the first thing about pie dough. And, the first thing is a really big thing in pie dough assembly. All right stop, collaborate and listen....you want to keep the dough cold, ice cold.
I like to use vodka in my pie crusts because it offers a flakier and crispier crust. The vodka evaporates more than water during the baking process, removing more moisture and creating a lighter crust. *If you aren't into the idea of vodka, a good alternative is apple cider vinegar, it has the same effect as the vodka. Don't worry, once you bake it you can't taste the vinegar or the vodka.
Thin layers of fat (butter) flour and water will make for that flaky crust we all desire. Keeping the butter cold will keep it from blending into the flour too much and becoming too cohesive. When cutting in the butter, the clumps are where it's at! Those lovely lady lumps will give your crust character and dimension. DO NOT, I repeat DO NOT over-mix your pie dough. You want it to look mealy with dime-sized clumps of butter, not smooth and even. There should even be some dry bits of flour up in there. They will be absorbed when you form the dough disks. The dough should just come together when you grab a fistful.
If you find yourself baking a pie in a warm environment, the butter is beginning to melt and the dough starts sticking to the counter, this is the danger zone. However, if there is a problem, yo, you can solve it. Just put the floppy dough on a baking sheet and stick it in the freezer for a couple of minutes. This will help revive your pie dough from a hot mess back into a pliable dough you can work with.
As we all know, practice makes perfect. The more pie you make, the more comfortable you will get with your dough. Keep rolling and you'll get it. Word to your mother.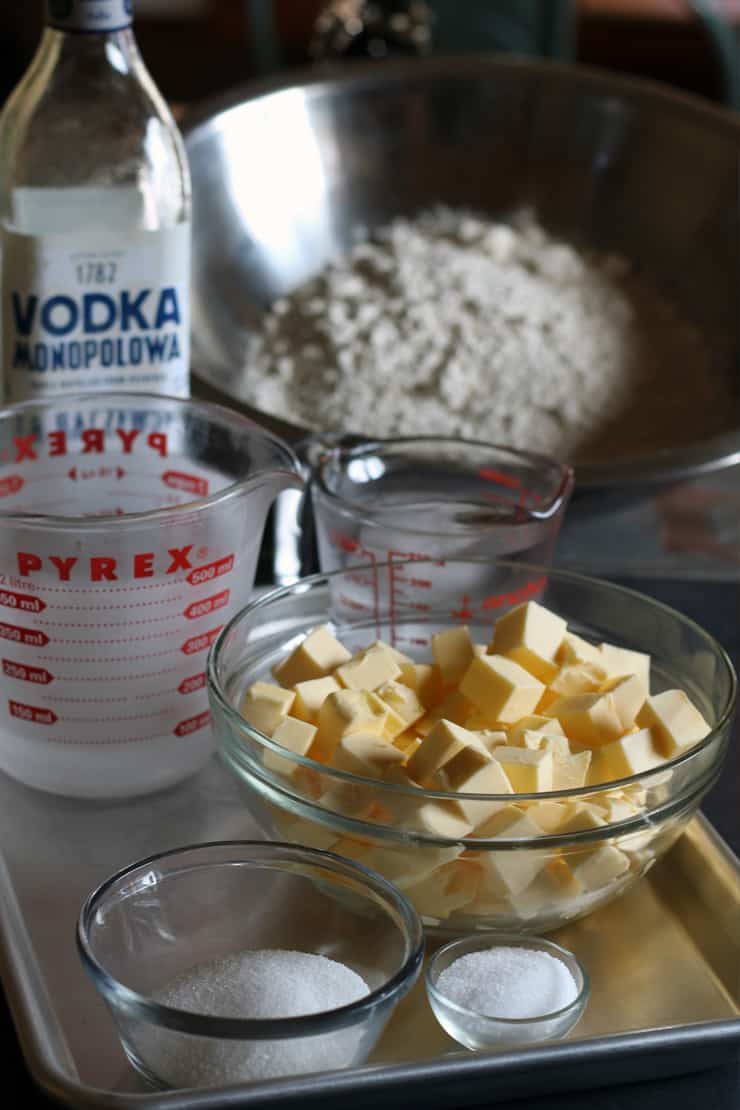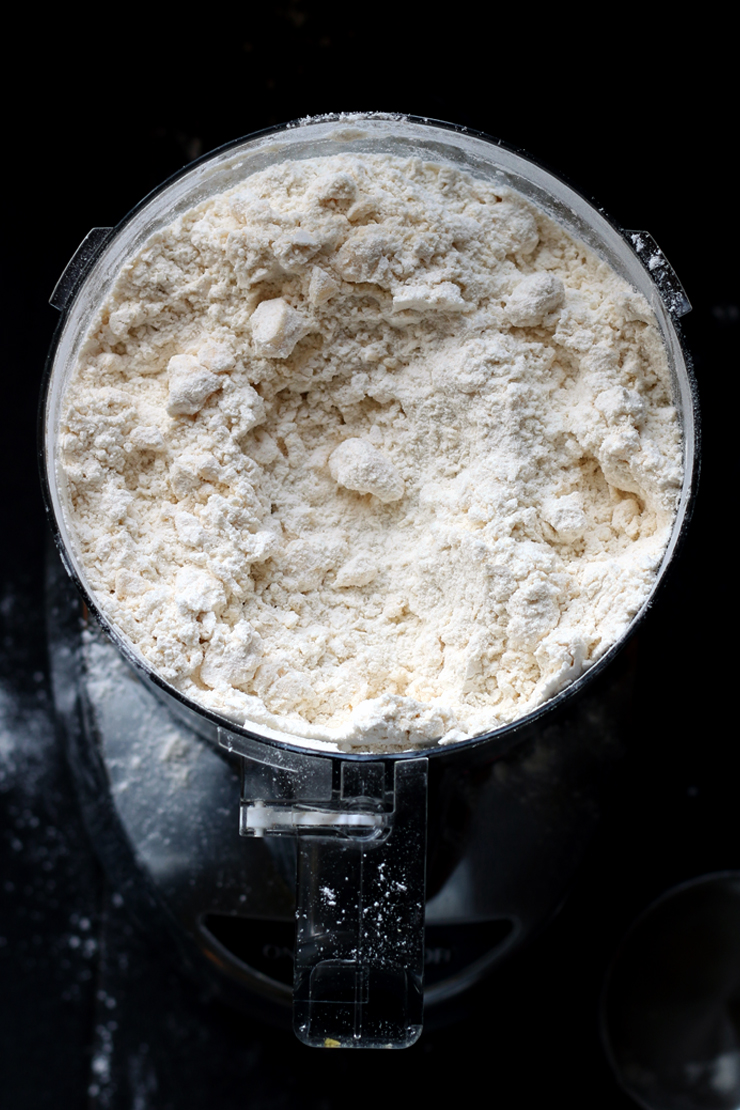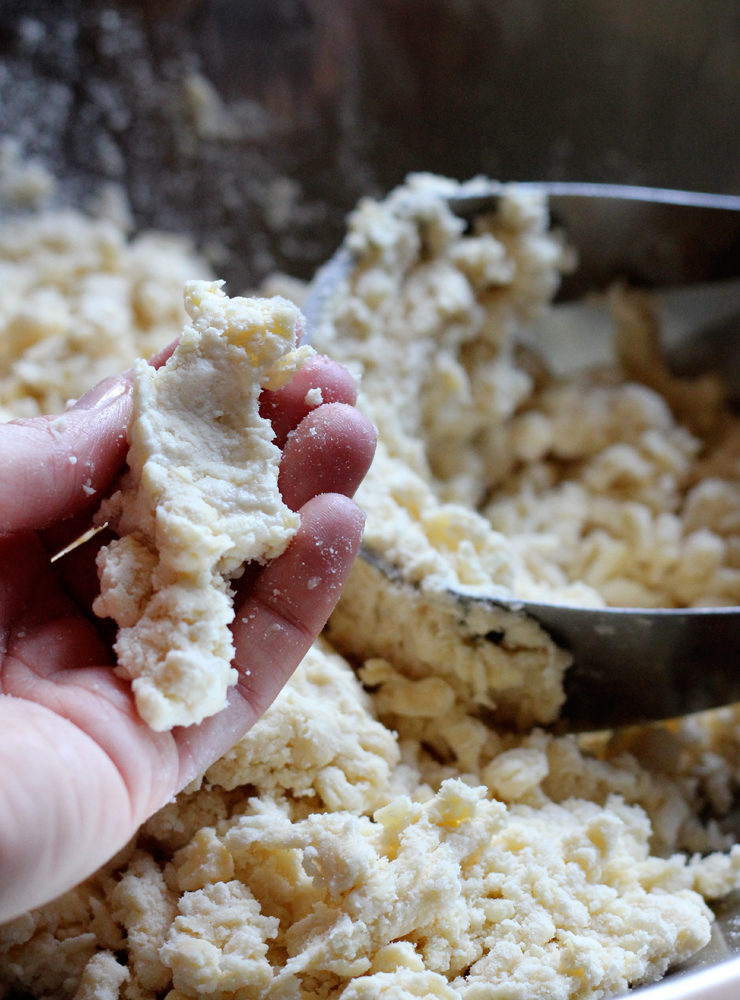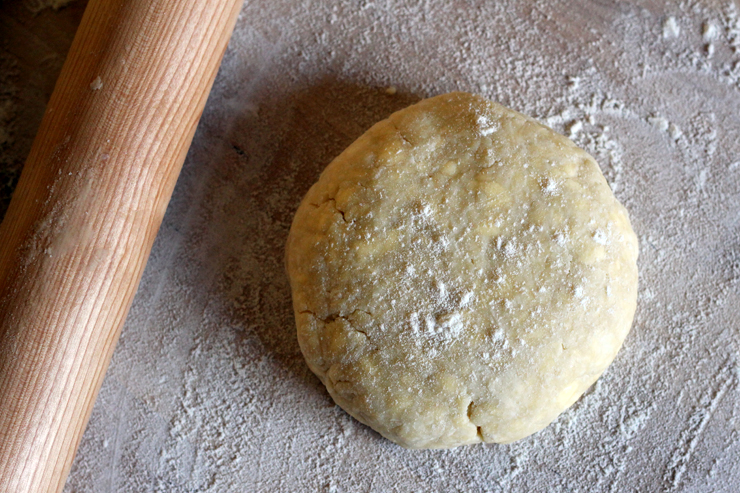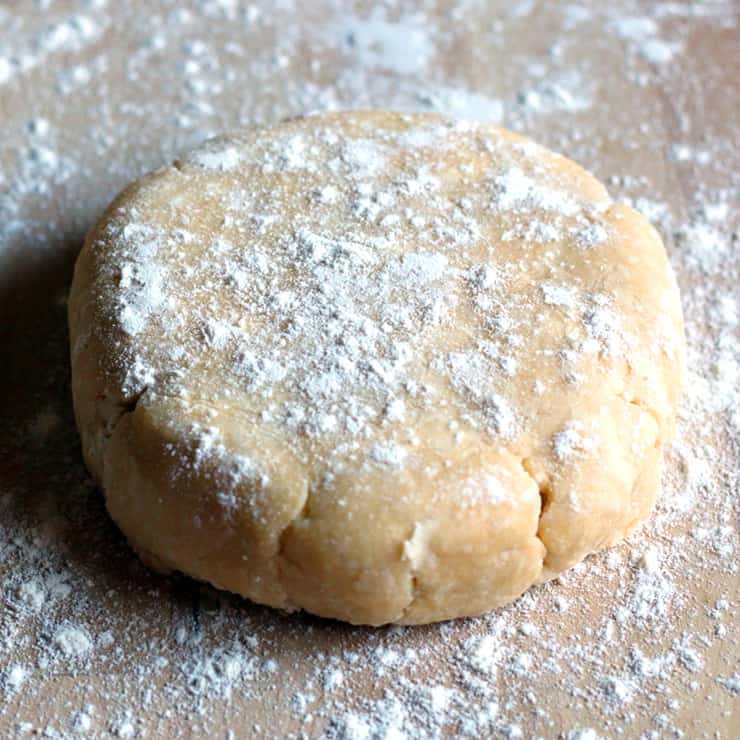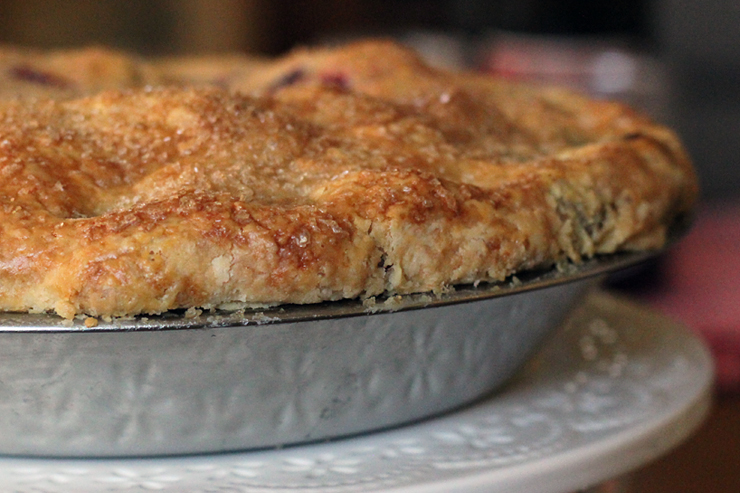 Print
📖 Recipe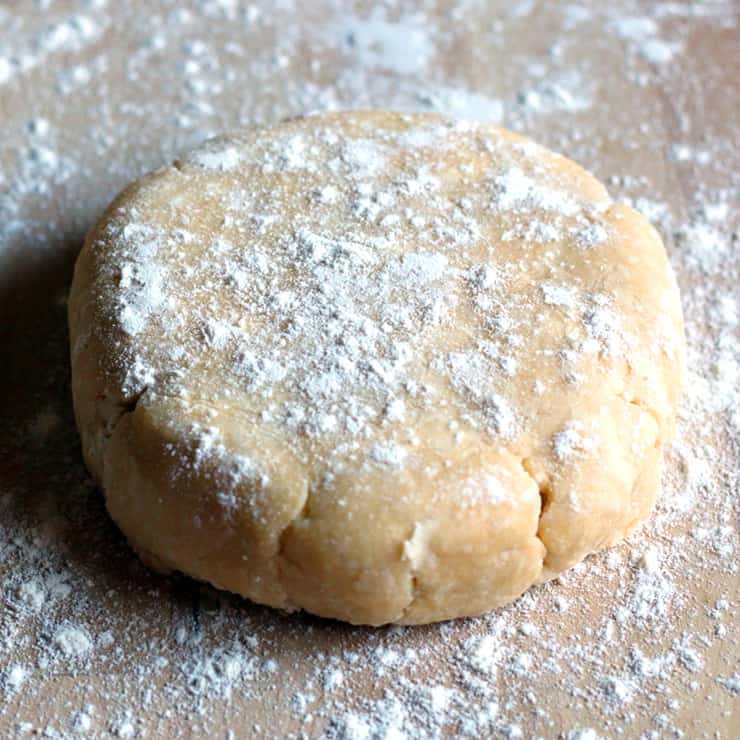 All Butter Vodka Pie Dough Recipe
---
Description
This versatile pie dough recipe can be used for anything from traditional single or double crust pies to hand pies and galettes. The recipe incorporates vodka, which makes for a lighter flakier crust. This dough freezes up well and will last at least a couple of months if wrapped up tightly in the freezer.
---
unsalted butter (cold & cut into ¼" cubes - 1 cup (2 sticks))
all purpose flour -

2.5

cups

granulated sugar - 2 tablespoons
salt - 2 teaspoons
ice cold vodka -

¼

cup

ice cold water - 2-4 tablespoons
---
Instructions
Place the flour, sugar and salt in a metal or ceramic mixing bowl with high sides and mix together. If you plan ahead and have time for it, chill the mix for a couple of hours or even overnight.
Cut the butter into ¼"- ½" cubes and put back in the fridge to firm back up for a few minutes.
If you have a food processor, you can use it to mix the pie dough. Place the flour mixture and cubed butter in food processor. Gently pulse until the flour changes from silky to mealy; this should only take a handful of pulses so watch it carefully.
If you don't have a food processor, you can easily cut in the butter by blending the flour mixture with either a pastry blender, two butter knives or even just by squishing it between your fingers, just be careful that the butter doesn't start to melt.
If using a food processor, while pulsing, gently pour the vodka through the feed tube just until combined. At this point, I like to turn the crumbly dough into a large mixing bowl to check the hydration level of the dough by gathering a small fistful; if it holds together, it's ready. If it is dry or crumbly, slowly add the ice cold water, 1 tablespoon at a time, using a pastry blender (or the butter knife method). Test the dough by pinching it occasionally. If you aren't using a food processor, use a pastry blender or fork to combine the vodka into the dough.
*Be careful to add only as much water as it takes to combine the dough into a ball or disk. The exact amount of water can vary depending upon the moisture content of the flour, the quality of the butter, and the weather. When it has the proper amount of water, the dough will come together without much effort or deliberate packing. If you need to add more water, make sure the ingredients are still cold.
Form the dough into two disks and wrap them in plastic. Chill for at least 1-2 hours before rolling and forming. If you don't plan on using the dough within a few hours or on the day you prepare it, you can store the dough in the freezer. (If it sits in the refrigerator too long, it could start to turn a grayish color.)
This dough will last at least a couple of months if wrapped up tightly in the freezer. Defrost the frozen dough overnight in the fridge before using or on the counter 1.5 -2 hours before using.
Notes
This dough is very versatile, it can be used for traditional single or double crust pies, hand pies or galettes. At this point, you will roll out the dough and use it as desired.