Every year when the calendar flips from July to August, I experience a small, internal, pang of panic. It's a sobering moment realizing that we are on the downswing of summer and I only have X number of days to cram in all the summery activities and seasonal produce I can get my hands on! I'm not one to pass on the superb summer pie season. I bake everything from galettes to hand pies to a late summer inspired Stone Fruit Pie.
This summer, I've partnered up with my favorite local grocery, New Seasons Market to throw a virtual #SummerPieParty. We've been working together to make the most of their summertime selection of high-quality, locally sourced, peak of the season produce by baking it into all things pie! We've shared our Blueberry Peach Galette and Blackberry Lime Hand Pies, both made with my tried & true Basic All Butter Pie Dough recipe. To round out the series, we are sharing a brand new Stone Fruit Pie recipe.
Stone fruits, also known as drupes, have a single seed or pit in the center. Think peaches, nectarines, plums, apricots and cherries.
Late summer stone fruit is nothing short of magical here on the west coast. I imagine those little globes soaking up the summer sun for months, growing bigger and sweeter by the day. A fresh summer peach or plump and juicy plum tastes like straight candy when ripe. The jewel toned varieties of stone fruit each have their own unique flavor that somehow tastes like nothing else, but exactly like summer – sweet, tart, intense, warm and floral. 
Stone fruits come in a rainbow of colors, shapes, sizes and flavors.
This Stone Fruit Pie recipe uses whatever stone fruit is ripe for the picking and available to you at the moment. When I visited my local New Seasons Market there were so many beautiful stone fruit varieties that I had trouble narrowing it down. Instead of sticking to just a single varietal, I used an assortment of the seasonal stone fruit.
Maryhill Peaches - Classic yellow peaches with the juiciest, sweet peachiness. These babies are picked at the peak of freshness when the sugar levels are high, translating to a concentrated, full-on peach flavor.
Flavor King Pluots - A hybrid of the plum and apricot, your Highness really lives up to its name - with a royal jewel toned skin and a vibrant red fleshy interior that's both rich and intensely sweet. It makes for the most beautiful color when baked.
Black Plums - Round and plump medium-sized plums with a deep purple, nearly black skin and a pale yellow flesh with a luscious, aromatic almost floral flavor.
Red Plums - A round plum with a vibrant red skin and tender yellow flesh. These cute bulbs have a sweet flavor with a hint of fresh, tart and slightly sour undertones.
Dapple Dandy Plucots - Also know as "dinosaur egg" pluots, thanks to their playful, marbled skin. These gems are both sweet and tart with a crisp, refreshing bite.
Nectaplums - They taste like just the name suggests, with the tart crispness of a nectarine and the syrupy soft sweetness of a plum. You can taste both fruits distinctly and the texture is pretty much perfect; not too firm and not too squishy. Just right. This one is a real Goldilocks of hybrids.
What I love most about this Stone Fruit Pie recipe is its adaptability. No matter what combination of stone fruit you use, it's going to be delicious. That makes it a great recipe for using up any stone fruit that you might have bought with the best of intentions, but may be starting to get a little too soft for snacking. Just toss it together with some sugar, a dash of almond extract and a little tapioca starch for the most summery pie filling of the season.
Each varietal of stone fruit has its own unique characteristics, and that makes for an even more interesting pie filling! Different flavors, shapes and colors meld into one fantastically flavor forward pie. Pair that with the following power moves and your Stone Fruit Pie will be an undeniable late summer delight.
Aces in the Pie Hole.
Basic All Butter Pie Dough - A solid start is imperative to success. This dough is as reliable as they come. It's so versatile and works in everything from galettes to hand pies to intricate double crusted pies. It's rustic but pliable. Tender, flaky and full of buttery flavor.
Almond Paste - This Stone Fruit Pie uses a layer of almond paste between the stone fruit filling and the bottom crust. It creates a barrier between the filling and the crust like an insurance policy for keeping soggy bottoms at bay. It also brings a welcome note of rich flavor that's hard to identify at first. It's slightly nutty with a natural, earthy sweetness. Almonds and stone fruit are the best of buds, so the almond paste layer harvests a whole new orchard of flavors. Store bought is fine, or make it yourself with my Easy Homemade Almond Paste recipe. It really is easy!
Fantastic Fruit - Obviously fresh, flavorful fruit makes for a better pie filling. Using peak of the season stone fruit gives this pie unmatched flavor and a vibrant, thick and juicy filling. It's truly nature's candy.
Tapioca Flour - This naturally sweet ingredient thickens fillings and blends in seamlessly without being chalky or having a weird chemical aftertaste. Plus it helps minimize unwanted soggy bottoms and soupiness!
Almond Extract - Because almonds and stone fruit are both members of the prunus family, trees and shrubs that produce stone fruit - aka drupes, the flavors pair beautifully. Stone fruit and almonds are a natural match and work so well together in this pie.
This Stone Fruit Pie has all of the homey qualities you want in a summer pie: A classic double crusted weave top that's tender and flaky with a buttery flavor and crisp bite. Fresh fruit filling that's well rounded in sweetness with tart undertones and a luxurious rich and silky texture. Plus, a hidden surprise of additional flavor and finish from the layer of earthy sweet and subtly nutty almond paste. Stone fruit and almond are natural flavor pals destined to pair up in this pie. Bonus, the almond paste creates a barrier between the filling and the bottom crust, so soggy bottoms don't stand a chance! These 3 elements combine in a late summer ensemble that's as pleasant as the day is long.
For years I had to look up how to weave a pie crust every single time I made one. Seeing it visually displayed, step-by-step helps me remember how it works. It really is simple once you get the hang of it. Sometimes, though, you just need a little visual confidence boost to know you're doing it right.
How to roll out and transfer a bottom pie crust with ease.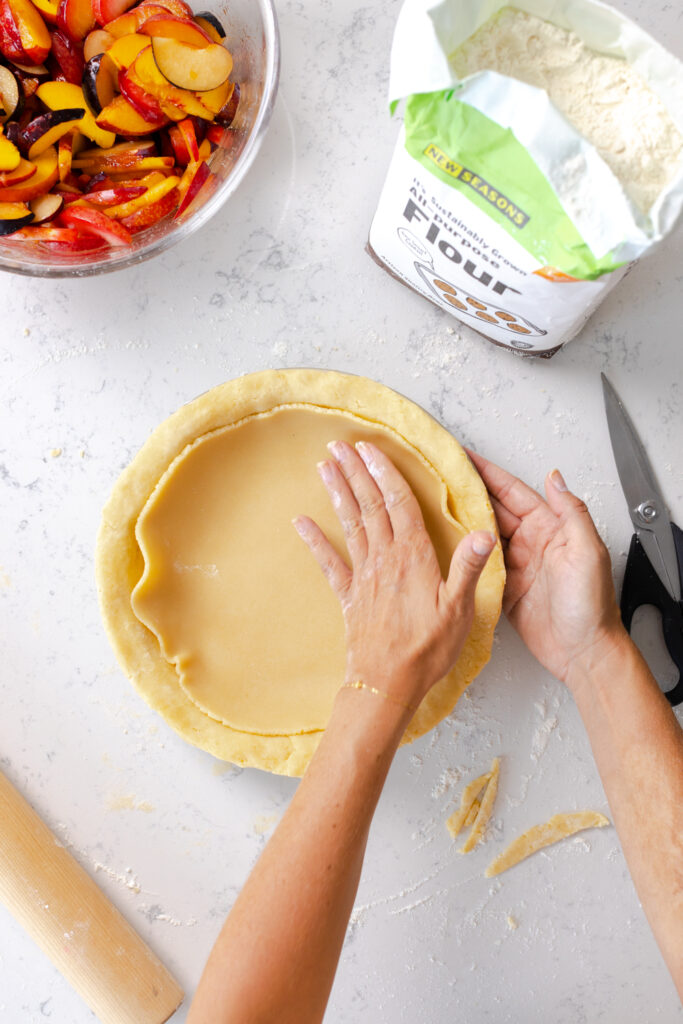 How to weave a classic pie crust like a pro.
Now for the bottom half!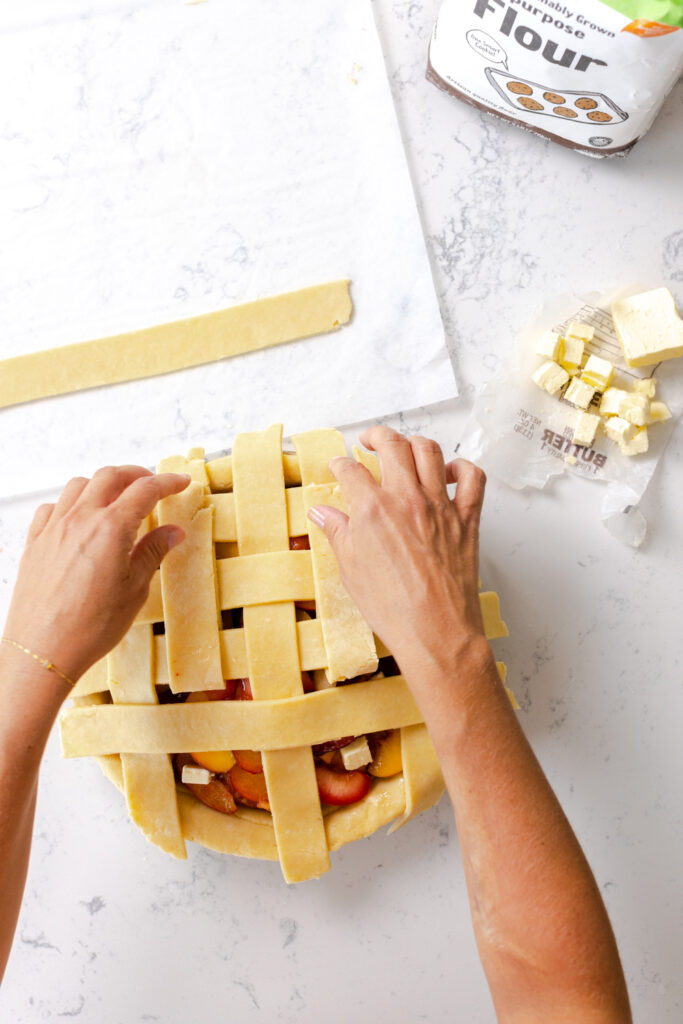 The friendly folks at New Seasons find the freshest, most flavorful fruit and veggies by teaming up with local growers to bring hand-picked produce straight to the stores. It's like having a farmers market at your fingertips, 7 days a week!
Knowing that I can walk into my local New Seasons and find the freshest produce is such a joy. This Stone Fruit Pie was inspired by the late summer and New Seasons and I don't think it could have turned out better. There is something to be said about surrendering to the season and allowing it to guide your recipes. It sure worked out well in this flavorful, textural and colorful Stone Fruit Pie. Don't you think?
This post was made in partnership with New Seasons Market. Follow New Seasons on Instagram and Facebook or check out newseasonsmarket.com to learn more about their commitment to locally sourced, fresh, sensationally seasonal produce.
Thank you for supporting me and the brands that I love! ?
Print
📖 Recipe
Stone Fruit Pie
---
Description
This Stone Fruit Pie has all of the homey qualities you want in a pie. A classic weaved lattice crust that's tender and flaky with a buttery flavor and crisp bite. Fresh fruit filling that's well rounded in sweetness with tart undertones and a luxurious silky texture. Plus, there's a hidden surprise of additional flavor from a layer of earthy sweet and subtly nutty almond paste. Bonus, the almond paste creates a barrier between the filling and the bottom crust, so soggy bottoms don't stand a chance! These 3 elements combine in a late summer ensemble that's as pleasant as the day is long.
---
2

disks Basic All Butter Pie Dough (- recipe linked in notes, makes

2

disks)

3

lbs

. assorted stone fruit: peaches, plums, nectarines, pluots, plumcots, apricots etc. (- about 6 cups sliced)

½

cup

granulated sugar

¼

cup

brown sugar

2 tablespoons

tapioca flour or cornstarch

1 teaspoon

almond extract

1

-

7

ounce

tube almond paste (- or 1 log of Easy Homemade Almond Paste, recipe linked in notes)

1

-

2

teaspoons powdered sugar (- for dusting)

1 tablespoon

unsalted butter (- cold and cut into ¼" cubes)

1

egg (- lightly beaten with 2 teaspoon of water)

1

-

2

tablespoons Turbinado or sparkling sugar
---
Instructions
ASSEMBLE THE PIE
Remove the Basic All Butter Pie Dough disks from the refrigerator and set them on the counter at room temperature to soften while you prepare the filling.
Rinse and drain the stone fruit, then slice into ¼" thick slices and place in a large bowl. Top with granulated sugar, brown sugar and almond extract. Gently stir together to combine. Allow to sit for 15 minutes so the juices begin to release from the fruit. Add the tapioca flour and gently mix until fully absorbed into the juices.
Lightly dust a clean surface with powdered sugar. Gently flatten the almond paste log into a round disk, then use a rolling pin to roll it into a 10" round. Set aside.
Once the dough disks have softened just enough to leave a thumbprint indention in the top, it's ready to roll. On a lightly floured surface, roll the first disk into an 11" round and ⅛" - ¼" thick.
Carefully roll the dough round around the rolling pin, then unroll it over a 9" round pie dish. Press it down into the base of the pie dish, leaving a 1" overhang all the way around. Trim the edges evenly, then tuck the overhanging edge underneath itself and press to form an even ring around the edge of the pie dish.
Place the almond paste round directly centered on top of the pie shell base and carefully nestle it into the shell up the sides.
Roll the second dough disk into an 11" round ⅛" - ¼" thick. Using a straight edge ruler and a pizza cutter or sharp knife, cut the dough into 1" wide strips. You should get around 9-10 strips. *If the dough strips are getting too soft, place them on a lined baking sheet and chill in the fridge for a few minutes to firm back up.
Use a slotted spoon to transfer the stone fruit filling into the bottom shell. Form a mound that is taller in the center of the pie. Then dot the top of the filling with ¼" butter bits.
WEAVE THE LATTICE
Arrange half of the dough strips vertically over the filling, evenly spaced. Use the longer strips in the center and the shorter strips towards the edges.
Gently fold back every other vertical strip halfway, then lay a long strip across the pie, horizontally over the vertical strips. Unfold the vertical strips to their original position, over the top of the horizontal strip.
Repeat the process, this time folding back the vertical strips that weren't folded back the first round. Lay another horizontal strip, then fold the vertical strips back to their original positions.
Repeat the process with the remaining half of the pie until you have a fully weaved lattice.
Trim dough strips down to a 1" overhang. Then gently tuck the strips under and around the bottom crust and gently press together to seal. 
Gently brush the entire surface with the egg wash and sprinkle with turbinado or sparking sugar.
CHILL & BAKE
You can bake right away, but I highly recommend freezing the pie whole so it will retain its shape when baked. I like to freeze for at least 1 hour before baking. If you can't, at least freeze the pie while the oven preheats.
Preheat the oven to 400° F.
Place pie on a lined baking sheet. Bake at 400°F for 20 minutes, then lower the temperature to 350° and bake for another 45-55 minutes, rotating the pan halfway through. Bake until the filling is bubbly and the crust turns a deep golden color.
*If baking a frozen pie, it may take an additional 15-20 minutes to bake thoroughly. You can test to see if it's ready by inserting a toothpick or skewer between the lattice. If the stone fruit feels soft, it's ready. If it's still pretty firm, keep baking until the fruit is soft.
Place the pie on a cooling rack and allow it to cool for at least 1-2 hours before cutting, I know it's hard to wait.
Slice and serve with fresh whipped cream or a scoop of vanilla ice cream.
Notes
Use this Basic All Butter Pie Dough recipe for the base - https://bakingthegoods.com/2021/07/18/basic-all-butter-pie-dough/
You can store this dough in the freezer for up to 3 months if tightly wrapped with plastic wrap or stored in a reusable baggie. Defrost the frozen dough overnight in the refrigerator before using, or on the counter 1½ - 2 hours before using.
Fresh fruit is juicy. There is no denying it. Using tapioca starch or cornstarch will help the juices thicken and turn jammy while the pie bakes.
PRO TIPS:
Pies are supposed to be rustic. Don't worry if your weave isn't perfect. It will still taste delightful.

Fresh summer fruit is always delicious in baked goods, but you can swap in frozen fruit when fresh fruit isn't readily available.
Store bought almond paste works great in this pie, but you can also make your own Easy Homemade Almond Paste.
Chilling your shaped pie in the freezer for at least 1 hour before baking will help it retain its structure while it bakes. When baking from frozen, remember it may take an additional 15-20 minutes to bake all the way through.
Prep Time:

45 minutes

Cook Time:

1 hour 15 minutes

Category:

Dessert

Cuisine:

pie
Keywords: all butter pie dough, fruit pie, peach pie, Stone fruit, Stone Fruit Pie, summer pie