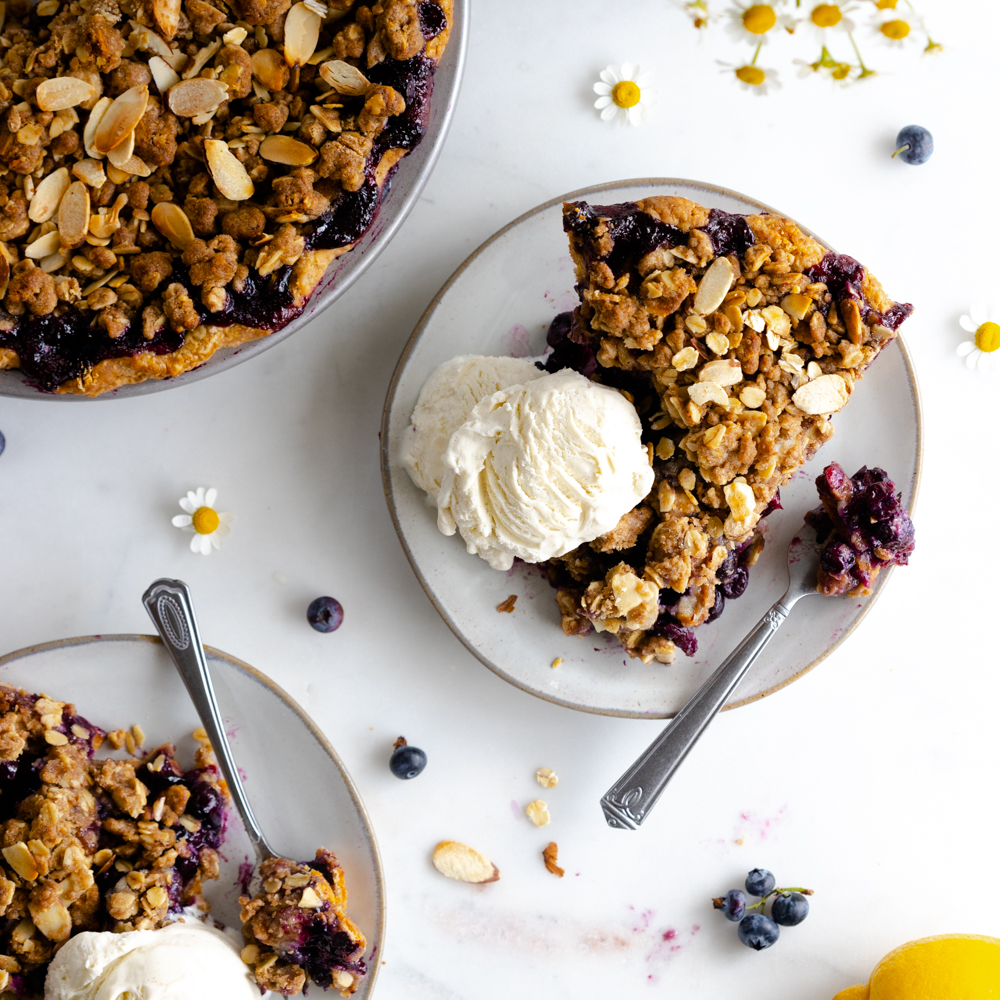 This time of year is such an enchanting season for produce. Coming out of the long winter months and the comfort foods that accompany it, spring just lightens the whole load. As soon as the warm weather sets in, I am somehow amnesiac to the punishing winter months. One of the early players that helps me get in the swing of spring and summer is the classic blueberry. While not the glossiest of the berries, blueberries are a beloved gateway into the bounty of the season. This Blueberry Almond Crumble Pie celebrates those bloobs in an all star simple pie.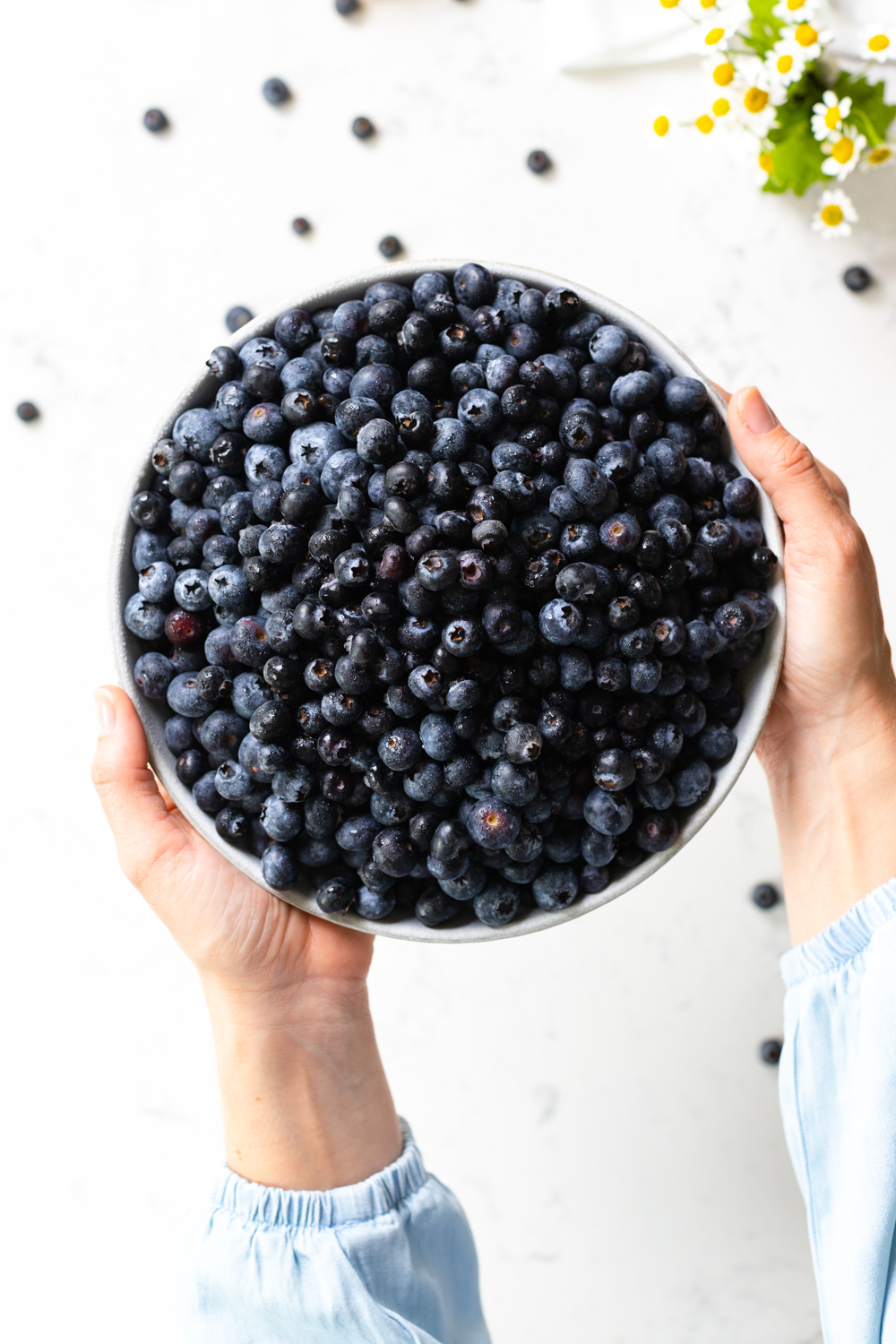 California is one of the top blueberry producing regions in North America
Blueberry production in California started to boom in the 1990s when breeders crossed Highbush blueberries, a plant native to the northeastern US that thrives under cold winters, with a wild and heat tolerant species from Florida. This resulted in a hybrid blueberry that grows incredibly well in California climates. How cool is that?
Over 80 individual producers grow blueberries throughout California
I am a great big fan of all berries. But the juicy burst of a blueberry is extra special. My recipe for Blueberry Almond Crumble Pie maintains that burst even when the berries are baked into a pie! I mash some of the blueberries with a potato masher. This slurry of smashed berries fills in the gaps between the rest of the whole blueberries, preserving their shape and that signature burst of personality.
California is the leading agricultural state in the nation
It is an honor and privilege to have access to California Grown, family farm fresh blueberries this time of year. Blueberries are harvested May through July in California, whereas the PNW blueberry season is later in the summer. Getting an early jump on the season is extra nice as this Blueberry Almond Crumble Pie is calling!
Not only are we getting those beautiful, bulbous blueberries in this pie, but a crumble top that is full of fantastic texture. Almonds add depth in flavor and texture and they, too, thrive in the state of California. A natural pairing with blueberries, if you ask me. The temperate climate, combined with a commitment to innovation, make California the most productive almond growing region in the world. Bonus: almond trees help to capture and store greenhouse gases and filter the air.
Almonds come at you three ways in this blueberry pie
Sliced Almonds bring a crisp and nutty crunch to the crumble topping. They toast as the pie bakes, giving it depth in both texture and flavor.
Almond Extract in the blueberry filling gives a subtle, yet complimentary flavor to the blueberries.
Almond Paste not only adds a welcome, slightly sweet and nutty flavor, but it also serves as a barrier to keep the Blueberry Almond Crumble Pie from getting soggy. The almond paste is layered between the blueberry filling and the bottom crust. No soggy bottom problems! I also place a layer of paste between the blueberry filling and the crumble top, which helps keep the crumble from getting gummy! Brilliant, right? Homemade Almond Paste is very simple to make but store-bought is fine, too.
How to shape a scalloped pie shell for this Almond Blueberry Crumble Pie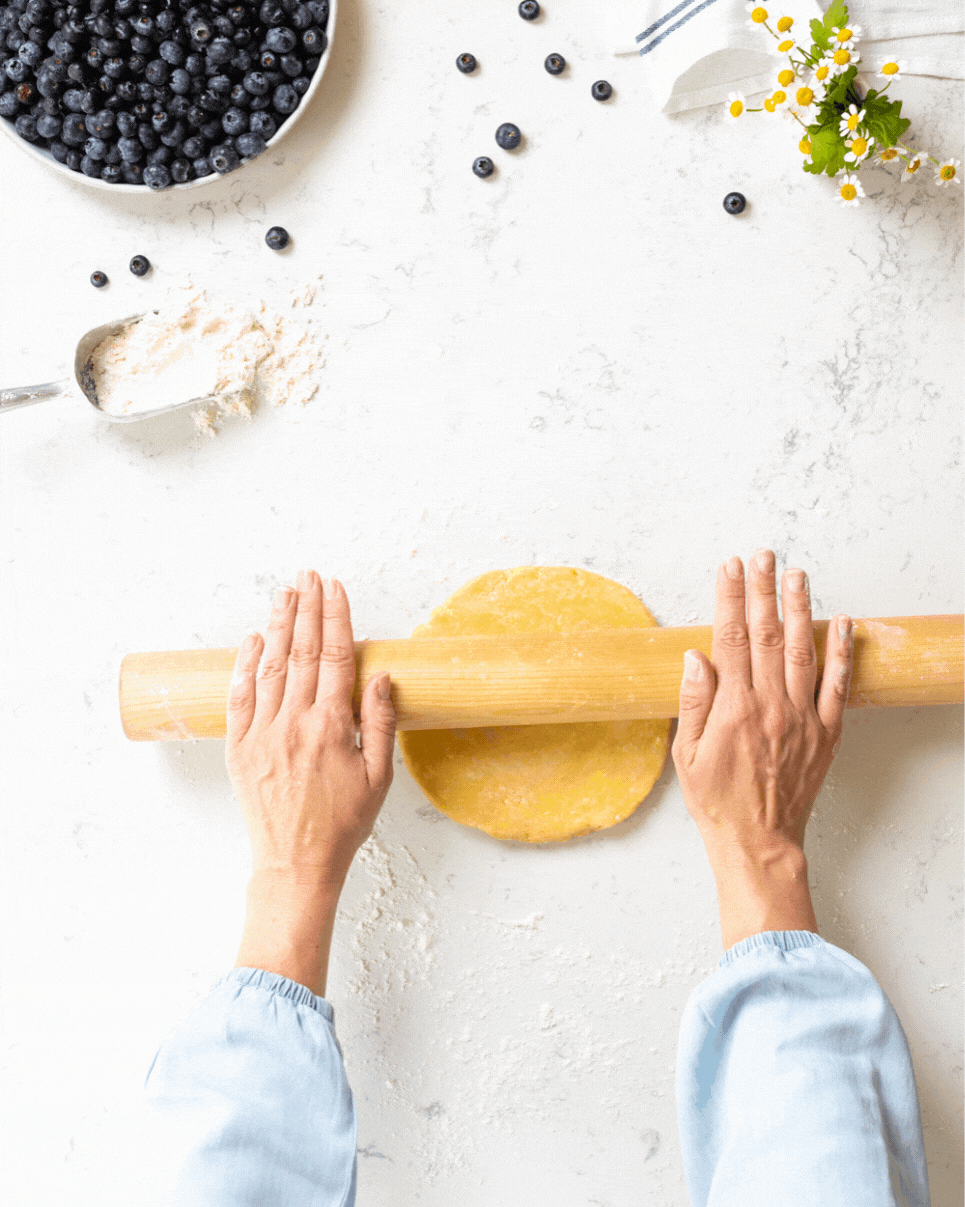 My All Butter Vodka Pie Dough is my go-to recipe thanks to its superior flavor, work-ability and flaky tender crust. It's the perfect base for this Blueberry Almond Crumble Pie and allows the blueberry filling and almond crumble to really shine. If you aren't down with the vodka, check out my Basic All Butter Pie Dough that uses apple cider vinegar to tenderize the dough instead.
How to line, fill & top the Blueberry Almond Crumble Pie
This might just be the best Blueberry Crumble Pie out there. At least one of the best. And that's really a tribute to the quality of ingredients, combined with a few smart tips and techniques. Knowing where my ingredients are sourced and the love and care behind them is important to me as a recipe developer and a consumer. I am grateful to California Grown for their commitment to connecting us with farmers and sharing the stories and processes behind our food.
This post was proudly made in partnership with California Grown. All opinions are my own. It makes my heart happy to be able to share my fondness for California Grown food and I thank you for supporting me and the brands that I love. Follow @cagrownofficial on Instagram to learn more about the foods grown in California, farm practices, and for plenty of recipe inspiration!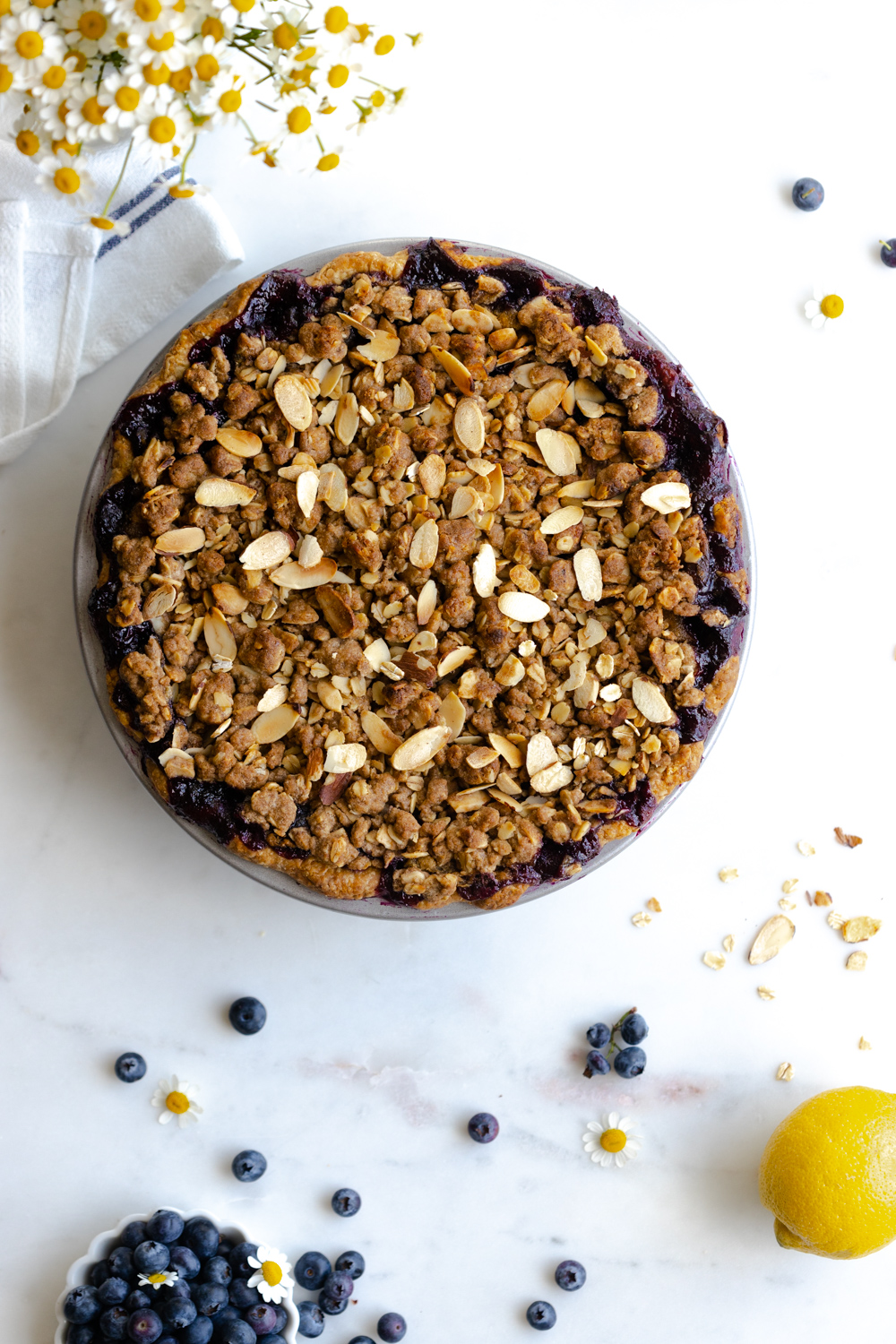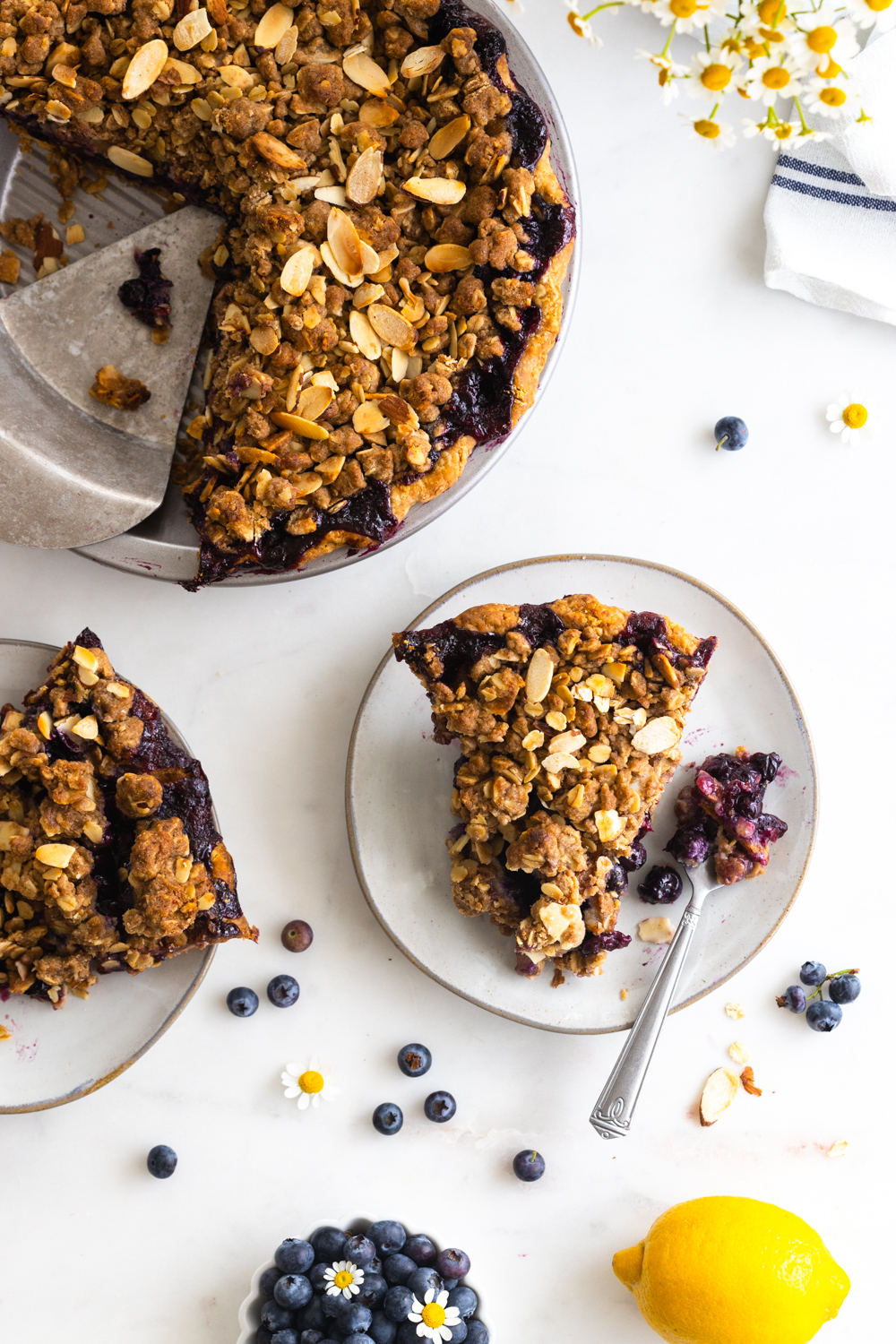 A scoop of vanilla ice cream completes my Blueberry Almond Crumble Pie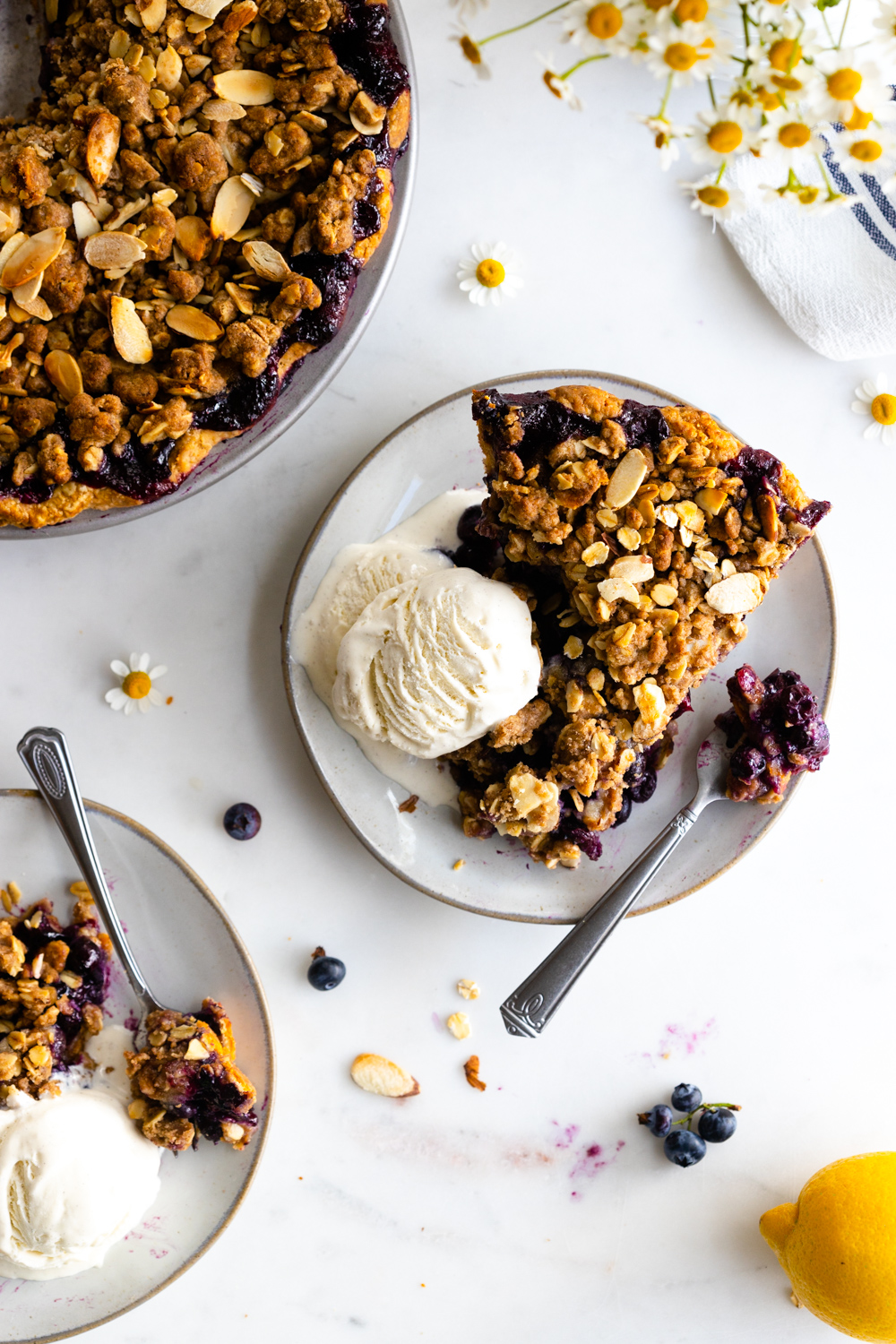 Print
📖 Recipe
Blueberry Almond Crumble Pie
---
Description
This Blueberry Almond Crumble Pie starts with a tender, flaky pie all butter pie crust lined with rich almond paste that adds flavor depth and creates a barrier for preventing a soggy bottom. The pie bursts with fresh blueberry filling topped with a crisp and textural almond crumble topping.
---
1

disk pie dough (*I suggest my All Butter Vodka Pie Dough)
ALMOND CRUMBLE TOPPING
6 tablespoons

unsalted butter (- cold & cut into ½" cubes)

10 tablespoons

all purpose flour

½

cup

brown sugar

½

cup

sliced almonds

½

cup

rolled oats

1 ½ teaspoons

cinnamon

½ teaspoon

fine sea salt
BLUEBERRY FILLING
6

cups

fresh blueberries

½

cup

granulated sugar

1

medium lemon (- zested & juiced)

¼

cup

tapioca flour or cornstarch

2 teaspoons

almond extract

7

ounces

log of almond paste

1

large egg
---
Instructions
SHAPING PIE DOUGH SHELL
Remove dough disk from the refrigerator and allow to sit at room temperature for about 20 to 30 minutes, until it begins to soften. It should soften just enough to leave a thumbprint indention in the top.
*If using frozen dough, either allow to first defrost in the freezer overnight or for 2 hours at room temperature on the counter.
On a lightly floured surface, roll the disk into an 11" round about ⅛" – ¼" thick. Carefully roll the dough round around the rolling pin, then unroll it over a 9" round pie dish. Press it down into the base of the pie dish, leaving a 1" overhang all the way around. Trim the edges evenly, then tuck the overhanging edge underneath itself and press to form an even ring around the edge of the pie dish.
Finish the edges in any design you like. For a scalloped edge, use a rounded bottom measuring spoon to shape the scallops. Lightly dip the back of the spoon into flour, then gently yet firmly press the back of the spoon into the dough, bracing the edge with your thumb and index finger. Repeat around the entire edge of the dough to create a scalloped edge all the way around.
Place the entire pie shell in the freezer to chill while you prepare the crumble top and filling.
ALMOND CRUMBLE TOPPING
Combine all of the ingredients together in a large bowl. Use your hands to smush the butter into the other ingredients until coarse crumbles the size of peas form. Place in the freezer or refrigerator to chill.
BLUEBERRY FILLING
Add 2 cups of blueberries to a large mixing bowl and use a potato masher or the back of a wooden spoon to smash the berries until thick and jammy. Add the remaining blueberries, sugar, lemon zest, lemon juice and almond extract. Stir to combine. Allow to sit for a few minutes until some of the juices start to release from the berries.
Strain about ¼ cup of the juices into a small bowl and add the tapioca flour or cornstarch. Whisk together into smooth slurry, adding more juice if necessary. Pour the slurry back into the blueberry mixture and toss to combine. Allow to sit at room temperature for 15 minutes.
COMBINING & BAKING THE PIE
Divide the almond paste log in half. Gently flatten each half into round disks. Use a rolling pin, roll one round to the size of the inner pie plate base, about 7". Roll the second round into a 9" round. Set aside.
In a small bowl, whisk the egg together with 1 teaspoon of water to make an egg wash. Remove the frozen pie shell from the freezer. Use a pasty brush to apply the egg wash all of the bottom surface, up the interior sides and along the scalloped edge of the pie shell.
Line the bottom of the pie shell with the smaller, 7" almond paste round. Use a slotted spoon to transfer the blueberry filling into the pie shell, forming a slight mound in the center. Top with the second, larger 9" round of almond paste. Then finish by topping the pie with the chilled Almond Crumble topping.
Place the entire pie in the freezer for at least 20-30 minutes to firm up while the oven preheats. This will help the pie maintain the integrity of it's shape as it bakes.
*At this stage, you can freeze the entire pie for up to 3 months. Once it's firmed up for a few minutes in the freezer, carefully wrap the pie with a few layers of plastic wrap and an outer layer of foil.
While the pie is chilling, preheat the oven to 400°F.
Place the chilled pie on a baking sheet in the center to lower half of the oven and bake for 15 minutes at 400°F, uncovered.
Lower the oven temperature to 375° F. Then carefully tent the pie with foil to prevent over-browning and bake for 55-70 minutes, until the filling has thickened and is bubbly and it's golden brown and crisp on top.
*If baking from fully frozen, the pie may take an additional 15+ minutes to fully bake.
Allow the pie to cool a minimum of 2 hours before slicing, I know this is hard. Serve with whipped cream or vanilla ice cream for an extra delicious experience!
Prep Time:

45 minutes

Cook Time:

1 hour

Category:

Dessert

Cuisine:

pie
Keywords: all butter pie dough, Blueberry Almond Crumble Pie, Blueberry Pie, fruit pie, Pie
If you enjoyed this Blueberry Almond Crumble Pie, check out these recipes featuring California Grown goods!
Fresh, bursting blueberries take center stage in this hearty and satisfying toast recipe featured on the California Grown Blog. Thick slabs of toasted sourdough are topped with brie and baked until the cheese is warm and gooey. A mini mountain of blueberries and toasted walnuts crown the bubbly brie. Then, it's all drizzled with a kiss of sweet honey and herby thyme tendrils for a fancy finish.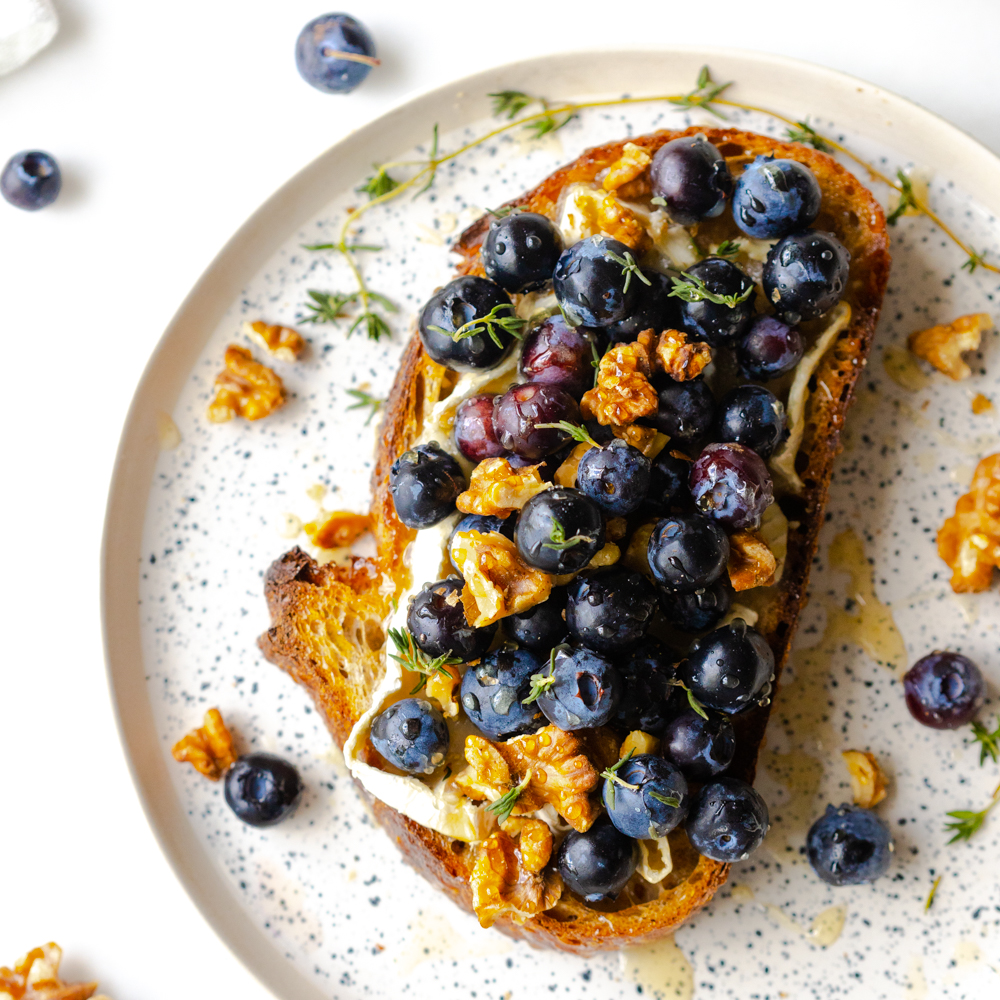 If you're looking for a casual, no-fuss recipe, this Pear Berry Cobbler is it! This recipe makes the most of the start of pear season and peak summer berries. Naturally sweet California Grown Bartlett pears meld with bursting berries under an airy blanket of tender buttermilk baby biscuits. Such a comforting and delightful recipe.
Bursting blueberries and juicy peaches are right at home against the warmth of browned butter and bourbon. Everything snuggles up comfortably in the toothsome cornmeal cake that comforts like a beloved hoodie on cool spring or summer night.
This Spiced Pear & Walnut Dutch Baby bakes up high and mighty with puffy edges and a slightly custard-like and elegantly eggy center. It's topped with sweet pears sautéed in butter, brown sugar and warm spices. Toasty walnuts add a welcome crunchy texture and nutty flavor to the top. And if you really want to make it indulgent, add a sprinkle of powdered sugar, a spritz of fresh lemon and a dollop of crème fraîche for a fancy finish.
Elegant yet easy, this Roasted Grape Goat Cheese Tart starts with a simple press-in Brown Sugar Shortbread crust. It's filled with a creamy and tangy whipped goat cheese filling, Greek yogurt, orange zest and a sweet touch of honey. To finish, it's crowned with juicy, jammy oven-roasted grapes with sunny orange wheels and herby thyme. This tart is sophisticated, yet fresh and approachable.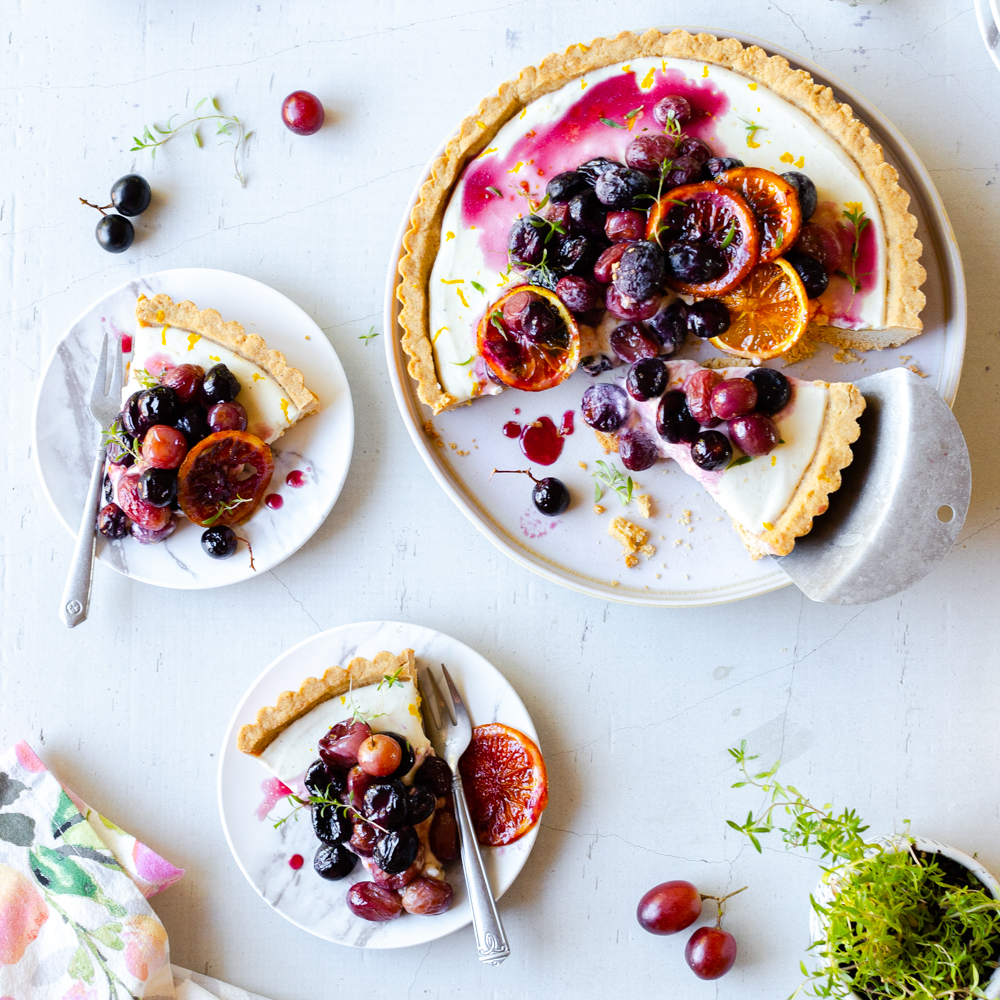 These tender, fluffy Purple Sweet Potato Dinner Rolls are like the goose down, 1000 thread count, 4" memory foam of dinner rolls. They've got an undeniably moist and buttery bite with subtle sweet notes. And that dreamy soft, pink-ish, purple hue is all natural thanks to those purple sweet potatoes! They are topped with a crunchy sprinkle of nutty poppy seeds to round out texture and flavor.