After living in California for 6 years, I couldn't help but fall in love with the Golden State. I mean, California has it all: beaches, mountains, desert, lakes, rivers, wine country and some of the best dang produce in the entire country. Until I lived there, I never realized what an immense connection California has with our food systems throughout the country, and the world. So it was no surprise that when I was developing the recipe for this Spiced Pear & Walnut Dutch Baby, the beautiful pears I found at my local market in Oregon were actually California Grown.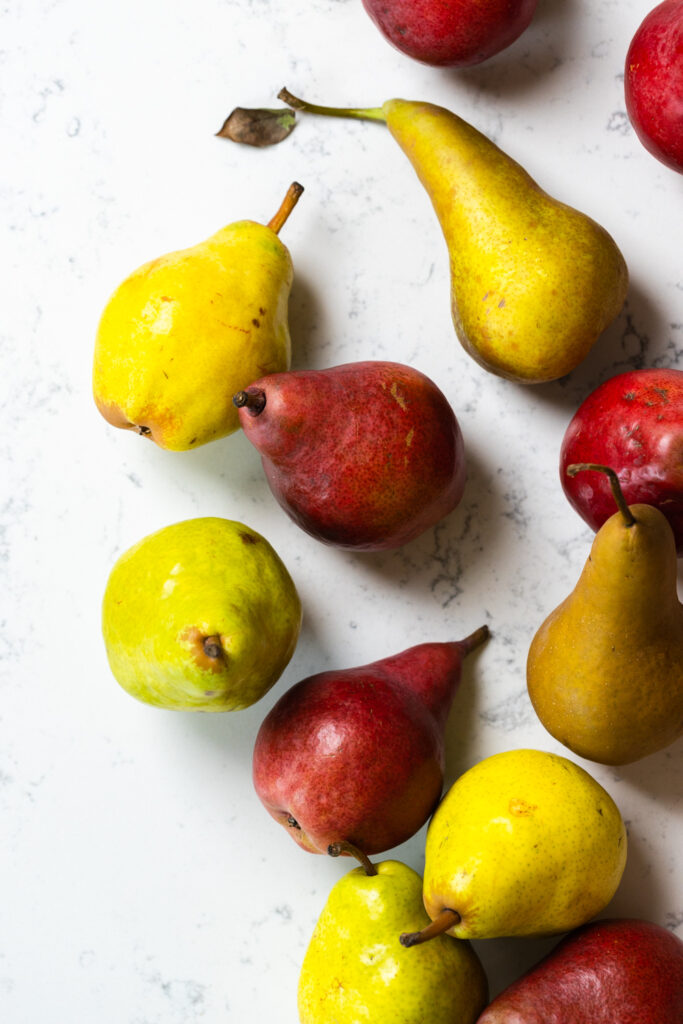 CALIFORNIA IS THE LEADING AGRICULTURAL STATE IN THE NATION
No matter where you live in the USA, you've likely bought California grown produce at some point. Whether it was leafy lettuce greens, beautiful Bartlett pears, a full-bodied bottle of Cabernet or a simple bag of walnuts, California farms span the state with over 400 different commodities. They really do know how to grow 'em in the Golden State.
CALIFORNIA GROWS MORE THAN A THIRD OF THE COUNTRY'S VEGETABLES AND TWO-THIRDS OF THE COUNTRY'S FRUITS AND NUTS.
I kinda didn't care for pears for most of my life. I considered them more or less tasteless with their most notable feature being their sandy texture. Over the years I have learned the importance of seasonality, varietals and patience. Now, I reach for pears as often as I reach for apples.
REMEMBER, RIPE PEARS ARE SWEET PEARS & THEY ARE WORTH THE WAIT.
Understanding that pears need to actually be ripe to taste their pure, syrupy sweetness was an eye opener for me. To experience the fullness of their flavor, you've got to wait it out. It can be a little tricky to know when a particular pear variety is ripe. Some pears change color, others don't. Some pears ripen on the tree and some need time to ripen post-pick.
Thankfully, there is a good golden rule to keep in mind. Check the neck. Give the area around the stem (neck) of the pear a gentle squeeze. If it gives a little, it's ripe and ready. If not, it may need to ripen another day or two for optimal flavor.
We are in peak California Grown pear season right now! They start arriving as early as July and last all the way through November. This Spiced Pear & Walnut Dutch Baby maxes out on the ripe and juicy sweetness of 2 different California grown pear varieties: the Bartlett Pear and crimson skinned Red Pear.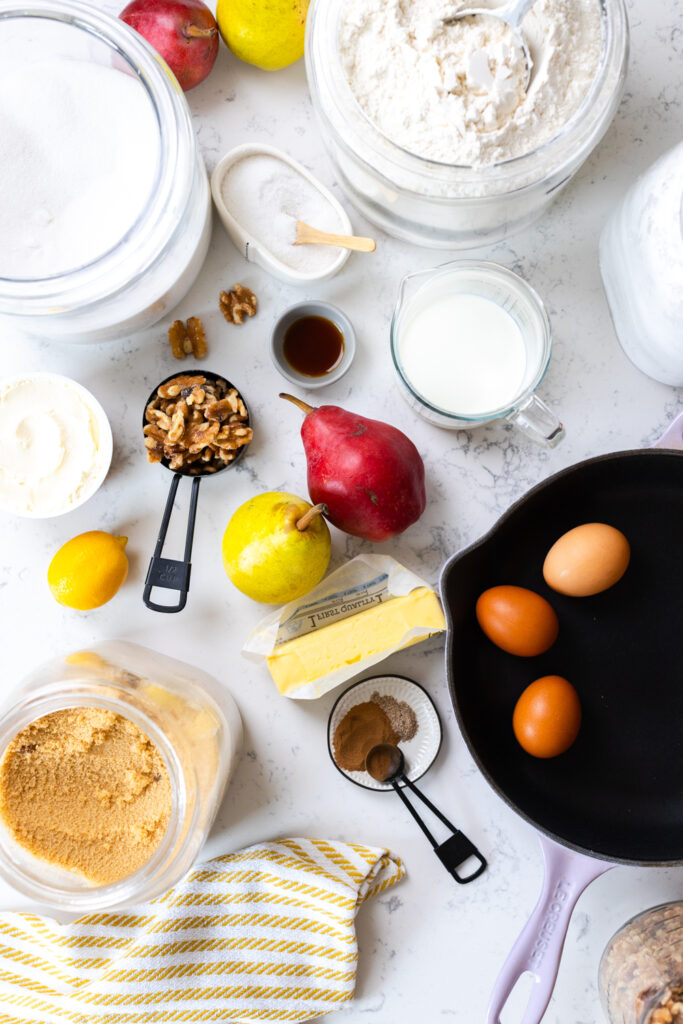 Bartlett Pears are the sweetest, juiciest and most flavorful pear. They're a kind of do it all fruit that works well for everything from slicing and serving to canning or cooking. They also hold their shape well when baking, so they are an excellent choice for fall baked goods.
Red Pears are basically Barletts in a brighter, bolder outfit. They've got the same great sweetness and structure, but offer a flash of fabulous color. I love brightening up a cheese board with some fresh slices of Red Pears, and they add a punch of vibrancy to this Spiced Pear & Walnut Dutch Baby.
MORE THAN 99% OF THE WALNUTS IN THE U.S. ARE GROWN IN THE CENTRAL VALLEY OF CALIFORNIA.
The other star of this Spiced Pear & Walnut Dutch Baby are the toasty California walnuts sprinkled over the top. They add depth in flavor and a welcome crunchy texture to the soft pancake and tender, sautéed pear layers.
Breakfast can be so much more than eggs and bacon. This Spiced Pear & Walnut Dutch Baby takes breakfast to new heights with a puffy pancake that bakes up a mile high. With basic ingredients and a few simple tricks, the Dutch Baby batter bakes up big and beautiful in the oven.
Whizz it good. A proper whizzing in a blender aerates the batter, giving the pancake extra lift in when it bakes.
Turn up the heat. Dutch Babies give their most dramatic performance in a 425°F hot oven. The hot hot heat helps with structure and texture.
Let 'er rip. Use a cast iron skillet and let it get nice and hot in the oven while it's preheating. By pouring the batter into a rippin' hot pan, the puff will happen faster and give your pancake a more dramatic puff, instead of a thick, eggy layer.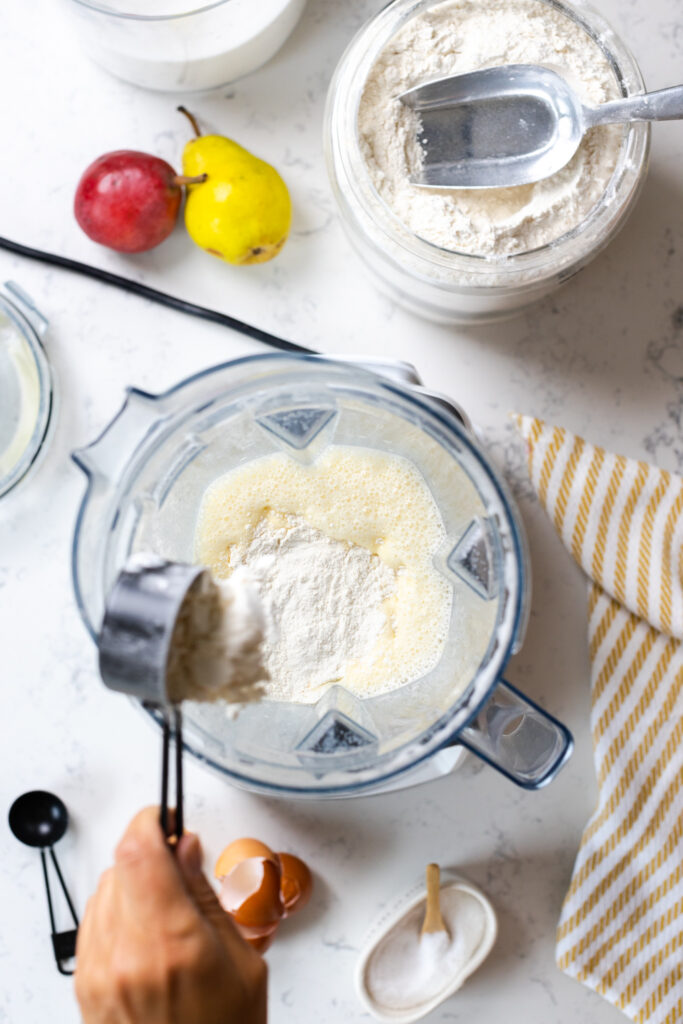 Since the pears already have a natural honey sweetness, they don't need much messing with. Just a little melted butter, some brown sugar and a blend of cinnamon and cardamom spice enhance the sliced and sautéed pears.
You can prepare the pears as the pancake bakes. Everything comes together the moment the Dutch Baby comes out of the oven. It couldn't be easier. Just pile those pears on top, sprinkle with the toasted walnuts, then sift on some powdered sugar. If you really want to round out the flavors, serve with lemon wedges and some creamy and tangy crème fraîche for a fabulously fancy finish.
This Spiced Pear & Walnut Dutch Baby is an elegant and fulfilling breakfast for two, or it can serve as a sweet side to any brunch spread. I even enjoy it for dinner or dessert. It really works well any time of day and tastes especially satisfying on a drizzly fall day.
As the weather here in Oregon begins to get colder and more grey every day, I'll be over here snuggling in with this cozy Spiced Pear & Walnut Dutch Baby on the slow weekend mornings. I'm forever grateful for the great golden state of California and all of the fresh and flavorful produce it offers throughout the year. I take comfort in knowing that I can still find so many of my favorite, fresh California Grown goods in the bins and aisles of my local markets in Oregon.
This post was proudly made in partnership with California Grown. All opinions are my own. It makes my heart happy to be able to share my fondness for California Grown food and I thank you for supporting me and the brands that I love.
IF YOU ENJOYED THIS SPICED PEAR & WALNUT DUTCH BABY RECIPE - CHECK OUT THESE RECIPES FEATURING CA GROWN GOODS!
Print
📖 Recipe
Spiced Pear & Walnut Dutch Baby
---
Description
This Spiced Pear & Walnut Dutch Baby bakes up high and mighty in a hot oven with puffy edges and a slightly custardy and elegantly eggy center. The moment it's done baking its topped with tender sweet pears, sautéed in butter, brown sugar and warm spices. Toasty walnuts add a welcome crunchy texture and nutty flavor to the top. And if you really want to make it indulgent, add a sprinkle of powdered sugar, a spritz of fresh lemon and a dollop of crème fraîche for a fancy finish.
---
DUTCH BABY
3

large eggs

¾

cup

milk

2 tablespoons

granulated sugar

1 teaspoon

vanilla extract

½ teaspoon

fine sea salt

¾

cup

all purpose flour

3 tablespoons

unsalted butter
SPICED PEAR & WALNUT TOPPING
¾

cup

walnuts (- roughly chopped)

2

large ripe pears (- sliced into ½" thick slices)

2 tablespoons

brown sugar

2 tablespoons

unsalted butter

1 teaspoon

ground cinnamon

½ teaspoon

ground cardamom

½

cup

crème fraîche

1

lemon (- sliced into wedges)

1

-

2

tablespoons powdered sugar
---
Instructions
Begin by toasting the walnuts. Place them in a dry skillet in a single layer. Toast for about 3-5 minutes over medium-high heat, stirring occasionally, until they start to deepen in color and give off a toasty, nutty aroma. Remove from the skillet and set aside to cool.
Place a 10" cast iron skillet in the oven and preheat to 425° F.
Combine the eggs, milk, sugar, vanilla and salt in a blender and whizz on a high speed for 1-2 minutes until very frothy. Add the flour and blend on low for a few seconds, just to combine. Allow the batter to rest while the oven preheats, this helps with the puff.
Once the oven comes up to temperature and the skillet is ripping hot, carefully add the butter to the skillet. Allow the butter to melt while the skillet is in the oven, this only takes a moment.
Carefully remove the hot skillet from the oven and swirl the skillet to coat it evenly with the melted butter. Pour the batter directly into the skillet on top of the butter, do not mix together. Return to the oven to bake for 15-20 minutes until the pancake has puffed up and the edges have started to turn a golden brown. The center should be set but still slightly custardy.
While the Dutch Baby bakes, prepare the pear topping. Add the butter to the hot skillet over medium heat. Once the butter melts, add the sliced pears and brown sugar. Sauté, stirring occasionally, until the pears just begin to caramelize, about 5-7 minutes. Sprinkle with spices and stir gently. Sauté for about 1 more minute, remove from the heat and set aside.
As soon as you pull the Dutch Baby from the oven, top with the spiced pears and toasted walnuts. Serve immediately with lemon wedges for brightness, crème fraîche for tangy creaminess and finish with a sprinkle of powdered sugar.
Notes
A hot oven and hot pan are key to getting the puff of the pancake. Use caution when handling the hot cast iron skillet.
As soon as you remove the Dutch Baby from the oven, it will start to collapse so its best served right away. However, it still tastes great even once it starts to sink.
This recipe is a great full breakfast for 2 or works well as a side in a full brunch spread.
Prep Time:

30 minutes

Cook Time:

20 minutes

Category:

Breakfast

Cuisine:

Pancake
Keywords: Aged Gouda Pancetta & Kale Savory Dutch Baby, savory pancake, Spiced Pear & Walnut Dutch Baby
Reader Interactions