The thing about crepes is, you're going to feel like a total failure at first. At least two, likely 3 of your crepes may come out looking like garbage. You'll likely not spread the batter quick enough, leaving you with a thick side. You'll probably lose confidence on the first flip and fold it in half, the crepe clinging to itself in an ugly mass. You might burn one trying to get the temperature right. But soon enough, you'll get the hang of it. And these Rye Crepes with Rhubarb Raspberry Ginger Compote are so worth the initial fails and flops.
It may take a few tries to get into a crepes making rhythm.
But once you do, you'll be pirouetting around your stove like a skilled ballerina. Elegantly pouring the batter on the hot pan, dipping and dancing the pan until the batter is perfectly thin and even. Gracefully flipping crepe after crepe as if you were on stage at The Met. You'll be as on pointe as the flavors of these Rye Crepes with Rhubarb Raspberry Ginger Compote. Just go with it and don't allow yourself to get frustrated.
More good news, the Raspberry Ginger Compote couldn't be easier! It only takes about 15-20 minutes of simple simmering on your stovetop. With just a stir here and there. You really can't miss this one up. the The trifecta of flavors happening within the Rhubarb Raspberry Ginger Compote is a thing of beauty.
These Rye Crepes with Rhubarb Raspberry Ginger Compote meld together in a balanced trio of tart, sweet and warmly spiced.
The addition of raspberries was a last minute idea after spotting a handful of berries that had practically turned to jam in my fridge. So I tossed in that ¾ of a cup raspberries on their last legs. That gave the compote the sweetness and vibrance it was lacking. Here's to using up what you got and getting so much more out of it!
For this Rye Crepes with Rhubarb Raspberry Ginger Compote recipe, I started with my go-to recipe for The Best Basic Crepes. It never fails me. But instead of using just all purpose flour, I used a blend of APF and rye flour for a nuttier, fuller flavored crepe. The earthiness of the rye flour grounds the tart and sweet flavors of the compote, anchoring the brightness in a humble, homemade fashion.
Top Tips for making perfect crepes
Smooth it out now. When blending crepe batter, I like the blitz it in a blender to make the smoothest batter possible. Because crepes are so thin and delicate, you don't want any lumps showing up in your batter. The blender blasts away those pesky lumps. Alternatively, you can whisk it together and strain the batter to rid it of lumps.
Let it sit. Allowing the batter to sit for at least 30 minutes, up to overnight if you have the foresight. This gives the batter time to rest and develop a bond between ingredients. Resulting in a smoother batter with more flavor!
The right pan for the job. While it isn't crucial that you have a crepe specific pan, it will make your life easier. A shallow, flat bottomed skillet is great for filling and flipping out smooth, thin crepes. I bought a cheap crepe pan at IKEA for about $10 years ago and it works wonders for crepes, pancakes and even frying eggs.
Handle the heat. Crepes are delicate and it can be a bit of a Goldilocks to get right. If the pan is too cool, they might stick and not cook evenly. If it's too hot they can burn quickly. Slowly heat up the pan and don't add the batter until the pan is nice and hot. You want it to hit the hot surface for even cooking. But you don't want it to be too hot it burns. It will take some finagling but you'll find that sweet, hot spot.
Measure up. You want to pour just enough batter to coat the bottom of the pan. If you pour too much, the crepes will be too thick. With my 9" crepe pan, I've found that somewhere between ¼ cup - ⅓ cup is just the right amount of batter.
Deftly maneuver. As soon as you pour the batter onto the hot pan, lift the pan and start swirling it in a circular motion, allowing the batter to creep towards the edges of the pan all the way around until you have a thin, even layer coating the bottom of the pan.
Have patience. If you try and flip your crepe too early, it won't be stable enough and you'll likely tear it or fold it in on itself. The first side will take about 3-ish minutes. Cook the crepe until bubbles form on the surface and the edges are golden, lacy and crisp. Once you flip, the second side will only take 30 seconds to 1 minute.
Get in the groove. It may take a couple of crepes to find your groove and get your measurements and temperatures right. Don't get frustrated if you mess up a couple of crepes, it takes practice to get in that groove.
I know that seems like a lot but I just want to offer up all of my knowledge for successfully making a crepes. My best advice, just try them. Learn as you go. Then try again. You'll get the hang and you'll soon love making crepes at home!
Let's talk about the compote that makes these Rye Crepes with Rhubarb Raspberry Ginger Compote extra special.
Compote is basically a quick and easy jam that simmers together in about 15 minutes and gets used fresh and fast, at least in my house. All it entails is some fresh fruit and a bit of sugar. If you want to jazz it up a bit you can stir in some vanilla, spices, herbs, citrus or even a liqueur. The heat and sugar break down the fruit and turn it into a jammy, syrupy wonder that can be used to top anything from toast to ice cream.
The Rhubarb Raspberry Ginger Compote zings with fresh, seasonal flavor.
Rhubarb is such a treat that only lasts for a fleeting season in spring around here. So I always try and load up as many recipes as I can with the beautifully bitter stalks. The sugars in the compote definitely help mellow out the bitterness but I think it's the addition of the raspberries that really smooth things out. Adding both brightness and sweetness, they accompany the rhubarb delightfully. A bit of fresh ginger brings earthy warmth and rounds out the bittersweet compote.
Those 3 opposing flavors combine into a melting pot of vibrancy and explode with juicy, jammy brightness. A little of that piled on the mildly nutty, lacy thin, rye crepes, topped with a dollop of creamy crème fraîche is an experience all should have the joy of basking in.
I didn't set out for these Rye Crepes with Rhubarb Raspberry Ginger Compote to become my favorite breakfast ever but it naturally happened. I think it is mostly because the bold flavors are so well balanced. And eating something that radiates with rose colored vibrance kinda makes you feel like you're glowing from the inside out.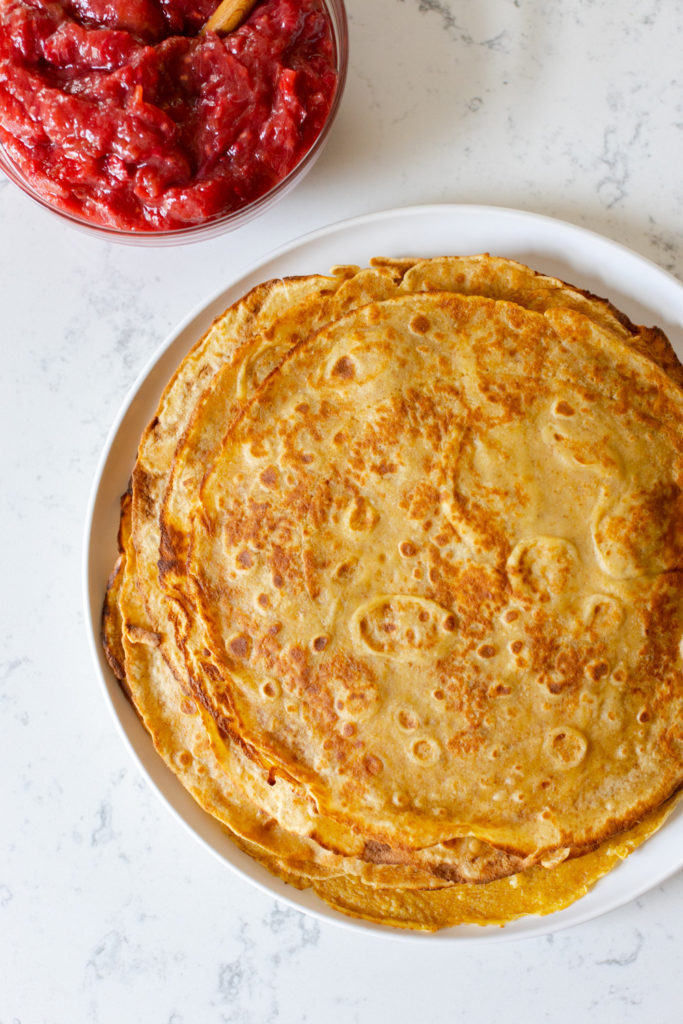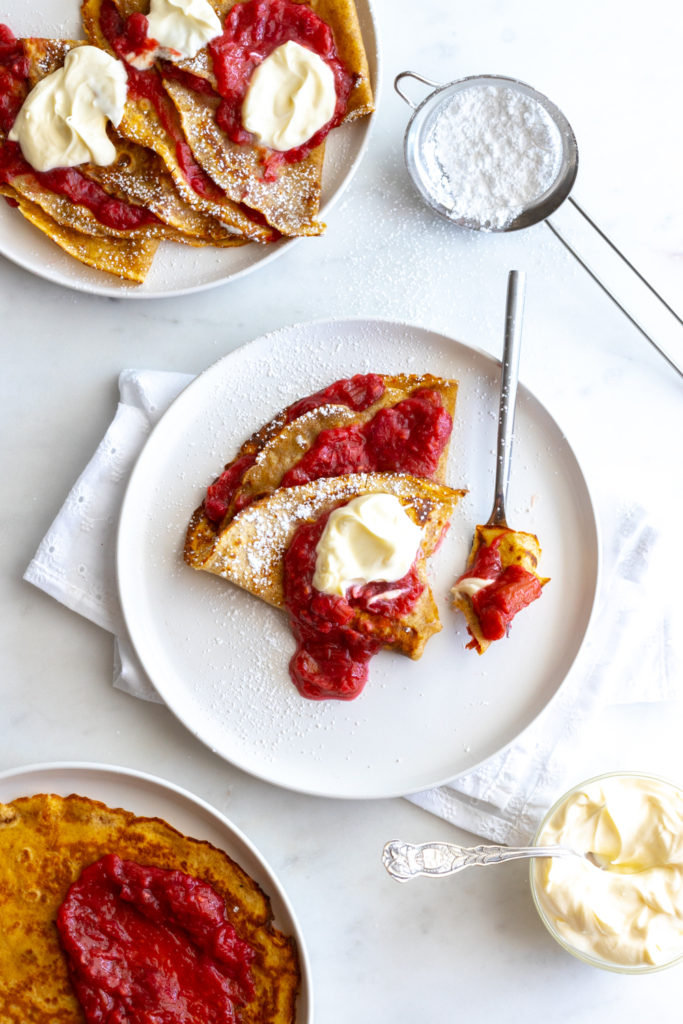 Print
📖 Recipe
Rye Crepes with Rhubarb Raspberry Ginger Compote
---
Description
These Rye Crepes with Rhubarb Raspberry Ginger Compote feature paper thin, lacy edged, sweet & nutty crepes, stuffed with a jammy & vibrantly flavored compote.
---
Rye Crepes
2 tablespoons

butter (+

2

more tablespoons for the pan)

½

cup

rye flour

½

cup

all purpose flour

2 tablespoons

granulated sugar

½ teaspoon

fine sea salt

2

large eggs

1 ¼

cup

whole milk

½ teaspoon

pure vanilla extract
Rhubarb Raspberry Ginger Compote
4

cups

rhubarb (- chopped into ½" - 1" lengths)

¾

cup

granulated sugar

1 tablespoon

fresh ginger (- finely grated or chopped)

¾

cup

fresh raspberries

½

cup

crème fraîche to serve (- optional)
---
Instructions
Rhubarb Raspberry Ginger Compote
Combine chopped rhubarb, raspberries, ginger and sugar in a medium saucepan over medium-low to low heat. Simmer for 15-20 minutes until the sugar has dissolved and the fruit starts to break down, stirring every so often.
The juices should begin to thicken and it will start to look like jam. The longer the compote simmers, the thicker it will become. If you want a more syrupy compote, remove from the heat earlier while it's still a little runny. For a thicker, more spreadable compote, simmer a little longer. One you've reached your desired thickness, remove from heat and set aside.
Rye Crepes
Melt or brown 2 tablespoons of butter and set aside to cool.
Combine eggs, milk, sugar, melted and cooled butter and vanilla in a blender. Blend on medium-high for a few minutes, until smooth and frothy. 
Add the flours and salt and blend just to combine. Cover batter and chill at least 1 hour up to 2 days.
Heat a medium nonstick skillet over medium-high, then brush with a bit of remaining butter. Ladle about ¼ - ⅓ cup of the batter into skillet and swirl to evenly coat the bottom of the pan.
Cook the crepe until bubbles form on the surface and the edges are golden, lacy and crisp, about 3 minutes. 
Slide a spatula underneath the crepe to loosen and carefully flip over. Cook on the other side until a few brown spots appear, about 30 seconds to 1 minute, then transfer to a plate. 
Tent with foil to keep warm while you cook remaining crepes. Repeat with remaining butter and batter.
Serve with the compote, powdered sugar and some fresh and tangy crème fraîche.