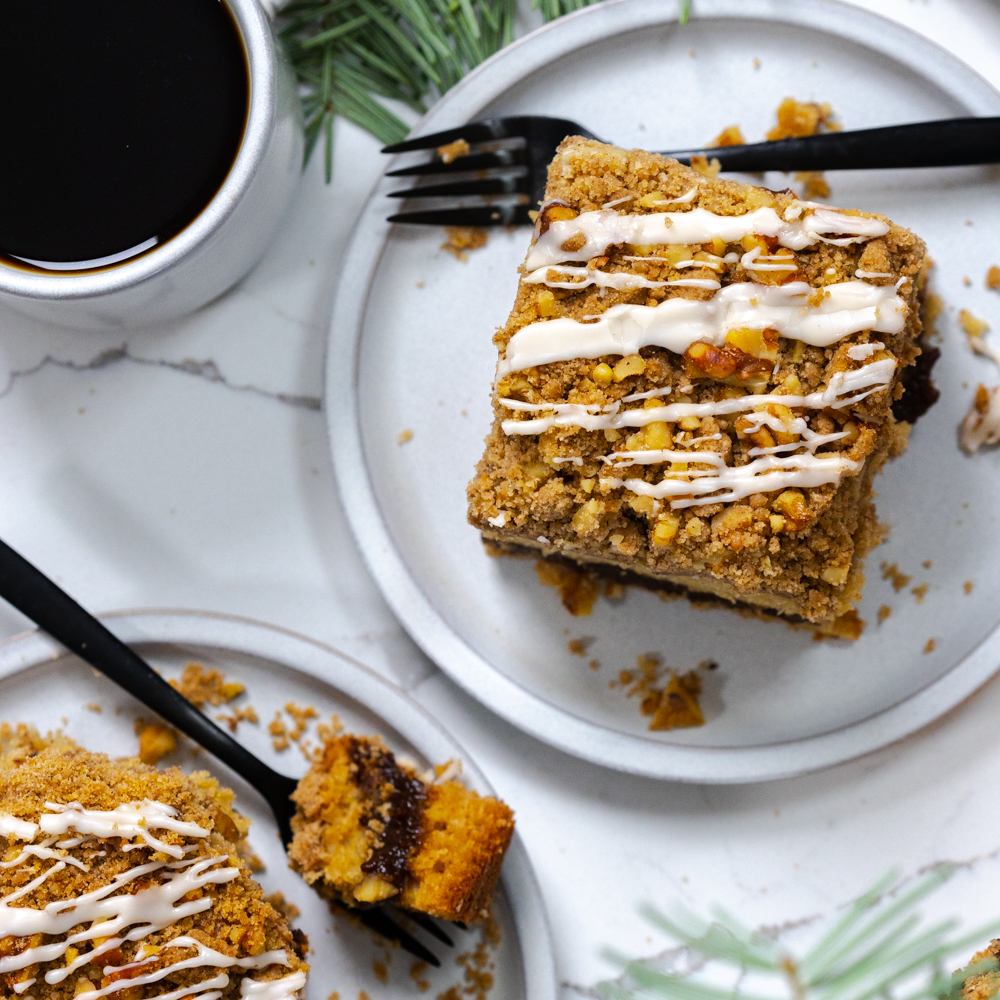 Alright, everybody calm down and ask yourself, when was the last time you actually ate a prune? I bet there is a good chance you can't remember. Maybe you've never even tried them. Let's set aside all of the negative connotations that might initially come to mind when you think of prunes. I'll focus on the delicious joy that is Spiced Prune Coffee Cake instead.
Jump to:
What exactly is a prune?
You like plums, right?
Prunes are just dried plums!
I too snubbed prunes for years. Recently, when my friends in food, California Grown sent me some snacking bags of California Prunes, I added them to a gorgeous cheese board spread and found myself loading my plate with prunes! They paired so perfectly with the creamy goat cheese and nutty aged Manchego.
This opportunity to partner with California Prunes got me thinking up all kinds of prune-inspired recipes. This led to a whole new world of plump prunes making an appearance in my kitchen. Then eventually, this warm and comforting Spiced Prune Coffee Cake.
California grown prunes are naturally nutritious and surprisingly versatile
You can eat prunes straight from the bag as a naturally sweet and healthy snack, but there is so much more you can do. They can go savory like these Prosciutto Wrapped Prunes from G-Free Foodie, or you can blend them into a prune puree and bake them into recipes like this Spiced Prune Coffee Cake. Prunes do it all!
Making prune puree filling
California is an ideal habitat for growing prunes, with its lush valleys and nutrient rich soils fed by ancient rivers and endless sunshine.
If I come back in another life, I want to come back as a California Prune. With all of that goodness going into growing prunes, you better believe there are benefits to enjoying this healthy dried fruit. In addition the well-known fiber-associated side of prunes, there are many more reasons to consider incorporating them into your diet and your baking.
Prunes are packed with health benefits
Good for the gut - Soluble and insoluble fiber in prunes help maintain good digestive health.
Ample antioxidants - Polyphenols in prunes act as antioxidants.
Sugar low - Prunes are low on the glycemic index and contain no added sugar, so they are a great natural sweetener!
Bones about it - Boron, potassium, and Vitamin K in prunes help support bone health!
I'm not trying to tell you that this Spiced Prune Coffee Cake is healthy by any means. However, it incorporates prunes in a way that feels decadent while still bringing the benefits of the dried fruit. I pulverized the prunes into a puree along with apple cider and spices. Eventually, this becomes the filling that wraps through the center of the prune cake in a ribbon of spiced, jammy flavor.
4 simple components of prune coffee cake
Each plays a role in the overall goodness
Spiced Prune Puree
I made the prune filling with a simple mix of prunes pureed with spiced apple cider, cinnamon, ginger and cloves. This easy puree filling gives the Spiced Prune Coffee Cake an elegant ribbon of spiced warmth that winds its way through the middle of the cake.
Cake Layers
2 layers of tangy and tender sour cream and spiced apple cider-infused cake surround the filling in a warm hug, giving the prune puree a cozy snug of support.
Crumble Top
Texture always makes things more interesting, so I topped this coffee cake with an extra crumbly layer of crunchy crumble. I made it with chopped walnuts and loads of warm spice for ultimate comfort control.
Icing on the Cake
For a fancy finish, I drizzled the Spiced Prune Coffee Cake with a soft and simple icing that blends the spiced apple cider with powdered sugar.
How to make the crumble topping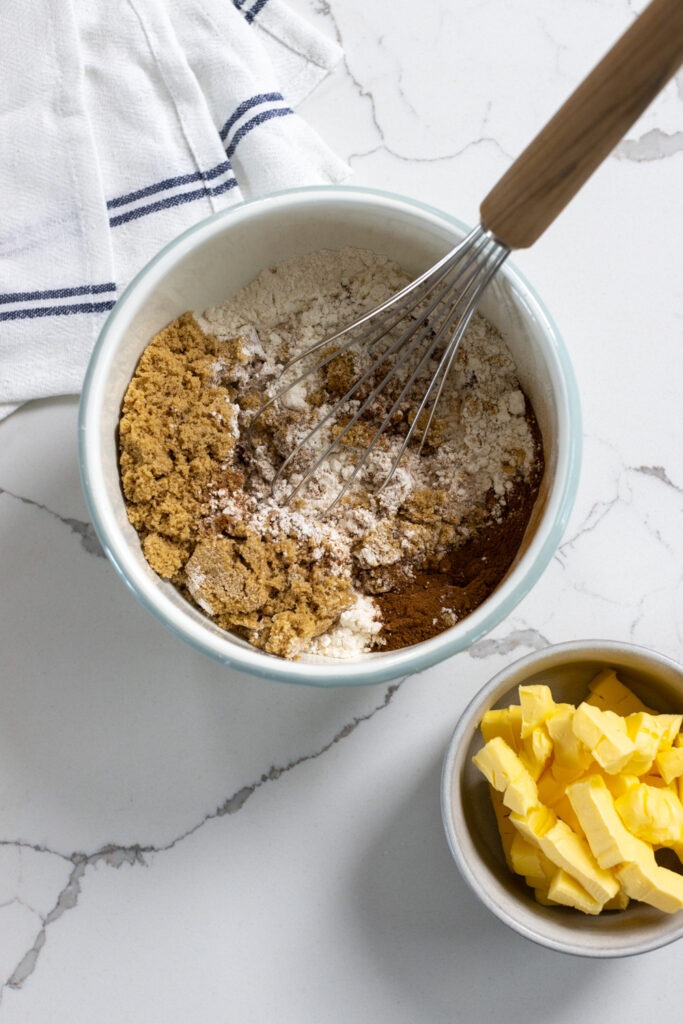 Coffee cake has layers, that's just who it is! Whereas it seems like a lot of components, but I promise you, this Spiced Prune Coffee Cake recipe is easy. You only need a blender or food processor to whip up the Prune Puree Filling. The cake, crumble and icing all mix up quickly in mixing bowls. It's a great big, simple, warm and comforting cake that just begs to be baked for the holidays.
Making coffee cake batter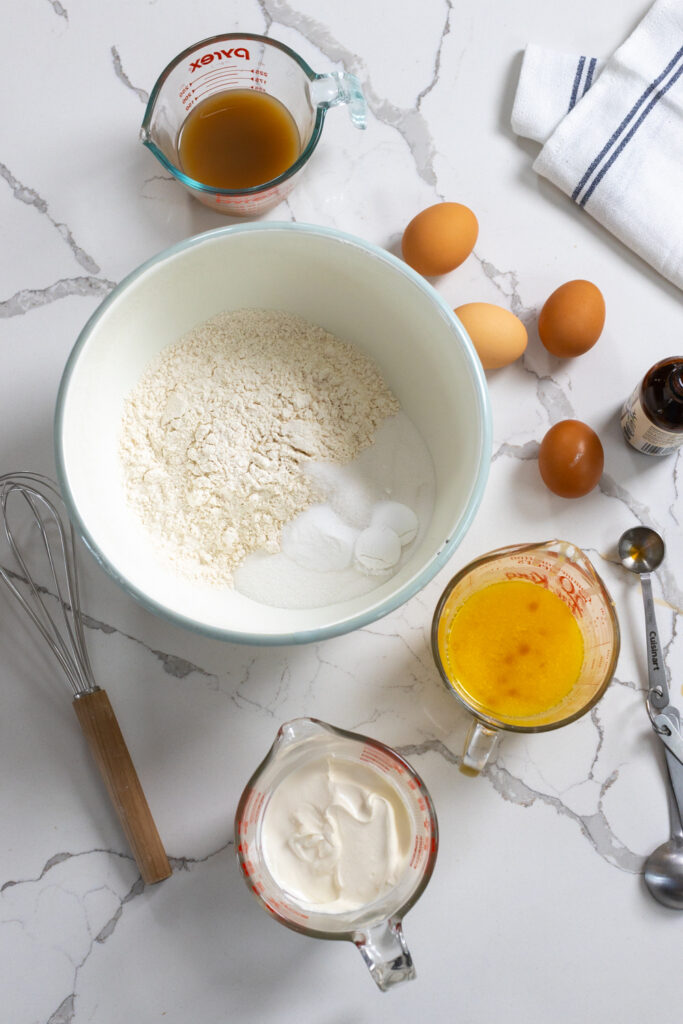 Lining the cake pan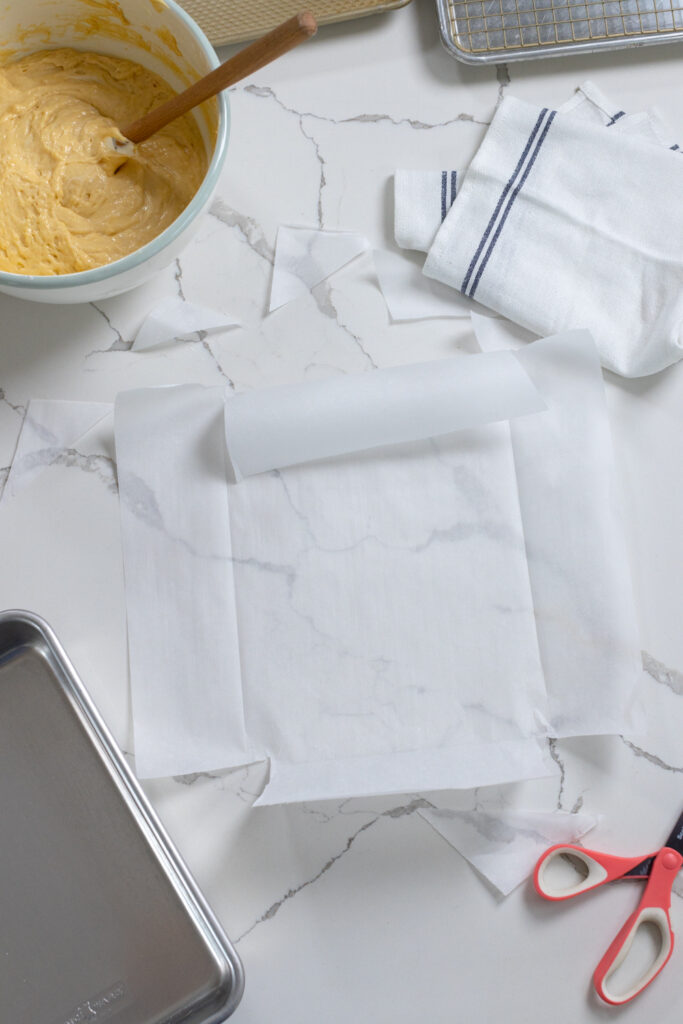 There is a fig newton/cinnamon roll quality that happens in this Spiced Prune Coffee Cake. The combo of the tender, slightly tangy cake combined with the jammy spiced warmth of the prune filling plays so well. Top it off with a crumbly, crunchy topping and a drizzle of icing and this baby has it all.
Assembling the Spiced Prune Coffee Cake
This recipe is one you'll want around for a long weekend; a kind of cake you can enjoy for breakfast, dessert and everything in between. Making the Spiced Prune Coffee Cake recipe before family or friends arrive for the holidays is a solid pre-made breakfast move. Bake it, set it out, and let people snack on the coffee cake all morning until the main dinner event. An easy bake to feed a crowd.
Icing the coffee cake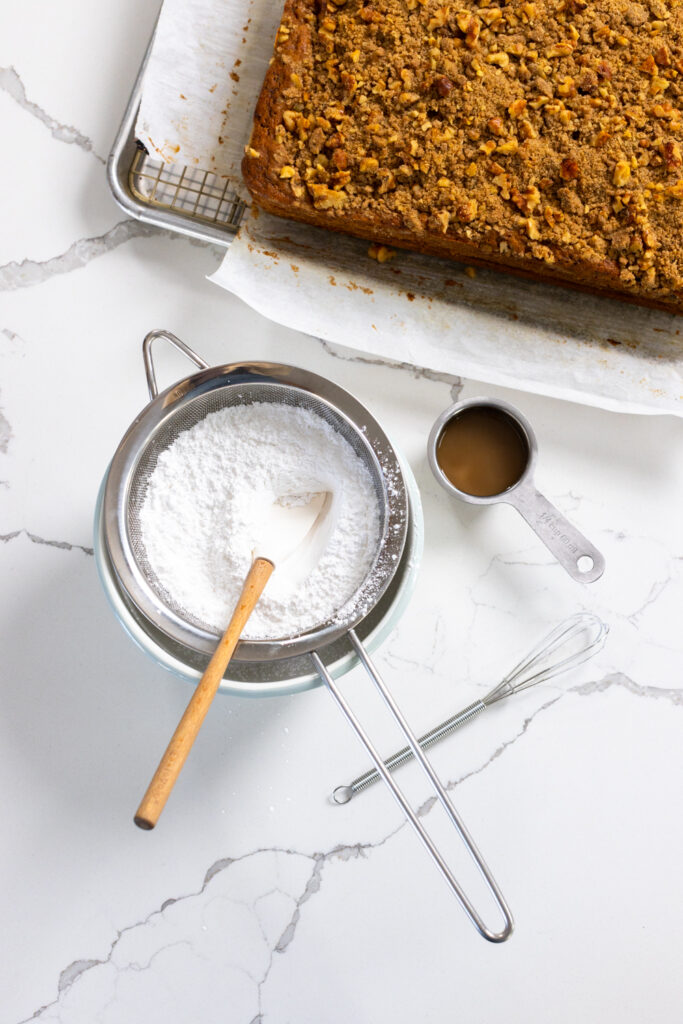 I hope this Spiced Prune Coffee Cake recipe will encourage you to rethink prunes. It's fun to reorient our perceptions of certain foods and experience new things. Taking a classic coffee cake and giving it a new yet familiar spin is a good example of just that. Find a new comfort by trying this comforting Spiced Prune Coffee Cake.
This post was proudly made in partnership with California Prunes . All opinions are my own. Thank you for supporting me and the brands that I love. Follow @caprunes on Instagram to learn more about the health benefits of California Prunes and discover new recipes!
Print
📖 Recipe
Spiced Prune Coffee Cake
---
Description
Spiced Prune Coffee Cake made with tangy sour cream and cider infused cake hugs around a jammy, spiced prune filling topped with a crunchy spicy walnut crumble finished with a drizzle of icing.
---
PRUNE PUREE FILLING
16

ounces

whole pitted prunes (- about 2 ½ cups)

1 ½

cups

spiced apple cider

1 ½ teaspoons

ground cinnamon

1 teaspoon

ground ginger

½ teaspoon

ground cloves

¼ teaspoon

fine sea salt
STREUSEL TOPPING
8 tablespoons

unsalted butter (- cold and cut into ¼" cubes)

1 ¼

cups

all purpose flour

¾

cup

brown sugar (- lightly packed)

2 teaspoons

ground cinnamon

1 teaspoon

ground ginger

½ teaspoon

ground cloves

½ teaspoon

fine sea salt

1

cup

walnuts (- roughly chopped)
COFFEE CAKE
3

cups

all purpose flour

¾

cup

granulated sugar

2 teaspoons

baking powder

1 teaspoon

baking soda

1 teaspoon

fine sea salt

4

large eggs

¾

cup

unsalted butter (- melted and cooled)

2 teaspoons

pure vanilla extract

1

cup

sour cream

½

cup

spiced apple cider
GLAZE
1

cup

powdered sugar (- sifted)

1 ½

-

2

tablespoons spiced cider
---
Instructions
PRUNE PUREE FILLING
Combine pitted prunes, spiced apple cider, cinnamon, ginger and cloves in a blender or food processor and blend until smooth. You should end up with about 2 - 2 ½ cups. Set aside.
STREUSEL TOPPING
Whisk the flour, brown sugar, spices and salt together in a mixing bowl. Add the cold, cubed butter and use a pastry blender or squish between your fingers to combine the ingredients until crumbly. Mix in chopped walnuts. Place in the fridge or freezer to chill while you prepare the cake.
COFFEE CAKE
Preheat oven to 350°F. Line with parchment paper or lightly grease and flour or sugar a 9" x 13" baking pan. I like using granulated sugar in place of flour. It works like a charm and gives a teeny touch of extra sweetness to the bottom and sides of the cake.
In a large mixing bowl, sift the flour, sugar, baking powder, baking soda and salt together. Make a well in the center.
In another mixing bowl, lightly beat the eggs and whisk in the melted and cooled butter, spiced apple cider, and vanilla.
Pour the wet mixture into the well of the dry ingredients bowl and mix together. Spoon in the sour cream and fold into the mixutre, be sure to scrape around the bottom and sides of the bowl as you fold the ingredients together but be careful not to over-mix. It's fine if there are still some floury patches.
In your prepared cake pan, pour half of the batter and use an offset spatula to spread in an even layer. Add the prune puree and use an offset spatula to gently spread in an even layer. Top with the remaining cake batter and spread in an even layer. Finish by sprinkling the streusel topping evenly over the top.
Bake for 65-75 minutes, rotating the pan halfway through the bake time. The streusel should be a warm, golden brown and a skewer inserted into the center should come out clean. If it feels like the top is browning too much, cover with foil for the remainder of the bake.
Allow to cool in the pan for 30-45 minutes, then use the parchment paper to carefully lift the cake from the pan and transfer to a cooling rack to finishing cooling for another 30-45 minutes.
GLAZE
While the cake cools. Whisk the sifted powdered sugar with the spiced apple cider until smooth and it runs off the whisk in a thick flowing ribbon. Drizzle the glaze over the top of the cake and allow to set for a few minutes.
Cut into 12 large pieces or 16 smaller pieces and serve with hot coffee, obviously.
Notes
*Cut into 16 slices or 12 large slices for great big coffee shop style coffee cake.
*This coffee cake reheats very well and tastes even better when served warm!
*This recipe can be made at half size by cutting the ingredients in half and baking in an 8" x 8" square baking pan. However, the bake time may be less, so be sure to watch the cake closely.
Prep Time:

30 minutes

Cook Time:

45 minutes

Category:

Breakfast, Dessert, Snack

Cuisine:

coffee cake
Keywords: Coffee Cake, Prune Coffee Cake, Spiced Prune Coffee Cake