I am not one to hop on the hot internet trends. I prefer to follow my gut and make what makes me happiest. That said, this butter board trend is one worth exploring; especially when it results in something as elegant and easy as this Cinnamon Raisin Honey Butter Board.
October is California Farmer and Farmworker Month
In early October I was lucky enough to attend an agriculture tour in the California Central San Joaquin Valley with my friends from California Grown. The tour aligned with California Farmer and Farmworker Month. It was an opportunity to learn from, celebrate and thank California's hardworking farmers and farmworkers throughout the month of October. That tracks – it seemed like everything was being harvested while we were there. Our trip to a raisin field ended up being the inspiration for this Cinnamon Raisin Honey Butter Board.
Sweet Thistle Farms
We visited Sweet Thistle Farms, a charming, family-owned flower farm and pumpkin patch. The fields of pumpkins, vibrant zinnia fields and a pumpkin decorating session were as October as it gets! They share the land with Rocky Oaks Goat Creamery. The 30+ goat gals produce 8 types of cheese, ranging from soft and creamy to aged and nutty.
Quady Winery
We had a full tasting of sweet wines, dessert wines and vermouths at Quady Winery. I may or may not have come home with a couple of bottles of vermouth. We happened to be there for the final crush of the season, which was a delightful experience!
Did you know kiwi fruit grows on vines, similarly to wine grapes along a trellis?
Catania Worldwide
Catania Wordwide's mesmerizing kiwi orchard made me want to move back to CA, plant a kiwi orchard and host fabulous dinner parties under a sun-dappled trellis of kiwi vines. I didn't even realize kiwi was grown in California, let alone in such a beautiful way, but the Central San Joaquin Valley is the ideal climate for growing kiwi and so much more!
The California Central San Joaquin Valley is the most productive agricultural region in the world, cultivating more than 250 crops
As we drove through Madera, CA to Clovis, CA and everywhere in between, the number of crops that surrounded us was nearly unfathomable. We rolled past almond and pistachio orchards, which are gorgeous, by the way. We saw pomegranate and fig orchards, and all the rows of grapes.
River Ranch Raisins
California grows everything from table grapes to wine vineyards and raisin crops. We stopped by River Ranch Raisins to witness the harvest of Selma Pete variety DOV raisins.
DOV or Dried On Vine Raisins are gently sun-dried while still on the vine
What sets DOV Raisins apart is the fact that they are sun-dried on the vine under the shade of the canopy, rather than the more common technique of drying Thompson grapes on the ground in direct sunlight. You know that style: hard, small and deeply caramelized. The Selma Pete DOV Raisins are the plumpest, sweet and softly chewy raisins I've ever had. I had never been much of a raisin fan, but these raisins were transformative. Standing in the rows and plucking those sun-soaked Selma Petes straight from the vine; I think I ate more raisins that afternoon than in all of my grade school boxed raisin days combined.
DOV raisins are naturally more delicate, sweeter and meatier than typical raisins
We even got to climb up the ladder and load onto the raisin harvester as the driver deftly maneuvered the tight rows while somehow simultaneously tracking everything that was happening around him. In the next row over, another driver pulled a tractor with 4 giant bins that were filled with the raisins collected by the harvester. It was like watching a well-choreographed ballet but with significantly more dust, heat and shaking.
This Cinnamon Raisin Honey Butter Board was inspired by our trip to River Ranch Raisins
The drivers and farmworkers skillfully ran the machinery while working together to shake those raisins loose and collect them into bins faster than my brain could process what was happening. In my brain's defense, that was a very shaky ride! Much respect to the proficient farmworkers who operate those machines and rock those fields. For me, this was the highlight of the agritour. The experience even sparked the inspiration for this Cinnamon Raisin Honey Butter Board, right there in the middle of the raisin field.
California Raisins are naturally dried by the sun and have no added sugar, preservatives or juices
California grown raisins are a healthy, nutritious and sustaining snack. In fact, ¼ cup of dried raisins is the equivalent of 1 serving of fruit. Delivering dietary fiber, potassium and antioxidants.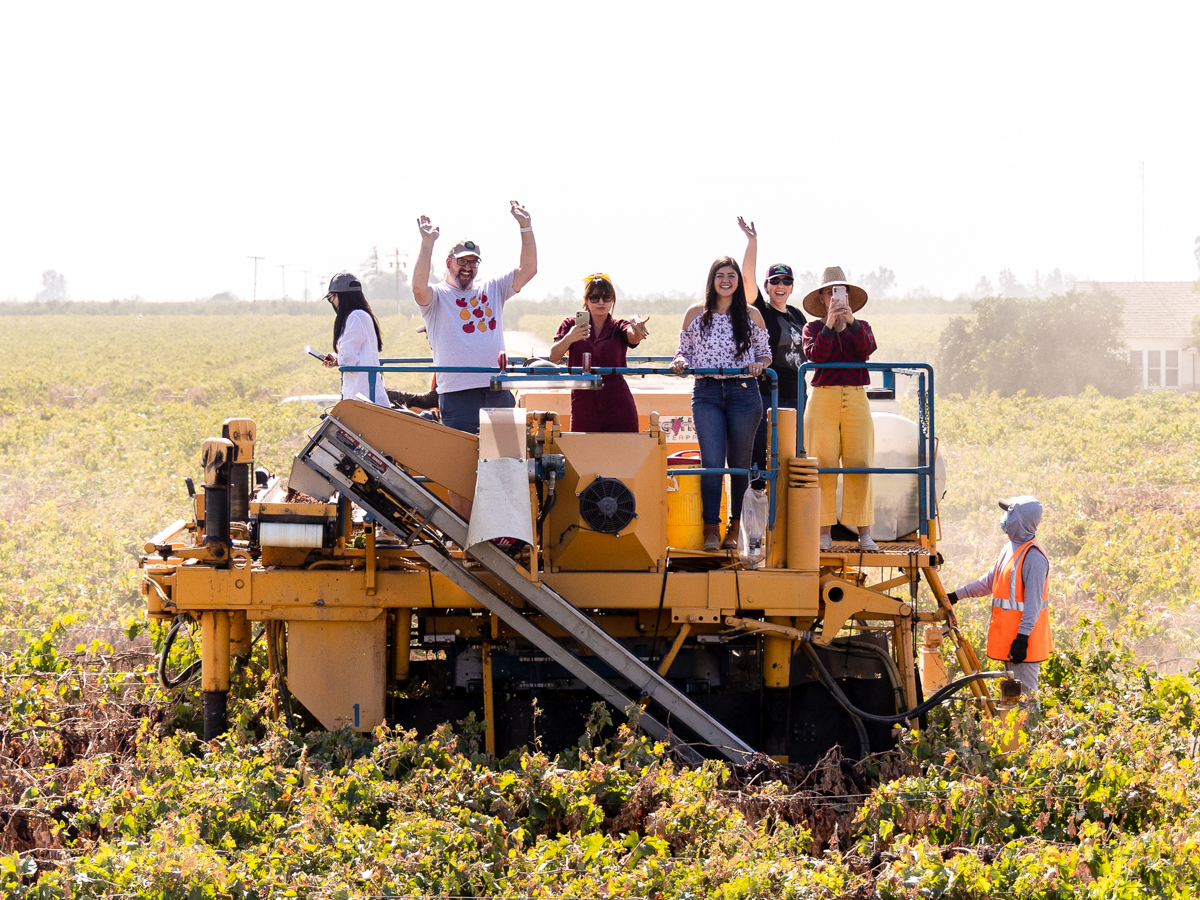 This Cinnamon Raisin Butter Board combines so many of my favorite California-grown ingredients
Real Milk California butter is the creamy base serving as a swoopy and swirly delivery vessel for the rest of the ingredients.
Honey grown in California is a sweet compliment to creamy butter. Whipped together they pair up into a heavenly spread. A golden drizzle of honey tops the Cinnamon Raisin Honey Butter Board for a glossy sweet finish.
Cinnamon adds warmth and a cozy wintery spice to the Cinnamon Raisin Honey Butter.
DOV Selma Pete Raisins from California dot the board with chewy little nibblets of natural caramelly sweetness.
Rosemary brings a note of herby intrigue, elevating this butter board into elegance.
This Cinnamon Raisin Honey Butter Board recipe came together seamlessly. The butter board itself combines some of California's greatest crops, and you can build on it however you'd like. The accouterment is endless.
Make the most with Toast I combined a variety of toasty breads, including sourdough, Pain de Mie aka sandwich bread, English Muffins and Pumpernickel. Get wild with it. Bring in some rustic Levain, a marble rye, or even simple scones or biscuits! Anything goes here.
Fresh fruit Use whatever is in season or evergreen fruits that you can find year-round. Since it's fall, I brought in some fresh California-grown apples, pears and tangerines. But berries, figs and grapes would also fit right in.
Dried Fruit Coalition Yes that's a real and important thing. This Cinnamon Raisin Honey Butter Board is a great excuse to bring some dried fruit into your diet. Along with the raisins, I added prunes and dates - all grown in California! You can learn more about the health benefits of dried fruit from the California Dried Fruit Coalition.
Jam out If that's your jam. Bread, butter and jam are my favorite jam band. Here I used a simple raspberry jam to compliment the creamy butter.
Go nuts By adding any and all nuts. My butter board features walnuts and almonds, and you guessed it, both are grown in California!
More than 99% of the walnuts in the U.S. are grown in the fertile soils of California's Central Valley
Here is the thing about this Cinnamon Raisin Honey Butter Board; you can make it as simple or complicated as you want. I am laying out all of the options for you here. Feel free to cherry-pick this recipe and make it your own... ooh cherries would be a nice summery compliment to this board!
This Cinnamon Raisin Honey Butter Board is an effortless yet elegant snack board that elevates any occasion
This version of my This Cinnamon Raisin Honey Butter Board obviously leans very breakfast/brunchy. But, it could easily be upleveled to an elegant appetizer by serving it alongside sliced baguette, salty hard cheese and prosciutto. If the idea of a trending butter board isn't your thing, serve it on a plate, platter or in a bowl. Or, roll in some saran wrap and chill it into a seasonal holiday butter log! What really matters is that you're combining these flavors and ingredients and serving them with something delicious!
Save time and mix your Cinnamon Raisin Honey Butter ahead of time
The Cinnamon Raisin Honey Butter stores well in the refrigerator. Make it up to 5 days ahead of time and just store it in the refrigerator, tightly sealed. Then set it out the day of, allowing it to come to room temperature before swooping and swirling it on a board.
A great big gracious thank you to California Grown for taking me along on this immensely educational agritour. Once again, I was floored by the hard work, dedication and skill of the farmers and farmworkers who work diligently to provide us with fresh and nourishing food. I wish I could invite every single farmworker over and serve this Cinnamon Raisin Honey Butter Board as a small token of my gratitude.
Read about previous agritours with California Grown in Monterey County and the Central California Coast.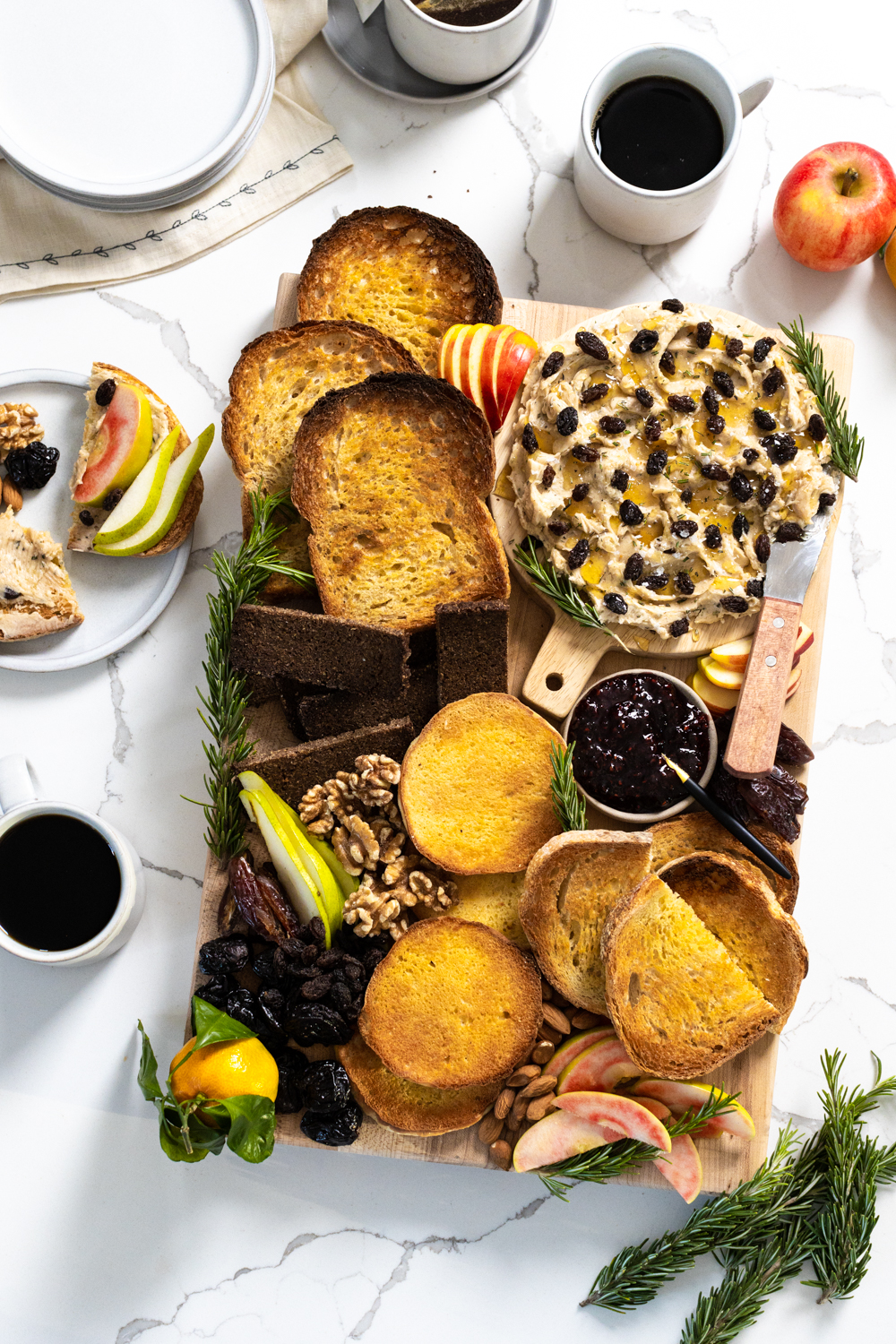 This post was proudly made in partnership with California Grown. All opinions are my own. Thank you for supporting me and the brands that I love. Follow @cagrownofficial on Instagram to learn more about the foods grown in California, farm practices, and discover new recipes!
Print
📖 Recipe
Cinnamon Raisin Honey Butter Board
---
Description
This Cinnamon Raisin Honey Butter Board recipe is the epitome of easy elegance with a creamy dreamy blend of whipped butter, honey, cinnamon and rosemary, topped with plump raisins and a sprinkle of sea salt flakes. Serve it as a beautiful breakfast or an elegant snacking board.
---
1

cup

unsalted butter (- softened)

6 tablespoons

honey (- divided)

1 teaspoon

cinnamon

¼ teaspoon

fine sea salt

1

-

2

teaspooons rosemary (- finely chopped)

¼

cup

California raisins

1 teaspoon

sea salt flakes
---
Instructions
Combine butter, ¼ cup of the honey, cinnamon and fine sea salt in the bowl of an electric mixer fitted with the paddle attachement. Cream together until light and fluffy, about 3-5 minutes.
Stir in the rosemary.
Using a spatula, transfer the butter to cutting or cheese board of your choice, and use the spatula or an offset spatula to spread the butter around and create swirly swoops.
Top with raisins, drizzle with honey and sprinkle on the sea salt flakes.
Serve with a selection of toasty breads, crackers, nuts, fresh or dried fruits. Along with jam, if that's your jam.
Notes
The Cinnamon Raisin Honey Butter can be made a few days ahead of time. Just store it in the refrigerator, tightly sealed. Then set it out day of, allowing it to come to room temperature before swooping and swirling it on a board.
Category:

Breakfast

Cuisine:

snack baord
Keywords: all butter pie dough, butter board, chiise dip, cider cheese dip, beer cheese dip, snack, appetizer, Cinnamon Raisin Honey Butter Board, compound butter, snack board