Stay with me guys, we still have almost a full month left until Fall starts so everybody just pump your pumpkin spiced brakes. I am a "live in the now" gal so I struggle to get excited over the impending seasonal shift while summer is still shining down. Kindly stop trying to steal my sunny thunder by sprinkling pumpkin spice on all over my peaches, mmmkay?
Seasons mark change which can be both exciting and daunting. Newness is fresh but change can be paralyzing. There is something terribly special about that sliver of time between summer and fall, when everything seems to be in balance. You can live in the warm moments and do all of the things but you're also readying yourself to slow down and settle in. This transitional time is evident in the produce of the season too. Summery ingredients are plump and abundant but some heartier plants are beginning to sneak their way in through the side door. To really dive deep into this concept, I highly recommend Joshua McFadden's cookbook Six Seasons
. He explores the fruits and veggies of each of the seasons and introduces a concept of 6 unique seasons, breaking summer into 3 abundantly distinct categories.
This Blueberry Peach Cornmeal Skillet Cake embraces the concept of the 4th season, late summer. When the crops are still warm from sun drenched days but the evenings bring a barely brisk nip to the air. The Blueberry Peach Cornmeal Skillet Cake captures some of our most cherished summer flavors and wraps them in a warm blanket of toothsome cornmeal
that comforts like a beloved hoodie
on a late summer night.
With this Blueberry Peach Cornmeal Skillet Cake recipe I celebrate all that is summer and the memories that came along with it. The balance of bursting blueberries and juicy peaches against the warmth from the browned butter
and bourbon snuggle up comfortably in the textural cornmeal
cake. It all bakes together in a humble yet trusted cast iron skillet
which adds depth to the flavor and texture. This Blueberry Peach Cornmeal Skillet Cake is simple yet complex, much like that late summer season.
Before you rush out and buy the first Pumpkin Spice Latte they're slinging, I suggest savoring the late summer bounty to the last drop. Fall is beautiful but it turns into winter, fast. In these wee hours of summer, I can't think of a more appropriate way to prolong the sun filled magic than this Blueberry Peach Cornmeal Skillet Cake. Take the time, enjoy the view and live in the now.
This post was made is in partnership with Bob's Red Mill. Follow Bob's Red Mill on Facebook and Instagram, or check out bobsredmill.com to shop their impressive lineup of whole grains and much more.
Thank you for supporting the brands that I love!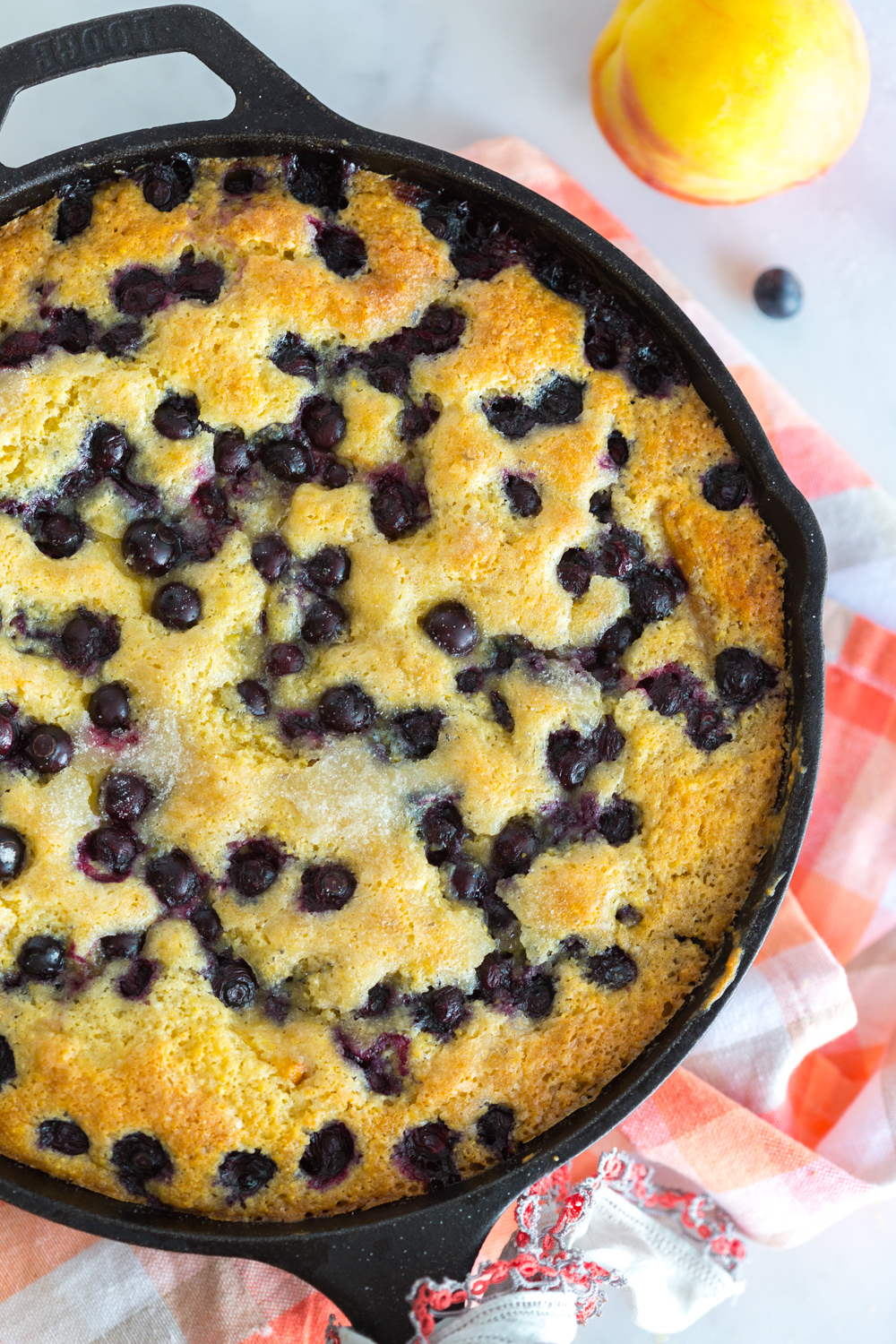 Print
📖 Recipe
Blueberry Peach Cornmeal Skillet Cake
---
Description
Bursting blueberries and juicy peaches against the warmth of browned butter and bourbon snuggle up comfortably in the toothsome cornmeal cake that comforts like a beloved hoodie on a late summer night.
---
4

peaches (- sliced into

¼

" - ½" wedges)

10 tablespoons

unsalted butter (- cut into 1" chunks)

¼

cup

brown sugar

3

-

4

tablespoons bourbon

1 ¼

cup

all purpose flour

½

cup

cornmeal (- fine ground)

½

cup

+ 1 TB granulated sugar

1 ½ teaspoons

fine sea salt

1 teaspoon

baking powder

½ teaspoon

baking soda

2

large eggs (- at room temperature)

1 teaspoon

vanilla

1

cup

Greek yogurt (- at room temperature)

1

cup

blueberries

1 tablespoon

powdered sugar
---
Instructions
Preheat oven to 350°F.

Add butter to a 10" cast iron skillet and melt over medium heat. Slowly whisk or swirl the butter until it begins to turn a warm chestnut color and tiny brown flecks start to form on the bottom of the skillet. This is a delicate process, so stay vigilant. You want the butter browned but not burnt. Just before it's ready the butter will start to foam up.

Carefully pour ½ cup of the browned butter into a heat proof liquid measuring cup and set aside to cool. Leave remaining browned butter in the skillet.
Add the brown sugar and heat over medium until the sugar dissolves into the butter. Add the peaches and stir together. Simmer for a few minutes.
Pour the bourbon into the skillet over the peaches and carefully ignite with a culinary torch or the flame of a gas stove to flambé the peaches. Allow the flame to die down and simmer the peaches for a few minutes until the juices start to caramelize and the peaches soften.
Remove from heat and set aside to cool.
In a large mixing bowl, sift together the flour, cornmeal, sugar, salt, baking powder and baking soda. Then whisk together to mix. Make a well in the center and set aside.
In a medium mixing bowl, whisk together the eggs and vanilla. Then add the yogurt and cooled browned butter and whisk until smooth.
Pour the wet mixture into the dry ingredients and fold together until just combined into a thick batter.
Transfer the batter into the skillet with the flambéd peaches and stir together. Top with blueberries and sprinkle with remaining tablespoon of granulated sugar.
Bake for 30-35 minutes until a toothpick inserted in the center comes out clean.
Allow the cake to cool, then sprinkle with powdered sugar and serve with a cup of coffee for breakfast or a glass of bourbon for a nightcap.
Prep Time:

20 minutes

Cook Time:

30 minutes

Category:

Dessert

Cuisine:

cake