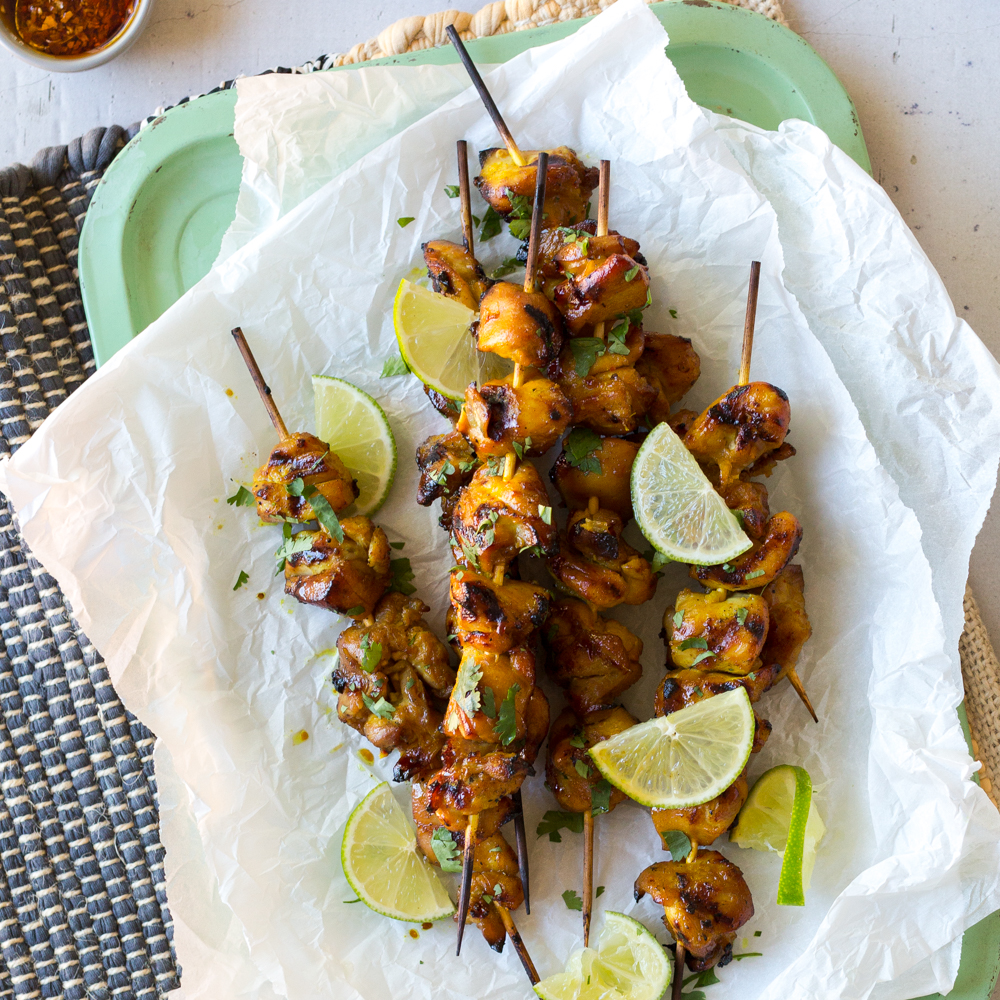 I know this isn't Grilling The Goods. But, after unintentionally developing what might be my best grilled chicken skewer recipe ever, I'm wondering if I should start a grilling blog. I created this recipe for Ginger Honey Lime Chicken Skewers kind of by accident while working on a photography project for a client. I needed some simple chicken skewers in a shot, and wanted to convey a real summery vibe in the imagery. So ginger, lime and honey initially came to mind. Then the thought of amping up the orange tones with turmeric struck. Turns out, this summery chicken skewer recipe shot to the top of my BBQ season list. It may have even surpassed than my legendary Feta Brined Chicken Skewers with Herby Feta Sauce. Which became an instant classic for so many of my friends and IG buds back in the summer of 2017. If you haven't tried that feta brined chicken recipe yet, do it up ASAP!
The accidental development of this Ginger Honey Lime Chicken Skewers recipe has been the highlight of my summer recipes so far. These juicy skewers are flavor forward and straight up succulent. The easy marinade takes all of 10 minutes to prepare. After a few hours in the fridge, the simple chicken skewers are transported to a haven of tropical flavors.
The Secret Sauce to the easy Ginger Honey Lime Marinade
Freshly squeezed lime juice brings brightness
Honey adds a natural sweetness and help with that coveted caramelization
Fresh ginger gives it a zesty and spicy fresh bite
Garlic grounds with earthy sweetness
Soy sauce adds a deeply rich umami base
Turmeric brings a slightly bitter earthiness
White pepper warms with mild spice
Olive Oil gives the marinade depth
A pinch of salt rounds out the flavors
Optional chili oil or Sriracha brings a welcome heat, if you like it like that
To make the marinade, you just mix everything together and pour it over the chicken. Which, takes almost no time at all. All of those ingredients join forces and sink deep into the chicken so the flavor stays strong through grilling. There is a sweet spot with the Ginger Honey Lime marinade to keep in mind though; the chicken needs at least an hour to soak up the juices but marinating longer than 6+ hours could make the chicken toughen up from the acid in the lime. So, you need to plan ahead but not too far ahead. Which is kind of perfect, if you ask me.
These Ginger Honey Lime Chicken Skewers are great wrapped in a pita, served over a salad, or even picked straight from the stick. My favorite way to serve these skewers is with fluffy white rice and my Quick Pickled Cucumber Salad. The crisp cucs and vibrant zing of the rice vinegar seamlessly compliment the smoky, ginger and citrus laced sweetness of the grilled chicken skewers. There is some kind of summer magic that happens between the skewers, rice and cucumber salad that just screams backyard BBQ. I always lay out a side of crunchy, spicy chili oil and if I've got em, pickled red onions. You can't go wrong with serving a crisp, lager or ice cold Kolsch on the side.
This is the low key, easy summer meal you need in your life this season. I find myself making these Ginger Honey Lime Chicken Skewers weekly and I'm still wanting more. Make this almost effortless meal as soon as you can and I have a feeling you'll be incorporating it into your weekly meal plan in no time.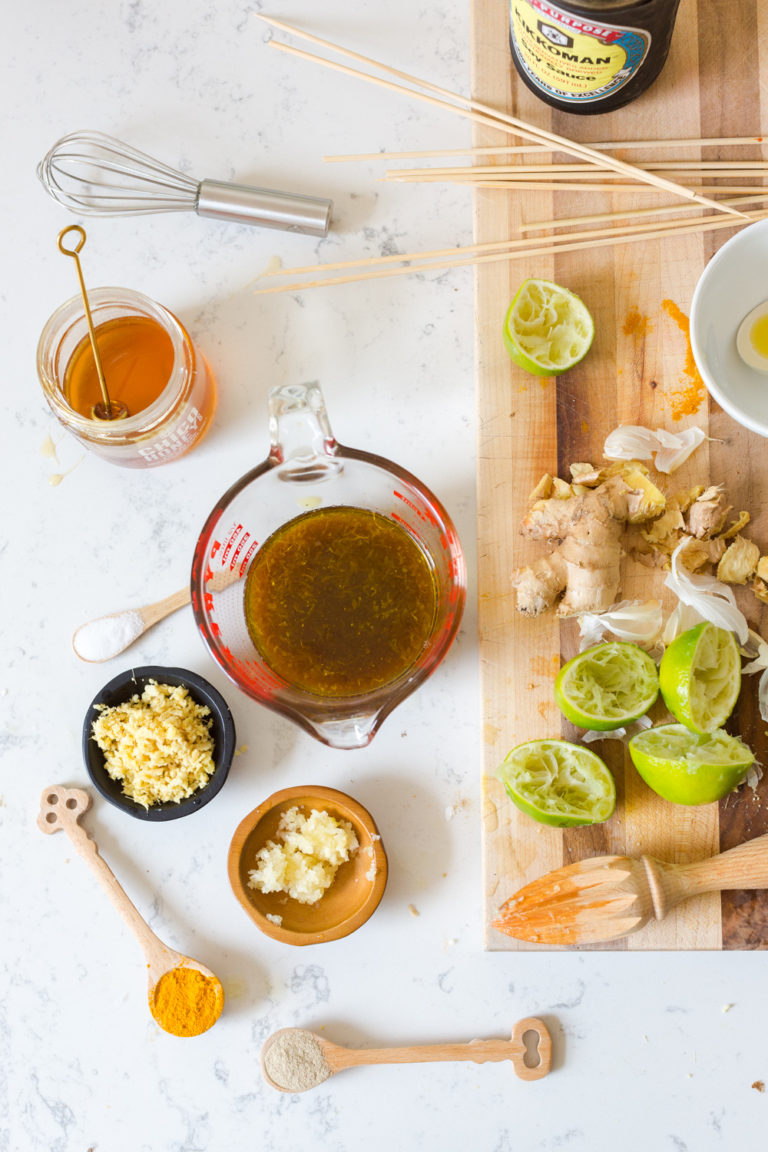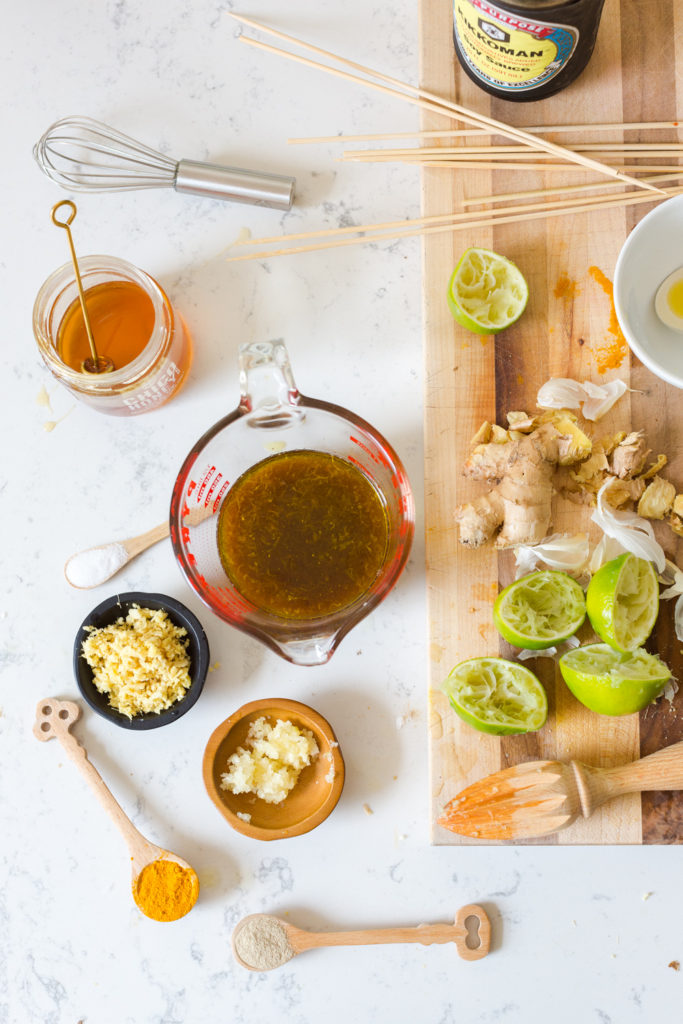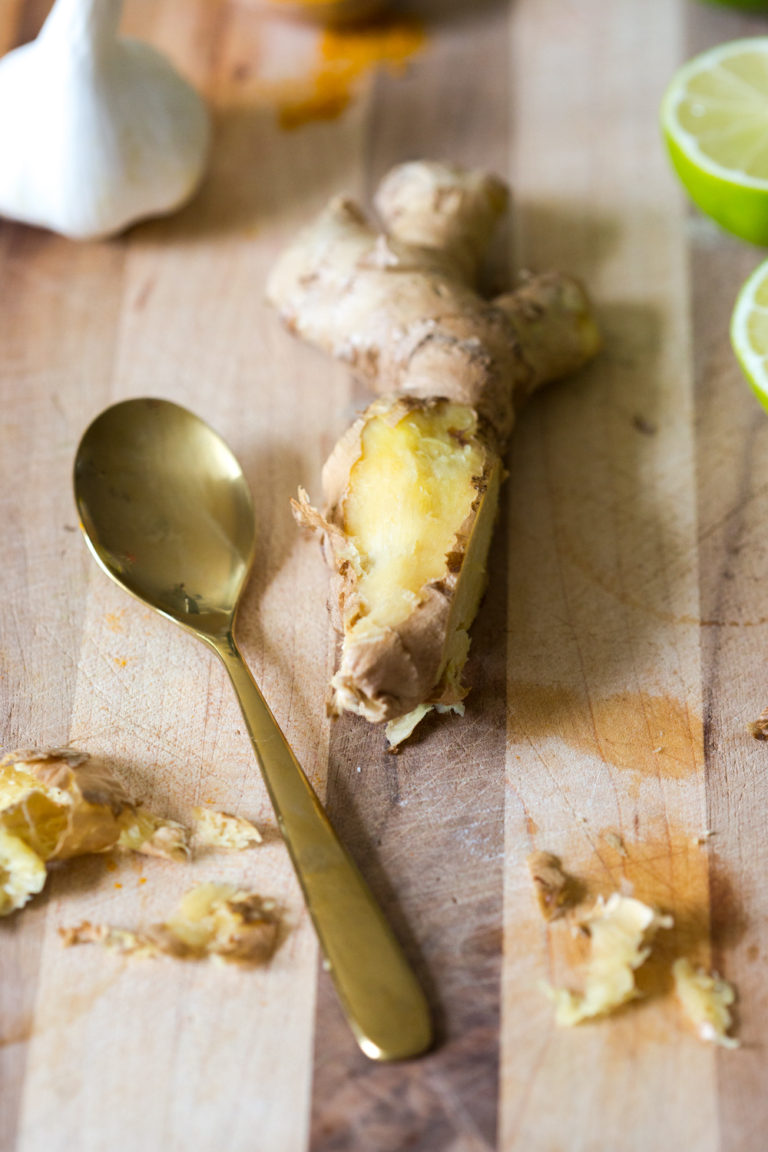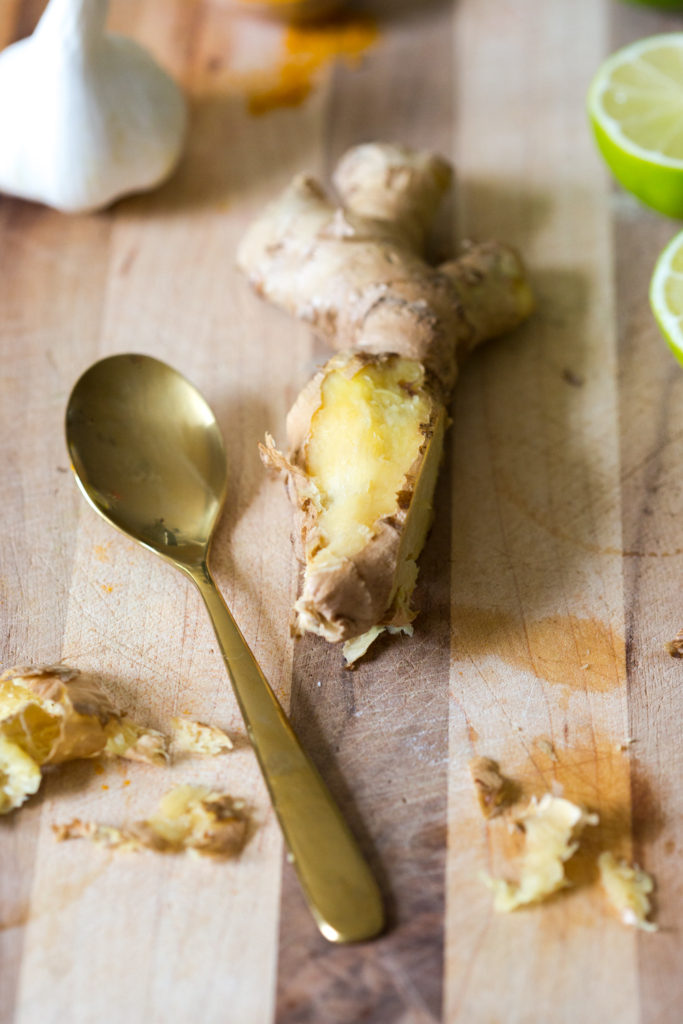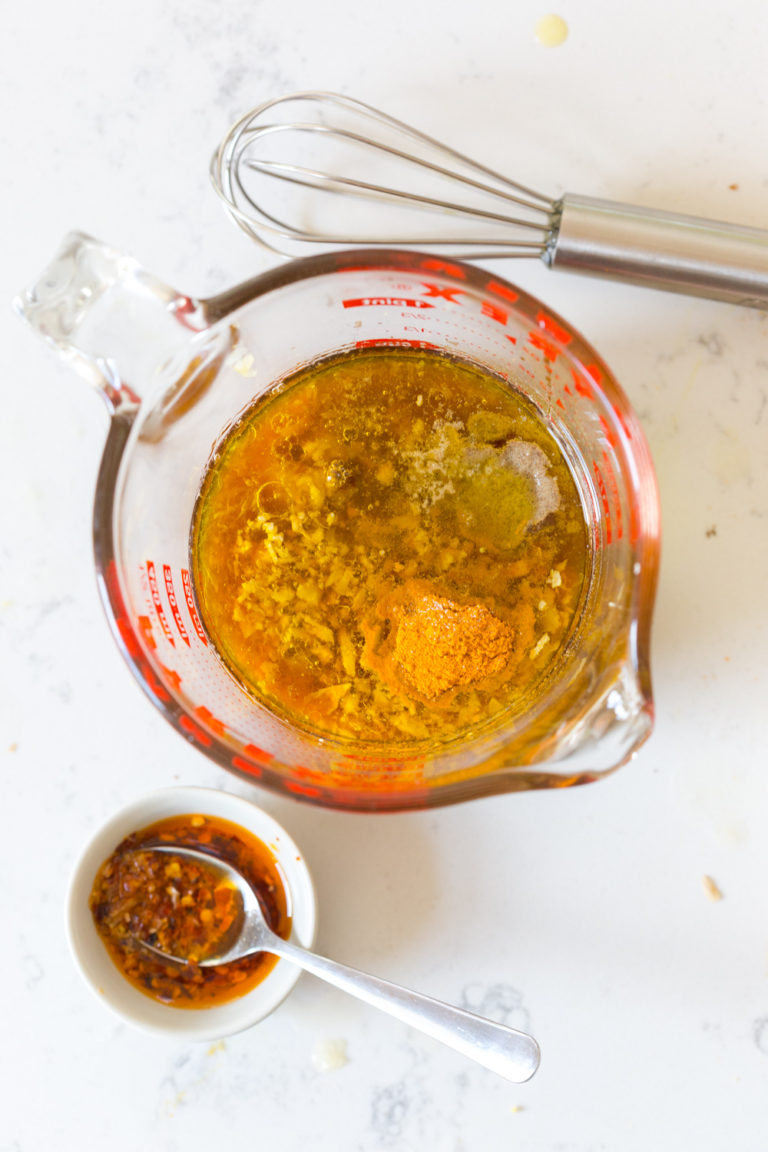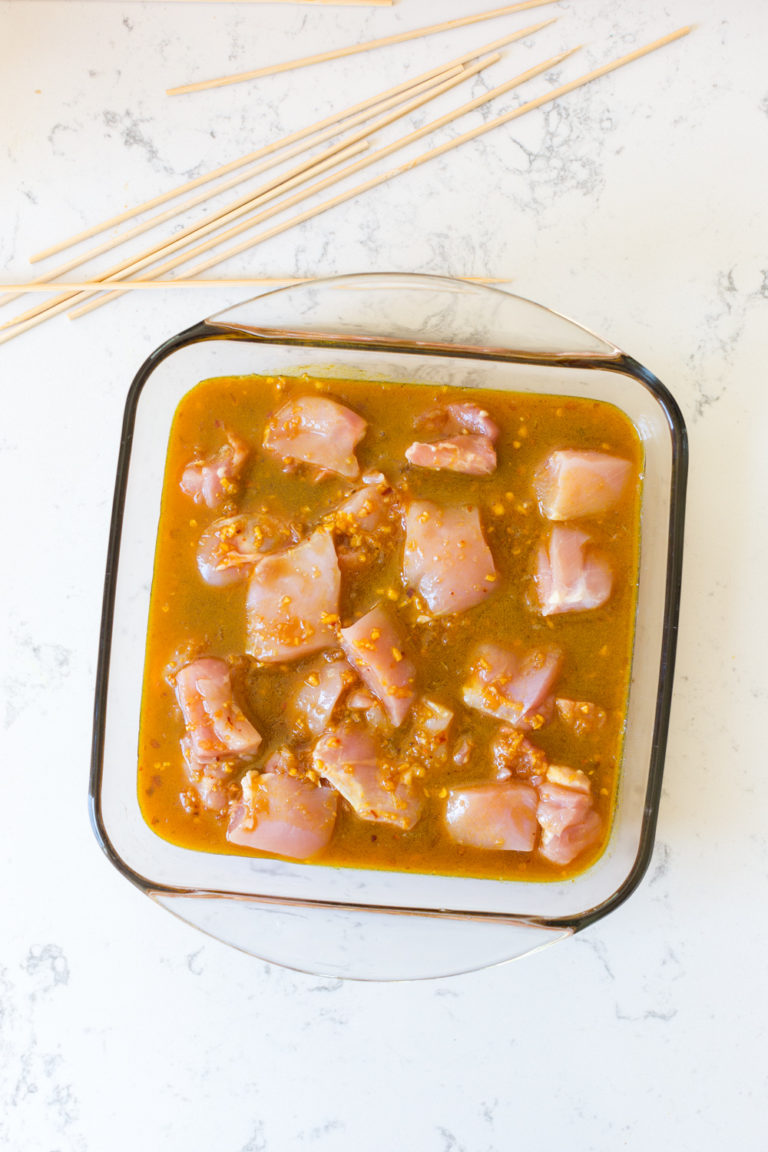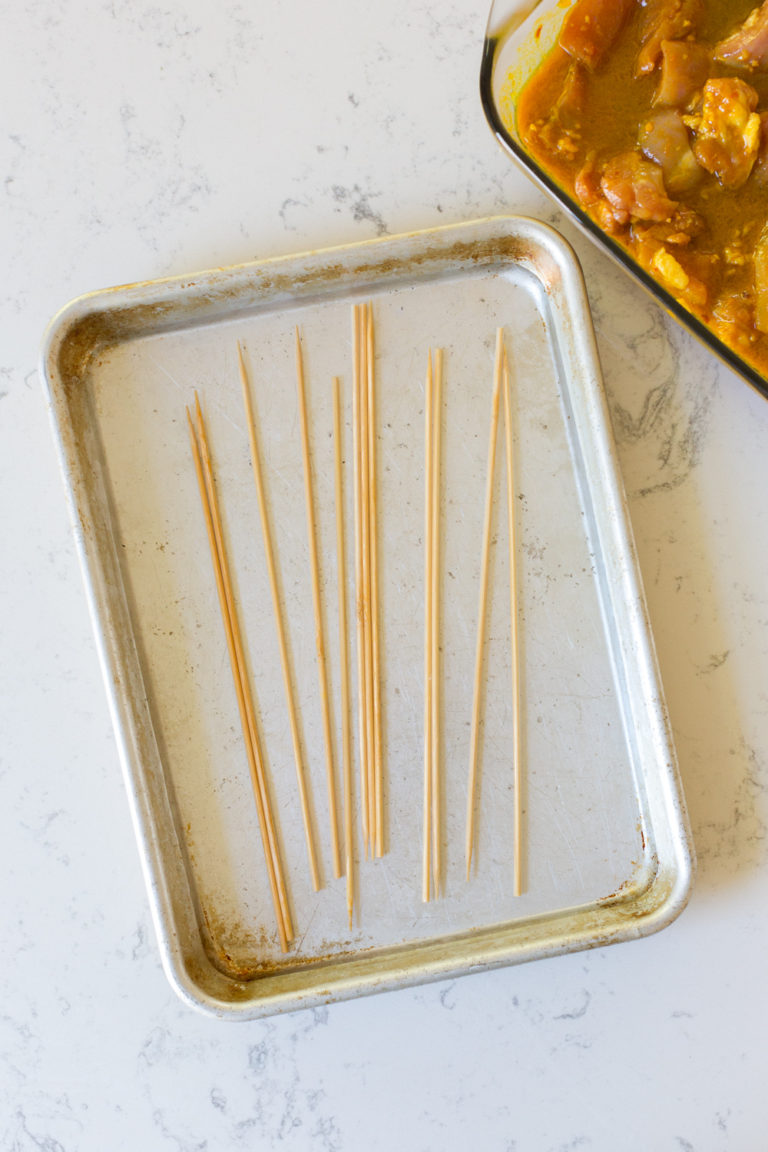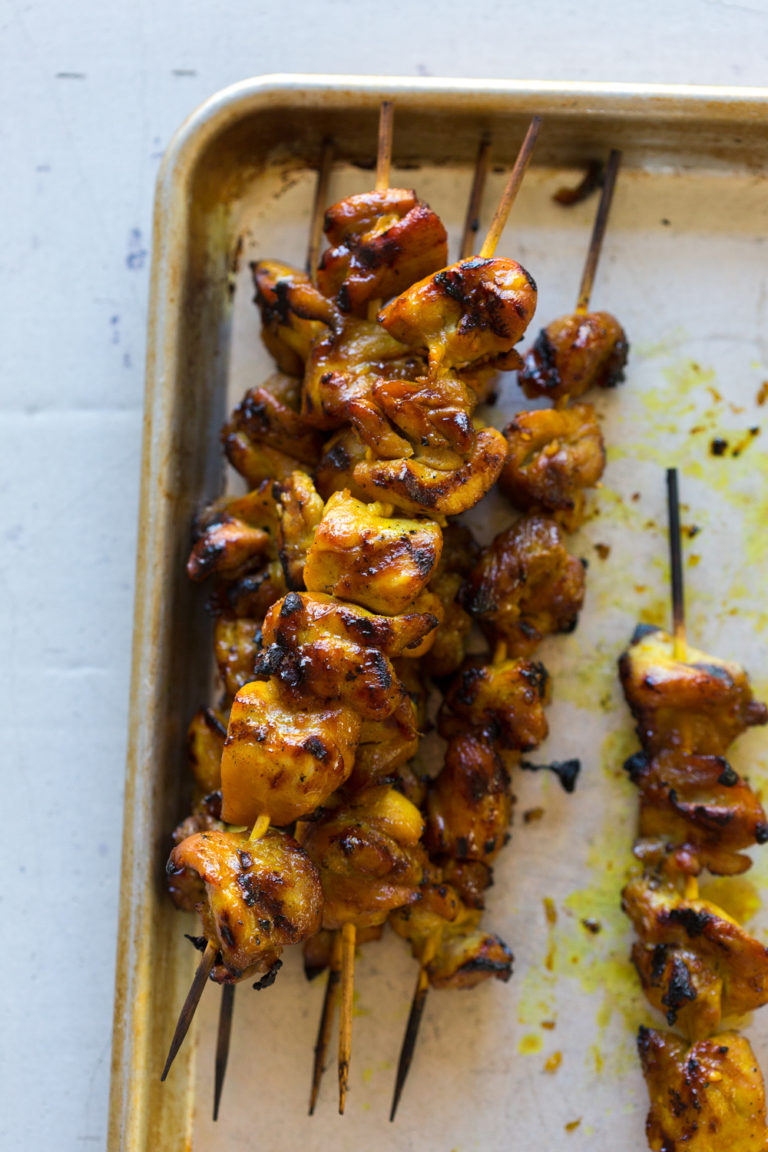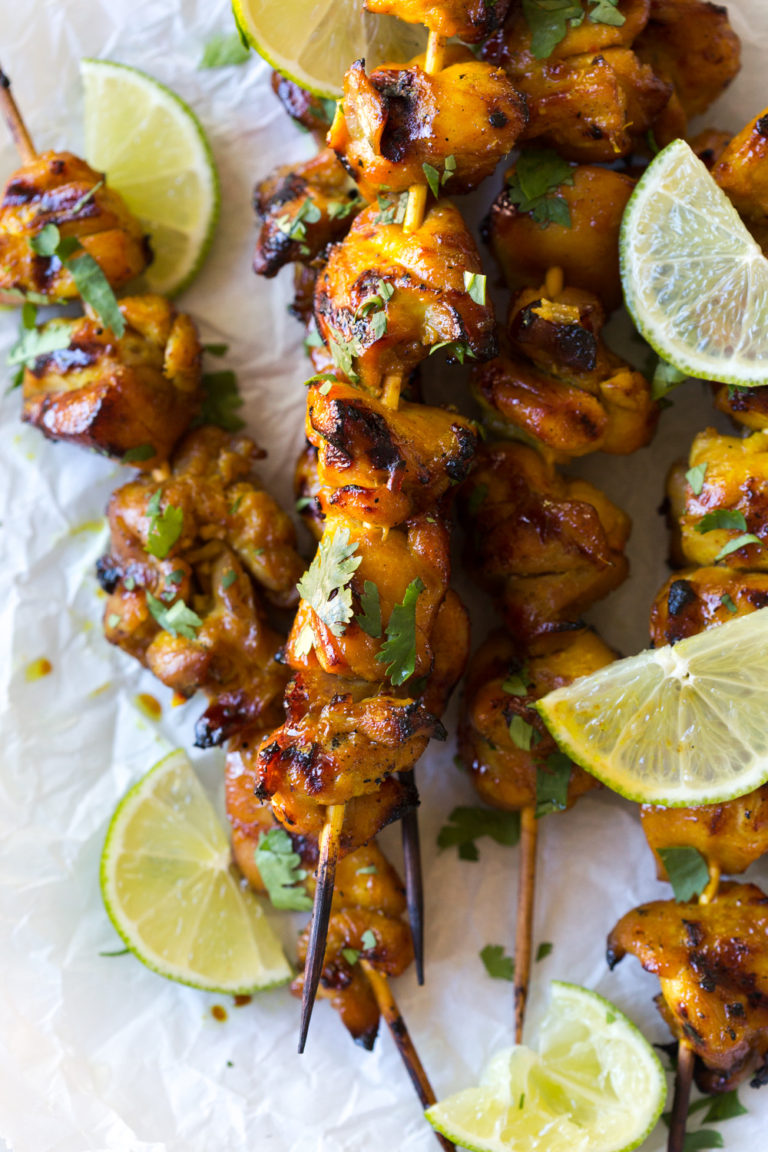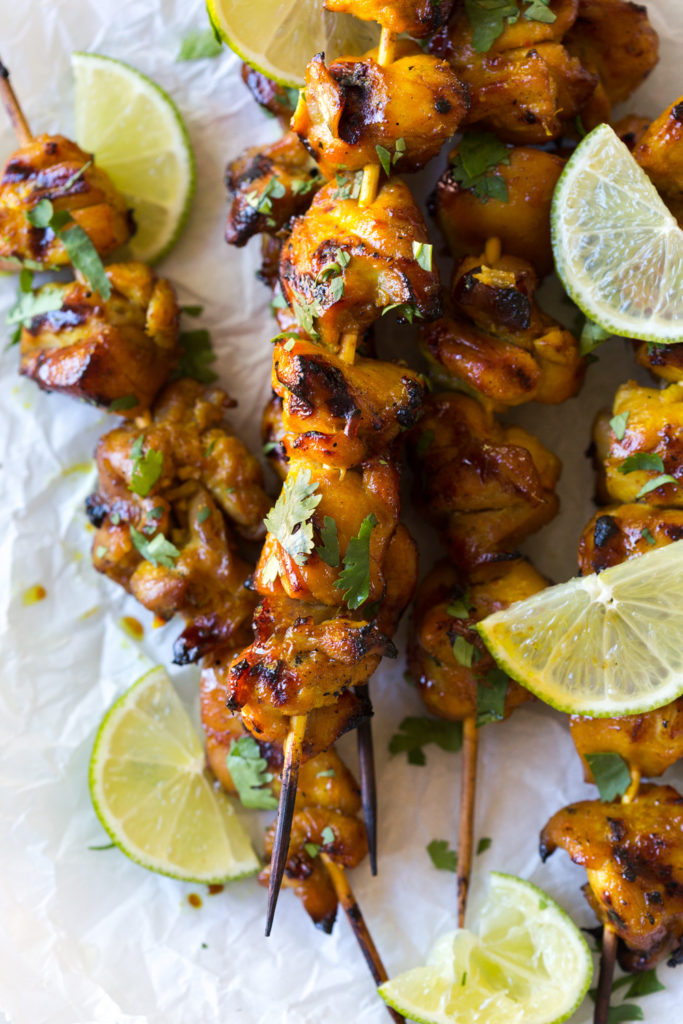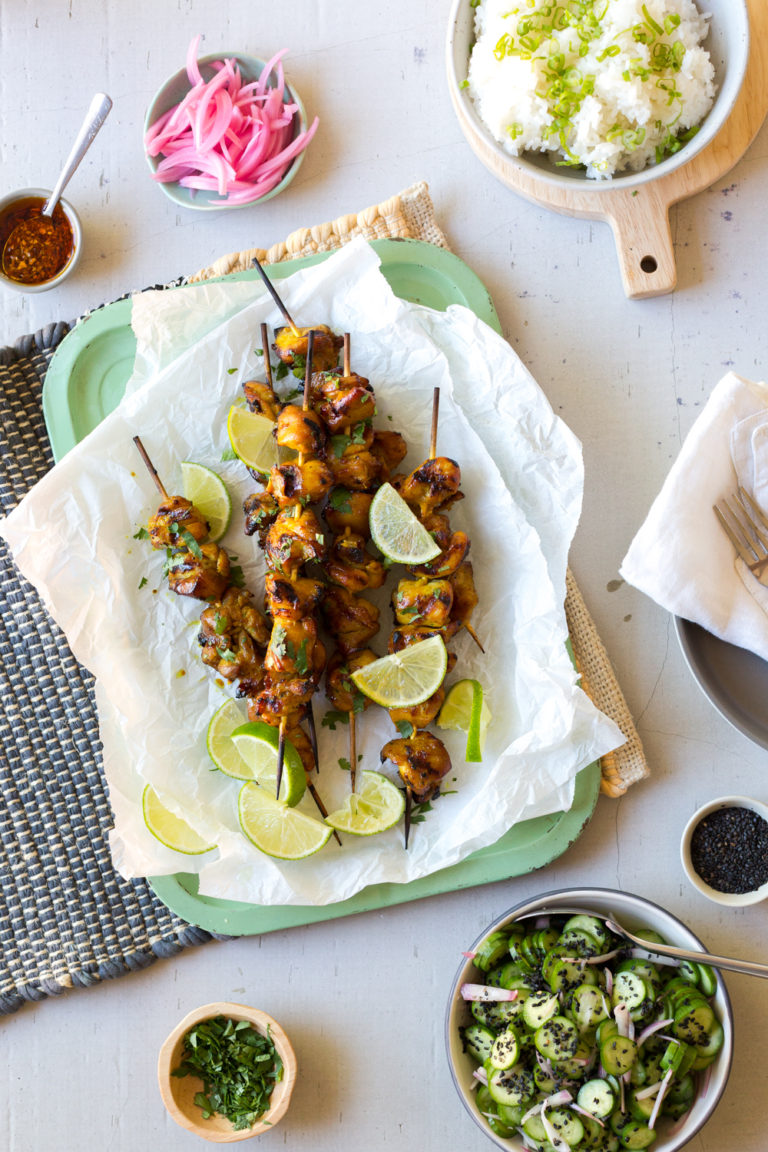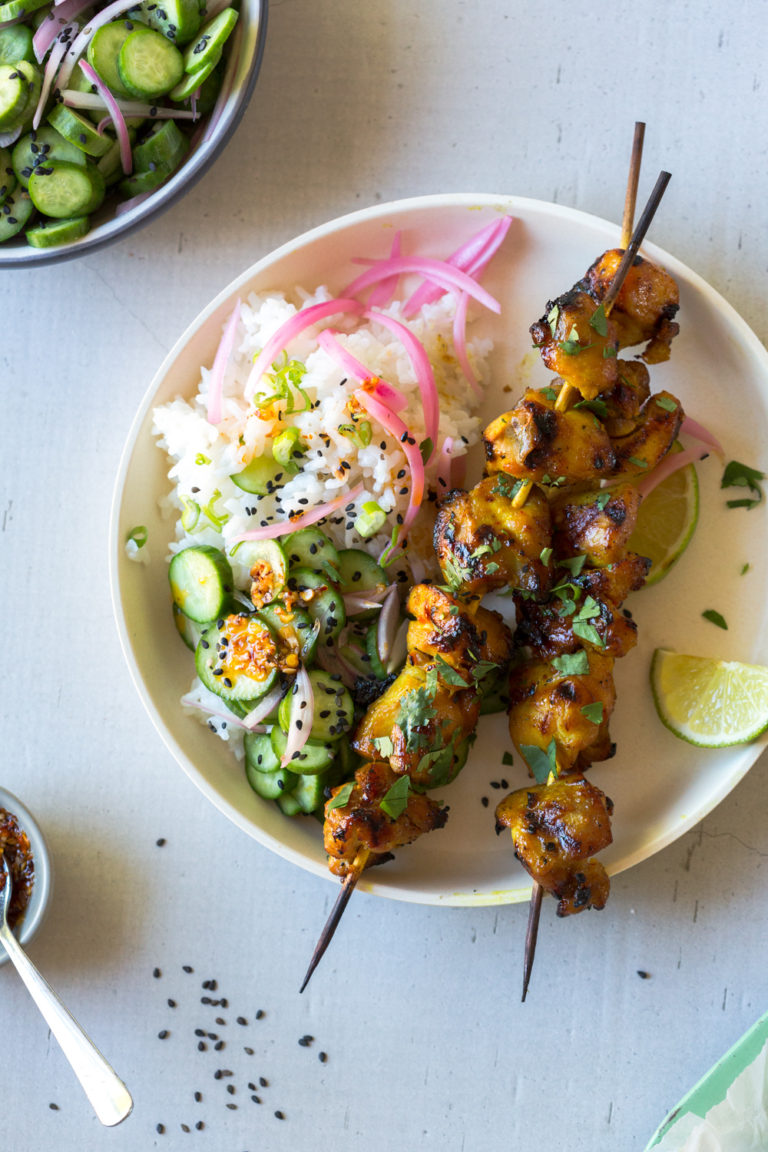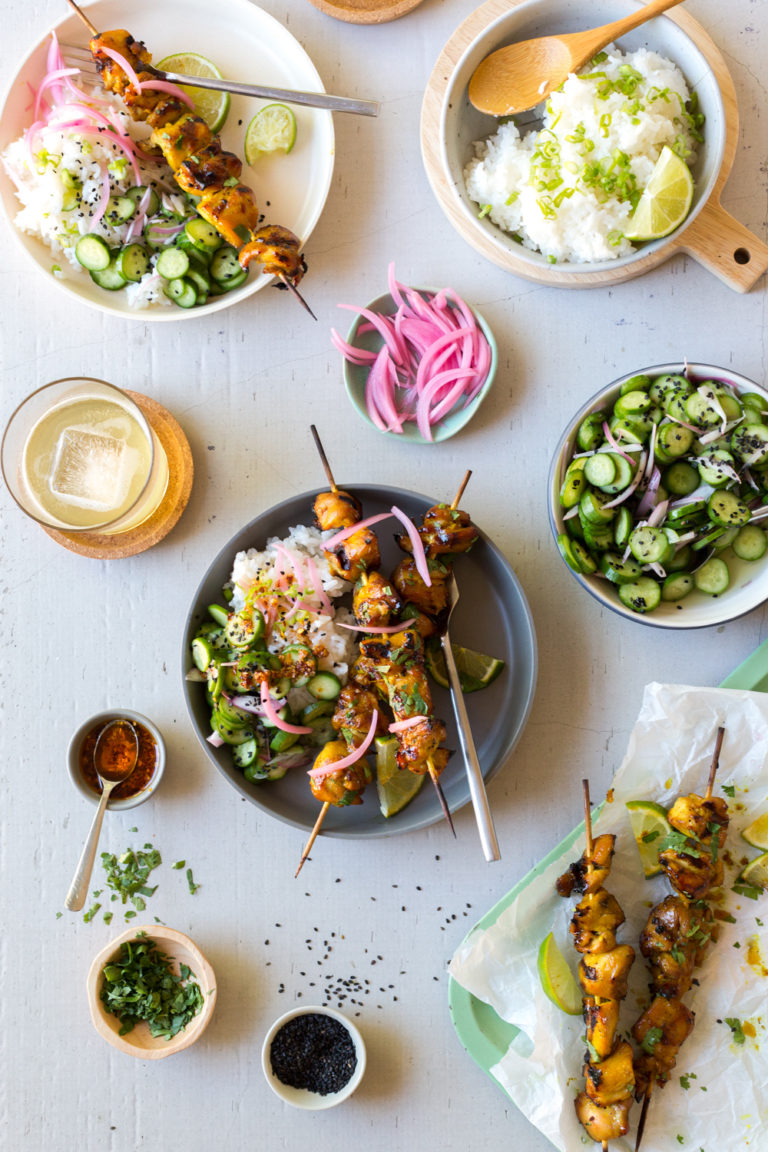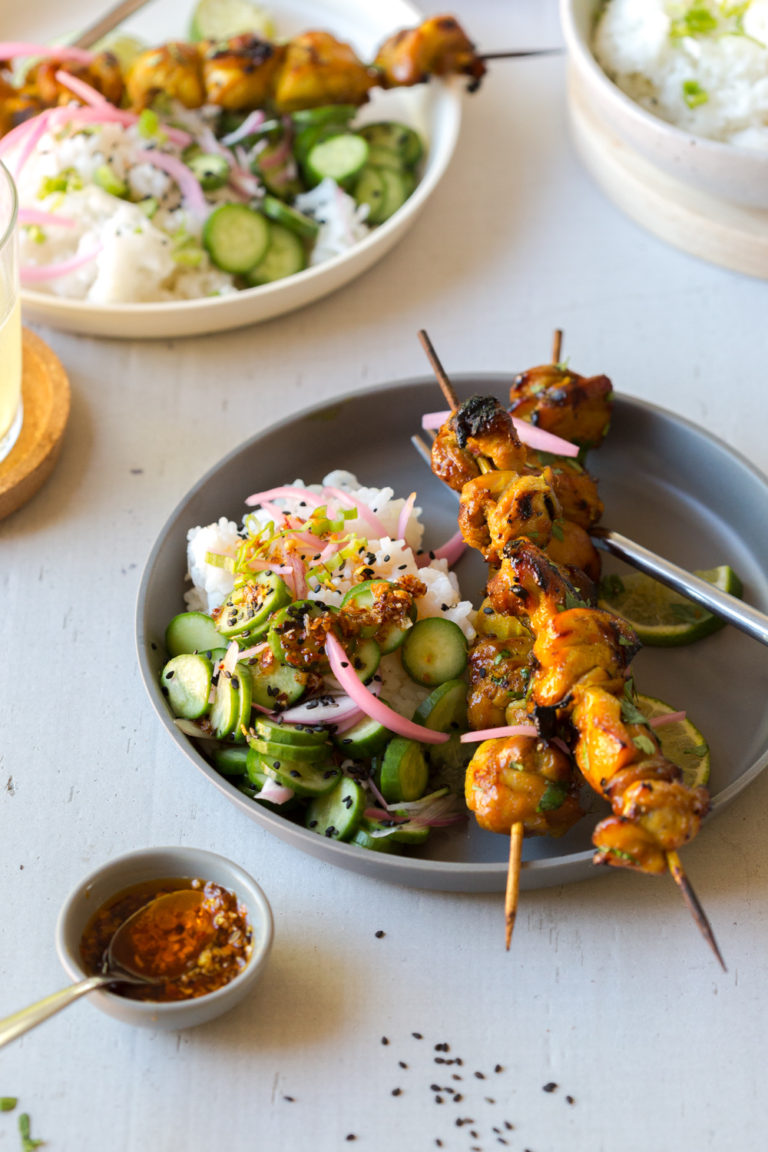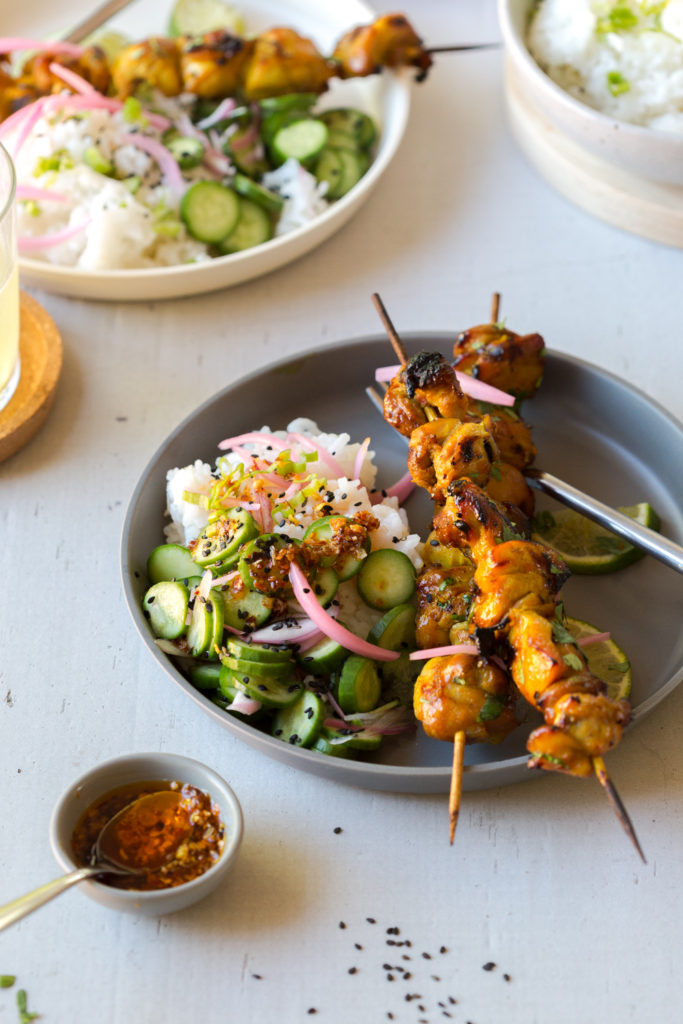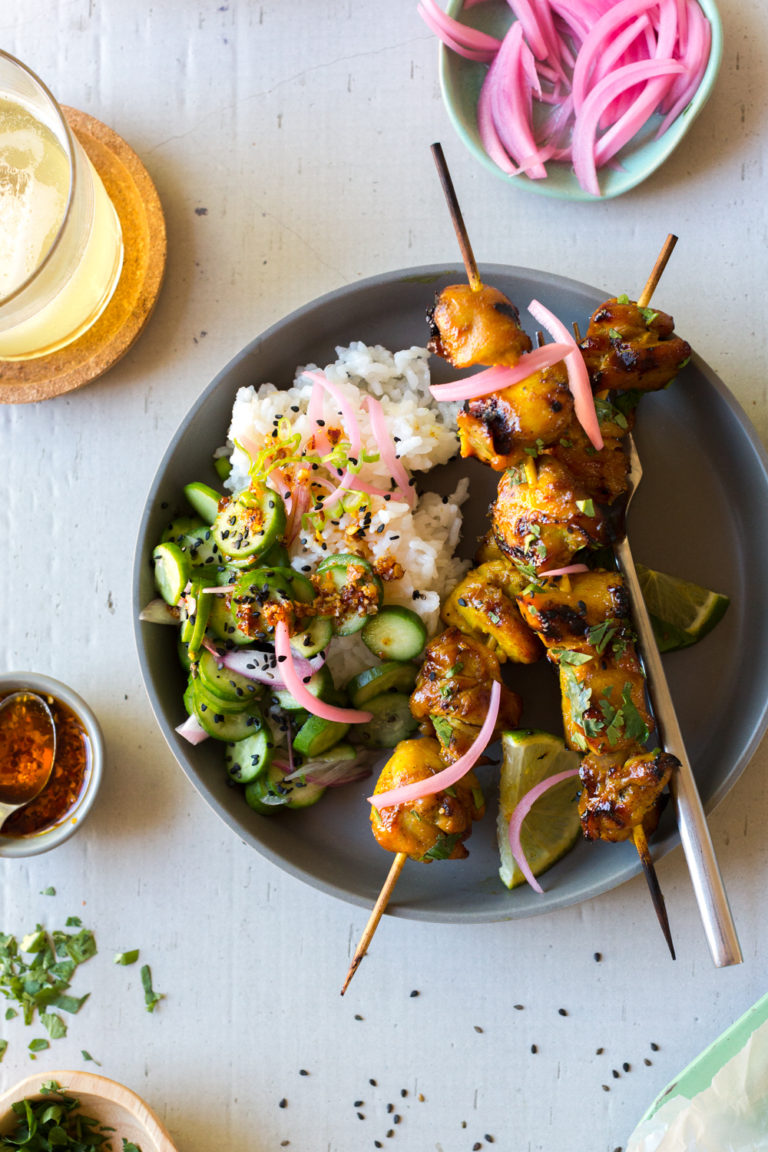 Print
📖 Recipe
Ginger Honey Lime Chicken Skewers
---
Description
Freshly squeezed lime juice, naturally sweet honey, umami infused soy sauce and a healthy dose of fresh ginger and garlic give this 5 minute marinade undeniable freshness. The turmeric layers in a slightly bitter earthiness, while the pepper packs a punch of spice. All of those ingredients join forces and sink deep into the chicken so the flavor stays strong through grilling.
---
2

lbs

boneless, skinless chicken thighs (- or breasts)

¼

cup

honey

¼

cup

lime juice

2 tablespoons

olive oil

¼

cup

soy sauce

4

cloves garlic (- finely chopped)

2 tablespoons

ginger (- finely chopped)

1 teaspoon

turmeric

¾ teaspoon

white pepper (- or black pepper (finely ground))

¼ teaspoon

fine sea salt

½

-

1

teaspoon chili oil or Sriracha

1

wedged lime (- to garnish)

1

-

2

tablespoons cilantro (- to garnish)
---
Instructions
Cut the chicken into 1" - ½" cubes and place in shallow container.
In a mixing bowl or liquid measuring cup, whisk together the honey, soy sauce, lime juice, olive oil, garlic, ginger, turmeric, salt, pepper and optional chili oil or Sriracha.
Pour over chicken, reserving ¼ cup for later. Make sure the chicken is fully submerged/coated in the marinade. Cover and refrigerate for at least 1 hour, up to 6 hours.
While the chicken is marinating, soak wooden skewers in a water bath to prevent burning.
Thread marinated chicken onto soaked skewers and discard the used marinade.
Preheat a grill over medium heat to about 375°F and coat grill with oil. Place skewers on grill and cook until grill marks appear and center is no longer pink, approx. 5-6 minutes per side. Baste occasionally with the reserved marinade. The skewers are ready when the chicken registers 165°F in the center.
Top with cilantro and serve with lime wedges. Enjoy with rice, over a salad or straight from the skewer. You do you. But, I will say, these skewers combo'd with my Quick Pickled Cucumber Salad and a side of white rice is a pretty dang perfect mix of flavors.
Prep Time:

10 minutes

Cook Time:

12 minutes