This Pepperoni Black Olive Stromboli is a fun bake that swirls your favorite pizza ingredients into a satisfying, savory pizza roll.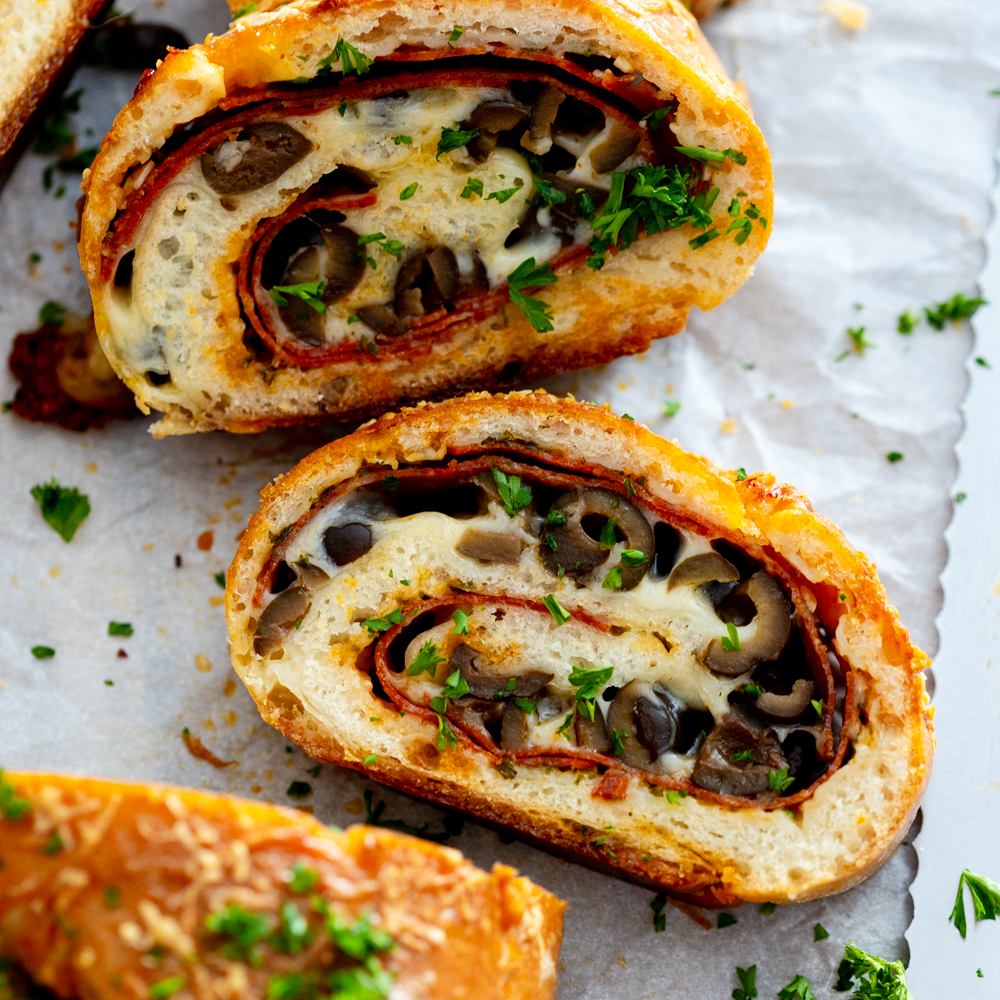 This Pepperoni Black Olive Stromboli may have you wondering, what exactly is Stromboli? It's basically like a pizza and a sandwich got real cozy and rolled up together into one gloriously crave-able nosh. Think cinnamon roll style but as pizza served with a Simple Pizza Sauce for dippin'. Who's in?
Growing up, my family's flavor palettes were were wildly different. My dad snubbed most veggies except canned peas (I know). My sister basically only ate foods in the beige spectrum and I took on the role of sole tomato consumer for the whole family. When it came to pizza, however, there was one topping combo that we could all agree on; pepperoni and black olive. Two great tastes that go great together. And evidently have the ability to get a whole family to agree.
I like to think it was the olives that brought us together, like the proverbial olive branch that bestowed peace at dinnertime. It may be a stretch to say that this Pepperoni Black Olive Stromboli could be used as a peace offering. But I can't think of anyone who wouldn't be willing to set aside differences for a savory slice of this rolled up peace pie. Something so simple yet significant undoubtably deserves to be celebrated.
October is California Farmer and Farmworker Month
Another call for celebration! Along with our friends California Grown, there are many ways we can honor and thank the hardworking farmers and farmworkers who significantly contribute to our health and well-being. It can be as simple buying fruit, vegetables, dairy, meat, wine and nursery items grown in the state of California. If you're in California, October is an ideal time to visit local farmer's and let your farmers know how much you appreciate the bounty they bring.
Visit the California Grown website to learn more about California Farmer and Farmworker month and the farms that keep this state and country nourished. You'll also find a farmload of inspiring recipes that feature California grown products like my Apple Fig and Walnut Crisp or my show stopping Artichoke Olive Oil Cake with Lemon Cream Cheese Frosting.
California farms span the state with over 400 different commodities.
If you take a closer look at your larder, you'll likely find that a good number of the produce, ingredients and that wine you love so much are likely grown in California. This fertile state grows more than a third of the country's vegetables and two-thirds of our fruits and nuts! Everything from artichokes to tomatoes, leafy greens and yummy cheeses to table and wine grapes. Even California Ripe Olives, like the olives I use in this Pepperoni Black Olive Stromboli are grown in CA.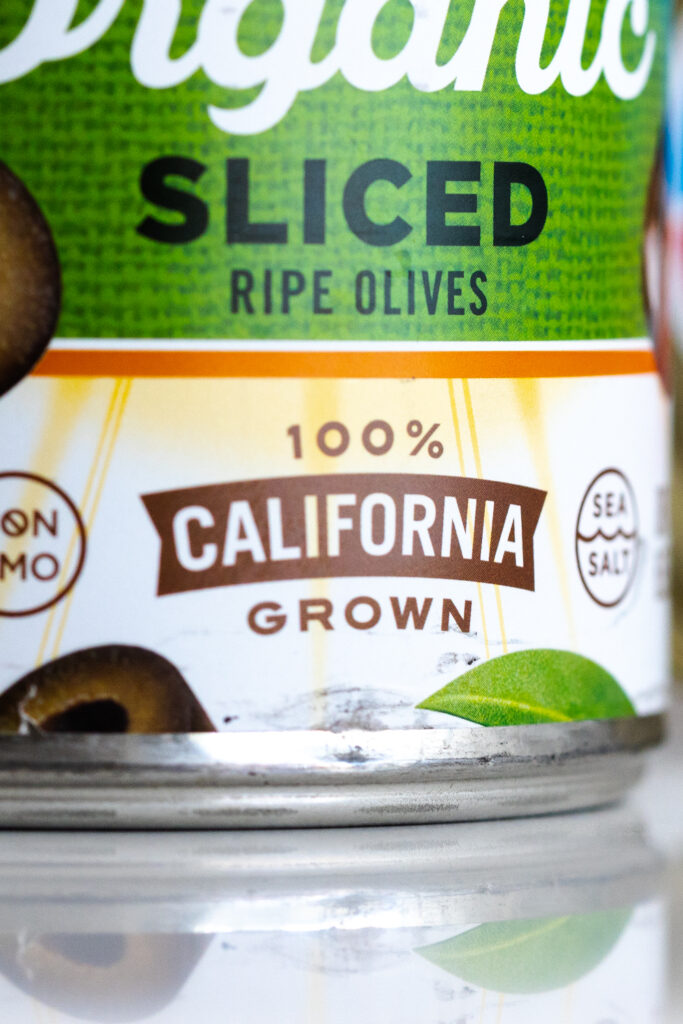 California produces over 95% of the olives grown in the US
California Ripe Olives are grown on family farms in the inland valleys of California. They don't all come from one mammoth farm, rather groves ranging from small 5-acre lots to 1,000-acre farms. All lovingly grown with the highest level of care, from planting to harvest by some of the finest stewards of the land.
Olives grow on trees and fall into the drupe category, AKA stone fruits. This classifies olives as a fruit.
Olive trees bloom with small cream colored flowers that typically blossom in may. They continue growing through spring and begin to ripen in summer. Harvest of California Ripe Olives usually starts in early September, while the olives are still green in color and just beginning to darken. The season typically wraps up in mid-November. October being California Farmer and Farmworker Month means olive farmers are in the thick of harvest season right now. Crewmembers are busy harvesting olives as I type this!
Canned California Ripe Olives are brined in water and sea salt.
Once picked, California Ripe Olives go through an essential 7 day slow-cure process to remove bitterness. This is what sets them apart, imparting a uniquely buttery flavor and texture. California is the only state in the U.S. that produces ripe olives for canning. The olives are canned in the simple sea salt and water brine. You can find those cans of California Ripe Olives year-round at your local grocery store and they come in lots of forms; whole, pitted, sliced, chopped, or wedged. Keep an eye out for California or USA origin on the can next time you're buying olives. For this Pepperoni Black Olive Stromboli we use sliced California Ripe Olives, classic.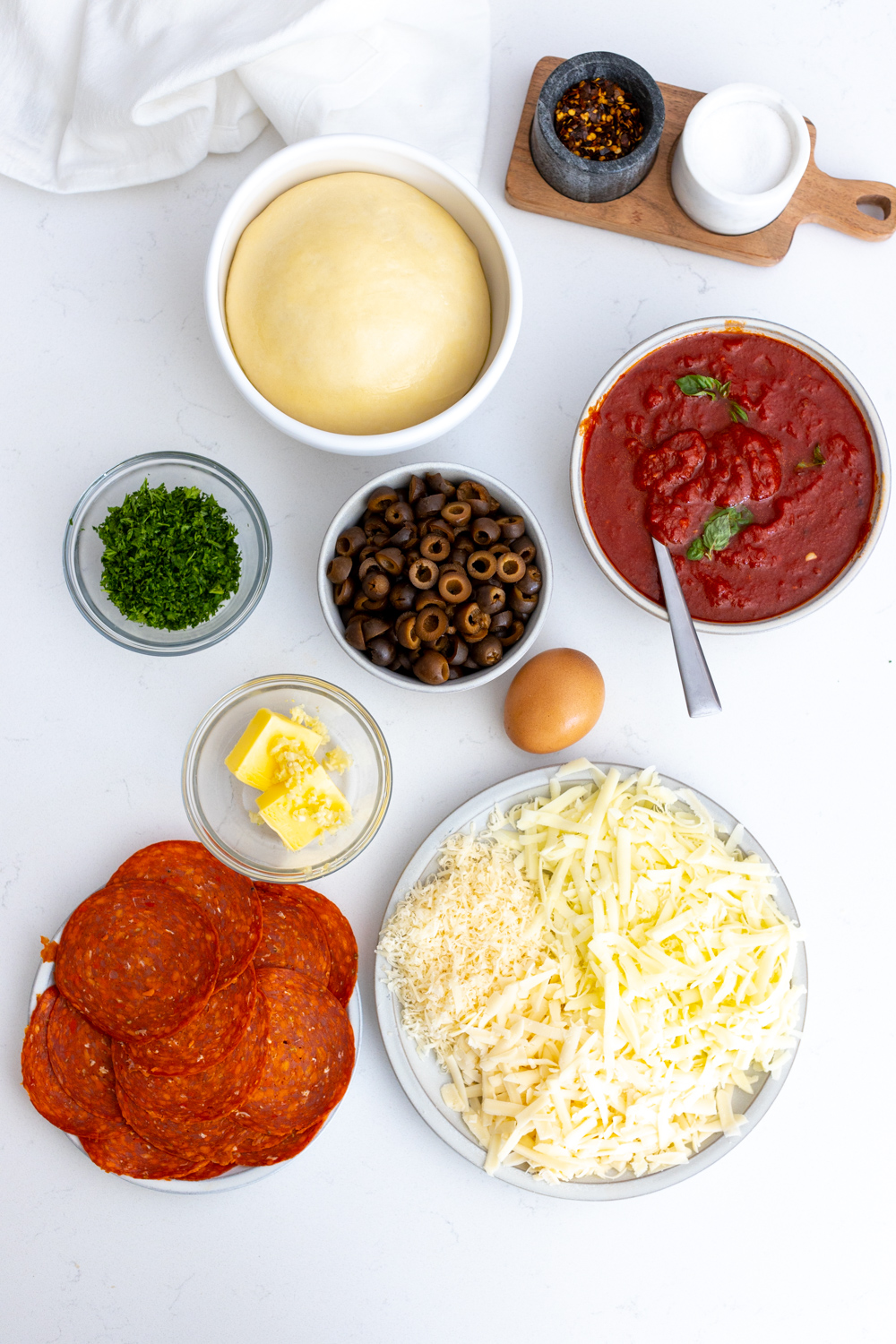 This Pepperoni Black Olive Stromboli is stuffed with flavor but only requires a handful of quality ingredients.
Pizza Dough - you can use store-bought to make it quicker or you can try my Quick and Easy Pizza Dough, it goes from rise to roll in less than 2 hours. It's simple, tasty, chewy and easy!
Garlic Butter - while not a total necessity, it adds a layer of dimension to the filling, imbuing it with rich buttery flavor and a kiss of garlicky goodness.
Pizza Sauce - but on the side. You really don't want that Stromboli to get weighed down, so serving a sidecar of sauce is really the way to go. My Simple Pizza Sauce is a devilish match to the spicy peps, earthy olives and creamy cheese in this recipe. What makes this sauce so special? The secret is in the can. California grown and ripened tomatoes taste like the sun. Get my recipe for this tangy, bright flavor bomb sauce.
Cheese - we can go basic and all in with the stretchy, mild mozzarella here. But I like to add in some provolone for a sharp cut. And always a shower of parmesan, both in the filling and to the top of the Stromboli for a bubbly crispy opportunity. Lucky for us, Real California Milk has every cheese option under the California sun!
Pepperoni - you can use any style you'd like, but the large deli style pepperoni reign supreme when rolling up the Stromboli. The bigger peps make for easier and quicker rolling.
California Ripe Olives - the olives are the real hero of this pizza sandwich roll. The buttery texture and earthy, slightly salty brine is the perfect match for the spicy pepperoni. They just belong together. I am a big fan of California Ripe Olives, they are so classic and illicit many happy pizza memories for me. Olive fingers are pure nostalgia, aren't they?
Combining those fine ingredients, this Pepperoni Black Olive Stromboli is a crave-worthy recipe that will have you Stromboli rolling again and again. It may seem like a lot of work but once you've got the hang of things, this Stromboli truly is an easy roller. The combo of chewy pizza crust, bubbly cheese, drool-inducing garlic butter, earthy olives and spicy pepperoni is a savory smorgasbord of textural flavor fulfillment.
How to shape, stuff and roll up this savory and satisfying Pepperoni Black Olive Stromboli.
Once you've stretched your Quick and Easy Pizza Dough, it's time to start stuffing that Pepperoni Black Olive Stromboli.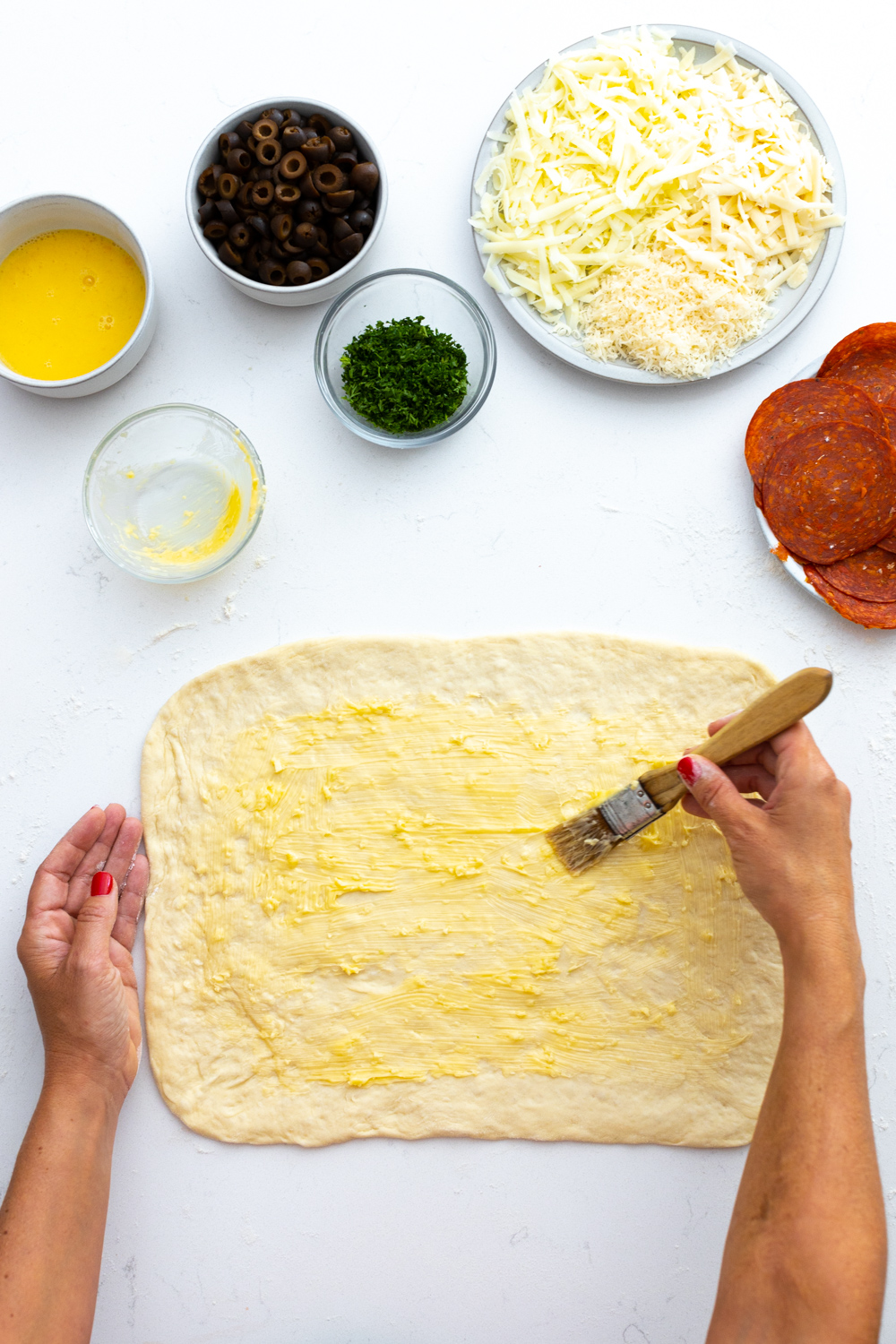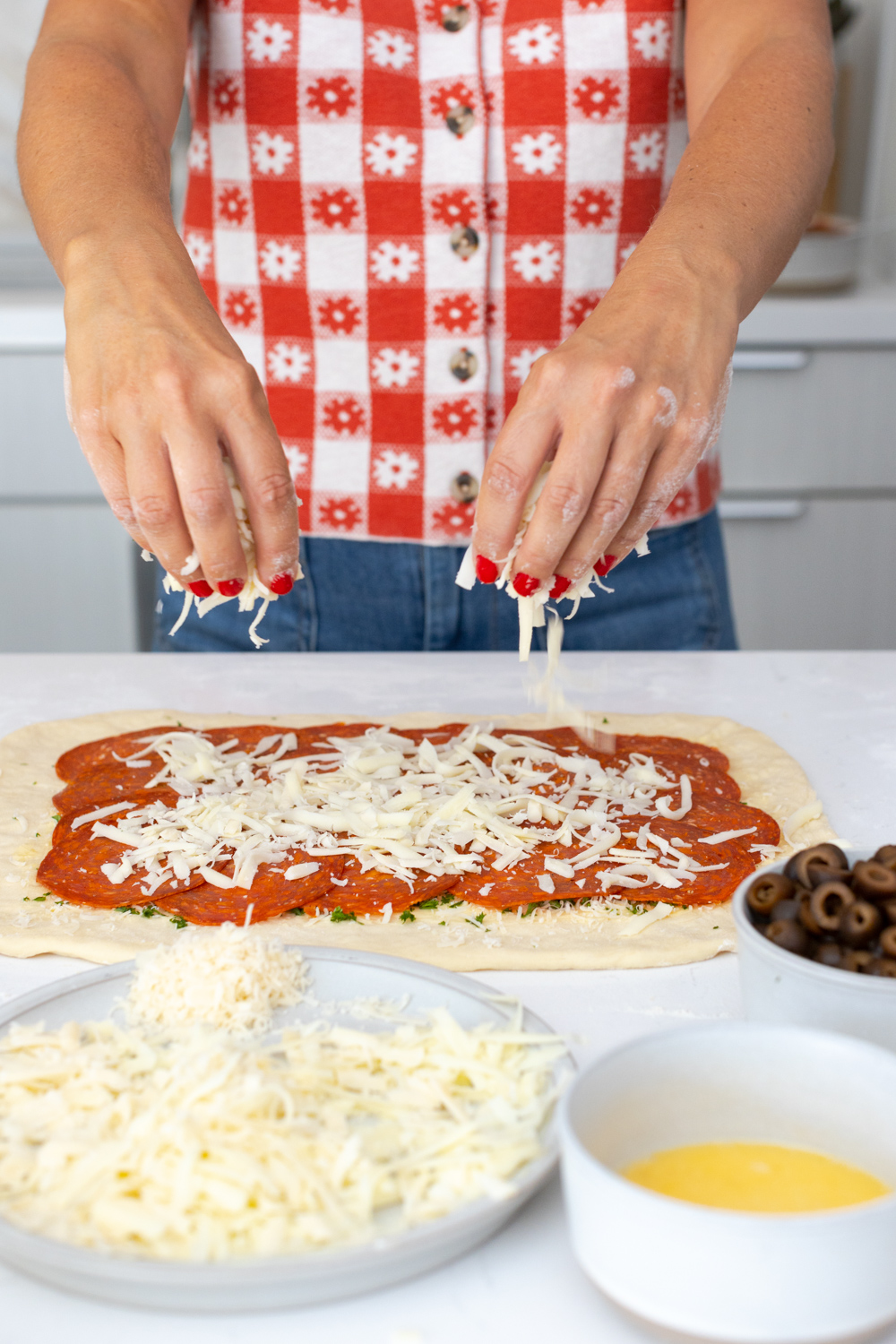 A Stromboli rolls up similarly to a cinnamon roll. Roll with it!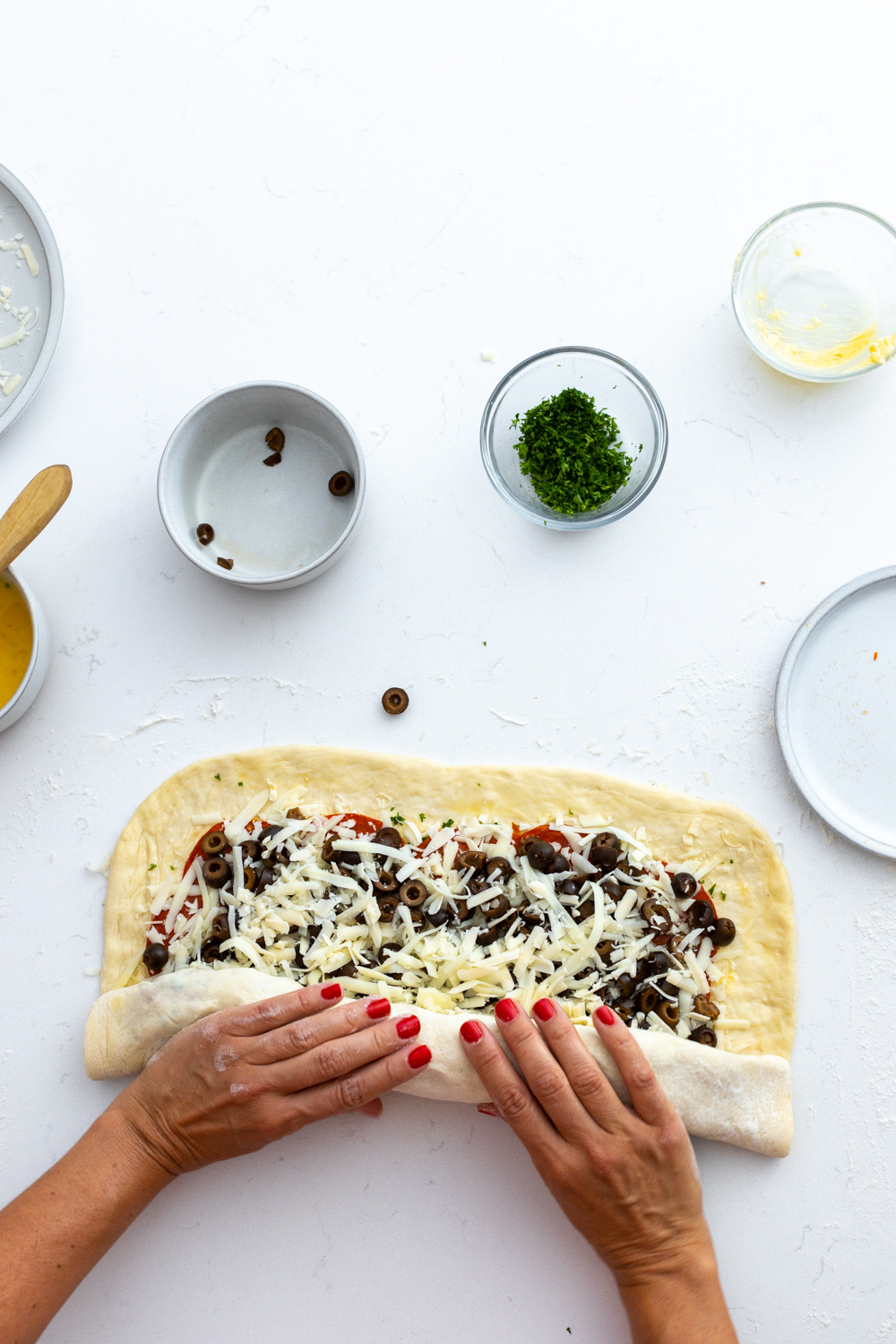 Just a few more steps and the Pepperoni Black Olive Stromboli is ready to hit that heat.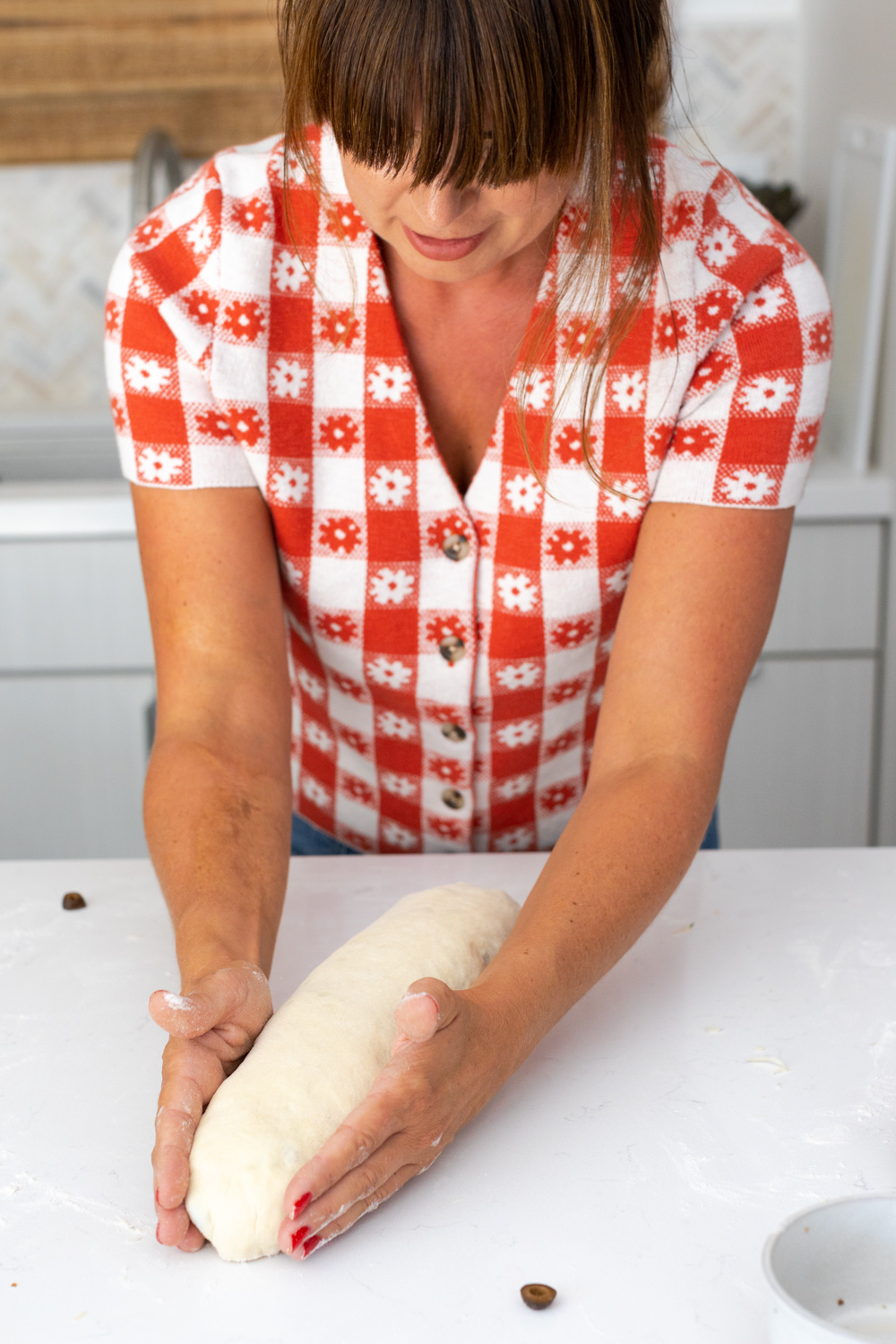 This Pepperoni Black Olive Stromboli recipe is a fun bake that makes the most of simple, quality ingredients. Make it for a fun family dinner or serve it as a savory appetizer alongside a juicy red wine. And always serve it with a sidecar of my Simple Pizza Sauce or your favorite Ranch Dressing, if you're into that. It'll be a party however and wherever you serve it!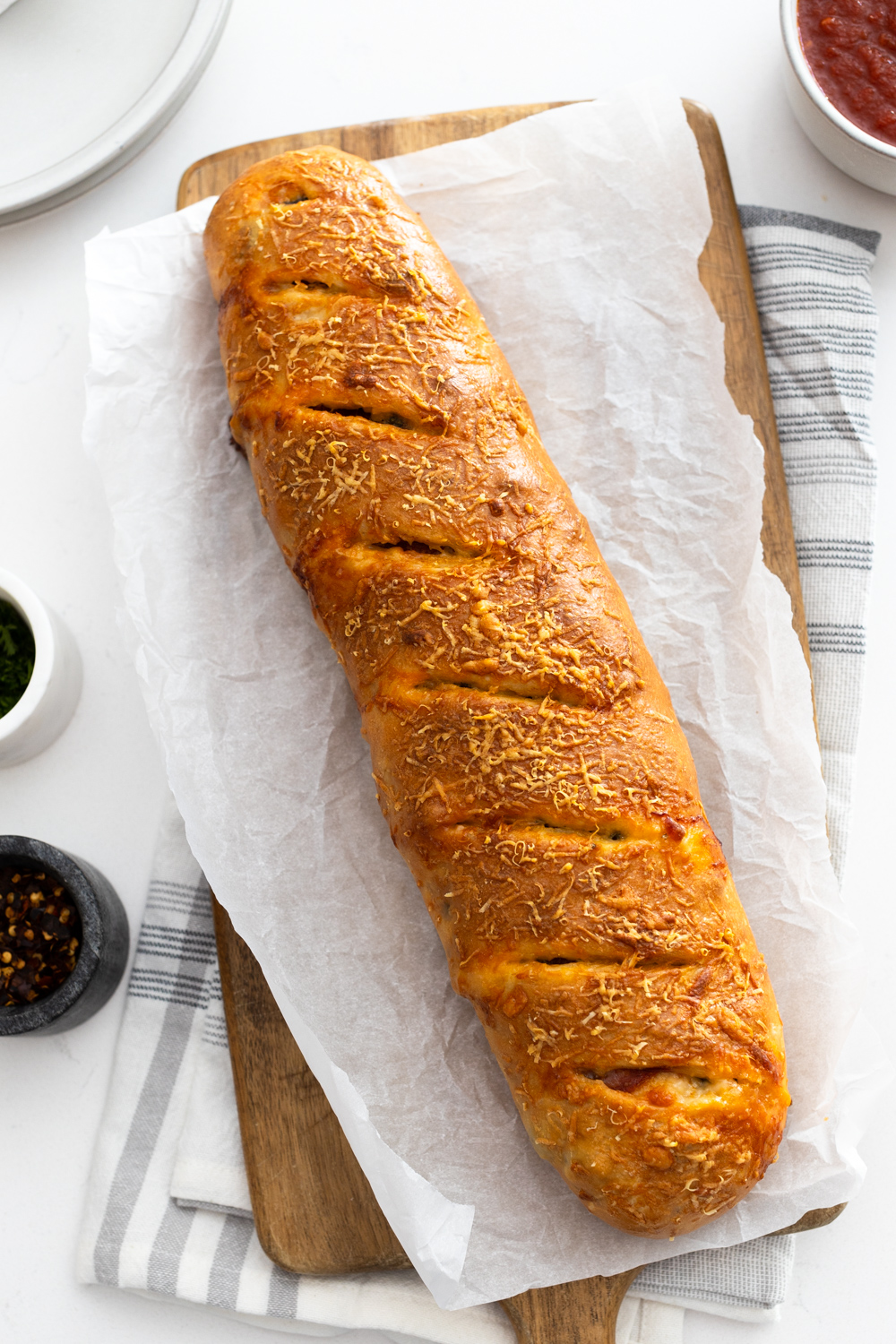 Don't forget the simple pizza sauce, boss.
This post was proudly made in partnership with California Grown. All opinions are my own. Thank you for supporting me and the brands that I love. Follow @cagrownofficial on Instagram to learn more about the foods grown in California, farm practices, and discover new recipes!
Print
📖 Recipe
Pepperoni Black Olive Stromboli
---
Description
Pepperoni Black Olive Stromboli, think pizza meets sandwich, rolled together in a hypnotizing swirl of savory flavors. The combo of chewy pizza crust, bubbly cheese, drool-inducing garlic butter, earthy olives, spicy pepperoni and tangy tomato dipping sauce is a spiraled smorgasbord of textural fulfillment.
---
1

ball fresh pizza dough, about 1 lb. (- hand made or store bought)

1 ½

cups

low moisture mozzarella, provolone or a blend of both ( - shredded)

¼

cup

parmesan (- finely grated)

4

ounces

sliced pepperoni (- preferably large deli sized)

1

cup

California black ripe olives (- sliced)

2 tablespoons

fresh parsley ( - finely chopped)

2 tablespoons

salted butter ( - softened)

1

clove garlic (- finely minced)

1

large egg
pizza sauce and/or Ranch dressing (- for dipping)
---
Instructions
If your prepared pizza dough is chilling, remove it from the refrigerator and allow to sit on the counter, at room temperature, for at least an hour. Meanwhile, preheat oven to 425°F.
In a small bowl, combine softened butter and minced garlic. Set aside. In another small bowl whisk the egg with 1 tablespoon of water to make an egg wash. Set aside.
SHAPE
On a lightly floured work surface, gently stretch the dough into a roughly 16" x 10" rectangle with an even thickness throughout. If the dough is shrinking up on you, cover with a damp, clean kitchen towel and allow it to rest for 10 minutes and go again.
FILL
Using a pastry brush or the back of a spoon, spread the garlic butter mix over the surface of the dough, leaving a 1" border all the way around. Sprinkle with 1 tablespoon of parsley, followed by 2 tablespoons of parmesan cheese.
Add slightly overlapping rows of sliced pepperoni shingles, covering the cheese surface, leaving a 1" border on the bottom and sides and a 2" border on top. Layer on half of the shredded mozzarella and/or provolone, top with sliced black olives, then add the remaining mozzarella cheese.
Brush sides and top edges lightly with egg wash. This will help seal the stromboli closed.
ROLL
Lightly dust your hands with flour to keep from sticking to the dough. Starting at the wide end closest to you, slowly begin rolling the dough toward the blank border at the top (like a cinnamon roll), stopping when you hit the strip.
Pull the blank strip back towards you, over the rolled dough. Pinch to seal the folded dough together and create a seam. Then pinch and fold the ends of the stromboli to seal the exposed ends. Carefully transfer the stromboli to a parchment paper lined baking sheet with the seam side facing down.
Lightly brush the top and sides with egg wash. Sprinkle with remaining parmesan.
Use a sharp knife to cut several slits across the stromboli to allow for ventilation while it bakes. Allow the stromboli to sit and proof for about 15 minutes before baking.
BAKE
Bake for about 25-30 minutes, rotating the pan halfway through the bake time, until the crust is golden brown. The butter may grease leak and cheese might bubble up and spill out the sides or top slits, don't worry, it just adds character.
Carefully remove from the oven and allow to cool on baking sheet for at least 5-10 minutes.
SERVE
Transfer stromboli to a cutting board and slice into 12 rollups. Serve with pizza sauce or ranch dressing if you're into that.
Prep Time:

20 minutes

Cook Time:

25 minutes

Category:

Dinner
Keywords: Pepperoni Black Olive Stromboli, Stromboli