Jammy and sweet caramelized onions, juicy chicken, crusty bread, a glug of wine, bubbly Gruyere cheese & garlic herb butter bake together on 1 pan in this easy French Onion Sheet Pan Chicken.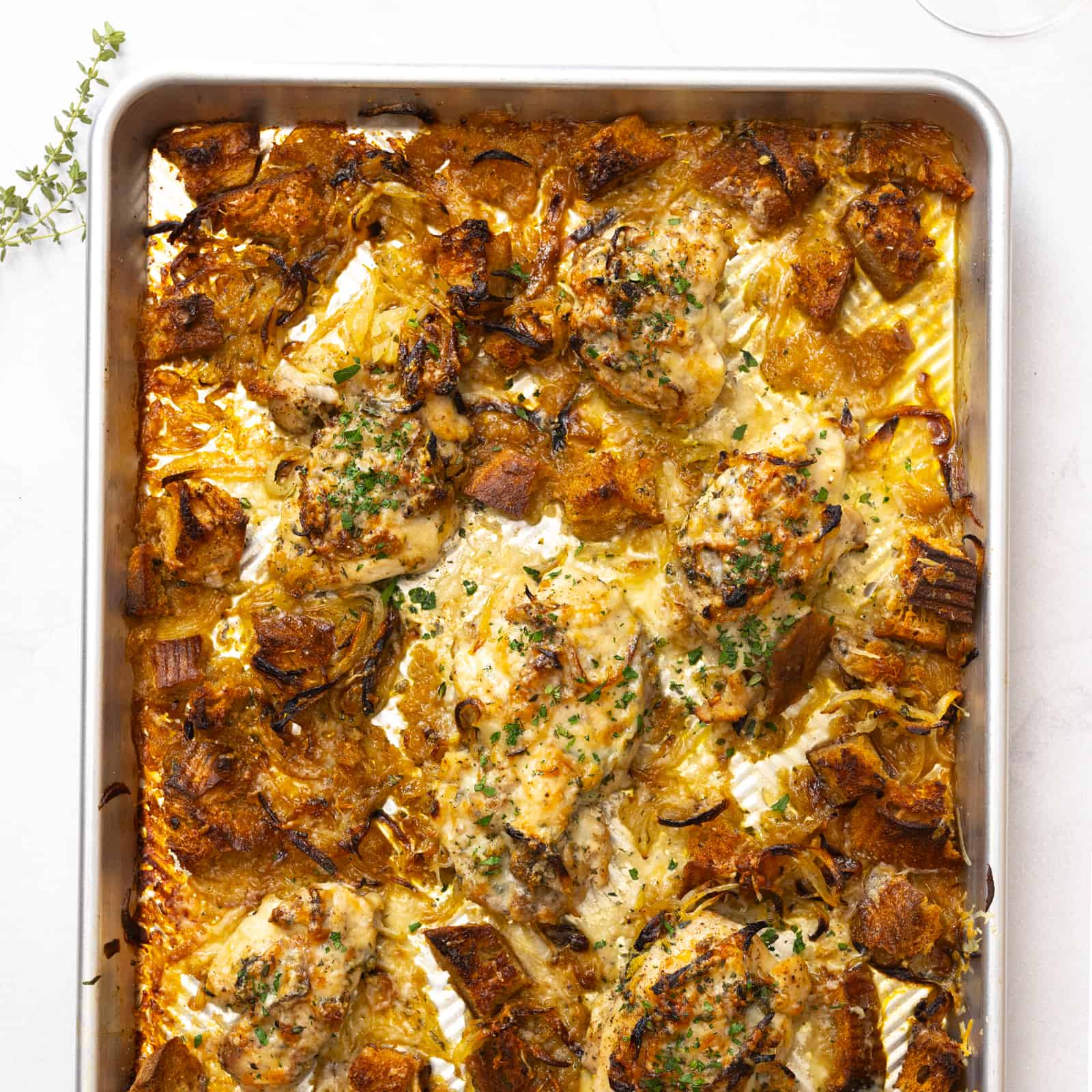 Jump to:
This French Onion Sheet Pan Chicken recipe was born out of one of those "what do we have to work with moments?". My mom, sister and I were staying together at the Oregon coast for a few nights. Coincidently, the food in the fridge was slim pickins. We had some leftover bread, approaching its end of life. Parmesan cheese, chicken that needed to be used, onions and white wine. Immediately French Onion Soup flavors bubbled up my mind, just like that signature top layer on the classic, savory soup.
Not wanting to spend too much time cooking, I grabbed a sheet pan and got to brainstorming. I have some solid sheet pan meals on my site so I tapped into my inner easy sheet pan dinner persona, got my sheet together and came up with the idea for French Onion Sheet Pan Chicken. It came out so delicious that we ate the entire sheetful in a single sitting. This simple recipe that bloomed from a little creative kitchen ingenuity and is now a family favorite. Hopefully, it will soon become a favorite with your family too.
More Easy Sheet Pan Dinner Recipes
All on a single sheet pan
The real beauty of this French Onion Chicken recipe is that it all bakes together on a single, standard sheet pan. No need to caramelize the onions in a separate pan or toast the bread. All of the ingredients come together on one baking sheet! Let's bake it easy, friends.
French Onion Flavors
Onions preferably sweet or yellow but really any onions work here. The key is slowly cooking down thinly sliced onions until they become jammy, sweet and full bodied. The richness runs deep in these little flavor threads.
Butter adds smooth depth, encourages the caramelization of the onions and coats the bread and chicken in homey comfort.
Crusty Bread while traditionally made with baguette, I say use whatever you've got. Just make sure it's hunky and crusty. Sourdough or a crusty French or Italian loaf are great options. The bread hunks will soak up the sauciness but also crisp up on the edges as it bakes.
Garlic gets mixed with butter and herbs in this recipe. It's poured over everything, imbuing the whole sheet with earthy sharpness. A nice contrast against the richness.
Wine or broth helps deglaze the onions from the sheet pan and build a backbone of complimentary flavor while keeping the bread hunks and chicken from drying out in the oven. Use something crisp and white like a Sauvignon Blanc or Pinot Gris. Alternatively, you can substitute broth here. Or mix the two! Beef stock is traditional but chicken or veggie broth work too.
Cheese seals the deal with a bubbly layer on top of the chicken. Go for Gruyere to keep it classic. Swiss or parmesan also do the deed.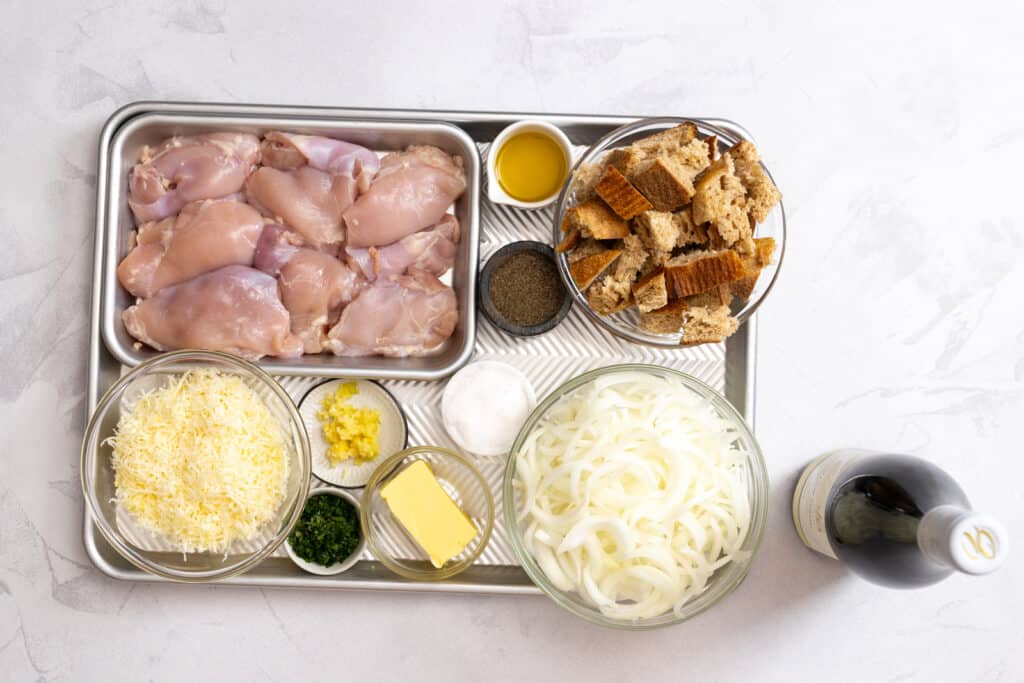 Begin by caramelizing the onions in the oven
The first step is kick-starting those onions by cooking them down directly on the sheet pan in the oven. What's great about this step is that it's all hands-off. So, you can start prepping the rest of your ingredients while the onions transform from sharp to sweet and jammy on that sheet pan.
Make the Garlic Herb Butter
The garlic herb butter adds a very French inspired flavor layer to this sheet pan chicken recipe. By simply melting the butter and blending in the garlic, herbs, salt and pepper you'll be layering big French flavors with minimal effort. That garlic herb butter will fill the whole sheet with signature savoriness.
Combine all of the ingredients & bake together on a sheet pan
Once the onions are just starting to get soft and jammy and begin sticking to the sheet pan, remove it from the oven. Then use that white wine or broth to deglaze the sheet pan. Add the crusty bread hunks, drizzle with half of the garlic herb butter and toss it all together. As a result, this coats the bread with flavor and moisture so the bread hunks bake up just as they do in French Onion Soup.
The next step is nestling the chicken thighs in with the softened onions and rustic bread hunks. I like to layer the chicken thighs on top of some of onions so it soaks up those flavors. Then coat that chicken in the remaining garlic herb butter mixture to keep it moist and flavorful as it bakes. Finally, top the chicken with more of the caramelized onions to encourage the melding of flavors.
Top with cheese & bake until bubbly
The final step is what seals the deal and finishes this French Onion Sheet Pan Chicken with French flair. 10 more minutes is all it takes to transform the grated Gruyere into a bubbly, caramelized coating of crispy cheese heaven.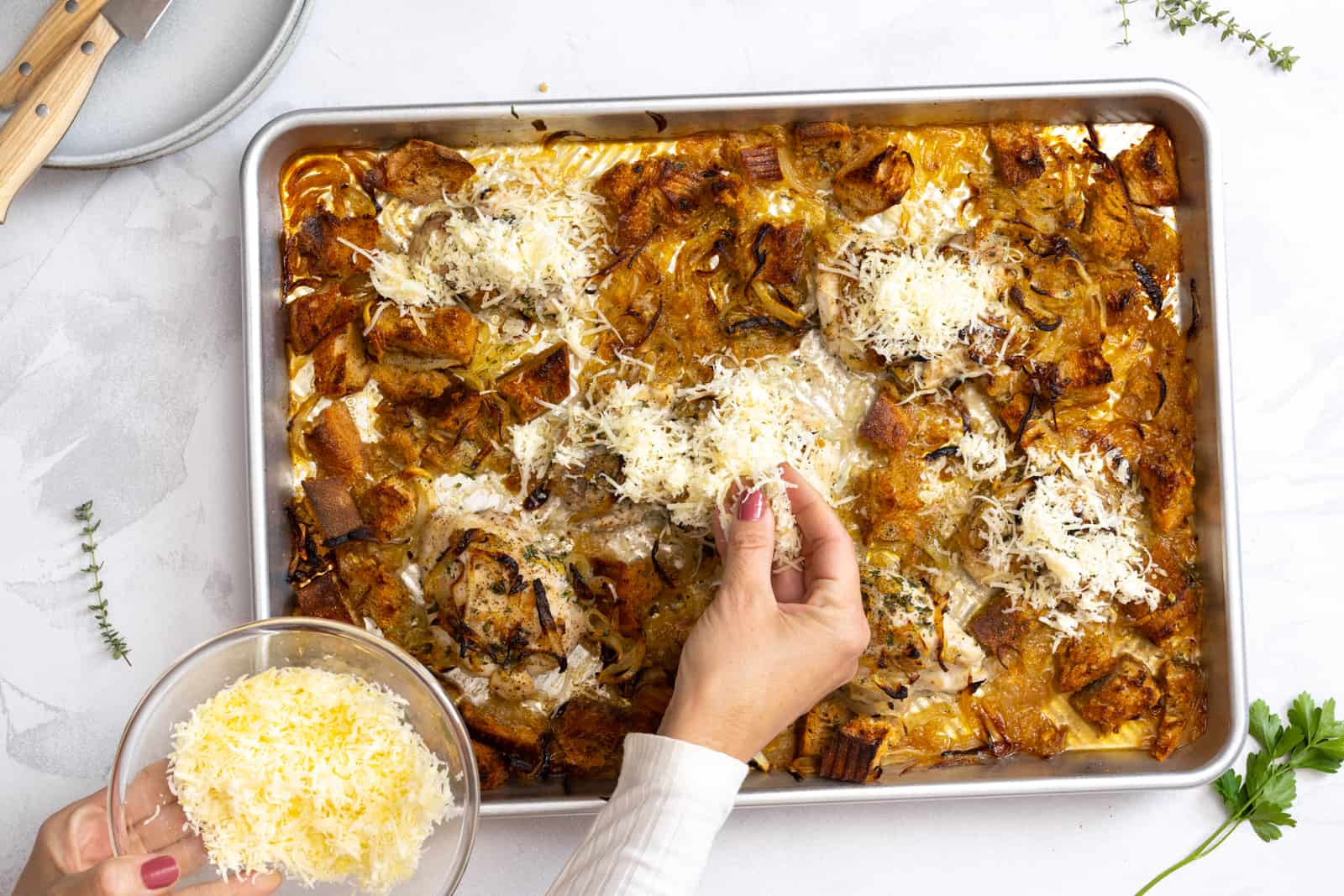 Crispy gone soft gone crispy
Once the French Onion Sheet Pan Chicken emerges from the oven it's a fusion of crispy gone soft gone crispy. A parade of textures and flavors all in step with the deepest cravings of savory comfort food. The bread softens as it soaks up the wine, butter and juices released from the chicken. However, it crisps back up in the heat of the oven. As a result, the chicken maintains all of its natural juiciness from the surrounding jammy onions and buttery moisture. But the chicken also goes crispy with that outer layer of bubbly cheese. A perfect balance, if you ask me.
All the right flavor & texture
The variation in textures result in an easy sheet pan chicken dinner that features the highlights of French Onion Soup. That top layer of bubbly Gruyere cheese. The soft and silky bread hunks luxuriating in brothy smoothness with crispy exposed edges. Velvety smooth onions that melt away immediately, filling every bite with deeply savory sweetness. All of that flavorful goodness smothers the juicy, tender chicken as it bakes. Both the chicken and bread hunks soak in the French Onion flavor and bake up exactly how you'd hope/expect.
There are so many delicious ways to serve the French Onion Sheet Pan Chicken. Alongside pasta and broccoli, atop rice, orzo or grains. But my favorite way to serve this easy sheet pan chicken is with a simple salad. Something as basic as shredded kale with a lemony, vinegar dressing. The tart dressing with cut through the savor flavors of the French Onion Chicken balancing it all into a fabulous, fulfilling meal.
Print
📖 Recipe
French Onion Sheet Pan Chicken
---
Description
Jammy onions, juicy chicken, crusty bread, bubbly cheese & garlic herb butter bake up on 1 pan in this easy French Onion Sheet Pan Chicken.
---
2 lbs boneless, skinless chicken thighs (about 6-8 thighs)
2 medium yellow onions
¼ cup butter, melted
2 cloves minced garlic
3 cups day old bread hunks
1 cup dry white wine or beef, chicken or vegetable broth (or a mix of wine & broth)
1 ½ cup grated Gruyere, Swiss or Parmesan (or a blend of any of these)
1 teaspoon salt
¾ teaspoon pepper
1 tablespoon finely chopped thyme & parsley (or 1 teaspoon if using dried herbs)
---
Instructions
Preheat oven to 375°F.
Thinly slice onions about ¼" thick.
Transfer to a rimmed baking sheet and toss with ½ teaspoon salt and 1 tablespoon melted butter. Bake for 30-35 minutes until onions begin to soften, become translucent or slightly brown and begin to stick to the pan.
Meanwhile, in a small bowl, combine melted butter garlic, half of the chopped herbs, remaining salt and pepper.
Remove onions from the oven. Now, turn temperature up to 425°F.
Deglaze the pan with wine or broth. Add bread hunks, drizzle with half of the butter mixture and toss all together to coat. Nestle in chicken thighs, drizzle with remaining butter. Place a little pile of onions atop each chicken thigh.
Bake for 25-30 minutes until chicken is nearly fully cooked through. Carefully remove from the oven and add grated cheese to the top of the chicken. Then bake for another 8-10 minutes until the cheese is bubbly and browning. Be sure the chicken is fully cooked all the way through and the internal temperature of the chicken is 165°. If the chicken needs more time but the cheese is bubbly, cover with foil and continue to bake until finished.
Remove from oven, top with remaining chopped herbs and serve immediately with fresh green salad, grains, rice or pasta.
Notes
To reheat this recipe, cover with foil to keep from drying out. Bake at 400°F for 15-20 minutes until hot.
Prep Time:

20 minutes

Cook Time:

75 minutes

Category:

Dinner

Method:

Sheet Pan Dinner

Cuisine:

Chicken dinner
Keywords: French Onion Sheet Pan Chicken, Sheet Pan Chicken, French Onion Chicken