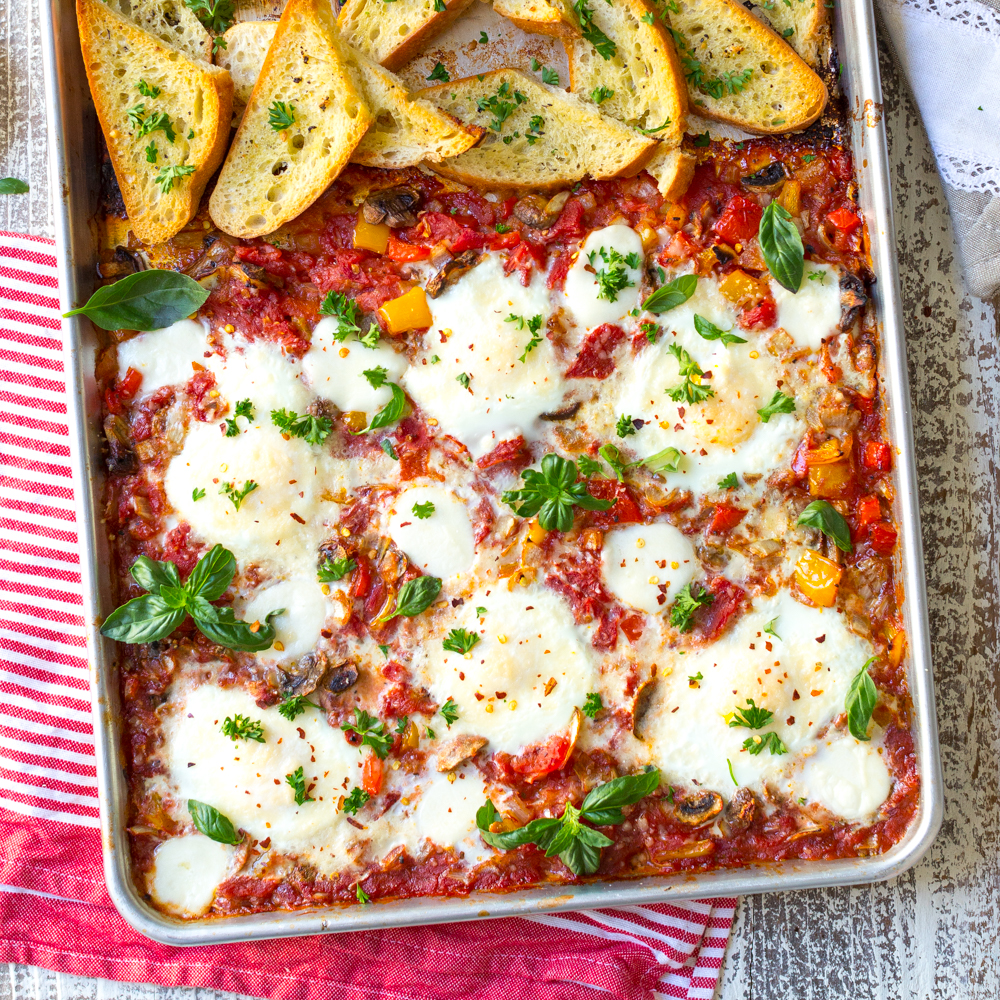 Well sheet, it's been a sheety couple of weeks to say the least. I am writing this from an airbnb in San Miguel, CA, about 2 hours north of our home in Santa Barbara. The Thomas Fire has been raging on for 2 weeks now and we've been displaced for the past 10-ish. We were under voluntary evacuation for a number of days and spent a while bouncing around the bay area between hotels and friends homes. Once things seemed to have settled down a bit, we came home for one night, unpacked our hurried pack jobs and slept like babies in our own bed. The next morning we woke to calm blue skies. While I was in the shower, I noticed the lights flicker a few times and by the time I was done showering I walked into the living room to see Dayn outside in what can only be described as a smoke-nado. A menacing gust of ash and smoke swirled around him as he tried to get back into the house and shut the door on the apocolyptic Wizard of Oz situation happening outside. All I could do was stand there in my towel in utter shock as our phones shrieked with emergency alert alarms.
Less than 4o minutes after waking to clear blue skies, we were forced to frantically pack our things again and evacuate immediately. It was surreal, scary and looking back at what I packed, a total disaster. A nonstop train of firetrucks raced past our house as the sky changed from sunny to an eerie smoke laden darkness associated with doomsday movies. In that moment it felt more terrifying and real than any moment before and I visibly shook as the I dressed myself in what I thought was a sensible outfit, which turned out to made no sense at all.
We fled to our friend Nick's house up on The Mesa, which gave us a 180° balcony view of the fire as the winds pushed it closer and closer to Santa Barbara. We all sat in helpless horror as we watched the fire spread minute by minute until the entire sky was consumed by a heavy blanket of toxic smoke. We were glued to the live news coverage, Twitter, fire maps, windfinder.com and any other news source that could shine some light on what was happening.
That was Saturday morning, it's now Monday and we don't know when we will be able to get back into our house. The Thomas Fire is now 45% contained which is HUGE compared to the dreadful conditions mere hours ago. Thankfully the winds died down yesterday and the firefighters were able to keep the fire mostly at bay, pushing it away from the homes and neighborhoods. Words cannot describe the gratitude we have for those brave men and women who have worked tirelessly day after day for the past two weeks to tame this raging beast. They are real life superheroes and we literally owe them our lives. Aside from the slight discomfort of bouncing around place to place for the past week and half, living out of suitcases, lack of sleep and the inconvenience of not being able to work, we are happy, healthy and safe. We owe that all to our valiant superheroes. Thank you for everything and restoring my faith in humanity after a very dark and ugly year.
With all of that said, humanity is everything. And what could be more human than sharing a home cooked meal made with love and heart. This Sheet Pan Italian Baked Eggs situation is all of the above. It's as comforting and homey as a meal can get and can easily feed a whole crowd. I've been developing this recipe for the past couple of months and finally got it all dialed in. The Sheet Pan Italian Baked Eggs starts with a hearty mix of San Marzano Tomatoes, red and yellow bell peppers, earthy mushrooms and garlicky goodness that all cook down on a single sheet pan
into a warm saucy bed. Then this Sheet Pan Italian Baked Eggs deal gets topped with dollops of fresh mozzarella and a handful of cracked eggs that nestle in and bake up to perfection when topped with a sprinkle of parmesan cheese and spicy red pepper flakes
. Topped with fresh basil, and served with garlic toasty ciabatta bread that bakes alongside this Sheet Pan Italian Baked Eggs, it is the ultimate comfort food day or night.
Once we settle in somewhere long enough to buy groceries, you better believe I will be making a big ol' batch of this Sheet Pan Italian Baked Eggs for friends and loved ones. If only I could figure out a way to make a large enough serving of Sheet Pan Italian Baked Eggs to feed the 8,500 firefighters who saved our communities. I hope you all get to sit down to a home cooked meal with your loved ones as soon as possible.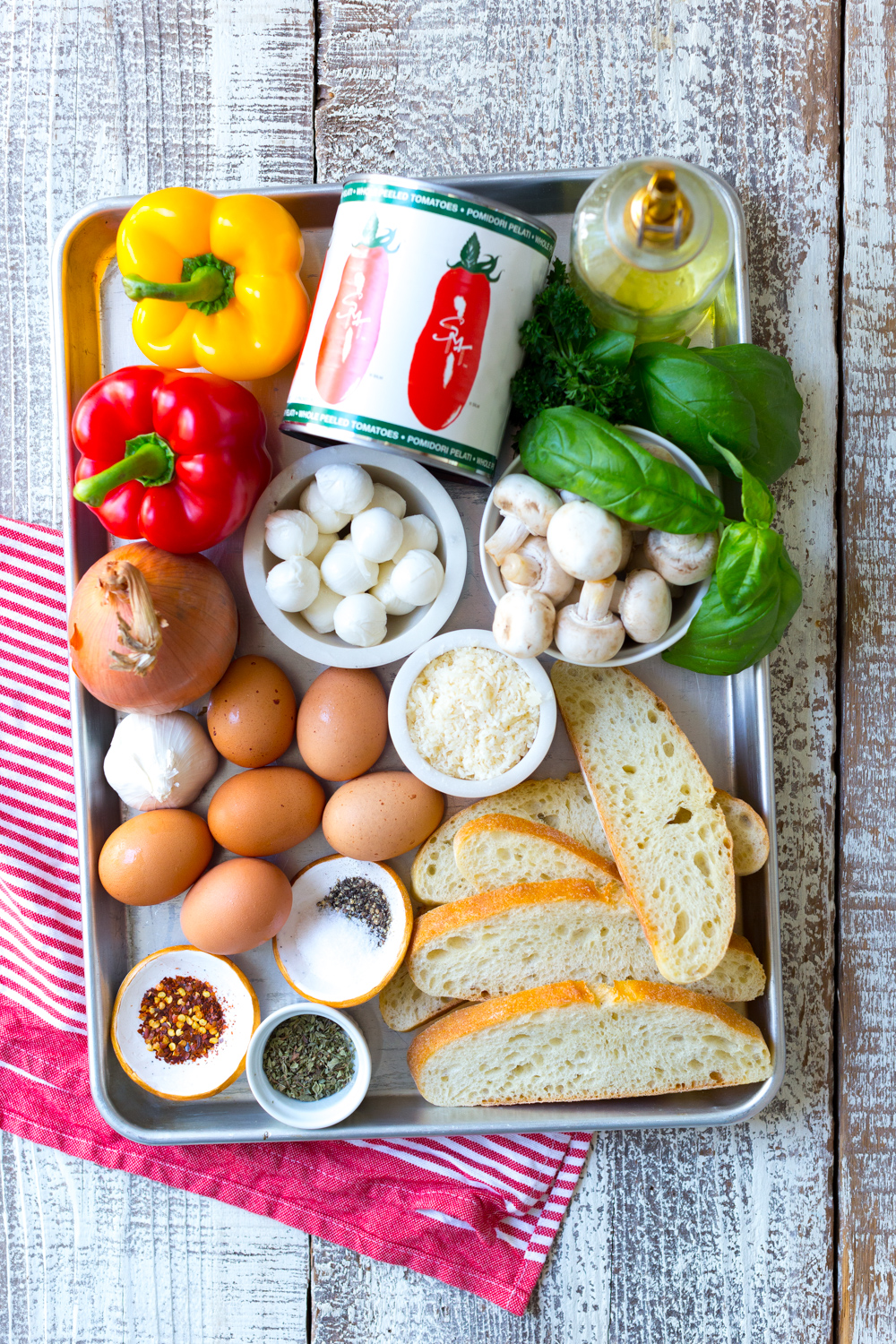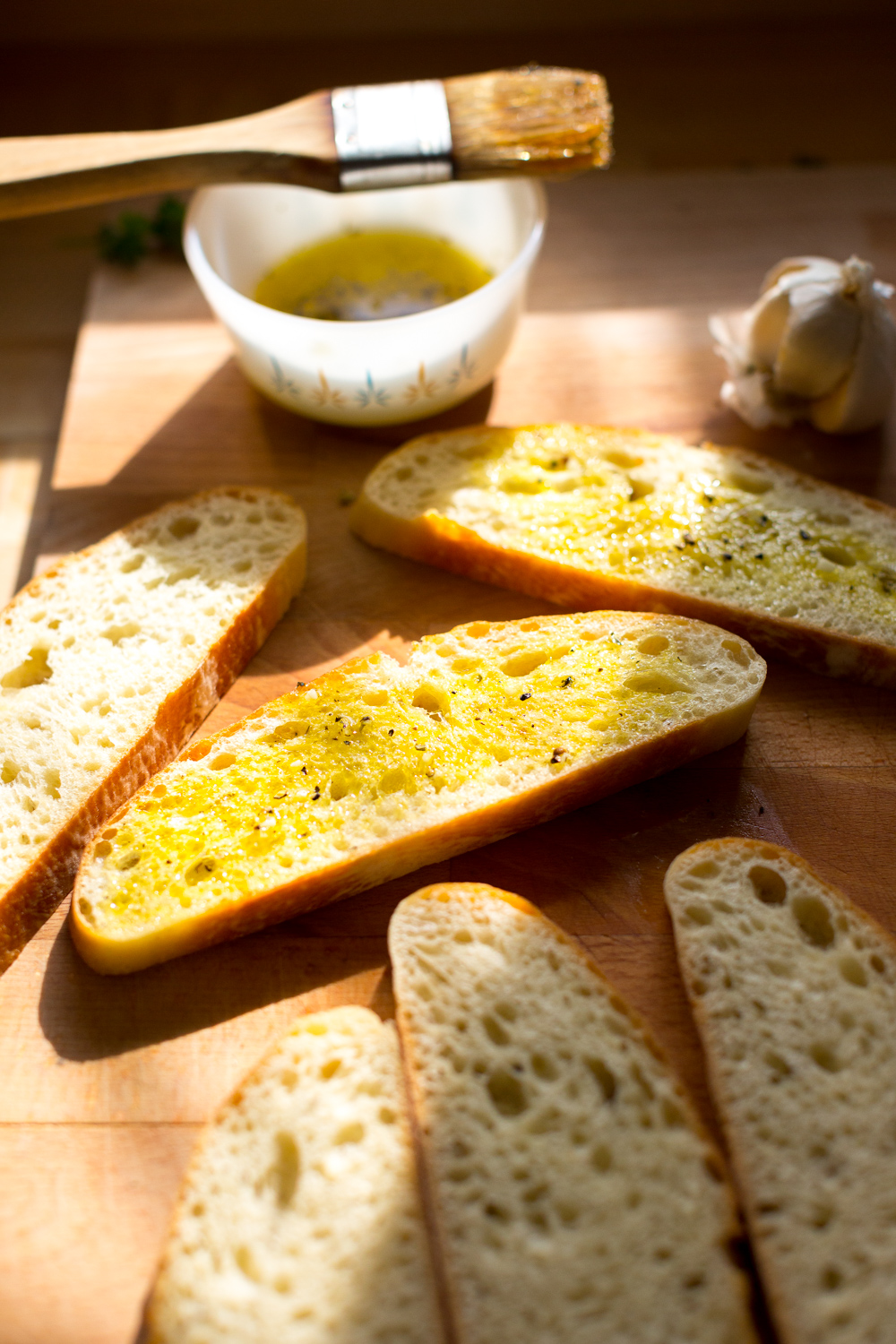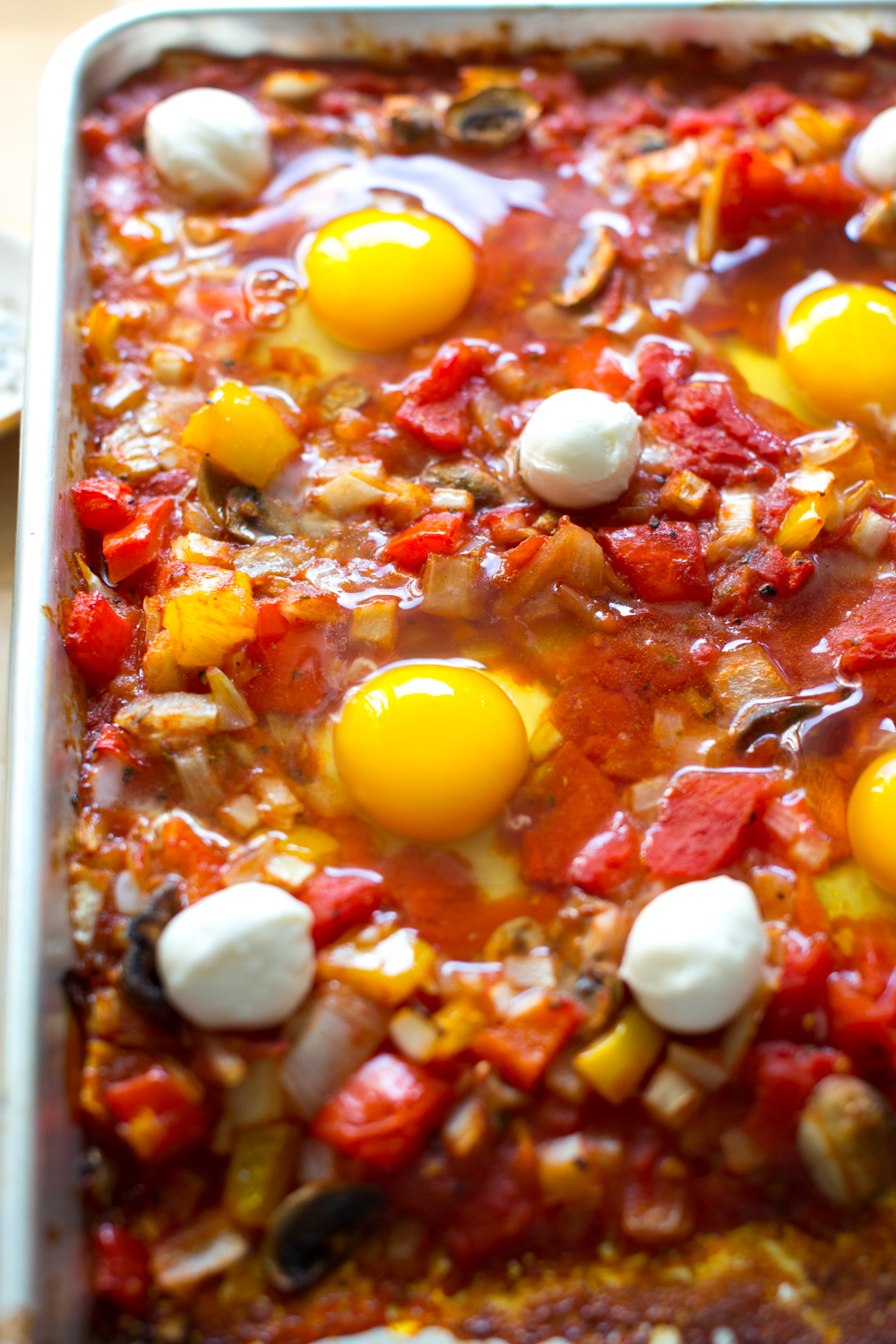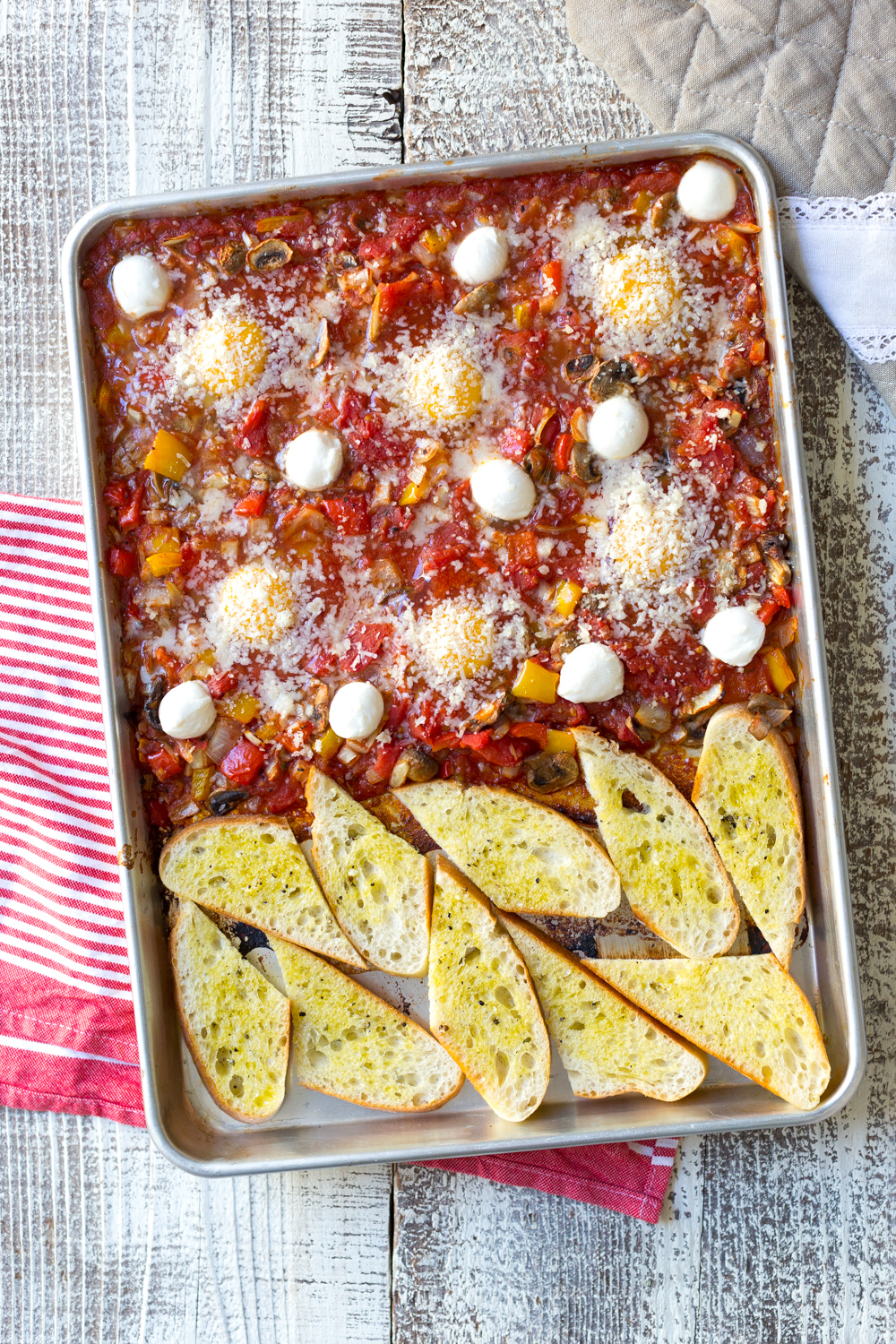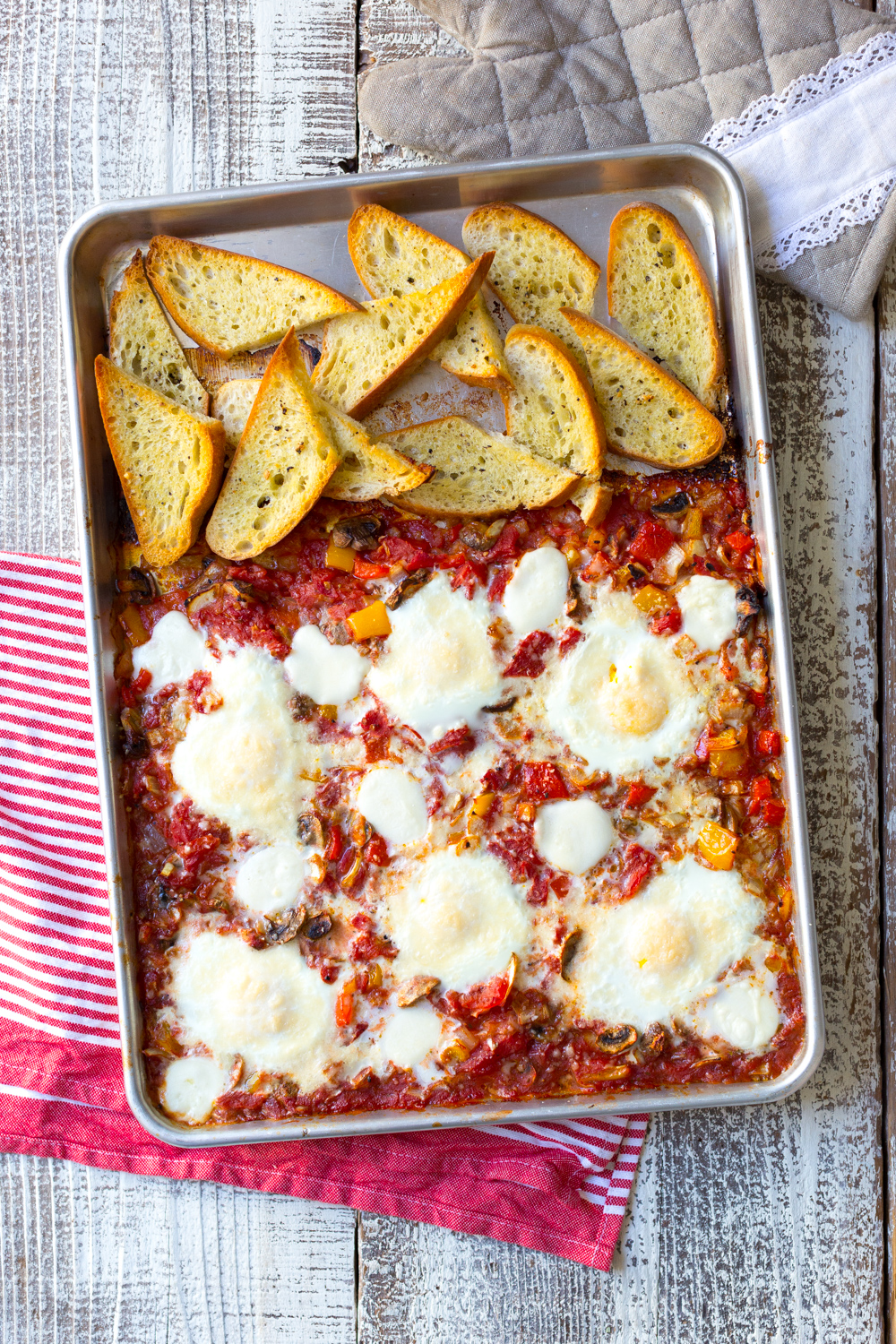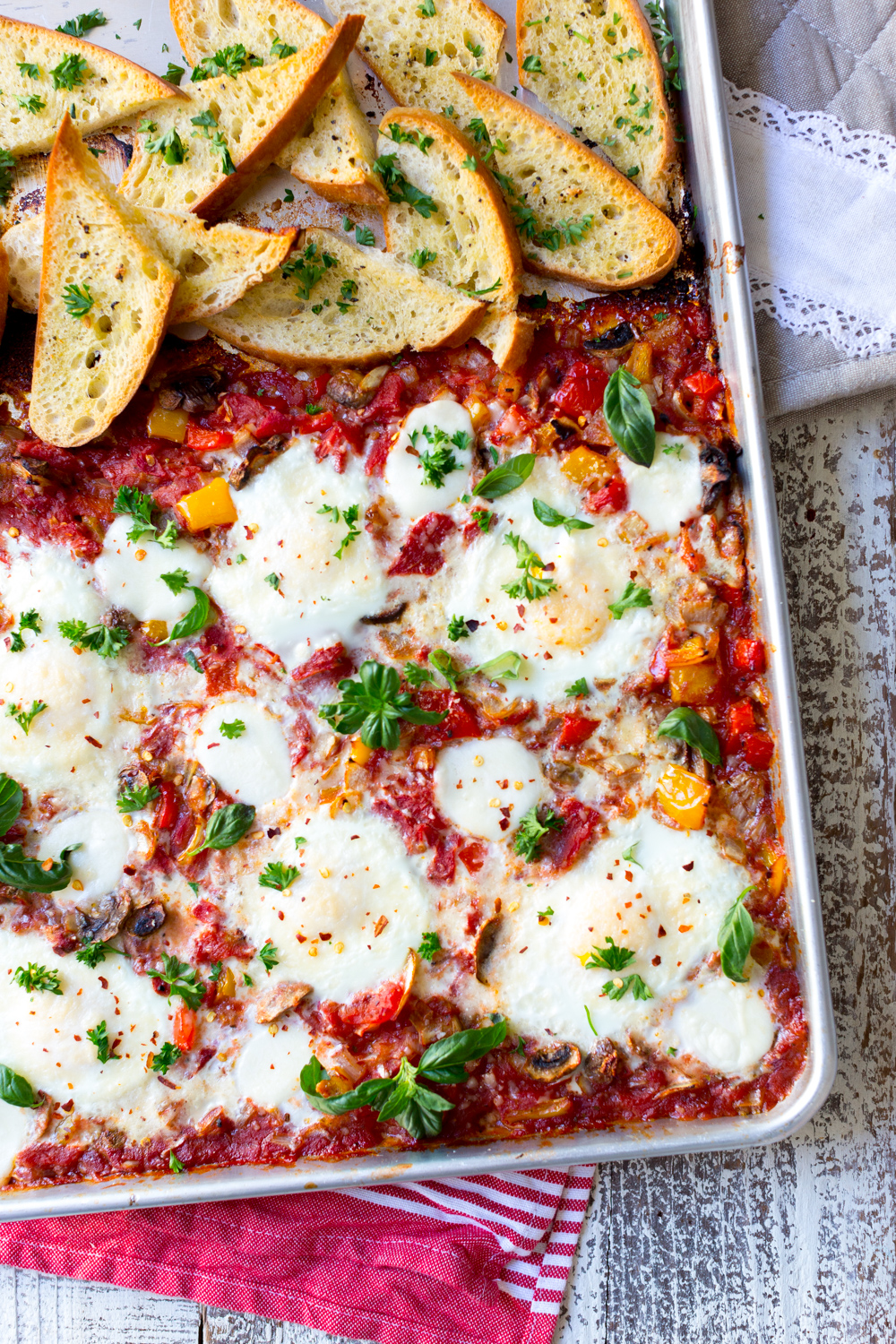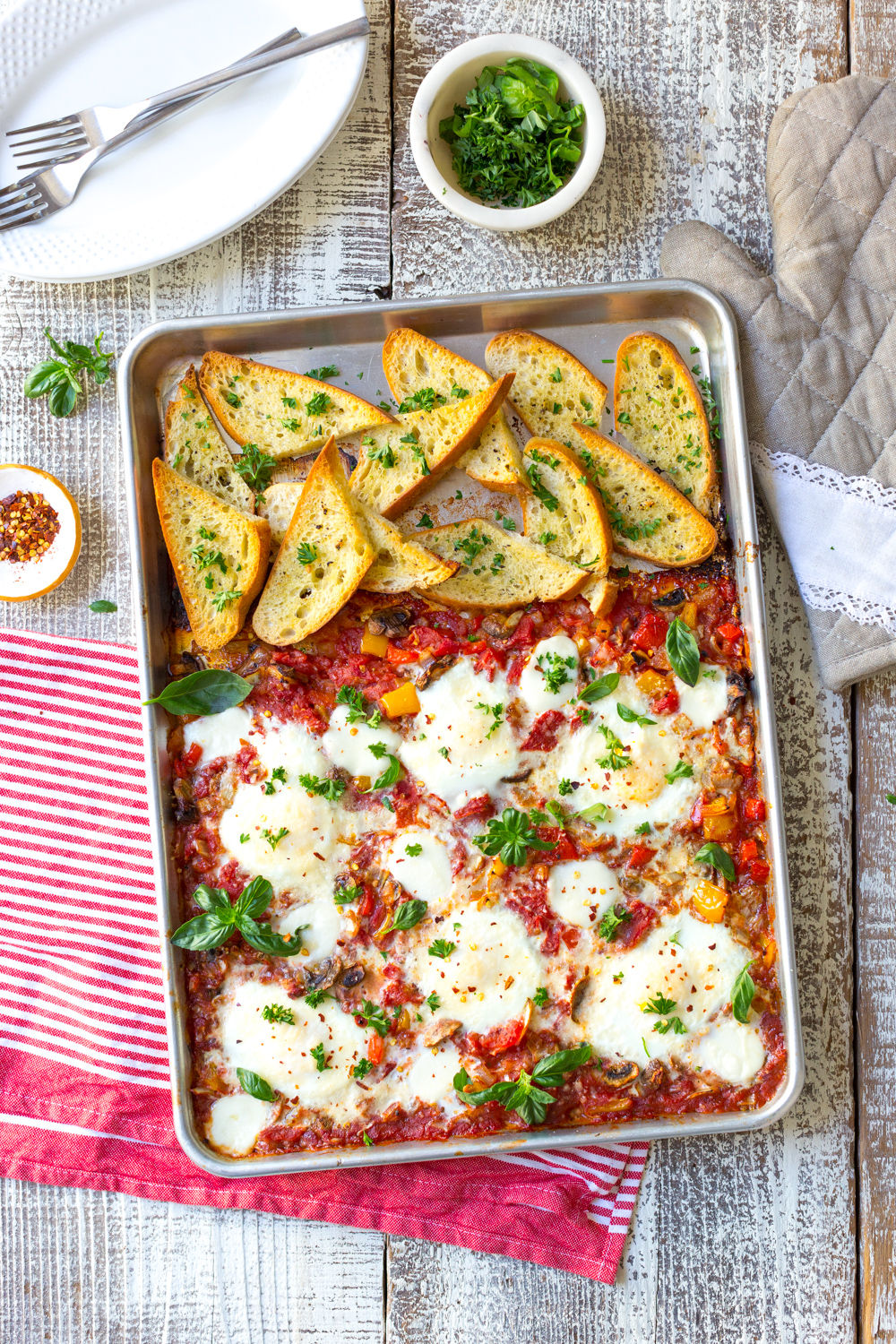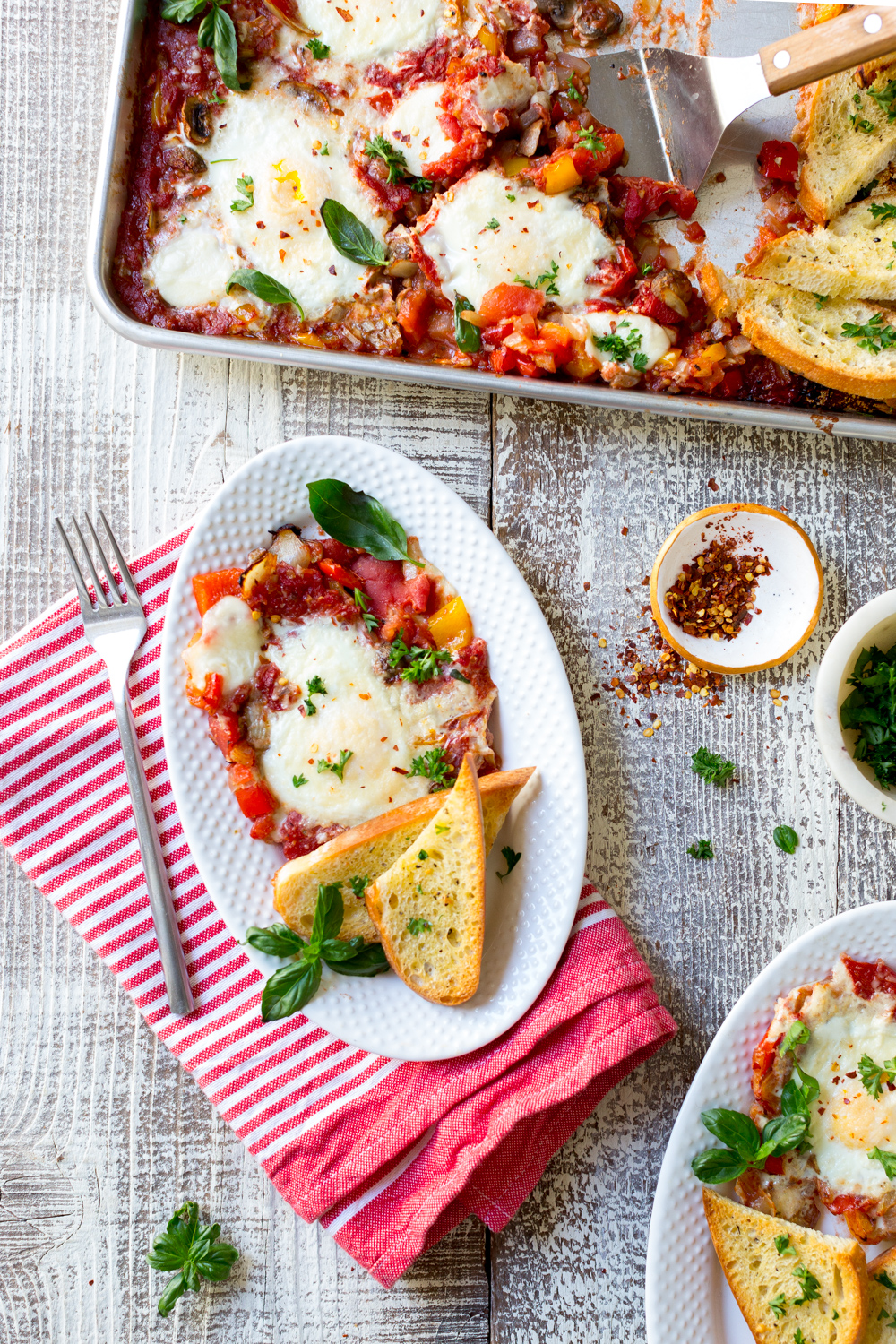 Print
📖 Recipe
Sheet Pan Italian Baked Eggs
---
Description
Sheet Pan Italian Baked Eggs are an easy, comforting meal any time of day. With a hearty veggie sauce, bubbly cheese, cozy baked eggs, fresh herbs & toasty garlic ciabatta.
---
1

28

ounce

can San Marzano Tomatoes (- whole & peeled)

2

bell peppers (- chopped)

½

yellow onion (- finely chopped)

1

cup

mushrooms (- chopped)

2

-

3

cloves garlic (- minced)

1 teaspoon

salt

1 teaspoon

dried oregano

½ teaspoon

black pepper

½ teaspoon

red chile flakes

6

large eggs

¾

cup

small mozzarella balls or slices

¼

cup

parmesean (- grated)

6

slices ciabatta bread

2 tablespoons

olive oil

½

cup

fresh parsley (- chopped)

½

cup

fresh basil (- chopped)
---
Instructions
Preheat oven to 400° F.
Pour the San Marzano Tomatoes onto a sheet pan and squeeze with your hands to break up the tomatoes. Add the chopped veggies, onion, garlic, oregano, salt, pepper and red chile flakes to sheet pan. Stir together and and consolidate to ⅔ of the sheet pan.
Bake for 45 minutes until the veggies start to soften and become saucy. Stir a couple of times during bake.
Add some minced garlic to olive oil and brush on to the ciabatta slices.
Add the ciabatta slices to empty portion of sheet pan. Then dollop the sauce with mozzarella balls and bake for another 10 minutes until it starts to melt and bubble up.
Make 6 divots in the sauce with the back of a spoon and crack 6 eggs into the divots. Sprinkle the eggs with grated parmesan and bake for 8-10 minutes, until the egg whites just set and the yolks are still jiggly. The eggs will still keep cooking a bit once you remove the sheet pan from the oven so be careful not to over-bake the eggs.
Top with fresh chopped herbs. Scoop and serve saucy eggs with the toasty ciabatta. Top with red chile flakes and fresh cracked pepper to taste.
Notes
*To serve a big crowd, double the recipe and split between 2 sheet pans.
Prep Time:

10 minutes

Cook Time:

1 hour

Category:

Breakfast

Cuisine:

Italian