I was recently invited on a virtual agricultural tour of California with my friends from California Grown. The tour had me California dreamin' and a stop along the tour inspired these Purple Sweet Potato Dinner Rolls. They turned out even dreamier than I imagined.
California is the leading agricultural state in the nation.
Our tour took us to a leafy greens field in the Imperial Valley where the fertile soil and high quality water produce red leaf, green leaf, and curly leaf lettuce from November through April. The rest of the year these leafy greens grow in Salinas, California which means you can get fresh, CA Grown leafy greens all year round.
We stopped by Loquaci Home Ranch, a 5th generation family run farm in Madera, CA, that grows pomegranates, persimmon, citrus and grapes. They also produce prunes and Dry on the Vine (DOV) Selma Pete Raisins, which are sweeter and meatier than traditionally grown raisins. Loquaci is basically a dream fruit farm.
California produces 80 percent of all the fresh citrus marketed in the United States and 92% of the lemons available in the U.S.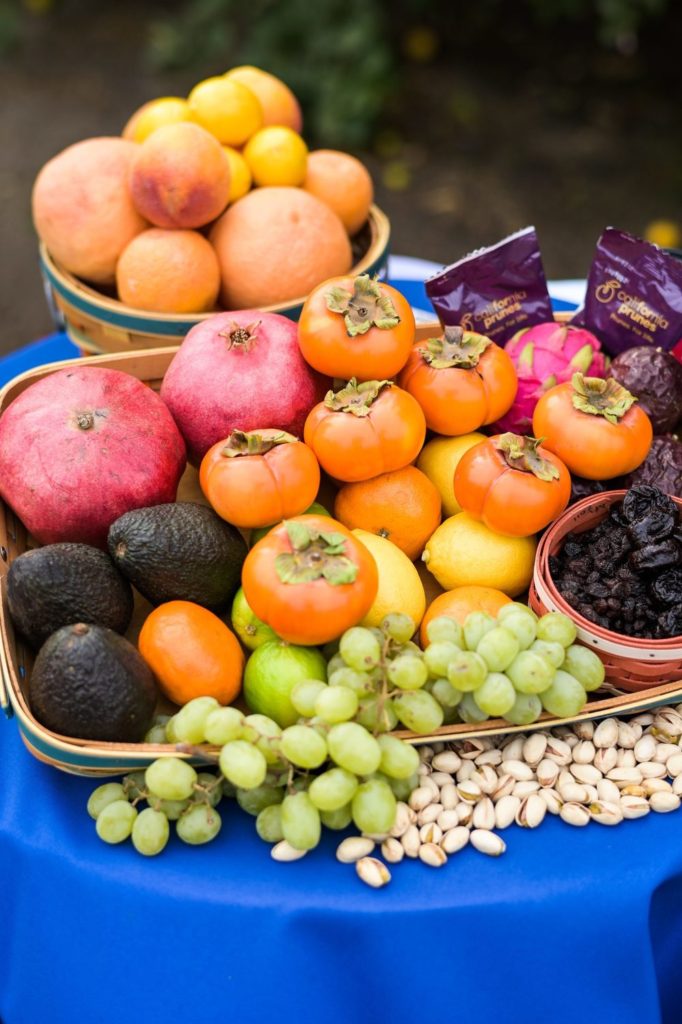 Rolland Rosenthal's family has been farming in the San Joaquin Valley for 4 generations. Rolland gave us a peek at his family run ranch, Rosenthal Olive Ranch where they grow Arbosana, a Spanish olive and a Greek olive called Koroneiki for Olive Oil. California grown Olive Oil goes through a stringent process to meet the certification standard. Look for California Olive Oil Council (COOC) seal on bottle to guarantee quality.
For olive oil to be deemed "extra virgin" in California, it must meet precise chemical standards and pass a sensory/tasting panel test, (called an organoleptic test).
Then, we stopped by Fiscalini Farmstead a family run dairy farm with cheese making roots running all the way back to Switzerland in the 1700's. We learned about the history of the Fiscalini Farm, saw cheese being made and were educated on the rigorous certification process.
Look for the Real California Milk seal. It means the product is certified as having been made with 100% Real California Milk from California dairy farm families.
99% of California dairies are family owned.
While we may think of wine as its own category altogether, it's a big part of California's agriculture. In fact, California produces over 80% of the nation's wine. California is the fourth-largest producer of wine in the world. Our CA Agri-Tour ended with a wine tasting, which was a delicious companion to the the Real California Milk Cheeses we received. I was thrilled to hear wineries across California are embracing organic practices and natural approaches in their wine making process.
Wente Vineyard is taking charge in the industry by conserving water, measuring green house gas emissions and converting their restaurant oil into bio-diesel. Go Wente! Oh, and their Morning Fog Chardonnay is bright and citrusy with light toasty oak notes and a zippy acidic finish. A perfect pairing with that San Joaquin Gold cheese from Fiscalini Farms. I can personally attest to this.
Over 85% of California wine is produced in a Certified Sustainable Winery.
Did you know that sweet potatoes are the healthiest vegetable you can eat? They are stuffed with vitamins, minerals, fiber and calcium. We learned so much about the super powers of sweet potatoes, or Sweetpotatoes as the fine folks at family run Mininger Foods refer to them.
California's sunshine, warm, dry climate and sandy soil is the perfect combo for sweetpotato vines. These lush vines are fast-growing, with a longer growing season allowing year-round supply. There are dozens of different type of sweetpotatoes. Ranging from white and mild to deep red and super sweet. There are even purple sweetpotatoes, and these are the highlight of my Purple Sweet Potato Dinner Rolls!
California Sweetpotatoes are a superfood.
Sweetpotatoes are high in nutrients and low in calories.
Sweetpotatoes are fat and cholesterol-free.
Sweetpotatoes are a great source of dietary fiber, which can help you feel full and satisfied longer.
Feeling inspired by the rainbow array of sweet potatoes from Mininger Foods, I couldn't stop thinking about ways to incorporate the sweeties into my cooking and baking. An idea for Purple Sweet Potato Dinner Rolls hit me, and I knew this superfood recipe was going to be something super special.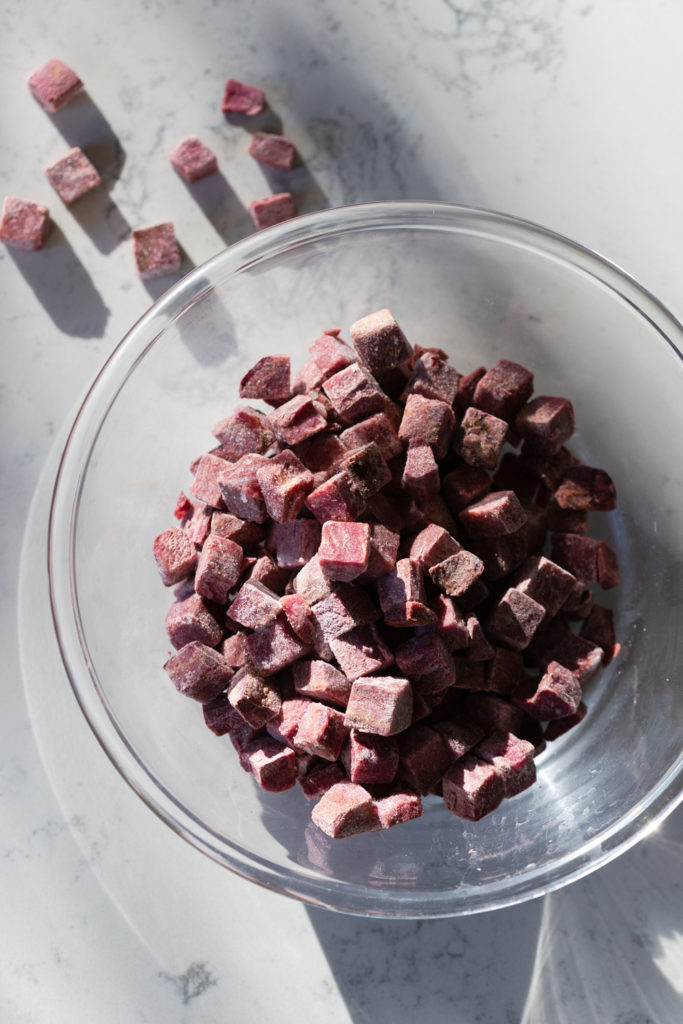 Dinner rolls are my go-to, power move for holidays or special occasions. They are easy to make and taste about 1000 times better than store bought. Potato rolls are always a people pleaser, so I combined the power of the sweetpotato with my classic Lemon Herb Dinner Rolls in these Purple Sweet Potato Dinner Rolls.
These rolls bake up a bit sweeter and somehow even cuter than the classics. The purple sweetpotato adds depth in flavor and texture which also makes for an undeniably moist bite.
And that color! The dusty purple-pink hue really comes through when you tear into a warm dinner roll. It reminds me of the silver, lavender-lined clouds of a winter California sunset. I miss those sunsets. The unique color alone is worth the few extra minutes it takes to boil down some pre-chopped purple sweetpotatoes. Pair that with the moist bite of these beauties and you'll find they are as tasty as they are pretty.
To really drive home that warm California aesthetic, I added a soft sprinkle of poppy seeds to finish. Poppy is the California state flower, and these nutty seeds add a welcome crunch to the top of the the rolls.
My Purple Sweet Potato Dinner Rolls are loaded with California Grown ingredients.
Sweet potatoes are brimming with nutrients. Even though dinner rolls aren't exactly a health food, you can feel good knowing these Purple Sweet Potato Dinner Rolls have a more nutrition than most. They get an extra dose of healthy goodness from the sweetpotatoes hidden inside the puffy pink interior. Plus, the milk and butter I used have that Real California Milk seal of approval.
I thoroughly enjoyed developing these Purple Sweet Potato Dinner Rolls after the inspiring virtual Agri-Tour of California in partnership with California Grown. I learned so much on this virtual tour, and I hope this post piqued your interest in the leading agricultural state in the nation – the lushly fertile and innovative state of California!
Now we know, California sweetpotatoes make for the world's most amazing, nutritious dinner rolls.
This post was proudly made in partnership with California Grown. All opinions are my own. It makes my heart happy to be able to share my fondness for California Grown food and I thank you for supporting me and the brands that I love.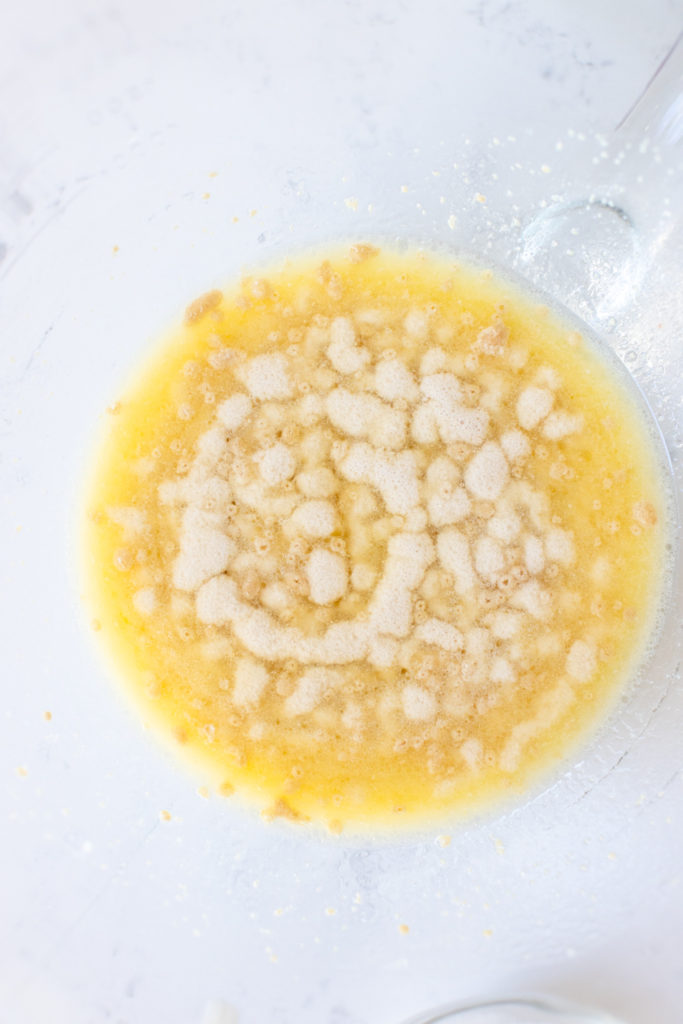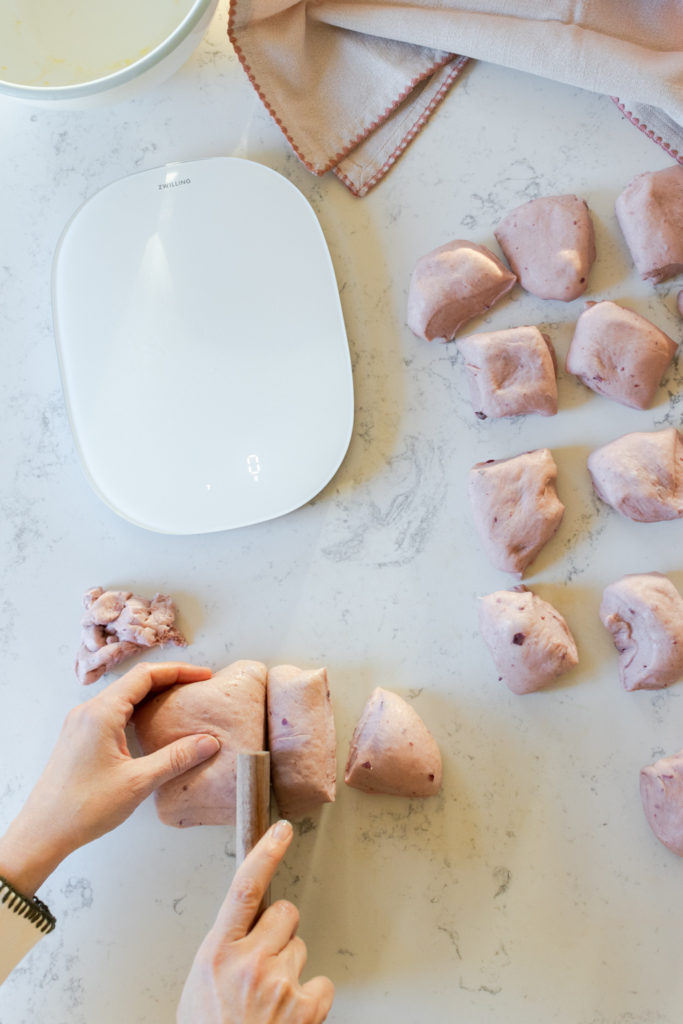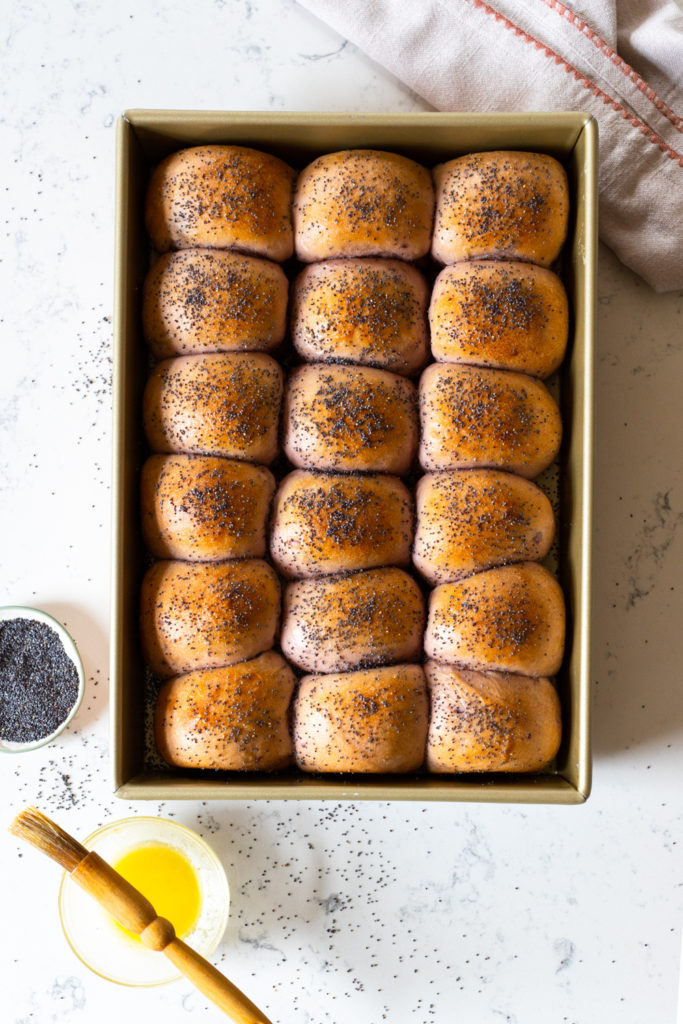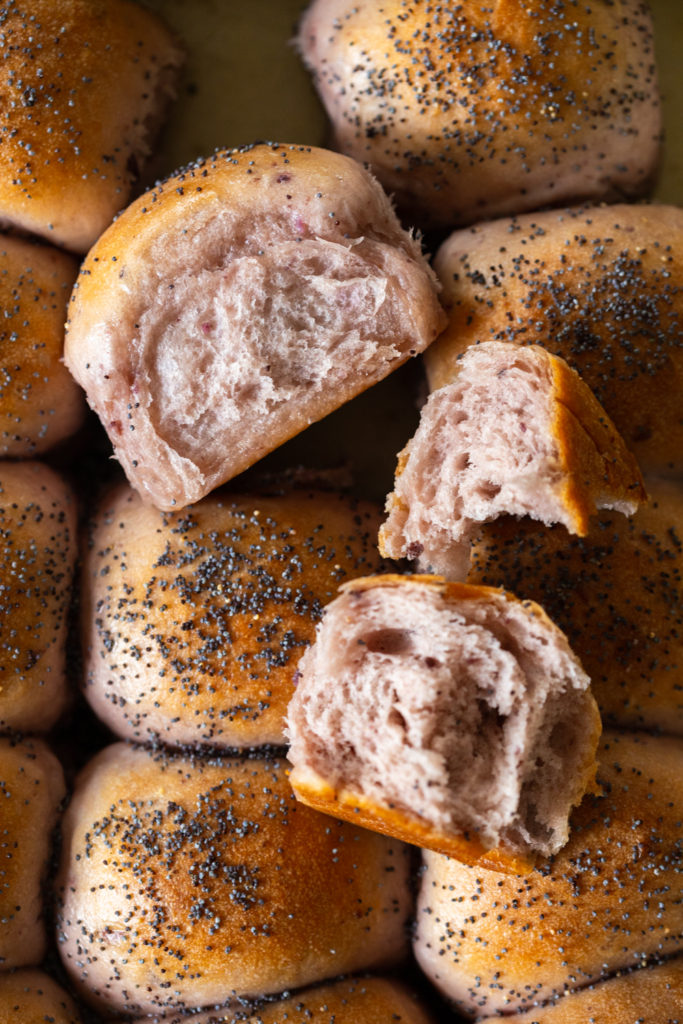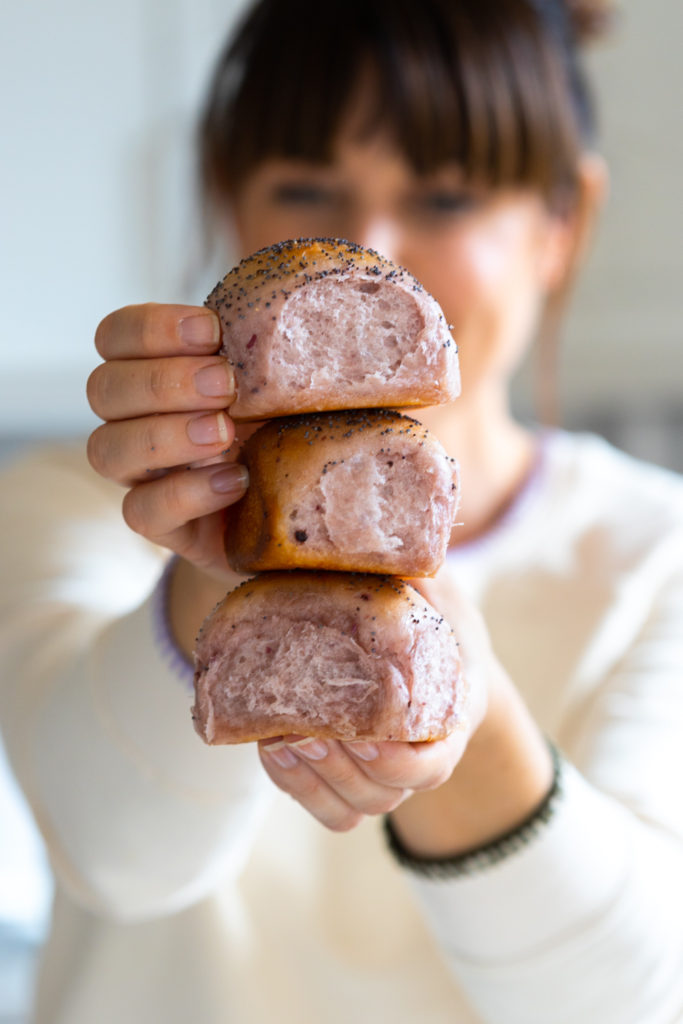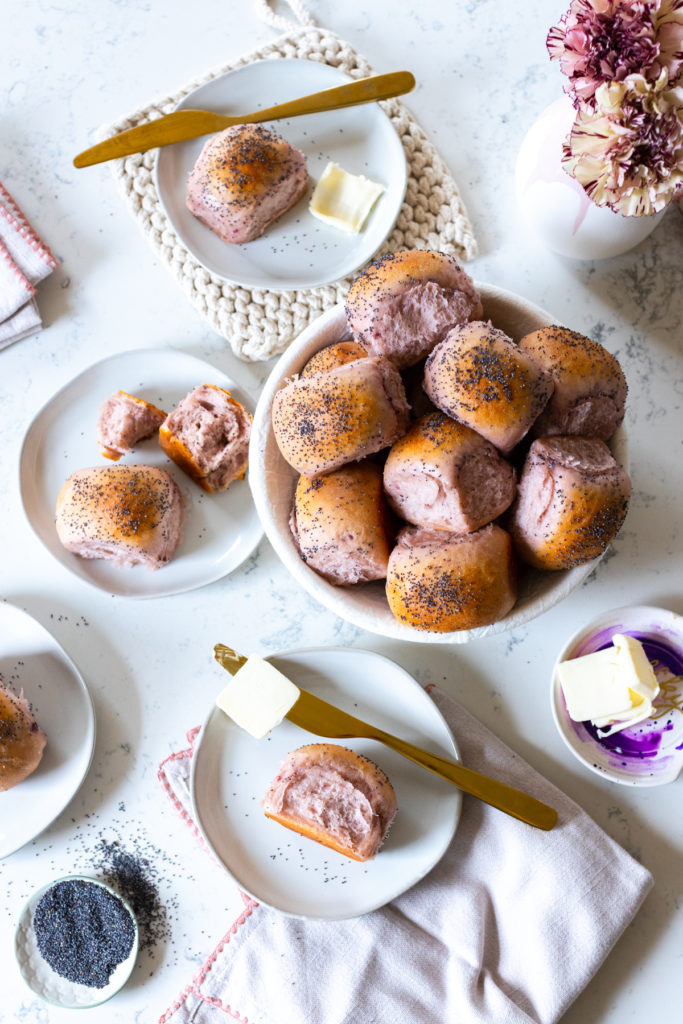 Print
📖 Recipe
Purple Sweet Potato Dinner Rolls
---
Description
These tender, fluffy Purple Sweet Potato Dinner Rolls have an undeniably moist and buttery bite with subtle sweet notes and a pretty in dusty pink-ish purple hued interior, topped with a crunchy sprinkle of poppy seeds.
---
1 ¾

cup

purple sweet potatoes (- chopped into ½" cubes)

1

cup

whole milk

6 tablespoons

unsalted butter (- plus

3

-

4

tablespoons for brushing)

2 tablespoons

honey

2 ¼ teaspoons

active dry yeast

2

large eggs (- at room temperature)

4

cups

all purpose flour

2 tablespoons

granulated sugar

1 teaspoon

fine sea salt

1 teaspoons

olive oil (- or other preferred oil)

2 teaspoons

poppy seeds
---
Instructions
Place chopped sweet potatoes in a medium saucepan, add about 4 cups of water and bring to a boil over high heat. Reduce to a simmer and continue to cook until fork tender, 8-ish minutes.
Drain the sweet potatoes and return them to the saucepan. Add ¼ cup of the milk and mash until smooth and fluffy. Set aside to cool. You should have about 1 cup of mashed sweet potatoes.
In a small saucepan, melt 6 tablespoons of butter over low heat. Remove from heat and whisk in the honey. Then slowly stir in the milk. Whisk mixture together. It will need to be at about 100°F - 110°F. If it's too cool, warm it on the stove over low heat until it reaches temperature. If it's too warm let it sit (off of the heat) until lowered to temperature.
Add the yeast to the bowl of a stand mixer and pour the warm milk mixture over the yeast. Allow to stand until it begins to bloom and become foamy, about 8-10 minutes.
Add 1 cup of the cooled, mashed sweet potatoes, eggs, flour, sugar and salt. Attach the dough hook and knead the dough on medium speed for 5-8 minutes.
Once the dough starts to pull away from the sides of the bowl and cling to the hook, gently remove it (a bowl scraper or spatula comes in handy here). Gather the dough and shape it into a ball shape in your hands or on a very lightly floured surface.
Use olive oil to lightly oil a large bowl, then place the dough ball in the oiled bowl. Loosely cover the bowl with a clean kitchen towel or plastic wrap and store in a warm area of your kitchen for about 1 ½ hours until the dough ball doubles in size.
Generously butter a 9" x 13" cake pan or casserole dish or two 8" or 9" round cake pans. Divide the dough into 18 equal chunks (using a kitchen scale if you have one). Roll each chunk of dough into a little round ball and evenly space the balls in a 6 x 3 grid in the rectangular pan or 9 in each round pan (with one in the center and 8 around the outside).
Melt the remaining butter and brush the dough balls gently and abundantly with 2 tablespoons of melted butter. Then cover loosely with plastic wrap and let them stand until they puff up, about an hour.
With the rack positioned in the middle of your oven, preheat to 375°F. Bake the rolls until they are a warm golden on top, about 18 minutes.
Immediately brush them again with 1-2 more tablespoons of melted butter. Sprinkle with poppy seeds. Best when served right away while they are still all warm and squishy.