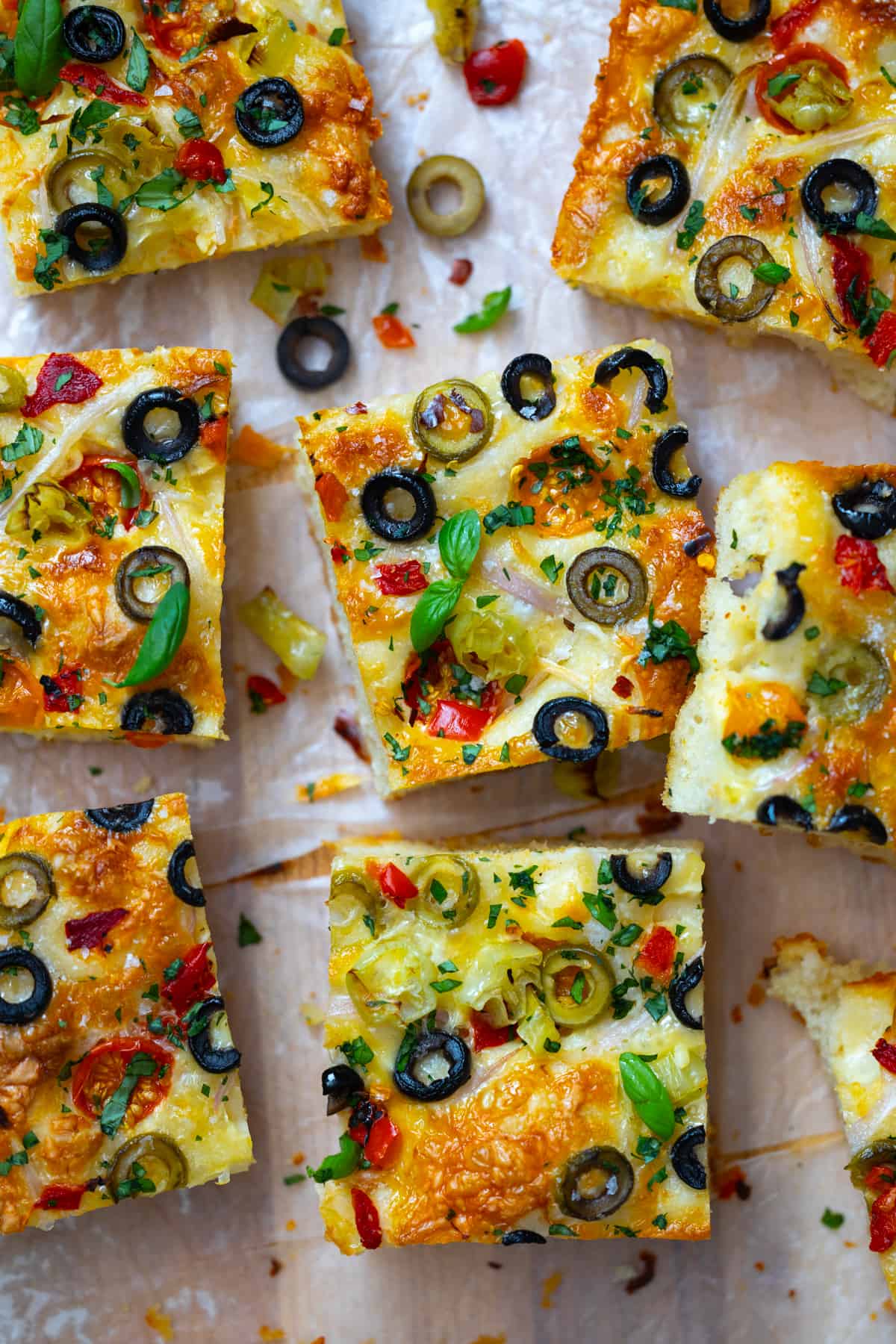 You may know antipasto by another name. Charcuterie, appetizer, snack board, tapas, hors d'oeuvres, etc. Or is it antipasti? Above all, this Antipasto Focaccia has, and is, everything.
Jump to:
Antipasto vs Antipasti
Antipasto is the singular form of the word. Antipasti is plural.
Think of it like this. Antipasto is an individual appetizer. In this case, focaccia. Antipasti is a collection of appetizers like cheeses, cured meats, olives, pickled veggies, bread or crackers. Abundance. In conclusion, this Antipasto Focaccia is an antipasto but it is topped with a selection of antipasti! It's a deeply savory, loaded veggie focaccia that's as irresistible as any snack board.
💭 The Easy Secret
This recipe begins with a basic, bubbly focaccia bread dough. It doesn't take much to make the base. Just a handful of quality ingredients. The real secret is in waiting. Once the focaccia dough is mixed together, it takes a long nap in the refrigerator. Additionally, the dough rests again on the counter before baking.
While the long rest isn't totally necessary, it gives the Antipasto Focaccia dough tons of character.
So, not much hands-on time is necessary. You really don't even need to knead this dough. The dough quietly develops and ages for 12-24 hours in the refrigerator. It doesn't take much work, just a little planning ahead. The wait is worth it.
🍞 Key Ingredients
Bread flour will give your focaccia a chewy texture, like a good pizza crust. All-purpose flour works too. But bread flour really amps up the chewiness thanks to the higher protein content.
Yeast gives your focaccia its fluffy rise. This recipe uses a simple Active Dry Yeast to get the action going quickly. You can absolutely use your sourdough starter if that's your jam.
Olive oil is an important ingredient in focaccia bread. Quality olive oil really makes focaccia. It adds depth in texture and a rich, buttery flavor.
Salt allows the other ingredients to shine. As a result, salt gives the focaccia bread itself a whole lot of personality. I like to add sea salt flakes to the top for crunch and bursty bites of flavor enhancers!
Time resting is the secret. If you allow the dough to age in the refrigerator for 12 to 24 hours, it adds major flavor depth and loft to the dough. This gives the focaccia its signature open, bubbly crumb with just the right amount of pillowy chewiness.
Step-by-step Focaccia Dough
The combo of California Grown, Italian-inspired toppings brings big flavor and personality to this Antipasto Focaccia.
Antipasti is all about variety. A little bite of this. A nibble of that. It's the ensemble that makes this focaccia sing all of the savory praises. From buttery ripe olives to hot pickled peppers and bubbly cheese, this Antipasto Focaccia belts out variety.
🧀 Key Toppings
Olive Oil from California. A drizzle in the bottom of the pan gives focaccia that delectably crisp bottom crust and buttery rich flavor.
Cheese adds a bubbly, crispy layer to the focaccia. I like using a mix of Mozzarella and a firm, sharp, nutty cheese like Parmesan or Pecorino. This is a great opportunity to try some new types of cheese from California. Here I used a California Mozzarella and a sharp, crumbly cheese similar to Parmesan, produced in Sonoma County.
California Ripe Olives are a must on this focaccia. They add a mild, buttery nuttiness to the focaccia. I used a mix of Black Ripe Olives, a true American classic, and Ripe Green Olives.
Cherry Tomatoes from California bring a bright and sunny burst of flavor to the focaccia. Sun-dried tomatoes are a flavorful alternative.
Peppers spice things up. This Antipasto Focaccia features a mix of roasted red peppers and zingy, spicy, hot pickled peppers. Both grown and canned right here in California.
Garlic gets minced and mixed with the olive oil, scenting the focaccia with an earthy punch of savory flavor depth.
Shallot or Red Onion is thinly sliced, layering the bread with a delicately oniony, sharp sweetness.
Sea Salt Flakes add a briney, bright finish to the fresh baked focaccia.
Fresh Herbs sprinkled over the focaccia layer in an herby fresh finish. I used basil, oregano and parsley. But thyme, rosemary or sage would all be enjoyable additions.
Red Pepper Flakes bring a little extra heat if you want to spice things up a notch.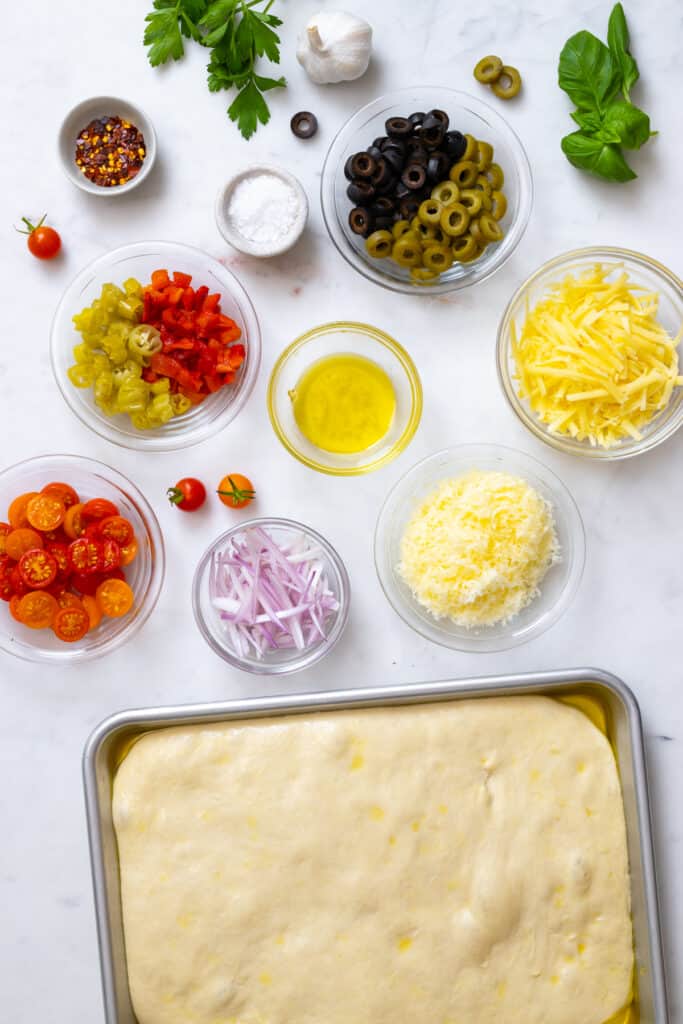 🫒 California Ripe Olives
These olives are unrivaled in their smooth, mild, lightly buttery flavor.
Known for their appealing flavor and slightly meaty texture, California Ripe Olives instantly give this Antipasto Focaccia a classic pizzeria-style combo pizza vibe. Who doesn't love a classic? Using a mix of black and green ripe olives gives this focaccia variation in flavor and appearance. With this combo of flavorful toppings, I wouldn't not consider this a focaccia pizza. Especially if you serve it with a side of Simple Pizza Sauce for dipping!
California is the only state in the U.S. that produces ripe olives for canning
When picked, olives are incredibly bitter. California Ripe Olives are canned in a mild salt-brine solution. Brining the olives removes the bitterness and transforms them into the mild, buttery gems we all know and love. The uniquely California-style olive brining process takes 7 days to complete.
October is California Farmer and Farmworker Month
California Ripe Olives are harvested September through November. So, olive harvest lands smack dab in the middle of California Farmer and Farmworker Month. However, California ripe olives are readily available all year round thanks to that brining and canning process.
It's a Party Bread
The word "antipasto" derives from the Latin root "anti" meaning "before" and "pastus," which translates to "meal." If you're anything like me, you are fully satisfied with the antipasto serving as the meal. Which is what makes this Antipasto Focaccia super satisfying. So, it's like a full meal in and of itself. But it can also serve as an appetizer or a side dish. No matter how you serve it, this Antipasto Focaccia serves.
Since it has everything, this loaded focaccia is a one-and-done recipe. The focaccia is easily adaptable, so it is a perfect recipe to bring to a party. Bake up a batch and slice it into 12 large portions or divide those 12 slices into 48 party-sized bites. You can even double this savory focaccia recipe for a great big shindig and feed a wholelotta folks.
This Antipasto Focaccia is all you need to bring to the party, people! Show up with a pan of this focaccia and soak in the love.
Hot Focaccia Baking Tips.
This recipe is infinitely riffable. Feel free to swap other in veggies, canned or pickled veggies or try different cheeses.
Focaccia is a recipe best served fresh and warm. But this Antipasto Focaccia will last up to 3 days when stored in an airtight container or tightly wrapped in plastic wrap.
If you want to get a little saucy, serving this Antipasto Focaccia with a sidecar of Simple Pizza Sauce really ups the serving game.
Love this Antipasto Focaccia recipe so much you want more? Try my Blood Orange Olive and Shallot Focaccia and my Leek Lemon and Thyme Skillet Focaccia.
This post was proudly made in partnership with California Grown and California Ripe Olives. All opinions are my own. Thank you for supporting me and the brands that I love. Follow @cagrownofficial and @calripeolives on Instagram to learn more about the foods grown in California, farm practices, and discover new recipes!
Print
📖 Recipe
Antipasto Focaccia
---
Description
This super satisfying Antipasto Focaccia is loaded with olive oil, cheese, olives, red onion, tomatoes & peppers. The focaccia bakes up into a chewy, pillowy golden sheet of savory goodness loaded with crispy cheese and a rainbow of flavorful toppings.
---
1 cup + 2 tablespoons warm water at around 110°F
¼ teaspoon granulated sugar
1 ⅛ teaspoon active dry yeast
6 tablespoons good quality extra virgin olive oil (divided)
2 ½ cups +1-2 tablespoons bread flour (or all purpose flour)
2 teaspoons fine sea salt
¾ cup CA Ripe Olives, green, black or a mix (sliced or halved)
½ cup cherry tomatoes (halved)
½ cup diced roasted red peppers and/or pickled hot peppers (sliced into rings)
¼ cup shallot or red onion (thinly sliced)
2 garlic cloves (minced)
¾ cup mozzarella (grated)
½ cup parmesan or similar hard cheese (finely grated)
2 tablespoons chopped mixed herbs (basil, parsley, rosemary or oregano
sea salt flakes (sprinkle to taste)
Red pepper flakes (optional, sprinkle to taste)
---
Instructions
Combine warm water at around 110°F with sugar and yeast in the bowl of a stand mixer. Allow to sit for 5-10 minutes until the yeast begins to bloom and bubble up.
Add 2 ½ cups of the bread flour, 2 tablespoons of the olive oil, and fine sea salt.
With the dough hook attached, turn the mixer on a low speed to mix until the ingredients come together, about 2 minutes. Increase speed to medium and continue to mix until dough is smooth and elastic, about 5 minutes.
If after 5 minutes the dough is still very sticky, add 1-2 tablespoons of bread flour until the dough just starts to amass around the dough hook and pull away from the sides of the bowl. It will still be droopy and sticky.
With oiled hands, gather the dough into a rough ball shape, then transfer the dough to a large, lightly greased bowl. Cover loosely with a clean kitchen towel or oiled plastic wrap. Refrigerate for 12 to 24 hours for more flavor and texture development. For a quicker version, instead, allow the dough to rise on the counter or in a warm place for 90 minutes up to 2 hours until the dough has doubled in size. The colder the room is, the longer it will take for the dough to rise.
Add the minced garlic to the remaining olive oil. Once the focaccia dough has rested in the fridge (or risen on the counter) coat a quarter-sized rimmed baking sheet (9.5″ x 13″) with 2 tablespoons of the remaining garlic olive oil mixture.
After the dough has risen, gently fold it over itself a few times in the bowl to build some tension. Transfer it to the prepared baking sheet and turn it over to coat it with oil. Place the dough seam-side down. Let it rise, uncovered in a warm area of your kitchen, until it spreads and almost covers the bottom of the pan, 90 minutes to 2 hours.
While the dough rises again, prepare the toppings. Add 1 tablespoon of the garlic olive oil to thinly sliced red onions. This helps keep them from burning.
Carefully stretch the dough towards the edges of the pan so it fills the entire pan. Use your fingertips and gently press into the dough, creating little dimples all over the entire surface.
Evenly sprinkle the top of the dough with the cheeses. Layer on the red onions, olives, tomatoes and peppers, gently pressing them into the dough.
Preheat the oven to 450° F and allow the focaccia to rise for 15-20 more minutes while the oven preheats. Place a larger baking sheet on the lower shelf to catch any drips of cheese or olive oil spill-over. If you have a baking stone or steel, this is a great opportunity to use it as it will help the underside of the focaccia brown up beautifully.
Just before baking, drizzle the top with the remaining tablespoon of olive oil. Bake for 22-25 minutes until the bread has a warm golden crust. If things start looking too dark or burned, you can tent the top of the focaccia with a sheet of foil to prevent over-browning.
Allow the focaccia to cool in the pan for at least 20 minutes. Gently remove the focaccia from the pan and slice into 12 large slices, or smaller bite-sized portions for sharing. Serve warm. 
*By first bringing the oven up to 475° F and turning it down to 450° just before baking gets the interior oven temperature good and hot, which helps the focaccia attain its signature crusty edges and airy interior without burning the toppings to a crisp.
Notes
Focaccia is a recipe best served fresh and warm. But this Antipasto Focaccia will last up to 3 days when stored in an airtight container or tightly wrapped in plastic wrap.
Prep Time:

30 minutes

Dough Resting Time:

12-24 hours

Cook Time:

25 minutes
Keywords: focaccia, antipasto, veggie focaccia