It's July, the middle of summer, and I know, pears aren't generally the first fruit to come to mind this time of year. But I bet you didn't know that California Grown pears are just starting to come into season. Fresh picked, early summer Barlett pears are as sweet as candy right now. In this Pear Berry Cobbler, I combine the first pears of the season with juicy, peak summer berries for a laid back and superbly summery dessert.
I am a big fan of combining seasonal fruits in my desserts and this beautifully illustrated seasonality guide from California Grown helps me visualize what fruits work together and when. Plus, the vibrant color palette inspired me to mix green Barlett pears with blackberries and raspberries in this Pear Berry Cobbler recipe! It's so pretty, I may just print it off and hang it on the wall in my kitchen.

The Bartlett pear tree arrived in California by 1849, brought West by prospectors during the Gold Rush era. The idyllic climate and fertile soil of California proved to be just right for pears. Since then, California has grown to be one of the nation's top suppliers of pears. California Pear Farmers have become leaders in sustainability by taking an intentional, long-term approach in how they care for the land, environment, resources, workers and communities where they live and work. Knowing this, I seek out California Grown Pears when I am shopping at the market. You can use this handy "How to Know If It's From California" guide to spot CA Grown produce at your local grocer.
For me, summer desserts are all about showcasing that peak of the season fruit in a low key way. This Pear Berry Cobbler makes the most of the summer with fresh and crisp Barlett Pears and juicy, bursting berries. For this recipe, I adapted my Grilled Nectarine Shortcakes by making itty bitty biscuits to layer on the pears and berries as a cobbler.
When baking, I like to use Barlett pears that are slightly under ripened and still crisp and green. Bartletts hold up wonderfully when baked at this stage and keep their gorgeous shape with an ever so slight bite. I don't even bother peeling them. The skin contains so many nutrients and that green color is a stunner. The pears soak in the glow and flavor of the juicy berries as they bake. Creating a lively sweet and tart syrup resting under a blanket of buttery, buttermilk biscuits. The relationship happening between the fruit and the biscuits is really something special.
The tender texture of the angel soft baby biscuits soaks up the fruit flavor without getting all soggy. Biting into the Pear Berry Cobbler is a textural journey from the craggy, sugar encrusted biscuits to the soft and jammy berries and syrup laden, melt in your mouth pears. It's basically like taking a magic carpet ride through a California summer sunset. Or at least I imagine it to be similar.
A rustic cobbler is a summer staple and this Pear Berry Cobbler is the type of casual, no-fuss recipe we all want this time of year. The itty bitty biscuits allow you to choose your own adventure when digging into the Pear Berry Cobbler. You can keep it light with a single biscuit and a bit of fruit. Or go big with 2-3 biscuits and a whole mess of juicy pears and berries. No matter what direction you choose, I highly recommend topping it with a creamy scoop of vanilla ice cream for the ultimate summer indulgence.
This post was proudly made in partnership with California Grown. All opinions are my own. It makes my heart happy to be able to share my fondness for California Grown food and I thank you for supporting me and the brands that I love.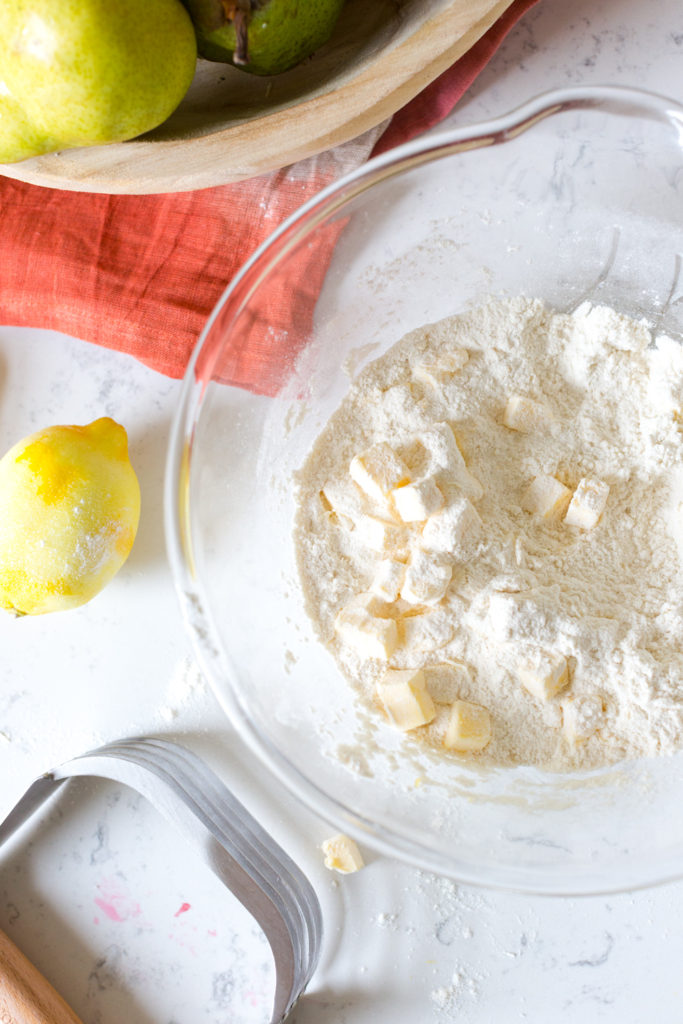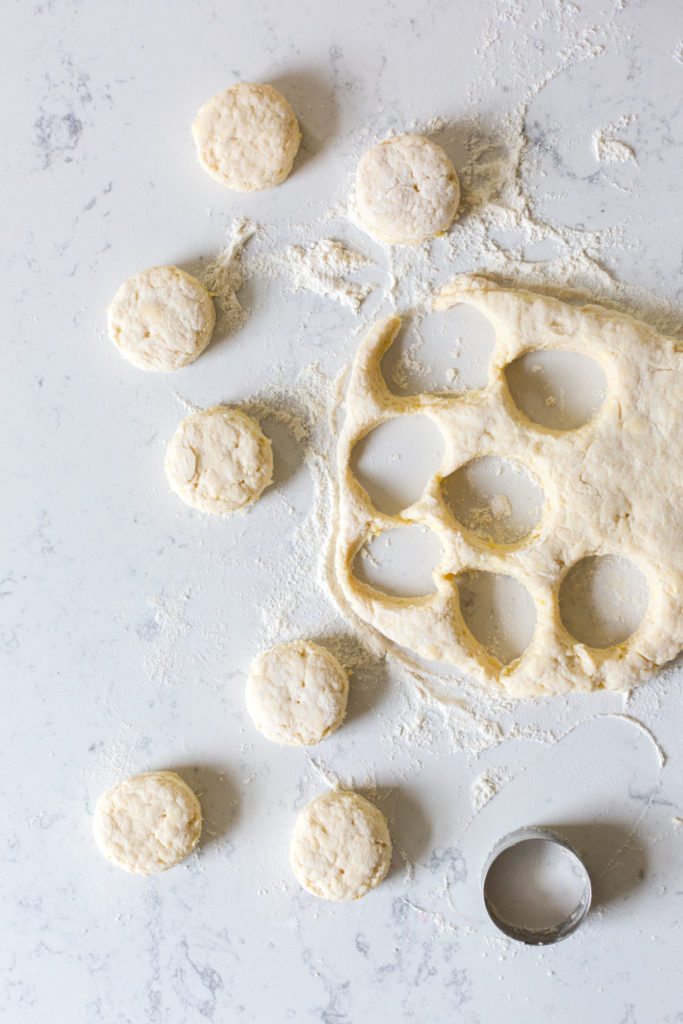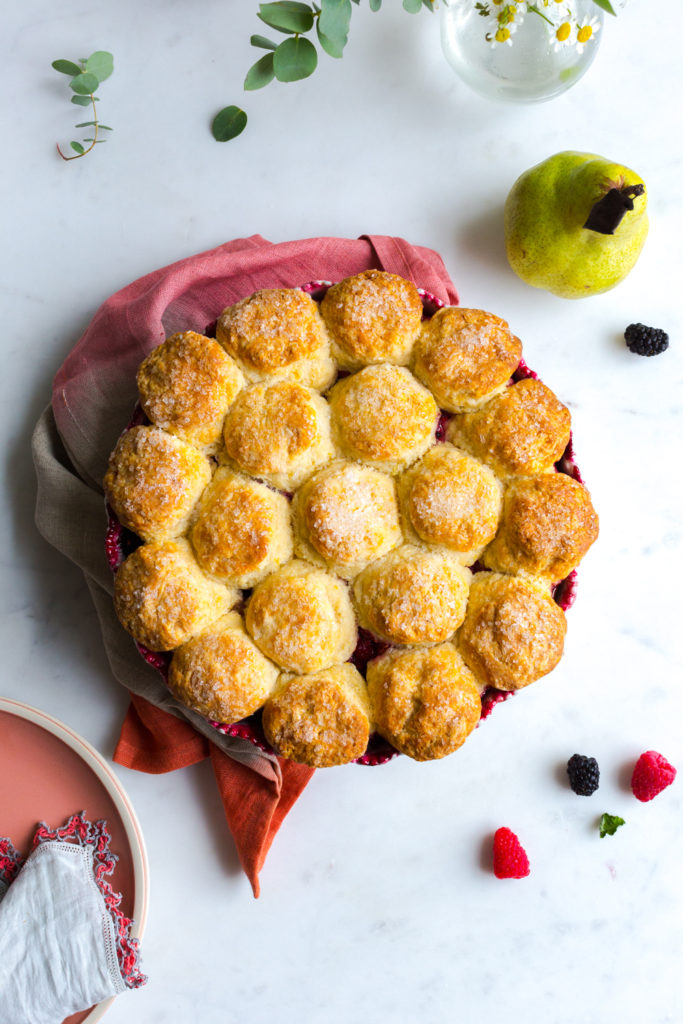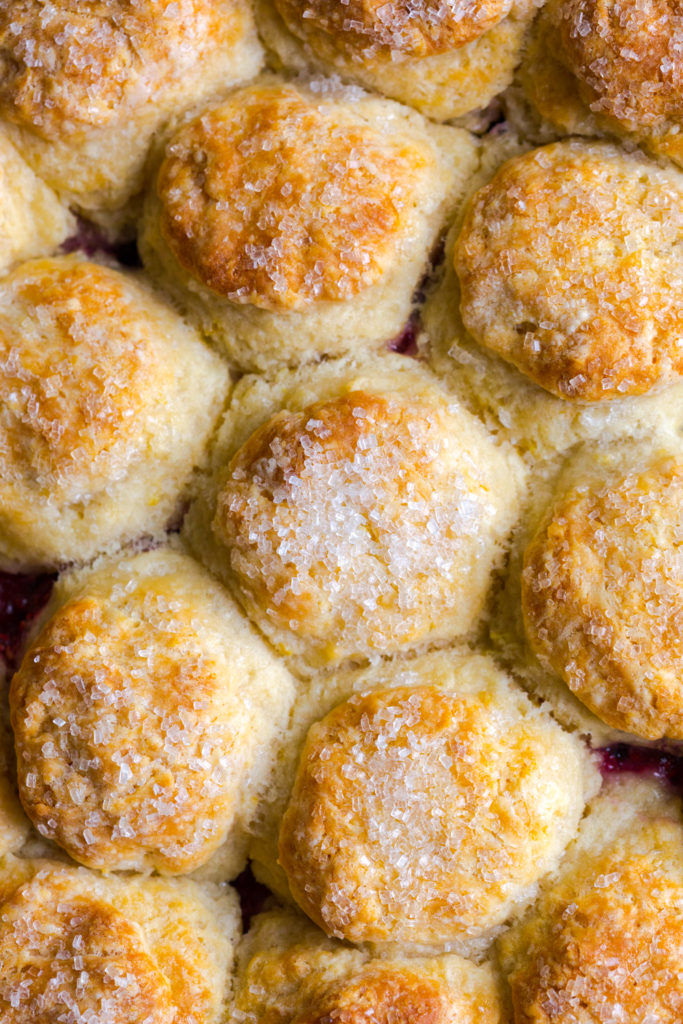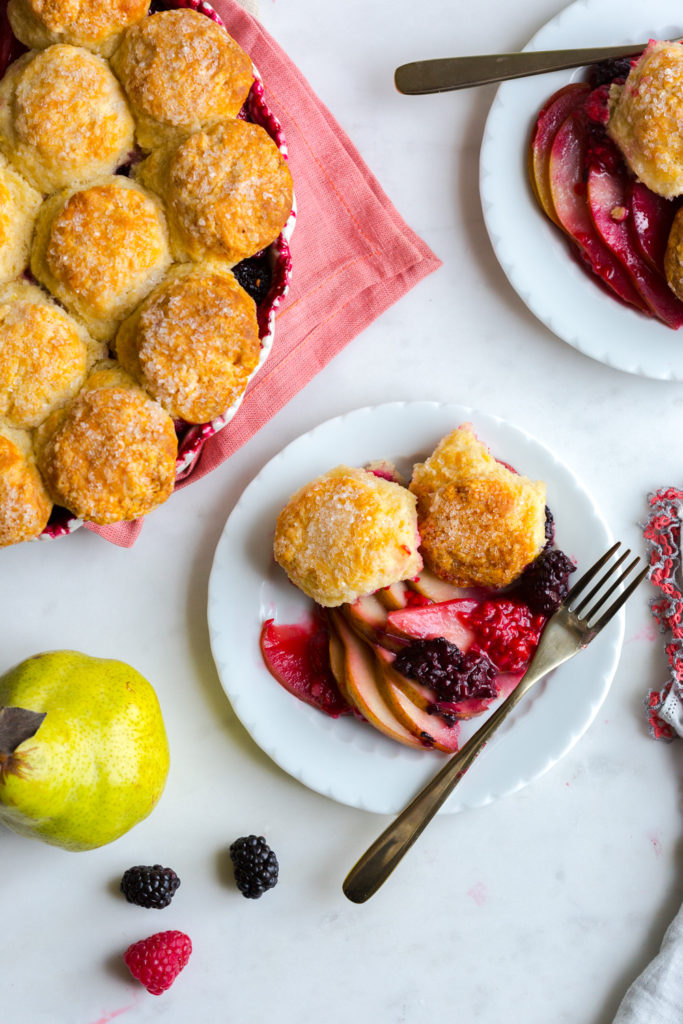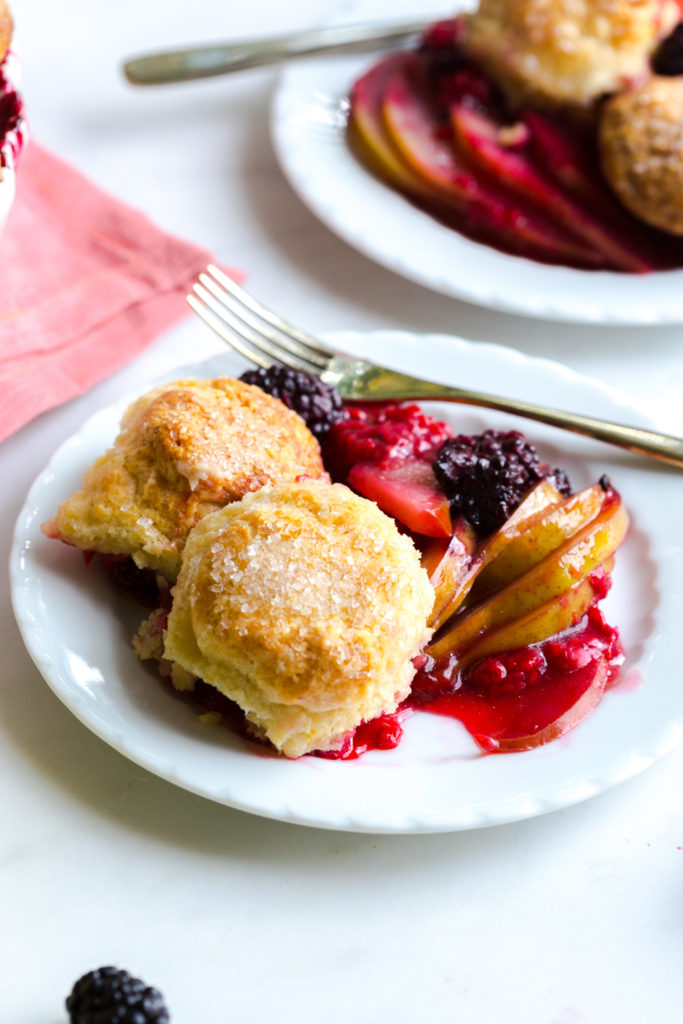 Print
📖 Recipe
Pear Berry Cobbler
---
Description
This rustic Pear Berry Cobbler is a casual, no-fuss recipe that makes the most of the start of pear season and peak summer berries. Naturally sweet Bartlett pears meld with bursting berries under an airy blanket of tender buttermilk baby biscuits.
---
Baby Biscuits
2

cups

all purpose flour

3 tablespoons

granulated sugar

1 tablespoon

baking powder

1 teaspoon

fine sea salt

1

medium lemon (- zested, reserve the lemon juice for the filling)

½

cup

unsalted butter (- cold & cut into ½" cubes)

1

cup

buttermilk or heavy cream
Pear Berry Filling & Assembly
4

medium Bartlett Pears, crisp and green (- cored & cut into ⅛" - ¼" thick slices)

3

cups

mixed berries

½

cup

granulated sugar

2 tablespoons

lemon juice (- from reserved lemon)

1 ½ teaspoons

pure vanilla extract

3 tablespoons

tapioca flour (- or cornstarch or all purpose flour)

¼ teaspoon

fine sea salt

3 tablespoons

unsalted butter (- melted and cooled)

1

-

2

tablespoons sparkling or raw sugar
---
Instructions
Baby Biscuits
Measure out flour, sugar, baking powder, lemon zest, and salt into a large mixing bowl. Whisk to combine.
Add the cold and cubed butter and use a pastry blender, two butter knives or your hands to blend or smoosh the butter into the dry ingredients until the mixture resembles a coarse meal with small, visible butter chunks.
Make a well in the center of the dry ingredients and pour the buttermilk in. Mix with a fork until the dough just begins to come together in large clumps, it wont take long.
Turn the dough out onto a floured surface and gently gather and pat the dough together until it becomes a somewhat cohesive mass. Pat the dough into a rectangle about 1" thick, then cut dough into 2 equal pieces and stack on top of each other, use a rolling pin to roll the dough down to 1" thickness. Then repeat the cutting and rolling process once more. This helps create the tender, flaky layers of the biscuits.
Dust with more flour and use a rolling pin to flatten to about ¾" thickness, dusting with more flour as needed.
Use a 2" round cookie or biscuit cutter to punch out biscuits as closely as possible. Dip the cutter in flour between cuts to get a clean slice. Transfer the baby biscuits to lined baking sheet. Gather up the dough scraps, pat together, re-roll the dough, and punch out the biscuits until you've used all of the dough. You should have about 18 - 20 biscuits. Place biscuits in freezer to chill until ready to use. Freezing the biscuits will also help them maintain their shape as they bake.
Pear Berry Filling & Assembly
Place rack in the middle of oven and preheat to 400° F.
Mix the berries, 2 tablespoons of granulated sugar, lemon juice, tapioca flour, vanilla extract and salt in a large bowl. Let the fruit hang out for 10-15 minutes until the juices begin to release and the tapioca flour melds with the juice.
Place a 2-qt. baking dish, 9" cast iron skillet or 9"-diameter cake pan with 2" sides on a silpat or foil-lined baking sheet. Layer the pears into dish and fan them out. Then firmly press the pears into the dish to fill in any gaps. Sprinkle the remaining 2 tablespoons of granulated sugar over the pears.
Spoon the berry mixture over the top of the pears and gently press the berries into the pan to fill in gaps. Pour the juice evenly over top.
Arrange the chilled baby biscuits over the pear berry filling. Snuggle them in tight so they're touching with minimal gaps between. Using a pastry brush or a clean paper towel, generously brush with the melted butter, then sprinkle liberally with sparkling or raw sugar.
*Note, since the biscuits are frozen, the butter will chill up quick so work in batches, brushing then topping with sugar so the sugar will stick to the wet butter before it chills.
Bake the Pear Berry Cobbler for 15 minutes at 400°F, then reduce heat to 350° and continue to bake until biscuits are deeply bronzed and juices are bubbling, between 55 - 70 minutes more. You can use a skewer to check the doneness or the pears. They should be soft but have a little hint of firmness.
Allow to cool for at least an hour before serving so the juices can set and thicken. Serve with ice cream or whipped cream.
Prep Time:

25 minutes

Cook Time:

1 hour 30 minutes

Category:

Dessert
Keywords: Berry Cobbler, Cobbler, Pear Berry Cobbler, Pear Cobbler