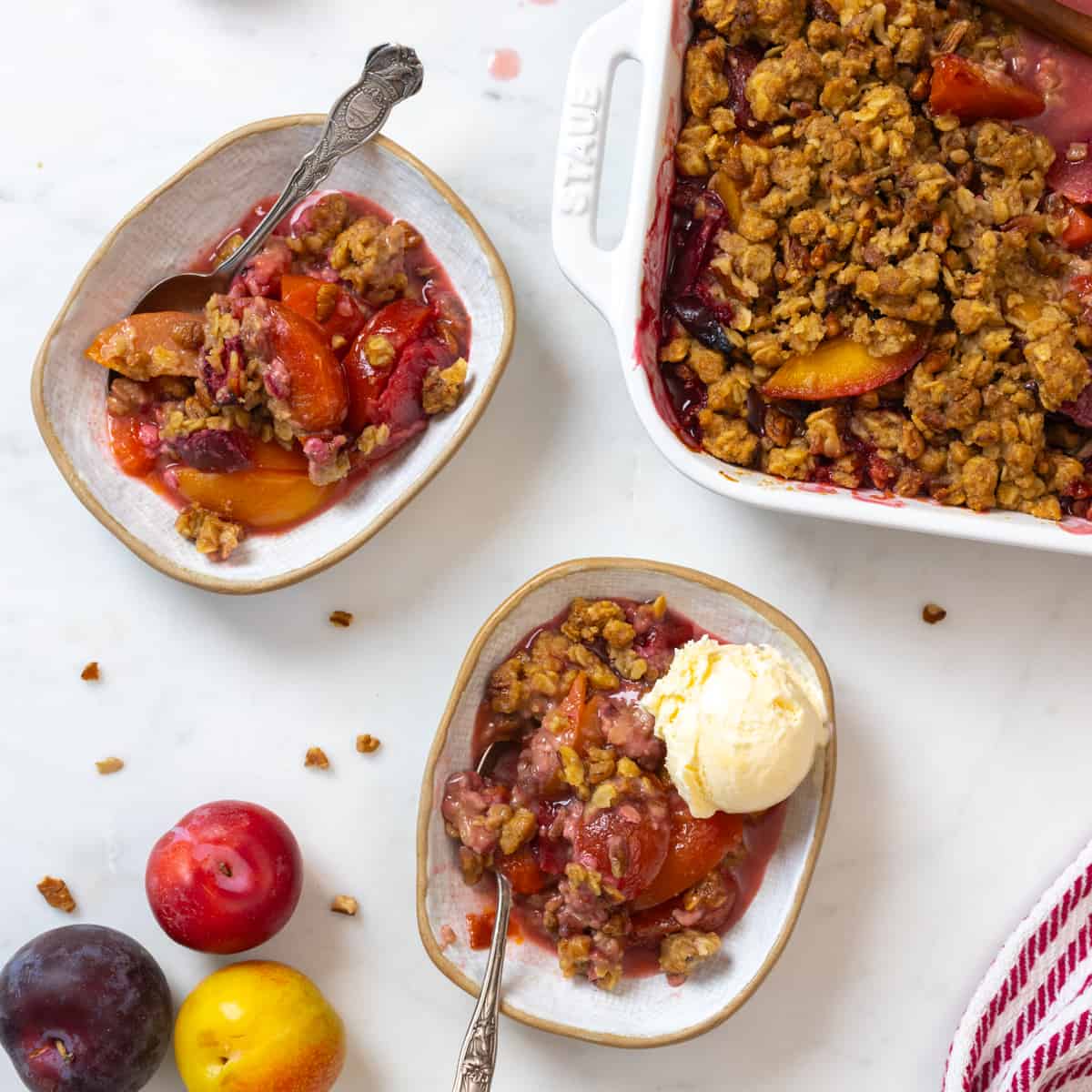 Summer is dwindling, yes. But it's not over yet! This Spiced Plum Crisp recipe perfectly captures the magic moment of change from summer into fall. Plus, it's a real easy bake. So you can kick back and enjoy your last summery moments of the year.
Summer's closing is symbolic of a larger shift. A shift in weather, energy and mindset. As a baker, this change also represents the comeback of baking season. The proverbial hunkering down is upon us. And that means cookies, scones and pies.
A crisp recipe is a thing of comfort. This Spiced Plum Crisp cuddles into that homey coziness while celebrating the season finale of summer.
Plums, apricots, pluots, nectaplums and apriums are all suitable fruits for this Spiced Plum Crisp
I can hear your brain asking already, "What on earth is an aprium and how is it different from a pluot?" They are all related and stem from stone fruits at their core. These hybrid fruits may be more plum or apricot forward, depending on the breed. The difference is in the dominant fruit in the hybrid. It gets into percentages, but we don't need to dive that deep.
Pluots are plum dominant. Apriums are apricot forward. Nectaplums are, you guessed it, a nectarine and plum hybrid. My suggestion, try a bunch and decide what you like. You really can't go wrong when baking this Spiced Plum Crisp.
The plum fruit filling is plum simple & just a few ingredients
Plums or any of their stone-fruit siblings work for this recipe. Here, I used a mix of plums, apriums and plumcots. But any mix of plums, apricots, apriums, pluots works. Whatever you've got, they'll all bake up beautifully. I prefer to mix in a few types of fruit here for variation in color and texture.
Lemon zest and juice add a touch of brightness and always help shine a little light onto other fruits.
Sugar or brown sugar sweeten the pot, bringing a touch of balance to the tartness of the plums.
Cardamom adds warmth to the plum filling. Providing dimension by bringing out natural flavors of the plums.
Tapioca flour or starch helps to thicken the filling. As the Spiced Plum Crisp bakes, juices are released from the fruit. The tapioca absorbs those juices and thickens them into a luxurious thick syrup.
Therefore, the plum feeling isn't complete mush. The plums are tender, however, they've still got a bit of structure, like an apple pie. The colors of the plums saturate as the crisp bake. Then the syrupy filling surrounds the perfectly textured plums. All of those ingredients combine and the plum filling transforms from a summery fresh fruit to a crisp fall dessert.
The Pecan Crisp is an easy topper that combines a handful of basic ingredients and squishes together with just your hands
Cold, cubed butter is the binder that makes this crisp extra crispy. Little hunks of (preferably) European style butter add rich flavor. The clinging power binds the other ingredients together into crumbly little nibbles of crispy goodness.
Chopped pecans add a warm and nutty flavor that leans this Spiced Plum Crisp towards fall. The nutty nuggets add a lovely little crunch against the tender fruit.
Thick rolled oats bring home that homey familiarity with chewiness that goes crisp in the oven. Another fundamental layer of texture in this crisp. These Schermer Pecans come straight from the south and have a natural, rich pecan flavor that works so well in baked goods.
Brown sugar brings the sweet and a warm richness to the crisp topping.
Warming spices are really what push this pecan crisp into fall territory. The warmth of cinnamon and cardamom are a beacon to the season. Feel free to swap in other spices if these two aren't for you. Plus a pinch of salt. You always need a little salt for balance.
All purpose flour blends with the butter and sugar to create the ideal crumbles. If you want to make this Spiced Plum Crisp gluten free, swap in almond flour or a realiable gluten free all purpose flour substitute here.
It couldn't be easier to make this Pecan Crisp Topping. You simply combine the butter bits with the dry ingredients, then mix it all together by hand. Just squish the ingredients between your fingers until a crumbly texture forms. Then sprinkle in the pecans and crumble it all together. Easy peasy.
The plums are quartered or sliced, depending on the size. Mixed with their ingredients pals, they sit for a few before going into a 2 quart baking dish or cast iron skillet. Sprinkle that pecan crisp over the top and send that baby to the oven to bake!
In less than an hour, you'll be in tender plum and crispy pecan crumble heaven
The interplay between the texture of the tender filling and the crispy crumble is an easily achievable balancing act. They just make sense together. Add in some natural fruity sweetness against warm spice and it's a perfect 10 every time.
This Spiced Plum Crisp recipe hits on all of the textural and flavor comforts with natural ease
So, slip into the comfort of the in-between. Allow yourself to bask in the last light of summer while easing into the comforts of fall. It's the season finale and this Spiced Plum Crisp is the embodiment of the in-between. This transition is meant to be savored. So slide those socks under your Birkenstocks, bake up a Spiced Plum Crisp and live in the now, friends.
Print
📖 Recipe
Spiced Plum Crisp
---
Description
This easy Spiced Plum Crisp radiates with juicy fruit under a crumbly, textural layer of warmly spiced pecan crisp.
---
OAT ALMOND CRISP TOPPING
¾ cup all purpose flour
¾ cup thick rolled oats
½ cup brown sugar
½ teaspoon fine sea salt
½ teaspoon cinnamon
½ teaspoon cardamom
½ cup butter, cold and cut into ¼" cubes +1 tablespoon, for skillet
¾ cup chopped pecans
PLUM FILLING
3 lbs plums, apriums, plumcots, pluots or a mix of whatever you prefer - pitted and quartered or sliced for larger fruit
¼ cup granulated sugar
1 medium lemon, zested & juiced
1 teaspoon cardamom
¼ teaspoon fine sea salt
---
Instructions
PECAN CRISP TOPPING
Arrange a rack in the middle of the oven and heat to 350°F. Coat a 9-10 inch round skillet or pie dish or an 11x7 inch baking dish with 1 tablespoon softened butter and set aside.
In a mixing bowl, combine flour, oats, brown sugar, salt, cinnamon and cardamom. Toss or whisk together. Then use your hands to smoosh the butter into the mix until you have a rough and crumbly dough. Add the chopped pecans and squish together until combined.
Place the crisp topping in the refrigerator or freezer to chill while you prepare the plum filling.
SPICED PLUM FILLING
Combine the sliced plums with the juice and zest of 1 lemon, sugar and salt and in a large mixing bowl. Gently stir together. Allow the fruit to sit for about 10 minutes while the juices release.
Stir in 1-2 tablespoons tapioca flour, corn starch or all purpose flour (depending on how juicy the plums are, the juicier they are the more starch you'll need) and let sit for about 3 minutes to thicken.
Spoon the plum mixture into the buttered skillet or baking dish. Crumble the chilled crisp topping evenly over the top of the plum filling. Place on a lined baking sheet, to catch any juices that bubble over.
BAKE & SERVE
Bake for 50-60 minutes until the fruit is bubbling, the topping is crispy and the color is a deep golden brown.
Allow to cool for at least 30 minutes before diving in. I know this is tough, but you don't want to be slurping hot fruit soup.
Serve warm with vanilla ice cream or whipped cream.
Notes
The crisp topping can be made in advance. Store in the fridge for up to 3 days or freeze for up to a month.
You can swap in frozen fruit for fresh but it may be juicier and require additional tapioca flour to thicken the filling. 
The cooled crisp can be covered and refrigerated for up to 4-5 days. Serve cold, at room temperature, or re-warmed in the oven at 300°F for for about 20 minutes.
Prep Time:

10

Cook Time:

60 minutes

Category:

dessert
Keywords: Spiced Plum Crisp, Plum Crisp, Plum Crumble, Fruit Crisp, Pecan Crisp