A deep sadness hits me like a wall of wallow every year when the teeny tiny cherry tomatoes go into hibernation. There is nothing I love more than the sun infused, citrusy burst of biting into a taut little garden fresh tomato. Year after year, in a fleeting effort, I scramble to make something extra special with those juicy jewels before they go. This year, I developed this Cherry Tomato Cobbler with Cheddar Everything Biscuits to commiserate the fleeting bounty of the summer season. Sadness never tasted better.
If I sound dramatic, you should know I am on the 5th straight day of not leaving the house due to hazardous air quality caused by the unfathomable wildfires that have swept all of the west coast this week. During a pandemic. So how about we turn on the sunshine and talk tomatoes!
Every year during that transition between late summer and early fall, I panic and make all things tomato. I just can't get enough of those seasonal beauties. I've got a whole list of tomato inspired recipes designed around this in between season. And it continues to grow every year.
Late Summer & Early Fall Tomato Recipes
Now I am adding this Cherry Tomato Cobbler with Everything Biscuits recipe to the list! I know, when you think cobbler, you likely think Peach Cobbler or Berry Cobbler. Tomato Cobbler isn't the first thing to come to mind. But maybe it should be. I went all in on the savory scale with this recipe for Cherry Tomato Cobbler with Cheddar Everything Biscuits and it is everything!
After testing this recipe a few times, I found that roasting the cherry tomatoes first helped break them down. They turned from a watery filling to jammier texture, not weighed down by moisture. Roasting the cherry tomatoes helped to deepen the flavor. They are imbued with the earthy onion, garlic and thyme while they roast. The olive oil adds richness to the mixture, rounding out the acidity of the tomatoes. It may sound like a lot of work but roasting the cherry tomatoes is just a matter of tossing the ingredients on a sheet pan and letting it go in the oven.
The baby everything biscuits come together while the cherry tomatoes roast away. These tender, little biscuits are equally fluffy and crumbly with buttery bits mingling beside shreds of sharp cheddar cheese. The savory biscuits are loaded with texture and topped with super savory everything bagel seasoning. The itty bitty biscuits are easy to mix together and look downright adorable when they get snuggled in atop the rich cherry tomato filling.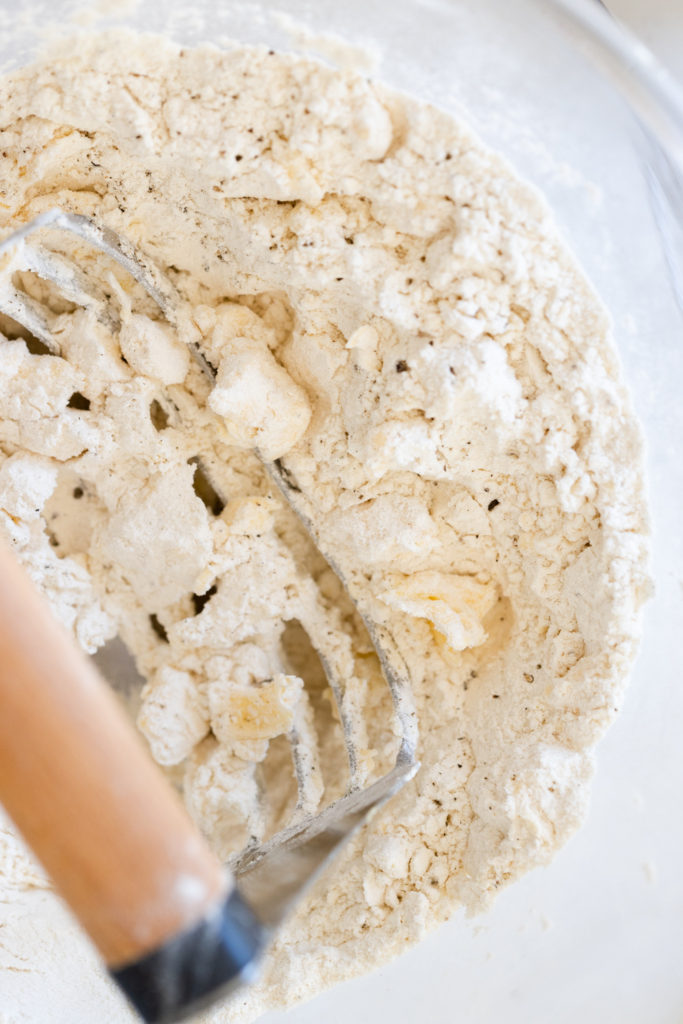 It all comes together in a single skillet. First the roasted cherry tomatoes get nestled into the skillet. Then they are topped with the biscuits, buttered up and sprinkled with everyones favorite, everything bagel seasoning. They bake together in the oven. The biscuits rise as the tomatoes begin to burst and break down. The dueling textures end up being best buds once they emerge from the oven. The everything biscuits soak up some of the rich and smooth tomato flavor on the bottom with a crisp and crumbly top. They work so well together.
I am head over heels for this Cherry Tomato Cobbler with Cheddar Everything Biscuits recipe, but I may be biased based on my deep affinity for cherry tomatoes. However, my traditionally tomato averse friend Troy was obsessed with this cobbler. He literally messaged me and said this was the best tomato thingy he's ever had in his life. How's that for an endorsement?!
Summer, before you go and take my beloved tomato season with you, please allow me to bake this savory and seasonal Cherry Tomato Cobbler with Cheddar Everything Biscuits one last time. Thank you for all that you provide. See ya next year!
Print
📖 Recipe
Cherry Tomato Cobbler with Cheddar Everything Biscuits
---
Description
Rich and velvety roasted cherry tomatoes bake under a savory blanket of cheesy everything seasoned biscuits in this comforting Cherry Tomato Cobbler with Cheddar Everything Biscuits.
---
CHERRY TOMATO FILLING
3

pints

cherry tomatoes ((about 6 cups))

¼

cup

sweet onion (- thinly sliced)

6

cloves garlic (- smashed)

3 tablespoons

olive oil

½ teaspoon

fine sea salt

¼ teaspoon

black pepper

6

sprigs fresh thyme or herb of choice

1 tablespoon

all purpose flour
CHEDDAR EVERYTHING BISCUITS
2

cups

all purpose flour

1 tablespoon

baking powder

1 teaspoon

granulated sugar

½ teaspoon

fine sea salt

½ teaspoons

black pepper, fresh cracked

8 tablespoons

unsalted butter, divided (see recipe) (cold and cut into ¼" cubes)

1

cup

shredded sharp cheddar cheese

¾

cup

buttermilk

2 tablespoons

everything bagel seasoning
---
Instructions
CHERRY TOMATO FILLING
Place rack in the middle of oven and preheat to 400° F.
Add cherry tomatoes, sliced onion, smashed garlic, salt, pepper, sugar and herb springs to a rimmed baking sheet. Drizzle with olive oil and toss together to coat.
Roast the tomato mix for 20-25 minutes until the tomatoes begin to burst and become jammy.
Remove from oven. Allow to cool for a few minutes, then toss with 1 tablespoon of flour to coat the mixture.
CHEDDAR EVERYTHING BISCUITS
Prepare the biscuits while the tomatoes roast. Begin by measuring flour, baking powder, salt and pepper into a large mixing bowl. Whisk to combine.
Add 6 tablespoons of the cold and cubed butter (set aside the other 2 tablespoons for later) and use a pastry blender, two butter knives or your hands to blend or smoosh the butter into the dry ingredients until the mixture resembles a coarse meal with small, visible butter chunks.
Add the grated cheese and cut it in with a pastry blender or a fork, just until combined. The dough should be shaggy with visible cheese shreds still.
Make a well in the center of the dry ingredients and pour in the buttermilk. Mix with a fork until the dough just begins to come together in large clumps, it wont take long.
Turn the dough out onto a floured surface and gently gather and pat the dough together until it becomes a somewhat cohesive mass. Pat the dough into a rectangle about 1" thick, then cut dough into 2 equal pieces and stack together, use a rolling pin to roll the dough down to 1" thickness. Then repeat the cutting and rolling process once more. This helps create the tender, flaky layers of the biscuits.
Dust with more flour and use a rolling pin to flatten to about ¾" thickness, dusting with more flour as needed.
Use a 2" round cookie or biscuit cutter to punch out biscuits as closely as possible. Dip the cutter in flour between cuts to get a clean slice. Transfer the baby biscuits to lined baking sheet. Gather up the dough scraps, pat together, re-roll the dough, and punch out the biscuits until you've used all of the dough. You should have about 18 – 20 biscuits. Transfer the baking sheet of biscuits to the freezer to chill until ready to use. Freezing the biscuits will also help them maintain their shape as they bake.
ASSEMBLE & BAKE
Transfer the roasted tomatoes to a cast iron skillet.
Top the roasted tomatoes with the chilled biscuits.
Melt the remaining 2 tablespoons of butter, then use a pastry brush to gently brush the tops of the biscuits. Sprinkle the everything bagel seasoning evenly over the melted butter on the biscuits. You may need to work in batches, buttering a few biscuits, then sprinkling with the everything seasoning, because the butter may solidify pretty quickly on the cold biscuits.
Place the skillet on a parchment or silpat lined baking sheet.
Bake the cobbler for 20 minutes at 400°F, then reduce heat to 350° and continue to bake until biscuits are deeply bronzed and juices are bubbling, between 35-45 minutes more.
Allow to cool for at least an hour before serving so the juices can set and thicken. Serve warm with a fresh, simple salad for a full meal deal.
Prep Time:

30 minutes

Cook Time:

1 hour 30 minutes
Keywords: Berry Cobbler, Cherry Tomato Cobbler, Cherry Tomato Cobbler with Cheddar Everything Biscuits, Savory Cobbler, Tomato Cobbler