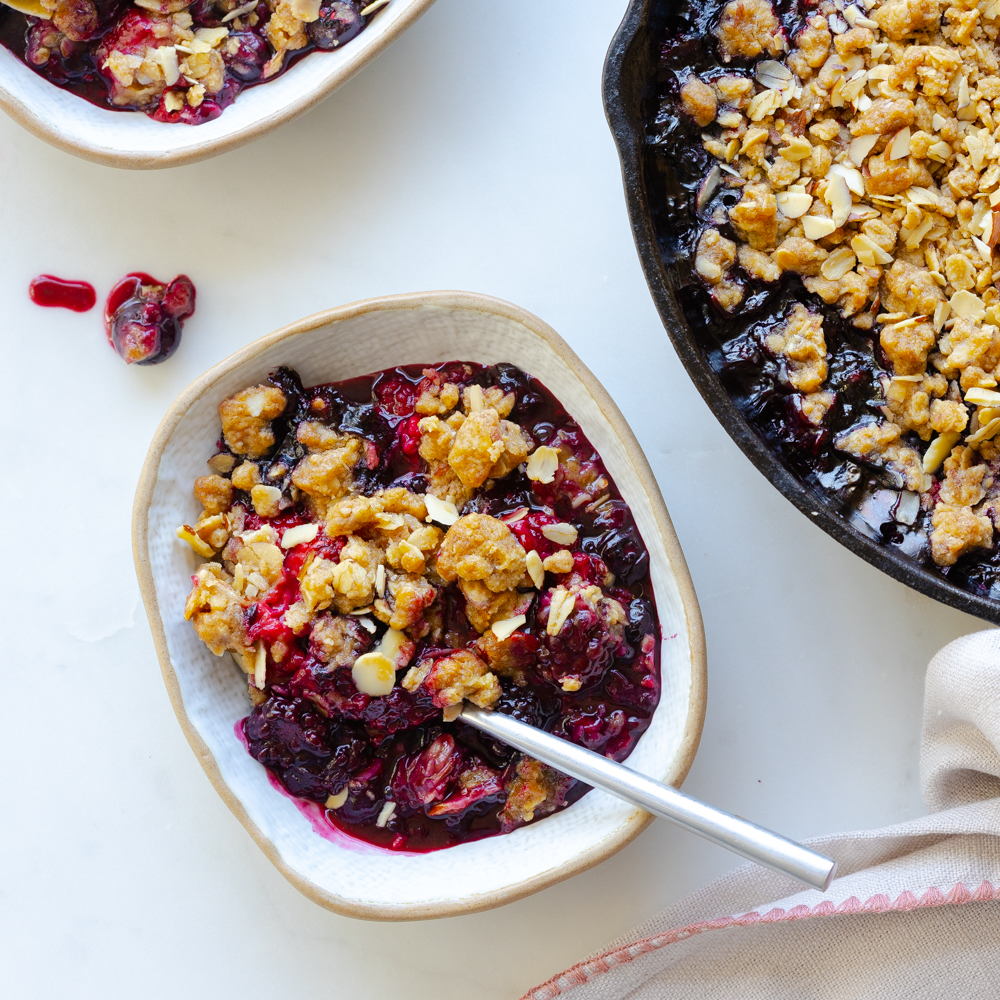 Crisps, Crumbles and Cobblers always seem to get lumped into the same category. And while they are similar, they each have their own distinct characteristics that make them special. This Mixed Berry Oat Almond Crisp gets straight to the point and tells you what sets it apart right there in the title. A beautiful bed of fresh berries under a crispy blanket of oats and almonds. Sounds pretty special right?
Crisps are a low key desserts that come together easy but pay off big time in the flavor and texture department. They've got all of the things you want in a simple, comforting dessert. And they can be easily adapted, depending on the season or your mood.
Apple Crisps or Pear Crisps are perfect for fall and there is no simpler summer dessert than a Berry Crisp or Stone Fruit Crisp made with plums or peaches. They are adaptable, and frozen fruit even works well when you're craving something that's not in season. One of my favorites to make in late spring/early summer is my Strawberry Pistachio Crisp and serve it with St. Germain Whipped Cream, which instantly elevates a simple crisp to an elegant dessert.
You can go all kinds of directions with the crisp topping. They can be made with different types of flour; APF, rye, wheat or alternative flours like oat flour to make them Gluten Free. They can be made vegan or dairy free by using an alternative vegan butter. For texture, you can add oats, nuts, puffed quinoa or coconut flakes, or even Corn Flakes. The possibilities are endless.
There can be some confusion over the differences between Crumbles, Crisps and Cobblers. Let's break it down.
Crumbles, Crisps and Cobblers are fruit based desserts often made with peak season fruit and a handful of ingredients. Mostly sweet, occasionally savory.
All are rustic and fairly simple to make but undeniably delicious.
Crumbles are topped with a crumbly base of 2 parts flour, to 1 part sugar and 1 part butter. With a little salt or spice mixed in. That's it. My Huckleberry Crumble is a great example of a simple crumble.
Crisps are similar to Crumbles with the same basic base, but additionally, they contain oats that crisp up when baked. They may also have nuts, dried fruit, etc.
The lines have blurred over the years and crumbles and crisps are now often interchangeable.
Cobblers are a bit different, they have a rustic biscuit topping baked atop the filling.
Cobbler biscuits can be dropped onto the fruit in small rounds or shaped into a more traditional biscuit shape and placed on top. The drop biscuit style gives the appearance of a cobbled road, hence the name; Cobbler.
Now that we got that cleared up, let's discuss this Mixed Berry Oat Almond Crisp.
It all starts with the berries. In Oregon, we are swimming in berries throughout the summer. Blackberries literally grow like weeds here, lining highways and creeping over fences. They are everywhere and it is glorious!
This Mixed Berry Oat Almond Crisp features a mix of jammy raspberries, luscious blackberries and plump blueberries. They each play a flavor and textural role and come together in a harmoniously tart and sweet berry filling. The raspberries break down into a smooth jam, the blueberries plump up while baking and burst with juicy flavor and the blackberries lie somewhere in between.
All of that fruit is topped with an oat almond crisp topping that gets the name Crisp because it crisps up as it bakes. This textural topping adds a welcome crunchy crumble to the broken down berry filling. The thick rolled oats and sliced almonds are sweetened up with rich brown sugar and warmed with cinnamon spice. All of that squishes together with cold cubes of creamy butter into a comforting crumbly texture that gets lazily layered on top of the berries just before baking.
Like I said before, Crisps are highly adaptable and you can go a lot of different directions. This Mixed Berry Oat Almond Crisp is a solid place to start. This is a tried and true recipe that I've made this way and/or adapted for years. Feel free to swap in some different nuts, make it gluten free or vegan or even change out the fruit. Make it work for you and make it yours! Or keep it simple and make this Mixed Berry Oat Almond Crisp as is for a delightfully simple yet satisfying dessert.
Print
📖 Recipe
Mixed Berry Oat Almond Crisp
---
Description
Juicy and jammy berry filling bubbles up under a crumbly, crispy and buttery, oat and almond streusel topping baked in a single dish for the ultimate easy summer bake.
---
Oat Almond Crisp Topping
¾

cup

all purpose flour

¾

cup

thick rolled oats

½

cup

brown sugar

½ teaspoon

fine sea salt

½

-

1

teaspoon cinnamon or other warming spice (- depending on how much spice you like)

½

cup

butter +1 tablespoon (for skillet) (- cold and cut into ¼" cubes)

½

cup

sliced almonds
Mixed Berry Filling
2

cups

Marionberries or blackberries

2

cups

raspberries

2

cup

blueberries

¼

-

½

cup

granulated sugar

1

medium lemon (- zested & juiced)

¼ teaspoon

fine sea salt

1

-

2

tablespoons tapioca flour, corn starch or all purpose flour
---
Instructions
Oat Almond Crisp Topping
Arrange a rack in the middle of the oven and heat to 350°F. Coat a 9-10 inch round skillet or pie dish or or 11x7-inch baking dish with 1 tablespoon softened or melted butter and set aside.
In a mixing bowl, combine flour, oats, brown sugar, salt and cinnamon. Toss or whisk together. Then use your hands to smoosh the butter into the mix until you have a rough and crumbly dough. Add the sliced almond and squish together until combined.
Place the crisp topping in the refrigerator or freezer to chill while you prepare the berry filling.
Mixed Berry Filling
Combine the berries with the juice and zest of 1 lemon, sugar and salt and in a large mixing bowl and gently stir together. Allow the fruit to sit for about 10 minutes while the juices release.
Stir in 1-2 tablespoons tapioca flour, corn starch or all purpose flour (depending on how juicy the berries are, the juicier they are the more thickener you'll need) and let sit for about 3 minutes to thicken.
Pour the berry mixture into the buttered skillet or baking dish. Crumble the chilled crisp topping evenly over the top of the berry filling. Place on a lined baking sheet, to catch any juices that bubble over.
Bake & Serve
Bake for 40-45 minutes until the berries are bubbling, the topping is crispy and the color is a deep golden brown.
Allow to cool for at least 30 minutes before diving in.
Serve warm with vanilla ice cream or whipped cream.
Notes
The crisp topping can be made in advance. Store in the fridge for up to 3 days or freeze for up to a month.
You can swap in frozen fruit for fresh but it may be juicier and require additional tapioca flour to thicken the filling.
The cooled crisp can be covered and refrigerated for up to 4-5 days. Serve cold, at room temperature, or re-warmed in the oven at 300°F for for about 20 minutes.
Prep Time:

20 minutes

Cook Time:

45 minutes

Category:

Dessert
Keywords: Berry Crisp, Crisp, Mixed Berry Crisp, Mixed Berry Oat Almond Crisp