A delectable pumpkin pie recipe with a few tricks up its sleeve. This Maple Pumpkin Pie With A Chocolate Crust features an all butter chocolate pie crust surrounding smooth maple and pumpkin spiced filling. It's as airy & delicate as a soufflé with all of the classic pumpkin pie characteristics.
In my quest to come up with the best pumpkin pie recipe, I failed, hard, at least the first few tries. My friend Liza, @ill_have_what_shes_having on Instagram, recently made the most incredibly fluffy pumpkin mousse I've ever tasted. We paired it with my chewy Ginger Molasses Cookies for dippin'. Those two were so good together that I began to wonder if this combination was the entire reason that the world brought Liza and I together as friends in the first place.
Determined to make a pumpkin mousse pie with that filling from the moment I tasted it, I tried, and failed. Three times. I was ready to throw in the towel on this whole pumpkin pie recipe. Instead I realized I had to let the mousse go and be ok with the fact that this pumpkin mousse just belongs with the Ginger Molasses Cookies and not in a pie.
Back to the drawing board, I got to work again. This time focusing on a more classic pumpkin pie but with a some small but impactful changes. This Maple Pumpkin Pie With A Chocolate Crust is my answer to my years long quest to come up with a pumpkin pie recipe worthy of sharing with you all.
This Pumpkin Pie starts with a Chocolate Crust
For this Maple Pumpkin Pie With A Chocolate Crust, I took crust inspiration from my hit recipe for Chocolate Hazelnut Maple Bourbon Pie. Both recipes use my Chocolate Pie Dough recipe as a base. Adding a bit more personality in flavor and color to these pies. In this pie dough, I added a bit of cinnamon
to the chocolate pie crust, bringing in notes of warm hot cocoa to the crust.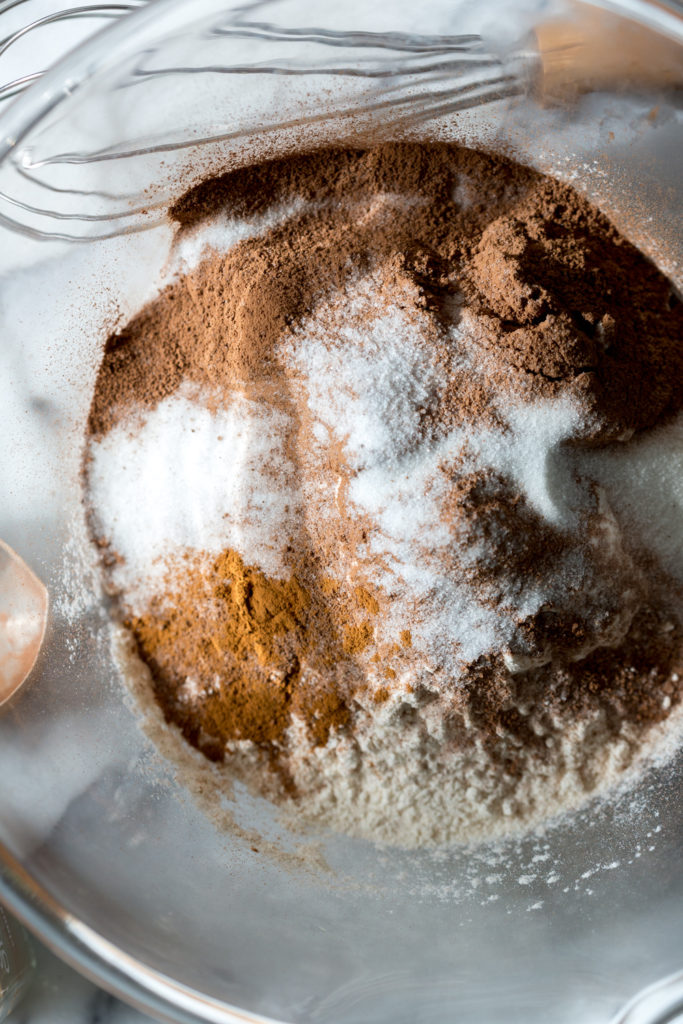 Blind bake the Chocolate Pie Shell
Since this is a single crust pie, the Chocolate Pie Crust needs to first be blind baked. This step will help your chocolate pie shell maintain its signature shape and crimped edge. Blind baking also fights pie crust slouch and soggy bottoms. Don't let it stress you out. Between the recipe instructions for this Maple Pumpkin Pie With A Chocolate Crust and the easy step-by-step instructions on the Chocolate Pie Dough post, I walk you through the whole process. It's easier than you think. I promise.
Pumpkin pie filling ingredients
Canned pumpkin puree. I am a big believer in the simplicity of canned pumpkin puree. Sure, you could roast your own and make it a whole affair. But I lean on building up the flavors and imploring smart techniques to zhuzh up the canned stuff.
Half & Half. A rich and creamy addition that makes the filling extra creamy and luxurious.
Maple Syrup. This is one of my power moves. Instead of sweetening the pumpkin pie filling with a ton of sugar, I like to sub in maple syrup for some of the sugar. This rounds out the sweetness with mellow, rich maple flavor.
Eggs. Custardy richness is key for a delicious pumpkin pie recipe. The eggs help set the pumpkin filling for luxurious, creaminess.
Granulated sugar and brown sugar. Using a combination of the 2 sugars gives sweet depth and stability to the pie filling. But we dial back the amount and allow the maple syrup to really shine in this Maple Pumpkin Pie filing.
Pumpkin spices. This airy pumpkin pie filling uses a blend of cinnamon, nutmeg, ginger and cloves. Heavy on the cinnamon, like I like it. However, you can absolutely sub in a store bought pumpkin pie spice here if you'd prefer.
Other than the brilliant addition of maple syrup, the ingredients are basic in this pumpkin pie filling. What matters most here is technique. This recipe has a cheeky little trick that transforms the pumpkin pie filling from basic to delectable.
Whiz the pumpkin filling in a blender for an ultra airy, soufflé-like texture
The real magic comes from the mixing. As I started to whisk
the ingredients together, I remembered a tip that I learned years ago for making quiche. If you whizz the shizz out of the filling in a blender
, it comes out as light and fluffy as a soufflé.
So, I poured this pumpkin pie filling into the blender
and whizzed it up real good for a few minutes. This Maple Pumpkin Pie filling baked up as the airiest, most delicate pumpkin pie filling I've ever had in my life. If I didn't know any better, I'd swear it was actually pumpkin mousse, just what I was going for in the first place!
Blending the pumpkin pie filling is non-negotiable
By simply blending the pumpkin pie filling in a blender, you are ensuring a pie filling that's as airy as a cloud. It truly is key to the creamiest, dreamiest pumpkin pies. Even if you don't use my Maple Pumpkin Pie With A Chocolate Crust recipe, be sure you blend
the bejeezus out of your filling whenever you bake your favorite pumpkin pie recipe. It is a game changer.
Save those pie dough scraps
Another tip I always stress is save those pie dough scraps! When you trim the extra pie dough from your pie shell, gather those scraps together, roll them out and cut them into decorative shapes. I've been using my set of pie leaf cutters
for years to add extra flair to my pies.
Use decorative pie crust leaves to cover up any cracks in your pumpkin pie
For this Maple Pumpkin Pie With A Chocolate Crust, I bake the pie dough leaves
separately and use them to cover any cracks that pop up when I bake my pie. Brilliant, right? Then serve it with bourbon infused whipped cream to cover any additional cracks. Because bourbon whipped cream. Yum! It's a win win.
While this Maple Pumpkin Pie With A Chocolate Crust may not have been what I originally envisioned, it turned out to be the best pumpkin pie I've ever had. And to think, I almost gave up. Not all fails end in failure.
Pumpkin pie has never been prettier
Print
📖 Recipe
Maple Pumpkin Pie with a Chocolate Crust
---
Description
Flaky, all butter chocolate pie crust holds a smooth pumpkin spiced filling that's as airy & delicate as a soufflé. It's topped with decorative pie crust leaves & fresh bourbon whipped cream.
---
CHOCOLATE PIE CRUST
½

cup

unsalted butter, cold & cut into ¼" cubes

1

cup

+ 2 TB all purpose flour

2 tablespoons

dark cocoa powder, sifted

2 tablespoons

granulated sugar

½ teaspoon

fine sea salt

½ teaspoon

ground cinnamon

2 tablespoons

ice cold vodka

1

-

2

tablespoons ice cold water

1

large egg, at room temperature

1 tablespoon

sparkling sugar, optional
MAPLE PUMPKIN PIE FILLING
1

-

15

ounce can of pumpkin puree

1 ½

cups

half & half

¼

cup

maple syrup

2

large eggs (- at room temperature)

¼

cup

granulated sugar

¼

cup

brown sugar

1 ½ teaspoons

ground cinnamon

½ teaspoon

ground ginger

½ teaspoon

ground nutmeg

¼ teaspoon

ground cloves
a pinch of fine sea salt
BOURBON WHIPPED CREAM - optional
1

cup

heavy whipping cream

2 tablespoons

granulated sugar

1 tablespoon

bourbon
---
Instructions
CHOCOLATE PIE CRUST
Place the flour, sifted cocoa powder, sugar, cinnamon and salt in a large mixing bowl and whisk together.
Cut in the cubed butter into the dry using either a pastry blender, two butter knives or by squishing it between your fingers, just be careful that the butter doesn't start to melt. Keep mixing the butter into the dry ingredients until mealy, pea sized granules form. *If using a food processor, place the flour mixture and cubed butter in the food processor. Gently pulse until the flour changes from silky to mealy; this should only take a handful of pulses so watch it carefully.
Use a pastry blender or fork to hydrate the mix with the ice cold vodka or water, adding 1 tablespoon at a time and mixing as you go. The dough should just start to combine, try not to over-hydrate. *If using a food processor, while pulsing, gently pour the vodka through the feed tube just until combined. Check the hydration level of the dough by gathering a small fistful; if it holds together, it's ready. If it is still dry or crumbly, slowly add ice cold water, 1 tablespoon at a time, using a pastry blender or fork until sufficiently hydrated.
Form the dough into a disk. The dough will come together without much effort or deliberate packing. Wrap the dough disk tightly in plastic wrap or place in sealing, reusable bags. Chill the dough disk for at least 1-2 hours before rolling and forming. *If you don't plan on using the dough on the day you prepare it, you can store the dough in the freezer, tightly wrapped for up to 3 months.
Remove the dough disk from the refrigerator. On a lightly floured surface, roll out into a 12" round about ⅛" thick using a rolling pin.
Gently transfer the rolled dough into a 9" pan. Trim the excess dough, leaving a 1"-2" overhang all the way around. Tuck the edge underneath itself to form a ring around the edge of the pie plate.
Flute the edges by pinching the dough between your thumb and pointer finger on one hand and your pointer finger knuckle on the other. Use a fork to prick small holes into the bottom of the pie shell. Place the pie shell in the freezer and chill for at least 20 minutes.
*Don't waste the scraps, gather them together and re-roll, then cut fancy leaf stamps or desired shape. Place on a lined baking sheet in the freezer until ready to bake.
Preheat oven to 400° F.
Place the frozen pie shell on a baking sheet and line the shell with a layer of parchment paper or aluminum foil. Fill the lined shell with beans, pie weights or rice. Be sure the weights fill the entire shell and reach to the edges and up the sides.
Bake with weights for about 15 minutes, until the crust barely begins to turn a deeper chocolate color and starts to look dry. Carefully lift and remove the lining and weights. Bake for another 5 minutes until the bottom of the shell looks dry, too. Allow to cool on a rack.
If you have dough scraps and plan to add leaves, lightly beat the egg for egg wash. Gently brush the leaves with the egg wash and sprinkle with turbinado sugar. Bake on a lined baking sheet alongside the pie shell, until the leaves are crisp and a deep brown color, 10-15 minutes.
MAPLE PUMPKIN PIE FILLING
Set oven to 325°F.
Combine all of the ingredients together in a blender and blend on a medium-high speed for 3-4 minutes until the mixture is super smooth and airy.
Place the cooled pie shell on a lined baking sheet (preferably lined with a silpat mat to keep if from sliding around on the pan). With the remaining egg wash, gently brush the bottom, sides and fluted edges of the blind baked pie shell with the egg wash.
Gently pour the blended pumpkin pie filling into the shell and carefully transfer to the center rack of the oven. Bake for 30 minutes and then lower the temperature to 300°F. Bake for 30-35 minutes more, until the filling is set and the top of the pie has begun to caramelize. It should still jiggle a bit in the center when you remove if from the oven.
Allow the pie to cool completely at room temperature then gently top with the baked pie crust leaves to decorate the top.
BOURBON WHIPPED CREAM - optional
Place a metal mixing bowl and metal whisk into the freezer and chill for 15 minutes.
Pour the whipping cream and sugar into the chilled mixing bowl. Whisk, slowing pouring in the bourbon, just until the cream reaches stiff peaks, around 3-5 minutes. When you take the whisk out of the cream, the peaks should hold firmly but have soft tips. Stop whisking before the cream turns grainy.
Store in the refrigerator until you're ready to serve atop the pie.
Notes
Store the cooled pie in the refrigerator until you are ready to serve.
To serve, top with fresh whipped cream and a light sprinkle of cocoa powder and cinnamon.
Get my Chocolate Pie Dough for making 2 dough disks.
Prep Time:

30 minutes

Cook Time:

1 hour 15 minutes

Category:

Dessert

Cuisine:

pie
Keywords: Maple Pumpkin Pie with a Chocolate Crust