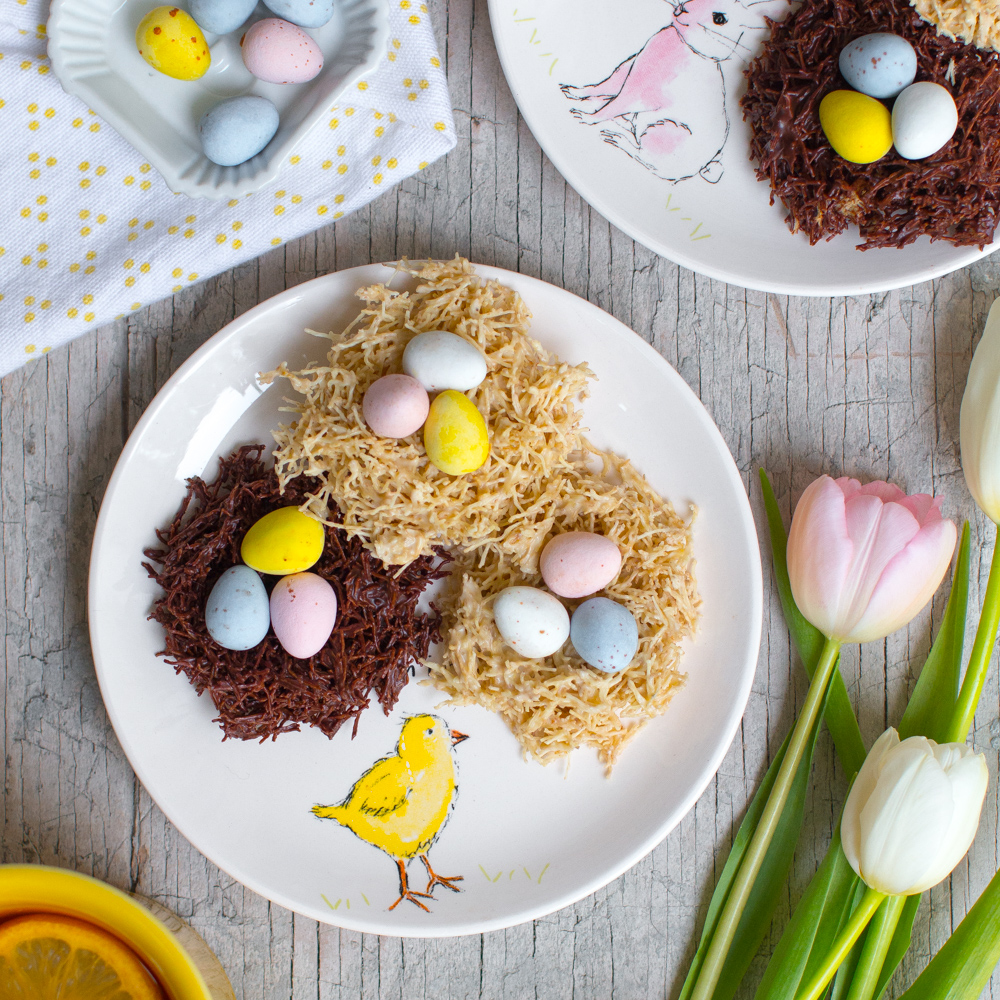 My chap Paul is from England and he gets as excited as a primary schoolboy over the holidays. Anytime you get him talking about family traditions, holiday jumpers or Cadbury chocolates, his whole face lights up. He fancies the holidays like they're the dog's bollocks. It's really quite charming.
My childhood had its fair share of Easter baskets filled with squishy Peeps, Robin's Eggs and Giant Chocolate Bunnies. However, my favorite thing about Easter was the Easter egg hunt put on by family friends every year. It was a big deal. Whoever found the silver and gold eggs won some big shiny, prize. I never found them. I was a painfully shy and timid kid, so I generally just went home with a basketful of crudely dyed, overdone, hardboiled eggs.
Since becoming an adult, Easter itself isn't a big holiday for me. However, with Easter comes Cadbury Eggs and I allow myself to enjoy one sinfully sweet Cadbury Creme Egg each year. It gets messy.
This year, Paul motivated me to get off my bum and get into the spirit by trying a new Easter recipe. He came over to my place and taught me how to make a cheeky sweet recipe from over the pond that really takes the biscuit. Chocolate Birds' Nests are a simple recipe that are a doddle to make and come out as cute as the dickens.
Melted dark, milk or white chocolate takes a little roll in the hay with shredded wheat and gets shaped into twee little birds nests topped with a trio of Mini Cadbury Eggs. These dishy little buggers are smashingly festive and as scrummy as clotted cream.
I had a bloody good time getting sloshed on wine and learning to make these Chocolate Birds' Nests that make Paul so chuffed with joy. I have a feeling that he's already a bit cheesed off over my gobby misuse of British slang and beastly cockney accent. I apolgise for being such a wanker, Paul. Maybe I can butter you up with a fresh batch of Hot Cross Buns. 😀
Share these Dark and White Chocolate Birds' Nests with your favorite Peeps and have a jolly good Easter, chaps. Again, sorry Paul.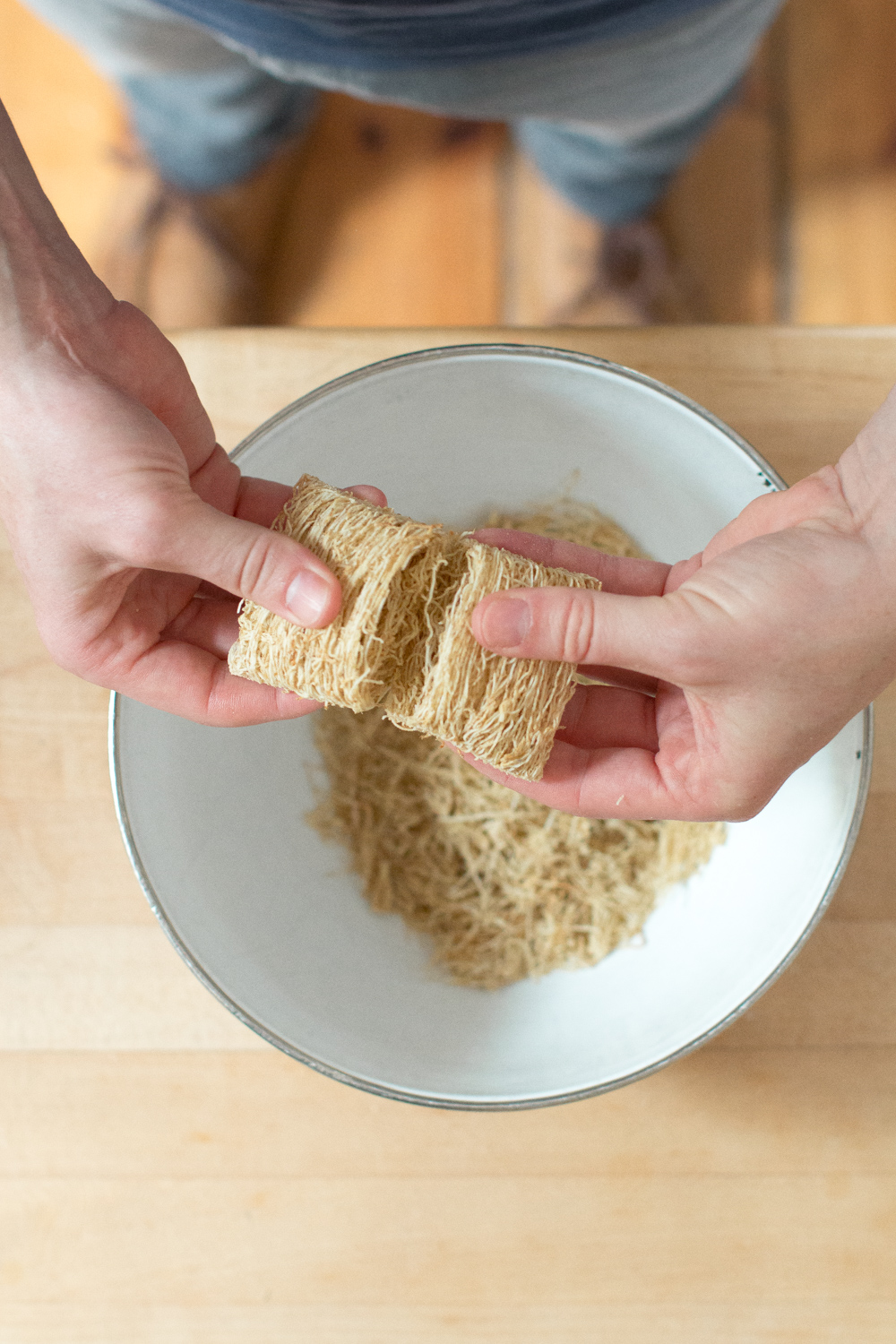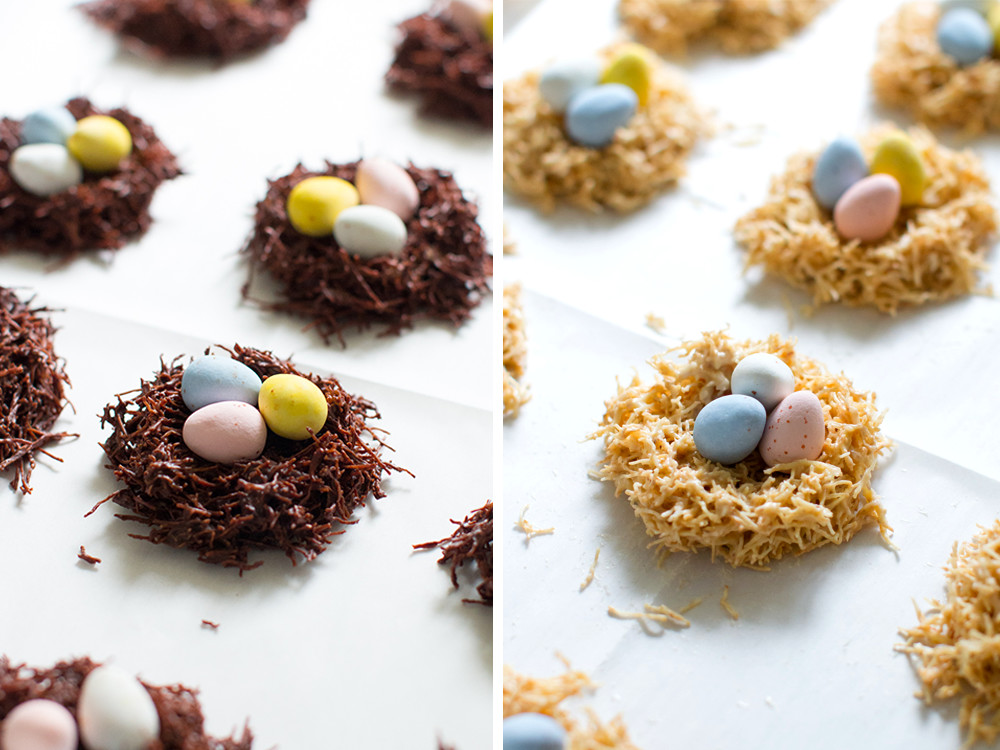 Print
📖 Recipe
Chocolate Birds' Nests
---
Description
Easter just got sweeter with these Chocolate Birds' Nests. Melted dark, milk or white chocolate takes a little roll in the hay with Shredded Wheat strands and gets shaped into cute little birds nests topped with Mini Cadbury Eggs.
---
Large Shredded Wheat Biscuits - 4 (about 25 grams each)
dark or white chocolate -

6

ounces

unsalted butter - 2 tablespoons
Mini Cadbury Eggs - 36
---
Instructions
Line a baking sheet with parchment paper.
Gently pull apart the Shredded Wheat Bars into fine strands and place in a large mixing bowl and set aside.
Sometimes certain chocolates, especially white chocolate, can be temperamental when melting. If the butter is too cold, the moisture in the butter can cause the chocolate to seize up. So, I like to melt the butter and chocolate separately to ensure they mix together smoothly.
In a small saucepan, melt the butter over low heat and turn off heat.
Over a double boiler bring water to a gently boil, then turn down to a simmer. Add the chocolate and stir constantly until it is smooth and melted. Slowly stir in the melted butter until fully incorporated and smooth.
Pour the melted chocolate mixture over the shredded, Shredded Wheat. Using a silicone spatula or wooden spoon, gently fold the chocolate into the Shredded Wheat until fully coated.
Carefully gather a handful of chocolate coated Shredded Wheat in your hands and gently shape it into 12 small nests with a divots in the center. Place 3 Mini Cadbury Eggs in each nest.
Allow the chocolate to set for at least 45 minutes.
Share with your favorite Peeps.
Prep Time:

20 minutes

Cook Time:

5 minutes