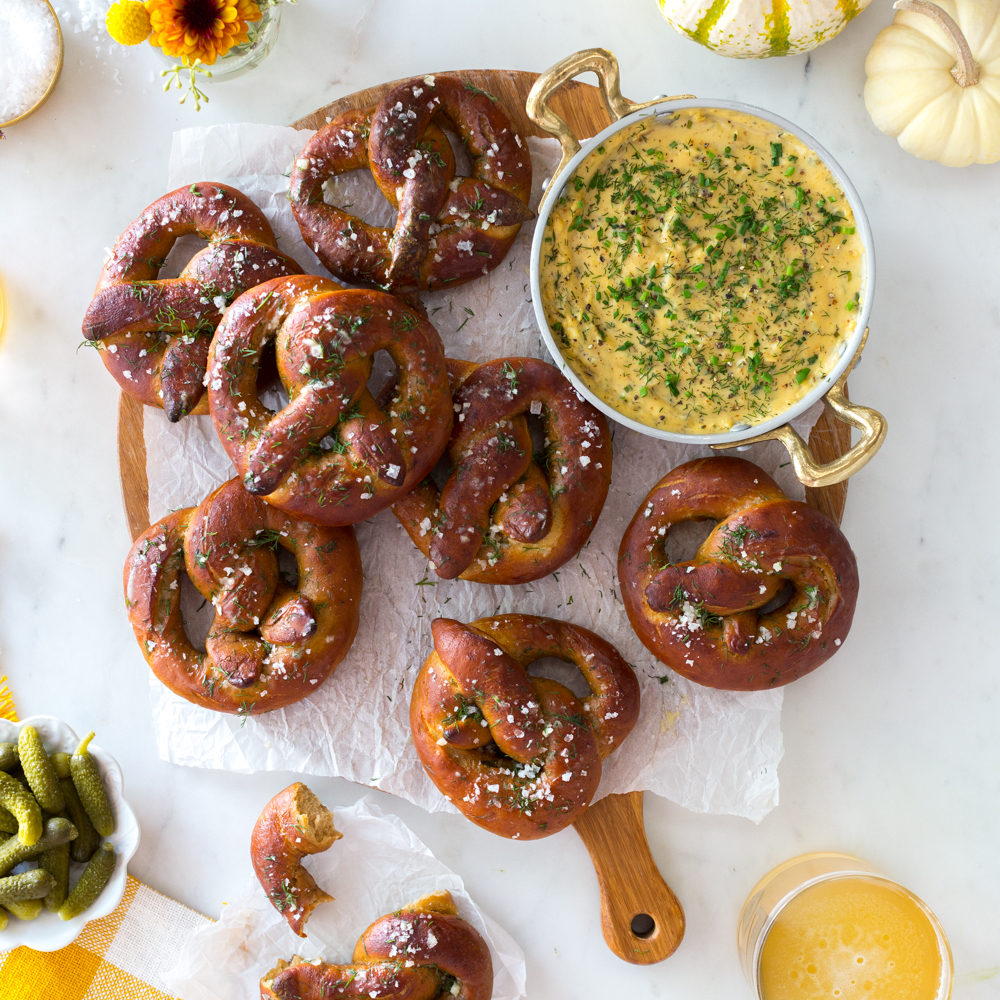 These Dill Pretzels with Cider Cheese Dip have been fermenting in my brain like a crock of sauerkraut for years. Way back in 2013 I made a batch of bagels and topped a few with flaky sea salt and fresh dill, they were far and away the favorite flavor of the batch. I remember thinking "oooh, that'd make for a really yummy pretzel flavor" and I've thought the same thing every October since.
This year, I'm not letting autumn slip away again without making some kind of soft pretzel recipe. Thankfully, I've been reminded, time after time, that the homemade pretzel recipe needs to happen. After climbing a steep 9 mile hike while in Yosemite last month, we found respite in tall, frothy mugs of beer and a giant Bavarian pretzel the size of a BMW steering wheel. It was served with a beer cheese dip that was good, but could use a little zhoosh. In the moment, that German pretzel and beer cheese dip was exactly what I needed, and once again reminded me of my pretzel making plans.
Then my sweet and saucy Bavarian friend, Constanze, came down to visit from Seattle - twice in a month. When I mentioned my homemade pretzels plans to her, I knew I wouldn't hear the end of it until I actually baked a batch. So I got started while she was in town. Funny enough, as if it were the salt to my homemade pretzel, my parents booked a family trip to Leavenworth, a Bavarian town in central Washington. We leave this Friday for Oktoberfest and I was determined to nail down the Dill Pretzels with Cider Cheese Dip before we head for the hills.
This Dill Pretzels with Cider Cheese Dip recipe is everything you want for fall, indulgent and comforting.
I ended up baking at least 8 batches before I finally landed on this recipe for Dill Pretzels with Cider Cheese Dip. Crazy right? It took some serious recipe testing to get that perfect balance between the chewy, deep mahogany exterior and the lighter, airier center. Thankfully I had Constanze here to taste test and confirm that I was on was on the right autobahn with this Dill Pretzels with Cider Cheese Dip recipe. She went on and on about the homemade pretzels but was even more taken with the Cider Cheese Dip, which ended up being prima!
The pretzels are fun to make and shape with the long roll out and fancy looking, but super easy, twist method. My recipe subs in baking soda
for a lye bath because let's be honest, none of us want to deal with that toxic mess in our home kitchens.
The dill pretzels are remarkably chewy from the blend of Bob's Red Mill Bread Flour
and Bob's Red Mill All Purpose Flour
. But the interior is still light and airy from the crisp and dry hard cider. I glaze these babies up with butter
right when they come out of the oven and top them with crunchy sea salt flakes
instead of the traditional coarse style pretzel salt that can grind between your teeth. The sea salt flakes
lend a nice light crunch without overpowering the pretzels. Then they get topped with a hearty shower of freshly chopped dill to add an herby freshness that combines with the sea salt flakes and evokes a flavor reminiscent of dill pickles
. These twisted sisters are sturdy enough to really get in there and scoop up copious amounts of the Cider Cheese Dip, which is great news because, you're likely to lose your lederhosen over this velvety smooth and flavorful dip.
Now let's discuss that dip. This Cider Cheese Dip starts with a simple shallot roux but the magic comes in when a splash of dry and bubbly Brut hard cider gets mixed in. It gives the base of the sauce a full flavor similar to a white wine sauce. Then comes the cream and Tillamook Sharp Cheddar Cheese
, followed by a zip of spicy brown mustard
, plenty of S&P and a heavy handed sprinkle of fresh chives and dill. It's rich, thick, creamy and a dream date to the chewy Dill Pretzels. This hearty combo of Dill Pretzels with Cider Cheese Dip will have you yodeling from the mountaintops, at least between bites.
I've included a whole series of images and 2 recipe videos (yay!) below to walk you through every little step of the pretzel making process. Don't let the length of the post intimidate you, pretzels are super easy to make, especially when someone is showing you the pretzel ropes, like this. ? ?
This post was made is in partnership with Bob's Red Mill. Follow Bob's Red Mill on Instagram and Facebook or check out bobsredmill.com to shop their impressive lineup of whole grains and much more.
Thank you for supporting the brands that I love! <3
These Dill Pretzels get their signature chew from blending a mix of Bob's Red Mill Artisan Bread Flour and Bob's Red Mill All Purpose Flour.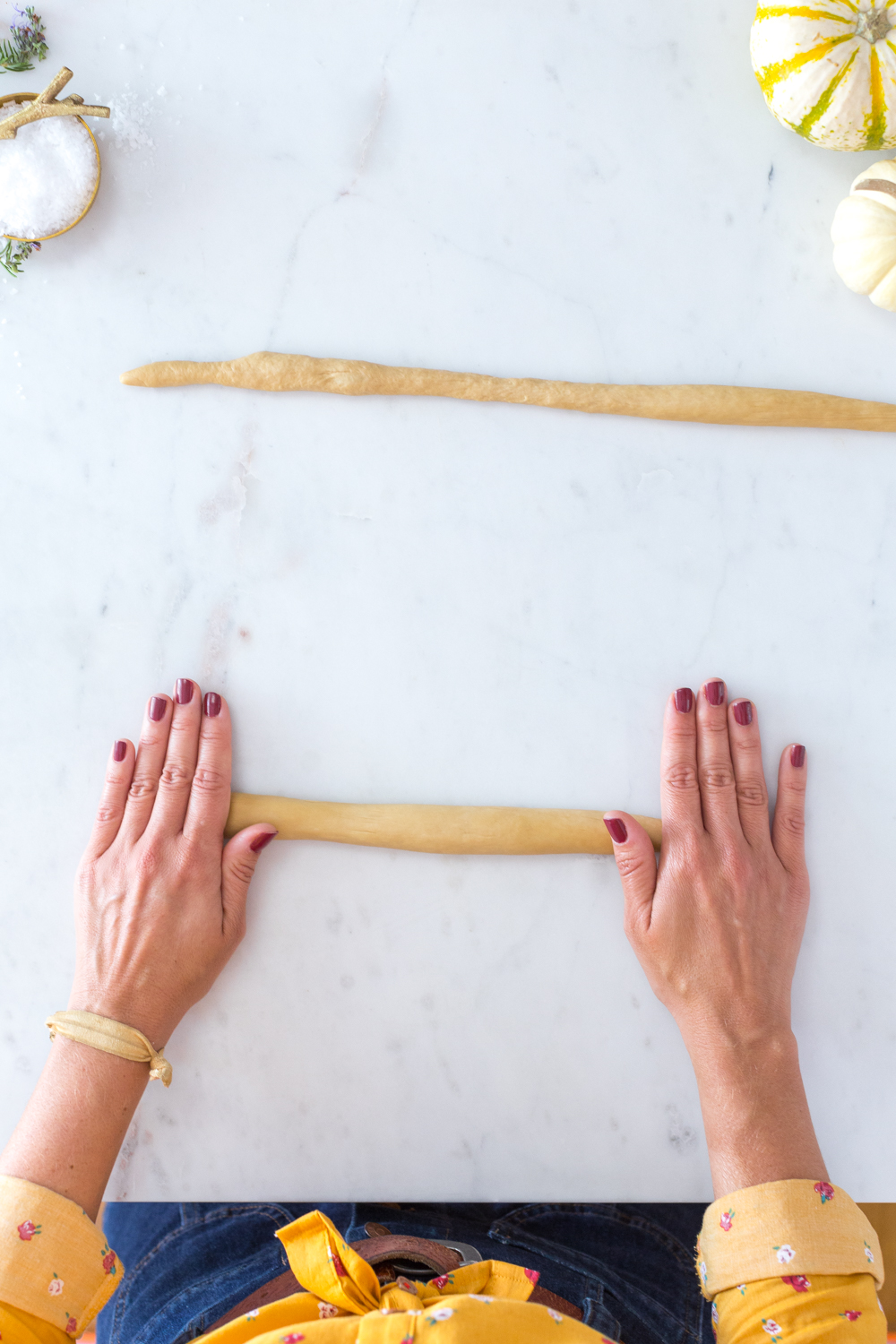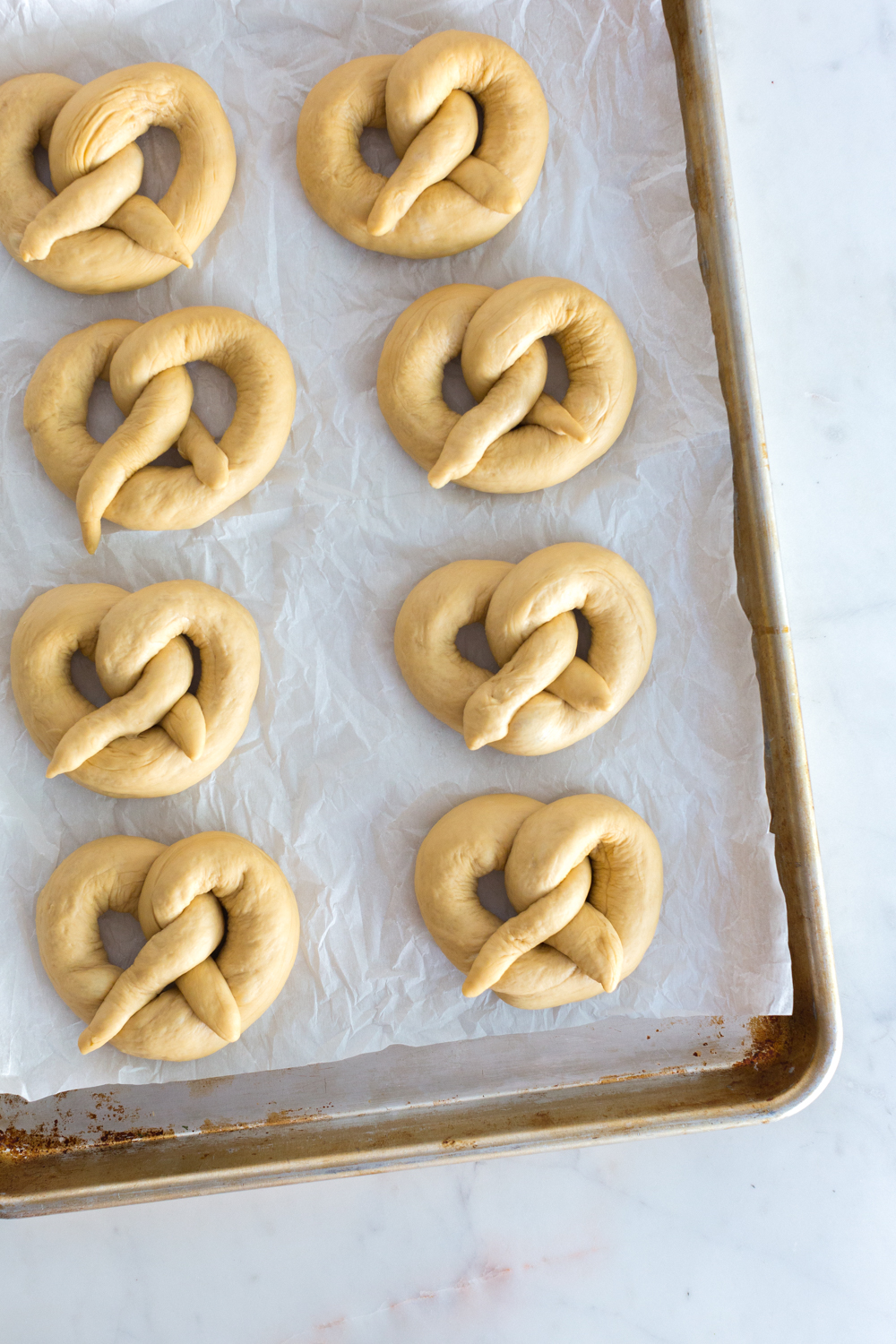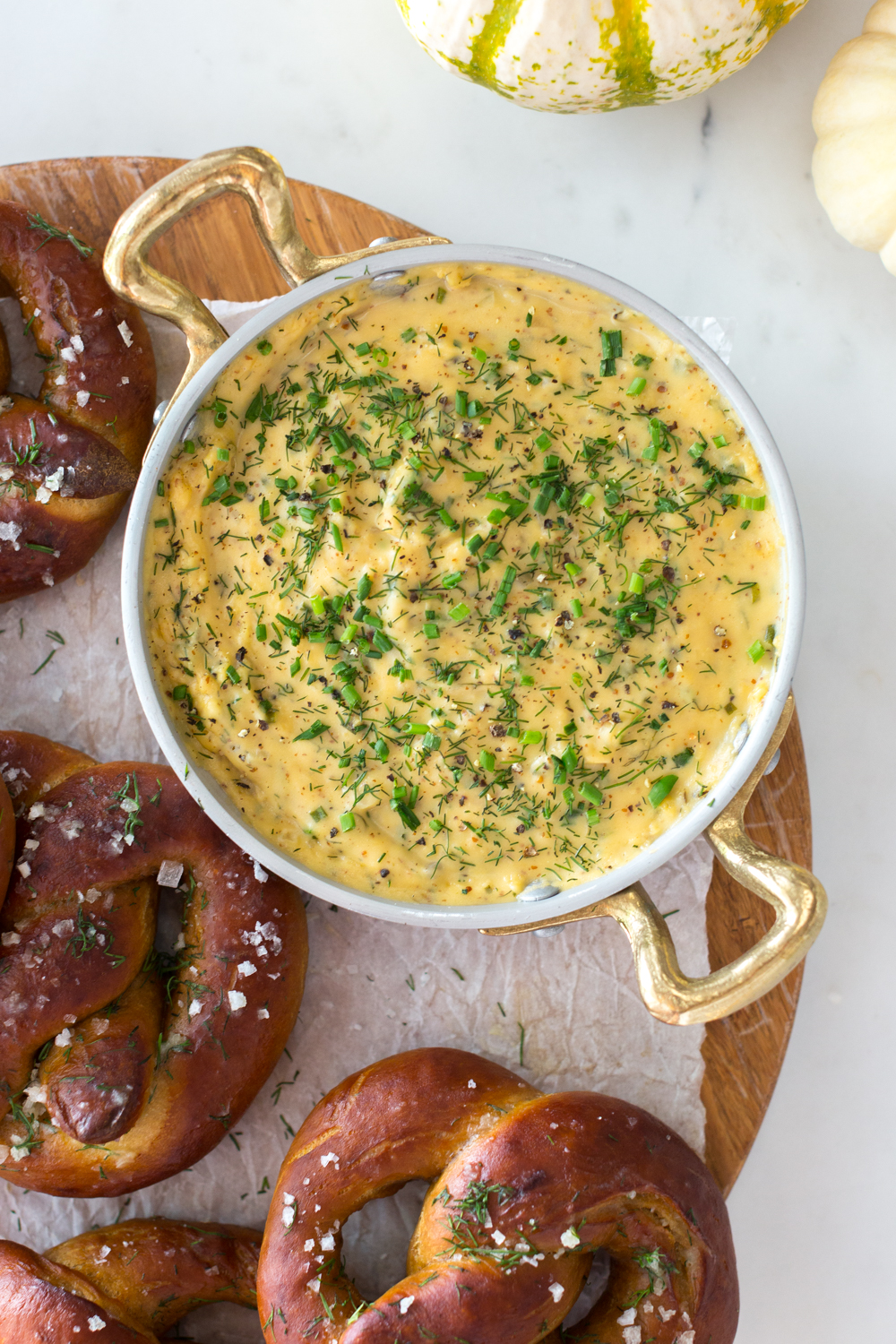 Print
📖 Recipe
DILL PRETZELS WITH CIDER CHEESE DIP
---
Description
This recipe for Dill Pretzels with Cider Cheese Dip & it's just what you want to indulge in on a cold, crisp day. The pretzels are perfectly balanced in texture and flavor with a chewy, deep mahogany exterior and light and airy center. Topped with crunchy sea salt flakes and a hefty sprinkle of fresh dill. The velvety cider cheese dip combines hard apple cider with sharp cheddar, zippy spicy brown mustard and plenty of herbs in a flavor forward dip.
---
DILL PRETZELS
2 teaspoons

active dry yeast

½

cup

warm water ( - between 105° F - 115°F)

1 ½ tablespoons

barley malt syrup or brown sugar

2

cups

bread flour

1 ¼

cups

all purpose flour

2 teaspoons

fine sea salt

½

cup

dry, hard apple cider

5 tablespoons

unsalted butter at room temperature - divided ((

2

TB for dough,

1

TB for buttering bowl,

2

TB for topping))

10

cups

water

½

cup

baking soda

2 tablespoons

crunchy sea salt flakes or coarse sea salt

2 tablespoons

freshly chopped dill
CIDER CHEESE DIP
2 tablespoons

unsalted butter

1

medium shallot (- finely chopped)

2 tablespoons

all purpose flour

½

cup

dry, hard apple cider

½

cup

whole milk

2

cups

sharp cheddar cheese (- grated)

2 tablespoons

spicy brown mustard

1 teaspoon

fine sea salt

1 teaspoon

black pepper (- freshly ground)

2 tablespoons

finely chopped chives

2 tablespoons

finely chopped dill
---
Instructions
DILL PRETZELS
In a medium mixing bowl, whisk together bread flour, all purpose flour and fine sea salt. Set aside.
Add warm water, barley malt syrup (or brown sugar) and yeast to the bowl of a stand mixer, stir to combine. Let stand for 8-10 minutes until yeast starts to bloom up and gets foamy.
Add the dry ingredients, hard cider and butter to the yeast mix. Stir with a spatula to combine.
Add the dough hook to the stand mixer and mix on medium speed. It should become smooth and and elastic-y and start to shape a ball around the hook after a few minutes. Keep kneading the dough for at least 8-10 minutes to get the glutens all going. Alternatively, you can knead by hand on a clean work surface.
Turn the dough out onto a non-floured, clean surface, and knead a few times by hand. Then shape the dough into a round boule and place seam side down in a lightly buttered bowl. Cover with a clean kitchen towel and let sit in a warm space in your kitchen for about 1 hour - 90 minutes, until it's doubled in size.
Prepare the cheese dip during this time. See recipe below.
Once the dough has doubled in size, deflate the dough on a clean surface and divide into 8 equal pieces by cutting into half, then again and again until you have 8 equal parts.
To pre-shape the dough, gently pat the dough to deflate. Then fold the dough from the top one third into the middle and press down at the same time to create surface tension on the new edge. Repeat the fold two more times until a cylinder form is shaped, pressing the edge to seal.

Then gently roll the dough up and down between your hands until the dough starts to form a chubby little rugby ball and builds some little tension. Place seam side down on a lined baking sheet and cover with a clean kitchen towel for 15 minutes.

Position one rack in the upper third and another rack in the lower third of the oven and preheat it to 500°F.
One at a time, roll and shape the pre-shaped dough dudes into pretzel shapes. Begin with both hands in the center of the dough and roll outward towards the edges, pushing lightly into the surface. Repeat until the dough becomes a long, thin rope at least 24-30" long. To shape the twist, cross your hands and grab the opposite ends of the pretzel tails, gently lift and uncross your hands, then cross your hands again to form the twist, finish by gently pressing the pretzel tails into the body of the pretzel. Transfer to a lined baking sheet, cover with a clean kitchen towel. *if the dough starts to dry out and become tough to roll, spritz with a bit of water to make the dough tacky (not sticky) so it's easier to roll out. Repeat the water spritz as needed.
Allow the pretzels to rise at room temperature for about 20 minutes. Meanwhile, bring 10 cups of water to boil in a large pot on the oven. Once boiling, turn the temperature down to a simmer and add the baking soda.
Add 2 pretzels at a time and simmer for 30 seconds, flip and simmer for another 30 seconds. Remove from the solution and place on lined baking sheets (4 per sheet).
Bake the pretzels for 8-12 minutes, until they are a deep mahogany in color, rotating the pans from front to back and top to bottom halfway through the baking time.
Remove from the oven and brush with melted butter, sprinkle with sea salt flakes & fresh dill. Serve immediately with the velvety smooth, bubbling Cider Cheese Dip.
CIDER CHEESE DIP
Melt butter in a heavy saucepan over medium heat. Add the shallots and sauté until translucent.
Turn to medium low heat and whisk in the flour. After 1 minute or so it will start to thicken and bubble up, whisk constantly until it's thick.

Slowly begin whisking in the cider. Keep whisking until it thickens back up. Once thickened again, slowly whisk in the whole milk and stir occasionally until its thick and bubbly, adding cream as needed.

S

lowly stir in the cheddar until it melts completely.

Turn the heat down to low and s

tir in the spicy brown mustard, then salt and pepper until combined. Add ¾ of the herbs and stir. Keep warm on stovetop until ready to serve.

Transfer to a serving bowl and top with remaining herbs and a fresh crack of pepper just before serving.
Notes
I prefer the light crunch of sea salt flakes but traditional coarse sea salt is perfectly acceptable too.
Prep Time:

30 minutes

Cook Time:

10 minutes

Category:

Appetizer

Cuisine:

German
Keywords: Bavarian pretzels, beer cheese dip, Dill Pretzels with Cider Cheese Dip, German pretzels, homemade pretzels, soft pretzels