2017 came in like a lion and went out like a pride of angry, bloodthirsty lions. In another word, 2017 was intense. I don't think I am alone in that sentiment, it seems the majority of us felt like we'd been vengefully attacked by Scar from The Lion King in 2017.
After the brutal roar of 2017, I was bound and determined to usher 2018 in like a lamb. I knew going in that it would be easier said than done. So, we scheduled a little getaway to a familiar and comforting place to ring in the new year in peace and quiet rather than chaos and disaster. See my posts for Sheet Pan Italian Baked Eggs and Broiled Orange Whipped Ricotta Toasts to read all about the chaos and disaster we've been through the past couple of months...oh and if you are just looking for some beautiful recipes that came out of a traumatic time.
Humboldt Bay Social Club is a magical little cluster of cozy cottages and room rentals quaintly nestled among a eucalyptus grove on Humboldt Bay in Eureka, California, not far from the majestic Redwood Forest. Cabins, fishing cottages and even an airplane hangar have been transformed into meticulously considered, rustically modern havens for travelers looking for some serious R&R.
Last year we stayed bayside in the a once rundown fishing shack now known as Waterfront #2. a cedar shingled, mid-century inspired 2 bedroom with a dropdead gorgeous view and an outdoor horse trough
tub for soaking the day away.
This trip we stayed in Suite #4, a stunning one bedroom space with dramatic, soaring ceilings that encourage you to sink into the vintage couch and gaze out of the sweeping windows onto the eucalyptus grove for hours at a time. Steps from our front porch was the Bathhouse, a sheltered outdoor zen space with an invigorating outdoor shower and a pair of vintage clawfoot tubs that fill up with ripping hot water in less time than it takes to boil a cup of tea. That steamy bath water hits the cold, crisp eucalyptus scented air and creates a dense layer of healing Humboldt fog under a moonlit sky. It was positively therapeutic. Needless to say, there were a whole lot of baths happening.
Our days at Humboldt Bay Social Club started by waking late, brewing up some seriously strong local coffee to accompany a long morning soak in the bathhouse, leisurely fixing a late breakfast, wandering the property from one beach to the other with a pitstop/photo op on the empty landing strip, warming up with a fireside hot cider & bourbon at the Lobby Bar, then eventually making dinner and drinking ourselves into a state where we were brave enough to sneak out into the cold for a bubbly
soak under the stars. Repeat. Repeat. Repeat.
We snuck into Eureka one day to do a little grocery shopping and exploring. Our first stop was Black Lightning Motorcycle Cafe, an open cavernous space that's home to strong coffee and an impressive display of vintage bikes. The owner, Jeff, is a super cool dude that makes you feel at home whether you're a motorhead or a just looking to ride the caffeine lightning.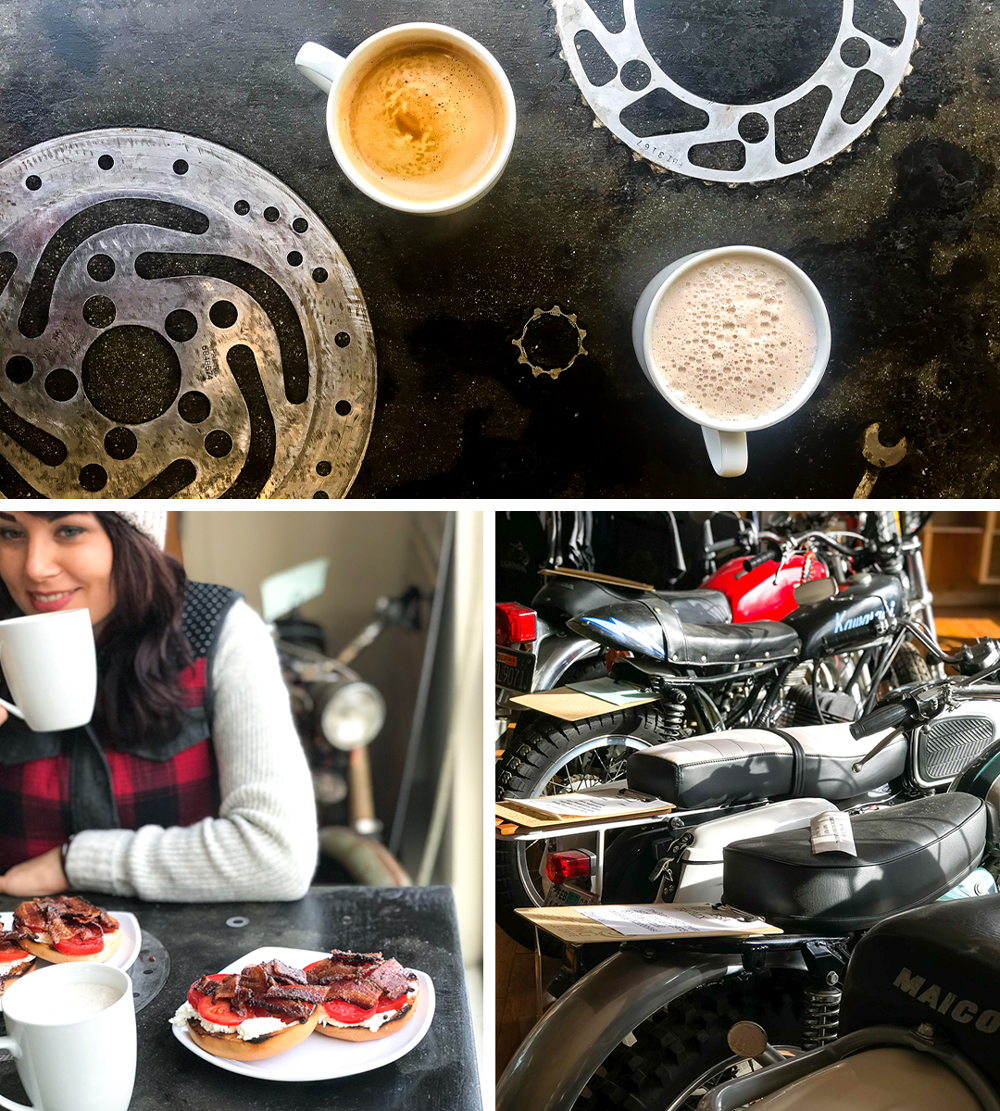 We are big fans of cider so when we stumbled upon Humboldt Cider Company that afternoon, we started our New Years Eve drinking a bit ahead of schedule. The wall of options was almost overwhelming but thankfully the friendly fella behind the bar was able to steer us in the dry and tart direction we were after. We sampled a few ciders on site and left with a mini growler of my fave, the mouth puckering tart Cherry Cider that was as crisp as it was tart.
I am a big believer in a big brunch on New Years Day so 2018 began with Goat Cheese Everything Biscuits. Feeling inspired by the lovely gift basket the fine folks of Humboldt Bay Social Club and Humboldt Made put together for me, I came up with the most savory and satisfying biscuit of all time, my Goat Cheese Everything Biscuits. These babies are laden with the world famous, soft ripened, goat cheese, known as Humboldt Fog, they are topped with Slug Slime from local legendary bagel shop Los Bagels, their version of everything bagel seasoning and a hearty sprinkle of hyper-locally harvested flake sea salt from Pacific Flake. These Goat Cheese Everything Biscuits are the culmination of Humboldt Bay inspiration and they honestly might be the best damn biscuits I've ever had in my life.
But, the Goat Cheese Everything Biscuits didn't stop there, they got the royal treatment, stacked high with an olive oil
fried egg, a thick slice of golden heirloom tomato and freshly snipped, grassy chives. Enjoying these Goat Cheese Everything
Biscuits as breakfast sammies and drinking large mugs
of coffee
as thick as mud while wrapped in heavy blankets
on Adirondack chairs of the front porch of this picturesque cabin in the woods will no doubt carry me through until spring.
I am beyond grateful for our quiet weekend in the woods at the start of 2018. A huge thank you to Humboldt Bay Social Club for putting us up so we could find true relaxation as we transitioned into a new year. If you are anywhere near Eureka, and even if you're not, I can't recommend an escape to Humboldt Bay Social Club enough. You'll sleep like a baby and bathe like a queen in the most laid back and relaxing modern vintage cabin imaginable. For the full on comfort experience, bake up a batch of these Goat Cheese Everything Biscuits, I even left a baking sheet
in the kitchen for ya.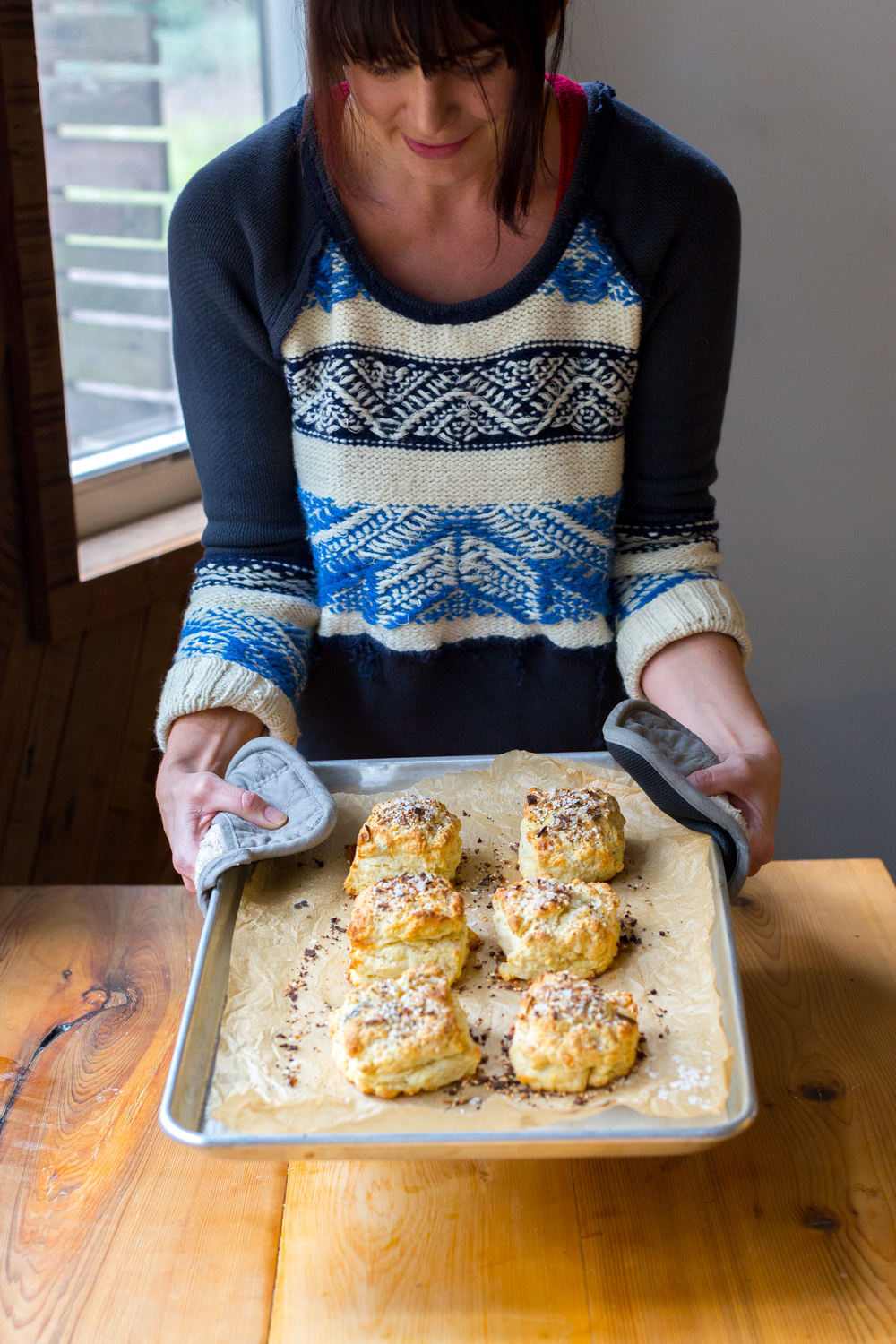 Print
📖 Recipe
Goat Cheese Everything Biscuits
---
Author:

Becky Sue

Total Time:

40 minutes

Yield:

6
Description
Inspired by a trip to NorCal, these crumbly Goat Cheese Everything Biscuits are loaded with mouthwatering layers including Humboldt Fog goat cheese and everything bagel seasoning bringing savory flavors & down-home comfort to these mile high biscuits.
---
2

cups

all purpose flour

2 teaspoons

baking powder

1 teaspoon

granulated sugar

½ teaspoons

baking soda

½ teaspoon

salt

6 tablespoons

unsalted butter, cold and cut into ¼" cubes (plus more, melted, for brushing)

4

ounces

goat cheese (roughly crumbled)

½

cup

buttermilk

2 tablespoons

everything bagel seasoning

1 teaspoon

flake salt
---
Instructions
In a large bowl, whisk together the flour, sugar, baking powder, baking soda and salt.
Cut the cold & cubed butter into the dry ingredients using a fork, pastry cutter or by squishing between your fingers until mealy chunks the size of peas form. It's ok for some chunks are slightly larger and some smaller, just don't overwork it.
Add the the goat cheese crumbles to the bowl and stir to combine.
Drizzle in the buttermilk, gently stir the dough with a wooden spoon or fork until it is just mixed with some dry patches remaining. Gently gather the dough until it just starts to come together into a ball. It should be rough and shaggy with chunks of drier areas and some wetter areas.
Turn the dough out a clean surface a

nd pat into a 1"-thick square.


Using a knife or bench scraper, cut dough in half into 2 large pieces. Stack pieces and place any loose dry bits of dough between layers, then press down to flatten into a 1" thick rectangle. Trim a thin border around sides of dough to create clean edges. Slice in half lengthwise, then slice each strip into 3 squares for a total of 6 biscuits. Transfer to a parchment-lined baking sheet, with 2" between biscuits. Place the baking sheet into the freezer for 10 - 15 minutes.
While the biscuits chill, preheat the oven to 425° F. Brush the tops of biscuits with melted butter, then sprinkle liberally with everything seasoning and flake salt. Bake the biscuits until deep golden brown on bottom and golden on top for 15-20 minutes.
Allow to cool slightly before serving.
Notes
*These biscuits are strong enough to stand on their own but also make for an incredible base to a breakfast sandwich. I like to top with a thick slice of heirloom tomato, an olive oil fried egg and fresh snipped grassy chives.
*Unbaked biscuits can be be frozen for 1-2 months. To freeze, place uncovered, on baking sheet until solid, then transfer to a resealable plastic bag. No need to thaw before baking, however you may need to a few minutes to baking time. I'd wait to top them with the everything seasoning and sea salt flakes until just before baking.
Prep Time:

20 minutes

Cook Time:

20 minutes

Category:

Breakfast

Cuisine:

American