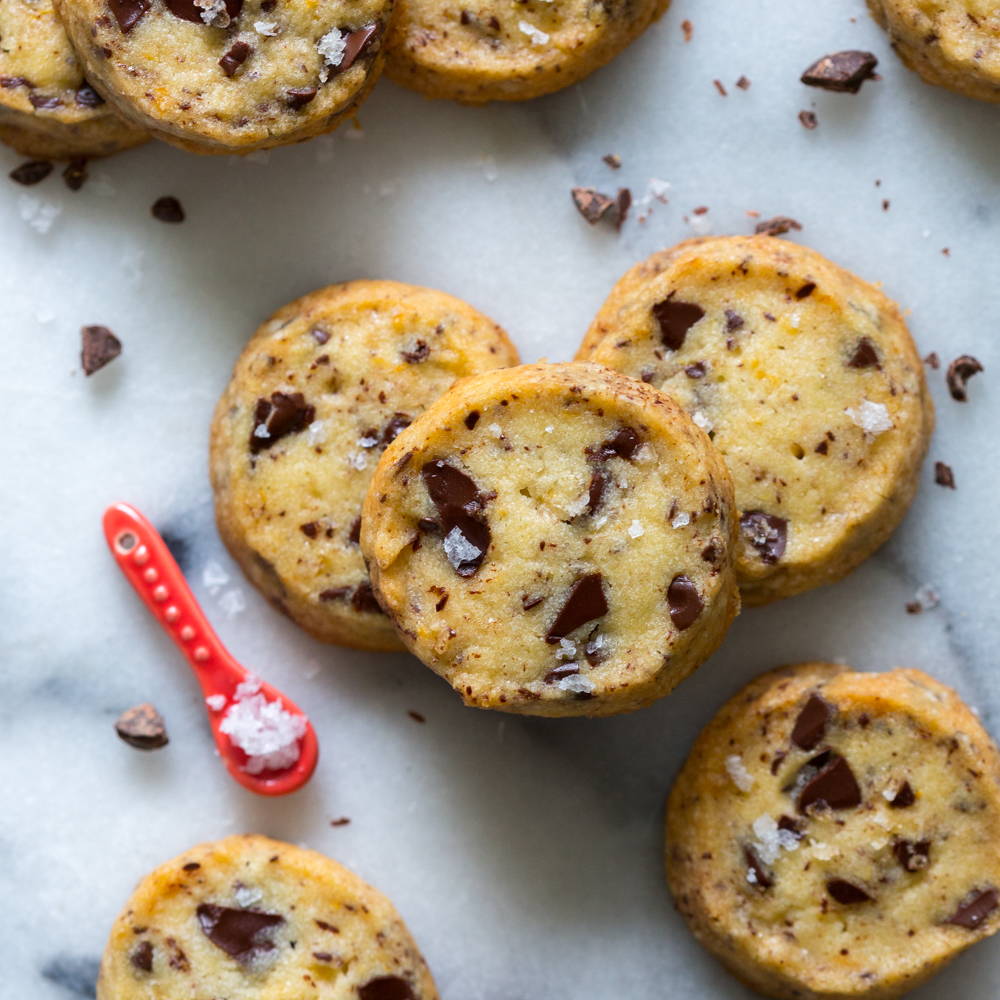 When life feels chaotic and uncertain, nothing takes the edge off quite like fresh baked cookies. This past week has been emotionally exhausting for all kinds of reasons I won't get into now. I've been in Portland for the past week and I haven't even opened my computer until now, on my flight back to Santa Barbara. The massive workload that looms along with my arrival is overwhelming. But knowing that I will be coming home to a frozen dough log of Salted Grapefruit Chocolate Chunk Shortbread Cookies stashed away in my freezer, is helping to ease my anxieties.
My go-to comfort cookie has been my Brown Butter Chocolate Chip Cookies with Sea Salt for as long as I can remember. They are a tried and true, fan favorite that you just can't go wrong with. Last month, on a whim, I created these Salted Grapefruit Chocolate Chunk Shortbread Cookies to send to my Mom for Mother's Day. She's a big fan of citrus and chocolate so I used the grapefruit and combined it with the half bag of dark chocolate chips. Excellent choice.
Complimentary ingredients give these Salted Grapefruit Chocolate Chunk Shortbread Cookies big flavor and texture personality.
High quality butter give shortbread cookies their signature butter flavor and snappy bite. Using a European style butter with a higher fat content makes for a superior flavor and texture in this simple cookie recipe.
Dark chocolate brings a bittersweet bite and elegant richness to the buttery cookies.
Fresh grapefruit zest and juice pack a double punch of citrusy brightness. It balances beautifully with the rich butter and deep chocolate flavors.
Flaky sea salt punches through the chocolate and citrus by adding a burst of briney saltiness that allows the other flavors to sing in unison.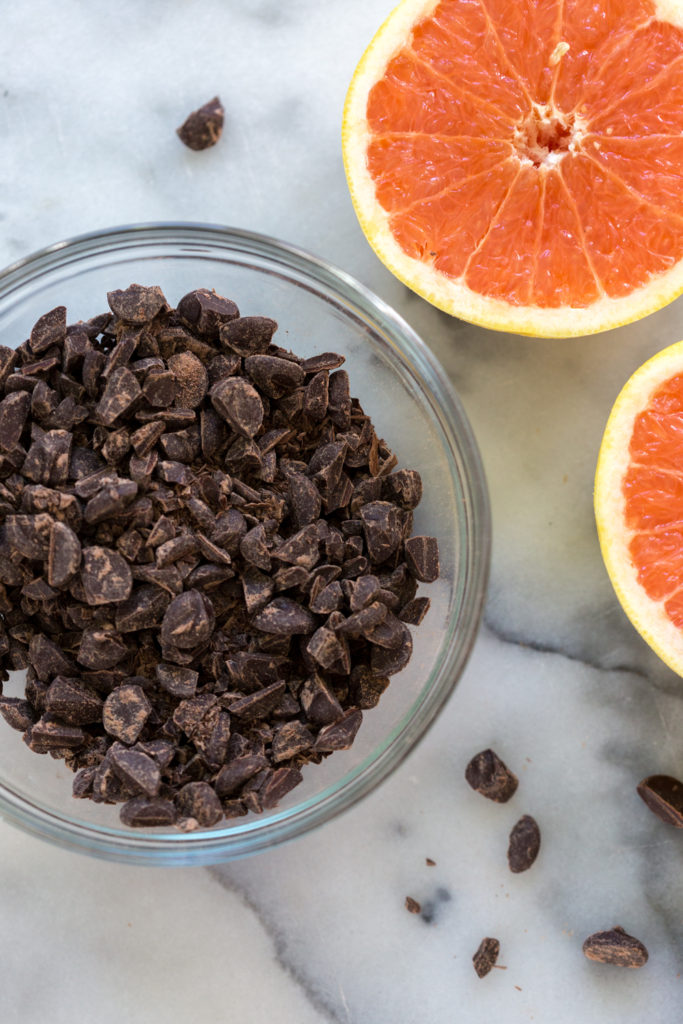 These Salted Grapefruit Chocolate Chunk Shortbread Cookies are a simple slice and bake cookie recipe.
The shortbread cookie recipe came together flawlessly. It was as effortlessly easy and the flavor and texture combo ended up being a 5 star surprise straight out of the gate. The simple yet unexpected flavor combination is a delightful deviation from a typical chocolate chip cookie.
The chocolate gets chopped for a more nuanced flavor and texture throughout.
These Salted Grapefruit Chocolate Chunk Shortbread Cookies are small so I didn't want to use whole chocolate chips or solid chunks of chocolate. Chopping the dark chocolate chips into small hunks, bits, shards and dust gives the cookies a more nuanced chocolatey flavor. Plus it layers in an interesting texture throughout the cookie. It's funny how making one small change like that can completely upgrade the whole personality of a cookie.
Slice and Bake Cookies are the best for many reasons!
Simplicity. Slice and bake shortbread cookies are such an easy baker. You just mix up the dough and shape it into logs. No scoops or cookie cutters necessary.
Slice is nice. Once the dough logs are chilled, you simple slice them into perfectly round cookies.
Totally tubular tip! To achieve perfectly round shortbread cookies, shape the dough into logs and wrap in parchment paper. Then keep them perfectly round sliding them into an empty paper towel roll. This will help keep the dough log from flattening out on the bottom!
Easy bake. Then you pop those sliced shortbread cookies on a baking sheet and away they go!
Keep it chill. Store the dough logs wrapped in tightly in parchment paper plastic wrap in the freezer up to a few months. Then you can just slice and bake them whenever you want freshly baked shortbread cookies. So you're always less than 20 minutes away from fresh baked cookie bliss.
These Salted Grapefruit Chocolate Chunk Shortbread Cookies have that perfectly balanced bite. They're crisp yet tender with the tiniest bit of chew.
When I originally baked these shortbread cookies, I didn't intend for them to be a blog worthy recipe. However, I posted a pic with a pretty detailed description on Instagram and people were much more intrigued that I thought. It seems that pairing grapefruit and chocolate was a total mind blower for many of you! Who knew?!
The combo of chocolate and grapefruit with a salty sprinkle is a naturally balanced flavor fit!
The chocolate nooks, streams and speckles along with the faint citrus notes of the grapefruit were just asking to be topped off with a salty punch. All of that comes together to give the simple buttery
shortbread cookie base some serious pizzazz.
These easy chocolate chunk cookies quickly shot to the top of my go-to cookie chart. It seems like now I've always got a tube of the cookie Salted Grapefruit Chocolate Chunk Shortbread Cookies dough in my freezer. Nestled alongside my classic Brown Butter Chocolate Chip Cookies with Sea Salt, of course.
The promise of fresh baked cookies tonight after slipped into the comfort of my own couch is calming my flight nerves better than 2 mini bottles of Jack Daniel's ever could. I've got my tray table in the locked position, my carry-on items are securely stowed and I am patiently seated in the upright position awaiting a soft landing into a fresh baked pile of these Salted Grapefruit Chocolate Chunk Shortbread Cookies.
Print
📖 Recipe
Salted Grapefruit Chocolate Chunk Shortbread Cookies
---
Description
These crisp yet subtly chewy Salted Grapefruit Chocolate Chunk Shortbread Cookies are studded with chunks, bits, streams and specks of dark chocolate chunks brightened up with fresh grapefruit juice and zest, delightfully enhanced by the delicate crunch of sea salt flakes.
---
2

cups

all purpose flour

1 teaspoon

sea salt

1

cup

unsalted butter (- at room temperature)

½

cup

granulated sugar

1

medium grapefruit (- zested and juiced)

1 teaspoon

pure vanilla extract

¾

cups

dark chocolate chips

1

-

2

tablespoons sea salt flakes
---
Instructions
Coarsely chop the dark chocolate chips into rough chunks and bits, set aside.
Measure flour, salt and the zest of the grapefruit into a mixing bowl and whisk together.
With the paddle attachment on a stand mixer, cream together the butter and sugar on a medium high speed for about 5 minutes, until fluffy, airy and lighter in color. Be sure to stop your mixer and scrape down the sides of the bowl a few times so you are sure to incorporate all of the sugar into the butter.
Add 3 tablespoons of the fresh squeezed grapefruit juice and vanilla extract and cream until blended.
With the mixer on a low stir, slowly add the dry ingredients until just incorporated. You don't want to over-mix here, only mix until things have just come together.
Gently stir in the chopped dark chocolate chips until just incorporated.
Turn out the dough onto a clean, lightly floured surface. Gently gather the dough together into a disk by gently patting, not kneading the dough, and pat to flatten the top. Once you have a round disk shape, use a knife or a bench knife to cut directly in half and set aside.
Clean your work surface with a bench knife, then lay down a sheet of parchment paper. If you have a couple of empty paper towel rolls handy, have them available. Drop one of your dough halves on the parchment paper and use your hands to shape a rough log shape, roll into a smooth log until it is about 1 -1 1⁄2" in diameter (eyeball it to about the size of your empty paper towel roll).
Wrap the parchment paper around your dough log, lengthwise. Then twist each end of the paper into pigtails in opposite directions (one towards you and one away from you) to form a locking mechanism. With each twist, the dough will compress and becomes smoothed out (think of it like a sausage in a casing). Roll from the center outward until you feel that you have a smooth, cylindrical log.
Now you can get tricky (optionally) and stuff that dough log into an empty paper towel roll, it should be a snug fit but should slide in and out easily. The idea behind the paper towel roll is that your dough is going to hold it's cylindrical shape while it chills instead of having a flat bottom.
Repeat with second log. Then refrigerate the dough for at least 1 hour, if not 2. This allows the dough to set up and hold it's round shape nicely when baking.
You can also freeze the dough at this point. Just remember to defrost it overnight in the fridge or at room temperature for about a 30 minutes before slicing and baking.
Preheat oven to 325° F.
Remove dough log from the fridge and unroll on a cutting board. Using a sharp knife, slice the log into 1⁄4" - 1⁄2" thick cookies. You should get about 16-20 cookies per log. Arrange them on a Silpat mat or parchment paper lined baking sheet, evenly spaced, with at least 1" between each cookie.
Lightly sprinkle the top of each sliced cookie with sea salt flakes.
Bake for 16-18 minutes, rotating the pans halfway through the bake. They should come out with a golden ring around the edge and be firm to the touch with just a bit of give in the center. Repeat with the second log or store the second log in the freezer for fresh baked cookies on another day.
Allow to cool either right on the trays or on a cooling rack.
Notes
These Salted Grapefruit Chocolate Chunk Shortbread Cookies are pretty darn delish with a little bowl of creamy vanilla ice cream. The Vanilla Bean by Straus Family Creamery is a particularly good pairing as it is less sweet and more creamy than many others vanilla ice cream brands.
Prep Time:

15 minutes

Cook Time:

20 minutes

Category:

Dessert

Cuisine:

Cookies
Keywords: Salted Grapefruit Chocolate Chunk Shortbread Cookies