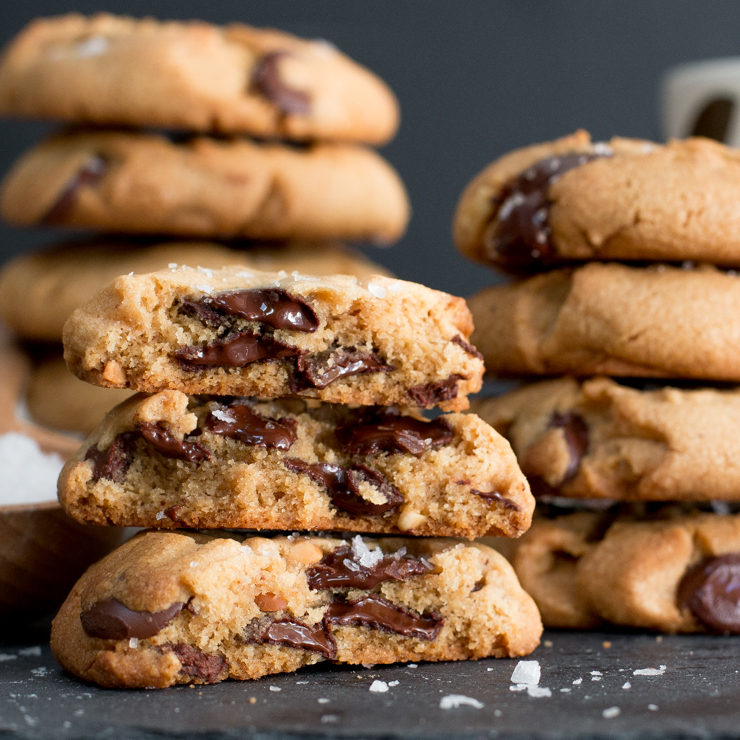 There is nothing hotter than the sweet and sticky mess of gooey, warm peanut butter and smooth, melty dark chocolate, right? I mean, dayum. This combination goes together like Sophia Loren and spaghetti. One is nothing without the other. Speaking of, can we all just take a moment to admire a real woman who isn't afraid to eat? Sophia Loren is the GD epitome of bombshell, especially when armed with a fistful of food.
If you're feeling weak in the knees after that photo collage, don't worry you're not alone. Please give me a moment to regroup my thoughts...
Where were we? Right. Cookies. They have long been a love of mine. That familiar combination of flavors and the ooey-gooey soft texture is irresistible. Recently, I got a wild hair and decided to mess with a good thing by bringing a third partner into the mix. Something a little wild and unconventional to add another flavor sensation to all that sweetness. Salt. That illustrious flirt who enhances everything she hooks up with.
In this recipe, I browned half of the butter to deepen the nutty flavor. You can too, if you're into that sort of thing. Normally I give my cookies the traditional forking and top with raw sugar, but now that I've tasted the savory side, there is no going back. I skip the sugar altogether in favor of a foray into a satisfying, salty, sensation.
The saltiness brings an unexpected bite to the sweet that hits you right where you never knew you needed it. It teases its way into the peanut butter and dark chocolate pairing, sparking an insatiable explosion of deep and intense flavors. Is it hot in here or is my oven on?
I encourage you all to get out of your comfort zone and try something new. You might just fall in love (or lust). With just the right amount of comfort and exploration, these Salted Peanut Butter Chocolate Chip Cookies are a good place to start a liberated journey... in the kitchen.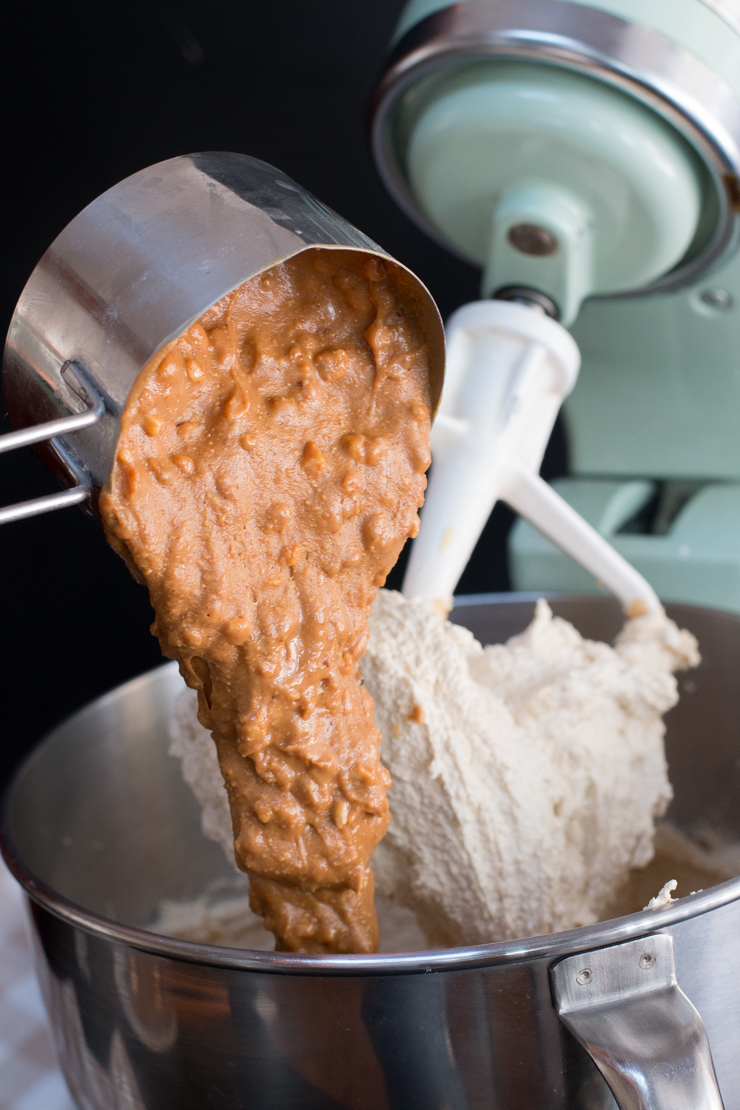 Print
📖 Recipe
Salted Peanut Butter Chocolate Chip Cookies
---
Description
Salted Peanut Butter Chocolate Chip Cookies combine the familiar combination of peanut butter & chocolate but heat things up with brown butter, dark chocolate chips and a salty sprinkled topper.
---
Bob's Red Mill Organic Unbleached White All Purpose Flour -

3

cups

baking powder - 1 teaspoon
baking soda - 1 teaspoon
salt - 1 teaspoon
unsalted butter at room temperature - 1 cup (2 sticks)
brown sugar -

1

cup

granulated sugar -

1

cup

eggs at room temperature - 2 large
chunky peanut butter -

1

cup

pure vanilla extract - 2 teaspoons
dark chocolate chips -

2

cups

sea salt flakes - 1-2 tablespoons
---
Instructions
*Optional - Begin by browning half of the butter and allowing it to cool to room temperature before mixing. Browning the butter deepens the nutty, rich flavor of the cookies, if you're into that sort of thing.
Combine the flour, baking powder, baking soda and salt together in a bowl and whisk to combine.
Using a stand mixer with the paddle attachment, blend together the butter, brown butter (if you chose to brown half of the butter), sugar and brown sugar on medium speed until light and fluffy, about 3-5 minutes. Be sure to scrape the sides of the bowl down a couple of times with a rubber spatula.
Add the peanut butter and and cream together for about a minute, scrape the sides of the bowl down again.
Crack the eggs into a liquid measuring cup and add the vanilla. Slowly add to the sugar mixture one egg at a time, allow the first egg to blend in completely before adding the second egg. Scrape the sides of the bowl down.
With the mixer on a low speed, gradually add the dry ingredients. Once fully mixed, be sure to scrape down the sides of the bowl and blend until the dough is cohesive and well mixed.
Stir in the dark chocolate chips until evenly distributed.
Using a 2 tablespoon cookie scoop, form cookie dough balls and place on a lined baking sheet.
Slightly press the cookies down to form chubby disks. I like to chill my cookie dough balls for a least 20 minutes before baking.
Preheat oven to 350°.
Arrange the cookie dough balls evenly on pans, 6-8 per pan depending on the size of cookies you're making.
Use the criss-cross fork method to gently squish down the cookies.
Bake for 9-11 minutes until the cookies are lightly browned and crisp around the edges but still soft in the middle.
Liberally top with Maldon Salt Flakes and allow the cookies to cool on the cookie sheets.
Try to resist devouring all of Salted Peanut Butter Chocolate Chip Cookies while they are still warm. Nearly an impossible feat.
Prep Time:

30 minutes

Cook Time:

10 minutes