It's official, the holidays are upon us...Bah Humbug. For a Scrooge like myself, Christmastime is not the most wonderful time of the year. Each Christmas I feel myself turning more green and Grinchy than the previous December, so this year I've made a vow to put joy back into the world instead hating on the holidays. Starting with these Snickerdoodle Kiss Cookies!
I could go on and on about how much the forced consumerism annoys me or how badly I want to knife one of those cheesy inflatable yard Santas. But I'll abstain and reluctantly toss out my Scrooge 'tude like a fruitcake on December 26th.
The true spirit of Christmas, for me, comes in the form of cookies. I mean, you're a legit Grinch if you don't enjoy giving or getting a batch of fresh baked, homemade cookies this time of year. I am a giver, so I'll be making spirits bright by baking a batch of these Snickerdoodle Kiss Cookies. That'll get me in the spirit and prompt even more holiday baking. I may even combine these Snickerdoodle Kiss Cookies in a joyful tin with some of my other seasonal favorites like my Peppermint Mocha Cookies, the Queen of Christmas Cookies; Raspberry Pinot Noir Linzer Cookies or the everyday favorite Brown Butter Chocolate Chip Cookies with Sea Salt.
If you are less than thrilled about the holidays, make some cookies. I swear it helps. These seasonal Snickerdoodle Kiss Cookies start with my timeless, soft and airy Snickerdoodles. Then they get all spiced up when rolled in warm chai spices made with cinnamon, cardamom, ginger, nutmeg, cloves and a dash or warming white pepper. To to amp up the festivity, I like to sneak in a soft kiss by adding a dark chocolate kiss into the soft and warm centers moments after I remove them from the oven.
The soft, pillowy Snickerdoodles combined with a spicy bite and sumptuous dark chocolate kisses
are sure to make Santa empty his sack and leave you a special gift under the tree. Now that's the spirit, right? Happy holidays to all my fellow Grinchy Scrooges out there. May your Snickerdoodle Kiss Cookies be as spicy as your attitude.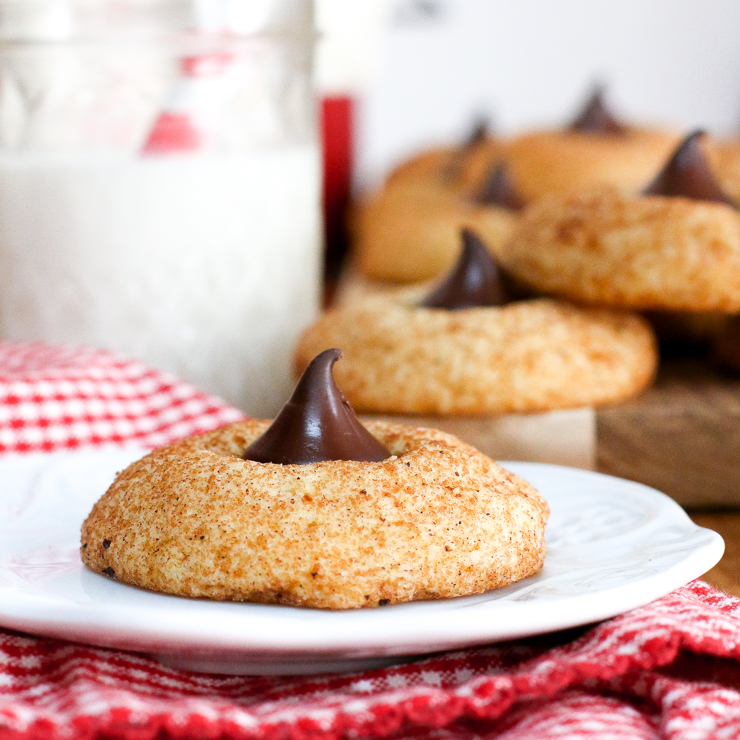 Print
📖 Recipe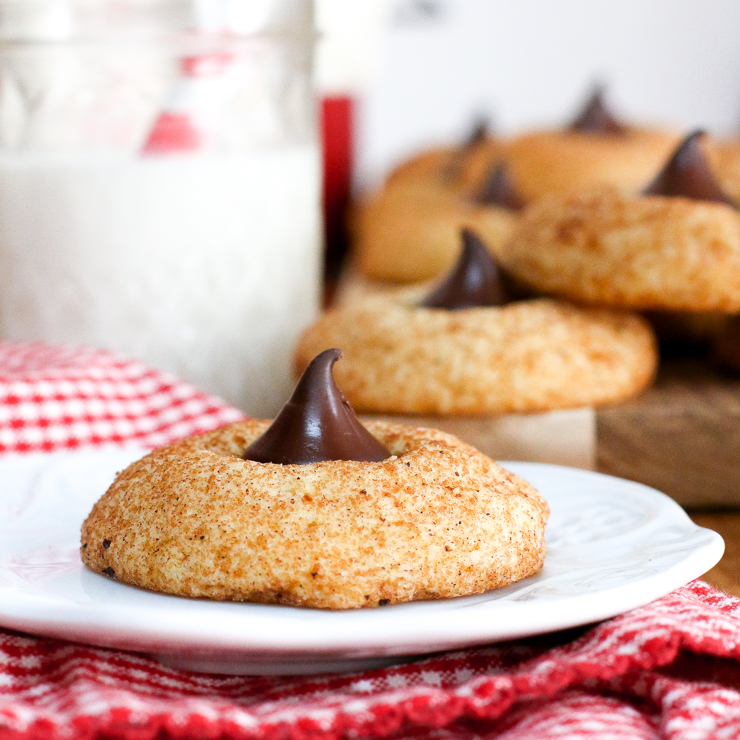 Snickerdoodle Kiss Cookies
---
Description
A new twist on a holiday favorite, these soft & airy Snickerdoodle Kiss Cookies are rolled in spicy chai sugar and topped with rich dark chocolate kisses.
---
Snickerdoodle Cookie Dough
unsalted butter at room temperature - 1 cup ((2 sticks))
granulated sugar -

1

cup

eggs at room temperature - 2
all purpose flour -

3

cups

cream of tartar - 2 teaspoons
baking soda - 1 teaspoon
salt - ½ teaspoon
pure vanilla extract - 2 teaspoons
Chai Spice Mix
granulated sugar - 2 tablespoons
brown sugar - 2 tablespoons
cinnamon - 2 teaspoons
cardamom - ½ teaspoon
ground ginger - ¼ teaspoon
ground cloves - ⅛ teaspoon
ground nutmeg - ⅛ teaspoon
fine ground white pepper - ⅛ teaspoon
dark chocolate kisses - 30-36
---
Instructions
Preheat oven to 350° F.
Whisk together the flour, cream of tartar, baking soda and salt in a large mixing bowl.
Using a stand mixer, cream the butter and sugar on medium speed for 3-5 minutes until light and fluffy. Scrape the bowl a couple of times during this process.
Reduce the speed to low and slowly add the eggs and vanilla and blend for another 1-2 minutes. Scrape the bowl again.
Keeping the mixer on low, slowly add the dry ingredients until fully incorporated. Scrape the sides of the bowl.
Cover and chill dough for 15-20 minutes.
While dough is chilling, prepare the chai spice by blending the spices and sugar together in a small mixing bowl.
Remove dough from the refrigerator, it should be cool and slightly firm. Using and ice cream scoop, form ping-pong sized balls. Roll each dough ball in the chai spice mixture. Evenly place 6-8 dough balls on a prepared cookie sheet, I prefer to use Silpat mats or parchment paper.
Bake for 8-10 minutes, rotating the pan halfway through, until the cookies have puffed up, the tops look set and the cookies are a light golden brown.
Allow the cookies to cool slightly and gently place the unwrapped chocolate kisses into the center of each slightly warm snickerdoodle.