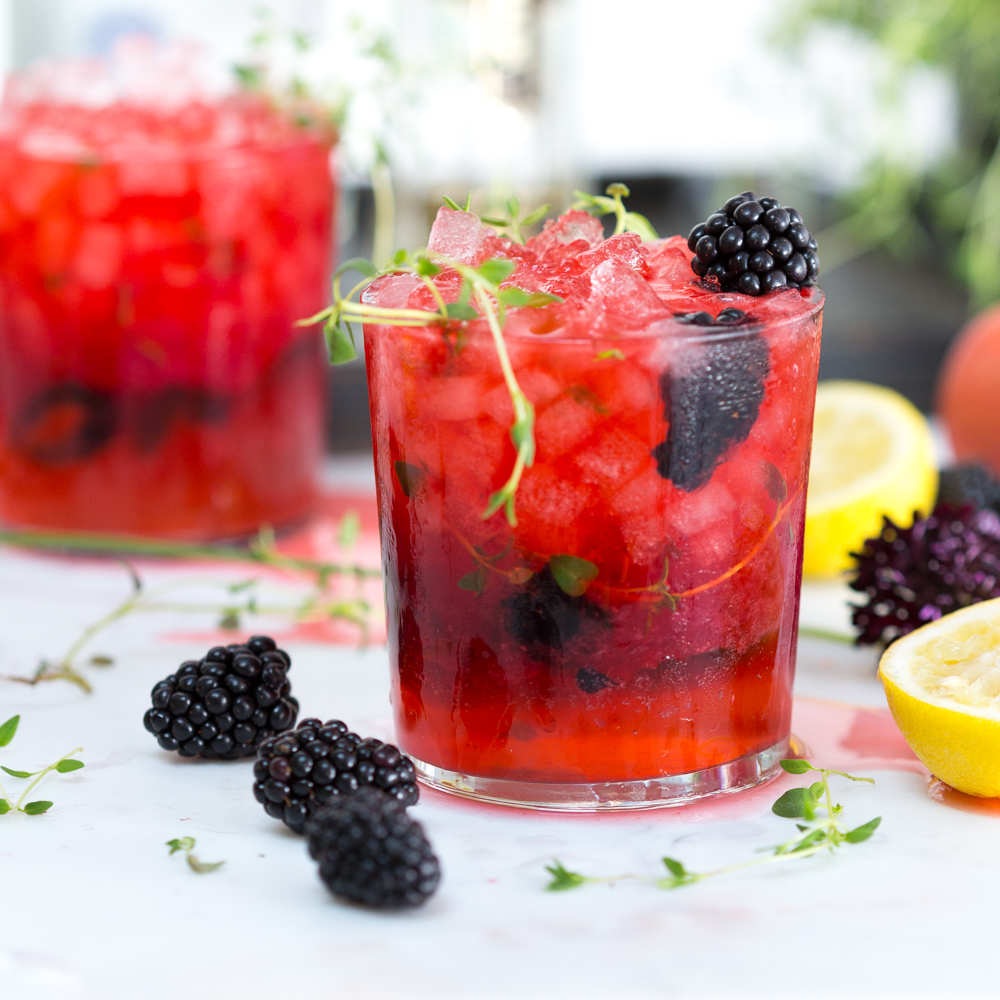 It's the first day of summer and I'm officially a hot mess. The sun is shining, the birds are chirping and I'm sweating profusely as I simultaneously test bake holiday cookies, edit video and photograph wine for all of the projects I need to wrap up this week. I am running out of time, so these long summer days are saving my solstice right now. So, why not add a new blog post for this Blackberry Gin Smash into the mix. I've got to to keep my cool somehow, right?
In the interest of time, I'll keep this post and recipe short and sweet. I am not a bartender, I don't know much about mixing drinks but I do know a thing or two about flavors, ingredients and the relationship between them. This Blackberry Gin Smash is a lazy girl's cocktail. There are no syrups or reductions, no shaking, no smoke infusions, no tweezers, no scrubs, no nonsense. Just simple ingredients all smashed together in a cheap mason jar
, stirred up and topped with some sparkly elderflower tonic water
and messy tendrils of thyme. This Blackberry Gin Smash can be made in less than 5 minutes and tastes as fresh as a summer garden in the French countryside. Gin is the botanical backbone of this cocktail while a splash of St. Germain adds a sweet and feminine elderflower essence. St. Germain, blackberries, lemon juice and fresh thyme are smashed together to create a bright and juicy syrup that gets strained
in with the gin. Then it gets topped with a fizzy splash of elderflower tonic water
to liven up the juicy flavors. I'm a big fan of the St. George Botanivore in this cocktail, as it is light, fresh and clean and doesn't have a lingering pine flavor that some gins contain. It's got a summery sophistication that compliments the tart berries and bright lemon. I personally think of the St. Germain as an intoxicating spritz of perfume - it's girly, it's floral and it adds a desired flirty sweetness to the Blackberry Gin Smash without additional sugar
or simple syrup
.
I developed this recipe to make two Blackberry Gin Smashes because it's so refreshing and satisfying that you'll want to share the experience with a friend or possibly a "special friend". And if you are drinking it alone, let's be honest, you'll probably want two.
If you could taste the Promenade Plantée in Paris, I imagine it'd taste something like this Blackberry Gin Smash. The garden fresh flavors with tart bursting blackberries, sunny citrus, sweet elderflower essence and herbaceous undertones are what summer sippin' is all about. Happy solistice, soul sistas. May your summer be as satisfying as this Blackberry Gin Smash.
Shout out to my lovely assistant and hand model on this shoot, Liza Saragosa. Check out her website and give her a follow on Insta for tasty inspiration.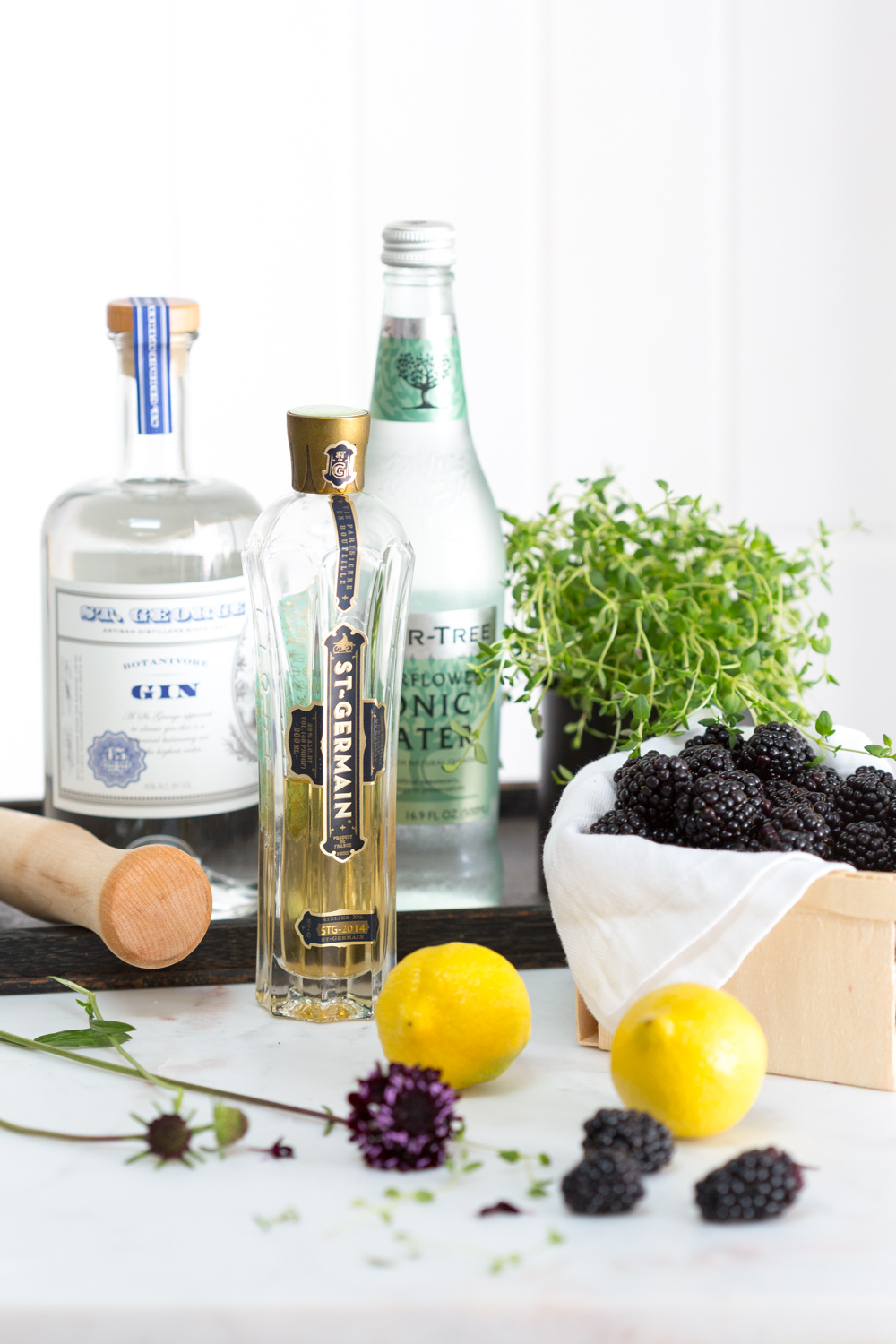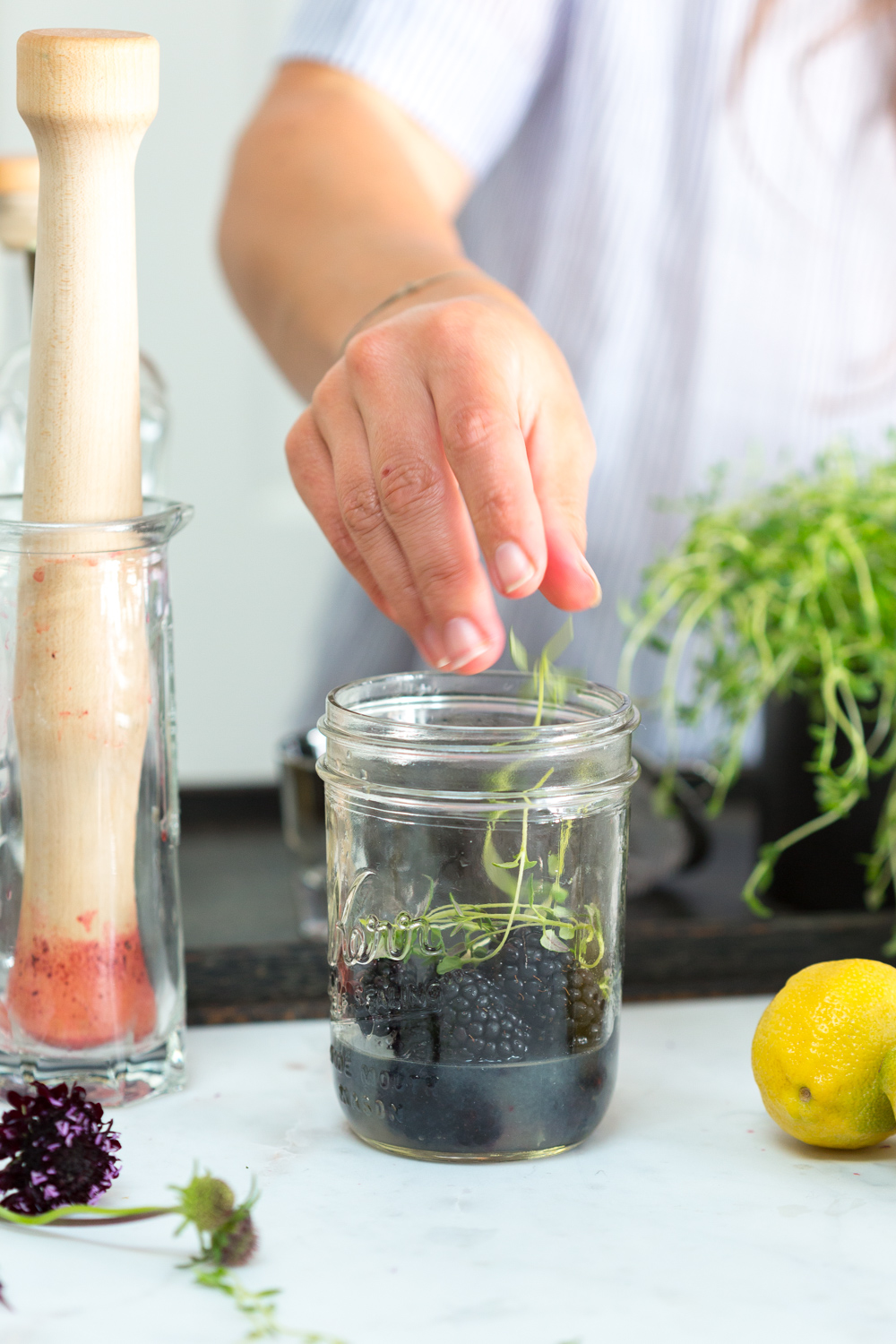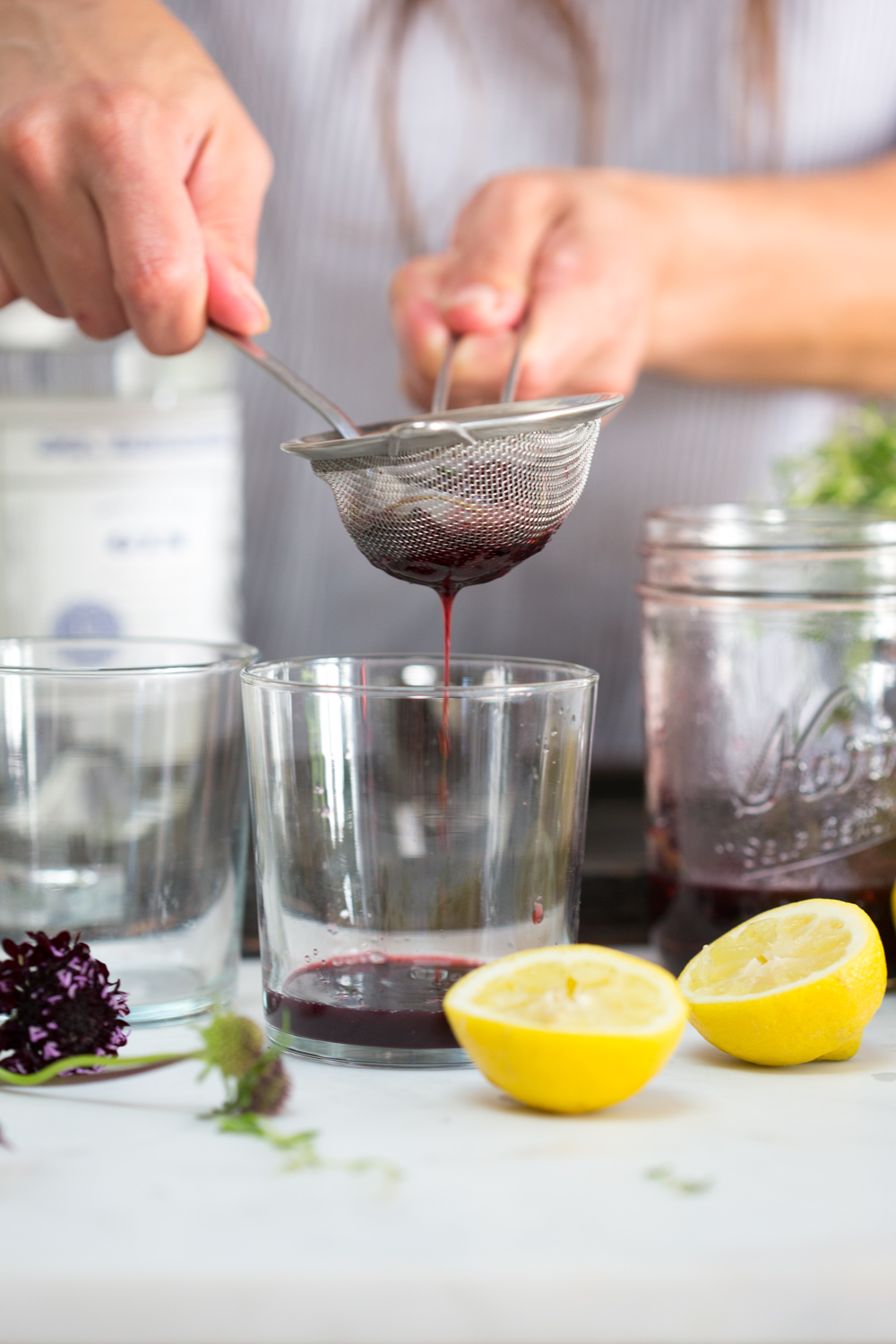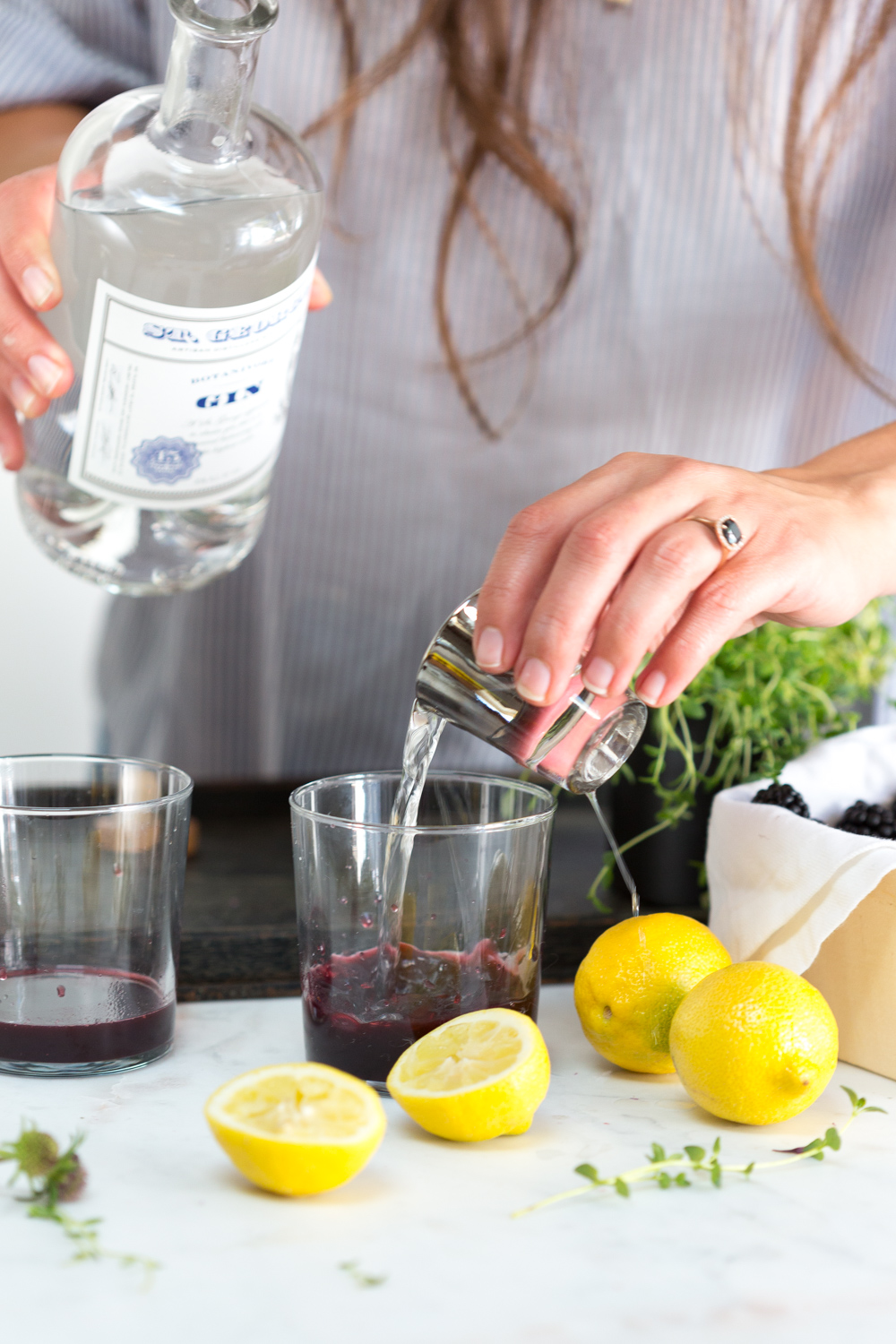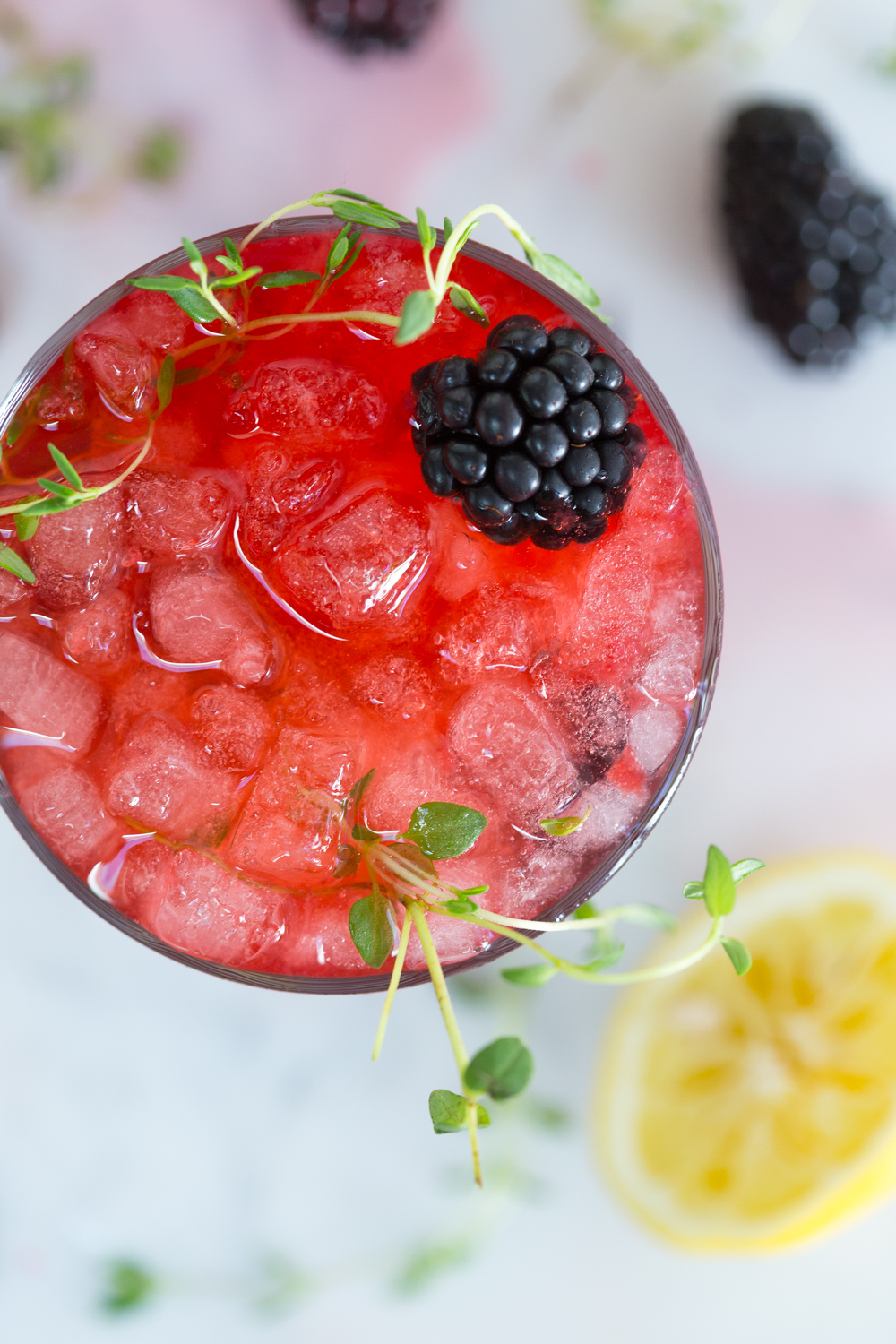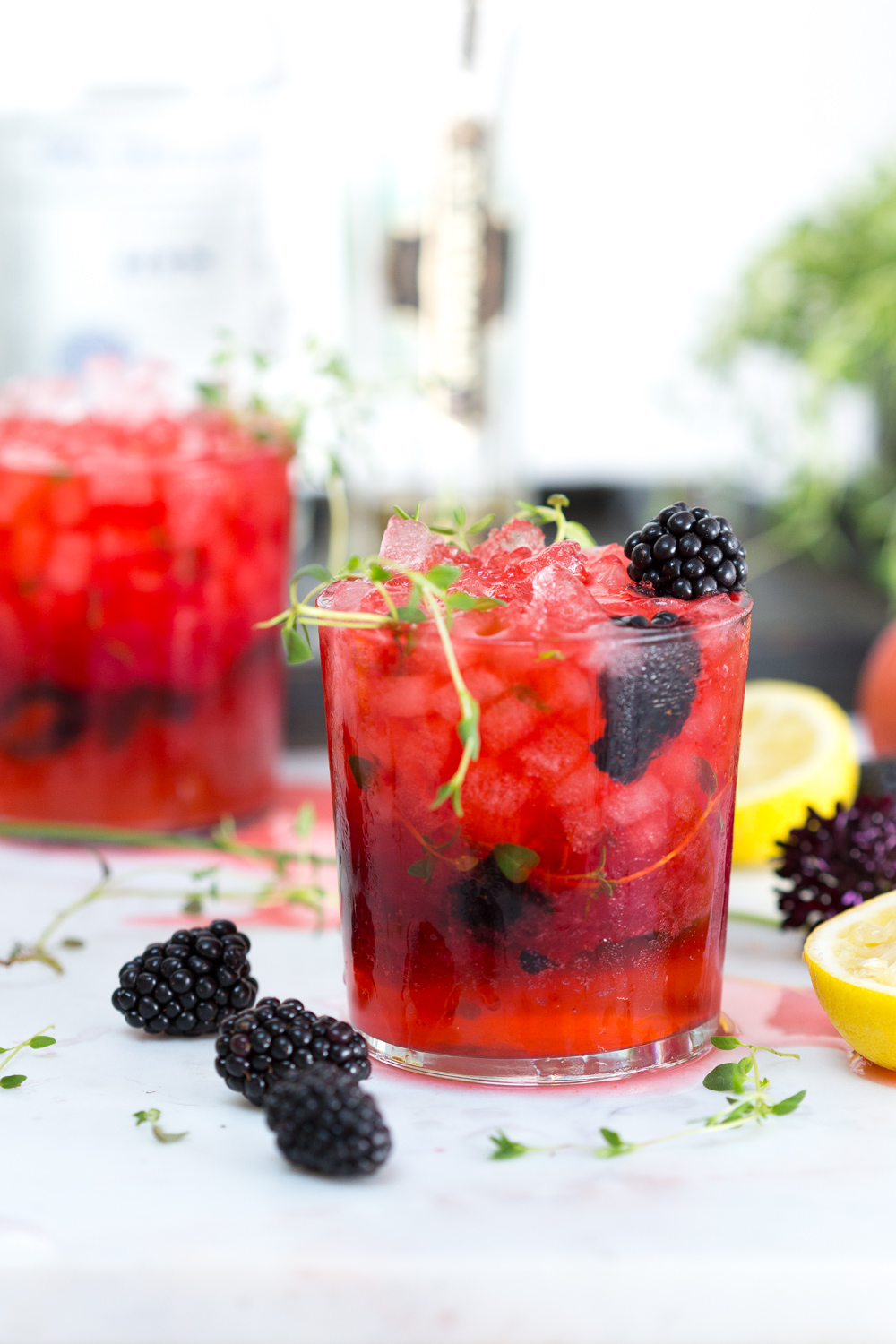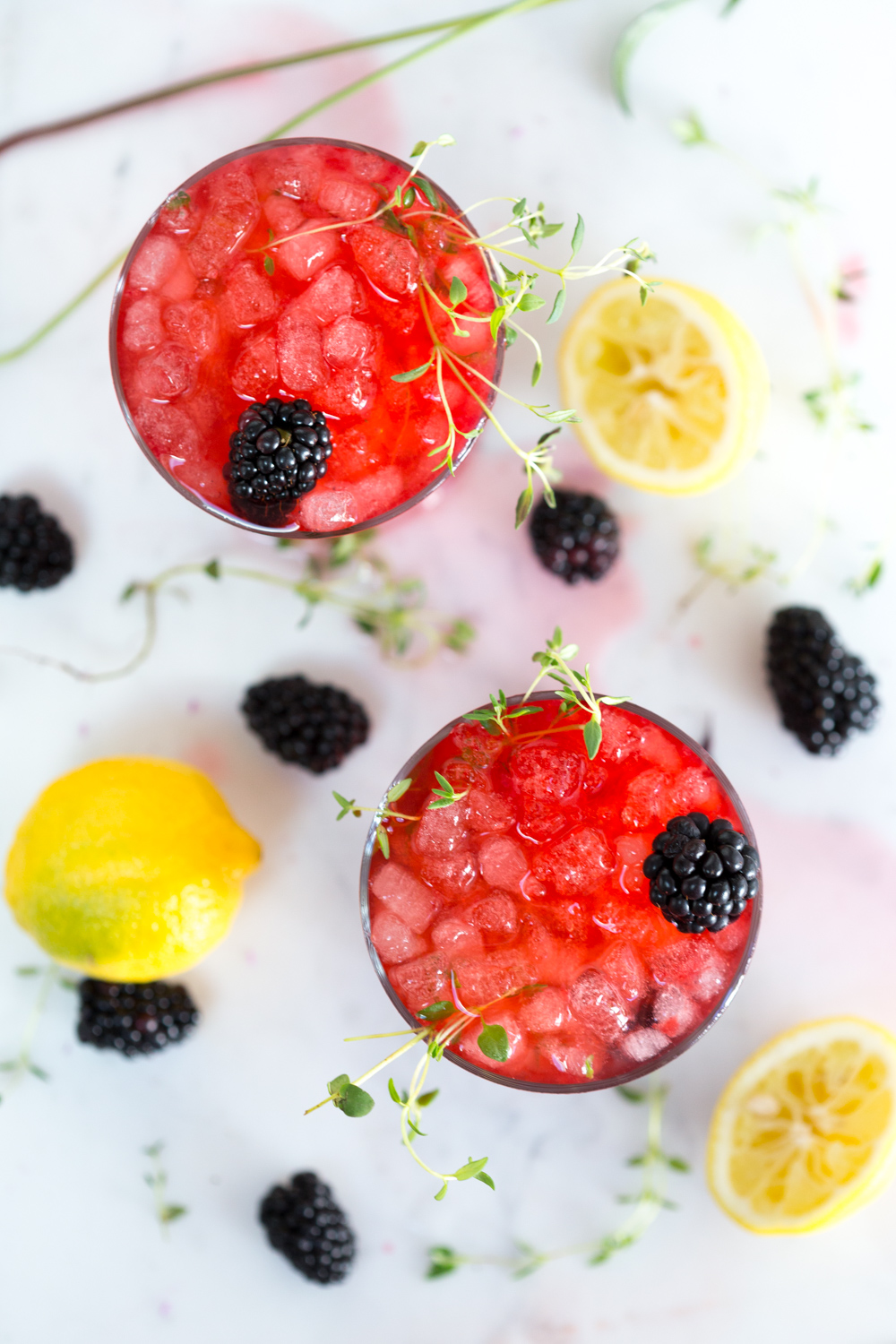 If you need a little more summer sipper inspo - check out my Watermelon Palomas and my White Sangria with Nectarines and Raspberries. Yum!
Print
📖 Recipe
Blackberry Gin Smash
---
Description
This Blackberry Gin Smash is summer in a glass - with juicy blackberries, bright citrus, botanical gin, herbaceous thyme & sweetly floral St. Germain & elderflower tonic.
---
2

lemons (- freshly squeezed)

22

fresh blackberries

¼

cup

fresh thyme

4

ounces

gin

3

ounces

St. Germain

4

ounces

elderflower tonic water (- or plain tonic water)
---
Instructions
Add 16 fresh blackberries, the juice of 2 lemons, 8 sprigs of fresh thyme and 1 ounce of St. Germain to a mason jar. Use a muddler or the back of a wooden spoon to coarsely crush the blackberries and thyme until the berries are broken down and the thyme is aromatic.
Strain the syrup evenly into 2 glasses then add 2 ounces of gin and 1 ounce of St. Germain to each glass. Stir together, then layer in ice and a few sliced blackberries.
Top each with sparkly elderflower tonic water. Garnish with plump, juicy blackberries and tendrils of fresh thyme. Serve immediately and enjoy with someone you love or really really like.