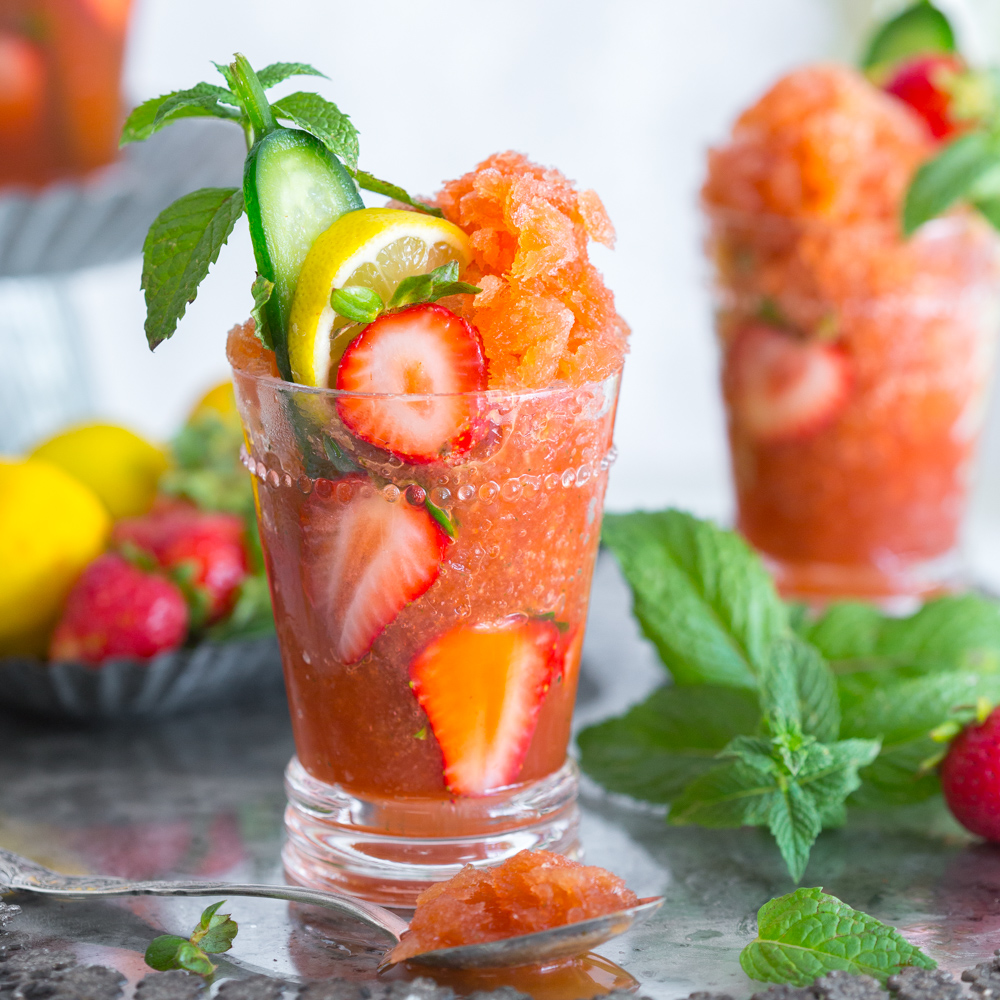 I had my first Pimm's Cup in my early 20's lying on grass in my parent's backyard. My mom asked me if I'd like one and I had no idea what it was, so I impolitely declined, because aren't all girls in their early 20's impolite to their mothers? Thankfully my mom had years of experience in my rude behavior so she ignored me and fixed me one anyway.
Minutes later she returned with a tall, slender collins style glass filled with a tea
toned mixture topped with a fat slice of cucumber and an orange wheel. It looked lovely but I was skeptical. You have to understand, I was newly 21 and the only drinks I knew how to order were Midori Sours and Appletinis. Shivers, I know. A Pimm's Cup was far more sophisticated than the well drinks I was used to and when she described it as the traditional drink of Wimbledon, I had a feeling it might be for me. Although I barely looked up from my Cosmo magazine
, rolled my eyes and shrugged in her direction as she set the drink down on my beach towel
, I was secretly intrigued.
I waited for her to go back inside before I had my first sip, followed by my second long and voluptuary sip. Before I knew it, the drink was drained and my Mom came back out to refill my glass. I was instantly smitten with the Pimm's Cup and haven't looked back since. Now anytime the temperature climbs over 70° and I see a Pimm's Cup on a bar menu, I order them without abandon. The herbaceous liqueur is refreshingly botanical with earthy notes of herbs and gin tinged with a slight zing of citrus. When combined with lemonade
, fresh strawberries and cucumbers it becomes and instantly bright summer sipper worthy of the best seat in Wimbledon.
That first Pimm's Cup was a transformative moment for me. It opened up a space and excitement for all kinds of new and exotic cocktails. I started trying new things at bars instead of only ordering the same neon green garbage cocktails over and over. And in recent years, I've developed my own fun new cocktails like my Blackberry Gin Smash, Watermelon Palomas, White Sangria with Nectarines and Raspberries, Oregon 75 Ice Cream Floats and of course my Pixie Pimm's Cup made with Ojai Pixie Tangerines.
That first Pimm's Cup is still inspiring me to this day as is evident in my newest recipe for this Strawberry Pimm's Cup Granita. We are in the dog days of summer around here and cocktails over ice
just aren't cutting it anymore. I needed something colder to the core and this Strawberry Pimm's Cup Granita situation is cooling me down. It's got all of the things we love about a classic Pimm's Cup - the herbaceous tincture of Pimm's No. 1, but I blend the lemonade
with fresh strawberries, refreshing cucumbers and zingy mint
. Then it gets strained and blended with the Pimm's & some bubbly ginger ale
for added sparkle. It all gets frozen together into an icy cool granita and this Strawberry Pimm's Cup Granita becomes the most refreshing drink/dessert this side of the pond.
I can only imagine this Strawberry Pimm's Cup Granita mix would be best served poolside but for now, I'll take it lying on the grass in my backyard, while flipping through a trashy magazine wishing my Mom lived closer so I could make her one.
Print
📖 Recipe
Strawberry Pimm's Cup Granita
---
Description
This slushy, frozen blend of Pimm's No. 1, fresh strawberries, cucumbers, mint, lemonade and ginger ale is the end all be all of refreshing summer sippers.
---
3

lemons

4

small Persian cucumbers or 2 large (reserve some slices for garnish)

2

cups

fresh strawberries

1 ½

cups

lemonade

¾

cup

fresh mint, loosely packed (plus more for garnish)

2

cups

Pimm's No. 1

1

cup

ginger ale
---
Instructions
Peel and roughly chop cucumbers. Hull and slice strawberries in half, reserving a handful of whole strawberries for garnish. Juice 2 lemons.
Combine cucumbers, strawberries, mint, fresh squeezed lemon juice and lemonade in a blender. Whizz together until smooth and juicy. Strain into a large measuring cup or bowl.
Add the Pimm's No. 1 and ginger ale, whisk to combine.
Carefully pour the mixture into a shallow dish or baking sheet that fit in your freezer. *To keep it really easy, I placed the quarter sized baking sheets in my freezer first, then carefully poured the mixture evenly into the sheets.
Allow to chill for one hour, then use a fork to break up the icy bits that have started to form. Repeat the forking process a few times, every hour or so to create an icy, granita texture.
Allow to freeze for at least 8 hours or overnight before serving. Divide evenly into 6 pretty little cocktail glasses. Garnish with lemon wheels, cucumber slices or strips, strawberries and mint.
Prep Time:

15 minutes

Category:

Cocktails