I signed up for a new program called Blogging for Books, and you guessed it, it's just as the name implies. I know that I should have probably gone straight for a baking book, but this colorful little book dedicated the Spritz spoke directly to me.
My attraction to this book could have been a result of my fondness for the Italian Spritz cocktail that came to fruition years ago when my hubs, Dayn, and I were able to take our dream trip to France and Italy. This is going to make me sound like such a clichéd a-hole, and I am actually rolling my eyes at myself as I type but... we first fell in love with the Spritz while wandering the cobblestone paths along the canals of Venice. Worst. I know. Sorry.
While winding our way through the endless, hot and sticky cinnamon roll that is Venice, we kept seeing folks sipping on an electric orange elixir – a color that I immediately associated with the repellent taste of DayQuil. Blech. But the Italians seemed to be enjoying this technicolor cocktail while sitting in the beating sun, so we decided we had to get to the bottom of it right then and there.
Turns out, the drink tastes nothing like DayQuil, but actually a bittersweet mix of citrus herbaceous-ness with a spritzy, sparkly kick. This neon drink that quenched our thirst and our curiosity is actually Italy's most iconic aperitivo cocktail, the Spritz. I vaguely recall the origins of the Spritz mentioned by our born-and-bred Venetian Airbnb host. He said something about the Austrians invading and watering down Italian wines as he ushered us past the neoclassical church, Campo San Barnaba, that stood in as the library with a secret route to catacombs in Indiana Jones and the Last Crusade. Under the spell of an afternoon of Spritzes followed by seemingly bottomless juice glasses of wine at every bacaro we popped into, I was obviously way more focused on my boy Indy than the history of the Spritz.
I now know more than I ever imagined about the rise of Italy's most famous aperitivo thanks to this informative and witty little book; Spritz: Italy's Most Iconic Aperitivo Cocktail, with Recipes, by Talia Baiocchi & Leslie Pariseua. Their casual, la dolce vita approach to writing kept my brain quenched and made me long to live out the spritz life. The Spritz has been an easy, sunny afternoon drinker for the hubs and I for years since visiting Italy. Now armed with this blue and orange bound biblioteca of all things Spritz, we've been able to refine our technique and branch out into other riffs on the classic aperitivo.
This book mimics the simplicity, lightheartedness and leisurely pace of the Spritz. I recommend it to anyone who has a special place in their heart for the comforting and breezy Italian lifestyle. The book rekindled my personal love of the Spritz and inspired me to come up with a new recipe that takes the work out of baking and allows for a day of relaxation and indulgence. This easy, breezy, Aperol Spritz Panna Cotta combines the iconic Italian bitter with a simple, creamy panna cotta, topped with a bittersweet layer of Aperol and Prosecco drunken Cara Cara oranges infusing sunshine and the spritz life into every bite.
It's hot, you're tired, and you deserve to transport yourself to an Italian piazza where the aperitivos and digestifs bookend a great meal and pair beautifully with this Aperol Spritz Panna Cotta any time of day. Treat yourself and raise a Spritz or an Aperol Spritz Panna Cotta to la dolce vita!
*Note: I prefer to use Cara Cara oranges in this recipe for their bright and sunny color, low acidity and tangy sweet flavor. Traditional Navel oranges work just as well.
***I received this book from the Blogging for Books program in exchange for this review.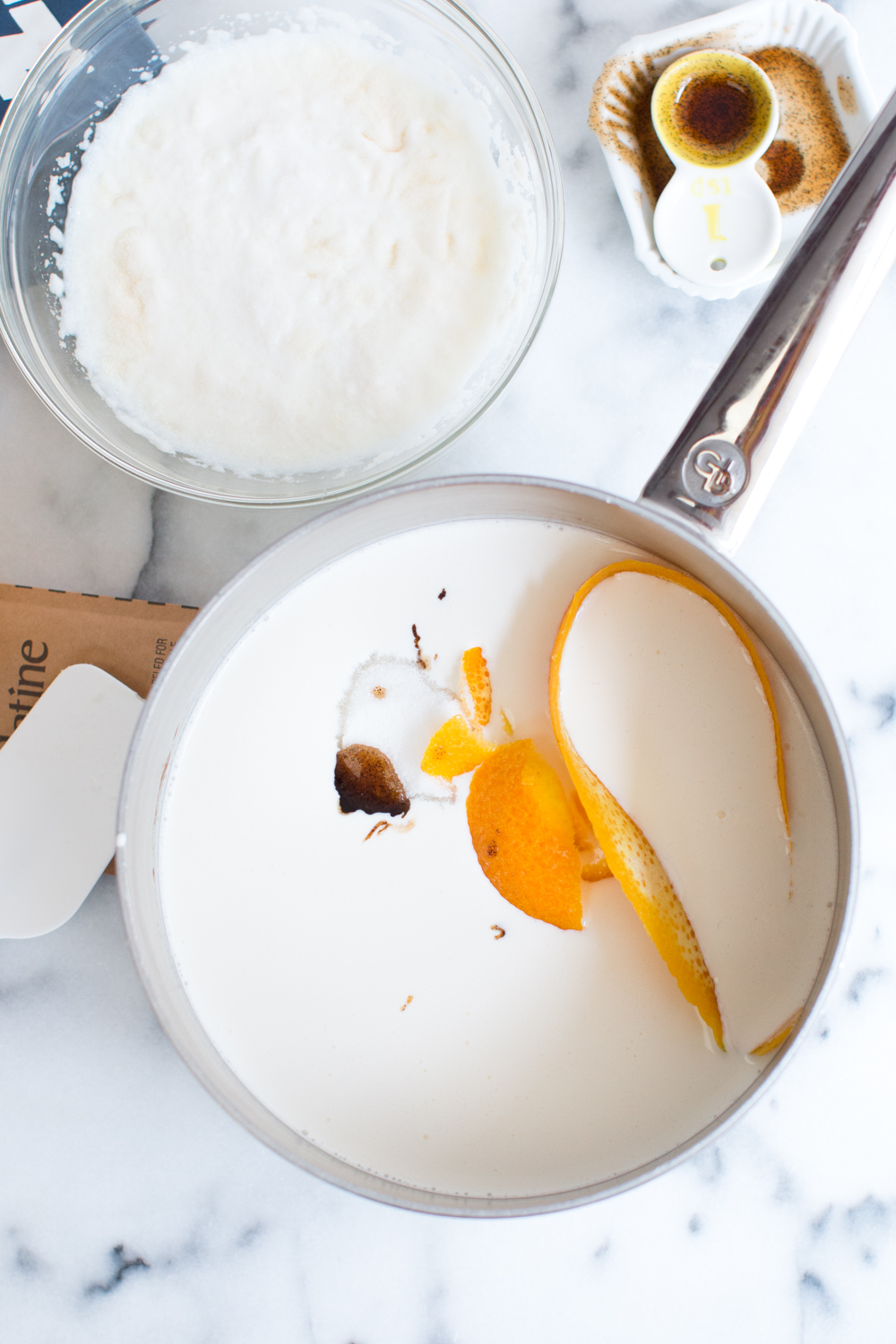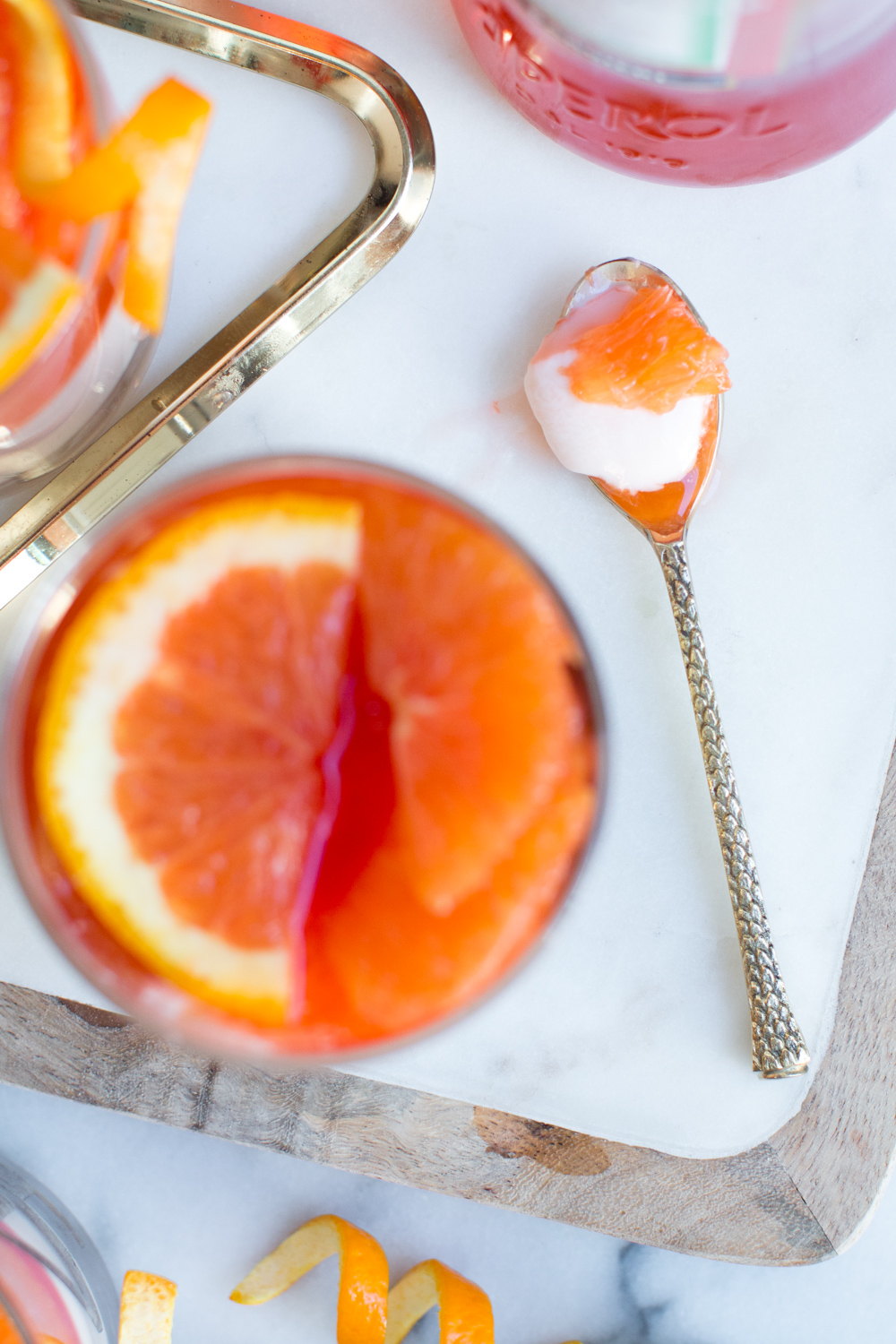 📖 Recipe
Aperol Spritz Panna Cotta
---
Description
This easy breezy, Aperol Spritz Panna Cotta combines the iconic Italian bitter with a simple, creamy panna cotta, topped with a bittersweet layer of Aperol and Prosecco drunken Cara Cara oranges infusing sunshine and the spritz life into every bite.
---
Ingredients - Aperol Panna Cotta
whole milk - divided -

1

cup

unflavored powdered gelatin - 1 packet (about 2 teaspoons heavy cream - 2 ½ cups)
granulated sugar -

½

cup

orange peel - 1 orange
vanilla bean paste - 2 teaspoons
Aperol -

¼

cup
Ingredients - Prosecco Soaked Oranges
Cara Cara or Naval oranges - 5
Prosecco -

1 ½

cups

Aperol - 2-3 tablespoons
---
Instructions
APEROL PANNA COTTA
Use a vegetable peeler or a pairing knife to remove orange peel, without pith and set aside. Reserve the orange segments for the prosecco oranges.
Pour ½ cup milk into a medium bowl (reserving the other ½ cup for cream mixture) then sprinkle the gelatin over top. Allow to sit until the gelatin softens while you prepare the cream mix, about 15 minutes.
Combine cream, sugar, orange peel, vanilla bean paste and the remaining ½ cup milk in a large saucepan. Bring to a simmer over medium heat, whisking until sugar dissolves then remove from heat, cover and steep for about 10 minutes so the flavors can meld together.
Bring the cream mixture back up to a simmer. Add the gelatin mixture and stir until completely dissolved. Strain the mix into a large bowl or measuring cup and allow to cool for about 5 minutes.
Gently stir in the Aperol and allow the mix to cool for about 5 more minutes before pouring into glasses or ramekins.
Divide among six ramekins or cups, pouring about ¾ cup of the liquid into each. Chill until the panna cotta has set, completely, at least 6 hours or overnight.
The panna cotta can be made 2 days ahead. Cover and keep chilled until ready to serve.
PROSECCO ORANGES
While the panna cotta sets, prepare the Prosecco soaked oranges.
Begin by slicing each end of 5 of the oranges, fully exposing the segment ends. Using a pairing knife, gently cut away the peel and pith from end to end, all the way around. Then slice segments from the membrane and place the segments in a medium sized bowl. (Use the peeled orange that you reserved from panna cotta and save the last orange for garnishing).
Pour about 1 ½ cups of prosecco over the oranges to fully submerge them in sparkly goodness. Quickly close up your remaining prosecco or prepare a Spritz right away so you there is no waste. Allow the orange segments to soak up the prosecco for at least 4 hours, in the fridge, while the panna cotta sets up.
TO SERVE
Remove chilled panna cotta and prosecco oranges from the fridge. Gently pour a thin layer (about ⅛") of Aperol directly on top of each panna cotta. Carefully spoon orange segments on top, divided evenly among the cups. Garnish each with a thick slice of orange and a swirl of peel for a true Aperol Spritz aesthetic.
Serve immediately, preferably alongside a Spritz on a sun drenched piazza.
Prep Time:

20 minutes

Cook Time:

20 minutes