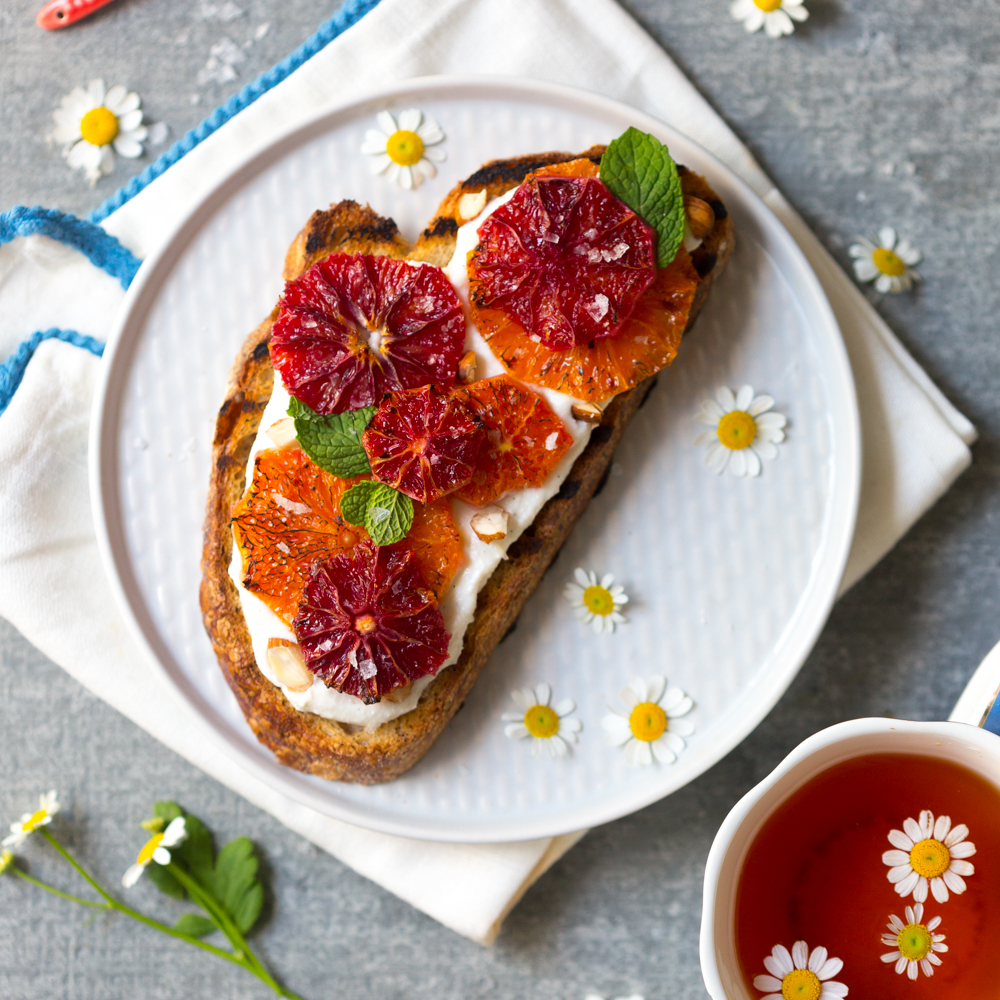 With this recipe for Broiled Orange Whipped Ricotta Toasts, I tried to create a small ray of sunshine in my quiet kitchen during some incredibly dark times. I live in Santa Barbara, CA. As you've probably heard by now, we've been put through Mother Nature's wringer over the past 6 weeks. The ash was finally settling after the largest wildfire in California history, the Thomas Fire, wreaked havoc on our golden state.
This week, heavy, violent rains brought Montecito to her knees as floods & mudslides destroyed homes, businesses, roads and closed a 30 mile stretch of the 101. By far the most devastating effect has been the loss of 17 beautiful lives. With many more people still missing, this is a truly catastrophic situation.
While helicopters hover above, I scroll through countless videos and images of the powerful destruction. I find myself awestruck and overwhelmed with emotion. I can't quite comprehend what has happened. My heart is breaking for the families, businesses and animals affected.
Through all of this, my work seems futile and insignificant. I am struggling to find it in my heart to write about and edit pictures of food when so many around me are suffering through the most challenging days of their lives. It seems insensitive and I haven't been able to bring myself to go there, until today.
I tried and tried to write another post and found myself staring blankly at my screen. I realized what I needed was to get up and use my hands, I need to make and create, I needed to cook in order to deal. Feeling somewhat enlightened by an oldie but a goodie on the blog, my Broiled Grapefruit with Brown Sugar and Sea Salt, I took to the kitchen determined to brighten the day with a new recipe.
This simple yet elegant toast recipe doesn't involve a whole lot of cooking.
Bright and colorful slices of Cara Cara and Blood Oranges bring sunshine to this recipe.
Thick slices of grilled artisan levain bread serve as a sturdy and chewy base.
Raw almonds add a welcome crunchy topping.
Mint sprigs bring freshness.
Sea Salt Flakes add a briny burst of brightness to the mix
These Broiled Orange Whipped Ricotta Toasts are as fresh as they are comforting, two things we could use a lot of around here.
I know these Broiled Orange Whipped Ricotta Toasts won't change the world or anything. But...
...I am happy to say they brightened my day, and I have a feeling they can do the same for you. Trust me, if you're feeling low and struggling to find a light, this gorgeous toast will bring sunshine to your day and your belly. Food heals hearts and souls. 
It's been a long, dark season of tragedy and devastation. I am still finding my way out of this darkness so please bear with me as I process what has happened to our community and reroute my energy. And above all else, please keep the people and animals affected by the Thomas Fire & now the fatal mudslides of Montecito in your hearts & on your minds. Life is precious & can change in an instant. May the light & love shine on.

?+☀️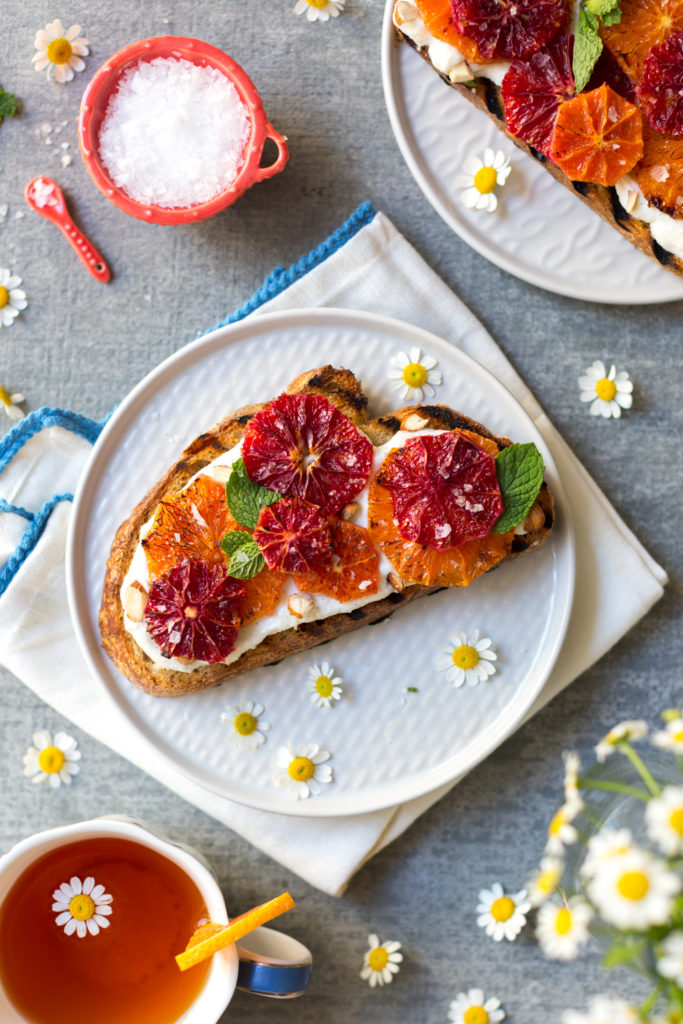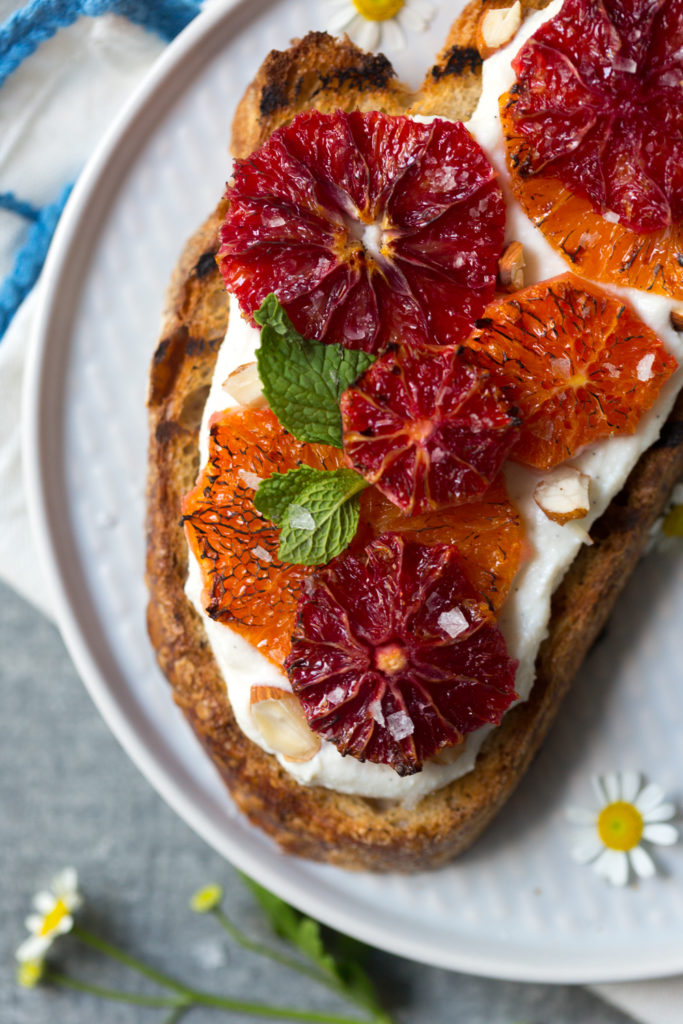 📖 Recipe
Broiled Orange Whipped Ricotta Toasts
---
Author:

Becky Sue

Total Time:

15 minutes

Yield:

4
Description
Bright & juicy slices of broiled Cara Cara and Blood Oranges bring sunshine to thick slices of grilled artisan levain bread topped with whipped vanilla & honey ricotta, crunchy raw almonds, fresh mint & briny sea salt flakes.
---
4

thick slices hearty artisan bread

12

ounces

ricotta cheese

1 teaspoon

vanilla bean paste or pure vanilla extract

2

Cara Cara oranges

2

blood oranges

2

-

3

tablespoons honey

¼

cup

raw almonds (roughly chopped)

4

sprigs fresh mint leaves

1 tablespoon

sea salt flakes
---
Instructions
In the bowl of a stand mixer with the whisk attachment, whisk together the ricotta, 1 tablespoon of honey and the vanilla for 3-5 minutes, until smooth and airy. Refrigerate until ready to use.
Grill or toast the thick slices of bread to desired toasty doneness. Set aside.
Using a mandoline or sharp knife, carefully slice the oranges into ¼" thick slices. Cut off the peel and pith so just the juicy centers remain. Transfer to a foil lined baking sheet and gently brush the slices with remaining honey.
Set oven to broil and place the baking sheet under the broiler for 3-5 minutes, until the honey bubbles up and caramelizes and the oranges start to blacken on the edges. Allow to cool slightly.
Smear the ricotta evenly on the toasts, sprinkle with chopped almonds. Then layer on the broiled oranges and mint leaves. Sprinkle with sea salt flakes and serve any time of day with your favorite tea. Optionally drizzle with more honey for added sweetness. 
Prep Time:

10 minutes

Cook Time:

5 minutes

Category:

Breakfast, Brunch