It almost seems frivolous to bake a cake or even a batch of cookies amidst the crisis our whole planet is facing right now. But at the same time, we could all use a little home baked comfort now more than ever. So instead of developing a fancy new recipe, I turned inward to one of my personal, simple comfort foods from my childhood, Cinnamon Toast.
This Cinnamon Toast Brûlée takes that classic, simple as can be treat to new heights with nothing more than the magic of heat. As a kid, cinnamon toast was a staple for us. It served as breakfast multiple times a week. And made for the easiest, most basic indulgence when you needed a sweet treat. This Cinnamon Toast Brûlée came to be by accident, but it was one of the happiest accidents I've ever experienced.
Lately I've been baking bread and other similarly simple baked goods to keep us sustained and happy in this humbling time. While testing the recipe for this Best Basic White Bread, I decided to bring back an old staple and make some cinnamon toast. While setting up to take a few photos, my toast got cold. The butter
wasn't melting so I decided to grab my culinary torch
and give the butter a little boost. As it started to melt, the sugar
did too. And then like a lightning bold, it struck me, Cinnamon Toast Brûlée! I brûléed the bejesus out of that first slice and I felt like I'd unearthed something that's been here all along but somehow we all just casually ignored it. The world needs to now know that Cinnamon Toast Brûlée exists. And it is magic.
The moment I realized that I was making Cinnamon Toast Brûlée, I knew I would be forever changed. It's like my lifetime partner went on one of those makeover shows and came out even more fabulous, attractive and irresistible than ever! I've loved cinnamon toast with my whole heart for my entire life but the new and improved Cinnamon Toast Brûlée is here to stay! I just hope it doesn't leave me now that's it's got this newfound confidence.
But in all seriousness, this Cinnamon Toast Brûlée was next level. Here is how it's done. Toast your bread, smear it with some butter, add a sugar
and cinnamon
mix to the top, apply heat, preferably with a culinary torch
. I know not everyone has a culinary torch, but you should definitely put it on your Christmas list next year. But worry not, if you don't have a torch, you can still make this dreamy Cinnamon Toast Brûlée. You just need to switch your oven to broil mode and in less than a minute you'll have a bubbly, crusty, sugar shelled slice of Cinnamon Toast Brûlée on your hands. And your life will be forever changed, for the better.
This Cinnamon Toast Brûlée can be enjoyed as an indulgent breakfast, a perfect afternoon pick-me-up or the worlds easiest dessert. Life is weird right now, don't deny yourself the sweet and comforting pleasure of Cinnamon Toast Brûlée.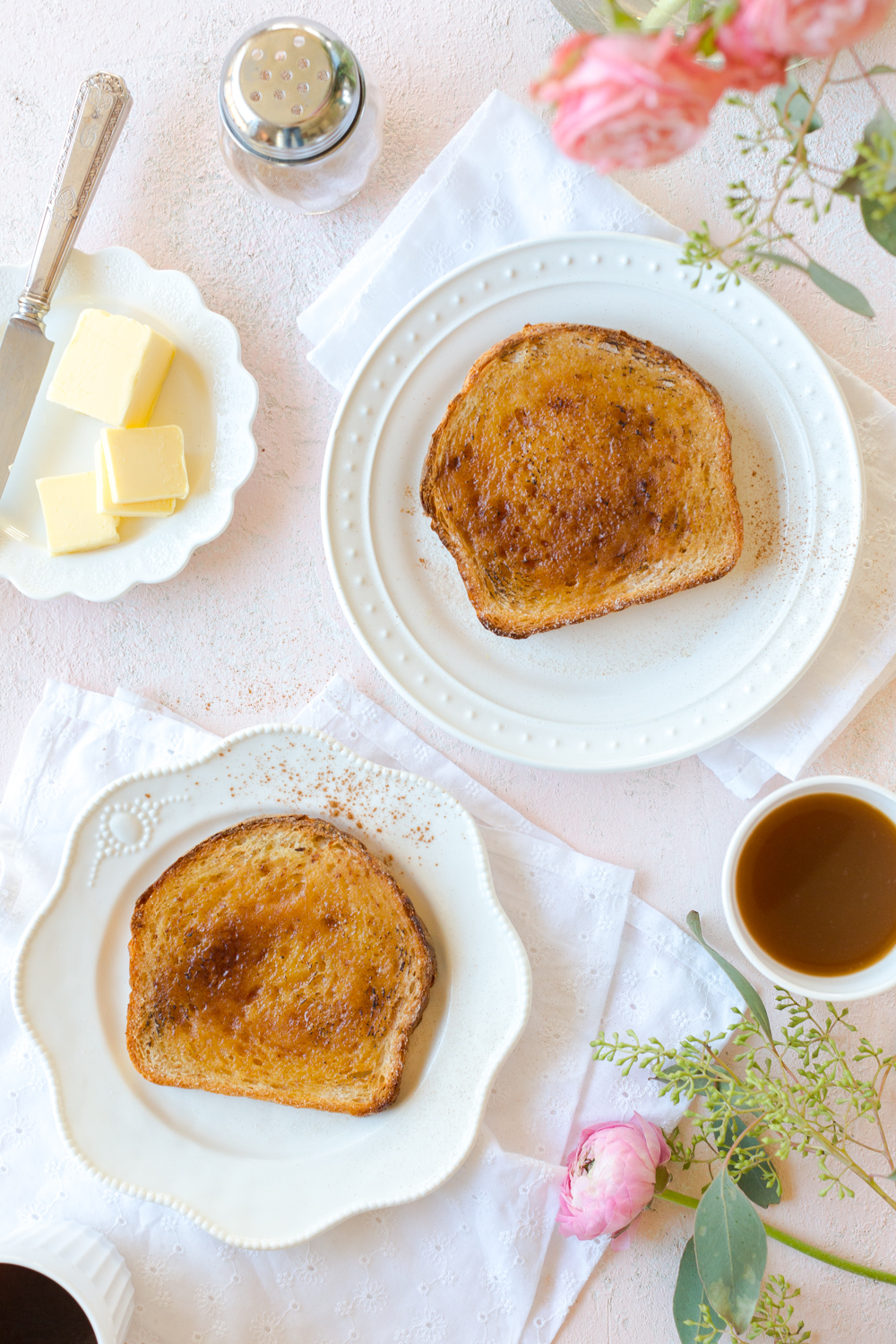 Print
📖 Recipe
Cinnamon Toast Brûlée
---
Description
Cinnamon Toast Brûlée takes that classic, simple as can be treat to indulgent heights with nothing more than the magic of heat. Toast is topped with buttery, sugar, cinnamon and a pinch of salt, then brûléed until a bubbly, butter candy shell forms.
---
2

-

3

slices bread

2

-

3

tablespoons butter at room temperature

2 tablespoons

granulated sugar

½ teaspoon

ground cinnamon
pinch salt
---
Instructions
Before you begin, here are a couple of things to keep in mind. Since bread can vary in size so much, this recipe will make 2-3 slices, depending how big your slices of bread may be.
You can use either a culinary torch or the broil setting in your oven to brûlée your toast.
Combine sugar, cinnamon and salt together in a small bowl and stir to mix.
Toast your bread to desired toastiness in your toaster or oven. FYI, if you are using the broil method, toast a little lighter than you prefer as it will toast up more when it broils.
Transfer the toast to a baking sheet then spread about ¾ - 1 tablespoon of butter on each slice of toast while it is still warm.
Evenly sprinkle the sugar mix over the top of the melty butter on each slice of toast.
For the culinary torch method: Hit the sugar mix with the culinary torch, gently waving the torch over the top until the sugar starts to melt, bubble up and bûlée. It should make a crisp, candy like shell.
For the broil method: Turn oven on to broil setting, low broil if available. Allow to warm up for a minute or two. Place the baking sheet in the oven and watch the magic happen as the broiler brûlées the sugar and butter mix. It happens very fast, so keep an eye on it. The toast should brûlée up in less than a minute.
Prep Time:

5 minutes

Cook Time:

2 minutes

Category:

toast

Cuisine:

Breakfast
Keywords: Breakfast, cinnamon toast, Cinnamon Toast Brûlée, dessert toast, toast