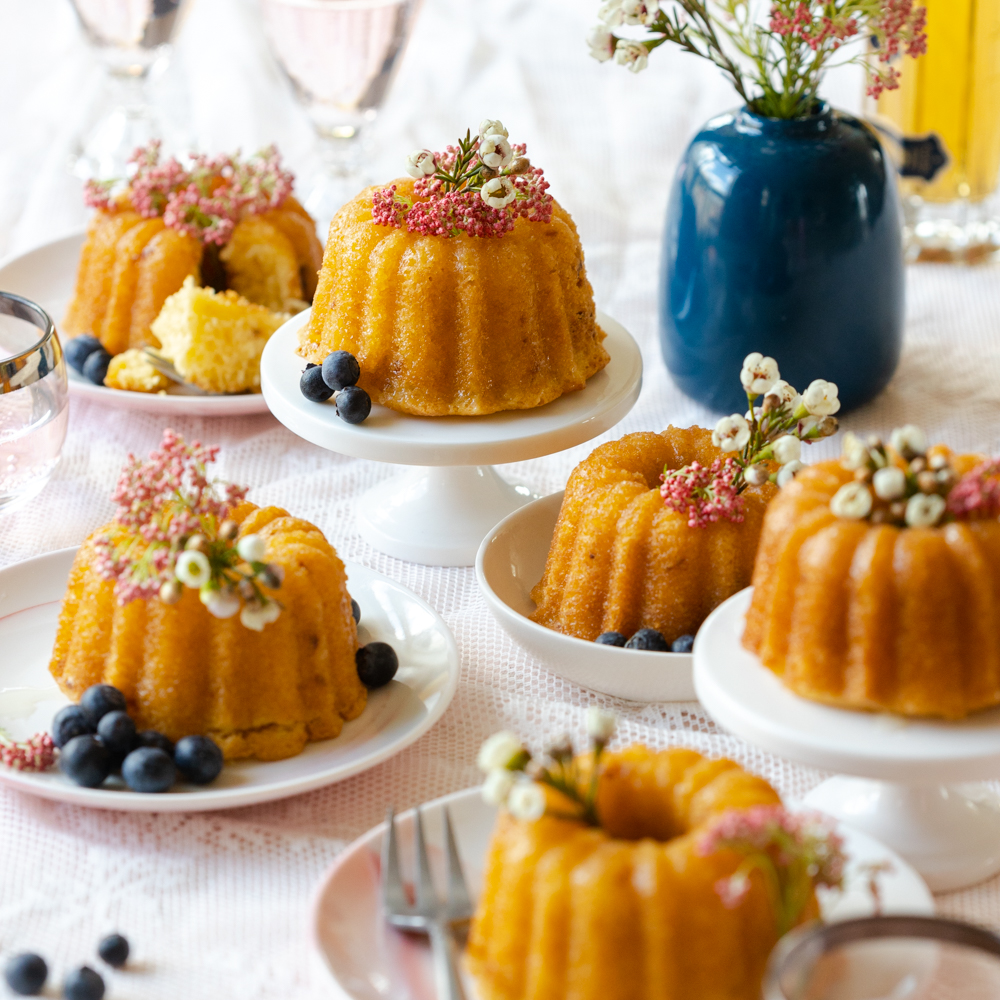 Well that winter was a damn doozy and a half. I'm still stinging from the shock of the past year. But for the first time in a long time, I feel a sense of hope on the horizon. It finally feels like we may be turning a corner. It's been a heavy year and the weight of the pandemic winter is tough to shed. In developing this recipe for Meyer Lemon St. Germain Bundtlettes I felt a shift in the kitchen and in perspective.
This past year has depleted me of inspiration. It's hard to squeeze the juice out creativity lemons when the times feel so uneasy and troubling. My work and my job have felt irrelevant. And to be frank, they kinda have been. But with spring and vaccines, we seem to be turning a new leaf. The sun feels brighter, the blooms seem bigger and life in general feels lighter.
Last Friday I derailed my plans with the computer screen and spent the day baking and shooting these Meyer Lemon St. Germain Bundtlettes. Instead of another rainy, dark day staring at the cool blue glow, I was soaking in the sun through my kitchen window along with my old pal, creativity. We were flowing a like spring breeze through an open window, all cool and serene. It's been a long while but even a small drop of inspiration can release the tight grip of creative blockage.
Over the years I've made a whole lotta imaginative bundt cakes. Like this elegant Lemon Chamomile Honey Bundt Cake, my downright delectable Pumpkin Spice Brown Butter Bourbon Bundt Cake and Brown Butter Bourbon Bundt Cake with Grilled Cherries and Blueberry Sparkler Skewers, or my over-the-top and outrageously delicious One Bourbon, One Scotch, One Beer Bundt Cake! They have all been huge hits but I wanted to scale things back and make something a little more delicate.
This brings us to these Meyer Lemon St. Germain Bundtlettes. I originally made a big bundt version of this cake as a birthday gift for a dear friend years ago. I've been thinking about it ever since. But this time, instead of going all in on the big bundt, I downsized with these baby bundlettes.
It's a well known fact that everything made smaller is cuter
I mean think about it. Mini cupcakes? Cuter. Hand pies? Adorable. Mini Madeleines? The cutest! And I may be biased but even cars made mini are cuter. Full disclosure, I drive a Mini Cooper. When it comes to bundts, these Meyer Lemon St. Germain Bundtlettes take the cuteness cake!
It's no wonder I was brought out of my creativity rut when I decided to bake these itty bitty bundts. Just one look and the mood is instantly boosted. Then you weigh in the ingredients and things get even sweeter. Just like a Meyer lemon. Yeah, they're sweet, not sour.
Some fun facts about Meyer lemons
Hybrid - Meyer lemons are a hybrid of lemons and mandarin oranges.
Less acid - Since they are a hybrid, they are much sweeter and less acidic than standard lemons.
Juicy - Meyer lemons have a thinner skin and pack a whole lot more juice than standard lemons.
Thin-skinned - The peel is thin and holds more of the acid than the juice, so the zest is a great way to incorporate some of the tartness in with the juicy sweetness.
Aromatic - the aromatics add bright sweetness to everything from desserts to marinades or cocktails.
My Meyer Lemon St. Germain Bundtlettes combine that juicy, sweet citrus with the floral notes of St. Germain for a delicately springy sensation. St. Germain is an elderflower liqueur. The soft, floral fragrance of St. Germain is like a French perfume. Those aromatics along with the brightness of the lemon is such a romantic pairing. This recipe for Meyer Lemon St. Germain Bundtlettes captures that sweet romance in the cutest way possible.
A beautiful bundt cake is one of the easiest yet most impactful desserts. But, when baking bundt cakes, there can be the possibility of catastrophic complications. The dreaded stuck bundt. Thankfully, I've got big tips and tricks under my bundt pan that make for an easy release and a gorgeous presentation, every single time!
Tips & Tricks for Better Bundt Cakes
Release Grease - The combo of the well buttered and evenly floured pan allows the bundt cake to easily release from the pan, without sticking! I always use butter, those non-stick sprays don't hold up as well with a bundt.
Get all up in there - Use a small pastry brush to get that butter in ALL of the nooks and crannies.
Keep it simple syrup - I love using a homemade simple syrup to flavor my bundt cakes. Incorporating a little booze makes them extra exciting!
Flavor Channels - Once the bundt is baked, I use a wooden skewer to make flavor channels that run throughout the cake, then I pour that simple syrup over top and the syrup flows through the channels, filling them with flavor.
Moist Maker - The syrup also gives the cake a moist and luxurious crumb.
Glaze over - Using that same simple syrup to glaze the exterior of the cake locks the moisture in and gives the cake a shiny, sweet finish.
Decorative details - Since the bundt pan does all of the heavy decorative lifting, I let the shape shine. But I love enhancing the beauty with a few fresh blooms, fresh berries and citrus slices, or even a bottle of beer!
If you're in a rut and need a creative outlet, these Meyer Lemon St. Germain Bundtlettes will get those juices flowing. It's a win-win because you're creating, plus there's cake at the end to celebrate kicking that rut right in the bundt!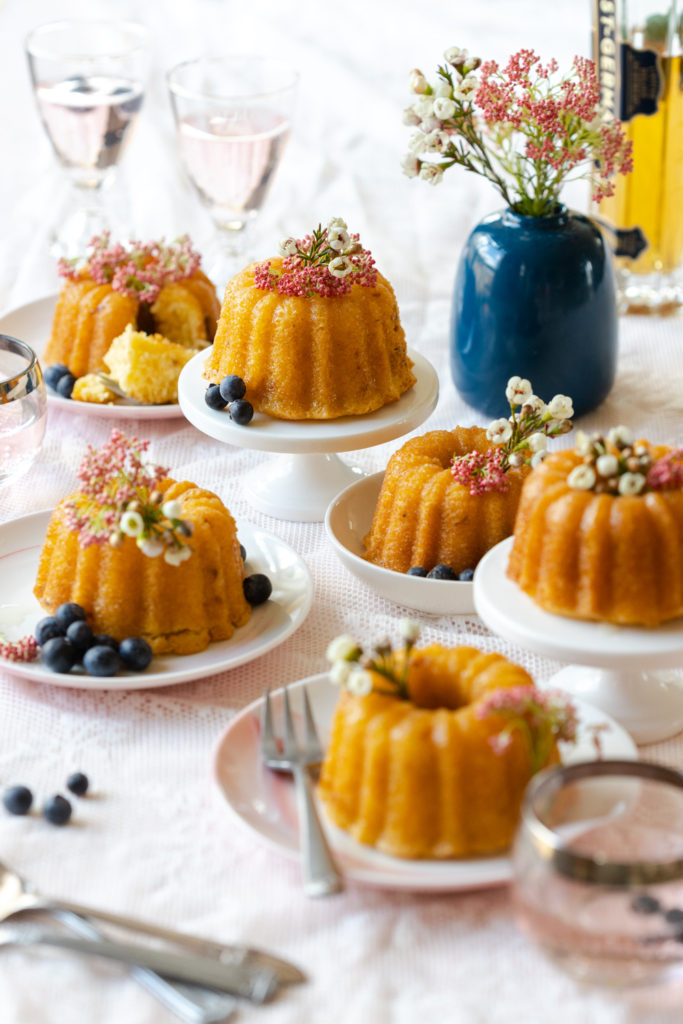 Print
📖 Recipe
Meyer Lemon St. Germain Bundtlettes
---
Description
These moist and tender Meyer Lemon St. Germain Bundtlettes are delightfully bright and zesty little lemon cakes with elegant elderflower undertones.
---
Meyer Lemon Cake
½

cup

unsalted butter + 1 tablespoon (for greasing) (- at room temperature)

¾

cup

granulated sugar

2

large eggs (- at room temperature)

1

-

2

medium Meyer lemons (- zested & juiced)

2 tablespoons

St. Germain (- or similar elderflower liqueur or syrup)

1 teaspoon

pure vanilla extract

1 ½

cups

sifted pastry or cake flour (- all purpose flour is fine too)

½ teaspoon

fine sea salt

½ teaspoon

baking soda

¼ teaspoon

baking powder

½

cup

buttermilk or heavy cream (- at room temperature)
St. Germain Glaze
½

cup

granulated sugar

2 tablespoons

freshly squeezed lemon juice

2 tablespoons

St. Germain
---
Instructions
Center an oven rack and preheat the oven to 350° F.
Prepare the bundtlette pan by using a pastry brush to cover the inside (in all of the nooks and crannies) with 1 tablespoon of room temperature butter. Then lightly dust the buttered pan with an even layer of flour, tapping to remove the excess flour.
Sift together the pastry flour, salt, baking powder, baking soda in a medium mixing bowl. Add lemon zest and whisk together.
In the bowl of a stand mixer fitted with the paddle attachment, cream the butter and sugar together on medium-high speed until fluffy, about 5 minutes, stopping to frequently scrape the paddle and the sides of the bowl with a spatula.
With the mixer on a low speed, blend in the eggs one at a time, followed by the vanilla. Stir in the St. Germain and 2 tablespoons of juice from the Meyer lemon. *There is a chance things might curdle and look a little like cottage cheese here. Don't freak out, it'll all smooth out when you add the dry ingredients.
With the mixer on a low speed, add ⅓ of the flour mixture to the butter mixture and mix until just combined, then add half of the buttermilk and mix until just incorporated - scraping the bowl after each addition. Repeat with another ⅓ of the flour mixture and the remaining buttermilk. Then remove the bowl from the mixer and add the remaining 3rd of the flour mixture, use a spatula to fold it in until the mix is just combined.
Divide the batter evenly into the prepared pan, filling each bundtlette ¾+ full. Smooth the tops with a spatula. Place the pan on a baking sheet in the oven - I like to line mine with a Silpat mat to keep the pan from sliding around on the baking sheet. Bake until the cakes are golden and spring back when touched, about 20 - 25 minutes. A toothpick inserted should come out clean.
St. Germain Glaze
While the bundlettes bake, prepare the St. Germain Glaze. Combine sugar and lemon juice in a small sauce pan over high heat. Bring to a boil, stirring until the sugar dissolves. Turn down the temperature and simmer for a few minutes until the mixture starts to thicken. Remove from heat, stir in the St. Germain and set aside to cool a bit while the bundlettes finish baking.
While the bundlettes are still warm in the pan, use a wooden skewer to poke holes all over the bottom of the bundtlettes, creating small channels throughout into the cakes. Slowly, pour ¾ of the glaze over the bottom of the bundlettes, letting it flow down the channels, reserving the remaining glaze.
Allow the bundlettes to cool in the pan for another 15-20 minutes, then carefully flip and plop them out onto a lined baking sheet. They should pop right out if you greased and floured them well. You may need to shake or tap the pan if they are sticking at all.
Using a pastry brush, gently brush the tops and sides with the remaining glaze. If the glaze has thickened too much to brush, re-warm it over low heat.
For show-stopping bundlettes, decorate with freshly picked flowers and/or fruit just before serving. Serve with whipped cream for a fancy finish.
Notes
This recipe can also be made as a single bundt cake in a 5 cup bundt pan and bake for 20-30 minutes. Or double to recipe ingredients to bake in a 10 cup bundt pan and bake for 40-45 minutes.
Add floral and fruit decorations just before serving.
Store covered or wrapped at room temperature for 2-3 days or in the refrigerator, covered or wrapped for up to 5 days.
Prep Time:

30 minutes

Cook Time:

45 minutes

Category:

Dessert

Cuisine:

dessert