If there is one recipe that instantly transports me back to my younger days, it's this Big Pink Cookie recipe. These oversized, soft and cakey sugar cookies are perfumed with a hint of almond and a note of cardamom. They get slathered in a thick and fluffy layer of pastel pink cream cheese frosting. The flavor and texture combo brings big pink joy to all.
Cookies really have a way of extracting happiness, don't they? Whether they are a classic like my Brown Butter Chocolate Chip Cookies with Sea Salt. Pure comfort cookies like these Salted Peanut Butterscotch Oatmeal Cookies or simply celebratory and sweet like these colorful Lemon Rainbow Sprinkle Cookies. There is no denying, cookies just make life better.
Jump to:
Big Pink Cookie recipe origin story
I grew up in Spokane, Washington. One of the things I miss most about that city is the Big Pink Cookies from Rocket Bakery (and my family and friends, of course). While living in Portland for 12 years, I never found anything comparable. Living in California, they were even more mysterious and far away. I began missing these big sugar cookies more than ever.
So, I started researching and came across a few recipes claiming to be the one. Turns out there is some Tupac/Biggie style beef over the origin of the BPC. Seattle, Westside, and Spokane, Eastside, both claim to be the proprietor of these illusive treats.
From what I can tell, the authentic original Big Pink Cookie is known as Uncle Seth's Cookies originating out of Seattle. But, in Spokane the BPC is pretty famous. It can be found at all of the Rocket Bakery locations and most of the extraordinarily popular, cheekily-named drive-thru espresso stands in the area. It's basically the 5th food group of the Spokane diet.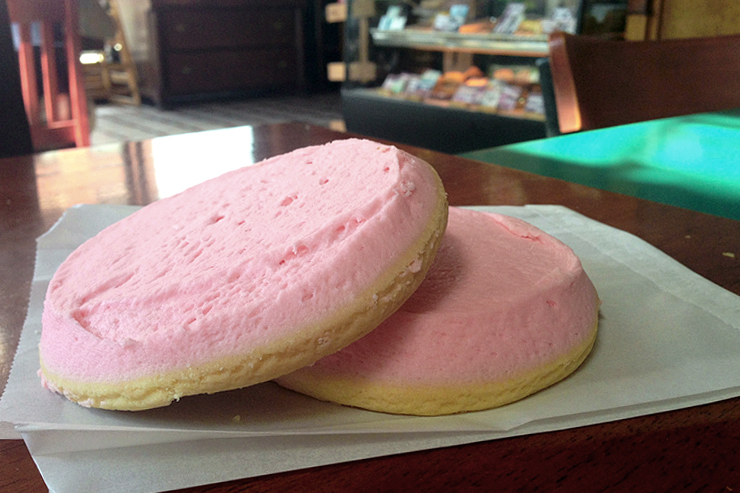 Every time I visit Spokane, a stop at The Rocket on Garland is a must. I usually leave there with a giant cup of coffee and a half dozen Big Pinks. Wherever they originated, I am just glad these cookies exist!
Breaking down the Big Pink Cookie Recipe
Sugar cookie base, these soft and cakey cookies are the perfect texture. Cut big and thick, they come out of the oven soft and chewy with a cakey crumble. Not too hard, and not too soft.
Vanilla Extract rounds out the cookies and gives them a classic sugar cookie flavor.
Almond Extract is what sets the Big Pink Cookies apart from other simple sugar cookies. It adds a layer of complexity, taking them beyond basic vanilla extract. The interaction between the almond extract and vanilla extract gives these cookies tons of flavor dimension!
Cardamom, just a whisper, adds intrigue to the cookies. They are a big, sugary cookie so a little spice helps balance out the sweetness and layer in some subtle flavor depth.
Size matters. Since BIG is in the name, this Big Pink Cookie recipe makes for some substantial cookies. Big, 4" rounds are thick cut, clocking in around ¼" thick, before frosting.
Lay it on thick. These are an indulgent cookie. The thick and creamy cream cheese frosting is an absolute must.
Think pink! Obviously you could color the cream cheese frosting any way you want. Or keep it simple and omit coloring the frosting altogether. But a big part of the personality of these cookies is the blush pink color! With a name like Big Pink Cookies, you've got to go all in on the pretty pink frosting. Read below for my alternative, natural food coloring alternative for getting that pretty pink color.
My Big Pink Cookies recipe is as close to the original as I could get. The texture, weight and flavor are pretty much spot on to the original. I have modified my version to enhance the flavor and better serve my memory. The result is a nearly identical and satisfying cookie that takes me way back to the good ol' days of pulling shots at the various drive-thru espresso stands where I worked for years.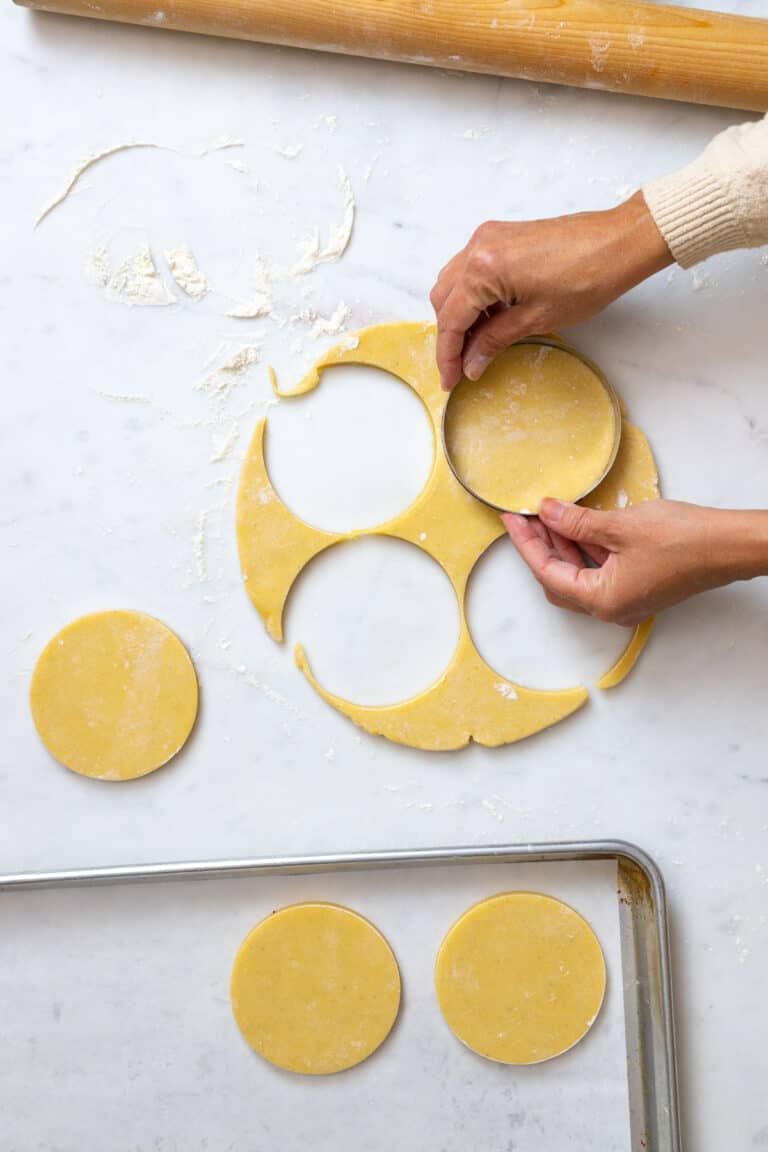 Tips for making Big Pink Cookies
Go big! This recipe is double that of most cookie recipes. Since we are baking big, giant bakery sized cookies, this is an oversized recipe. The recipe makes between 18-20 extra large, 4" cookies.
Take the temperature. You want to be sure your butter and sugar are at room temperature so they can properly cream together and incorporate with the other ingredients.
Cream it up. When creaming together the butter and sugar, make sure that the sugar is fully incorporated into the butter. Cream them together until the mixture becomes light and airy and begins to lighten in color. Sufficiently creaming the butter and sugar helps the cookies keep their structure when cut and baked, resulting in perfectly round, thick cookies.
Get over the curdle hurdle. I have occasionally found that incorporating almond extract can cause cookie dough to curdle at first. Worry not. If it does start to curdle, it will all smooth out as you add the dry ingredients with no flavor or texture issues.
Divide the dough. This is a BIG recipe so dividing the dough into 3 equal portions will make it easier when rolling out and cutting the cookies.
Frosting tips. These are not small and precious cookies. They are big and messy with a thick and indulgent layer of airy, cream cheese frosting. You aren't going for perfection here. Just use an offset spatula or butter knife to spread that frosting on in a thick, circular swoop.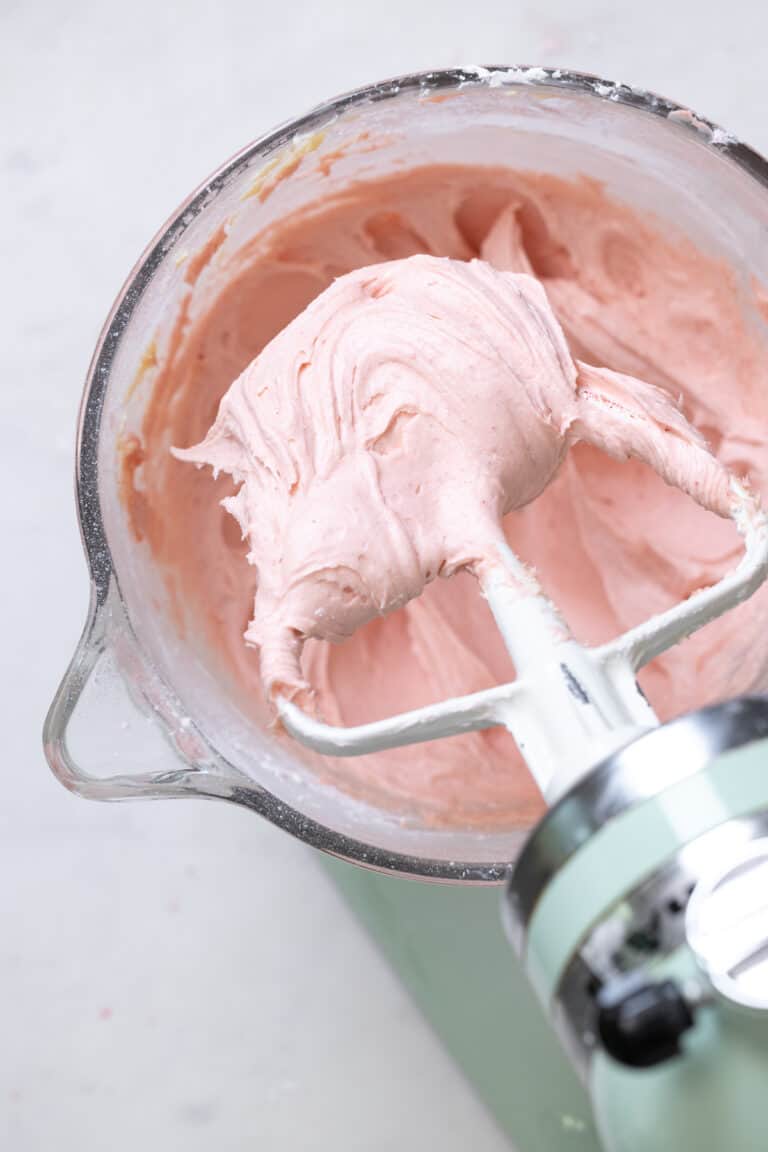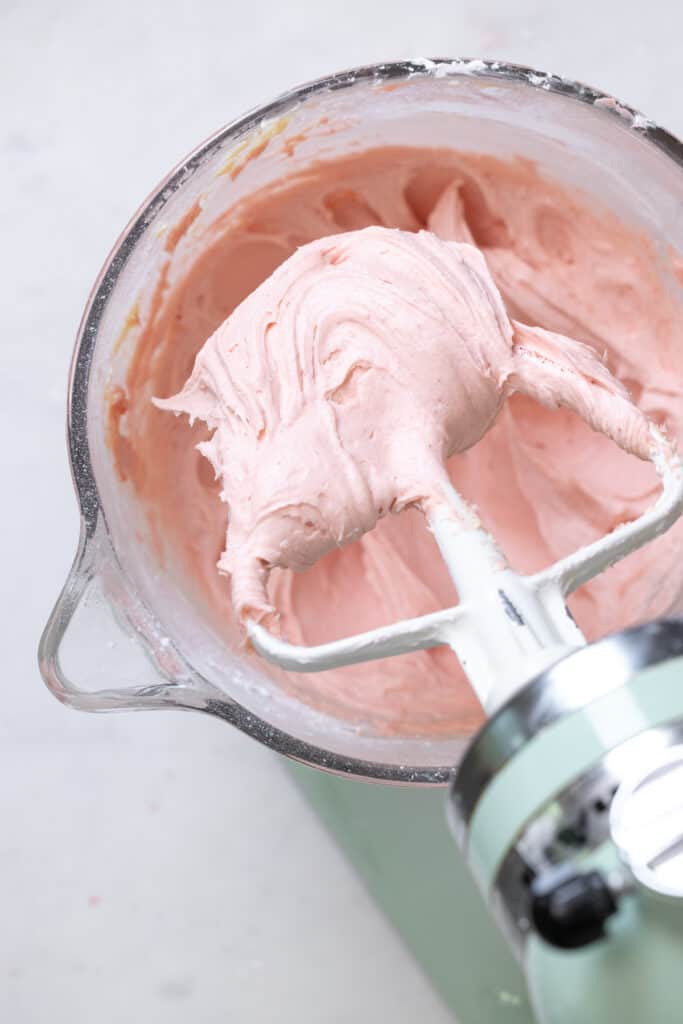 Have it your way. If you want smaller cookies, you can certainly adjust. Just make sure to decrease the bake time if they are significantly smaller. You can also change up the shapes. This dough holds it structure well, so you can use the base like a sugar cookie and cut out different shapes. I personally love making them into Big Pink Heart Cookies around Valentine's Day. Top them with sprinkles if you fancy.
Freeze dried berries are a natural food coloring and flavoring
I totally understand the hesitation in using food coloring in baking. So, over the years I transitioned this recipe to use Freeze Dried Strawberries in place of food coloring. Not only do freeze dried strawberries provide a beautiful, soft pink color. They also impart a natural, concentrated strawberry flavor. A delightful addition to the flavors in this Big Pink Cookie Recipe.
I also use freeze dried strawberries to color and flavor the glaze on these tangy Glazed Strawberry Lemon Heart Cookies. Find it in the fluffy frosting of my Mini Strawberry Lemon Cupcakes. Freeze dried strawberries also dust the top of these decadent, chewy Strawberry Blondies and they are even flavor the strawberry layer in my Neapolitan Madeleines.
How to use freeze dried berries as a natural fruit coloring
While this recipe uses freeze dried strawberries, feel free to play with other freeze dried berry options for more natural color and flavor. I love mixing some freeze dried blueberries in with the freeze dried strawberries for a vibrant purple color and mixed berry flavor!
Crush the freeze dried strawberries with a mortar and pestle, in a food processor or by placing them in a sealed plastic baggie and gently rolling and pounding them with a rolling pin. Keep crushing them until a fine powder is formed.
Next, sift the powder through a fine mesh sieve to remove any large seeds. While this isn't totally necessary, It does make for a smoother mix-in.
Then, sift or whisk the freeze dried strawberry powder in with the sifted powder sugar.
Finally, blend the powdered sugar and freeze dried strawberry powder into your frosting to naturally color and flavor the cream cheese frosting in the Big Pink Cookie recipe.
While the strawberry flavor isn't in the original Big Pink Cookies, I find it to be a wonderful addition to the flavor profile already happening in these cookies. Alternatively, you can use a few drops of red or pink food coloring. There are many natural food colorings available that add vibrant pink color, but I prefer freeze dried strawberries.
This easy Big Pink Cookie Recipe is a celebration in and of itself. The cookies elicit pure joy and always hit the spot. Baking a batch of slightly sloppy yet delightfully delicious cookies will win you friends and influence people to requesting them again and again. Brighten your day, and everybody else's, with these great big happy, pink cookies!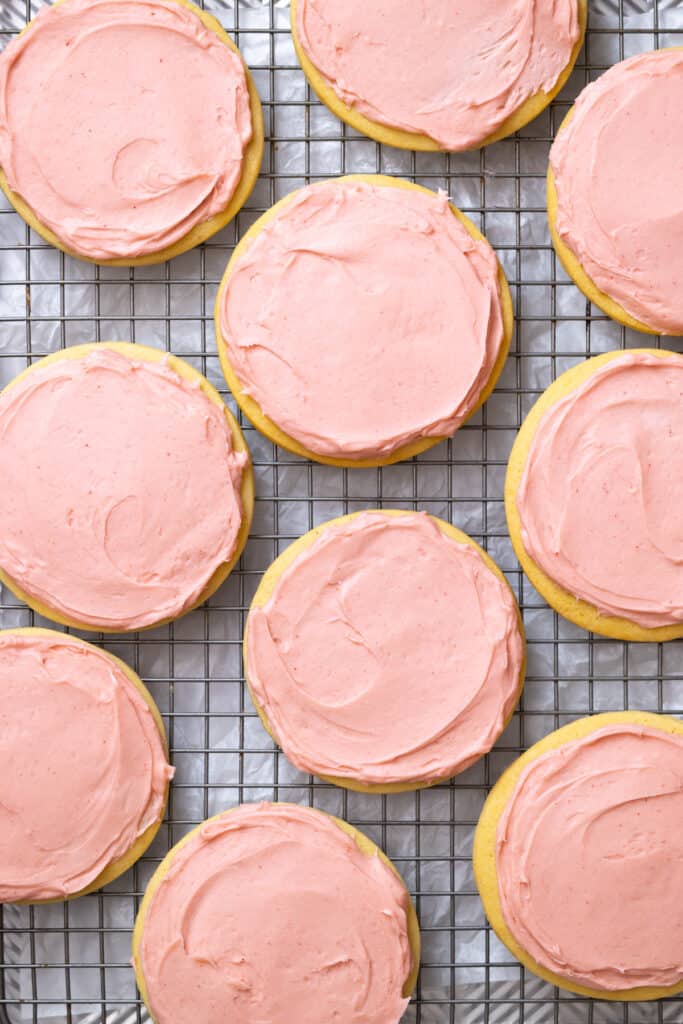 Cut them into fun shapes and sizes or add sprinkles. The possibilities are endless with these easy pink cookies!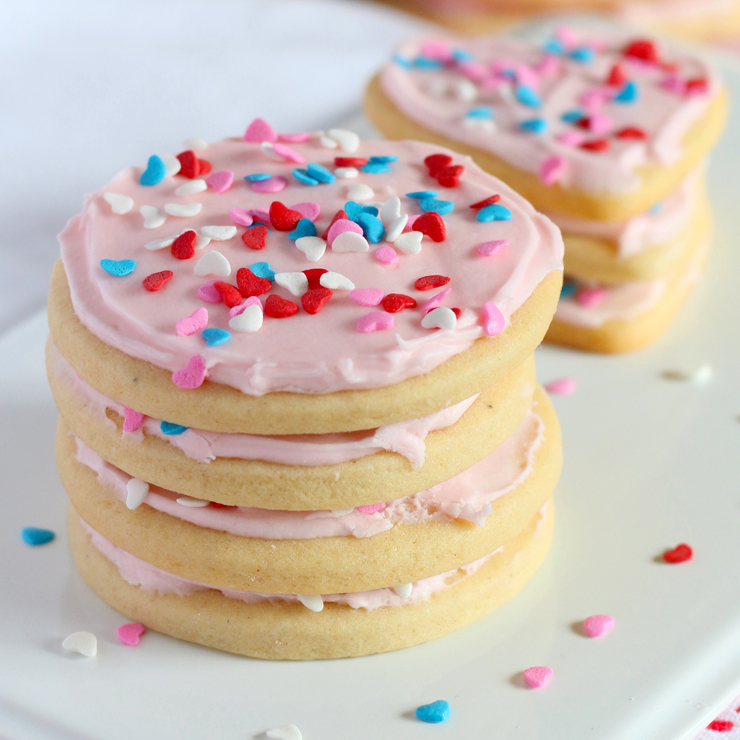 Print
📖 Recipe
The Big Pink Cookie Recipe
---
Author:

Baking The Goods

Total Time:

1 hour 45 minutes

Yield:

18-20 large cookies
Description
A recipe for the famous Big Pink Cookie. A giant soft sugar cookie with hints of almond and cardamom, slathered in a thick layer of pastel pink cream cheese frosting.
---
Cookies
5

cups

all purpose flour

2 teaspoons

baking powder

1 ½ teaspoons

fine sea salt

1 teaspoon

ground cardamom

1 ½

cups

(3 sticks) unsalted butter at room temperature

1 ½

cups

granulated sugar

4

large eggs at room temperature

1 ½ teaspoons

pure vanilla extract

1 ½ teaspoons

almond extract
Cream Cheese Frosting
8

ounces

cream cheese (softened)

½

cup

(1 stick) unsalted butter at room temperature

1 teaspoon

almond extract

3 ½

-

4

cups

powdered sugar

¼

cup

freeze dried strawberries (crushed & sifted) or a couple of drops of pink or red food coloring

¼

cup

decorative sprinkles (optional)
---
Instructions
Sugar Cookies
Whisk together the flour, baking powder, salt, and cardamom in a medium bowl. Set aside.
In the bowl of an electric mixer fitted with the paddle attachment, cream the butter and sugar together on high speed for about 5 minutes, stopping the mixer occasionally to scrape down the sides of the bowl. The mixture should be airy and fluffy and slightly lighter in color.
Crack the eggs into a liquid measuring cup. With the mixer on low, slowly add eggs to the bowl one egg at a time, allow each egg to blend in completely before adding the next. Blend in the vanilla extract, followed by the almond extract. *hint, the mixture may slightly curdle when you add the almond extract. Don't worry, it will recede once the dry ingredients are mixed in.  Scrape down the sides of the bowl.
Slowly add the dry ingredients and mix on low speed until a smooth consistency is achieved. The dough will be soft and sticky at this point.
Divide the dough into three equal disks and wrap individually in plastic wrap. Chill the dough in refrigerator for at least an hour up to overnight. This allows the dough to develop and firm up so it's easier to to roll out.
Cream Cheese Frosting
While the dough chills, prepare the frosting. If using freeze dried strawberries:
Crush the freeze dried strawberries with a mortar and pestle, in a food processor or by placing them in a sealed plastic baggie and gently rolling and pounding them with a rolling pin. Keep crushing them until a fine powder is formed.
Next, sift the strawberry powder through a fine mesh sieve to remove any large seeds. 
Sift the freeze dried strawberry powder together with the powder sugar. 
In the bowl of an electric mixer fitted with the paddle attachment, cream the butter, cream cheese and almond extract until completely smooth.

Slowly add in sifted powdered sugar mix to taste - use 3 ½ cups for a more tangy cream cheese frosting and 4 cups for a sweeter cream cheese frosting. Alternatively, if you are using food coloring, slowly add, one small drop at a time, until you are happy with the color. Blend until color is evenly distributed throughout the frosting. Place the frosting in refrigerator until ready to use.
Bake & Decorate
Preheat the oven to 350°. Remove dough from refrigerator and allow it to soften for a few minutes. 
Be sure to have cookie cutters and a rolling pin available. For large cookies, I use a 4" round and 3.5" x 4" heart shape for the large cookies. For the medium cookies, 3" round and 2.5" x 3" heart shape.
On a lightly floured surface, use a rolling pin to roll out one of the dough disks into ¼" thickness. 
Cut the rolled dough with cookie cutters, place cookies closely on a lined baking sheets. Gather the scraps and re-roll and cut dough. Repeat with remaining dough disks. Place the baking sheet of cut cookies in the refrigerator or freezer to firm up for at least 15-30 minutes while the oven preheats. At this stage you can freeze the cut cookies solid on the baking sheets. Then transfer to a tight sealing baggie and store in the freezer up to two months. 
Place 6 large chilled cookies per baking sheet, at least 1" apart. Bake for 12-16 minutes (depending on size) until the edges start to brown slightly. Remove from oven and cool on cookie racks.
Once the cookies have completely cooled, frost them liberally using a small offset spatula. Add sprinkles if desired. 
Notes
The cookie dough can be mixed, rolled and cut ahead of time. Freeze cut cookies on a lined baking sheet. Once solid, transfer to a tight sealing baggie and store in the freezer up to two months. Bake directly from the freezer, no need to defrost. Just be aware the cookies may need a couple of additional minutes of bake time. 
If not enjoying right away, store cookies in the refrigerator. They will stay fresh in the refrigerator for up to 5 days.
Prep Time:

1 hour 30 minutes

Cook Time:

15 minutes

Category:

dessert
Keywords: Cookies, Pink Cookies, Big Pink Cookies, Sugar Cookies, Frosted Sugar Cookies, Cream Cheese Frosting