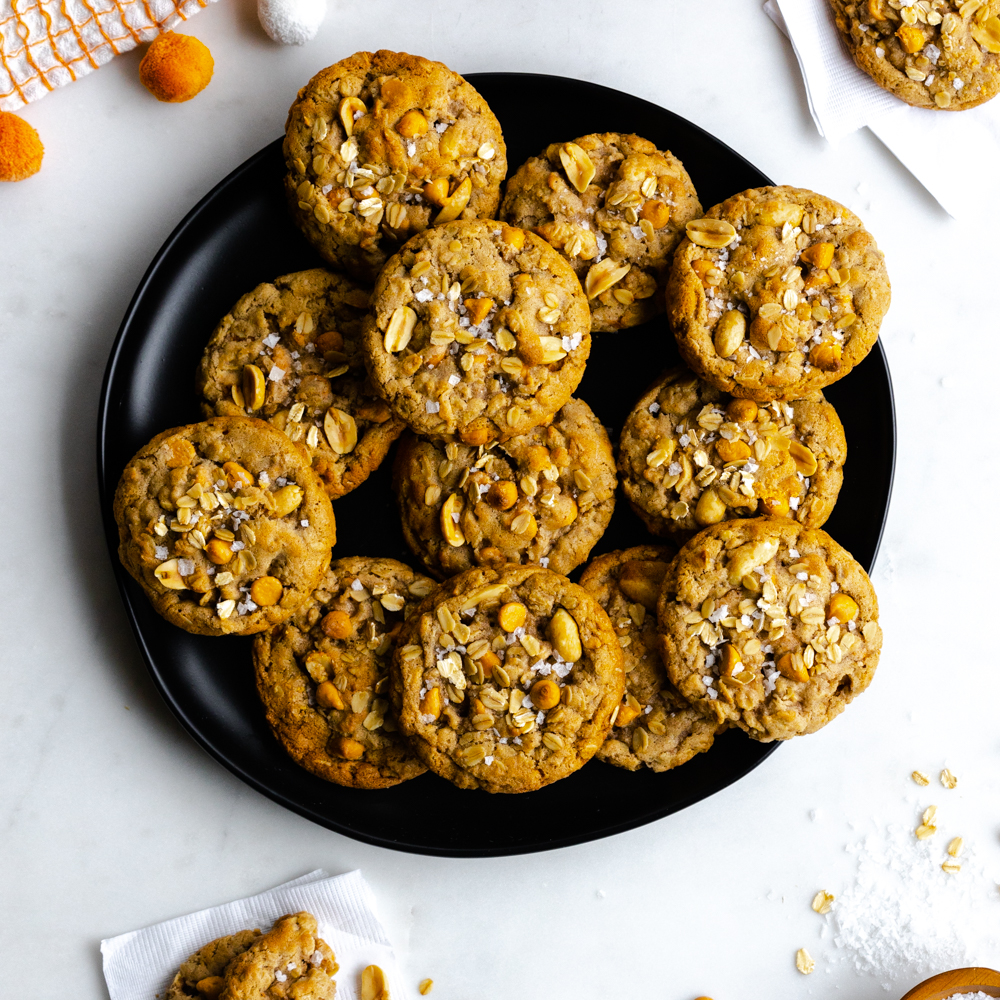 Do kids these days even know the flavor filled joy of the golden nuggets know as Butterscotch Discs? Do the grandparents of today have candy jars filled with the sugary menagerie of individually wrapped butterscotch, cinnamon, strawberry and peppermint hard candies? All of this hand candy talk has me reminiscing over my Great Grandmother's fancy sitting room and that glinting glass jar of Butterscotch Discs. Anybody else? These Salted Peanut Butterscotch Oatmeal Cookies are an ode to the days of old.
Jump to:
Over time, butterscotch candies seems to have gone the way of fudge and Ambrosia Salad. I can't remember the last time I saw a cardigan clad Grand-dad slinging nostalgia in a Werther's Original commercial. So I'm bringing back butterscotch in a comforting yet new way with my Salted Peanut Butterscotch Oatmeal Cookies! Find your bifocals if you're here for it (FYI, they're around your neck).
Butterscotch and salty peanuts are a match made in sweet & salty heaven.
Butterscotch is a strong flavor and I understand if it's off-putting at first. But, I think it's just a matter of balancing that rich sweetness with more grounded ingredients like browned butter and oats. These Salted Peanut Butterscotch Oatmeal Cookies were a culmination of my affinity for old school butterscotch and my obsession in balancing sweet with salty.
These Salted Peanut Butterscotch Oatmeal Cookies are superbly balanced in both flavor & texture.
Brown butter makes it better - while it may seem like a small thing, browning half of the butter brings a warm and slightly savory depth the the cookies.
Oats with most - thick rolled oats add loads of chewy texture while absorbing some of the rich flavors for a balanced profile.
Go for the gold - the flavorful butterscotch chips add a gold rush of deep, buttery sweetness to the cookies.
Now with nuts - the salted peanuts gather together all of the high intensity sweet richness, then mellow them back down with earthy, salted nuttiness. Plus they add a nice crunch to the mix!
Spice is nice - a little hit of cinnamon also helps counter the richness of these cookies, grounding the cookies in the subtle warmth of spice.
Salt to taste - yes, butterscotch is a rich and powerful flavor, so I still like to add a sprinkle of sea salt flakes, when these cookies come out of the oven, to help equalize the depth. The salted peanuts might be enough for you. But if you feel like you need a little more, you can always salt to taste.
As you can see, these cookies have a lot going on, both texturally and in the flavor department. They bake up with crisp halos around the edge but still have a soft and squishy center. The oats add an irresistibly chewy bite that blends beautifully with the creamy bits of butterscotch. Then those salted peanuts come in, studding every other bite of the soft cookies with a salty crunch.
These chewy Butterscotch Oatmeal Cookies are perfectly balanced in sweet and salty flavors.
With all of that goodness going on, I can confidently say that these suckers satisfy. So whether you're longing for the butterscotch days of yore or you're looking for a cookie that can carry the weighted balance of texture and flavor, these Salted Peanut Butterscotch Oatmeal Cookies bring it. They've got all the goods and then some. Sprinkled with a dash of nostalgia and a salty finish.
Print
📖 Recipe
Salted Peanut Butterscotch Oatmeal Cookies
---
Description
These Salted Peanut Butterscotch Oatmeal Cookies bake up with crisp halos around the edge but still have a soft and squishy, brown butter infused center. The oats add an irresistibly chewy bite that blends beautifully with the creamy bits of rich butterscotch. And salted peanuts stud every other bite with a salty crunch.
---
1

cup

unsalted butter (- at room temperature)

2

cups

all purpose flour

1 ½ teaspoons

ground cinnamon

1 teaspoon

baking soda

¾ teaspoon

baking powder

¾ teaspoon

fine sea salt

¾

cup

brown sugar

¾

cup

granulated sugar

2

large eggs (- at room temperature)

2 teaspoons

pure vanilla extract

2 ½

cups

thick rolled oats

2

cups

butterscotch chips

1

cup

salted peanuts
sea salt flakes (- to taste)
---
Instructions
Begin by browning half of the butter (½ cup). Melt in a saucepan over medium heat. Swirl the pan occasionally to be sure the butter is cooking evenly. 
As the butter melts, it will start to turn from yellow to a deeper golden color and toasty bits will start forming around the edges. When the butter starts to foam up and give off a nutty aroma, the brown bits will start to really show up. Take it off the heat immediately to avoid burning. Pour the butter and scrape the browned bits into a heatproof bowl or liquid measuring cup to cool down faster while you prepare the other ingredients.
Measure the flour, cinnamon, baking soda, baking powder, and salt into a bowl and whisk to combine.
In a stand mixer with the paddle attachment, cream the remaining butter with the brown sugar and granulated sugar. Mix on medium speed for 3 to 5 minutes, until light and fluffy. Add the cooled brown butter and mix on medium speed for another 2 minutes until fully blended. Be sure to scrape down the sides of the bowl periodically.
Add the eggs, one at a time, and mix for another minute. Scrape down the sides of the bowl thoroughly. Followed by the vanilla.
Gradually add the dry ingredients with the mixer on low speed. Scrape the bottom and sides of the bowl to fully incorporate the butter and sugar.
Remove the bowl from the stand mixer, add the oats, butterscotch chips and peanuts. Use a stiff spatula to stir the dough until everything is fully combined.
Line cookie sheets with Silpat mats or parchment paper. Scoop large cookies with a 3 TB sized cookie scoop. Place closely, in rows, on one of the lined baking sheets. Chill the cookies dough balls in the refrigerator or freezer for at least 30 minutes while you preheat the oven.
Preheat oven to 350°F. Place chilled cookie dough balls 2" apart on lined baking sheets (about 6 per sheet).
Bake 2 sheets at a time for 10 to 12 minutes, rotating the trays halfway through. The edges should be crisp and golden and the centers should look slightly underdone but set.
Let cool on the trays for a few minutes. While the cookies are still hot, sprinkle with sea salt flakes. Transfer to cooling racks to finish cooling.
Notes
*To make your cookies have an extra special appearance, reserve a small handful of butterscotch chips, oats and peanuts to dot the tops of the cookie dough balls before chilling. This will give them a polished, textural finish when they bake!
*The cookie dough balls can be frozen for up to 3 months when stored in an and baked straight from the freezer, same temperature (350°F) but they may take 1-2 additional minutes to bake.
*Some salted peanuts are saltier than others so you may want to adjust by salting the baked cookies to taste.
Prep Time:

30 minutes

Cook Time:

12 minutes

Category:

Dessert

Cuisine:

Cookies
Keywords: butterscotch cookies, Cookies, oatmeal cookies, peanut cookies, salted cookies, Salted Peanut Butterscotch Oatmeal Cookies, sweet and salty cookies
Reader Interactions