These Snickerdoodle Shortbread Cookies are the brainchild of a brainy and brilliant child that has become one of my best buds over the past year. My neighbor Nelle is 12 years old and in the 6th grade. Like most of the kids growing up during the global pandemic, the bulk of her school year has been remote learning. That adds up to a whole lot of screen time without hands-on learning. I am all too familiar with this imbalance, and it reminds me of the reason I started baking in first place.
Years ago, Dayn and I had a web and graphic design business. This was way back in the day when Flash was still a thing and it seemed to take hours for graphics to render. As small business owners, we worked from sun up to sun down, took a short break to consume something unhealthy, then went back to burning the midnight oil. We were pulling 12-16 hour days hunched over computers with little to no sunlight in our lives. I am still not sure how we, or our relationship, survived.
Baking is therapy, period.
My need to break away from the computer and use my hands lead me to discover my love and passion for baking. I found butter, sugar and flour to be a therapeutic channel for my hands-on creative energies. Facing the possibility of a full school year of virtual class, Nelle's Dad reached out to ask if I could teach her baking lessons as a learning pod. I know screen fatigue induced stress personally, so I enthusiastically agreed.
When in doubt, bake it out.
Since September of 2020, Nelle and I have been baking together every Thursday afternoon. It's been a source of inspiration and rejuvenation for us both. We've baked everything from crumbly Pear Crisps to mini holiday Apple Cheddar Pies to angelic Meyer Lemon Rose Madeleines. Nelle's skills seem to improve tenfold, week after week. She remembers the tiniest details from weeks prior, picks up on techniques quickly and comes up with creative flavor combos and interesting recipe ideas!
Follow the golden shortbread ratio - 4:2:1.
These Shortbread Snickerdoodle Cookies were all her. I taught her the basics for making shortbread cookies using the 4:2:1 ratio - 4 parts flour, 2 part butter, 1 part sugar. Nelle customized from there. I've got a bunch of easy Shortbread Cookie recipes with a range of flavors from my classic Lemon Poppy Seed Shortbread Cookies to my zingy and vibrant Glazed Hibiscus Shortbread Cookies or even my super savory Shortbread Pizza Bites. This new cinnamon spiced version by Nelle filled a flavor gap that my collection was missing. She's is a cinnamon fan like me, so she came up with a shortbread twist on the classic Snickerdoodle. She then tested and developed her very own recipe for Shortbread Snickerdoodle Cookies!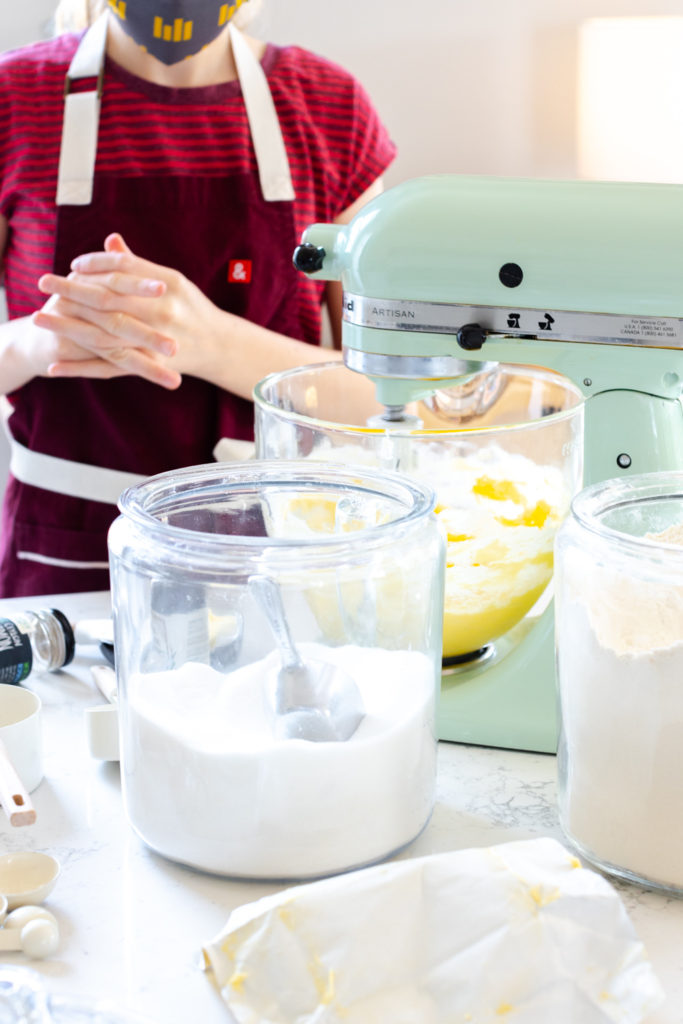 It has been a sincere honor to watch Nelle learn and grow in the kitchen over the past 9 months. She's blossomed into a talented baker that understands the precision and dedication it takes to hone your skills. Her creative side has rooted as well. My heart swells when I see her styling a scene of our fresh bakes during our photo shoots at the end of the lesson.
But nothing makes me more proud than seeing her take the knowledge I have shared with her home to create a solid, successful and downright delicious recipe all on her own. These Shortbread Snickerdoodle Cookies are truly delightful and I already know this recipe will be one I turn to for years.
What makes shortbread cookies different?
All about the base. Shorties are made from a base of 3 main components; flour, butter & sugar.
No leaveners, no problems. Unlike sugar cookies, there are no eggs or leaveners like baking soda, baking powder or yeast involved in the dough.
Infinite adaptability. Once you've got your base, you can riff away with whatever spices, nuts, dried fruits, citrus or chocolates your heart desires.
Slice & bake, baby. The dough can be rolled into logs, chilled and then sliced and baked as desired. So if you only want 2 cookies, slice off two and bake to order.
Taste & texture. They've got a deeply buttery flavor with a denser, crumbly texture.
Long lasting. Bonus, they last forever! Like 2+ weeks when stored in an airtight container.
Nelle's Snickerdoodle Shortbread Cookies are super, extra, out of this world special! Here's why...
A true original. She developed, tested and tweaked the recipe completely on her own!
Vanillaroma. Nelle added a teaspoon of vanilla to give these cookies a bit more depth of flavor.
Cinnamon and sugar. This is a classic flavor combo that compliments the buttery shortbread beautifully.
Glaze & glitz. Nelle's Snickerdoodle Shortbread Cookies feature a lemon scented glaze that gets sprinkled with the cinnamon sugar mixture in a fun and graphic drizzly design.
Youth will save us all. Nelle is 12, I repeat 12! And she created these Shortbread Snickerdoodle Cookies completely from scratch!
I can't recommend Nelle's Snickerdoodle Shortbread Cookies enough. They are always the right cookie choice for the occasion. They're great for holiday cookie boxes. They're the perfect crisp and snappy cookie to pair with a big bowl of vanilla ice cream on a hot summer day.
5 stars, two thumbs up and aces all the way, Nelle. This Shortbread Snickerdoodle Cookies recipe is a winner!
Print
📖 Recipe
Snickerdoodle Shortbread Cookies
---
Total Time:

50 minutes

Yield:

3 dozen-ish
Description
These easy Snickerdoodle Shortbread Cookies are a buttery crisp take on the classic, with a snappy bite, a sweet drizzly glaze & a warm cinnamon sugar finish.
---
SHORTBREAD COOKIES
2

cups

all purpose flour

1 teaspoon

fine sea salt

1 teaspoon

ground cinnamon

1

cup

unsalted butter (- at room temperature)

½

cup

granulated sugar

1 teaspoon

pure vanilla extract
CINNAMON SUGAR SPRINKLE
2 tablespoons

granulated sugar

1 teaspoon

ground cinnamon
ICING
1

cup

powdered sugar (- sifted)

1

-

2

tablespoons lemon juice, water or milk
---
Instructions
SHORTBREAD COOKIES
Measure flour, salt and cinnamon into a mixing bowl and whisk together.
Add the butter and sugar to the bowl of a stand mixer. With the paddle attachment, cream together on a medium high speed for about 5 minutes, until fluffy, airy and lighter in color. Be sure to stop your mixer and scrape down the sides of the bowl a few times so you are sure to incorporate all of the sugar into the butter.
Add the vanilla extract and cream together until blended.
With the mixer on a low stir, slowly add the dry ingredients until just incorporated. You don't want to over-mix here, only mix until things have just come together.
Turn out the dough onto a clean, lightly floured surface. Gather the dough together into a disk by gently patting, not kneading the dough, and pat to flatten the top. Once you have a round disk shape, use a knife or a bench knife to cut directly in half.
Gather one dough half and pat it together into a rectangular shape, squaring off the edges. Press into the counter to square off the edges and turn the log ¼ turn (instead of rolling) patting gently on the top to create an even surface. Keep rotating and patting until the log is about 1 -1 1⁄2", square.
Wrap a sheet of parchment paper around your dough log, lengthwise. Then twist each end of the paper into pigtails in opposite directions (one towards you and one away from you) to form a locking mechanism. Repeat with second dough log.
Refrigerate the dough for at least 1 hour, if not 2. This allows the dough to set up and hold its shape nicely when baking. *You can also freeze the dough at this point. Just remember to defrost it overnight in the fridge or at room temperature for about an hour before slicing and baking.
Preheat oven to 350°F.
Remove dough logs from the fridge and unroll on a cutting board. Using a sharp knife, slice the logs into 1⁄4" - 1⁄2" thick cookies. You should get about 16-20 cookies per log. Arrange them on a baking mat or parchment paper lined baking sheet with about 1" of space on all sides, evenly spaced.
Bake for 18-22 minutes, rotating the pans halfway through the bake. They should come out with a golden ring around the edge and be firm to the touch, with just a bit of give in the center.
Allow to cool either right on the trays or on a cooling rack.
CINNAMON SUGAR SPRINKLE & ICING
While the cookies bake, make the cinnamon sugar sprinkle and icing. For the sprinkle, combine the cinnamon and sugar and whisk or stir to combine.
For the icing, sift the powdered sugar into a medium sized mixing bowl. Whisk in the lemon juice, 1 tablespoon at a time until it runs smooth like a ribbon off of the whisk. If it feels too thin and runny, add more sifted powdered sugar. If it's too thick, add a bit more lemon juice or water.
DECORATE
Once the cookies have cooled completely, decorate with the icing and cinnamon sugar. With cookies on a cooling rack, use the whisk to wave the icing back and fourth over the cookies creating a zig-zag pattern drizzle. Sprinkle each cookie with the cinnamon sugar mix while the icing is still wet and tacky so it sticks.
Let sit for an hour so the icing has time to set before serving. 
Notes
Dough logs can be stored in the freezer when tightly wrapped for up to 2 months.

Defrost frozen dough logs overnight in the fridge or at room temperature for about an hour before slicing and baking.
Once baked, these cookies will last up to two weeks+ when stored in an airtight container.
Prep Time:

30 minutes

Cook Time:

20 minutes

Category:

Dessert

Cuisine:

Cookies
Keywords: Cookies, shortbread cookies, snickerdoodle cookies, Snickerdoodle Shortbread Cookies