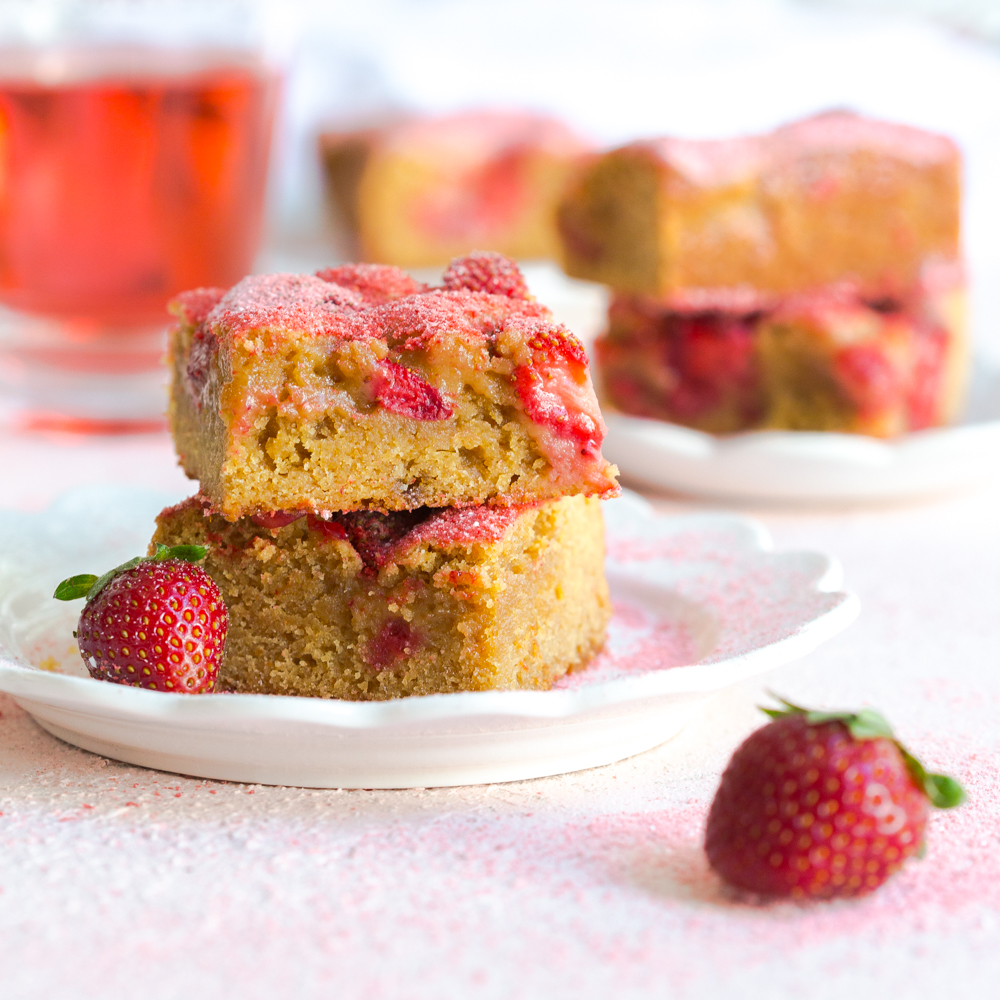 It's easy to forgot how incredibly sweet and delightfully jammy real strawberries actually are. Sadly, we've become accustomed to those supersized, pale and mealy strawberry wannabes that are so often sold in grocery stores. So, when passing by a small stand at my local Farmers Market last week I was overjoyed when I spotted those strawberry gems that steal my heart every summer season. They are tiny with a deep scarlet tone, and they melt away to moment you bite into them. These are the strawberries I wait for all year and the moment I taste one, I am reminded why they are worth the wait.
Since I basically bought up the entire table at the Farmers Market when I spotted these sweet little strawberries, I decided I'd better bake some of them into some special before I ate them all. You can never have too many recipes for strawberry desserts. I've been kicking around the idea of Strawberry Blondies for a while now but had to wait until strawberries hit their summer peak, and they are seriously peaking now!
I set out to create a super simple blondies recipe that showcases the best berries of the season with this new recipe for Strawberry Blondies. You know that old saying, "blondes have more fun". I'm not sure I entirely agree with it but in the case of blondies vs. brownies, I personally have more fun when blondies are involved. I get a lot of heat for this but to be honest, I am not much of a brownie fan, with the exception of my Reeses Pieces Brownies (I love you guys!). Brownies can be a little too intense on sweetness and the chocolate overload generally leaves me feeling pretty blech. Blondies on the other hand, they've to all the right moves. These Strawberries Blondies bring it, with simple ingredients and an easy going recipe that comes together in mere minutes.
The brown butter
base is full of warm and nutty flavor that helps keep the Strawberries Blondies soft while they bake. Another soft spot in this blondie recipe is the brown sugar
, not only does it bring a depth of butterscotchy caramel flavor, but it also keeps things extra soft and squishy, in the best way possible. These Strawberries Blondies also get a warming note from a hit of ground ginger
to balance out all of the rich and sweet flavors in the blondie batter. Then the pièce de résistance, the market fresh, seasonal summer strawberries get gently nestled into the batter just before baking. Since the berries I used are so small, I just press them in whole which also helps keep the juice inside the berries instead of bleeding out into the batter. You can absolutely use larger strawberries but if you can get your hands on a smaller, sweeter, seasonal varietal, I highly suggest seeking those out.
Once baked, these Strawberries Blondies get topped with a heavy sprinkle of ground up freeze dried strawberries
blended with powdered sugar
for a powerful powdery punch of concentrated strawberry flavor. This step isn't completely necessary but it adds a zippy flavor and a standout finish of brightly colored cuteness. I think these Strawberry Blondies are best served with a bit of oven warmth still lingering, just as the chewiness of the blondies begins to set in and before the berries burst open with jammy flavor. The layers of flavors and textures peak at this moment, just as the summer strawberries are peaking now. So gather up some locally grown strawberries, some of your best buds and bake up a pan of Strawberry Blondies to enjoy together, straight from the pan
at the peak of freshness - because that is what summer is all about.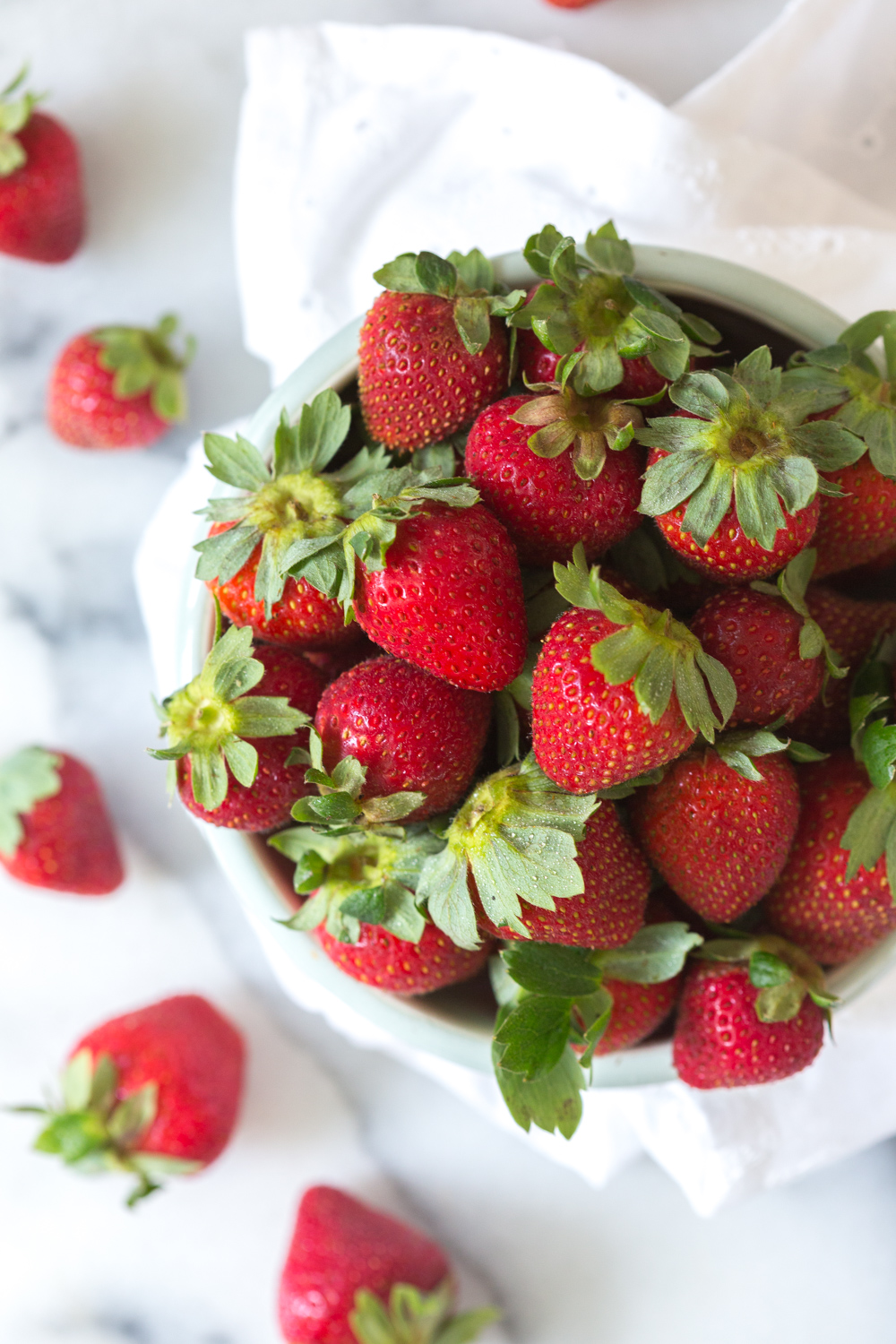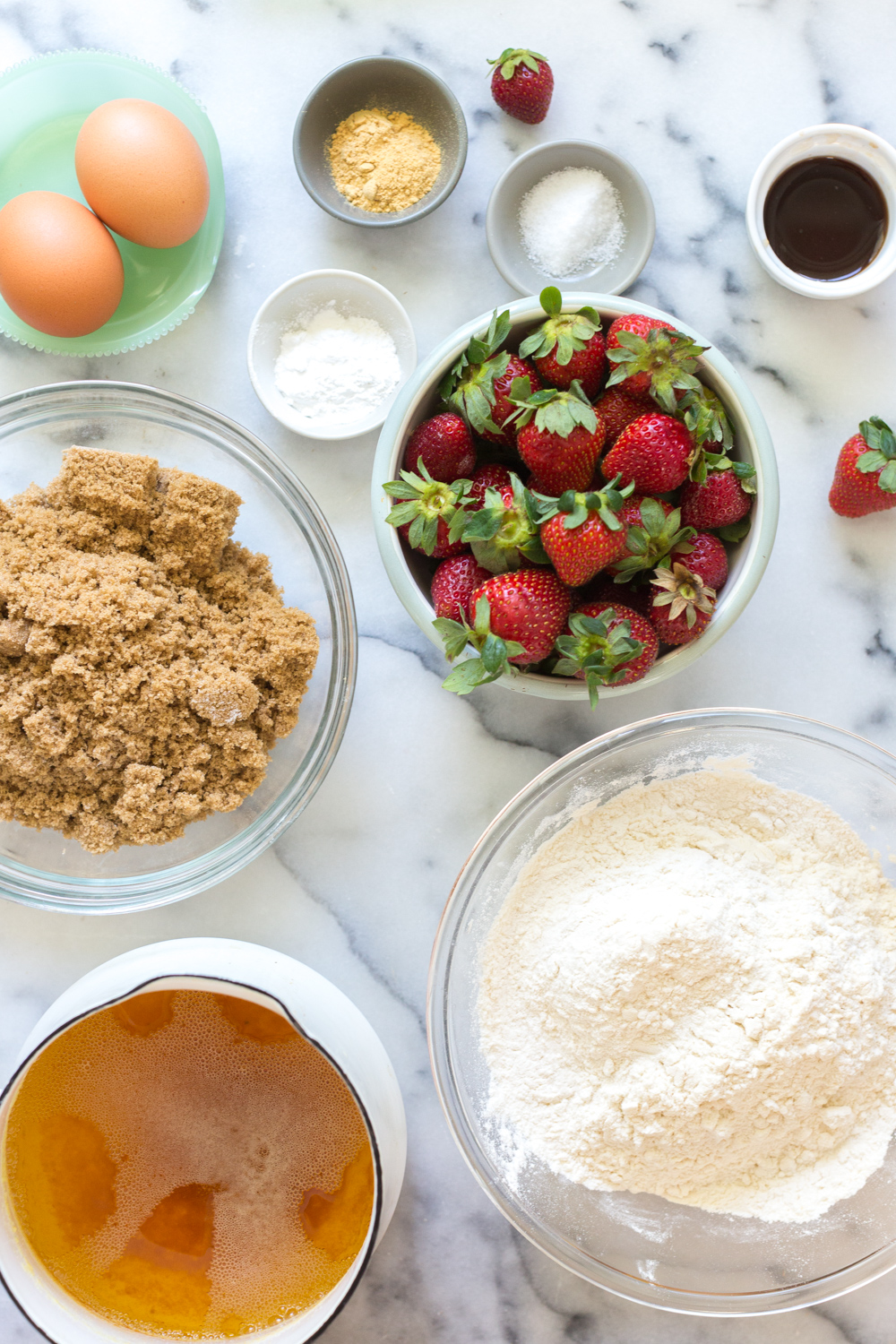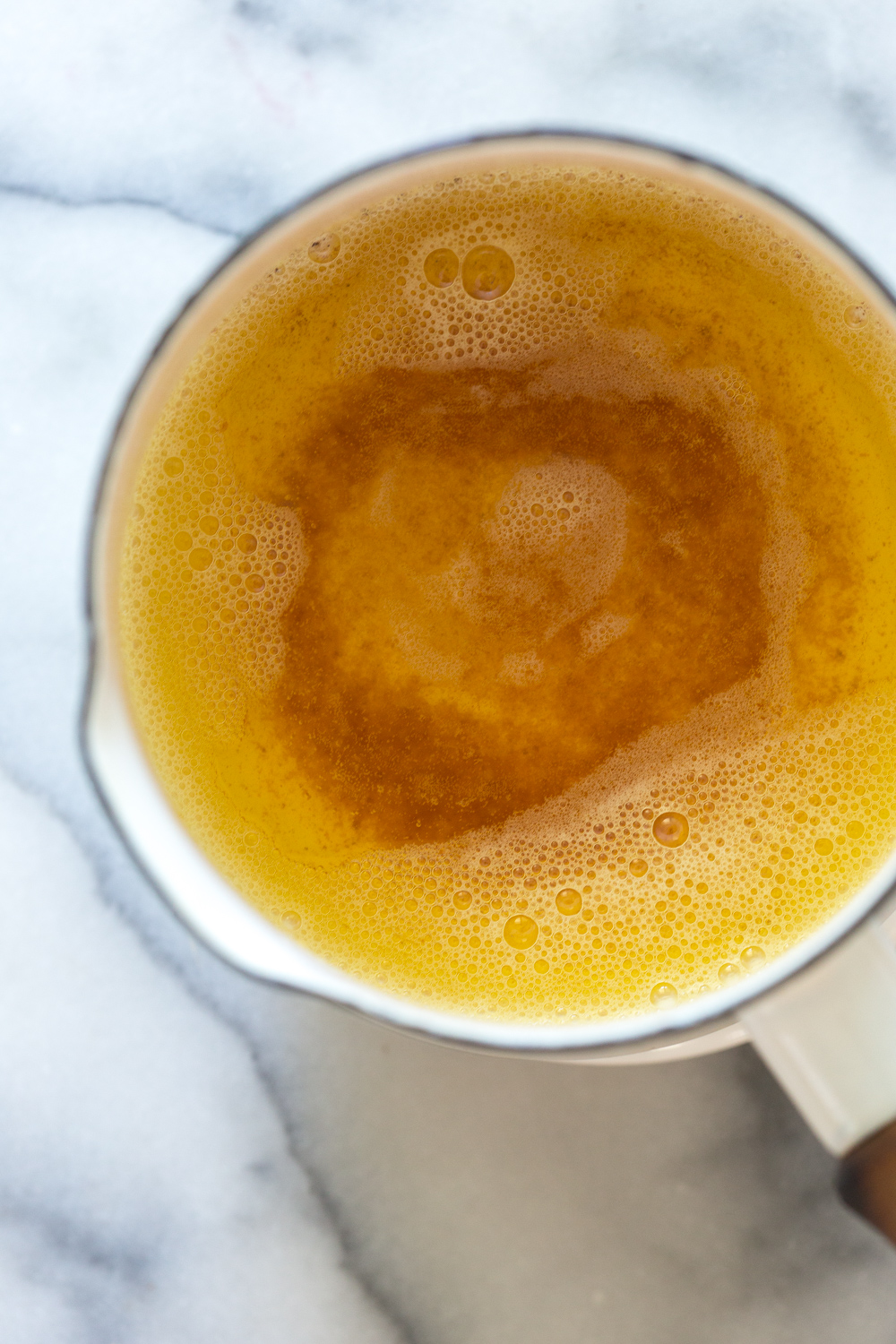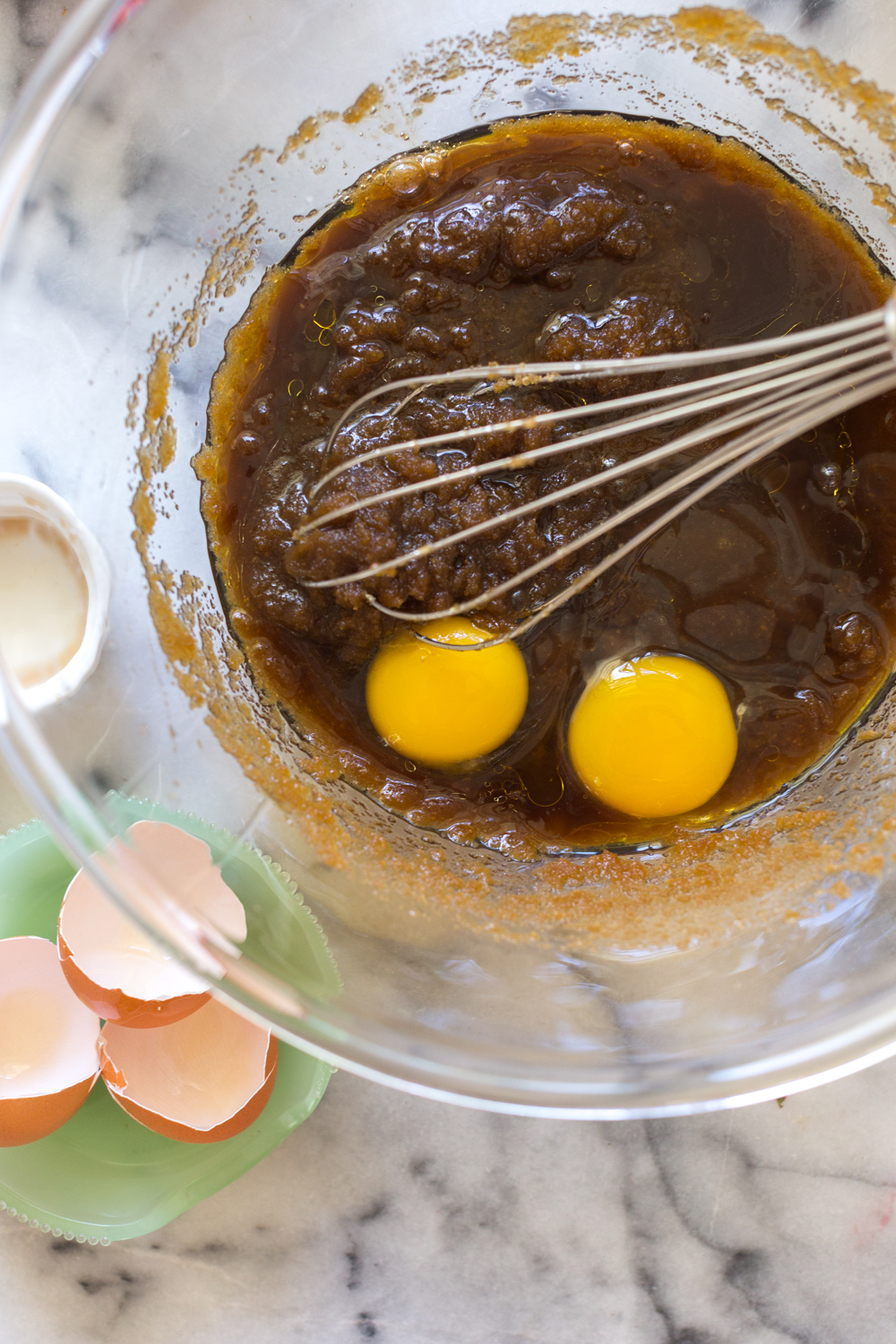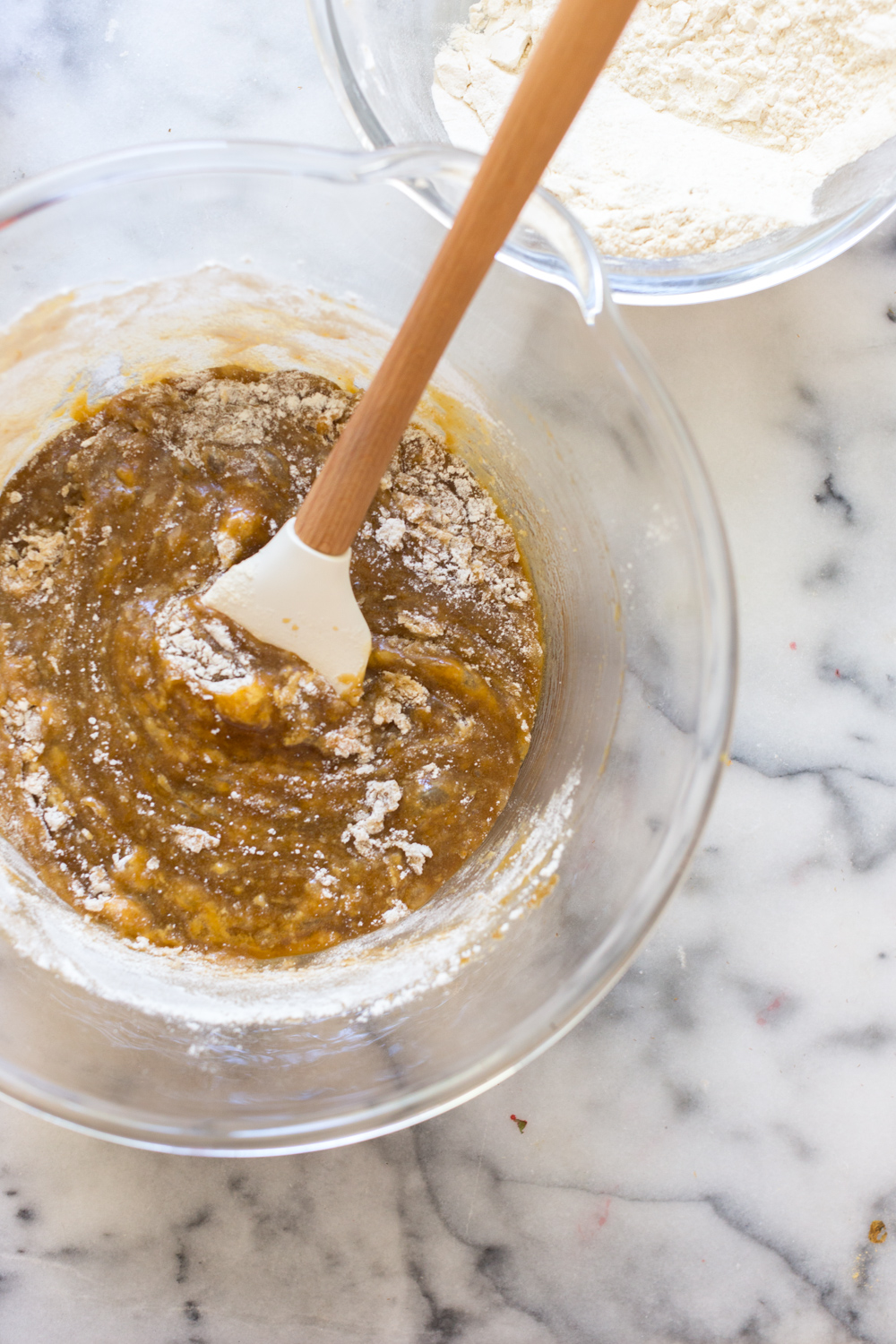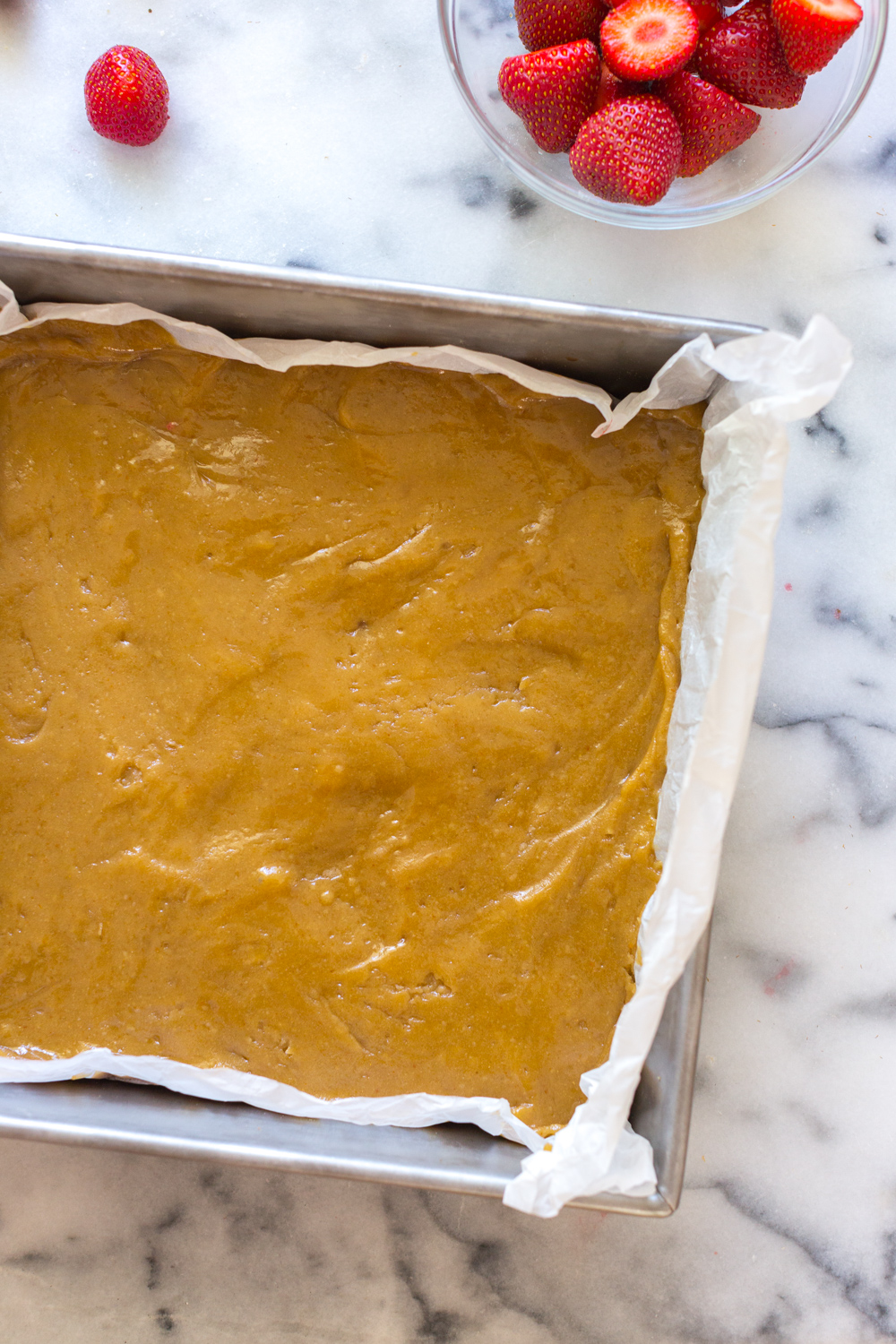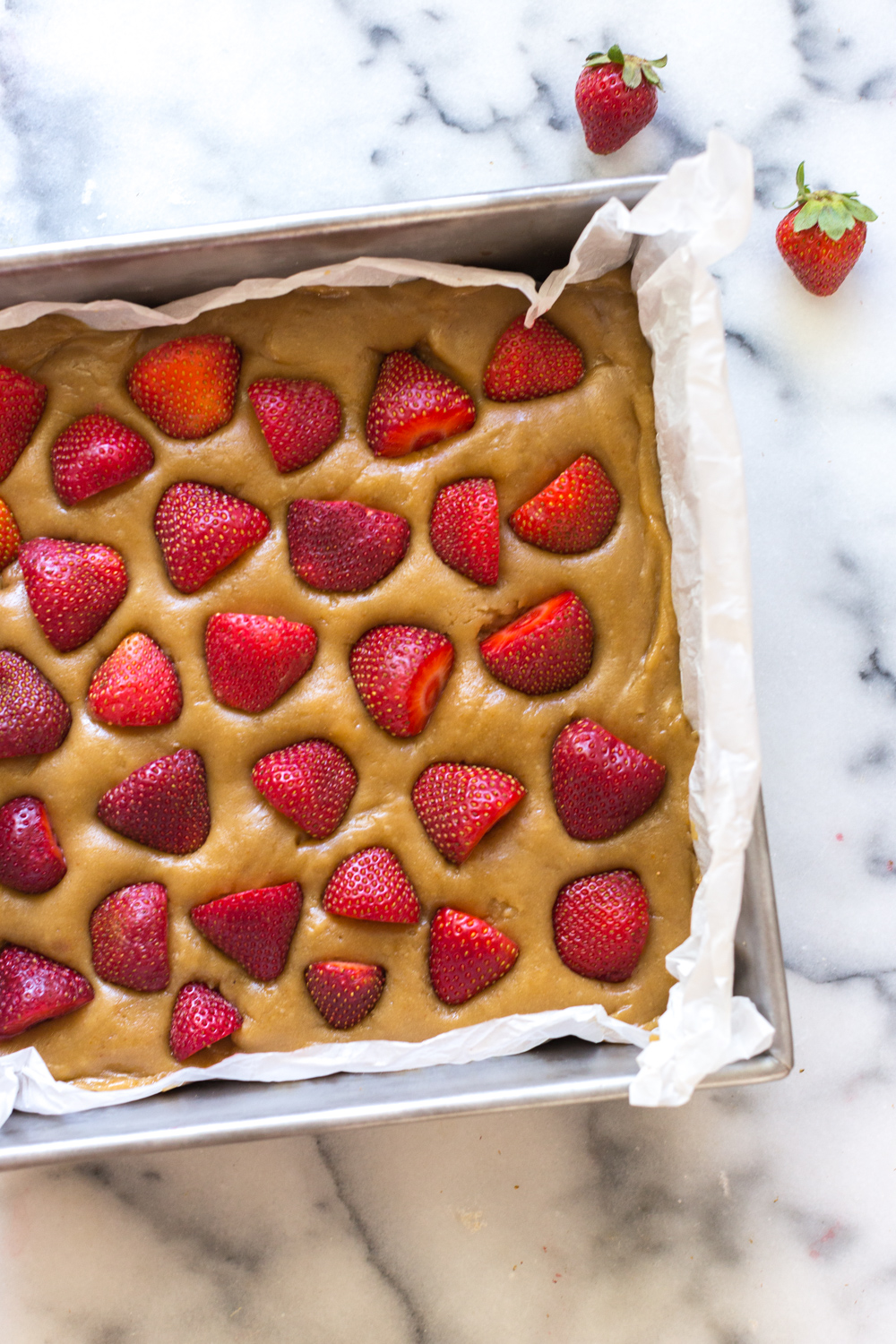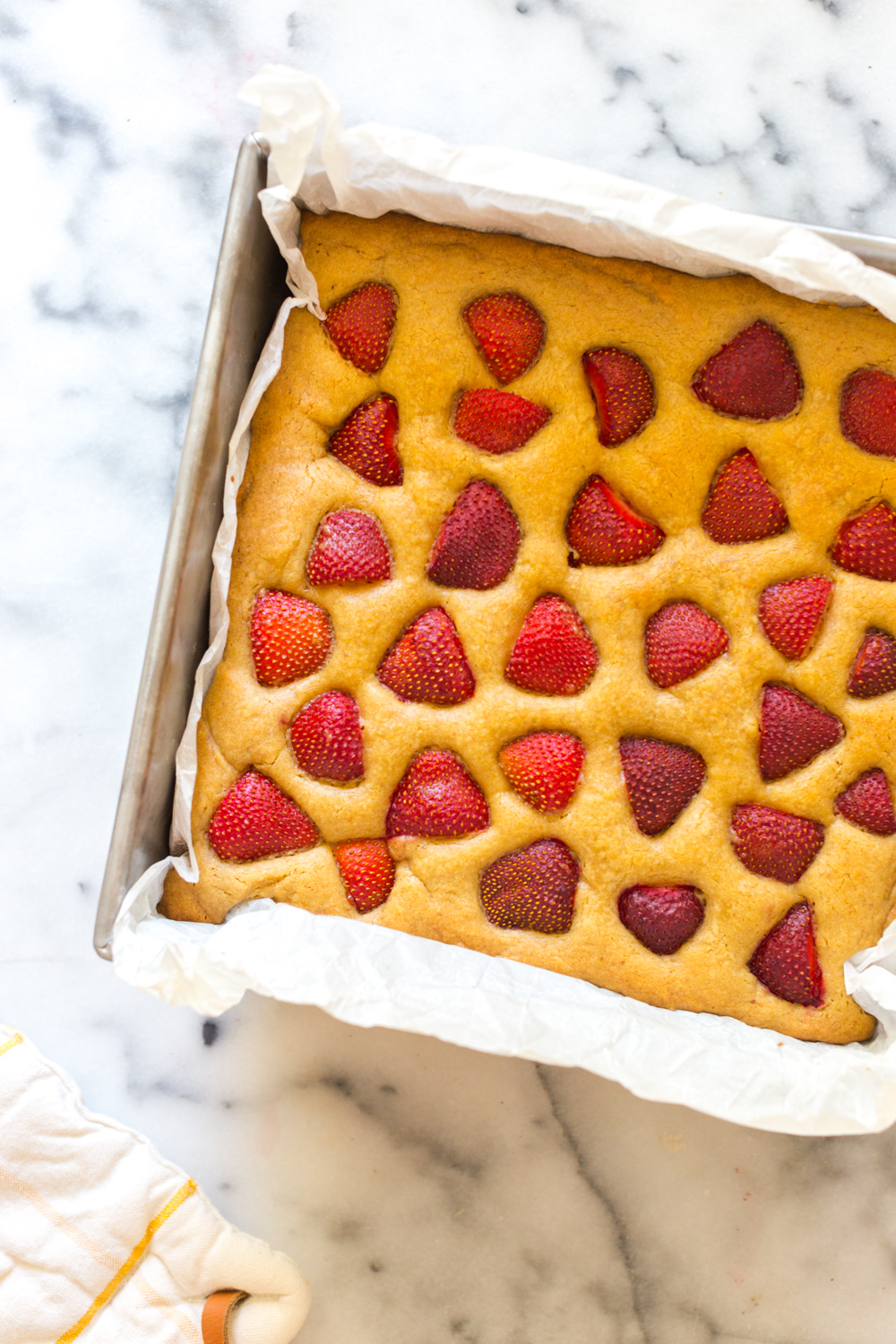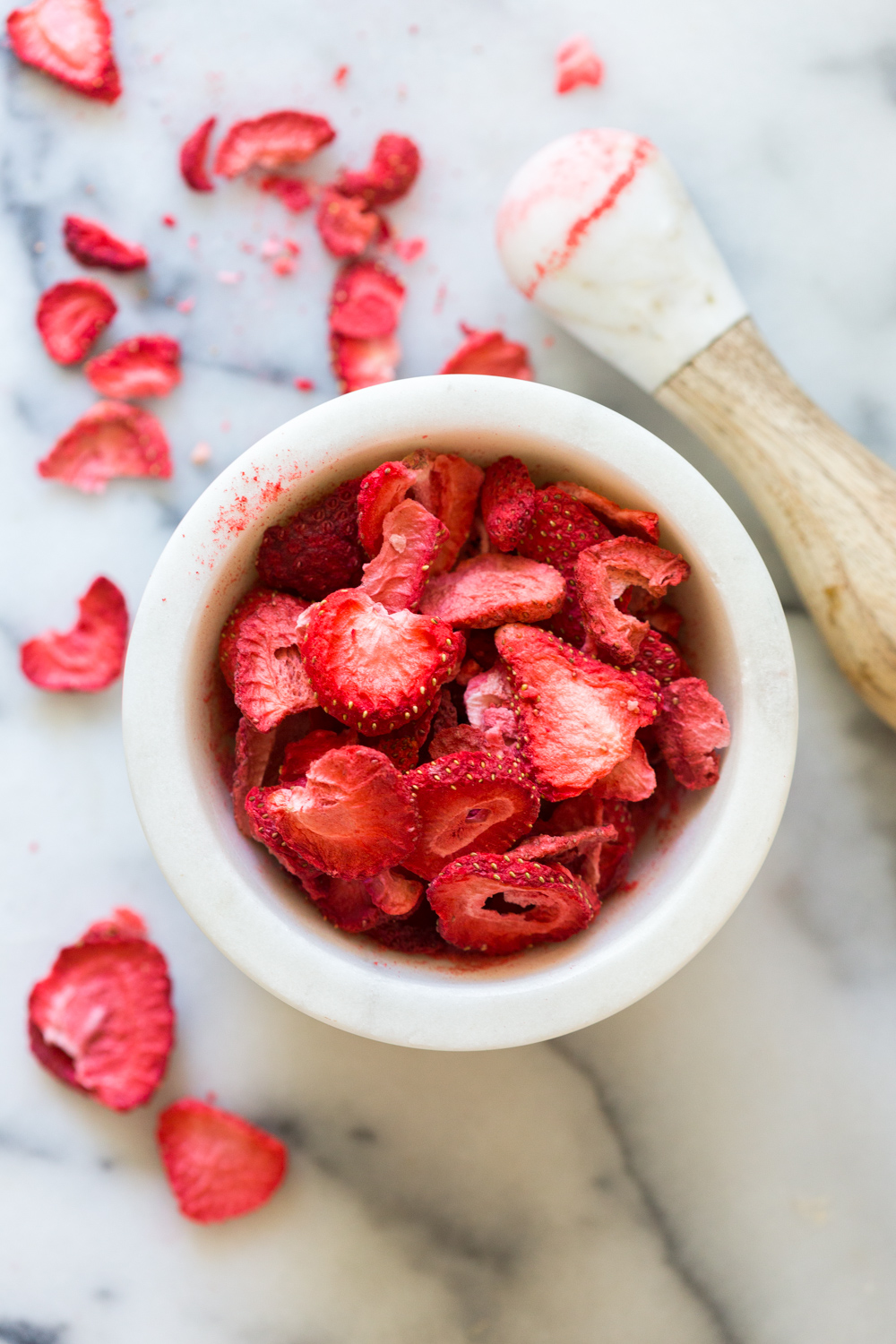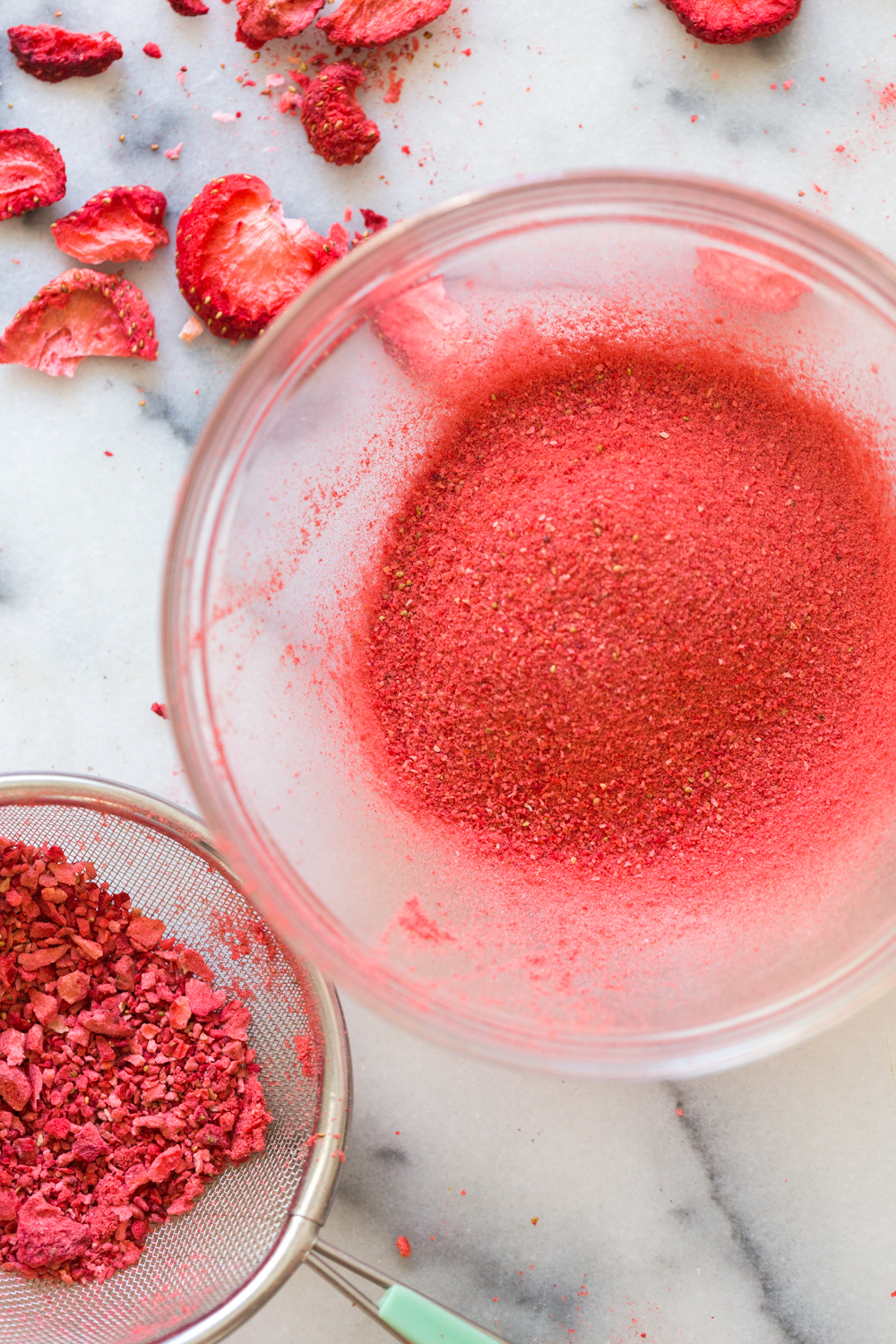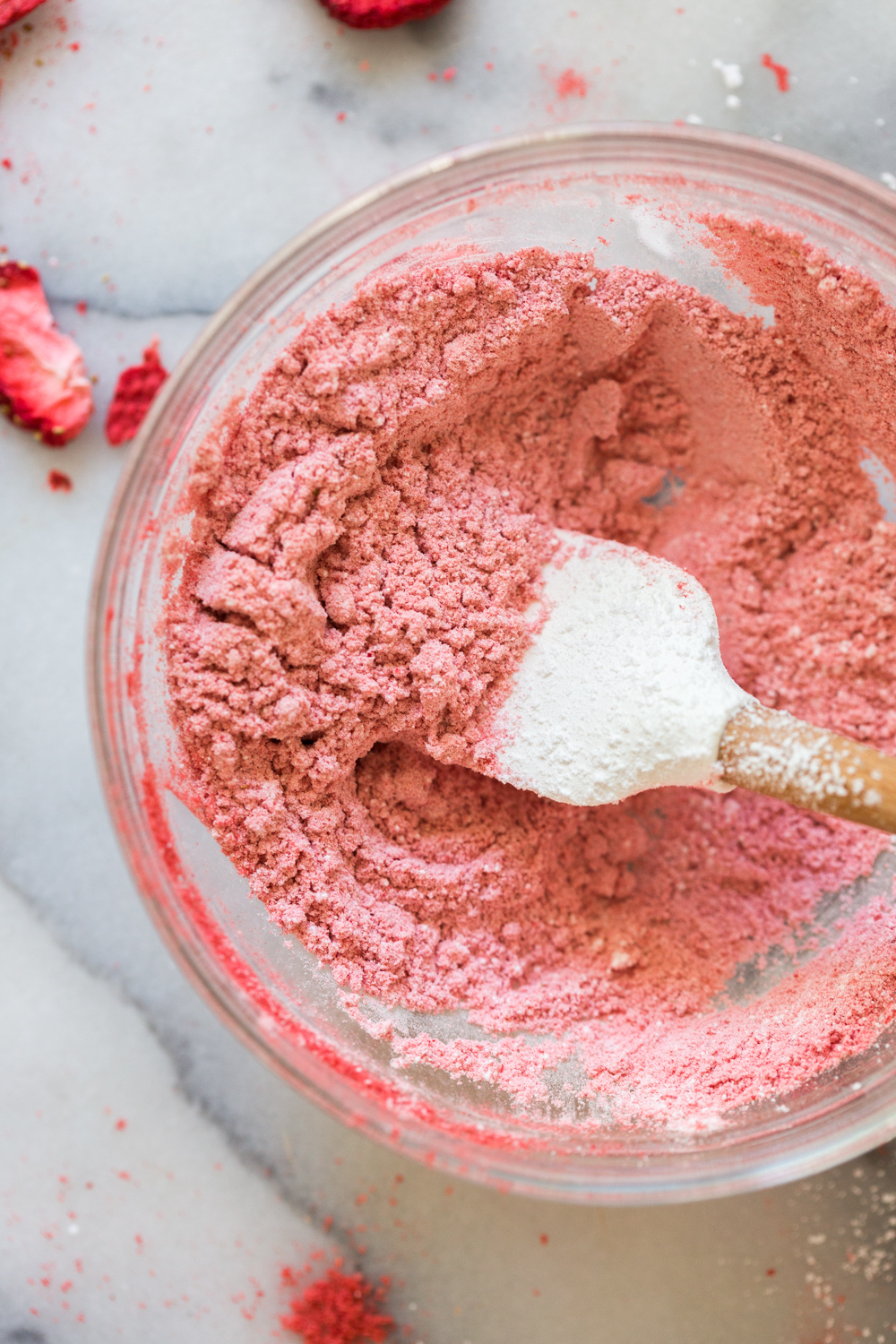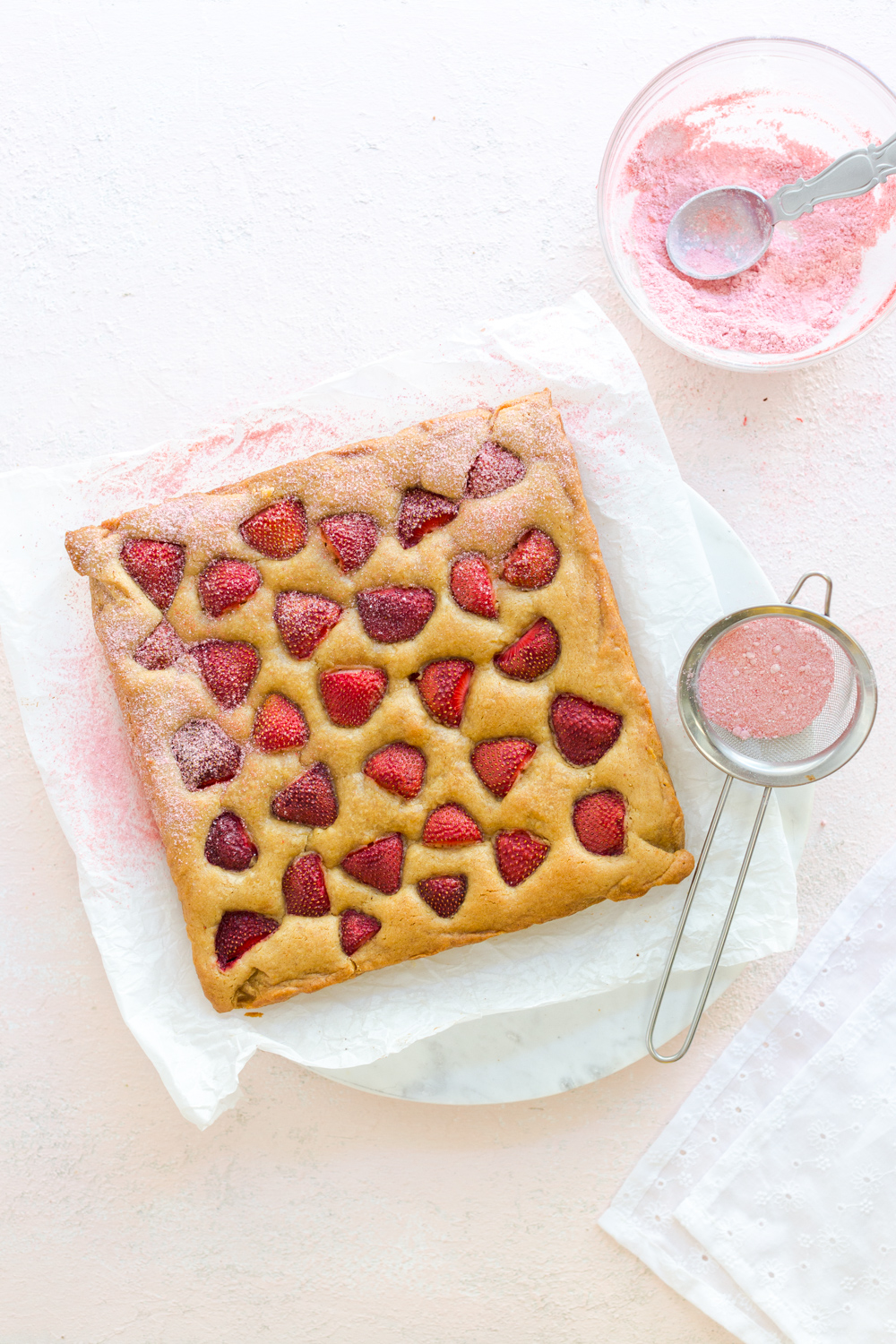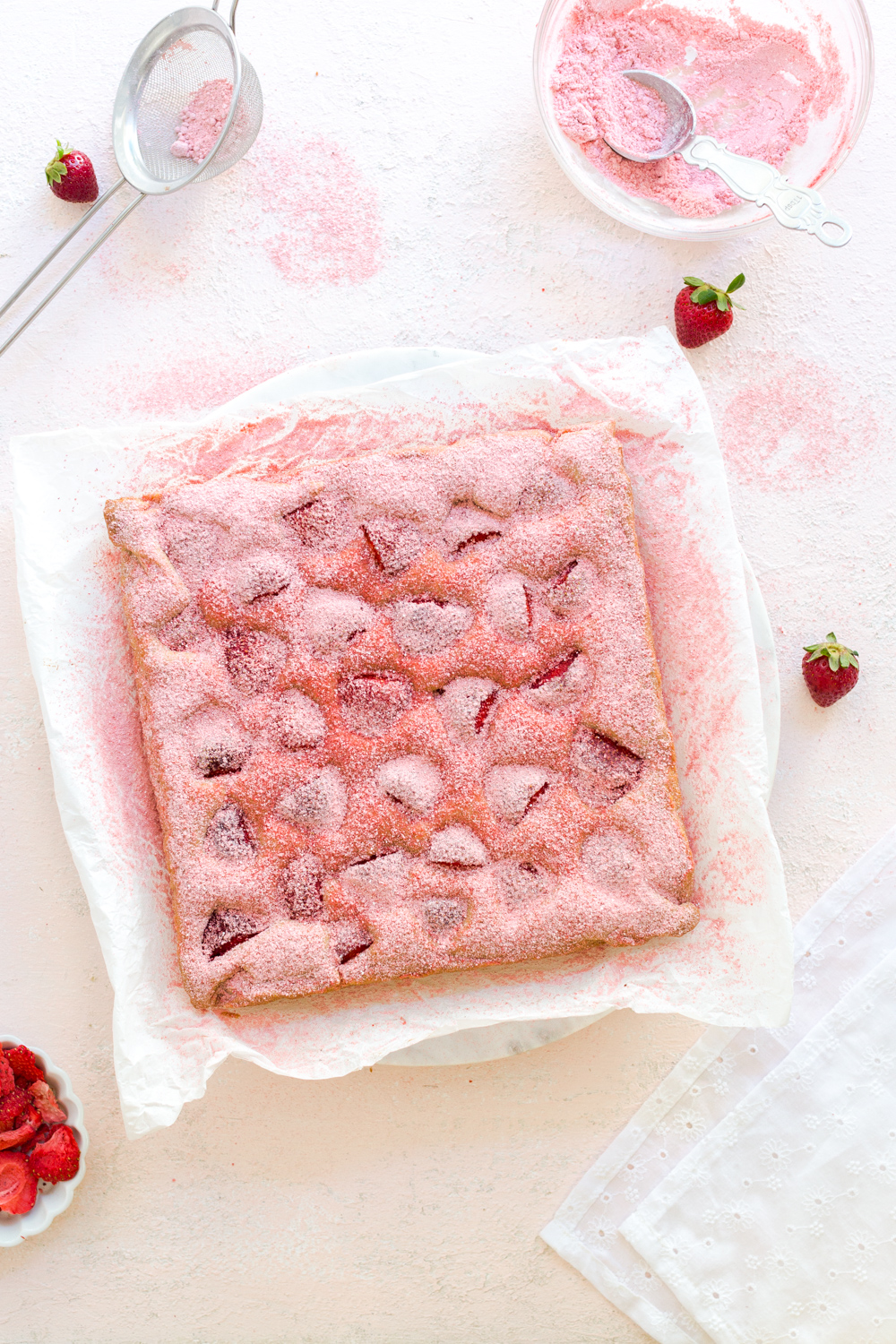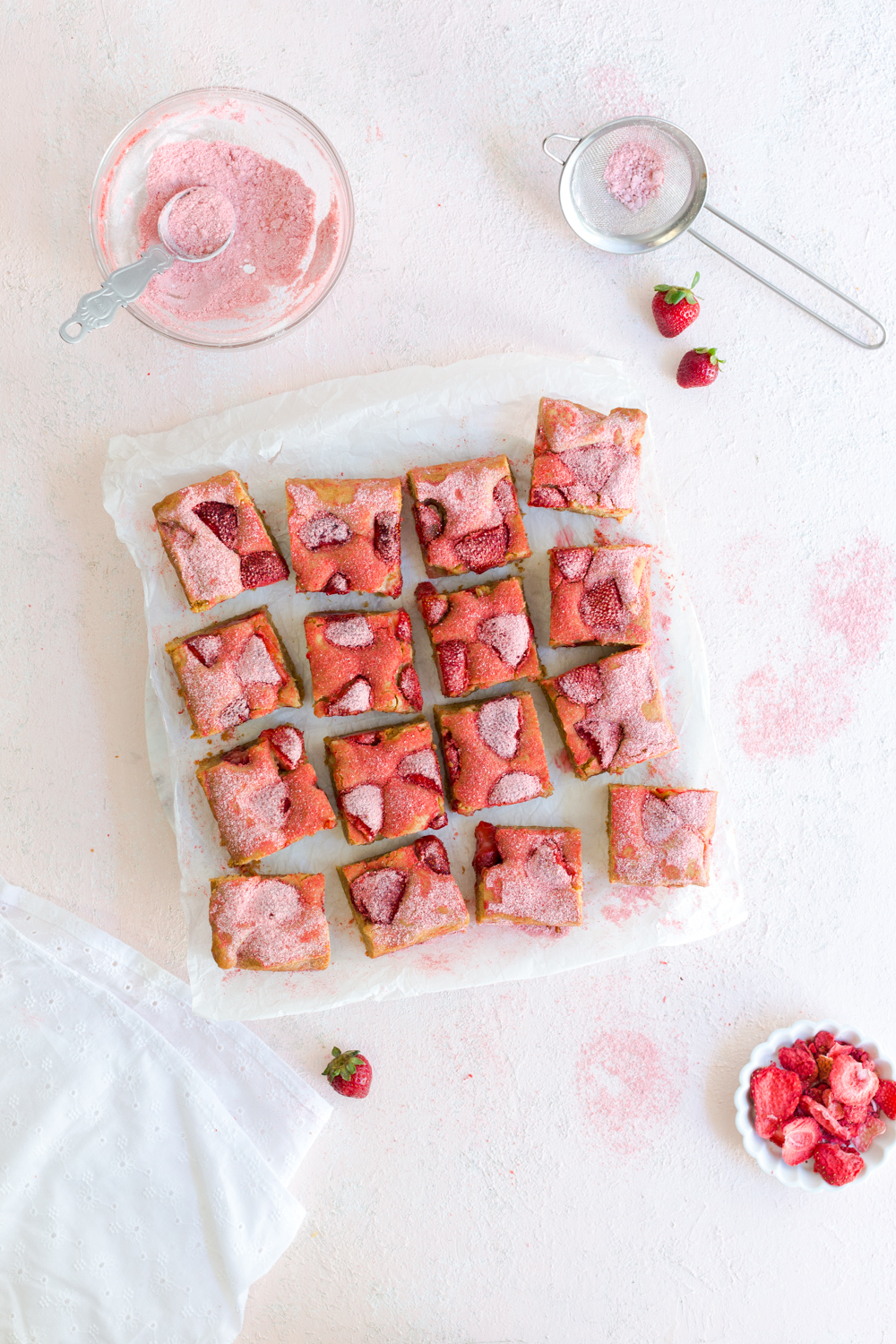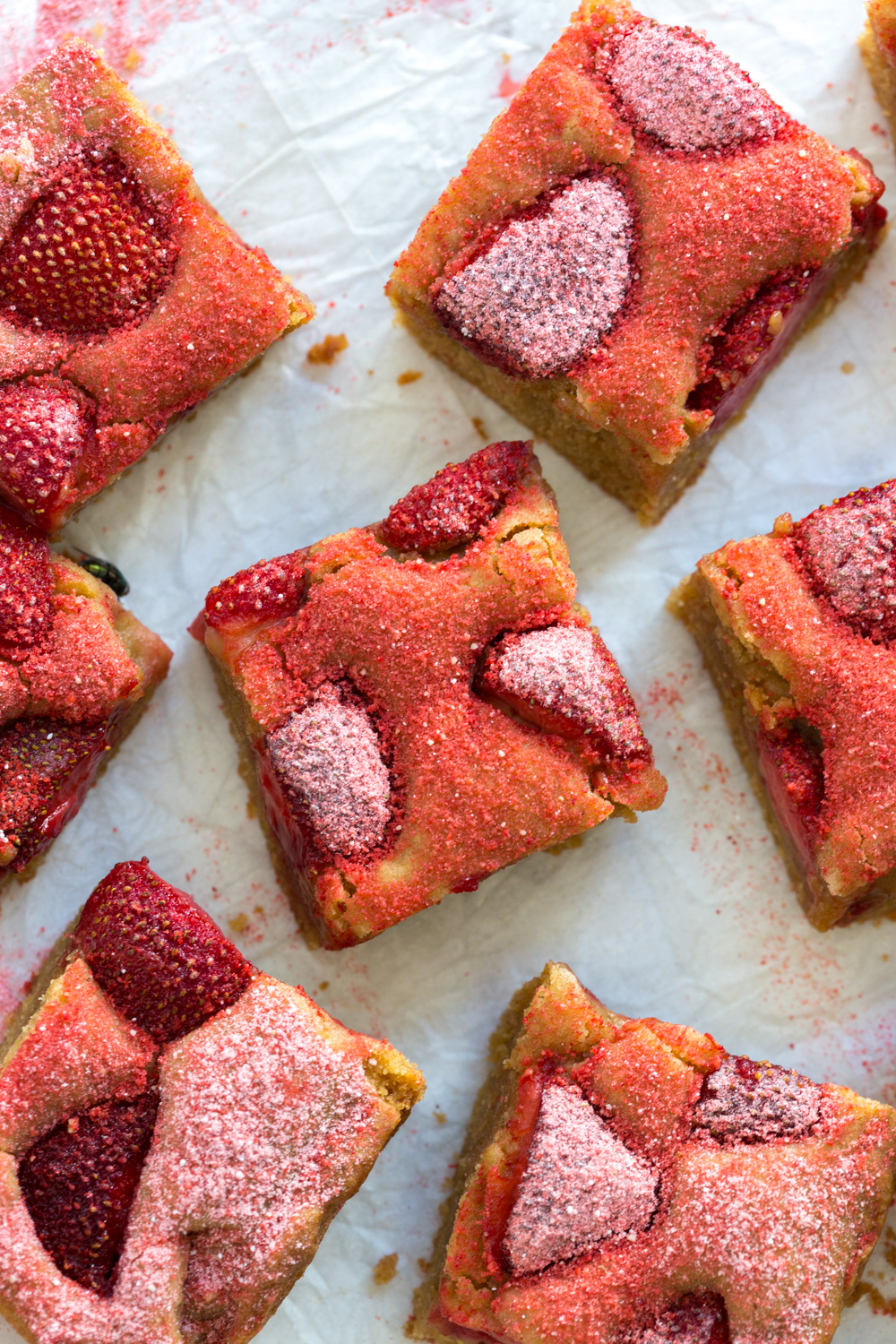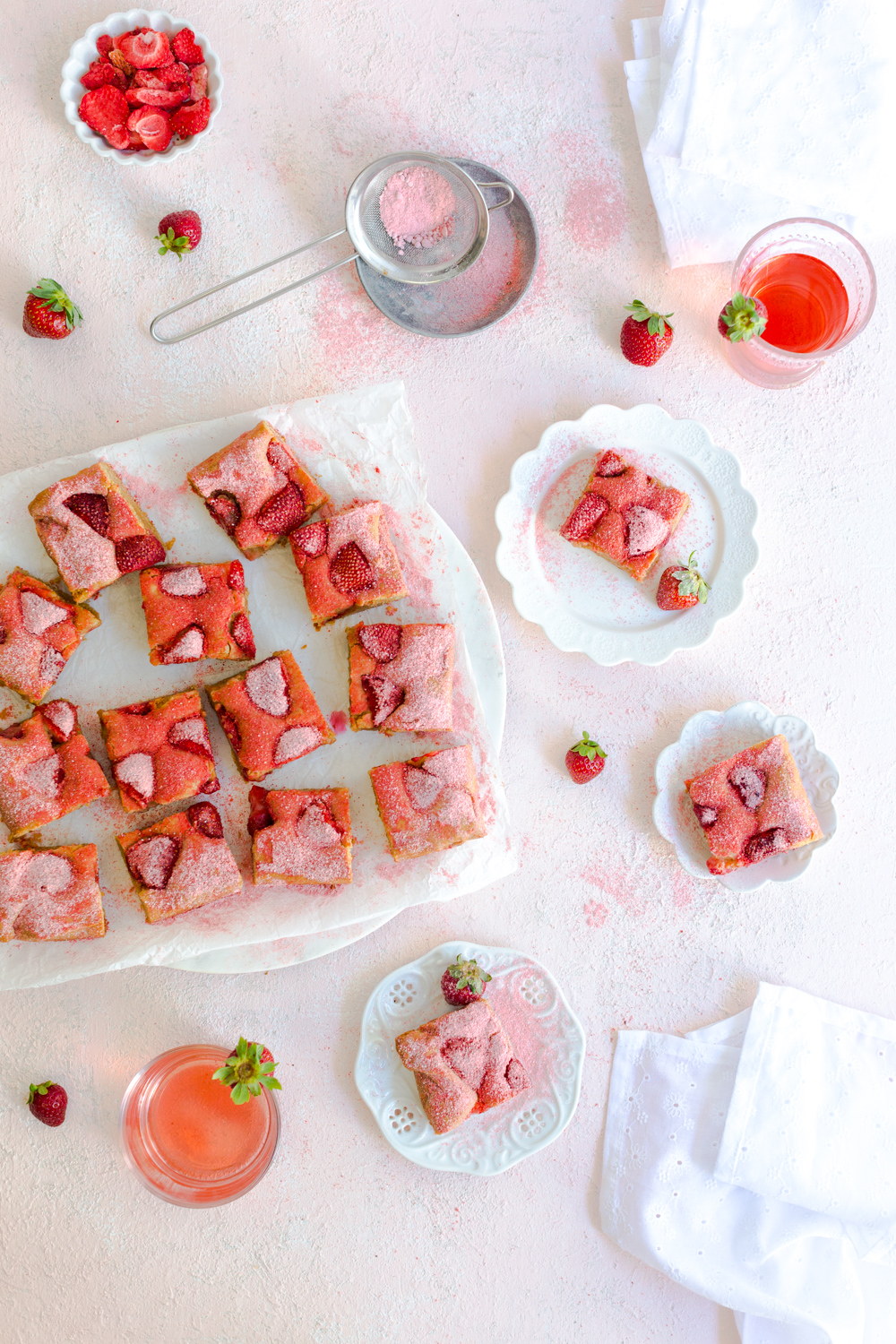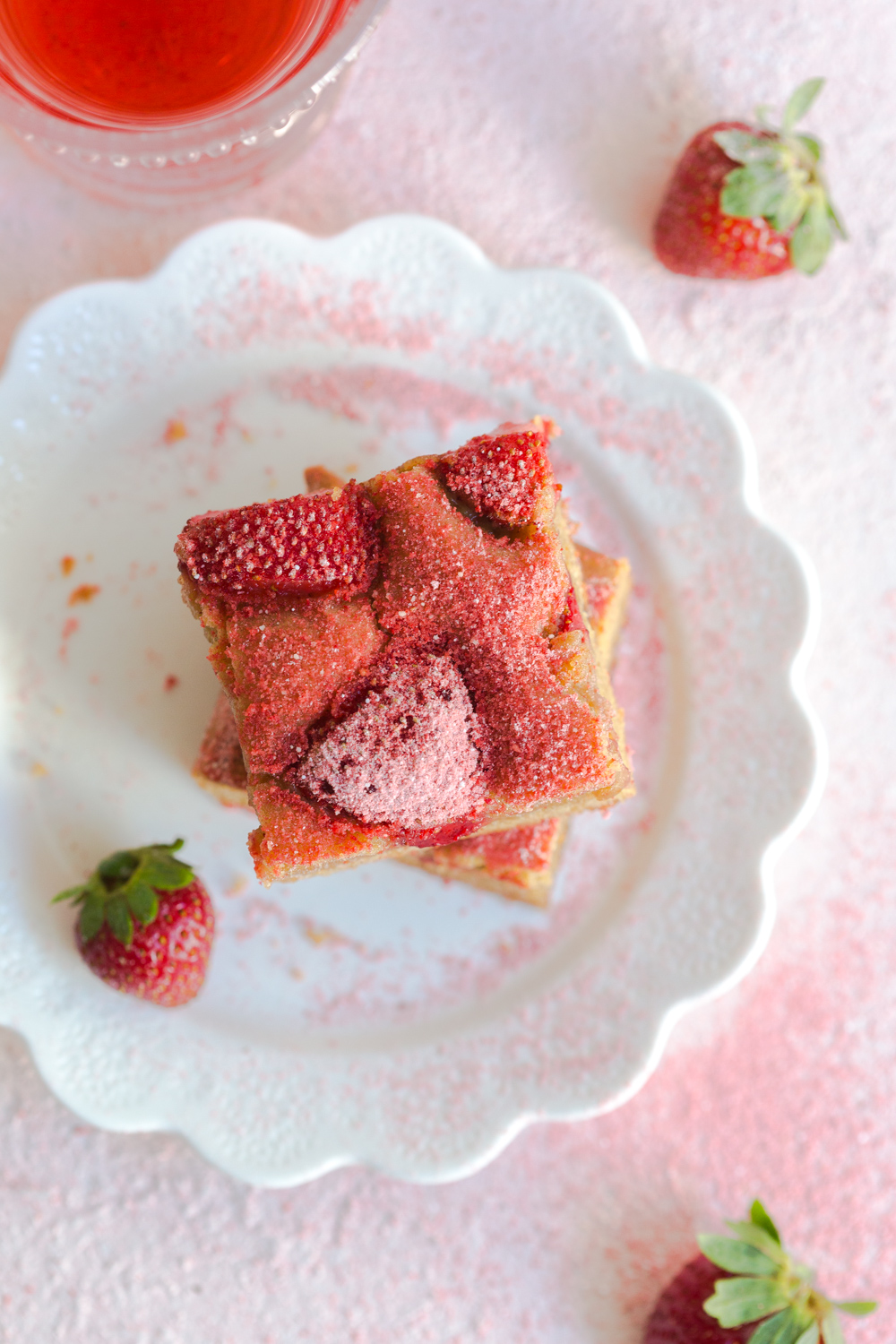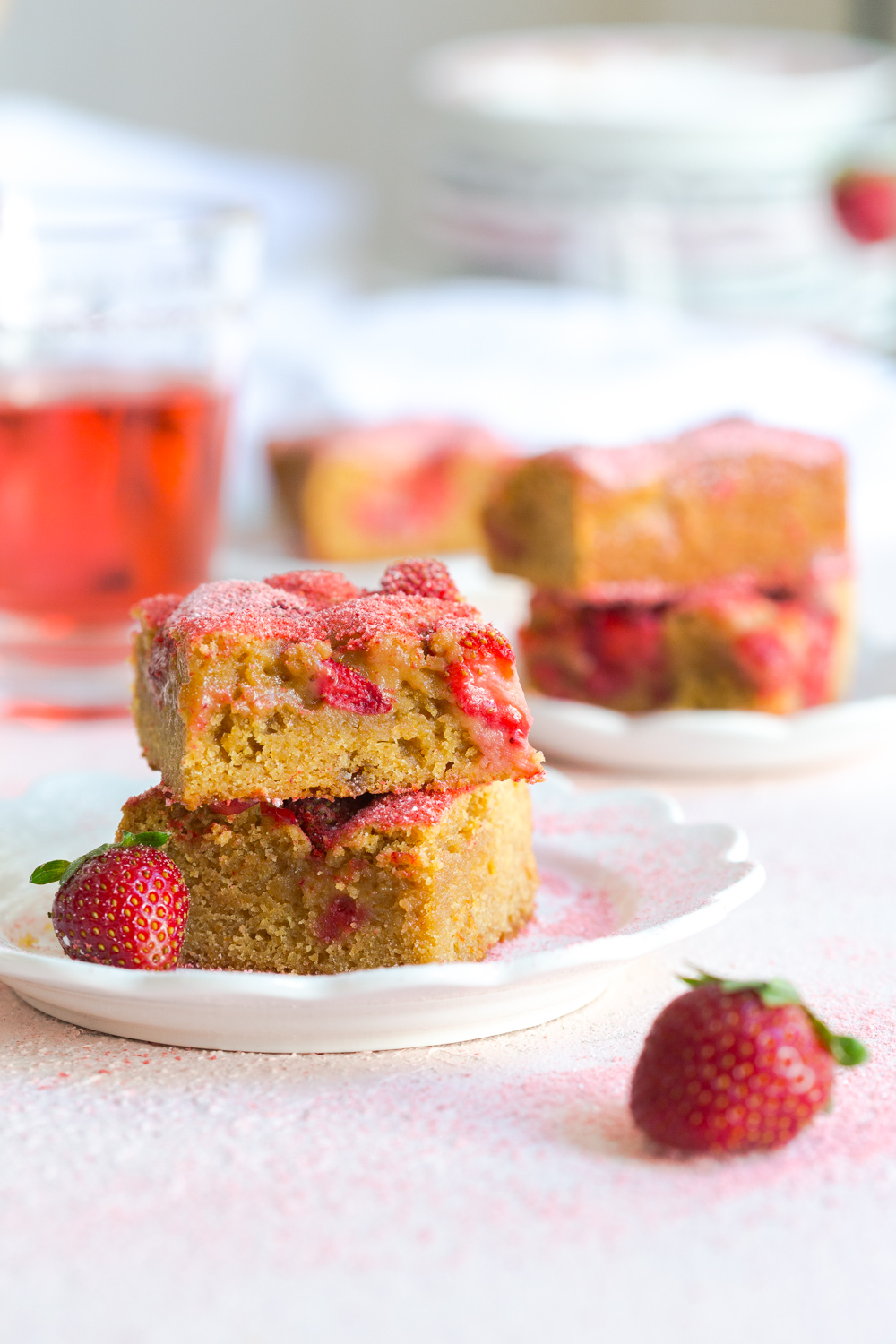 Print
📖 Recipe
Strawberry Blondies
---
Description
These Strawberry Blondies have a double dose of strawberries with jammy fresh berries nestled into a butterscotchy brown butter base, finished with a pretty pink sprinkle of freeze dried strawberry powder. They've got just the right amount of chewy softness with a balance of rich and fresh flavors.
---
1

cup

unsalted butter

2 ½

cups

all purpose flour

1 ½ teaspoons

baking powder

1 ½ teaspoons

ground ginger

¾ teaspoons

fine sea salt

1 ½

cups

brown sugar

2

large eggs (- at room temperature)

3 teaspoons

pure vanilla extract

2

cups

fresh strawberries (- hulled)

¼

cup

freeze dried strawberries

1 tablespoon

powdered sugar
---
Instructions
Preheat oven to 350°F. Line 9x9x2-inch metal baking pan with parchment paper, extending over the sides by 2 inches.
Melt the butter in a saucepan over medium heat. Swirl the pan occasionally to be sure the butter is cooking evenly. As the butter melts, it will start to turn from bright yellow to a deeper golden color and toasty bits will start forming around the edges. When the butter starts to foam up and give off a nutty aroma, the brown bits will start to really show up. take it off the heat immediately to avoid burning. Pour the butter and scrape the browned bits into a heatproof bowl or liquid measuring cup to cool down for about 15 minutes.
Whisk flour, baking powder, ginger and salt, and in medium bowl to mix.
Once the butter is cool to the touch, combine the butter and brown sugar in a medium sized mixing bowl and whisk together until combined. Stir in the egg and vanilla until completely combined. Using a spatula, fold in the dry ingredients and mix until just combined.
Spread the blondie batter into the prepared pan, using a spatula or your hands to press it into the pan evenly. Arrange the strawberries evenly over the top of the batter, then gently press them into the batter.
Bake until a tester inserted in the center comes out with just a few crumbs, somewhere between 25-30-ish minutes. The edges should be a deep golden color and look firm and well-baked. The center should be moist but not gooey.
Cool in the pan on a wire rack. While the blondies cool, grind the freeze dried strawberries into a fine powder using a mortar and pestle or by putting them in a ziplock baggie and smashing them with a rolling pin. Once they are crushed into a powder, sift the freeze dried strawberry powder through a fine mesh sieve. Then sift in powdered sugar and whisk until blended.
Once the blondies have cooled for at least 40 minutes to an hour, gently lift the excess parchment and lift the blondie slab out of the pan and onto a cutting board. Sift the strawberry powder mix over the top of the Strawberry Blondies. Cut into 12 squares and serve while still warm!
Notes
These Strawberry Blondies are best served immediately, preferably while still warm from the oven. I don't recommend storing them in an airtight container as they might become soggy. Just leave them out at room temperature and cover loosely with foil.
Prep Time:

15 minutes

Cook Time:

30 minutes

Category:

Dessert

Cuisine:

Blondies
Keywords: Blondies, Blondies Bars, Brown Butter Blondies, Dessert, Strawberry Bars, Strawberry Blondies