Soft meets chewy in these easy, cinnamon sugar topped Brown Butter Snickerdoodle Blondies made more decedent with rich & nutty brown butter.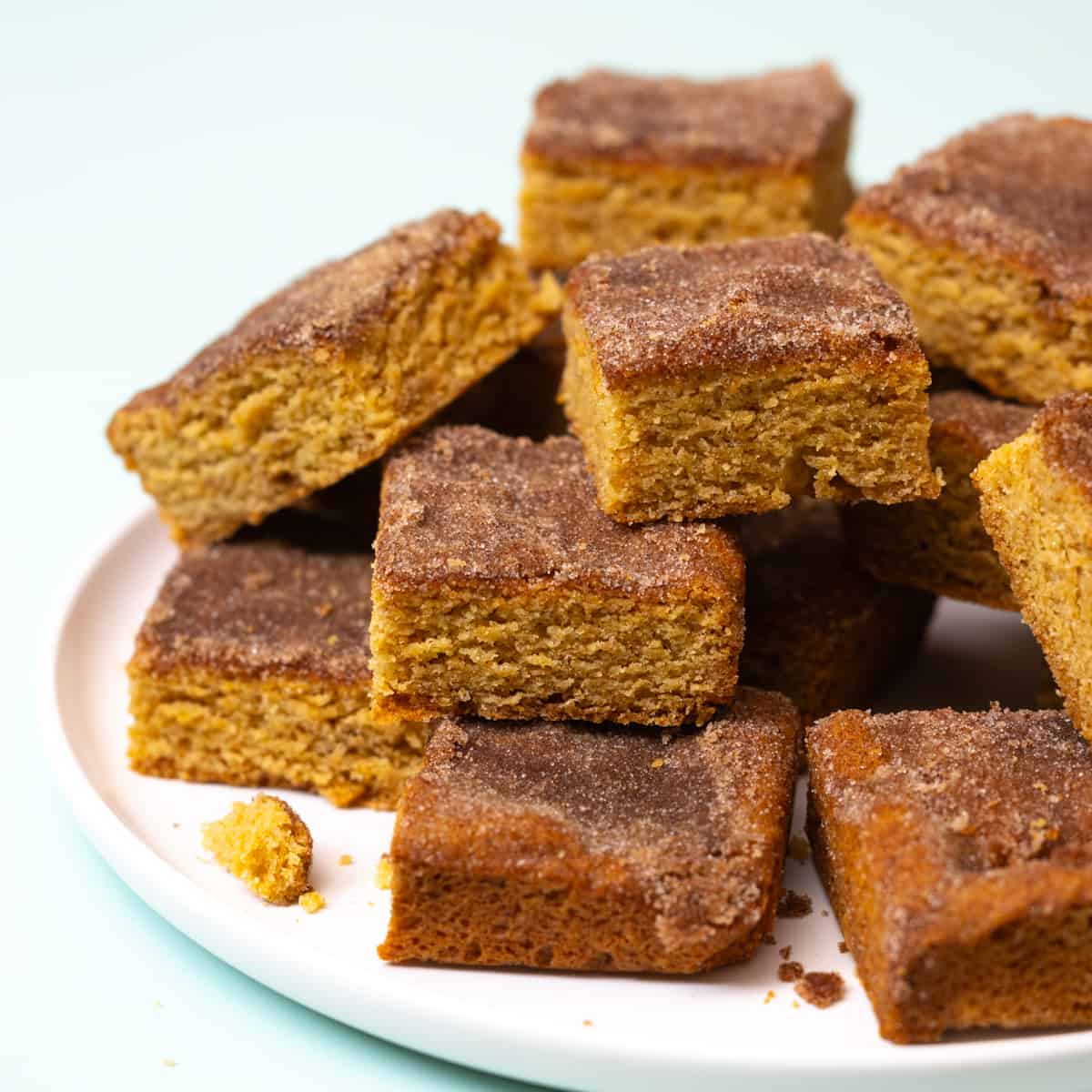 Brown Butter. Snickerdoodles. Blondies. What's not to love in these Brown Butter Snickerdoodle Blondies? There is just something so simple and humble about the Snickerdoodle. Whether its a simple, classic Snickerdoodle or something with a little more character like my spicy and soft Snickerdoodles.
Jump to:
I've had a squishy soft spot in my heart for Snickerdoodles since I was a kid. In fact, I have been baking Snickerdoodles based off the same recipe for decades, since I was in high school. We don't need to get into the specifics but let's just say that I have been to 2 of my HS reunions. My introduction to Snickerdoodle recipes came from a church cookbook passed down from my Great Grandmother. It's still one of my most treasured recipes.
It would be silly not to mention how much the top layer of this Blondie recipe reminds me of a childhood classic, Cinnamon Toast! It's the same topping we all know and love. Therefore, the spiced sugar mix evokes that same nostalgia in our hearts. Try my Cinnamon Toast Brûlée for an elevated spin on the classic. It is next level deliciousness, much like it's easy baked cousin, Brown Butter Snickerdoodle Blondies.
These Brown Butter Snickerdoodle Blondies offer a perfect square for every type of person
If you like your Blondies like you like your Brownies, you know each pan offers an ideal bite for every personality type. Maybe you are an all edges person who craves those crispy bits that form along the edges of the pan. Perhaps you are all in on the soft and squishy centers, like me. Or could it be a balanced mix of crispy to fudgey that you crave? Whoever you are, these Brown Butter Snickerdoodle Blondies have what you are looking for.
Distinct snickerdoodle ingredients
Not unlike a simple sugar cookie, Snickerdoodle cookies have all of the go-to ingredients like all purpose flour, sugar, eggs, a leavening agent, vanilla, some salt. But classic Snickerdoodle Cookie recipes have some tricks up their sleeves to set them apart from other cookies.
Cream of Tartar - This unique ingredient adds that subtle tanginess that cuts through all of the sweet. It's actually an acidic byproduct of winemaking, extracted during the grape fermentation process. Cream of Tartar works to prevent sugar from crystallizing. In Snickerdoodle Cookies, it keeps them soft and gives them that signature, airy loft.
Cinnamon Sugar - Snickerdoodles are known for their soft and tender interiors but the crowning glory of every Snickerdoodle Cookie recipe is that cinnamon sugar coating. This balance of sweet and spice is a favorite for good reason.
What makes a Blondie a Blondie?
At their core, Blondies are a fudgey brown sugar and vanilla cookie bar. They have the densely chewy bite that gives them their unique personality. Unlike brownies who lean deeply chocolatey, Blondies give more butterscotch energy from the brown sugar and vanilla. Since this Blondie recipe uses brown butter, it really levels up on the deep nutty butterscothy flavor scale. Yum! Since Blondies are such an easy recipes to make, you can riff on them indefinitely. Check out my Strawberry Blondies or Candy Corn Blondies if you need some inspiration.
Snickerdoodles vs Blondies
When you think about it, Blondies and Snickerdoodles are at odds. They have contradictory qualities in texture and flavor. Snickerdoodles are lofty and soft. With tender interiors and a crusty outer shell. That cream of tartar comes through with a sharp tanginess against the warm cinnamon sugar. Blondies are dense with a fudgey, chewy bite. The rich flavors of vanilla and brown sugar run deep.
This contradiction had me hesitating when developing this Brown Butter Snickerdoodle Blondie recipe. Could these two opposing treats play nice? Turns out, this mashup of the two classics is more than the sum of its parts. The best qualities of each classic comes through, melding together into one pretty perfect treat.
Al-Dente! These Brown Butter Snickerdoodle Blondies have a satisfying tooth
The trick is the combination of the key ingredients from each recipe. Plus the addition of that that browned butter that rounds it all out. Browning the butter creates a deeper flavor profile that gently slices through the sweetness with warm nutty notes.
This Snickerdoodle Blondie is as easy as it gets
Simplicity is always a welcome word when baking. Especially when life is busy and baked goods are low on the life priority list. I relate to this more than you know. And I bake for a living! Thankfully these Brown Butter Snickerdoodle Blondies come together in minutes and require minimal ingredients.
Press in the pan & ready to bake in just a few steps
Brown the Butter
Browned butter always elevates a recipe, in my opinion. While not completely necessary, it adds a layer of dimension to this basic Snickerdoodle Blondies recipe. It really rounds out the flavors with rich, nutty notes. Adding warmth that compliments the sweetness well.
Mix the Blondie batter together
This step is as easy as can be. No need to pull out a mixer for this easy baker. Simply whisk the dry ingredients, blend the browned butter with the sugars, then add the eggs and vanilla. Finally, fold it all together. No cookie scoop is necessary, just plop that Blondie dough into a lined pan and press it in evenly.
Cinnamon Sugar Topping
The crowning jewel atop these Brown Butter Snickerdoodle Blondies, the cinnamon sugar mix. You know, just like the Cinnamon Toast we all know and love from our childhoods. This sweet and spicy mix gets sprinkled over the top of the Blondie batter just before baking.
Bake it up
This one pan bake is ready in less than 30 minutes. Just pop that baby in the oven at 350°F. In 25-30 you have a thick golden bar of warm, cinnamon spiced soft and chewy goodness.
I personally love having these quick and easy baking recipes in my back pocket. Since these Snickerdoodle Blondies just require a handful of common ingredients, they are a great go-to when you want to bake something sweet with what you have on hand.
Thank you to the Great Grandmothers before us who inspired this soft and chewy Brown Butter Snickerdoodle Blondies recipe. And thanks to each of you who make this recipe and carry on old and new traditions. Recipes are a special form of love, passed down from generation to generation.
Print
📖 Recipe
Brown Butter Snickerdoodle Blondies
---
Cinnamon Sugar Topping 
¼ cup granulated sugar
1 tablespoon ground cinnamon
Snickerdoodle Blondies
1 cup unsalted butter
2 ½ cups all purpose flour
2 teaspoons cream of tartar
1 teaspoon baking soda
¾ teaspoon fine sea salt
¾ cup granulated sugar
½ cup brown sugar
2 large eggs (at room temperature)
2 teaspoons pure vanilla extract
---
Instructions
Brown the Butter
Melt the butter in a saucepan over medium heat. Swirl the pan occasionally to be sure the butter is cooking evenly. As the butter melts, it will start to turn from yellow to a deeper golden color and toasty brown bits will start forming around the edges. When the butter starts to foam up and give off a nutty aroma, the brown bits will start to really show up. Take it off the heat immediately to avoid burning. Pour the butter and scrape the browned bits into a heatproof bowl or liquid measuring cup to cool down for about 15 minutes.
Mix the Cinnamon Sugar Topping
In a small bowl, mix together the cinnamon sugar topping and set aside.
Mix the Snickerdoodle Blondies
Preheat oven to 350°F. Line 9x9x2-inch metal baking pan with parchment paper, extending over the edges a bit so you can lift the baked Blondies out of the pan. Alternatively, you can grease the pan.
In a medium bowl, whisk together the flour, baking soda, cream of tartar and salt. Once the brown butter is cool to the touch, combine the butter with the granulated sugar and brown sugar in a medium sized mixing bowl and whisk together until combined. Stir in the eggs and vanilla until completely combined.
Using a spatula, fold in the dry ingredients and mix until just combined.
Spread the blondie batter into the prepared pan, using a spatula or your hands to press it evenly into the pan. Sprinkle the cinnamon sugar topping over the top of the Blondies.
Bake & Serve
Bake until a tester inserted in the center comes out with just a few crumbs, somewhere between 25-30 minutes. The edges should be a deep golden color and look firm. The center should still be moist but not gooey.
Allow Blondies to cool in the pan for at least 20 minutes. Use the parchment paper to lift blondies from the pan. Cut into a 4x4 grid and serve!
Notes
The Brown Butter Snickerdoodle Blondies will last 3-4 days when stored in a tightly sealed container. But they taste the absolute best when warm from the oven.
*Hot Tip: To recreate that warm from the oven experience, rewarm a Blondie bar in the microwave for 15-20 seconds. 
Prep Time:

10 minutes

Bake Time:

25-30 minutes
Keywords: Brown Butter Snickerdoodle Blondies, Snickerdoodle Blondies, Blondies, Snickerdoodle Cookie Bars