It's tomato season and I think the enamel on my teeth may be eroding from all of that zesty acidity in the flavorful tomatoes found this time of year. I've been popping them like candy at all times of the day; breakfast, lunch, dinner, snacks, late night snacks, and every time I walk anywhere near the kitchen. I am fully addicted and shamelessly getting my fix while heirlooms and sweet little cherry toms are aplenty.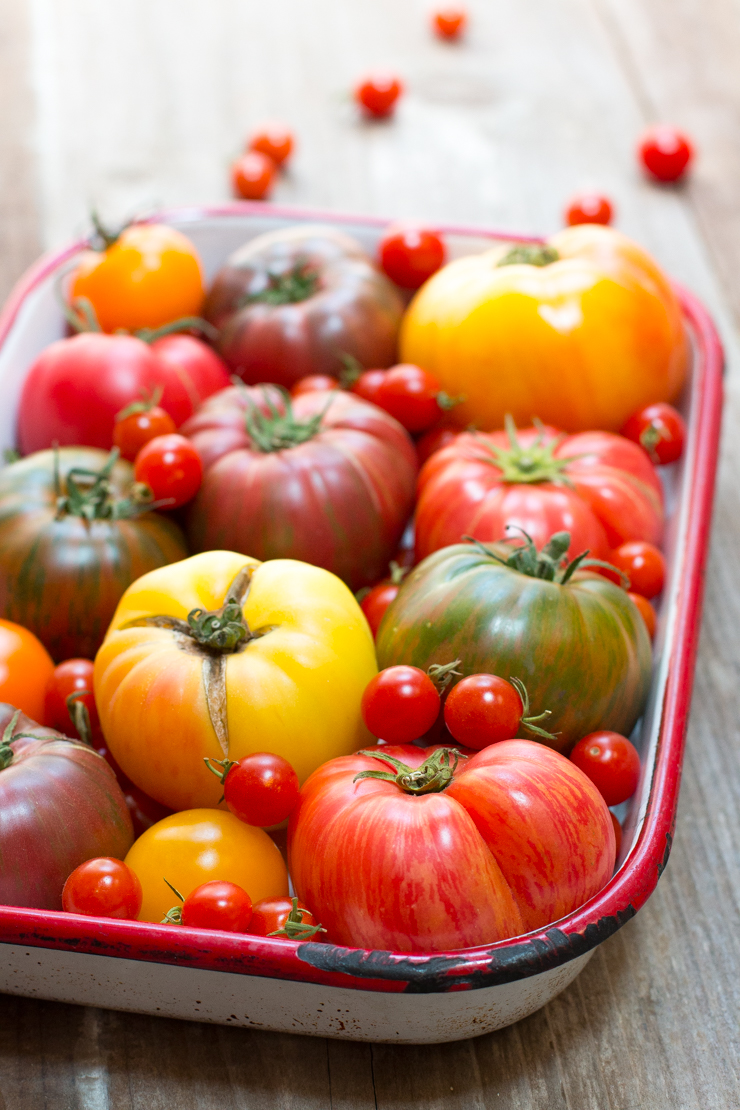 Heirlooms were on super sale at Whole Foods this week and I stocked up.  I knew I wanted to make a tomato galette of some sort, but it needed to be something special that would enhance the tomatoes without throwing any shade on their sunny burst of flavor.
I spent way too much time mulling over ideas for the perfect summer tomato galette. Then, my sweet husband casually walked by and effortlessly suggested a BLT Galette. I was equal parts annoyed that I didn't think of it and completely blown away with his brilliantly simple and delicious idea. Not much can best a simple BLT with thick cut bacon, toasty bread and a slab of tomato as thick as a T-Bone steak. A pastry wrapped version of this simple classic seemed like a superstar of an idea.
I landed on a BLT Galette with Pecorino Pepper Crust. Using my super flaky all butter vodka pie dough recipe as a base, I incorporated finely grated, salty pecorino cheese and fresh ground black pepper. The applewood smoked bacon gets rubbed with brown sugar and baked in the oven to give a sweet balance to the acidic tomatoes and salty crust. Finally, I had to incorporate the L somehow, so I topped the baked galette with fresh micro arugula. That counts as lettuce, right?
Incidentally, while making this magnificent feat of pastry tastiness I finally admitted something to myself that I've been in denial about for years. It's devastating and breaks my heart to admit it but, I think I may have an allergy to pecorino and other hard aged Italian cheeses.
When I was preparing the crust for the BLT Galette with Pecorino Pepper Crust, I popped a small crumble of pecorino into my mouth and felt the familiar sting of 1000 tiny knives cutting up the roof of my mouth. It's an itchy sensation. I asked D if he has the same reaction when eating this genre of cheese and he looked at me as though I was a two headed Roman God.
For years I've just told myself that the stabbing and itchiness are part of the taste profile and refused to admit that it's actually my body having some sort of allergic reaction. I don't want to admit that it's real. I am allergic to penicillin and I wonder if the molds in the cheese are causing this reaction? If any of you out there are doctors maybe you know a thing or two about this?
Of course, I will probably just turn to the wise words of the internet instead of asking an actual doctor. I've never over-imbibed to the point of throat closure or hospitalization, so for now I will just pace myself and continue to fight through the pain in favor of the flavor.
Anyhow, as long as you don't have a pecorino allergy (or possibly if you do but ignore it like me) this BLT Galette with Pecorino Pepper Crust is a triple threat of flavorful goodness! While the brown sugar bacon and the pecorino peppercorn crust are a phenomenal duet that could easily stand alone, they take on a supporting role and make room for the real stars of the show, tomatoes!!! This recipe gratefully pays homage to one of the very best things summer has to offer, sun-fed summer tomatoes of all varieties. From those big, bold and juicy heirlooms that eat like a meal to the itty-bitty cherry varieties that are as sweet as candy. Make the most of tomato season and taste the sunshine by baking up my BLT Galette with Pecorino Pepper Crust.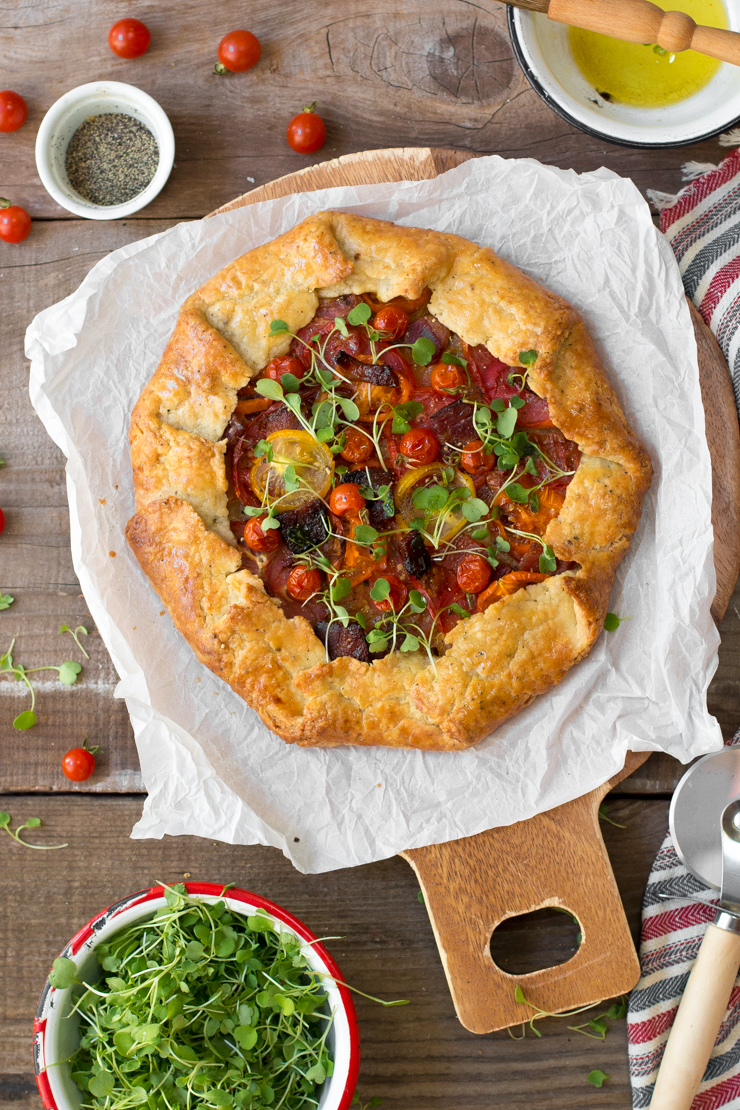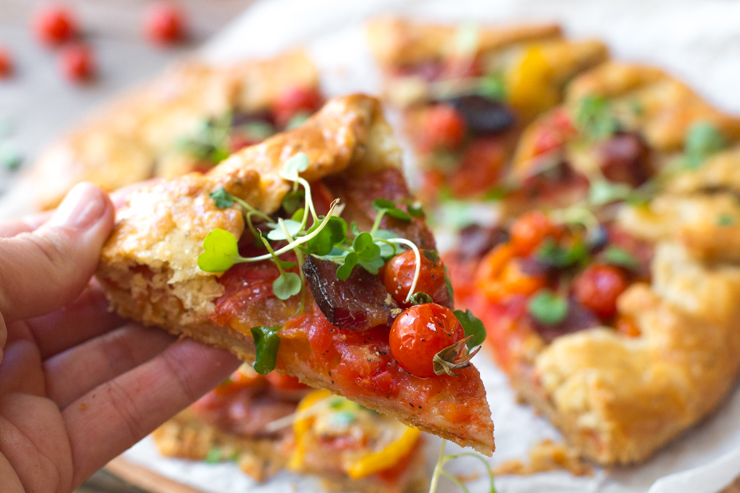 Print
📖 Recipe
BLT Galette with Pecorino Pepper Crust
---
Description
Make the most of summer and taste the sunshine in this BLT Galette with Pecorino Pepper Crust. Tomatoes shine in the lead role, while brown sugar bacon, delicate micro arugula and a salty, spicy and savory crust give a solid performance in a supporting role.
---
Pecorino Black Pepper Crust
all purpose flour -

1 ¼

cups

unsalted butter (cold & cut into ¼" cubes - ½ cup (1 stick))
granulated sugar - 1 ½ teaspoons
salt - 1 teaspoon
fresh cracked black pepper - ¾ teaspoons
finely grated pecorino cheese - ¼ cup (plus 2 tablespoons)
ice cold vodka - 2 tablespoons
ice cold water - 1-2 tablespoons
Bacon and Tomato Filling
various heirloom tomatoes - 2-3 (depending on size)
cherry tomatoes -

¼

cup

salt - 1-2 teaspoons
hickory smoked bacon - 2-3 strips
brown sugar - 1-2 tablespoons
micro arugula -

¼

cup

fresh cracked black pepper - ¼ teaspoon
egg - 1
olive oil - 1 teaspoon
---
Instructions
PREPARE THE DOUGH
Whisk the flour, sugar, salt and black pepper in a mixing bowl with high sides.
Blend the cold butter cubes into the dry ingredients using a food processor, pastry blender or the butter knife method. Stop mixing when the texture of the flour changes from silky to mealy; this shouldn't take long. Sprinkle in ¼ cup of the grated pecorino cheese and mix until just incorporated. Don't worry if a few larger chunks of butter remain, this gives the crust its flaky texture.
Drizzle the vodka into the flour mixture while gently pulsing in food processor or mixing with a fork or dough blender until fully incorporated. Check the hydration of the dough between each addition of water by gathering a small fistful; if it holds together, it's ready. If the dough is still too dry, slowly add the water; 1 tablespoon at a time, testing the dough by pinching it occasionally.
Be careful to add only as much water as it takes to combine the dough into a ball or disk. The exact amount of water can vary depending upon the moisture content of the flour, the quality of the butter, and the weather. When it has the proper amount of water, the dough will come together without much effort or deliberate packing. If you need to add more water, make sure the ingredients are still cold.
Form the dough into a disk and wrap in plastic. Chill for at least 1-2 hours before rolling and forming.
PREPARE THE FILLING
Double line a baking sheet with two layers of paper towels. Thinly slice the heirloom tomatoes into ⅛" - ¼" thick slices and place them on the lined baking sheet. Sprinkle with sea salt and cover with another layer of paper towels. This process will help pull the moisture out of the tomatoes and prevents a soggy galette. Set aside.
Preheat the oven to 400°. Line a baking sheet with tin foil and place the bacon strips on the sheet. Sprinkle with brown sugar and gently rub into the bacon on both sides. Bake for 15-20 minutes until the bacon is fully cooked, crisp and caramelized. Place the bacon on a paper towel lined baking sheet to soak up the grease and then transfer to a parchment lined sheet to cool. Once cool cut the bacon into bite sized pieces.
ASSEMBLE THE GALETTE
On a lightly floured surface roll out the chilled dough into a 12-14" round, ⅛" thick.
Sprinkle with remaining 2 tablespoons of pecorino and half of the chopped bacon, leaving a 2-3" border all of the way around. Arrange the thinly sliced tomatoes on top of cheese and bacon and top with remaining bacon chunks.
Carefully lift and fold the edge up and over the filling, allowing the dough to naturally pleat at 2 inch intervals as you fold. It should pleat around 8 times as you work your way around.
Chill the galette for 15-20 minutes before baking and preheat oven to 375°. Whisk the egg and lightly brush the mixture over dough just before baking.
Bake for 40-45 minutes, rotating the pan halfway through until the crust is a deep golden brown and your kitchen smells like heaven.
While the galette is still warm gently brush the browned crust with olive oil and repeat. Top with micro arugula just before serving and slice into 6 wedges.
Eat the galette outside and enjoy the wonderment of summertime.
Prep Time:

30 minutes

Cook Time:

45 minutes