It's the day before Thanksgiving and I decided that it was a good idea to squeeze in one last Turkey Day post. This week has been crazy and I don't really have time to post this but that's how I roll. So, I'll keep it short and sweet; if you have time, make these Lemon Herb Rolls for your Thanksgiving spread. These rolls are light, fluffy and have a sweet and savory balance that pretty much puts those dry and dense grocery store rolls to shame.
Theses buttery soft little rolls create a pillowy landing pad in your overstuffed tummy, softening the blow of the stomach stretching sport known as Thanksgiving. The hint on lemon and herb give the rolls a complimentary nod to your the classic Thanksgiving dishes without overwhelming the rolls. These Lemon Herb Rolls are easy to make yet they take your turkey table to the next level of homemade goodness. And, they make for the very best leftover turkey sammies, with a hunk of turkey, a thick slice of sharp cheddar and a dollop gravy. I am already looking forward to the Black Friday feast centered around these Lemon Herb Rolls.
Happy Turkey Day, friends. Be sure to slow down and enjoy the moments and the meal....but don't skip the Lemon Herb Rolls. xo - Becky Sue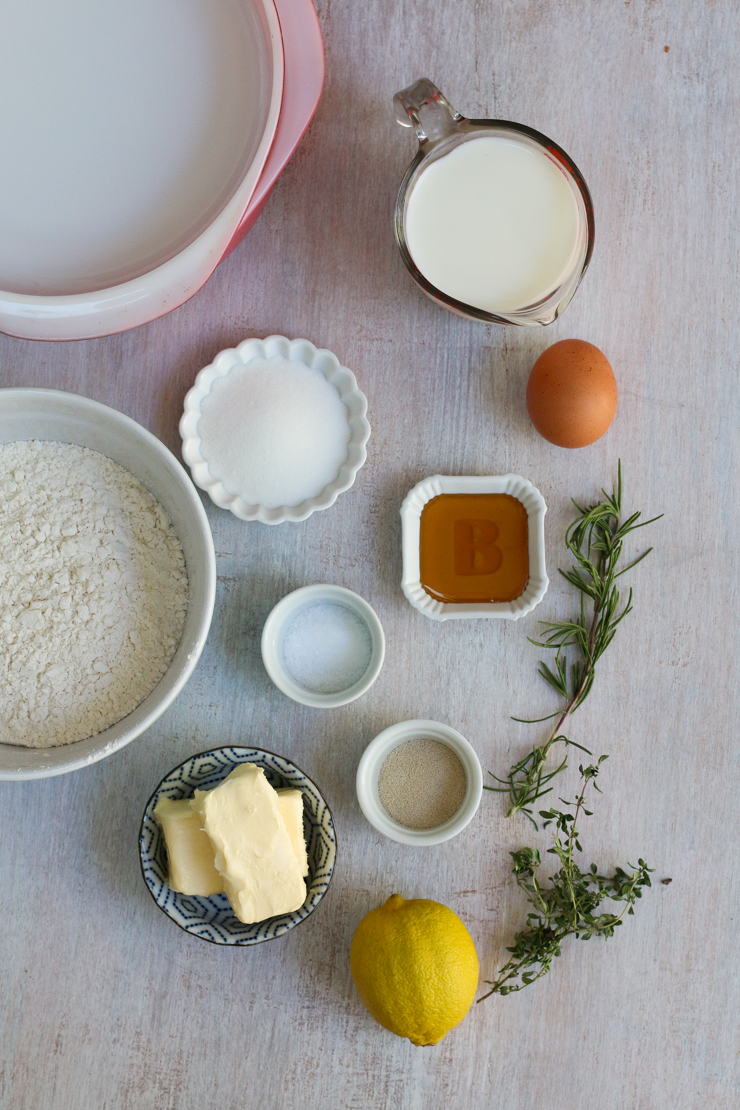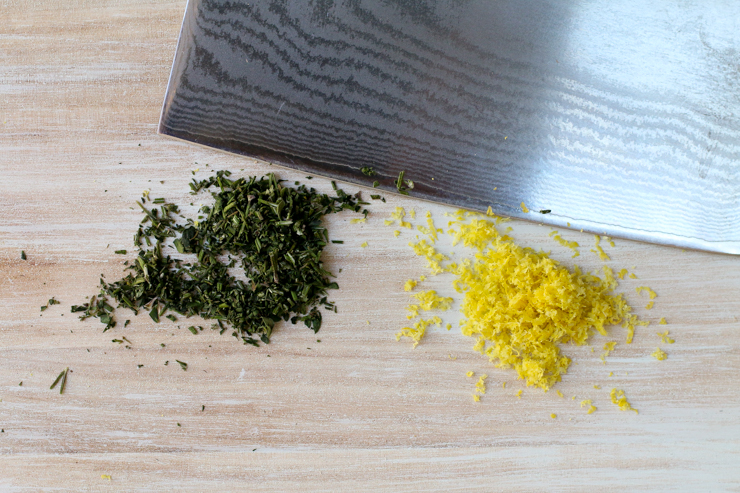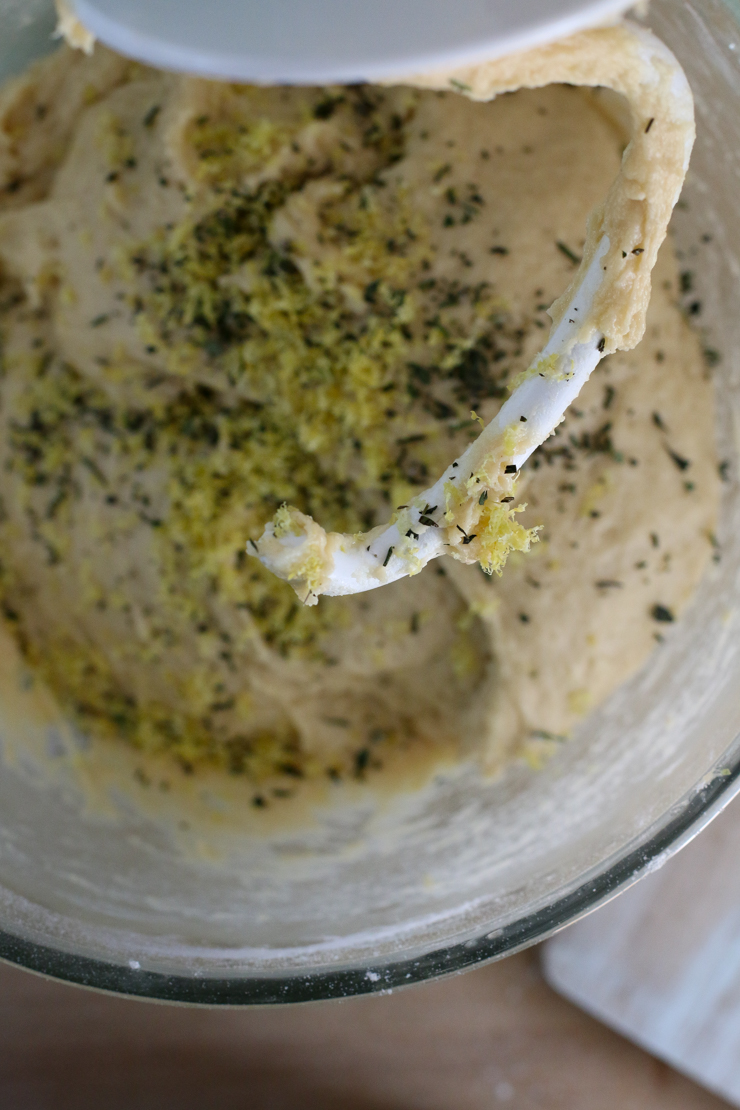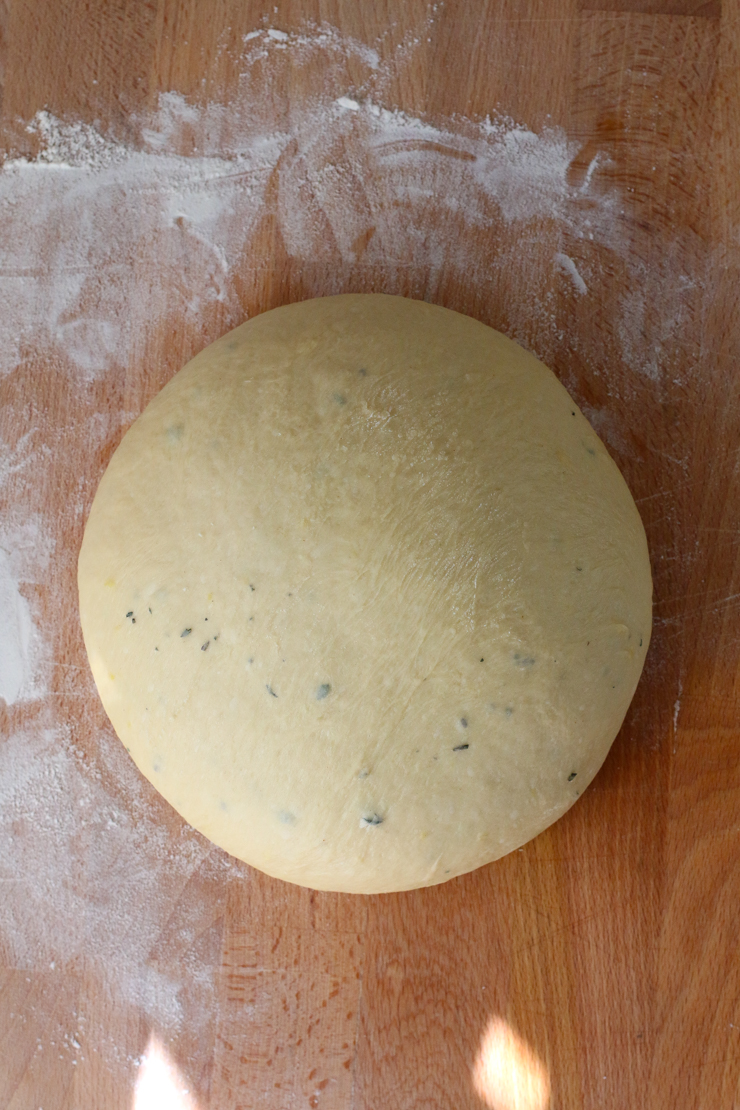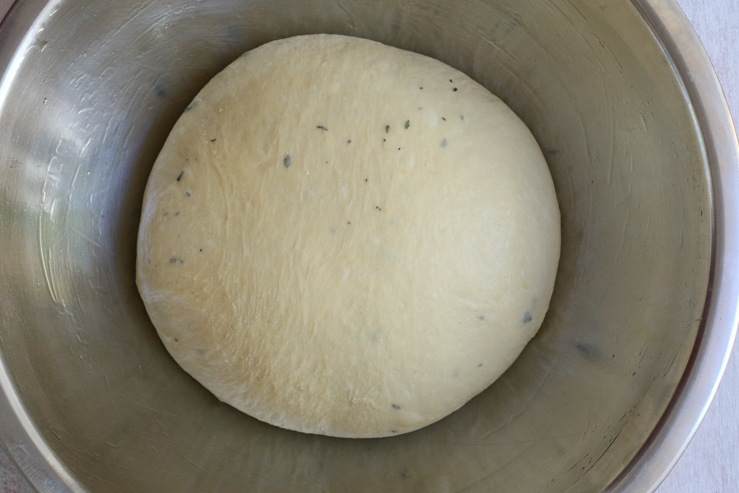 Here is a quick video I created to show how to form a perfectly round dough ball. You want your rolling surface to be slightly tacky instead of floured (I like using my a marble pastry board
for this), this will help create some tension allowing the dough to be shaped into a ball.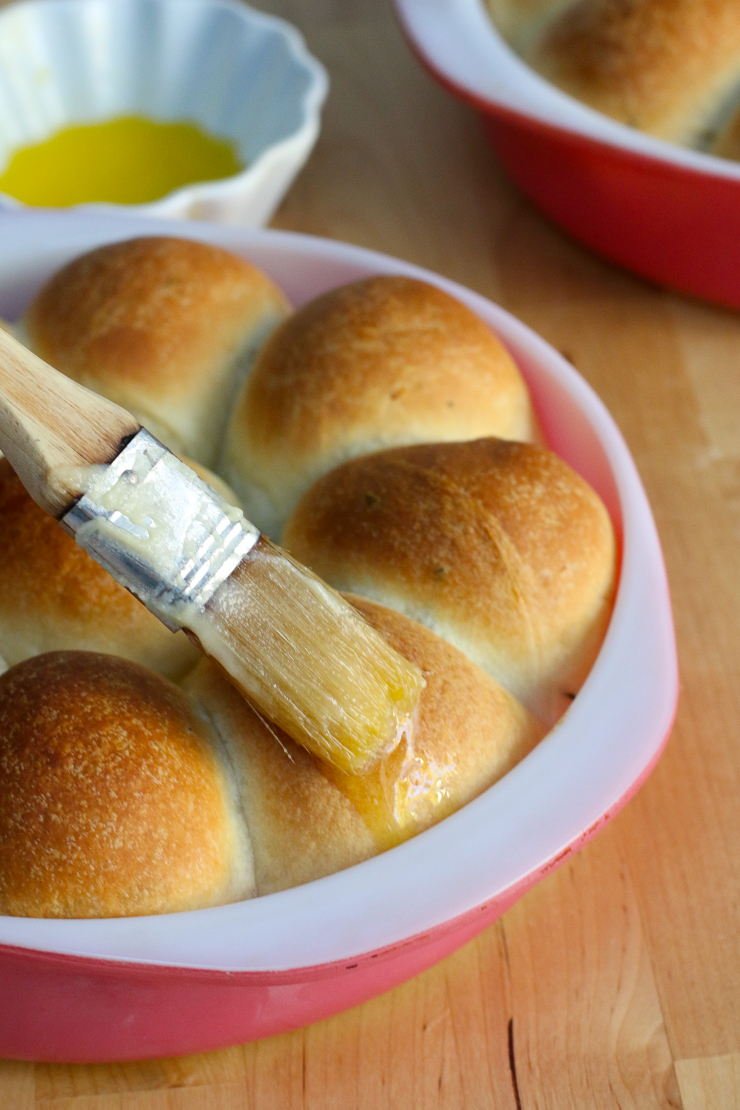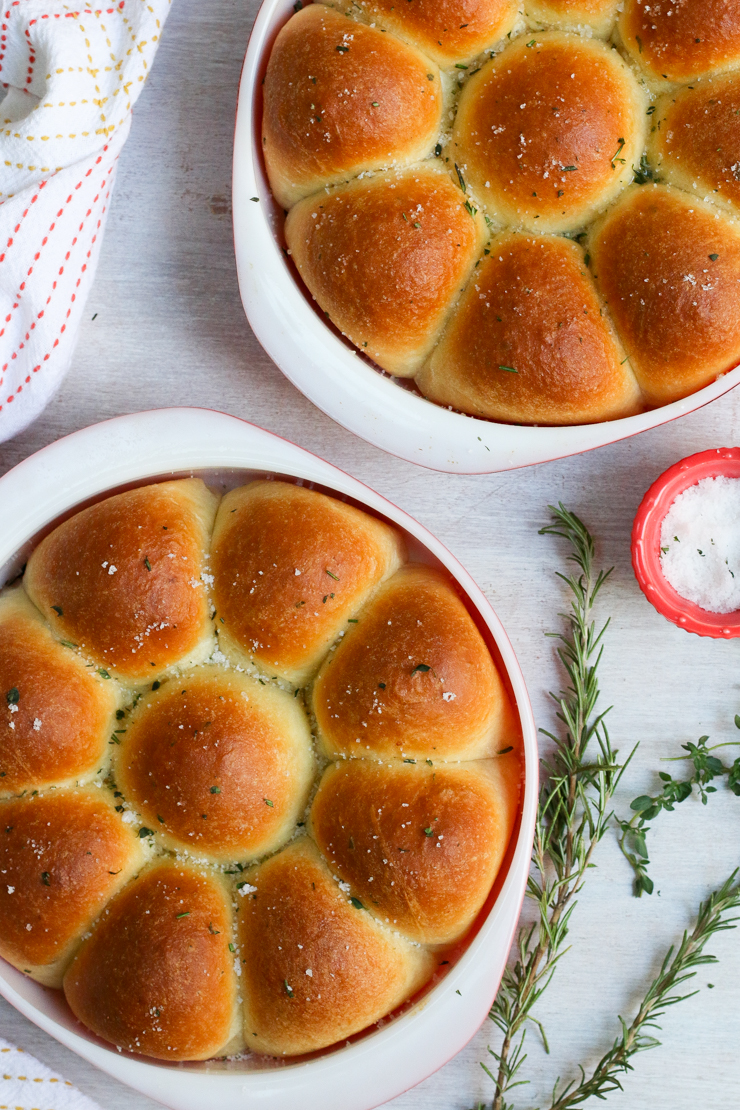 Print
📖 Recipe
Lemon Herb Dinner Rolls
---
Description
These pillowy lemon herb dinner rolls are buttery soft & fluffy with a sweet & savory flavor. They pair perfectly with a big wintery meal.
---
unsalted butter - 6 tablespoons plus 3-4 tablespoons melted and cooled
honey - 2 teaspoons
whole milk -

1

cup

active dry yeast - 1 package (2 ¼ teaspoons)
egg at room temperature - 1
all purpose flour - 3 cups plus 1-2 tablespoons
sugar - 2 tablespoons
salt - 1 teaspoon
coarse salt - 1 tablespoon for topping
fresh herbs such as rosemary and thyme - 1 - 2 teaspoons
lemon zest - 1 small lemon
olive oil - 1 teaspoon
---
Instructions
Finely zest the peel of 1 lemon. Then finely chop 1 - 2 teaspoons of a mix of rosemary and thyme (or other preferred herbs). Set aside.
In a small saucepan, melt 6 tablespoons of butter over low heat. I melted my butter until it began to brown slightly for a more full and deep buttery flavor, this is optional. Remove from heat and whisk in the honey.
Then slowly stir in the milk. Whisk mixture together. It will need to be at 110°. If it's too cool, warm it on the stove over low heat until it reaches 110°. If it's too warm let it sit (off of the heat) until it reaches 110°.
Pour the mixture into the bowl of a stand mixer and stir in the yeast. Allow to stand until it begins to bloom and become foamy, about 10 minutes.
Roughly stir in the egg, flour, sugar and salt. Attach the dough hook and knead the dough on medium speed for 5-8 minutes.
Add the lemon zest and 1 teaspoon of the herbs. The dough will be very sticky and soft (thanks to all that buttery goodness). Once the dough starts to pull away from the sides of the bowl and cling to the hook, gently remove it (a bowl scraper or spatula comes in handy here) and shape it into a ball shape in your hands or on a very lightly floured surface.
Place the dough ball into a large lightly oiled bowl. Loosely cover the bowl with plastic wrap and store in a warm area for about 1 ½ hours until the dough ball doubles in size.
Generously butter two 8" or 9" round metal or glass cake pans. Divide the dough into 18 equal chunks (using a kitchen scale if you have one) each piece should weigh about 1 ½ ounces or 45 grams.
Roll each chunk of dough into a little round ball and evenly space 9 dough balls in each pan (with one in the center and 8 around the outside).
Brush the dough balls gently and abundantly with 2 tablespoons of melted butter. Then cover loosely with plastic wrap and let them stand until they puff up, about an hour.
With the rack positioned in the middle of your oven, preheat to 375°. Bake the rolls until they are a warm golden brown, about 18 minutes.
Immediately, brush them again with 1-2 more tablespoons of melted butter. Sprinkle with coarse salt. Best when served right away while they are still all warm and squishy.
Notes
*Recipe adapted from Buttery Flaky Rolls recipe in Home Baked Comfort (Williams-Sonoma) by Kim Laidlaw Buttery Flaky Rolls recipe in Home Baked Comfort (Williams-Sonoma) by Kim Laidlaw

You can freeze these Lemon Herb Dinner Rolls and enjoy a fresh baked batch at a later date. You've got 2 options.
Option 1 - Freeze Unbaked Lemon Herb Rolls
Once you've shaped the dough balls, place them on a baking sheet lined with with wax paper or parchment paper. Then cover loosely with plastic wrap.
Immediately store in the freezer until they are completely frozen and rock hard.
Transfer to a freezer proof baggie and freeze up to one month.
Space the rolls evenly in two, generously buttered 8" or 9" round metal or glass cake pans. Then cover loosely with plastic wrap and let them stand until they puff up, and have doubled in size. It may take 4+ hours, depending on how warm it is in your kitchen.
Then brush the dough balls gently and abundantly with 2 tablespoons of melted butter and continue per recipe instructions.
Option 2 - Freeze fully baked Lemon Herb Rolls
Bake your rolls as the recipe calls, like you'd serve the right away.
Allow them to cool completely, then wrap them tightly in aluminum foil. Place the foil-wrapped package in a freezer bag or storage container and freeze for up to a month.
To thaw the dinner rolls, remove from the freezer the night before, or at least a few hours before you want to serve them. Remove the foil-wrapped rolls from the freezer bag and loosen the foil. Allow them to thaw at room temperature overnight or for at least a few hours. When you are ready to serve, re-warmed, while still in the loose foil packing, for about 10 minutes in a 300°F oven
Serve the rolls immediately, while still warm.
Prep Time:

3 hours

Cook Time:

18 minutes