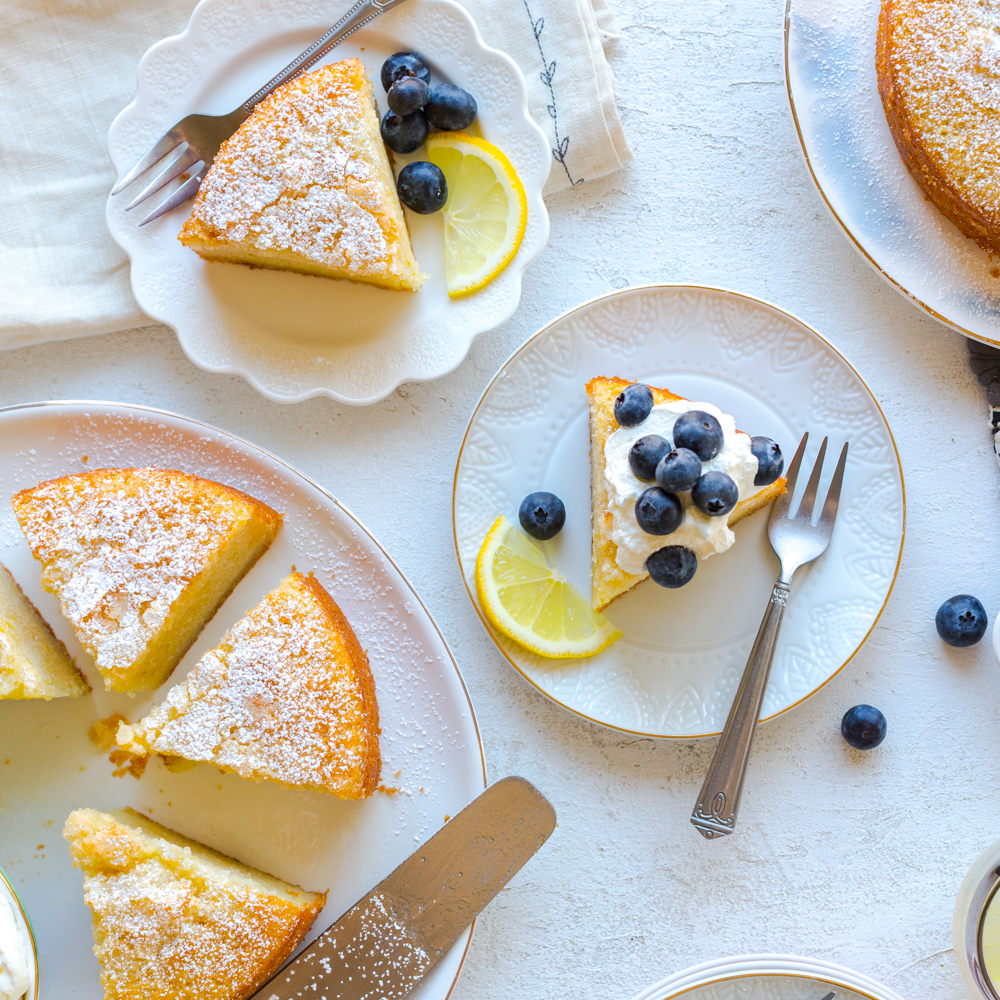 Things feel weird and emotions are at an all time extreme. Hello Covid-19, not so nice to meet ya. This pandemic situation seems to multiply all of the feelings by 5. Life feels 5 times harder, 5 times more exhausting, 5 times more emotional. But, could the silver lining in this multiplier be that the goodness is also 5 times sweeter? It's possible that these Limoncello Olive Oil Cakes taste better due to the Corona crisis. However, I have pre-corona memories of making little lemony cakes and being pretty head over heels then too. 
Birthdays in pandemic times are also a complicated mix of emotions. And, as we get older, birthdays feel less celebratory over time. Which it just silliness, to be honest. Surviving another year should always be a celebration. Especially when everything around us seems so fragile.  
Birthdays should include cake and these Limoncello Olive Oil Cakes are a celebration in and of themselves. 
My sweet sister had a birthday this month. Like so many, she didn't get the celebration she deserves. In an attempt to bring a slice of normalcy to these strange times, I baked up these Limoncello Olive Oil Cakes in her honor. Normally, I bake up an olive oil cake in a single 9" cake pan
, like my Orange Aperitivo Olive Oil Cake.
Instead, I split the batter between two 6" cake pans
, baking up two little olive oil cakes this time. One for the birthday girl and one for me! That way we could both simultaneously celebrate her birthday at a safe distance. While still coming together in the sweet spirit of cake.
Key ingredients and a few tricks make these little lemony cakes extra special.
Limoncello, a hefty hit of lemon zest and lemon juice combine to bring 3 layers of bright, citrusy flavor to the cakes.
Rich olive oil cuts through the tartness of the lemon, balancing the flavors in delightful unison. The olive oil infuses the crumb of the cakes with an unparalleled level of moistness (sorry for using that word).
Granulated sugar is sprinkled over the olive oil cakes just before baking to give the top a slightly crunchy, sweet crust.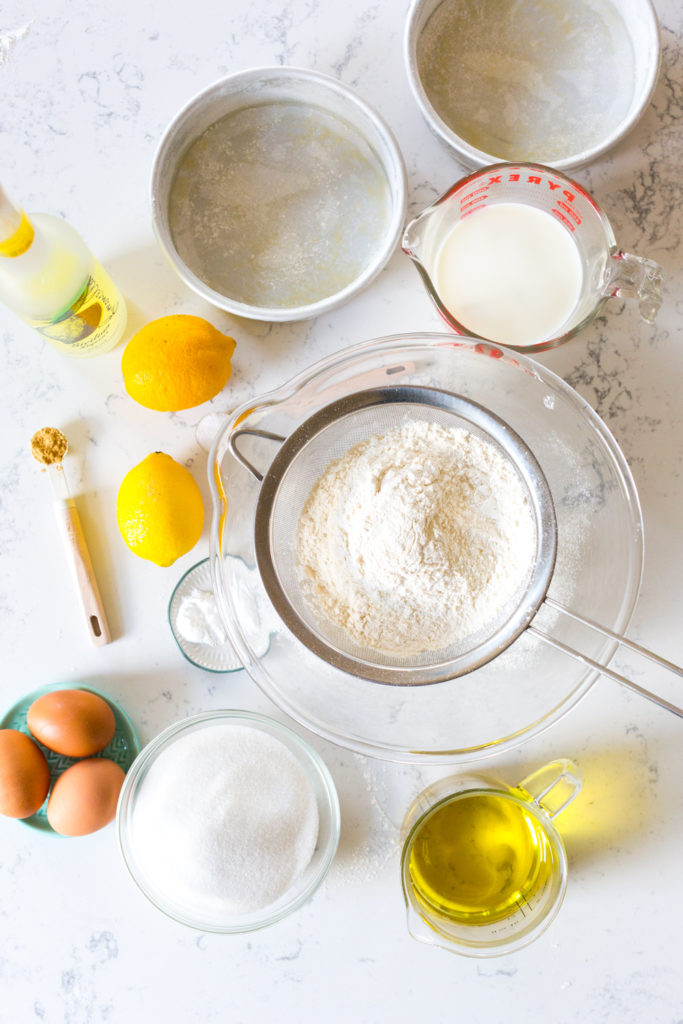 This cake recipe is a piece of cake with a few simple tricks mixed in.
Prepare your cake pans by buttering and flouring them, then lining the bottom with parchment paper. This will keep them from sticking to the pan. And it'll save you from frustration.
Sift the dry ingredients together. This helps the ingredients mix tooughroully and gives the Limoncello Olive Oil Cakes a lighter crumb when they bake.
Whisk the lemon zest in with the dry ingredients to keep the zest from clumping up and evenly distribute the zest throughout the cake batter.
These Limoncello Olive Oil Cakes are rich without being overly-indulgent. They are moist without being heavy and dessert-y without being too sweet.
That spells cake perfection in my book. And these little cakes could not be easier to make, seriously. No mixer is needed for this recipe. Basically, they only take a handful of ingredients. If you don't have limoncello, it's just as good with straight up lemon. Oooh, a splash of gin could be really nice too.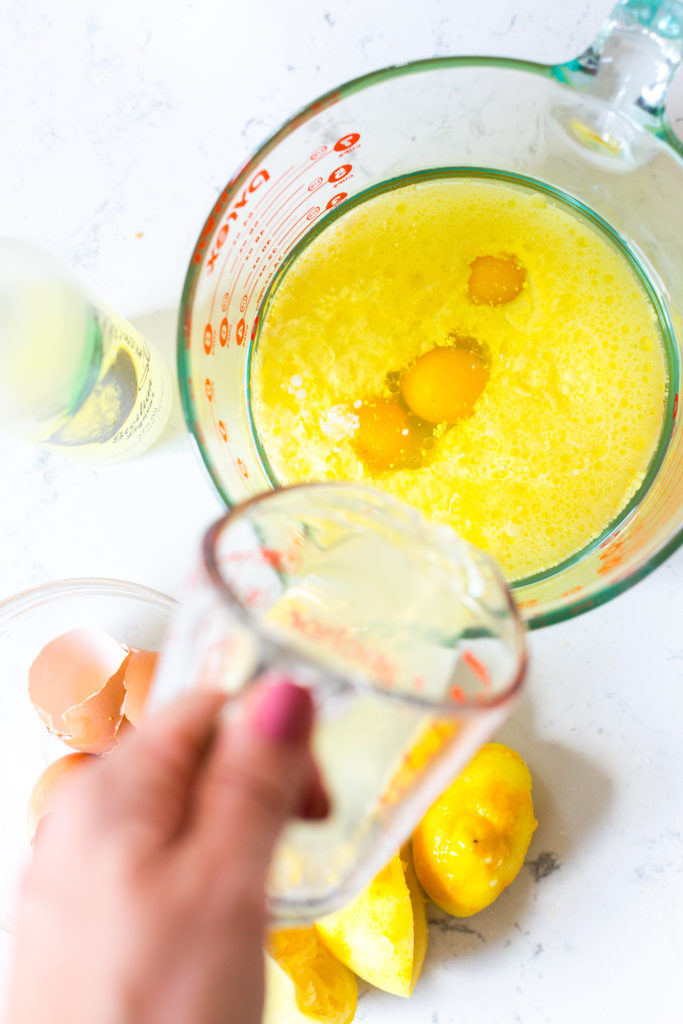 The Limoncello cakes can be made as a single 9" cake pan
as well but there is something extra sweet about the smaller 6" cake pan
size. A mini slice feels less formal, so cake and black coffee
for breakfast feels completely acceptable.
Since this recipe makes 2 mini cakes, you can bake one for a friend and keep one for yourself!
Baking one for you and one for a friend feels like the neighborly thing to do in this socially distanced time. Otherwise, you can wrap one up tightly and store it in the freezer for later. You'll thank yourself later.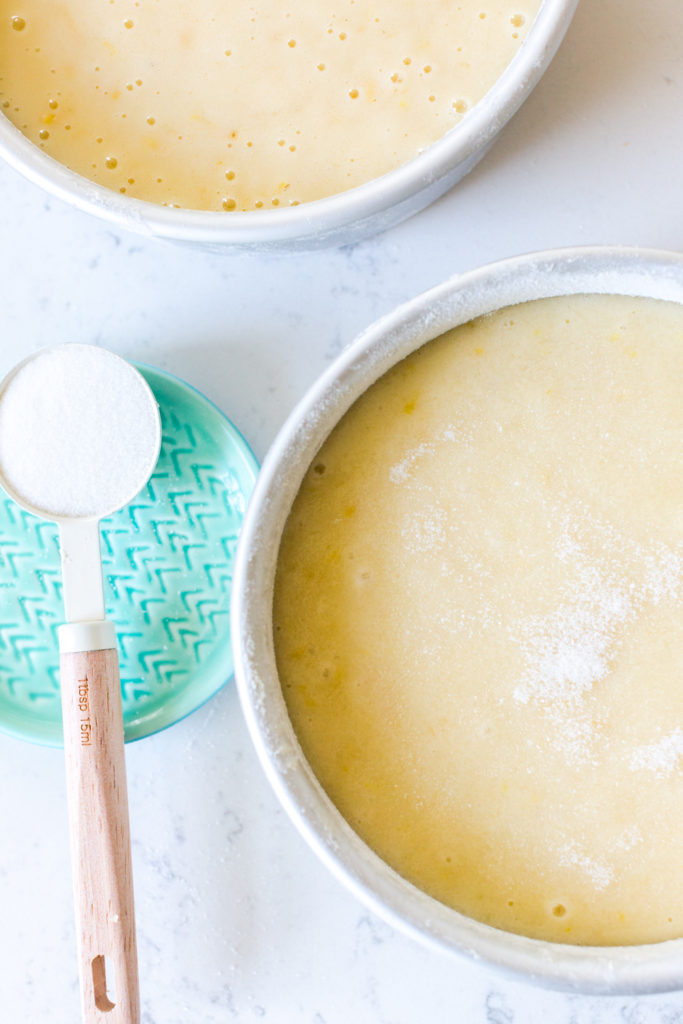 With the bake one for a friend and keep one for yourself policy, you're sure to brighten your bud's day and lift your own spirits. These Limoncello Olive Oil Cakes are the two-fer we all deserve right now. Don't you think?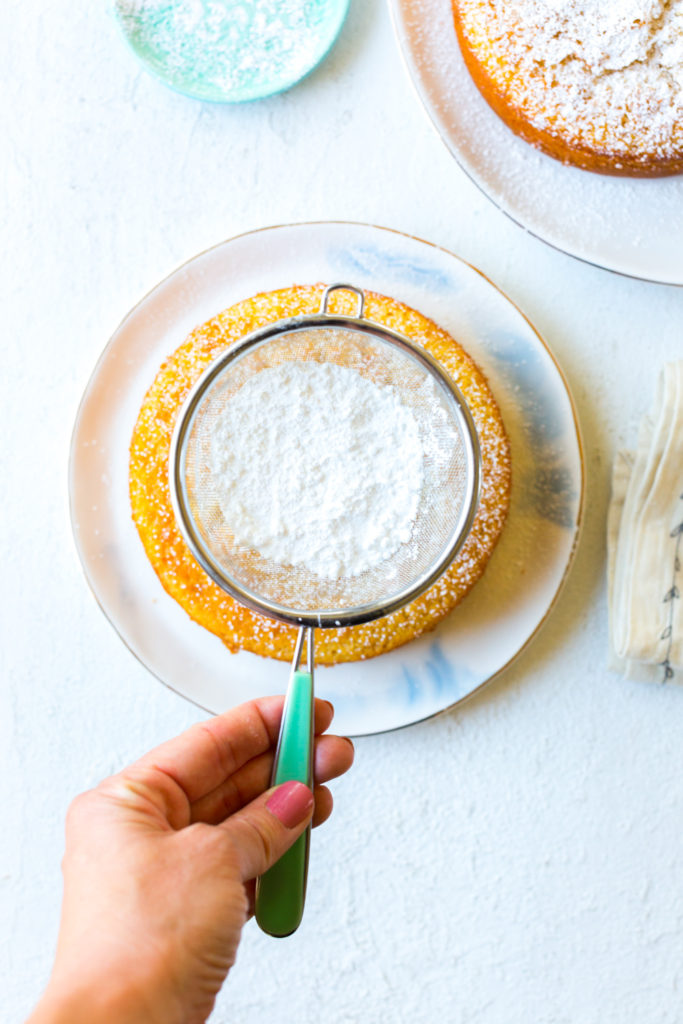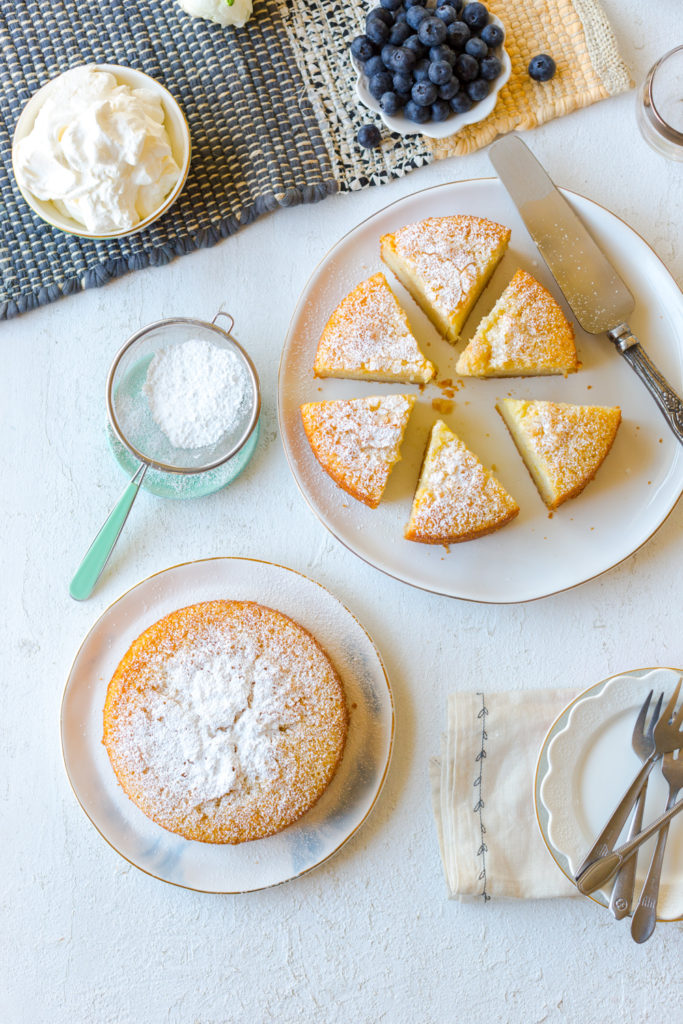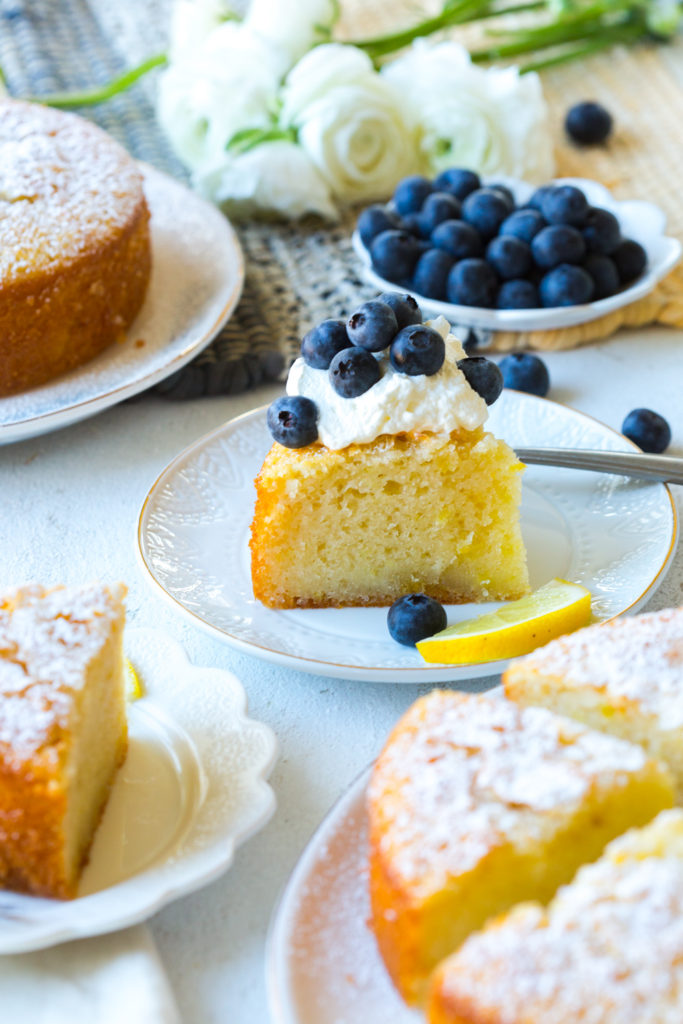 Print
📖 Recipe
Limoncello Olive Oil Cakes
---
Description
These super moist & undeniably delightful Limoncello Olive Oil Cakes are simple to make but full of sunny, citrusy flavor. The tender crumb is layered with rich olive oil and a zesty burst of lemon and Limoncello.
---
2

cups

all purpose flour

1 ¼

cup

+

2

tablespoons

granulated sugar - divided

1 teaspoon

fine sea salt

1 teaspoon

ground ginger

½ teaspoon

baking powder

½ teaspoon

baking soda

1 ⅓

cups

extra virgin olive oil

1 ¼

cups

whole milk (- at room temperature)

3

large eggs (- at room temperature)

2

medium - large lemons (- zested & juiced)

¼

cup

limoncello (- or ¼ cup of additional fresh squeezed lemon juice)

1

-

2

tablespoon powdered sugar
---
Instructions
Warm oven to 350° F. Prep two 6" cake pans or one 9" cake pan or spring form pan, that are at least 2 inches deep (it will spill over if it is smaller) by greasing the bottom and sides with cooking spray or butter. Line the bottom with parchment paper, grease and dust lightly with flour.
In a mixing bowl, sift together the flour, sugar, salt, ginger, baking soda, and baking powder. Whisk in lemon zest. Adding the lemon zest to the dry ingredients helps absorb the oils in the lemon and keeps the zest from clumping up.
In another bowl, whisk the olive oil, milk, eggs, lemon juice and Limoncello together.
Stir in the dry ingredients and mix until just combined.
Divide the batter evenly between the two prepared pans (or into a single 9" pan that is at least 2" deep). Sprinkle the tops with remaining 2 tablespoons of granulated sugar.
Bake for 30 - 35 minutes, until a wooden pick inserted in center comes out clean. If using a 9" pan, bake for 50 minutes to one hour.
Let cool in pan for 30 minutes. Run a butter knife around the edge of the pan, then remove from the pan and allow it to continue cooling on the cooling rack.
Sprinkle with powdered sugar and serve with fresh whipped cream and berries or any other fruit you like, if you're into that! Or just eat it plain with black coffee. It's an amazing cake any way you slice it.
Notes
If you do not have Limoncello, simply replace with fresh lemon juice or a blend of fresh lemon juice and gin.
Serve with fresh whipped cream, ice cream and berries or any other fruit you like. Make it what you love!
Prep Time:

15 minutes

Cook Time:

35 minutes

Category:

Dessert

Cuisine:

cake
Keywords: Cake, cakes, Easy Cake, lemon cake, Limoncello Olive Oil Cakes, Olive Oil Cake, olive oile cakes, Simple Cakes