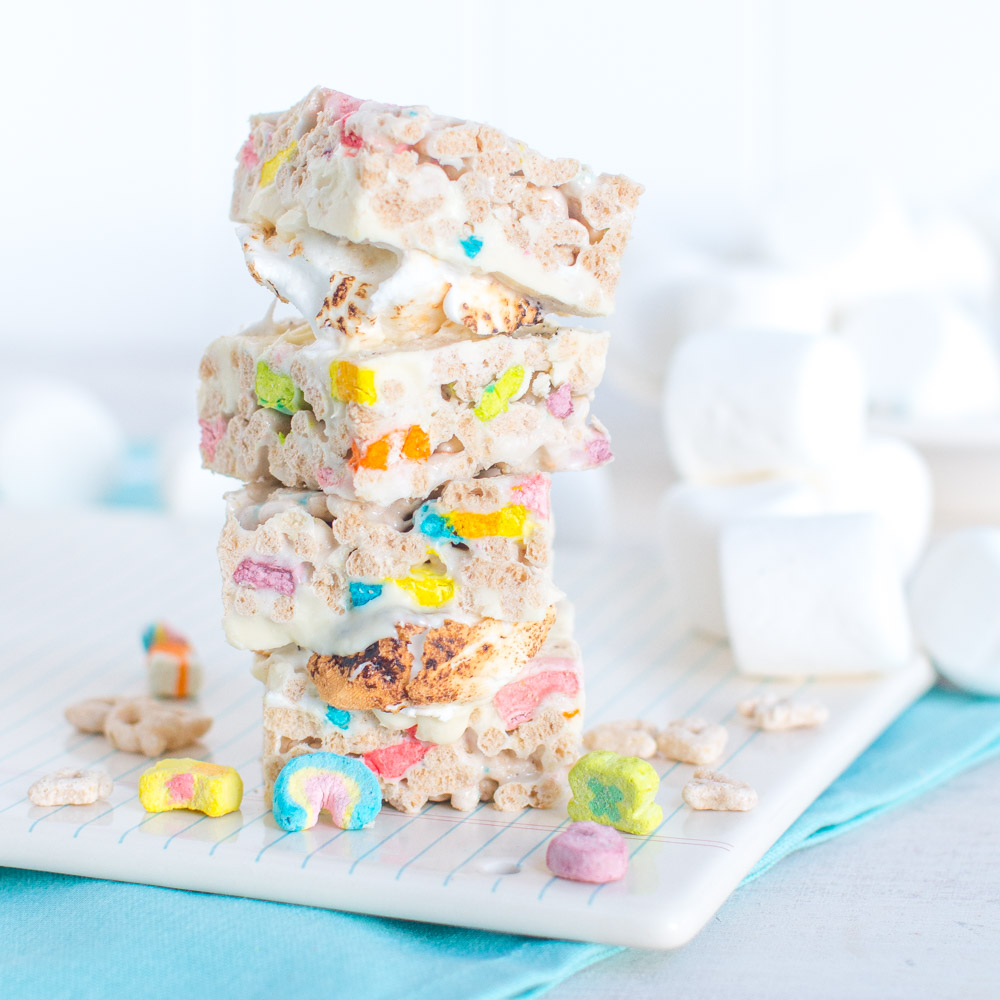 The other night I dreamt of food, which actually isn't all that unusual for me. However, this particular night I dreamt of a candy sweet cereal that I haven't tasted in at least 20 years, Lucky Charms. I dreamt I was making batch after batch of Rice Krispie Treats but instead of Rice Krispies, Lucky Charms filled the pan. I couldn't get them out of my head all morning and had to do something about it as soon as possible. After a quick Google search, I realized that Lucky Charms Treats are already a very popular thing, who knew?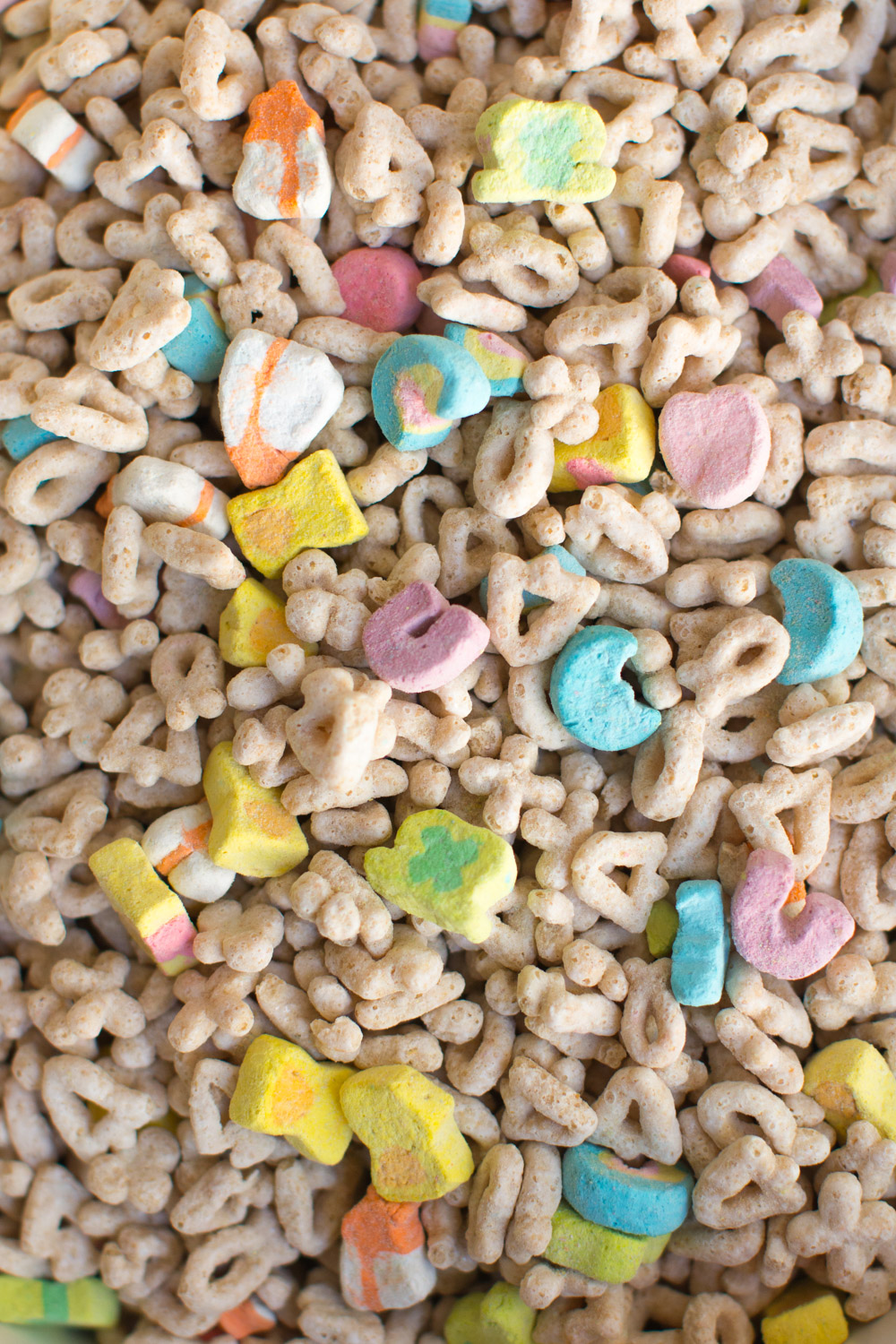 When something comes to you in a dream, you can't ignore it. I couldn't shake the spell of that magically delicious taste. Since these Lucky Charms Treats are already loaded with marshmallowy goodness, why not triple down on the marshmallow madness and make them into Lucky Charms S'mores? It may be an overload of refined sugar and sticky sweetness, but sometimes you just have to let it go and allow yourself to live your dreams.
Lucky for us, St. Patrick's Day, a holiday notorious for overdoing it, is right around the corner. That means it's perfectly acceptable to get completely out of control for a day. I happen to detest green beer and bag pipes aren't really my bag. So, I plan to mix up a pot of gold and try my luck with these rainbow sprinkled, marshmallowy sweet, Lucky Charms Treat S'mores.
This recipe makes 48 squares or 24 Lucky Charms Treat S'mores, which is a lot. But, I wanted to use up all of the Lucky Charms cereal and mini marshmallows in one fell swoop since I probably wouldn't ever actually use either again. If you don't want such a large batch, just halve the recipe.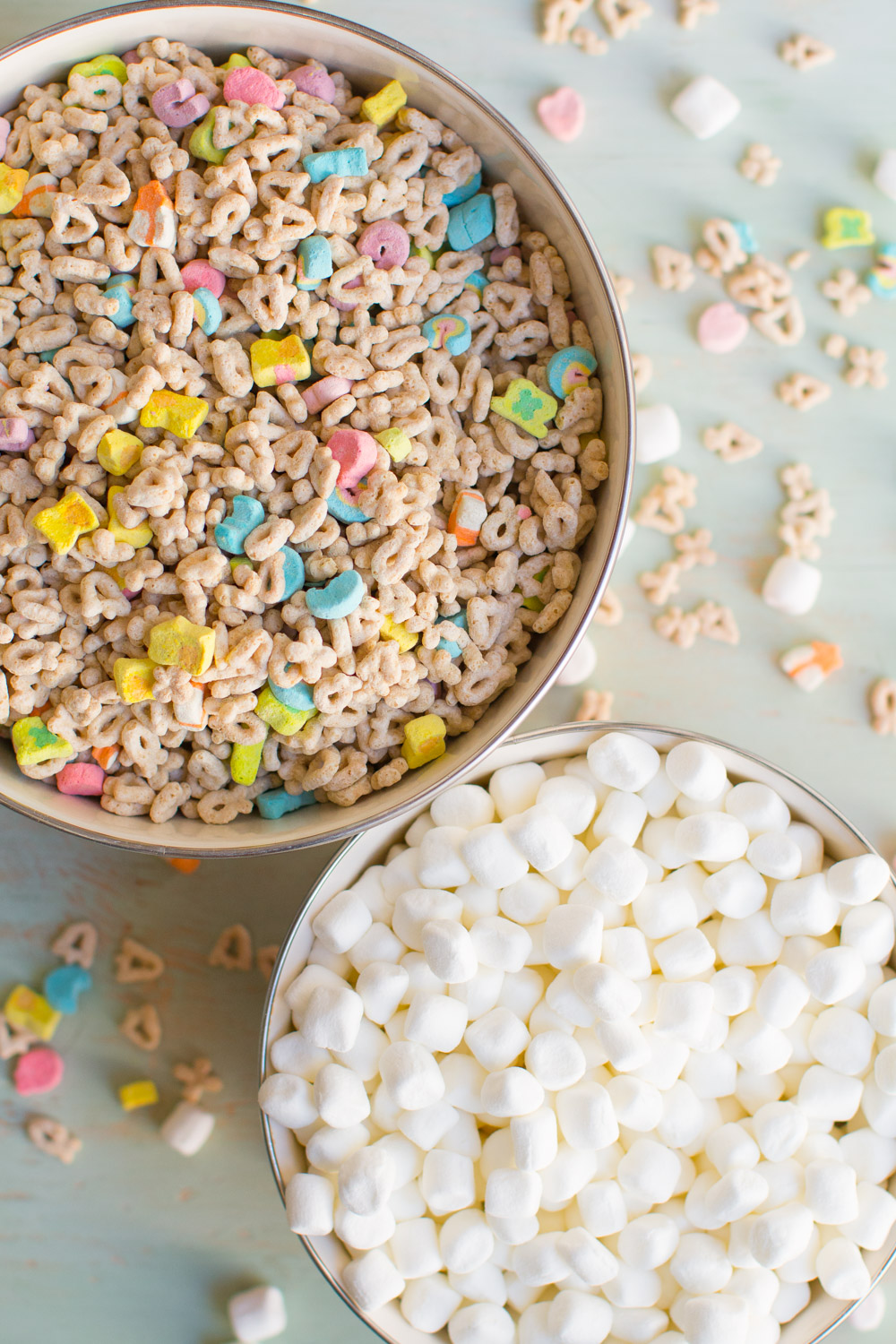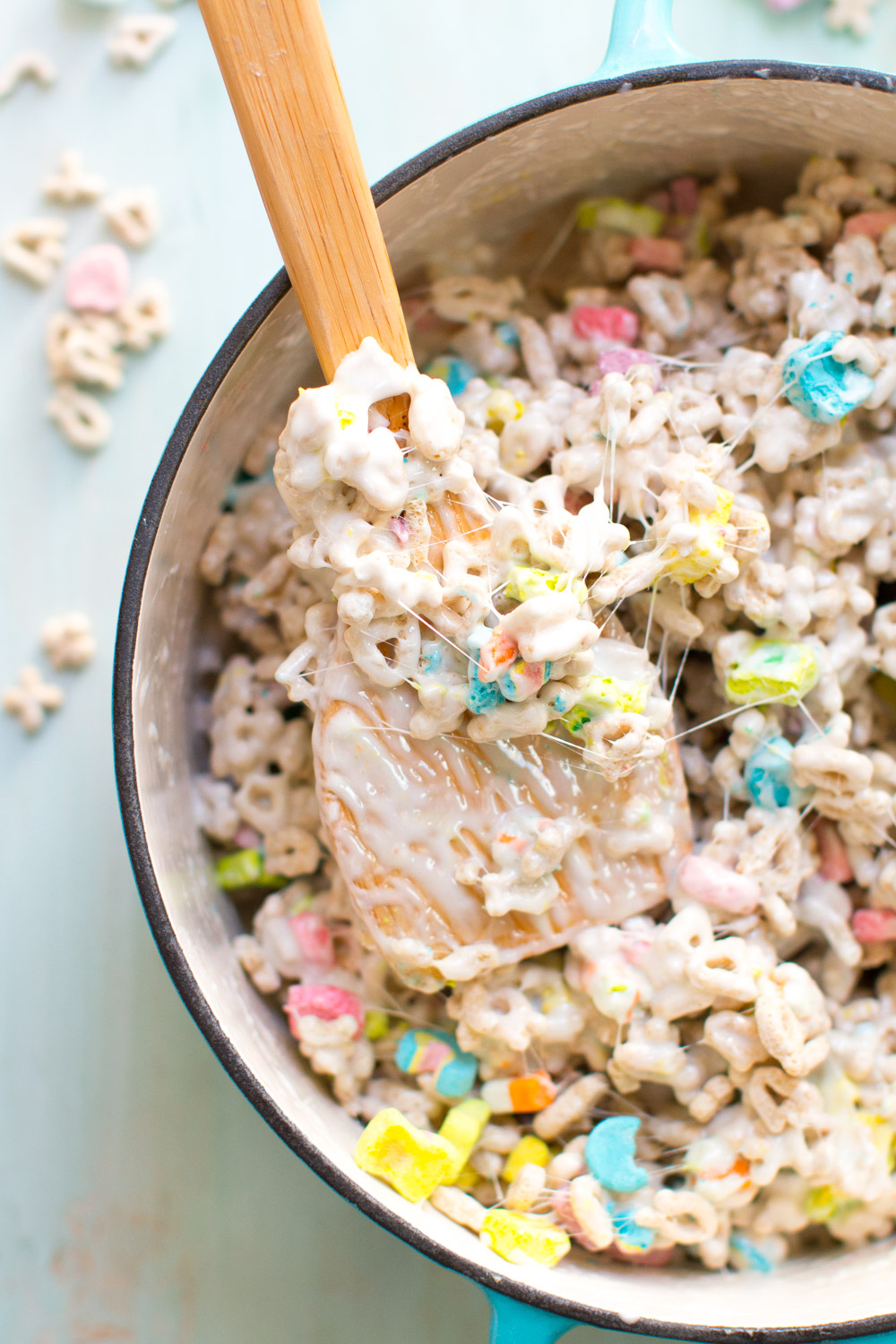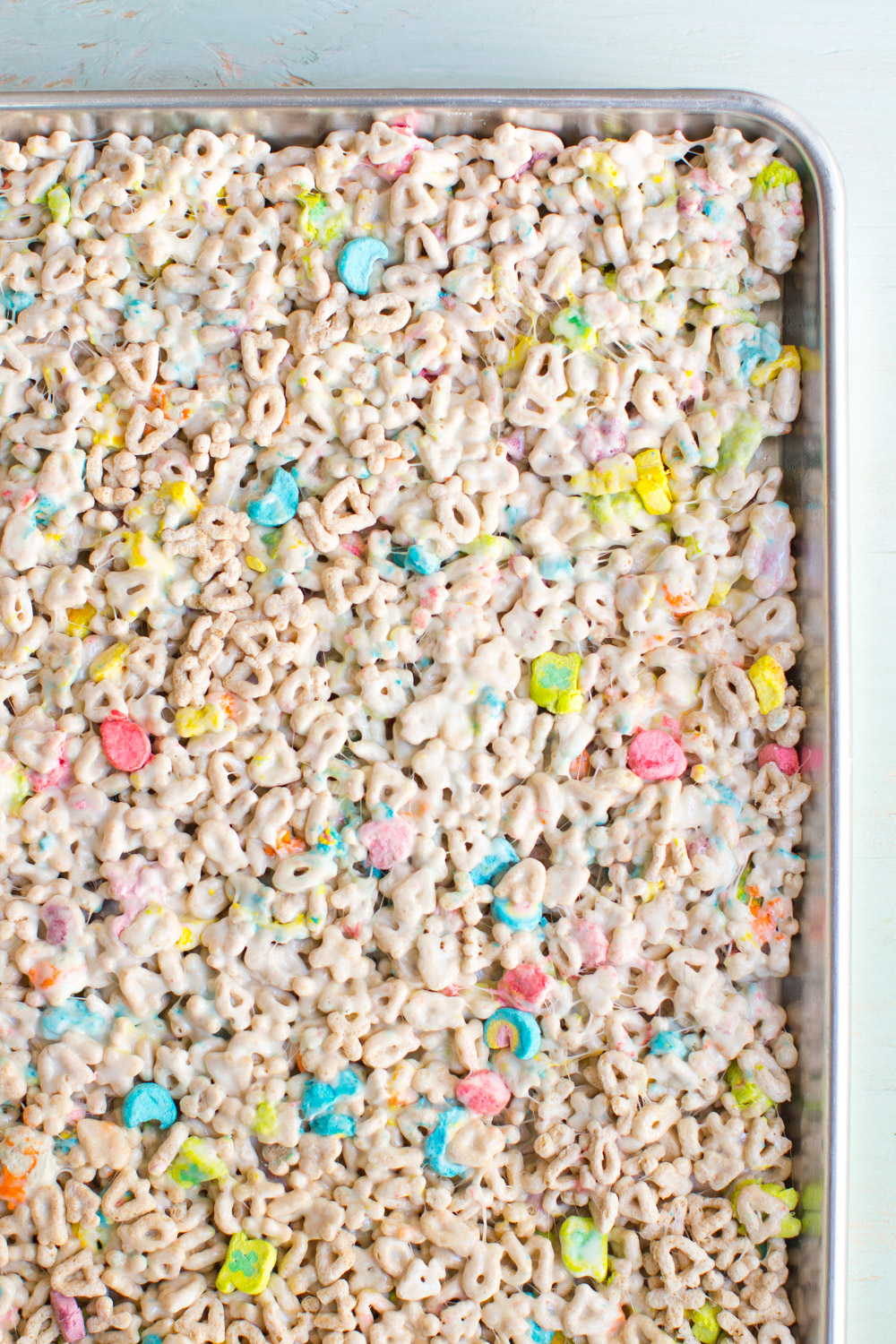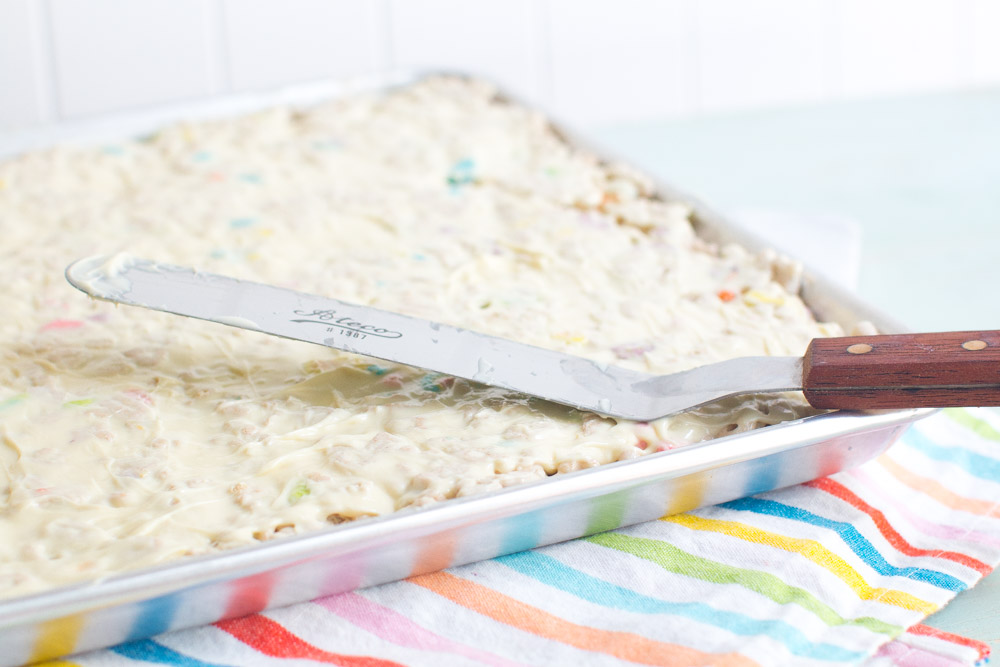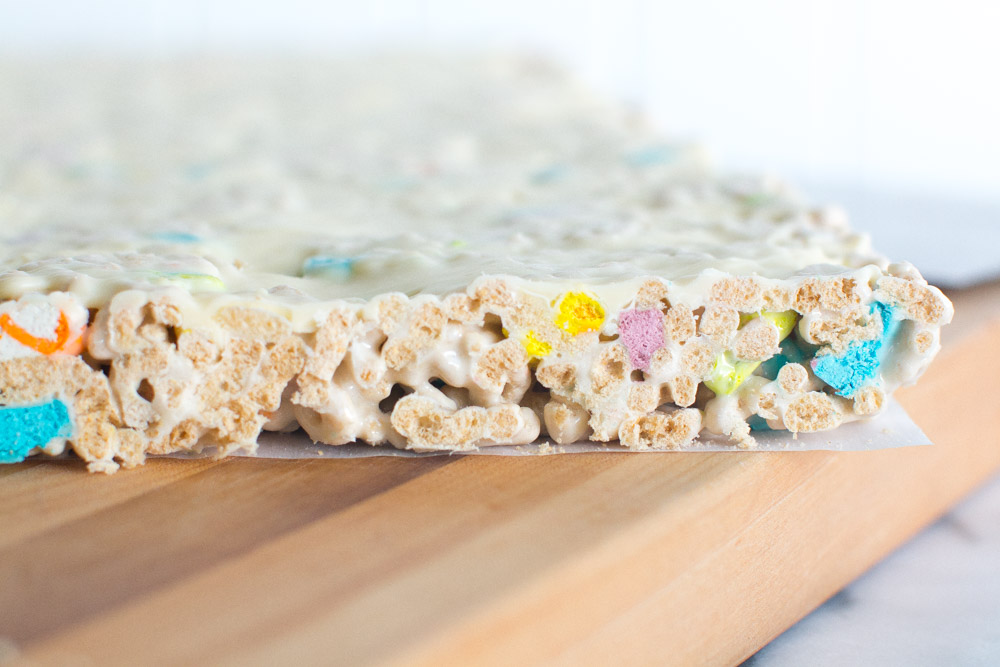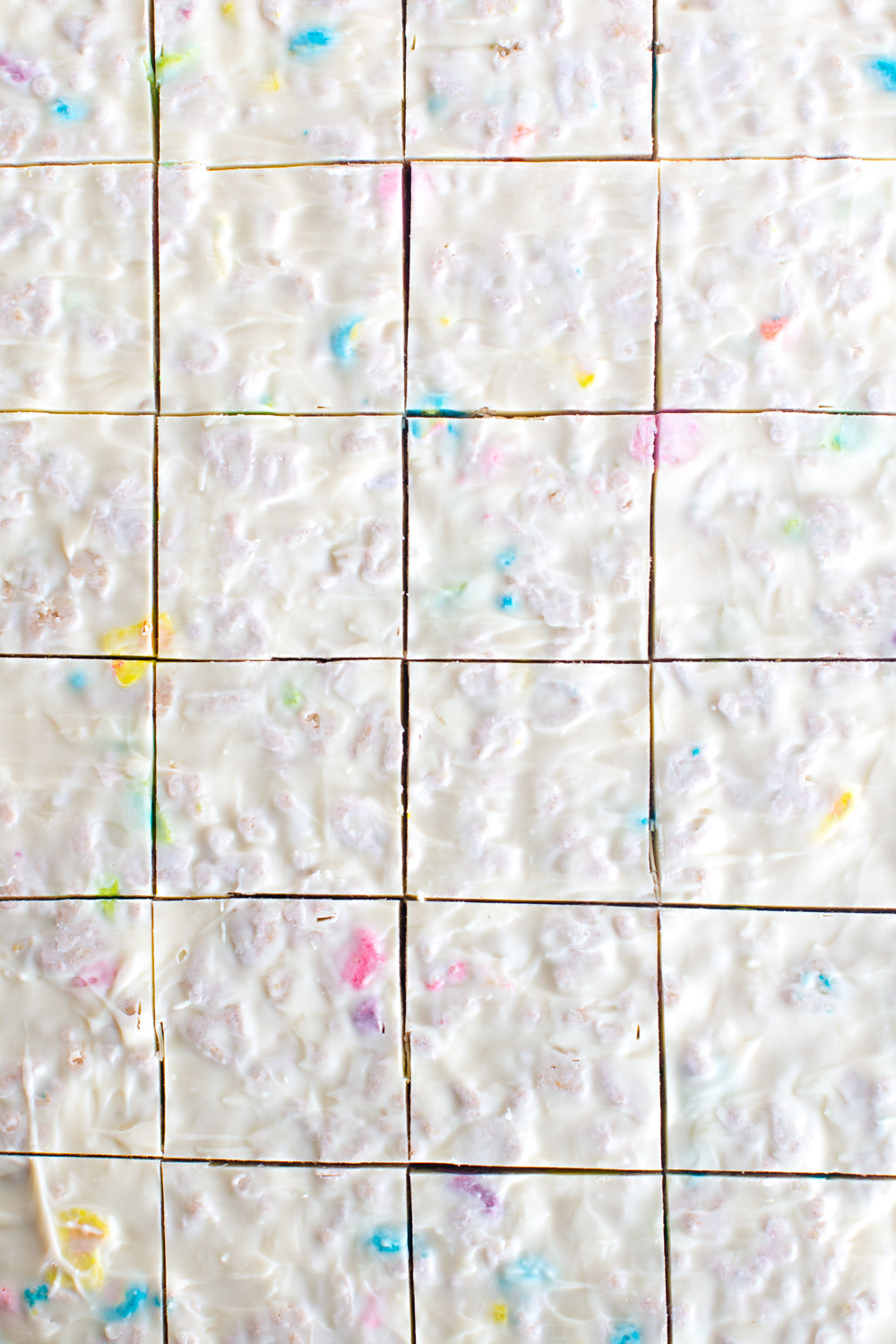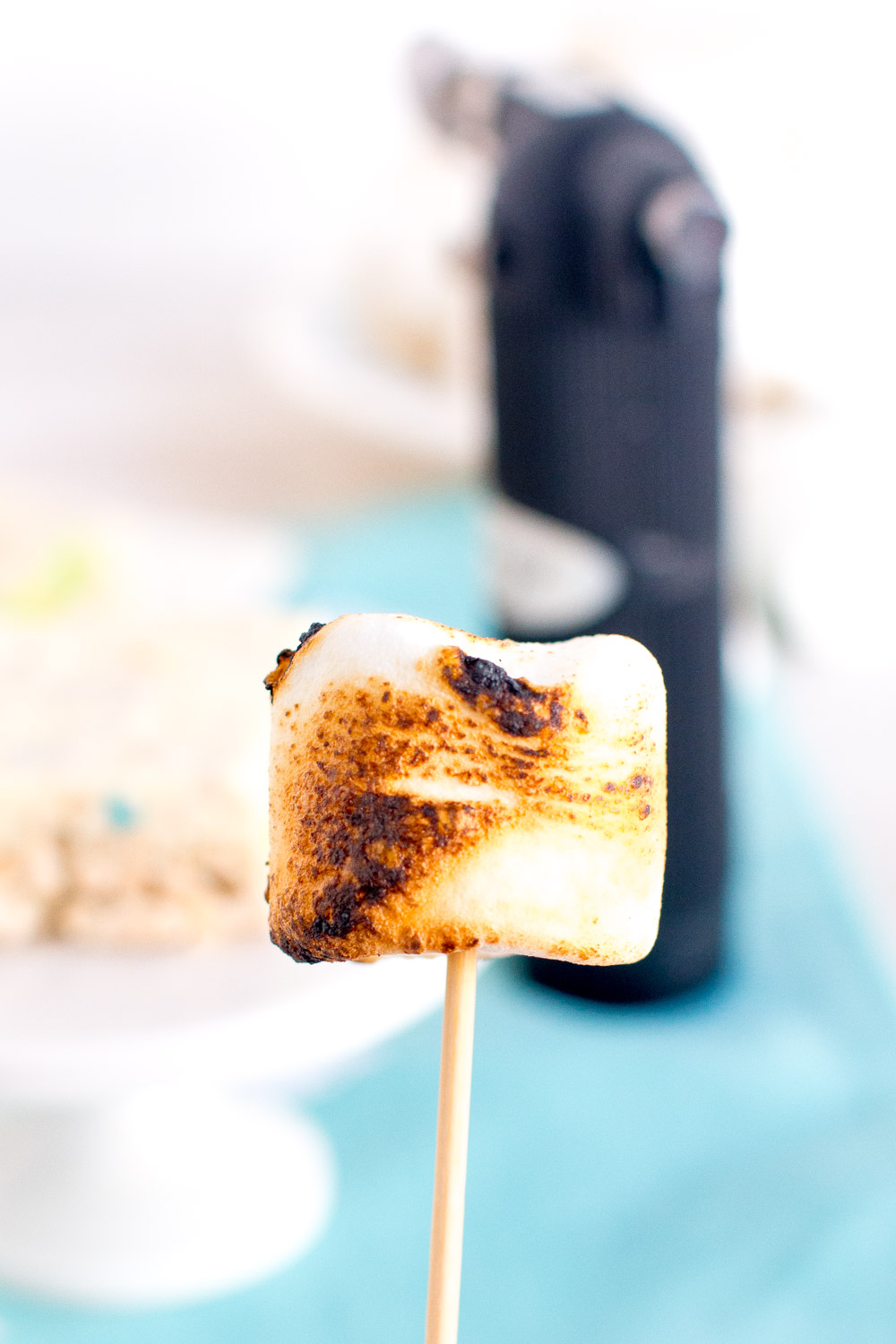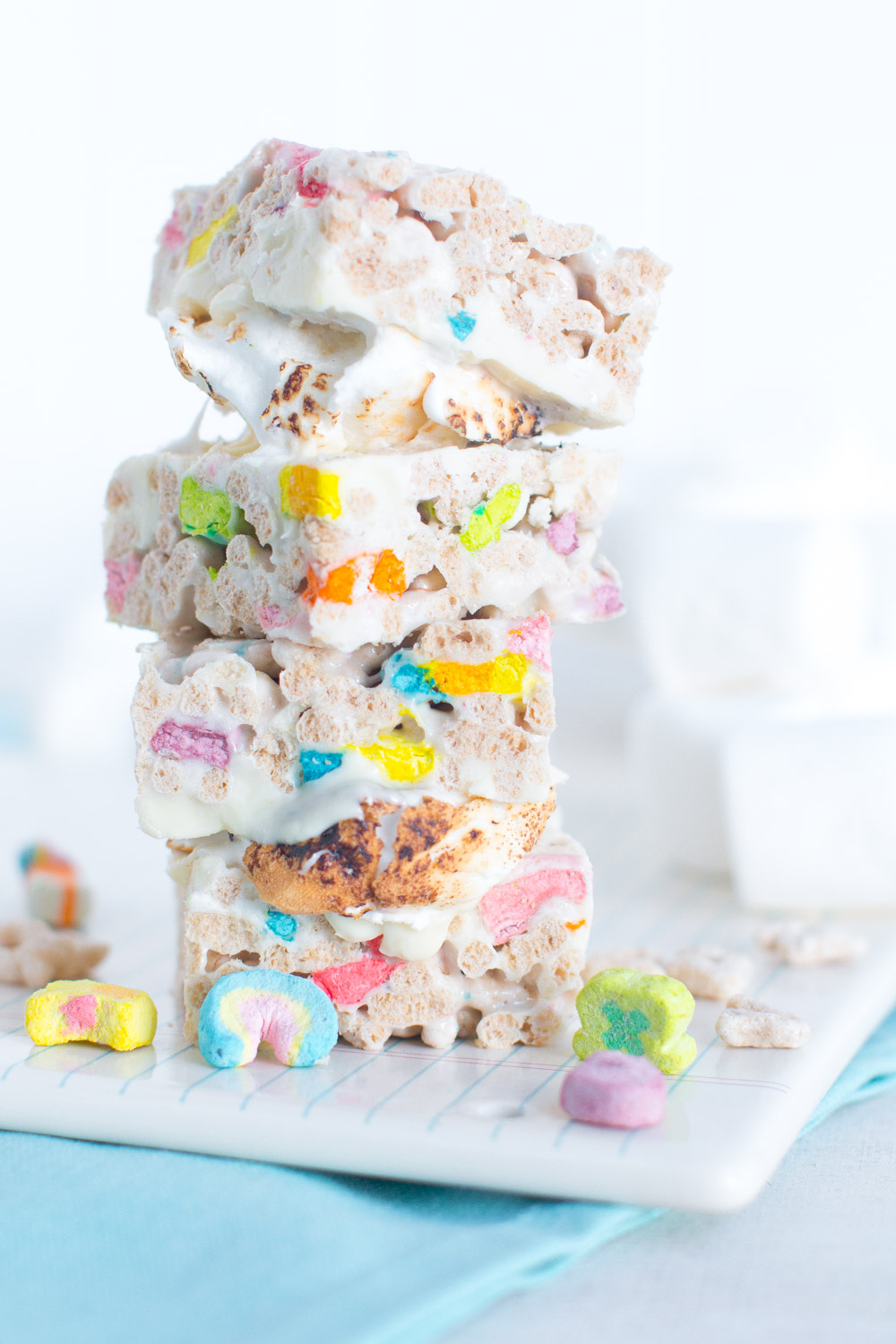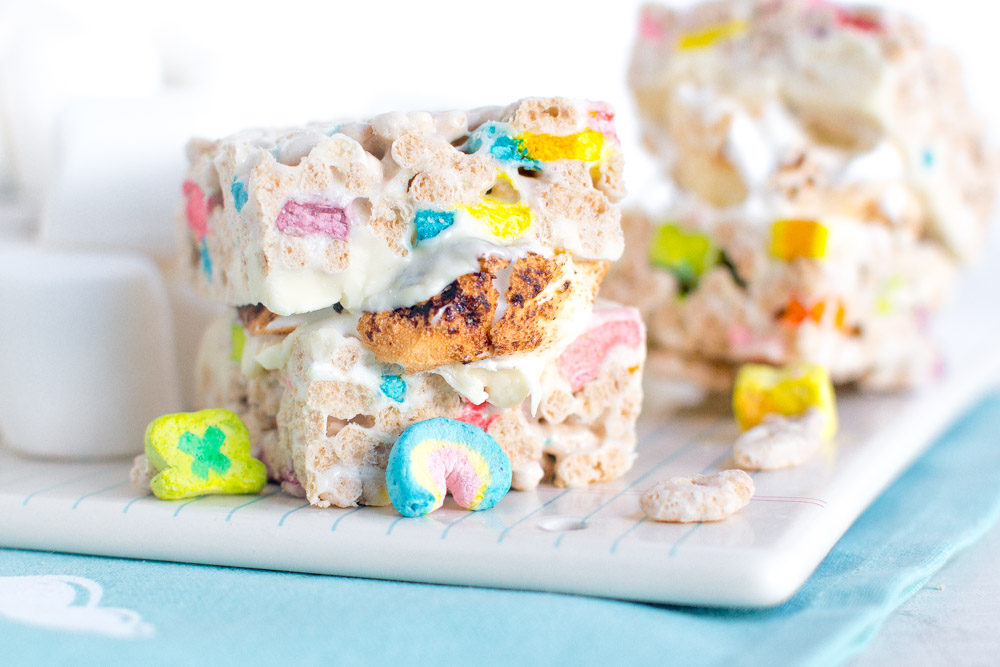 Print
📖 Recipe
Lucky Charms Treat S'mores
---
Description
These Lucky Charms Treat S'mores are sweeter than a pot of gold at the end of a rainbow. Try your luck and mix up a batch of magically delicious, rainbow sprinkled, marshmallow madness for you and luckiest pals.
---
Lucky Charms - 12 cups (about 1 box)
mini marshmallow - 8 cups (one 16 oz. bag)
Irish butter - ½ cup (1 stick)
white chocolate baking bars - 4 (4 oz. each)
large marshmallows - 24
---
Instructions
Butter a 12"x16" baking sheet and set aside.
In a large pot, melt the butter over medium heat. Once it's melted add the mini marshmallows stir until completely melted and smooth.
In a large mixing bowl, combine the Lucky Charms and the melted marshmallow and butter mixture. Use a spatula to combine, you may want to spray the spatula and your hands with cooking spray to prevent sticking.
Once sufficiently combined, evenly press the Lucky Charms mixture into the baking sheet. I like to cover the top with a sheet of parchment paper and gently press another baking sheet on the top to get an even layer. Allow the mixture to harden for at least 30 minutes.
Over a double boiler, melt the white chocolate baking bars until smooth and creamy. Pour the mixture over the top of the Lucky Charms Treats while they are still in the pan. Use an offset spatula to evenly spread the white chocolate over the top. Allow to harden for 1-2 hours until the chocolate sets.
Gently lift the entire sheet of Lucky Charms Treats from the pan and transfer to a cutting board. Use a sharp knife to cut the Lucky Charms Treats into 2" squares.
Using a kitchen torch, a gas stovetop or a good old fashioned campfire, toast a marshmallow to your liking, then squish it between two Lucky Charms Treats with the chocolate sides on the inside.
Repeat with remaining marshmallows and Lucky Charms Treats and enjoy this magically delicious with 23 of your luckiest friends!
Prep Time:

2 hours

Cook Time:

30 minutes