I'd made it 10 whole years of life before I ever heard someone say they don't like pizza. As a 4th grader, this blew my mind. As an adult woman in the height of her 30's, this still blows my mind.
I was staying the night at my BFFs house and her Dad picked up one of those doublewide, deep dish deals from Little Caesar's Pizza. If you were alive and breathing in the 1990s, you know the ones - two squishy, spongy, greased up square pizzas with 8 opportunities for a coveted corner piece, crisped up with caramelized cheese. We all dug in like wild dogs but her Dad didn't even reach for a center slice. I asked if he wasn't hungry and he responded "I don't like pizza". Never in my life had I heard anyone utter those shocking words. How could that be? There are so many options and routes pizza can take and even my very limited pizza palette of the time could not compute this information. The Gluten intolerance trend was still decades from being a thing, so we know it wasn't that. He must have been clinically lactose intolerant or an alien or possibly a psychopath?
To write pizza off completely these days seems impossible what with all of the alternative gluten free pizza doughs
, cauliflower pizza crust
options and alternative vegan cheeses
. If it's the hearty tomato sauce
that holds you back, there are a number of white sauces, pesto sauces
or even, god help us all, Thai BBQ or Ranch pizza sauce
options. Whether you're a meat feast fan, vegetarian, vegan, GF-er, paleo pizza person, or a dessert pizza party girl - there is a pizza for you. I promise.
This Tomato Confit Burrata and Arugula Pizza hits all of the pizza hot spots for me personally. I am a tomato freak so the more tomatoes or sloppy sauce, the better. If you've never had burrata cheese
, you're life is lacking and you need to stop reading this immediately and go buy some right away. It's like if ricotta and mozzarella made a cream filled baby with a firm, elasticy mozzarella layer on the outside and creamy dreamy ricotta like center, ready to burst from the inside. To amp up the salty flavors, a sprinkle of fresh grated parmesan
goes on top for good measure and that's all that goes on the Tomato Confit Burrata and Arugula Pizza before baking.
This Tomato Confit Burrata and Arugula Pizza is simple yet sensational, hitting hard on the savory side with a spiced up drizzle of Extra Hot Calabrese Peperoncino
. Since I like to get my greens on, I top this Tomato Confit Burrata and Arugula Pizza with peppery pile of simply dressed arugula tossed with olive oil
, fresh lemon
, salt
and fresh cracked black pepper
. All simple ingredients but this Tomato Confit Burrata and Arugula Pizza has complex dimensions of sweet, salty, savory and spicy in every single bite. I bake all of my homemade pizzas on my Baking Steel
and I get similar results to fancy restaurant style pizza or wood fired pizzas, it's a game changer folks.
Next time someone tells me they don't like pizza, instead of my knee jerk reaction of "then you simply don't like life" I will politely suggest giving my Tomato Confit Burrata and Arugula Pizza a try. If that doesn't work, I've got plenty of options on my blog - Garlic & Fennel Mushroom Pizza , this fancy Fig and Pistachio Pesto Pizza or everybody's favorite, my Cheesy Garlic Bread Pizza with red sauce for dippin. It appears I prefer vegetarian pizza recipes.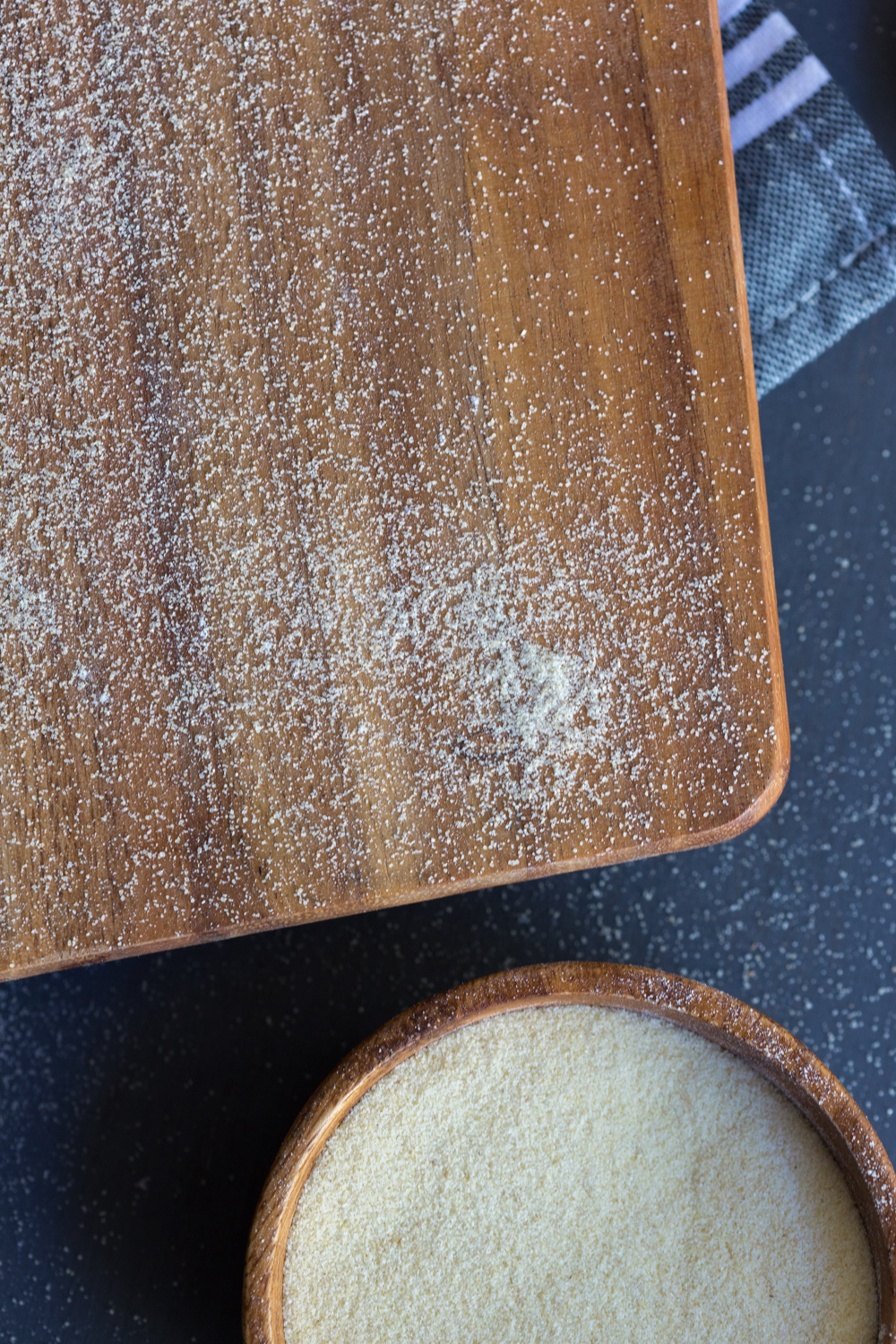 Print
📖 Recipe
Tomato Confit Burrata & Arugula Pizza
---
Description
Tomato Confit Burrata and Arugula Pizza has complex dimensions of sweet, salty, savory & spicy in every bite. Topped with fresh arugula salad & a spicy kick from a drizzle of Extra Hot Calabrese Peperoncino.
---
1

prepared pizza dough - homemade or store bought (- see notes for recipe)

1 tablespoon

semolina flour

1 tablespoon

olive oil

2

grinds fresh ground pepper

1

hearty pinch flaky sea salt

1 tablespoon

fresh lemon juice

1

handful fresh arugula

¾

cup

tomato confit (- see notes for recipe)

1

ball fresh burrata

¼

cup

freshly grated parmesan
Extra Hot Calabrese Peperoncino (- to taste (optional))
---
Instructions
Remove pizza dough from the fridge and allow to rest at room temperature for an hour. Meanwhile, place your Baking Steel, pizza stone or a baking sheet on the top rack of your oven and preheat oven to 500° (or as hot as it will go) for an hour.
In a medium mixing bowl, whisk together the olive oil, lemon juice, salt and pepper to taste. Add arugula and toss together to coat.
Once the dough at room temperature, turn your oven up to broil. Cover a pizza peel with a light dusting of semolina flour. Stretch out your pizza dough into a 12" round and place on top of the semolina sprinkled peel.
Top the dough with tomato confit sauce, leaving about 1" of crust all the way around. Tear of chunks of burrata and disperse evenly over the tomato confit. Sprinkle with some parmesan cheese.
To launch your pizza into the oven, open the door & touch the peel down at the back of the Baking Steel, pizza stone or baking sheet. Give your peel a slight jimmy (be gentle). Shuffle the peel out slowly as the pie settles onto your steel, stone or sheet.
Bake for about 90 seconds, then open the oven and rotate the pizza (I use a long set of tongs to grab and turn the pizza). Close oven and broil for 30 seconds or until you are happy with the coloring up top. Switch oven back to convection bake at 500° and cook for about 1-2 more minutes.
Carefully remove from the oven and top with another sprinkle of fresh grated parmesan, arugula salad and add Hot Calabrese Peperoncino to taste. Serve immediately while the cheese is bubbly!
Notes
For the crust on this Tomato Confit Burrata and Arugula Pizza I use this 72 Hour Pizza Dough recipe. https://bakingthegoods.com/2017/04/11/72-hour-pizza-dough-from-baking-steel/
For the Tomato Confit used in this recipe , I use this Tomato Confit recipe https://bakingthegoods.com/2018/09/19/cherry-tomato-confit/
If tomatoes aren't in season you can substitute the Tomato Confit for this simple Red Sauce recipe. https://bakingthegoods.com/2017/01/27/browned-butter-mizithra-dunderi-with-red-sauce/
Prep Time:

15 minutes

Cook Time:

6 minutes

Category:

Dinner

Cuisine:

Pizza