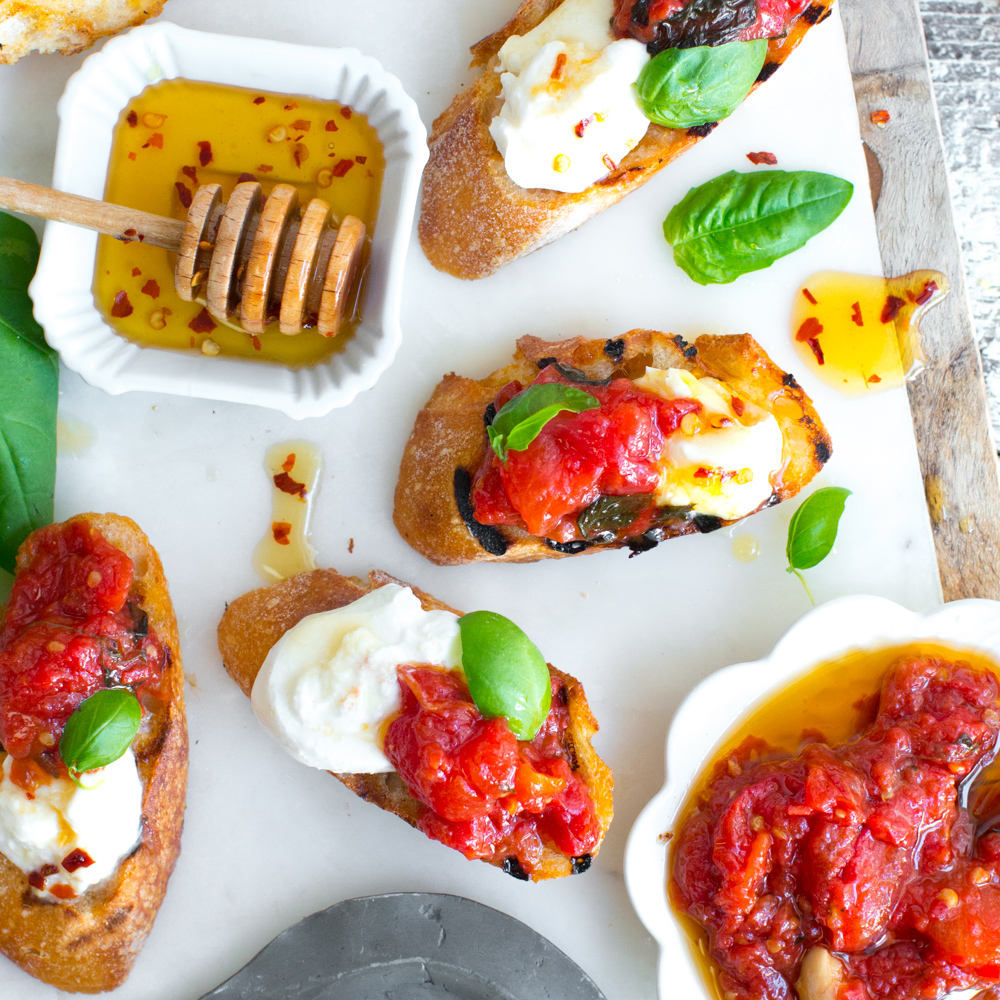 Growing up, everyone, EVERYONE in my family hated, HATED tomatoes. It was a rarity that I had access to fresh, juicy and flavorful tomatoes. They were my unicorn. Most of the time, I was cleanup crew on those the unwanted, mayo-smeared, pale and mealy slices picked off of my parents' hoagies. Despite my deep hatred for mayo, I'd gladly take those limp, unwanted tomatoes, wipe them clean and pile them on my own sandwich. You gotta do what you gotta do...
Then one magical summer, my Mom got some cherry tomato seeds for me to plant in her small backyard garden. We planted them, watered them and proudly watched them blossom into a tall tomato bush. When it came time to harvest those plump little fruits, I was as happy as a kid in a candy store. I ate them straight off the vine by the handful and they tasted better than any sugar-packed candy bar ever could.
My love of all things tomato still runs deep. I'd put red sauce on just about anything. However, I no longer eat those secondhand sorry excuses for tomatoes anymore. I'd rather wait for tomato season and enjoy them when they're at their peak.
One way to preserve that peak-of-the-summer-season brightness is to slowly roast the tomatoes with garlic and herbs in a rich bath of olive oil. Gjusta in Los Angeles does just that with their Tomato Confit. You can order a simple tomato confit sandwich or have it served on their crispy, wood fired pizza at their deli-style location or their more sophisticated and stylish sister restaurant, Gjelina. Either way, it's unforgettable.
That Tomato Confit has stuck with me. When I learned that the recipe for was in the Gjelina cookbook released in 2015, I was all over it. Tomato confit is a brilliant way to pack in that bright summer flavor and preserve it into the cooler months. Using the Gjelina recipe as a base, I adapted it and dialed it in just the way I like it; with plenty of zesty basil, freshly picked oregano and just enough warm, piney, rosemary to bridge summer and fall.
My favorite way to serve my version is as a Tomato Confit & Burrata Crostini. A fresh baguette gets sliced and grilled on a cast iron grill pan, then is slathered with the rich, silky and full-flavored tomato confit, a big buttery soft dollop of burrata and a kickin' drizzle of sweet warmth from homemade chili honey.
Next time you're in LA, do yourself a favor and stop into Gjusta or Gjelina for an unforgettable meal and take home a fresh baked baguette to use as a base for your own homemade batch of Tomato Confit & Burrata Crostini.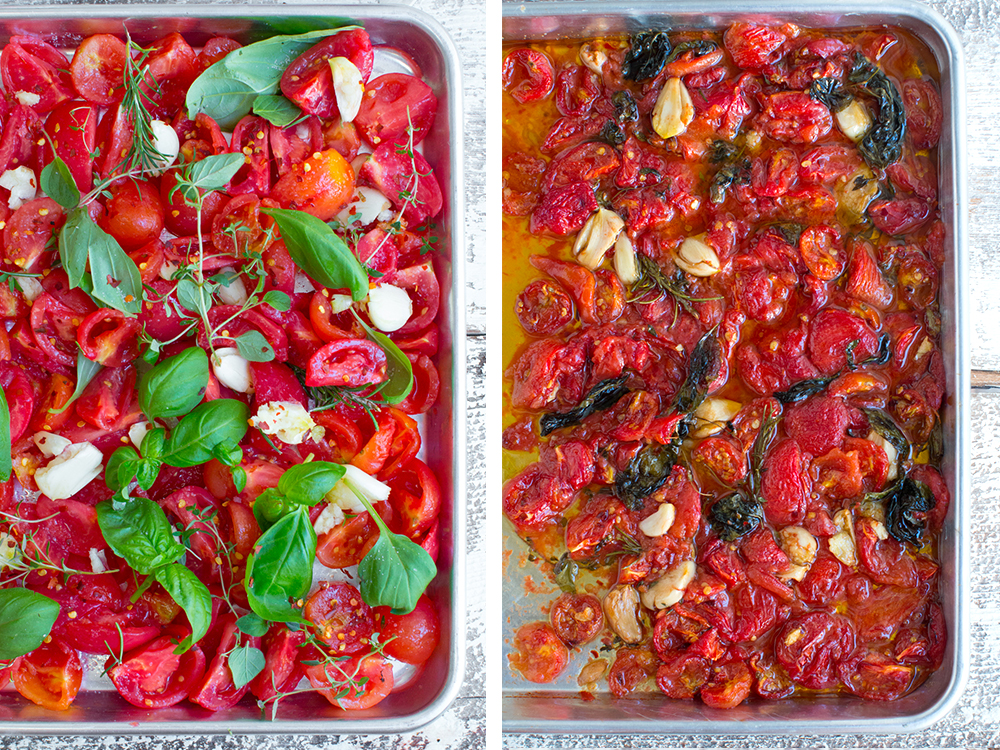 Print
📖 Recipe
Tomato Confit & Burrata Crostini
---
Description
Toasty grilled baguette topped with creamy burrata, deeply savory and robust tomato confit with a drizzle of spicy sweet chili honey.
---
CHILI FLAKE HONEY
honey -

¼

cup

red chili flakes - 1 teaspoon or more to taste
TOMATO CONFIT
tomatoes (such as Roma or Early Girl - 3 lb)
kosher salt - 2-3 teaspoons
garlic cloves (smashed -10)
fresh basil leaves -

¾

cup

fresh thyme sprigs - 10
fresh oregano sprigs - 4
fresh rosemary springs - 2
crushed red pepper flakes - ½ teaspoon
extra-virgin olive oil - 2 cups (plus more as needed)
CROSTINI
fresh baked baguette -1
burrata - 1 (8 oz. container)
chili or regular honey - 2 tablespoons
fresh basil sprigs - 12
---
Instructions
CHILI FLAKE HONEY
Mix honey and chili flakes together in a small jar and allow to sit for hours, days, weeks while the flavor develops. Like regular honey, it should last indefinitely.
TOMATO CONFIT
Preheat the oven to 250°F. Bring a large pot of water to boil over high heat. Fill a large mixing bowl with an ice-water bath.
Use a paring knife, score a small X in the bottom of each tomato. Plunge the tomatoes into the boiling water for 30-60 seconds, no more than a minute. Immediately transfer the tomatoes to the ice-water bath. You may need to work in batches.
Once the tomatoes have cooled completely, remove them from the water. Using your hands and/or a sharp paring knife, peel the skin from the tomatoes. It should slip off pretty easily.
Depending on the size of the tomatoes, cut them into halves or quarters. Gently remove the seeds with your hands, it's ok if some seeds remain, you mostly just want the flesh of the tomatoes.
Place the prepped tomatoes in a shallow baking dish and season liberally with salt. Sprinkle the smashed garlic, basil, thyme, oregano, rosemary and red pepper flakes over the tomatoes.
Drizzle the olive oil over the tomatoes and herbs, gently stir to coat.
Bake until the tomatoes begin to shrivel up and start to brown around the edges, 3-4 hours, gently turning and stirring the tomatoes periodically to prevent any burning.
Remove from the oven and allow to cool at room temperature.
Transfer to an airtight container and store in the refrigerator for up to 1 month, completely covered with olive oil to prevent air from reaching them.
CROSTINI
Heat a cast iron grill or skillet over medium-high heat on fire up the BBQ.
Slice baguette into ½" thick slices and gently coat both sides with tomato confit olive oil.
Toast until both sides are evenly grilled and just start to char.
Top with a creamy dollop of burrata, about 1 tablespoon of tomato confit and a drizzle of sweet and spicy chili honey (or regular honey). Garnish with leaf of basil.
Serve immediately and try not to eat it all.
Notes
Tomato confit is adapted from the recipe in the Gjelina cookbook. I highly recommend adding this beautiful and descriptive book to your shelf, it's full of all kinds of gems.
I always have a jar of chili flake honey around to drizzle over all kinds of cheeses, crackers and crostinis.
Adapted from Adapted from the Gjelina cookbook recipe for Tomato Confit
Prep Time:

30 minutes

Cook Time:

4 hours