People can get pretty damn pretentious over pasta, which is a bit silly considering how simple pasta is at it's core. You've got your baseline, the classic blue box of Macaroni and Cheese that we all know and love (even if we hate to admit it). On the opposite end of the spectrum you'll find deep and dark squid ink pastas, fancy oversized ravilos stuffed with house-made fresh ricotta, truffle oil and a single, runny, farm to table egg yolk. I personally believe there is a time and place for all pastabilities. An epic, multi-course Italian meal is my dream date, but on many a drunken night, Kraft Dinner has come to my rescue.
My first introduction to both brown butter and mizithra, had to be when seated in one of the oversized, purple velvet & rosewood thrones of The Old Spaghetti Factory in Spokane as a kiddo. If you are anywhere near an Old Spaghetti Factory, you are probably already well aware of their famous Mizithra Cheese and Browned Butter Pasta. They duly explain it as a toothsome treat for cheese lovers, but it's so much more. The saltiness of the mizithra against the warm, nuttiness of the browned butter seems so simple but the flavors are deep and complex. This combo is a match made in restaurant chain heaven and if you even think about knocking it, you'd better try it.
The OSF also has another not so secret, secret; The Manager's Favorite. This brilliant menu move allows indecisive pasta pounders to mix and match 2 of the classic pasta dishes. While I was an instant fan of the Mizithra Cheese and Browned Butter Pasta, I never felt right missing out on marinara, so I'd always get the Managers Favorite and combo the two. Let us not forget that this meal also comes with fresh baked bread, soup or salad (minestrone for me) and ended with a colorful scoop on Spumoni ice cream, served in a fancy little silver footed dish. It was everything to me at age 10.
As a bourgeoning home chef over the years, I've been gifted dozens of beautiful cookbooks from friends and family. My sis in law gave me the cookbook "Pasta by Hand: A Collection of Italy's Regional Hand-Shaped Pasta
" by the super-talented Chef Jenn Louis of Portland, OR. The first page I opened to was Jenn's recipe for Dunderi, airy ricotta dumplings originating from the Amalfi Coast of Italy. Dunderi are fluffy dumplings, similar to gnocchi but made with ricotta instead of potato. Resulting in cloud like pasta pillow.
Feeling inspired by the Manager's Favorite combo and Jenn's recipe for Dunderi, I picked up a half ball of mizithra cheese at my local Greek deli and got to work on this recipe for Browned Butter Mizithra Dunderi with Red Sauce. The airy little dunderi dumplings are made of creamy ricotta and salty, grated mizithra cheese. They are lightly fried in browned butter, with a hint of sage, just until the edges start to sizzle. Then in true old school pasta chain fashion, they are laid over a giant bed of homemade San Marzano red sauce because it's this Manager's Favorite!
Nothing says comfort like a handmade meal and this recipe for Browned Butter Mizithra Dunderi with Red Sauce is comfort food to the core. This recipe is easy to make and guess what, there is no special equipment needed! So, you can have your brown butter pasta and eat your red sauce too! Make this Browned Butter Mizithra Dunderi with Red Sauce for you and the indecisive kid in of you. It's the best of both worlds.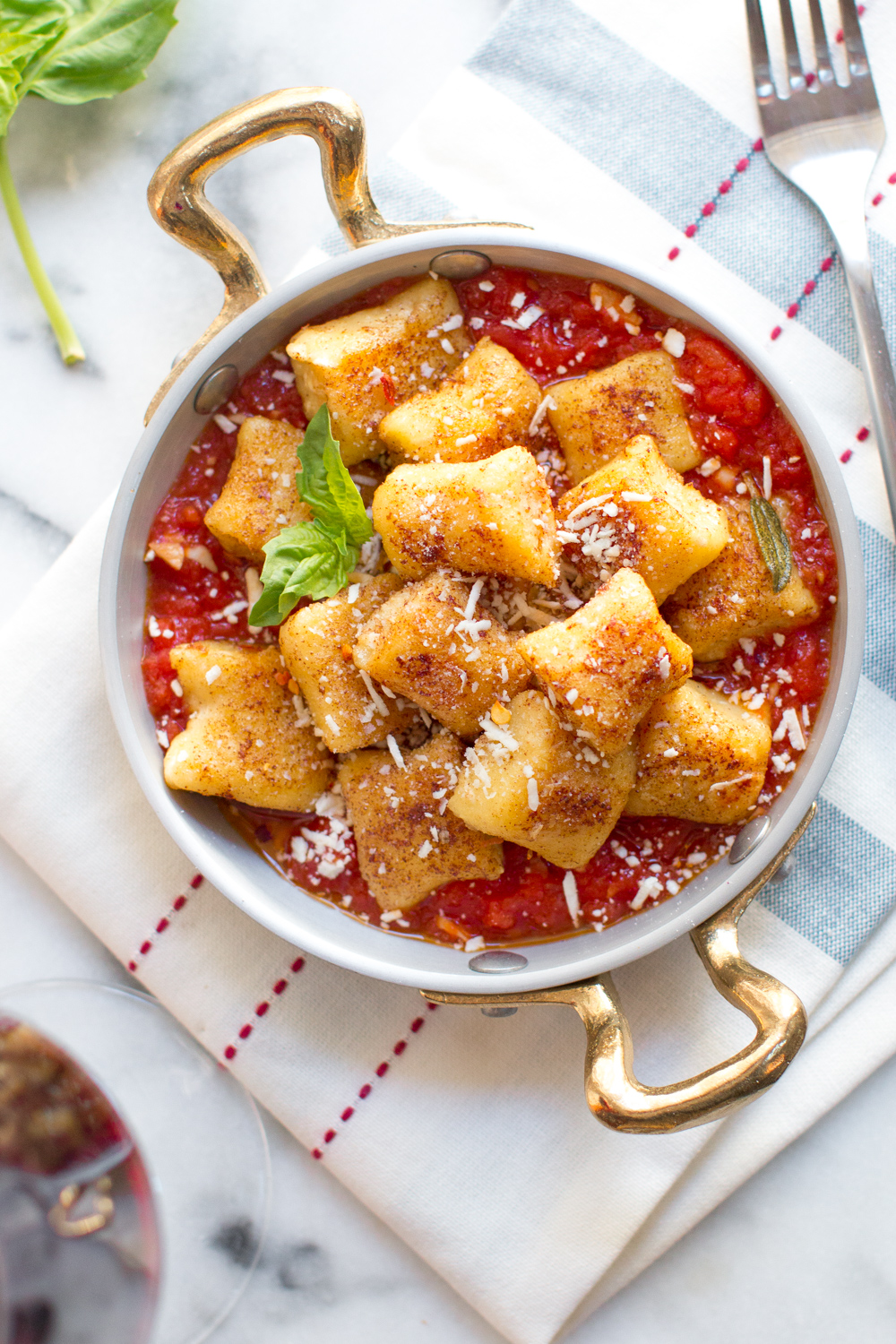 Print
📖 Recipe
Browned Butter Mizithra Dunderi with Red Sauce
---
---
KEEP IT SIMPLE RED SAUCE INGREDIENTS
2 tablespoons

extra-virgin olive oil

2

garlic cloves (very thinly sliced)

¼ teaspoon

red chile flakes (optional)
San Marzano whole peeled plum tomatoes - 1 can
fresh basil sprigs - 2
kosher salt - to taste
sugar - pinch
BROWNED BUTTER MIZITHRA DUNDERI INGREDIENTS
while milk ricotta cheese -

2

cups

egg yolks -2
finely grated Mizithra cheese - 1 cup (plus more for topping)
freshly grated nutmeg - ⅛ teaspoon
kosher salt - 1 teaspoon
all-purpose flour -1 cup (plus 2 tablespoons (plus more for dusting))
Semolina flour (1-2 tablespoons, for dusting)
unsalted butter - 2 tablespoons
fresh sage - a few leaves
---
Instructions
KEEP IT SIMPLE RED SAUCE
In a large mixing bowl, crush the whole tomatoes in your hands to break them down.
In a large skillet, warm the olive oil over medium heat. Add thinly sliced garlic, cook until just lightly golden. About 1 minute.
Stir in tomatoes, juices and about ¼ cup of water swirled around in the can. Add fresh basil sprigs, salt, sugar, and chile flakes (if desired).
Bring to a simmer and cook until the sauce starts to thicken and tomatoes have mostly fallen apart, simmering about 30 to 40 minutes. If the tomatoes are still too chunky, mash them up with the back of a wooden spoon or an immersion blender to break down. Discard the basil sprigs and remove from heat.
BROWNED BUTTER MIZITHRA DUNDERI
Line a rimmed baking sheet with parchment paper then dust with semolina flour, set aside.
In a large bowl, mix the ricotta and egg yolks together until smooth. Stir in the mizithra, nutmeg, salt and flour until the dough just starts to come together.
Sprinkle a clean work surface with flour. Turn the dough out onto the work surface and sprinkle with more flour to keep dough from sticking. Gather the dough together to form an even log shape.
Using a pastry cutter or sharp knife, divide the dough into 6 equal portions (about the width of 2 fingers).
Moving from the center out, gently roll each piece into a log about a ½" in diameter. Chop the log into 1" long pieces. Place the dunderi on the prepared baking sheet (with space between so they don't stick together) and repeat with the remaining dough.
Bring a large pot of salted water to a simmer over medium-high heat. Add the dunderi and simmer. They are ready once they begin to float to the surface, around 2 minutes. Use a small strainer or slotted spoon to remove duderi from water and place on a baking sheet to dry.
Meanwhile, in a large skillet over medium heat, melt the butter until the butter becomes deep golden brown and brown bits just start to form. Add the sage leaves.
Add the dunderi dumplings to the browned butter and cook for about 2 minutes until the edges start to brown and sizzle. Flip and brown the other side.
Ladle red sauce sauce into a pasta bowl or plate and top with dunderi dumplings. Sprinkle with freshly grated mizithra cheese. Serve immediately with a glass of Sangiovese or Aglianico!
Notes
Make ahead: the dunderi will last covered and chilled in the fridge for up to 2 days. Or freeze on the baking sheet, then transfer to a resealable plastic baggie and use within 1 month.
The sauce can also be frozen in a plastic baggie and reheated as desired.
Adapted from Dunderi adapted from Pasta By Hand By Jenn Louis.
Prep Time:

30 minutes

Cook Time:

30 minutes