My recipe for Fig Mascarpone Tart with Pistachio Black Pepper Crust has been blowing up on Pinterest lately, which really makes me smile because it's one of my favorites, and I want everyone to experience it! Since it seems people are digging this recipe, I figured I'd try a similar riff on a Mascarpone Tart and incorporate a local favorite – Ojai Pixie Tangerines. I'd heard folklore of this locally favored fruit, but hadn't been kissed by the juicy sweetness until this Spring. I was instantly smitten.
April is Pixie month over in the spiritually quirky, hippy-dippy, fertile, fruit-forward land of Ojai, California. Ojai (pronounced Oh-hi) is a beautifully strange place with a slightly force-fed aura of fairyland whimsey and new-age bohemia. But underneath the gimmicky crystal visions lies a homegrown authenticity and a deeply rooted connection between earth and life. Personally, I sometimes find the sage foraging, moon-bathing Ojai vibes a wee bit contrived. But I warmed up to picturesque landscape, The Ojai Deer Lodge and those sunny Ojai Pixie Tangerines immediately.
The Pixies are as sweet as they are bright, and I can definitely get down with celebrating Ojai Pixie season every Spring. If a town devotes an entire month to a single fruit, I thought that I should probably dedicate a recipe on this blog to the magical little Ojai Pixies Tangerines.
I've had a few different Pixie recipes fluttering around my mind for months, but finally landed on one that I think properly illustrates the fabled Ojai Pixie Tangerine. My new recipe for Candied Tangerine Mascarpone Tart with Pistachio Chocolate Crust is a tangerine dream with candied, sunny citrus wheels that shine like a sunset over a woodland clearing. The cardamom spiced tangerine slices bring an aromatic warmth to the creamy, dreamy mascarpone filling, encased in a crumbly dark chocolate crust sprinkled with the crunchy nuttiness of chopped pistachios. The flavors of this Candied Tangerine Mascarpone Tart with Pistachio Chocolate Crust whistle while they work and combine perfectly into a fairytale ending worthy of freshly crowned Princess. Pair it with a bottle of Riesling from North by Northwest Wines and you're sure to live happily ever after.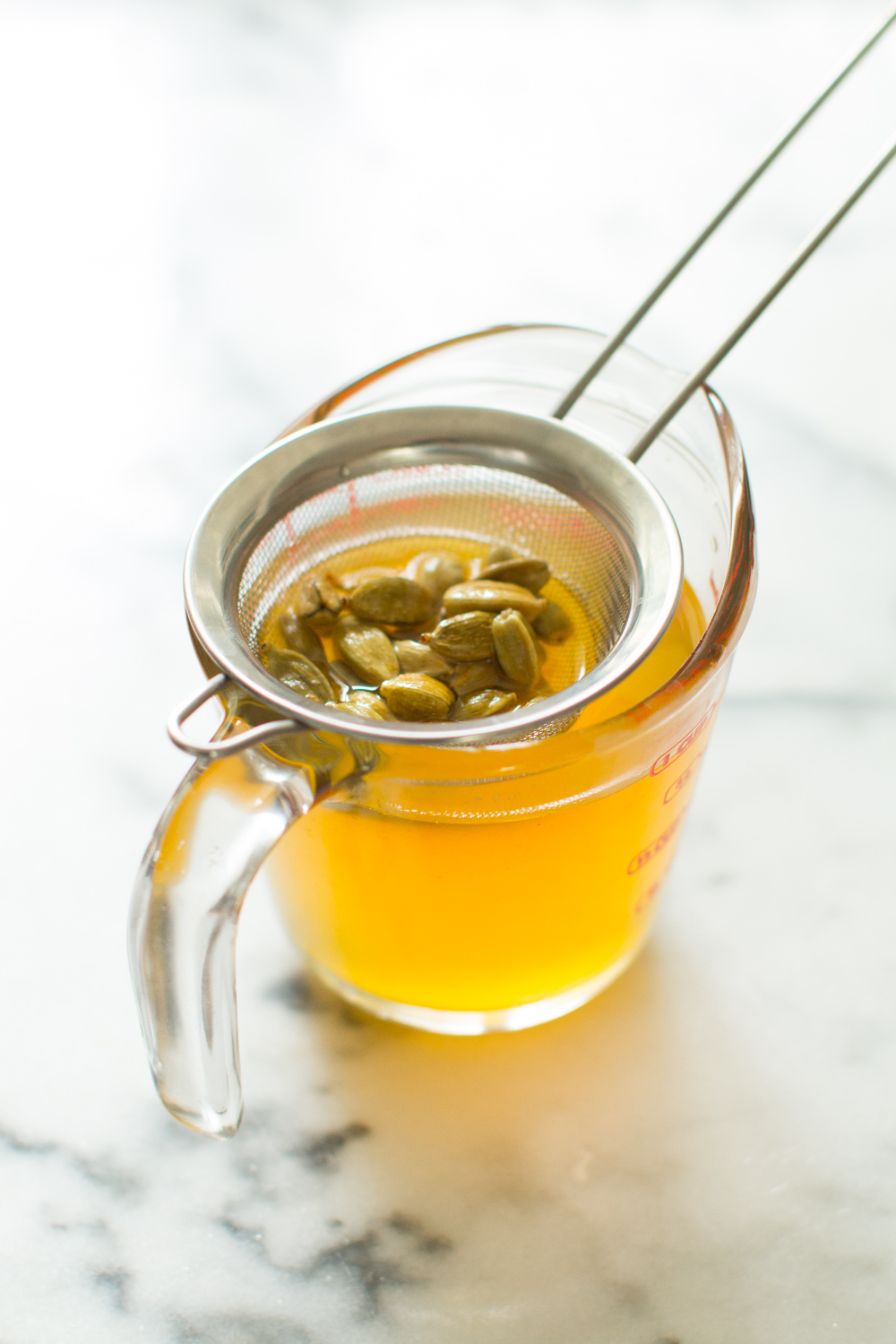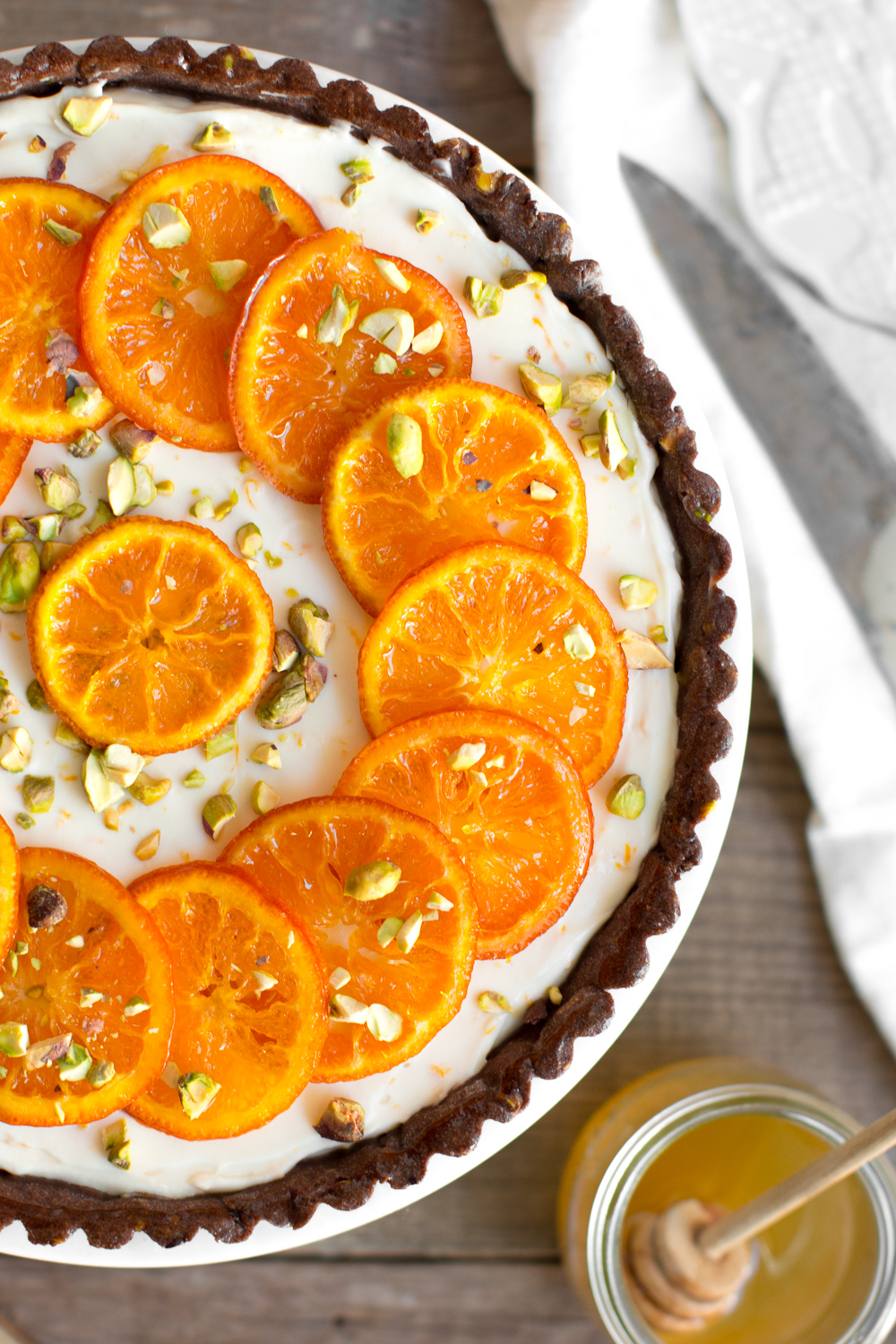 Print
📖 Recipe
Candied Tangerine Mascarpone Tart with Pistachio Chocolate Crust
---
Description
This Candied Tangerine Mascarpone Tart with Pistachio Chocolate Crust is a tangerine dream of aromatic cardamom spiced tangerine slices resting on a creamy mascarpone filling encased in a crumbly, crunchy dark chocolate pistachio crust.
---
Candied Cardamom Tangerine Slices
tangerines - 6
granulated sugar -

1

cup

water -

1

cup

agave syrup -

¼

cup

whole cardamom pods - 1 tablespoon
Chocolate Pistachio Tart Shell
all purpose flour -

¾

cup

dark unsweetened cocoa powder -

¼

cup

cacoa nibs - 2 tablespoons
salt - a pinch
unsalted butter at room temperature -

¼

cup

granulated sugar -

¼

cup

egg - 1 large
pure vanilla extract - 1 teaspoon
chopped pistachios -

¼

cup
Mascarpone Filling
mascarpone -

1

cup

Greek yogurt -

⅔

cup

honey -

⅓

cup

zest of tagnerines - 2 (tangerines)
reserved cardamom spiced tangerine syrup -

¼

cup
---
Instructions
CANDIED TANGERINES
Scrub the tangerines to clean. Using a sharp knife, slice the tangerines crosswise into ⅛-inch thick slices.
Combine sugar, agave syrup and water in a large saucepan or dutch oven. Bring to a boil over high heat and simmer for about 4 minutes, until slightly thickened. Add the sliced tangerines and cardamom pods. Reduce heat to medium-low. Simmer gently for about 60-70 minutes, carefully turning the tangerines several times to coat, until very tender and translucent.
Preheat the oven to 200 degrees.
Remove pan from heat and let the tangerines sit in the syrup for about 10 minutes. Carefully remove the fruit from the syrup with tongs and transfer to Silpat, or a parchment lined cookie sheet. Place the tangerines in the oven for about 1 hour.
Strain and reserve the syrup for mascarpone filling and a spicy twist on Old Fashioneds.
Transfer the tangerines to a wired rack and let rest for about 24 hours until mostly dried.
CHOCOLATE PISTACHIO TART SHELL
In a mixing bowl, combine the flour, cocoa powder, cacao nibs, salt and 2 tablespoons of chopped pistachios. Set aside.
In the bowl of a stand mixer, beat together the butter and sugar until light and fluffy, about 5 minutes. Add the egg and vanilla, beat until smooth.
Gradually beat in the flour mixture until the dough just starts to come together in a ball.
Remove the dough from the bowl and shape into a disk, wrap tightly in plastic wrap and refrigerate for at least one hour up to 4 days.
Preheat the oven to 325° F and have a 10" round removable bottom tart pan ready.
On a slightly floured work surface, roll out the chilled dough into a 11" round, dusting with a bit more flour as needed to keep the dough from sticking. Carefully roll the dough around the rolling pin and gently unroll it into the tart pan. Press the dough into the pan and up the sides and patch any holes or cracks that may have formed. Gently roll the rolling pin over top fluted edges of the pan to trim excess dough. Use a fork to poke holes in the base of the dough, to keep it from puffing up too much while baking.
Bake the crust shell for 6 to 8 minutes, until the dough puffs and is slightly darker around the edges. It's ok if it still looks slightly doughy in the center as it will continue to set as it cools. Set on a wire rack and allow it to cool completely.
MASCARPONE TANGERINE FILLING
Prepare the filling by blending the mascarpone, Greek yogurt, honey, tangerine cardamom syrup and zest of 2 tangerines until smooth. Once fully blended, cover with plastic wrap and refrigerate until the the shell has cooled.
Fill the chocolate tart shell with mascarpone filling and smooth out the top with the back of a spatula. Chill in filled tart in the fridge for at least a couple of hours allowing the filling to set up.
Once the filling is set and doesn't jiggle anymore, top with candied tangerine slices and remaining 2 chopped pistachios.
Slice into 8-10 wedges and serve with a nice bottle of white wine. I paired this Candied Tangerine Mascarpone Tart with Pistachio Chocolate Crust with a bottle of Horse Heaven Hills Riesling by North by Northwest Wines Horse Heaven Hills Riesling by North by Northwest Wines and it was like a fairytale ending.
Notes
CANDIED TANGERINES - adapted from Kate Sonders' beautiful recipe for Dark Chocolate Dipped Candied Blood Oranges
**you may end up with extra candied tangerine slices. Save them and use them in a batch of scones or Hot Cross Buns or add them to cocktails.
CHOCOLATE PISTACHIO TART SHELL - adapted from The Chocolate Berry Tart in the Guittard Chocolate Cookbook.
Prep Time:

30 minutes

Cook Time:

2 hours 30 minutes